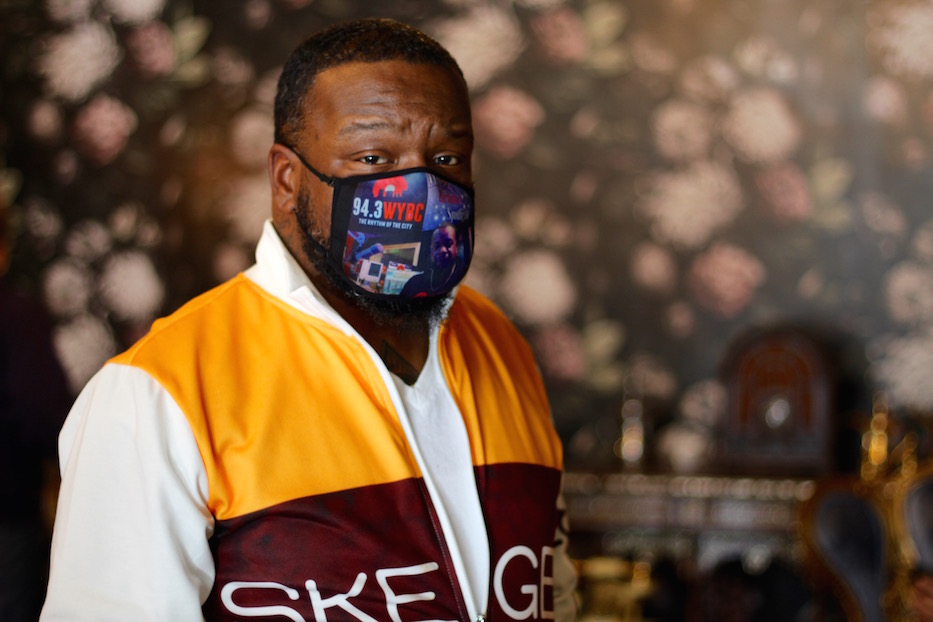 Arts & Culture | New Haven Free Public Library | Westville | Elicker Administration | COVID-19
Rasheem Dixon: "You don't shut down a library. You just don't." Lucy Gellman Photos.
Rasheem Dixon grew up with the Mitchell Library as his safe haven. He sees its potential closure in Mayor Justin Elicker's proposed "Crisis Budget" as a crisis point itself.
Dixon is one of thousands of New Haveners who have come to know the Mitchell Branch of the New Haven Free Public Library as a second home, after school refuge, zero-cost coworking space, storytime mecca, community connector, and life preserver. Wednesday, several spoke lovingly of its place in their lives, and their fear of losing it in this year's budget negotiations.
"You don't shut down a library," he said, looking up from a coffee at Pistachio Cafe. "You just don't. Tell them to modify their salaries first and then see how they feel about it."
Elicker has rolled out two budgets: a $606.2 million "Forward Together" budget, in which New Haven receives an additional $53 million from Yale University and the state, and a $589.1 million "Crisis Budget," which would raise taxes 7.75 percent and shutter Mitchell Library, the East Shore Senior Center, and the fire station at 350 Whitney Ave.
His announcement of the two potential budgets marks the start of public hearings, workshops, and a final vote from the city's Board of Alders that will go through late May. Read both budgets here and learn more about public hearings here.
"We're really at a crossroads here," Elicker said in a press conference on Monday. "And I think there's a real opportunity for us to decide as a community—and when I say a community, I don't just mean New Haven, but I mean the greater community of Connecticut and our large partners—to permanently address the financial issues that the city is facing."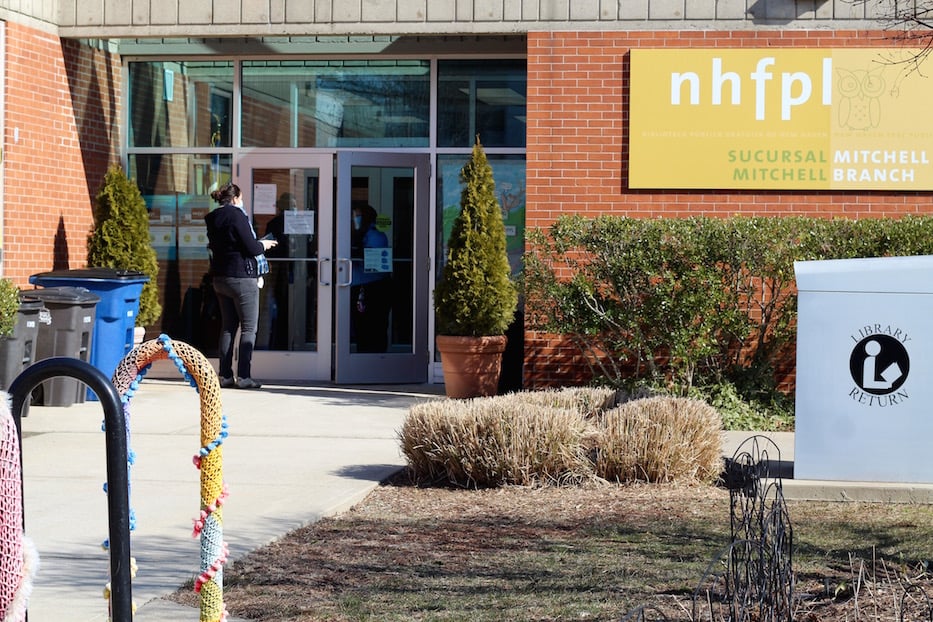 For Dixon, now host of The Saturday Jam on 94.3 WYBC, survival of the Mitchell Branch feels personal. Decades ago, he grew up with two different visions of Westville. In one, the neighborhood "was rough," and he didn't always want to go home after school. In the other, Mitchell was a second home, where he could travel anywhere in the world simply by picking up a book.
"That library is history for me," he said. "It was an escape for me. In all honesty, it was for a lot of young people. When they get out of school, it's a place to go."
Mitchell, which has been in its current building on Harrison Street since 1966, was the very first field trip he took when he was a student at Davis Street School. He started going to the branch after classes, and discovered an oasis where he could read books and do homework among the tap-tapping of keys and rustle of pages and old school card catalogues. He was welcome to stay until closing time, and often did.
He never got tired of it, he said. With the library as his backdrop, he excelled in classes at Betsy Ross Arts Magnet School and Cooperative Arts & Humanities High School. They became his launchpad into arts and entertainment, including a career in music that he is still growing. While he now lives in West Haven, he visits Westville often. Libraries have remained a constant part of his life: his wife is the head of adult services at the West Haven Public Library, and he loves checking out new books whenever he has free time to read. He said he can't imagine his old neighborhood without its anchor.
"I had a place where I could go and do my thing," he said. He wants every Westvillian to have that option.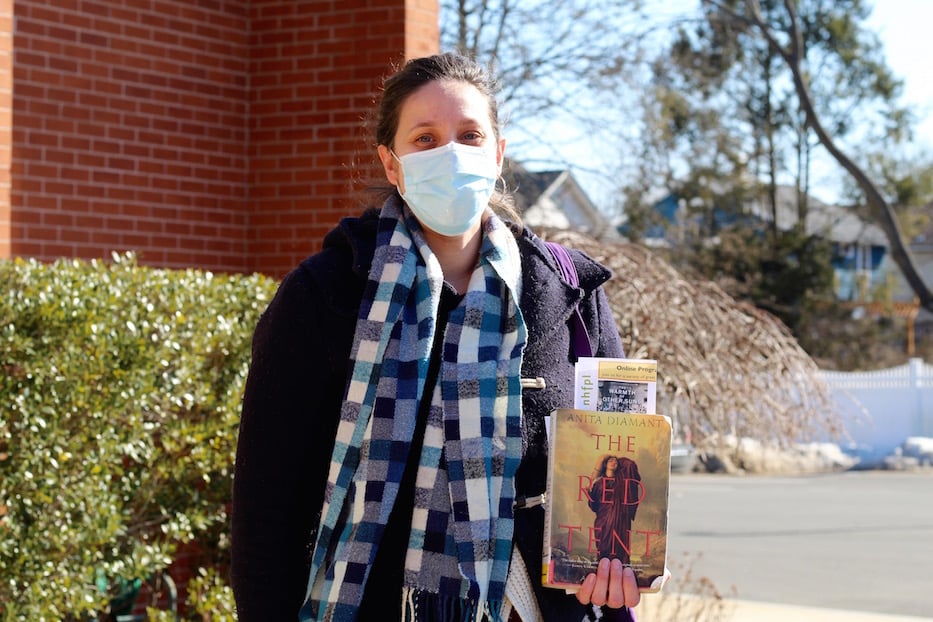 Ariana Deleon-Daniels.
Despite a global pandemic, Mitchell is thriving. The branch sees an average of 25 curbside pickups per day, said Branch Manager Marian Huggins. That translates to 125 book and DVD requests per week and roughly 500 per month.The branch also gets around five daily requests for printing and photocopying, and two to three for tax forms. All 15 of its WiFi hotspots are checked out, as are three of its six Chromebooks.
Fellow Westvillians echoed the call to keep the library off the chopping block in whatever budget is passed. Standing outside the library Wednesday afternoon, Waterbury Public Schools social worker Ariana Deleon-Daniels said Mitchell has been a lifeline for her growing family, including a baby who is due this month. She made the quick midweek trip to pick up Anita Diamant's The Red Tent, a title she's hoping to finish before sleepless nights with a newborn.
Before the Covid-19 pandemic, Deleon-Daniels frequently brought her young son to the library for its children's programming. It was how she got connected with other people in the neighborhood. During the summers, it became one of their favorite neighborhood hangouts. She motioned to Beecher Park nearby, where a sprawling lawn all but invites readers to come and soak in the sun.
She sees the library of part of what she loves about Westville, where she's lived for 15 years. In the past 12 months, she has leaned on its virtual resources and online programming, including daily storytime videos that a friend just turned her on to. She said she's relying on the library to be there when she's taking care of two little ones, and needs activities to keep her 4-year-old engaged.
As she received the book wrapped in white paper with her name on it, librarian Emmett McMullen gave her a cheery little wave and soaked in the sunlight for a moment.
"I'd be really upset if it closed!" Deleon-Daniels said. "This is my branch. It means so much to me."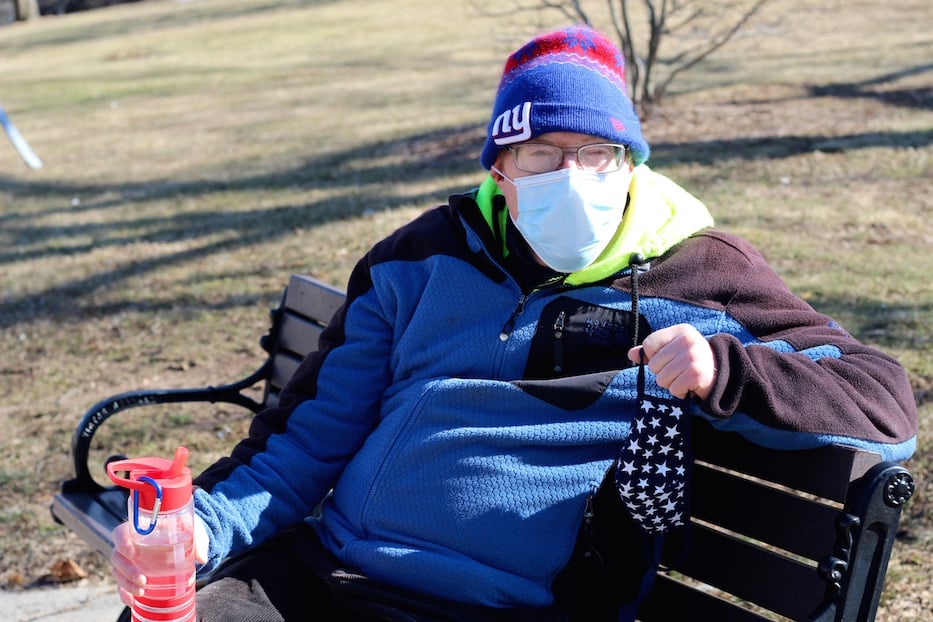 John Orr: Not happy at all.
As he took a seat on a sun-soaked bench close to the library, longtime Westvillian John Orr said he is "not happy at all" about the crisis budget. When Orr found out about the proposed budget, he was on a phone call with the president of Chapel Haven, with which he is affiliated. The news felt like a gut punch, he said—he's lived in the neighborhood since 1987. After two years living onsite at Chapel Haven in the 1980s, he moved to a nearby condo on Fountain Street.
For him, the library is a part of what makes Westville home. He praised the relationship that the Mitchell Branch has with Chapel Haven and the Westville Village Renaissance Alliance, through which he and other Chapel Haven affiliates have done landscaping around the building. Turning to face the library, he outlined a shrubbery-lined walkway that he helped build a few years ago.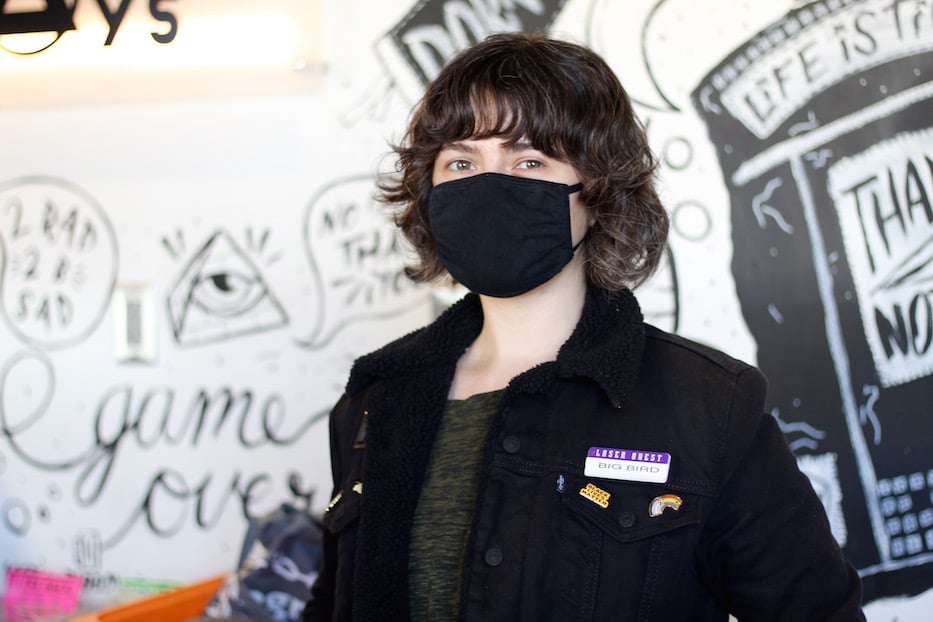 Surrounded by a bright array of pins and patches at Strange Ways, Schandra (she asked that only her first name be used) described the library as a place that instantly made her feel welcome after she arrived in Westville last year. When she moved to New Haven from Austin, Tex., registering for a library card was one of the first things she did. As a lifelong bibliophile, she was excited to connect with the library even as its physical doors remained closed.
Since, she's used the library for curbside pickup several times. She recalled a recent call from one librarian, who let her know that her pickup of Dune was ready—and that he too loved the book and thought it was a great choice. Every time she goes past the building, she marvels at the trees and plants that are labeled on its grounds.
"It sounds terrible!" she said of the crisis budget. She pointed to how many families live in the immediate and surrounding neighborhoods. "I just think that it should not close."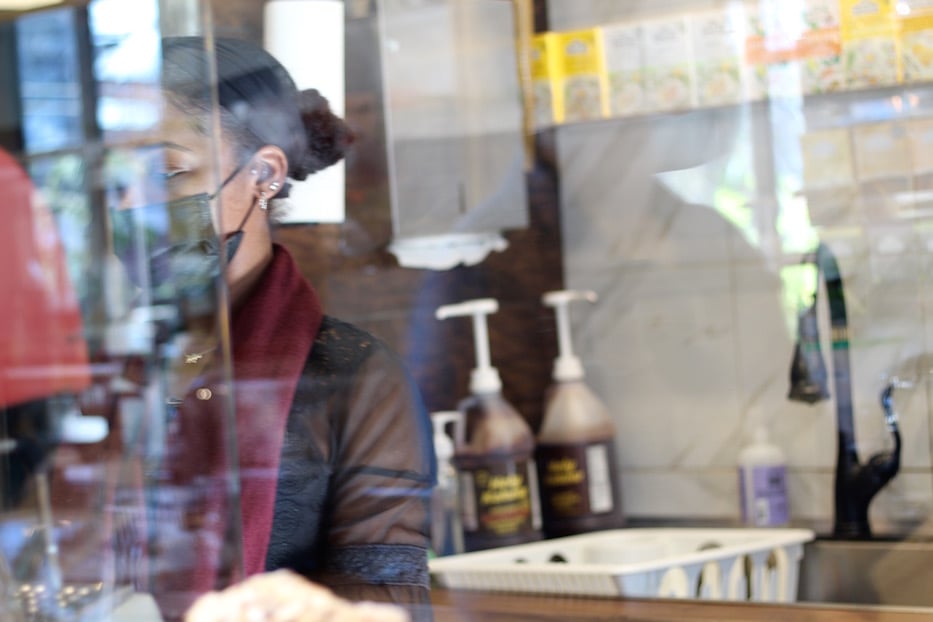 Taylor Curry: Mitchell's gotta stay.
Across the street at Pistachio Cafe, Taylor Curry was in the middle of making a rose latte and raised her eyebrows at the news. Growing up in Westville, Curry loved taking trips to the library with her family and classmates. When she was a kid, she helped design plaques for the library's trees during Artwalk New Haven. Like Dixon, she can't fathom a Westville that Mitchell Library isn't a vibrant part of.
As she arranged nut-flecked pastries in a case beside Curry, fellow barista Mackenzie Morrison said that the library is a welcome spot in the community. She'd hate to see it close.
"I think closing any library in any city is a bad idea," chimed in Mohamad Hafez, who owns Pistachio. "As a corner store here, we actually see a lot of community members who walk their way to our store here. There's a big community here that does not have cars … I think the library here is a cornerstone of our community, and we should keep that."
Will PILOT Prevail? What About Yale?
During his press conference Monday, Elicker was quick to say that the "Crisis Budget" is only one possible outcome. In the "Forward Together" budget, the library survives—as do several other municipal resources that the crisis budget would eliminate. There is still the question of how much the city will receive through Connecticut's PILOT (Payment in Lieu of Taxes) program and how much it will receive from Yale University.
"If we are able to get that support from the state and Yale, we will be able to not just muddle through, but actually get our financial challenges under control, so that in the long term we will be able to be a government that is much better equipped to provide adequate services to our residents," he said Monday.
Changes at the state level could soon make that a reality. In a vote on Monday, members of the Connecticut State Senate voted 28-7 to pass a new, needs-based formula for the PILOT program. While PILOT has long been designed to reimburse cities and towns for 77 percent of revenue lost to tax-exempt colleges and hospitals, cash-strapped municipalities have gotten closer to 25 percent in recent years.
It's not, however, a done deal. Although the bill is headed to Gov. Ned Lamont's desk, state legislators haven't yet voted to appropriate additional funds based on the formula. Meanwhile, New Haven has reported a $66 million deficit for the next fiscal year.
Elicker is also in the midst of negotiations with Yale over its annual voluntary contribution to the city, which was most recently $13 million. Currently, 40 percent of New Haven shoulders 100 percent of its tax burden. Over 60 percent of the city's grand list—that is, the total dollar value of all city real estate—is now tax exempt. Forty-two percent of that comes from Yale University and Yale New Haven Health.
"We're having positive conversations with Yale," Elicker said Monday. "While I'm not yet ready to get into details of those, I'm cautiously optimistic that the university sees that it has an important role in helping address our financial challenges. Not just because it's a good thing for the city, but because it's also a good thing for the university."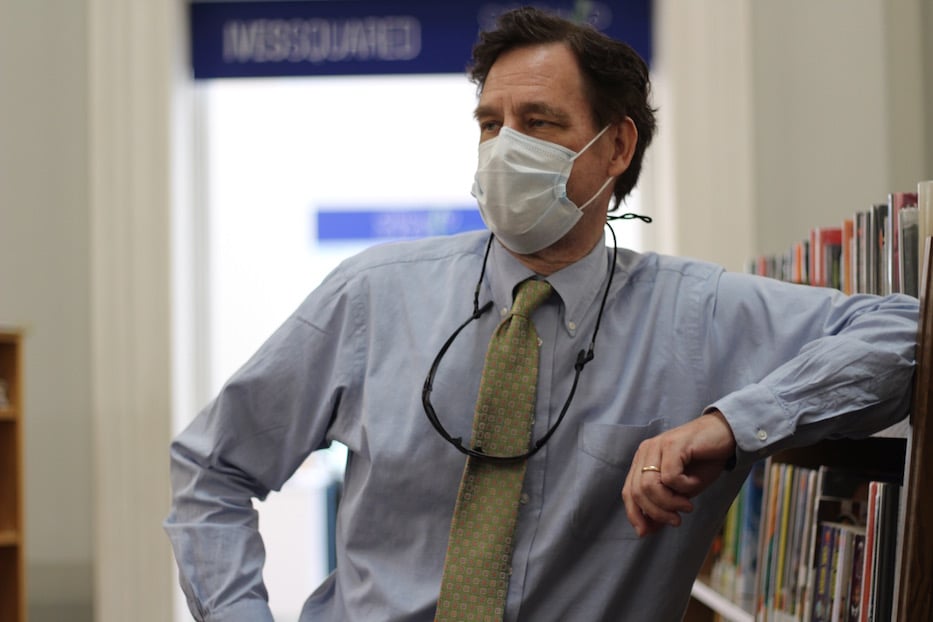 Jessen in July 2020, when the library reopened for curbside pickup. Mitchell has seen approximately 125 requests per week. Lucy Gellman File Photo.
City Library John Jessen said that he too is "cautiously optimistic" about PILOT funding, but is also bracing for a difficult budget season. In the past year, the library has grown its virtual footprint with fewer resources from the city, including cuts to the library that passed in the last budget cycle. As the library fights for funding, all five branches are preparing to gradually reopen more of their physical spaces.
He added that it's "kind of a myth" to assume that Mitchell's closure would only affect Westville residents. Every day, Jessen and fellow library staff see patrons from different neighborhoods use all five branches for their collections and programming. During the pandemic, Mitchell has been "neck in neck" with the library's downtown branch for most curbside pickups, he said.
"We have to be optimistic because this is a real kick in the teeth," he said. "If we were to close any of the libraries, it would be devastating not only to the community of readers at the library, but it would be devastating to the city."