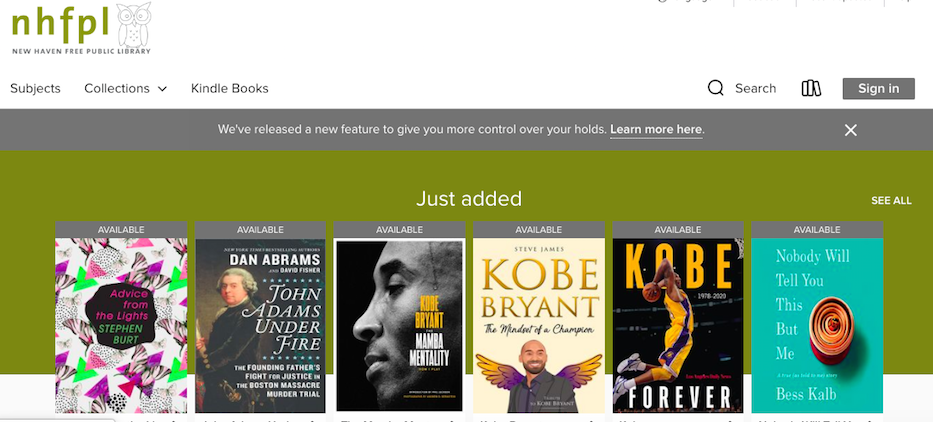 Arts & Culture | New Haven Free Public Library | COVID-19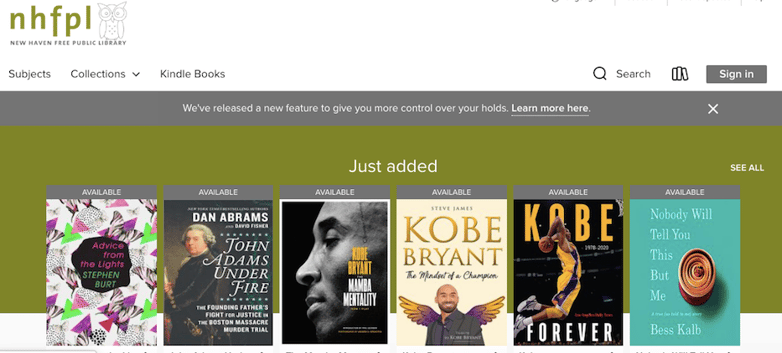 Above: some of the resources offered on Overdrive. Pictured below at left: City Librarian John Jessen. Lucy Gellman File Photo.
The New Haven Free Public Library's doors may be closed until further notice. That doesn't mean it wants New Haven to stop accessing its services—or learning through its books, magazines, and films—during a pandemic.
City Librarian John Jessen made that update this week, as he and library staff work to serve the New Haven community in an increasingly virtual world. Less than a week after staff were sent home to work remotely, the organization is trying to spread the word about both online and community-based resources.
"The first priority of the New Haven Free Public Library (NHFPL) is to protect the health, safety, and well-being of our staff, our library users, and our greater community," Jessen wrote in an email to library patrons. "Thank you for your understanding and please take care."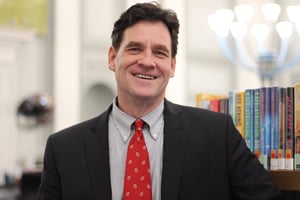 In addition to hyperlink-heavy weekly newsletters from Jessen, the library has posted public service information on doors and its five branches and Facebook, Twitter and Instagram social media accounts. It is also adding a chat feature to its website.
Jessen said that work began last week, as news on the severity and spread of COVID-19 escalated across the country. On March 13, all five branches of the library closed indefinitely to the public, as public schools and senior centers shut their doors to guard against the spread of the virus. By Monday, staff members were no longer working onsite.
While books, movies, computer labs and learning resources remain untouched inside, the organization is taking the time to remind patrons that it also offers services online, from e-books to links to the emergency hotline 211. On doors at all five branch locations, staff members have posted information from Liberty Community Services on food and clothing distribution and area homelessness resources.
While staff members are no longer physically working at the library, they are still on email and ready to assist patrons with their online accounts.
"It's like we're on untried ground so to speak," Jessen said in a phone call Wednesday. "Everything is changing hour by hour, day by day. We want to make sure that we're getting the message out in different ways ... we're actively upgrading aspects of our website. We're moving as quickly as we can."
During the outbreak, Jessen said that one of his most pressing concerns is what will happen to community members who rely on the library's job training and technological resources. During normal hours of operation, the library offers free computer classes, tax filing services, and English as a Second Language (ESL). It also serves as a warming and cooling center.
Now all of those have been cancelled or moved online, creating a digital divide for those without reliable internet and computer access. Jessen recalled the pain of telling a patron that because the library was closed, he would need to go elsewhere to upload his resume. The man found a business that could do it, but internet access was $2.99 for every 15 minutes. That was money the patron didn't have.
"There are a lot of people that are going to be hurting," Jessen said. "I really want to make sure that if people are desperate, they are given a message about where they can go for help. This is going to be a huge challenge for us, to stay connected to a huge part of our population that's going to be suffering right now."
Jessen, who has been in his role for just under three months, has also taken the opportunity to let patrons know that the library offers several free digital resources, including audio- and e-book platforms Overdrive, RB Digital, and Hoopla, arts and crafts activities for kids of all ages, and feature and documentary films via the streaming service Kanopy. There are also job resources, databases, and free access to the New York Times.
All books have been auto-renewed through the end of April, which means no late fees for patrons that have materials checked out. If the library remains closed beyond April, books will continue the auto-renewal process. In the meantime, patrons are encouraged to keep materials in their possession until the library reopens.
While the building's doors are closed, the library is also working to get the word out that VITA tax assistance is still available, but has moved to online-only appointments. It is not yet clear how the the 2020 Census, on which the library has been a vital community partner, will be affected.
"For me and for a lot of library staff, this is tough," he said. "There are people that were coming in every day, and they were trying to get a job, and we were helping them."
In the meantime, Jessen has vowed to keep patrons and community members updated through every possible form of communication. In a COVID-19 update Monday, he provided links to the Centers for Disease Control and Prevention (CDC) coronavirus information, to the Connecticut Department of Public Health, and to the city's COVID-19 updates.
While working remotely, staff members have also been making updates to the website to make it more navigable and user-friendly. It's not a substitute for being there in person, Jessen said. He knows that; staff are already feeling it acutely. But it will have to do.
"We'll get through this," he said. "We will. I think it's gonna show how strong we are as a community."
Visit the New Haven Free Public Library's website for more information.