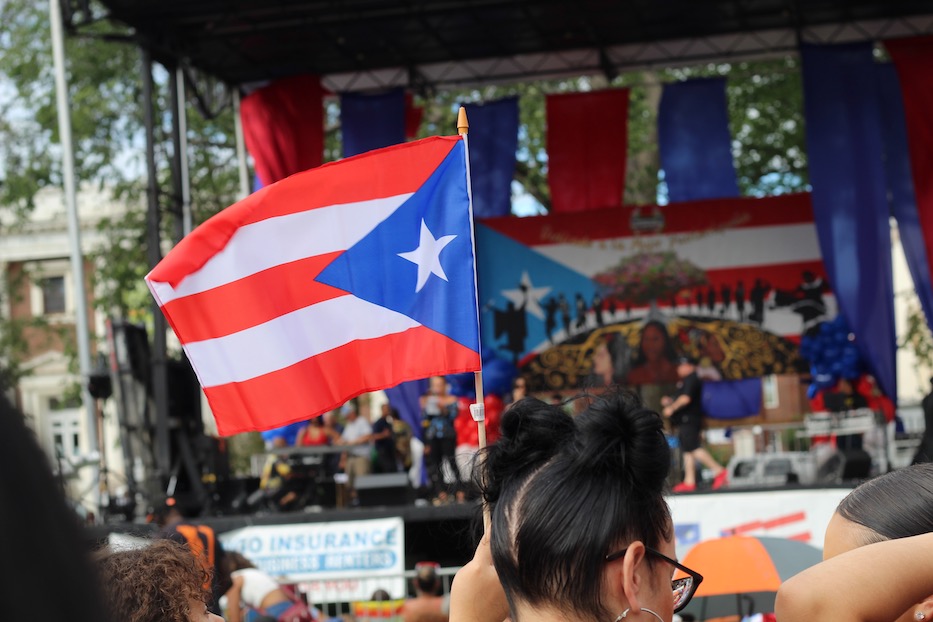 Boricua pride | Culture & Community | Puerto Rico | Puerto Ricans United, Inc.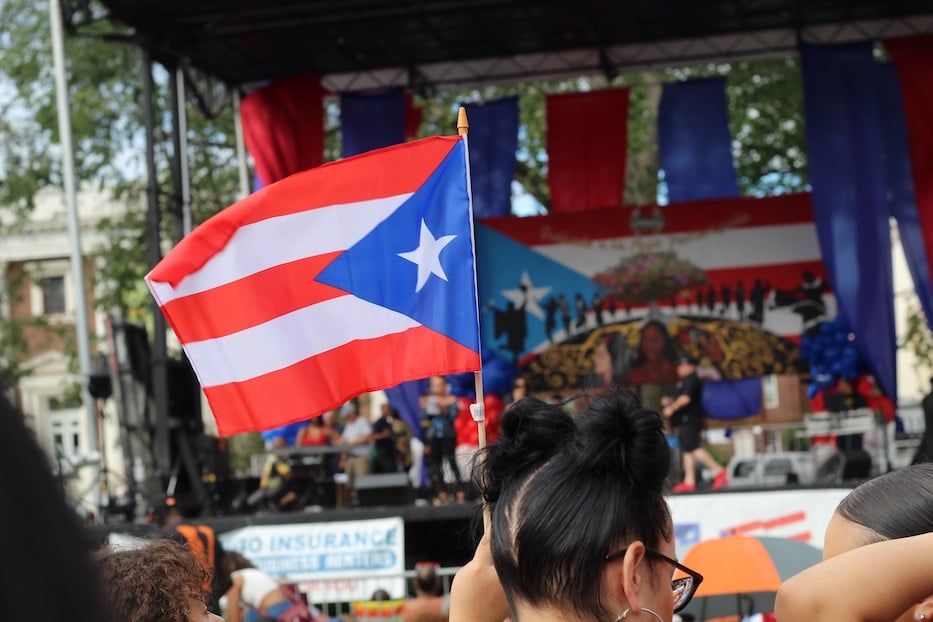 A moment from New Haven's Puerto Rican Festival in August of this year. Lucy Gellman File Photo.
When Joe Rodriguez heard that there was a hurricane headed toward Puerto Rico, his first thought was to get in touch with his family on the island. His mind, racing, went to the grandparents, aunts, uncles and cousins who live in Barranquitas.
His second, a prayer. Don't let this be like Maria.
Rodriguez is the president of Puerto Ricans United, Inc., the New Haven-based, all-volunteer group that may be best known for its annual day-long cultural festival on the New Haven Green. In the immediate wake of Hurricane Fiona, he is one of hundreds of Connecticut residents trying to get the word out on ways to help the island as it recovers from the storm.
They include the Coalition of Connecticut Puerto Rican Day Parades Festivals, which Tuesday afternoon released a list of resources and organizations both on and off the island that are providing aid. Those include CT Helps PR/ CT Ayuda PR, a website that the Hartford Puerto Rican Day Parade originally launched after earthquakes hit the island in January of 2020.
"When we see an approaching storm on the island, our hearts skip a beat," Rodriguez said in a phone call Tuesday afternoon. "We are reminded of what has been a very challenging five years with Hurricane Maria, Hurricane Irma, the earthquakes. That [first] evening of the storm is the worst. You fall asleep and just pray that your morning message to them is received."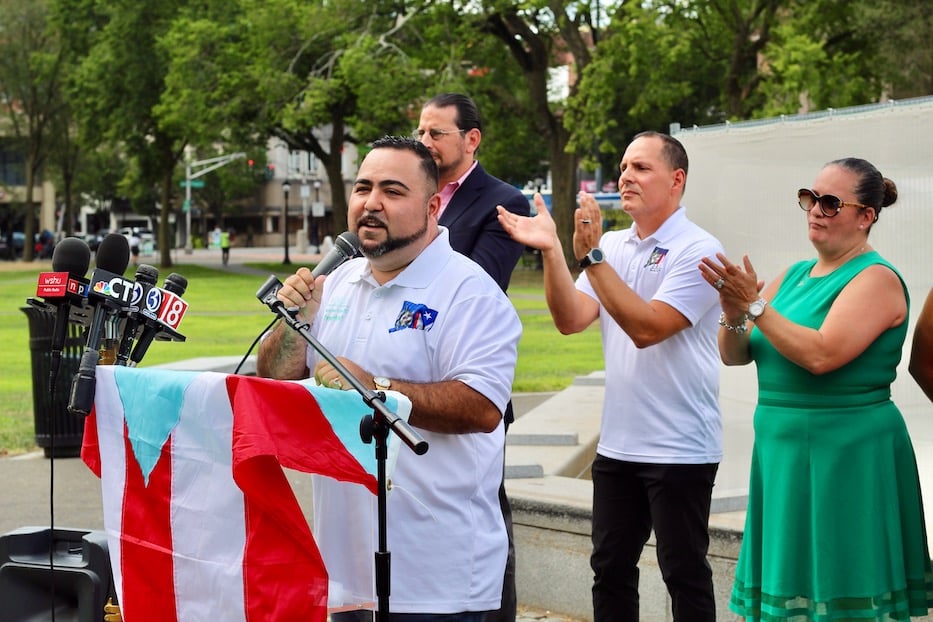 Rodriguez and members of Puerto Ricans United, Inc. at a flag raising ceremony last month. Lucy Gellman File Photo.
Fiona made landfall on the island Sunday and into Monday, shutting down Puerto Rico's already-precarious power grid and leaving 750,000 people without potable water. As of Tuesday afternoon, the island was still engulfed in a near-total blackout, with thousands of people in shelters.
On Tuesday, Federal Emergency Management Agency (FEMA) Director Deanne Criswell was meeting with Puerto Rico Gov. Pedro Pierluisi to discuss getting additional emergency aid to the island. Meanwhile, Fiona moved from a category one to a category three storm, slamming the Dominican Republic and Turks and Caicos before heading towards Bermuda.
It comes at an emotionally raw moment for Puerto Ricans on the island and across the diaspora, including the five million living outside of the island, and the more than 300,000 in Connecticut. Five years ago this month (nearly, in fact, to the day), Hurricane Maria made landfall in Puerto Rico, killing over 3,000 people and leaving a trail of destruction in its wake.
In its aftermath, then-President Donald Trump delayed billions of dollars in emergency aid to the island. Carmen Yulín Cruz, then the mayor of San Juan, called it a stain on his presidency and on the legacy of federal aid. As the island reeled from the storm's devastation, grassroots groups and organizations in Connecticut launched relief efforts in New Haven and the state. Thousands of Puerto Rican individuals and families resettled in Connecticut.
In New Haven, Junta for Progressive Action welcomed just over 2,000 people, said Executive Director Bruni Pizarro Tuesday. Five years later, she said that "Junta is moving forward on preparing to welcome families," and will continue to act as a "resource hub" for individuals and families arriving from the island. As climate change causes more frequent extreme weather events, she also expects to see more people coming to Connecticut from Puerto Rico each year.
According to the United Nations High Commissioner for Refugees, 21.5 million people are displaced each year by extreme weather events, from severe drought to typhoons and hurricanes. As the earth rapidly warms, that number will continue to rise.
That history was on Rodriguez' mind—and the mind of hundreds of thousands of Puerto Ricans across the state—as news reports of a category one storm began to crackle over the airwaves last weekend. As Fiona headed towards the island, "I did what everyone else who has family there does," he said. He methodically reached out to immediate family in Barranquitas, and then to friends and extended family across the island.
"You have those hard conversations, just asking if they have what they need, if they are prepared," he said. Then, he waited. His family waited.
Monday and Tuesday, he was relieved to hear that they were physically unharmed—and acutely aware that they were also in the dark and without drinking water. Last night, he was grateful when the Coalition of Connecticut Puerto Rican Day Parades Festivals announced and held an emergency meeting to hammer out ways for Connecticut residents to help early relief efforts.
As of Tuesday, they recommend giving to a handful of organizations, most of which are located on the island, and all of which work closely with Puerto Rican Day festivals across the state. In addition to CT Helps PR, they include Taller Salud, Hospital del Niño, Para La Naturaleza, and Casa Pueblo (click here for the full release, which includes descriptions of each organization). Rodriguez added that he expects Tuesday's call to be the first of many local, grassroots relief efforts for the island.
"My heart and my prayers are with our extended family in Puerto Rico," he said.
Pedro Julio Serrano, an LGBTQ+ activist who spoke on gay rights in Puerto Rico at Bregamos Community Theater last week, added Waves Ahead to that list. The organization provides reconstruction efforts, microloans, and mental health support to queer Puerto Ricans.
"Después de la tormenta, la calma reinará," he wrote, quoting the Puerto Rican musician José Feliciano. "Después de [varios] días de lluvia, el sol se asomará."
"After the storm, calm will reign. After [several] days of rain, the sun will rise."
Read the full release here.