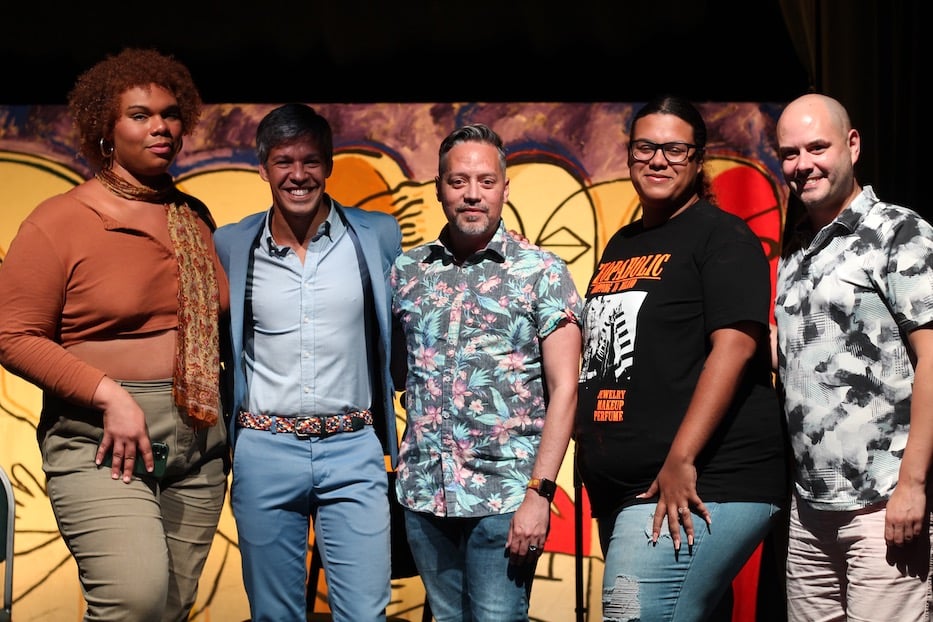 Bregamos Community Theater | Culture & Community | Fair Haven | LGBTQ | Puerto Rico | Arts & Culture | New Haven Pride Center | Arts & Anti-racism | PRIDE New Haven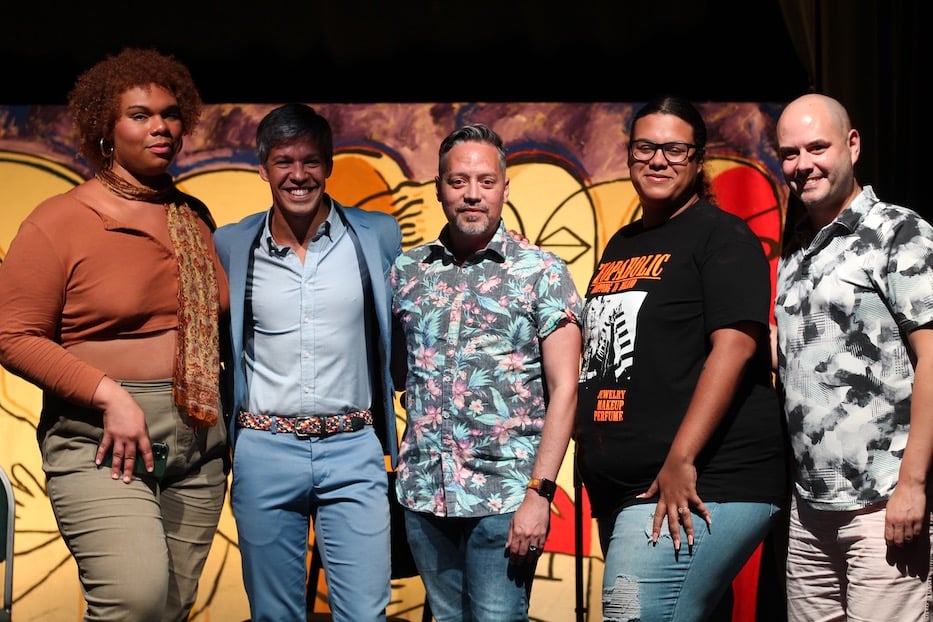 Members of New Haven Pride Center staff with Pedro Julio Serrano. From left to right: Erycka Ortiz, Pedro Julio Serrano, Juancarlos Soto, Jahnice Cajigas, and Patrick Dunn. Lucy Gellman Photos.
Support the community members already doing the work. Learn the archipelago's full history—including the voices that have not yet gotten their proper due. Join the fight on the ground, or build its legacy by sending resources. And push for legislation that will protect everyone—even if a career in politics doesn't seem like it's in the cards.
That advice came from Puerto Rican activist and LGBTQ+ champion Pedro Julio Serrano Tuesday night, as he graced the stage at Bregamos Community Theater to speak about LGBTQ+ rights in Puerto Rico. Serrano is the founder of Puerto Rico Para Todes, an LGBTQ+ advocacy organization with four satellite locations across the island, and Director of Public Affairs at Waves Ahead. In June, he joined the Pride Center for the first time in a panel on what it means to be Boricua and Queer.
The event received support from Puerto Ricans United, Inc., the Community Foundation for Greater New Haven, and Bregamos Community Theater. Roughly two dozen attended in person; hundreds more listened online. The event is one of 25 taking place this week, during PRIDE New Haven celebrations across the city.
"We need to acknowledge that Puerto Rico is much more than a geographical area," Serrano said, noting the five million Puerto Ricans who live outside the archipelago. "We're a community that lives across the world, and this is why it's important that we connect those dots in the diaspora."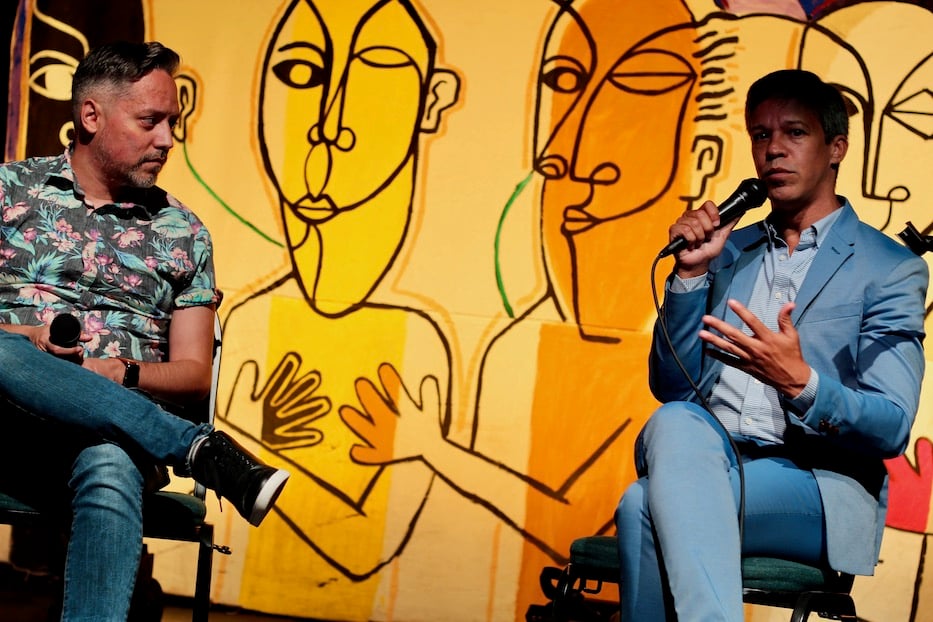 "That doesn't happen in a vacuum. It happened because a lot of people stood up and fought."
In the hour-long discussion with New Haven Pride Center Deputy Director Juancarlos Soto, Serrano jumped from topics including HIV prevention and care in rural Puerto Rico to private philanthropy to anti-trans violence to his Vans, custom printed with the design of the Puerto Rican Pride Flag. But the most significant, and one he came back to multiple times in the evening, was the way New Haven can learn from LGBTQ+ advocacy in Puerto Rico.
Before looking to LGBTQ+ rights in the present—and what New Haven might learn from the island next door—Serrano rolled the clock back to the last century, well before Marsha P. Johnson and the 1969 Stonewall Riots in New York City. In U.S. history, he said, Stonewall is often thought of as the watershed moment that launched the gay rights movement across the country.
But in Puerto Rico, LGBTQ+ community builders had already been doing that work, often quietly and without credit, for years. In particular, he said, the movement owes its thanks to several trailblazing Puerto Rican women who paved the way—and opened the door to queer and trans activists doing the work now.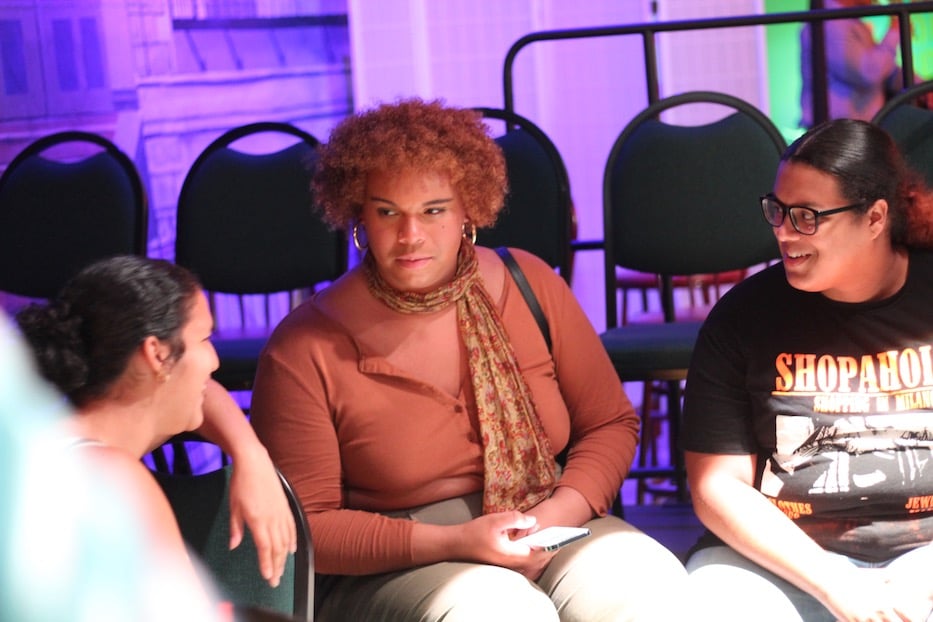 Tatyana Colón, Erycka Ortiz, Jahnice Cajigas.
Moving through decades of history in minutes, Serrano named Ana Irma Rivera Lassén, an Afro-Boricua, powerhouse attorney and longtime LGBTQ+ organizer who is now serving as the island's first opency gay senator. He looked to Soraya Santiago Solla, the first Puerto Rican trans woman to change her gender marker on a birth certificate.
It is on their shoulders that he stands, he said. In 1972, Lassén became a founding member of Mujer Integrate Ahora (Women Integrate Now); two years later she launched the feminist publication El tacón de la chancleta. By the 1970s, Solla had already come out as trans, and was vocal about the fact that she had undergone sex reassignment therapy. It would be four decades before the words "gender affirming care" entered the mainstream lexicon.
"We're far more advanced than the majority of states and territories when it comes to legislation, to protections, to rights that are afforded to LGBTQ+ people in Puerto Rico," he said. "And that doesn't happen in a vacuum. It happened because a lot of people stood up and fought."
What that advocacy means on a daily basis takes different forms, he continued. After the devastation of Hurricane Maria, it was Waves Ahead and several LGBTQ+ volunteers and allies—both from the island and well beyond it—that helped rebuild. In the past two years, it has meant both ensuring safe and accessible HIV treatment (in the midst of an ongoing parallel pandemic) and working to stem an unprecedented wave of anti-trans violence that has seized Puerto Rico.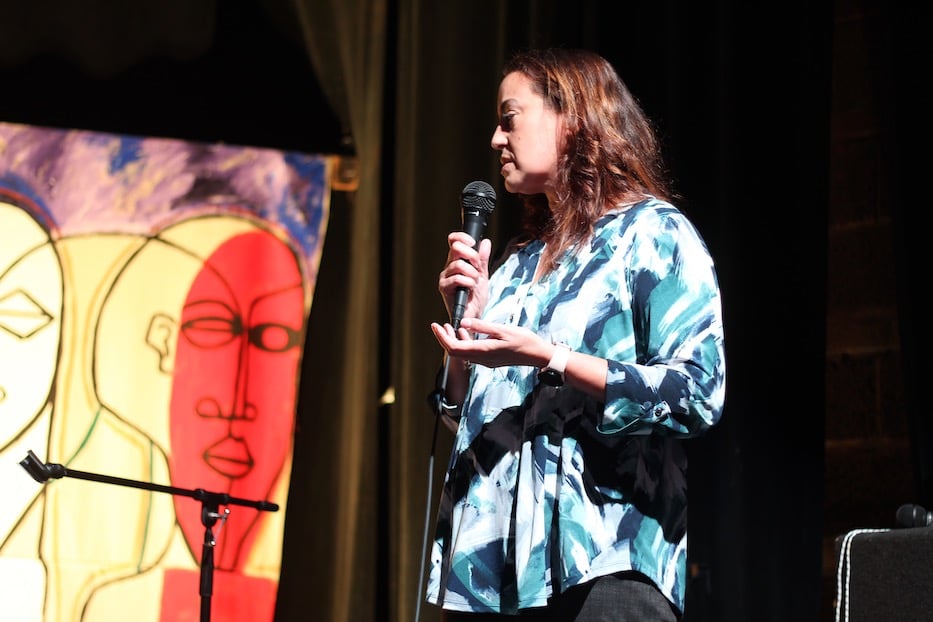 Magaly Cajigas, of Puerto Ricans United and the Community Foundation for Greater New Haven, thanked Soto and Serrano for holding the discussion.
Soto looked to Texas, where a federal judge ruled last week that private insurance companies do not have to cover Pre-Exposure Prophylaxis (PrEP, known more commonly as Truvada or Descovy), protected under the Affordable Care Act. In the U.S., it marks a potential blow to HIV prevention, aimed primarily at members of the LGBTQ+ community.
Serrano, who was in 1998 the first openly gay and HIV positive candidate to run for office in Puerto Rico, hung on to every word. Had he been elected, he would have served in Puerto Rico's House of Representatives.
"What does that look like in Puerto Rico?" asked Soto. "Have you seen a lot of progress? Does it feel like we're making a dent in it?"
Serrano's answer sounded like it could have been a blueprint for New Haven. In Puerto Rico, he explained, activists and community members have been doing work around HIV prevention and management for years—it's the government that hasn't yet stepped in to help in a significant way. In his answer, he added, he didn't only mean the local governance—he also meant the U.S., which has sought to control Puerto Rico as an unincorporated territory since 1898 while stripping its residents of their basic rights.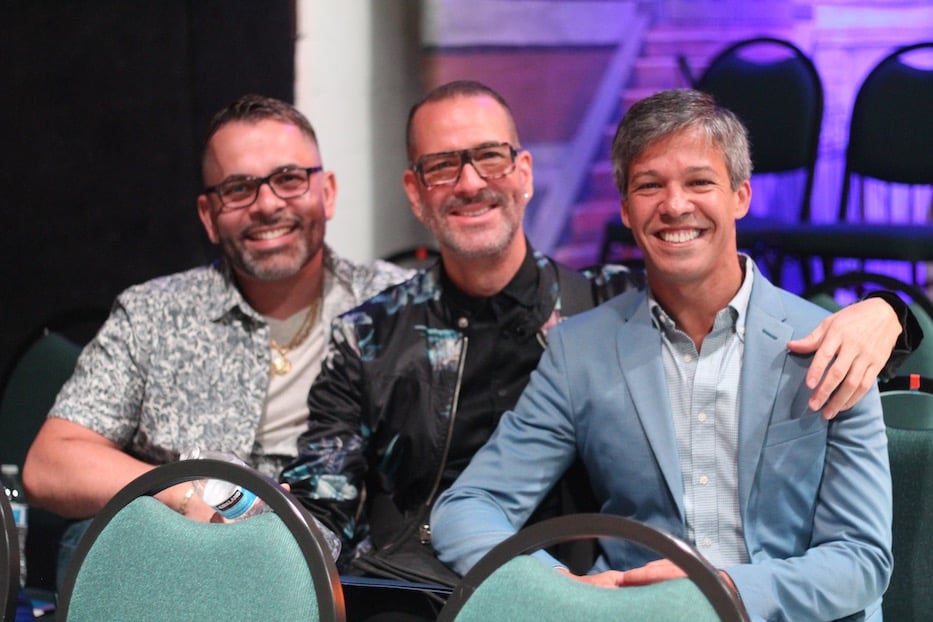 Daniel Melendez and Karlo Karlo with Serrano.
On the island, there is not yet a government program responsible for PrEP, meaning that clinics that treat people with HIV are stretched across the island. Meanwhile, there are few public conversations "about what it means to be undetectable," he said. If a person living with HIV is undetectable, they are also untransmissable—which could radically stem the spread of HIV. Before that can happen, he said, there needs to be more honest dialogue and testing in place.
There have been gains, he continued—including a Bill of Rights for people living with HIV. Even as the island works to lower its case and infection rate, "I think it [the Bill of Rights] could be a model for other territories and jurisdictions, because it's very advanced," he said. For instance, the piece of legislation includes a section that walks people with HIV through seeking monetary retribution if they feel they have been discriminated against.
Serrano also acknowledged that there is still significant work ahead—and that it must happen both in Puerto Rico and across the globe. The past two years have both brought with them a wave of record violence against LGBTQ+ and particularly trans Puerto Ricans, including Afro-Boricua women. Two years ago, Puerto Rico was the nexus of anti-trans violence in the U.S. and territories.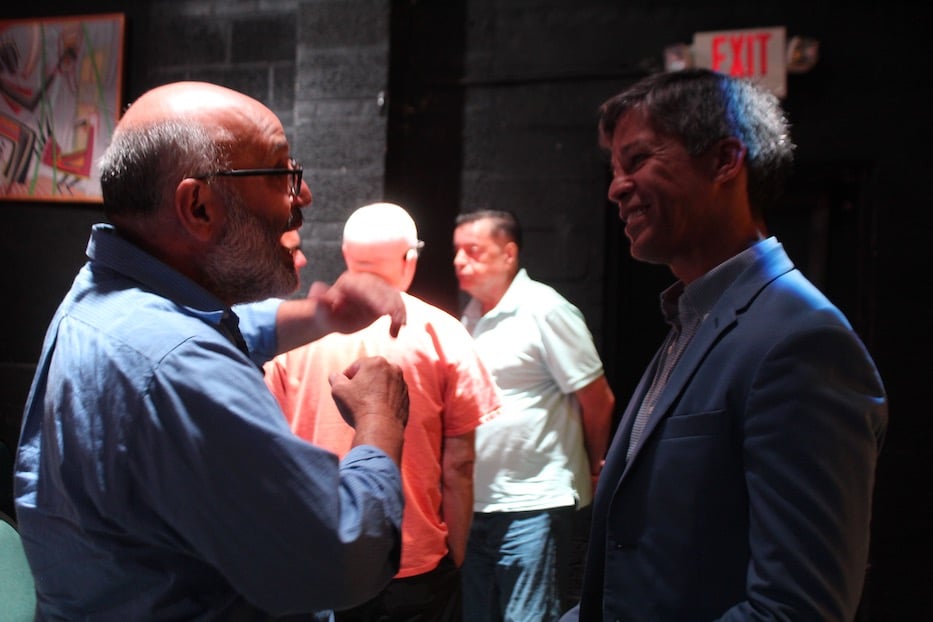 Lee Cruz with Serrano after the discussion.
Serrano pointed to the case of Alexa Negrón Luciano, a 29-year-old trans woman who was verbally harassed, doxxed, followed, and brutally murdered within a 24-hour strech in 2020. In the hours before her death, pictures and anti-trans slurs calling her a pervert were shared on social media thousands of times. People began to track her whereabouts, sharing information on the gas stations or restaurants that she was frequenting.
"For many years, the fundamenalist leaders in all the island have been saying, 'you know trans people going to the bathroom are perverts, they're after your children,'" Serrano said. "When you say a lie over and over again, people start believing it.
"They lynched her," he said. "They posted her picture. They posted her whereabouts. And then 24 hours [later], she was found dead ... these fundamentalist leaders have blood on their hands."
That's been hard for him personally, he added. When Serrano initially ran for office in the 1990s, "homophobia back then was very harsh," and he was ultimately forced to step out of the race. Serrano and members of his family were threatened in public and in private. Someone cut the cables on his car; people sent threatening notes to his home and followed him. Once, someone followed him when his mother was also in the car.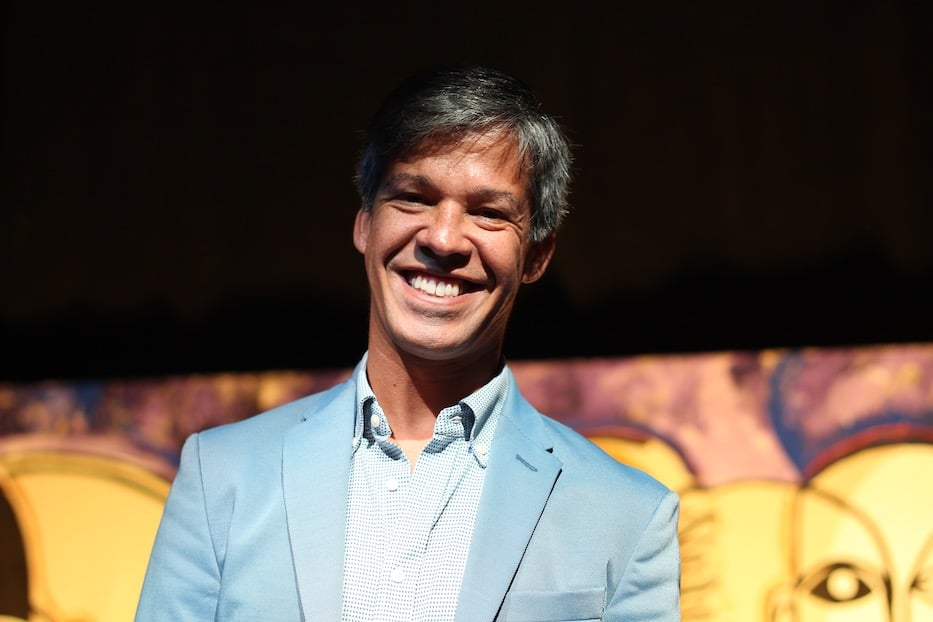 "Legislators probably don't know what we're living and what we're facing. So it has to come from the community. You have to write those bills."
It pushed him to move away from the island and to New York City "for my safety." He lived there for a decade before cautiously returning. Even now, he said, he knows that he's being watched and scrutinized in his advocacy and work with Puerto Rico Para Todes, which often puts him on a national stage.
"The price that you have to pay for being a public figure and being open about who you are—it's very hard," he said. "I'm one of the most vilified figures in Puerto Rico because of the work that I do."
"I don't give a fuck," he added to applause, "But it's hard. Especially for your family. Especially for friends. Because you don't want to be a statistic. And you don't want to be a martyr, either."
It has also given him reason to dig ever deeper into the work. When the Rev. Alex Garbera asked what Connecticut residents might do to push for LGBTQ+ rights in their own state, he returned to both the grassroots approach and public, political push that defined early work towards LGBTQ+ equality in Puerto Rico.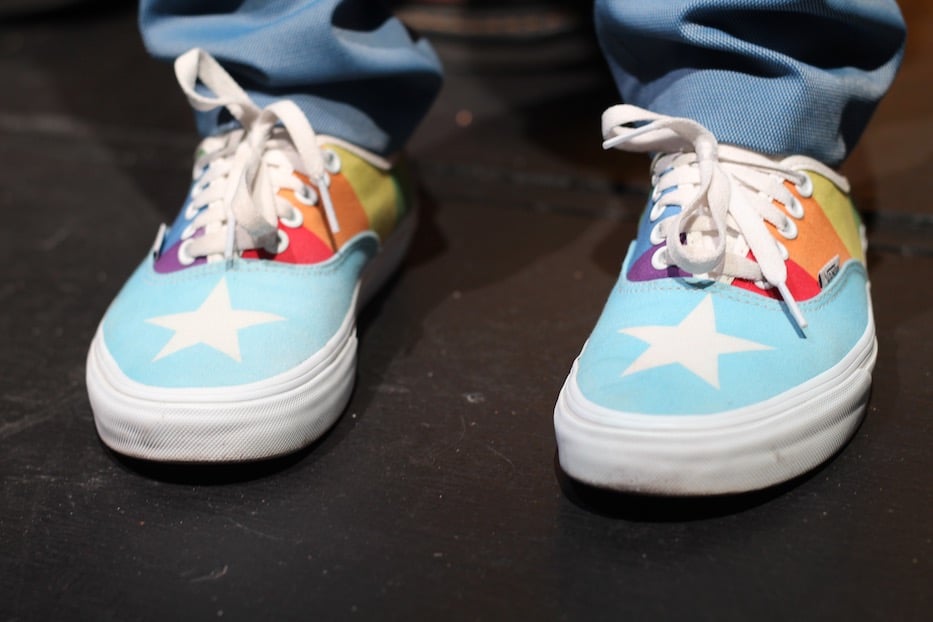 Serrano's custom-made Vans, printed with the Puerto Rican Pride Flag.
In particular, he urged those living at the intersection one or multiple oppressed identities—woman, Black, Latinx, Indigenous, trans, queer, HIV positive—to advocate for themselves and for others in whom they see themselves.
"I think that community involvement is critical," he said. "It's key. You have to get involved. You need to lobby your legislators, sometimes you even have to write the bills, the laws, that you want to see. Because legislators probably don't know what we're living and what we're facing. So it has to come from the community. You have to write those bills."
He encouraged the activists in the crowd to also consider running for office themselves. In particular, he said, he thinks about the importance of centering voices that have for centuries been pushed to the margins.
"I'm only gay, but there are a lot of different experiences of our LGBTQ+ community," he said. "Nonbinary. Queer. Gender nonconforming. Pansexual. Bisexual. There are other folks that are out here that need to be recognized and lifted up as well. Not only to learn the ways, but because I learn from them as well."
To access the full schedule for PRIDE New Haven, check out the New Haven Pride Center's website. PRIDEFest is Saturday Sept. 17 on the New Haven Green.