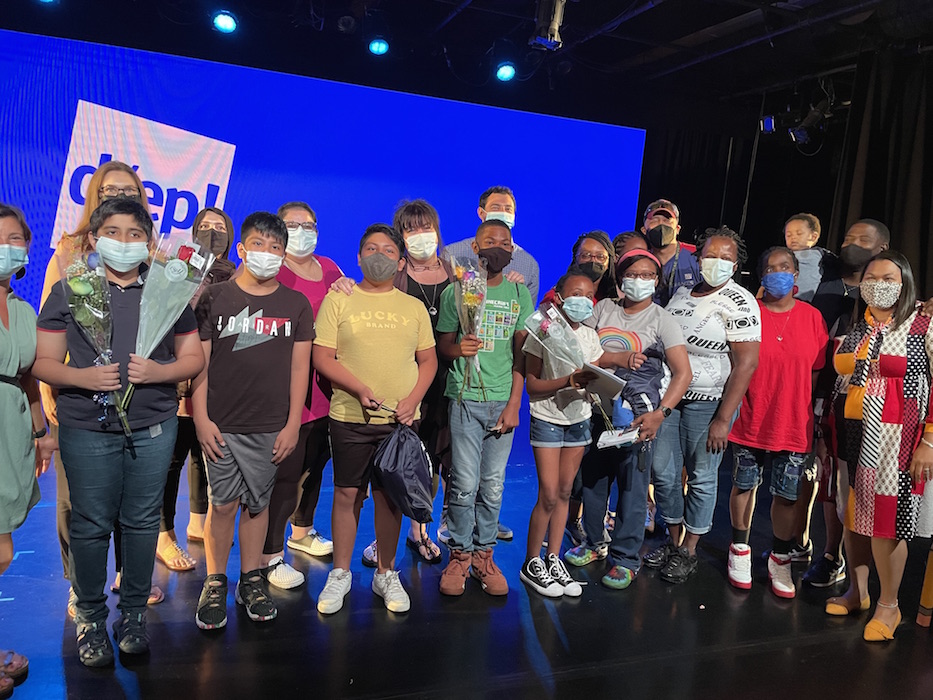 Dwight/Edgewood Project | Education & Youth | Arts & Culture | New Haven Public Schools | Theater | Yale School of Drama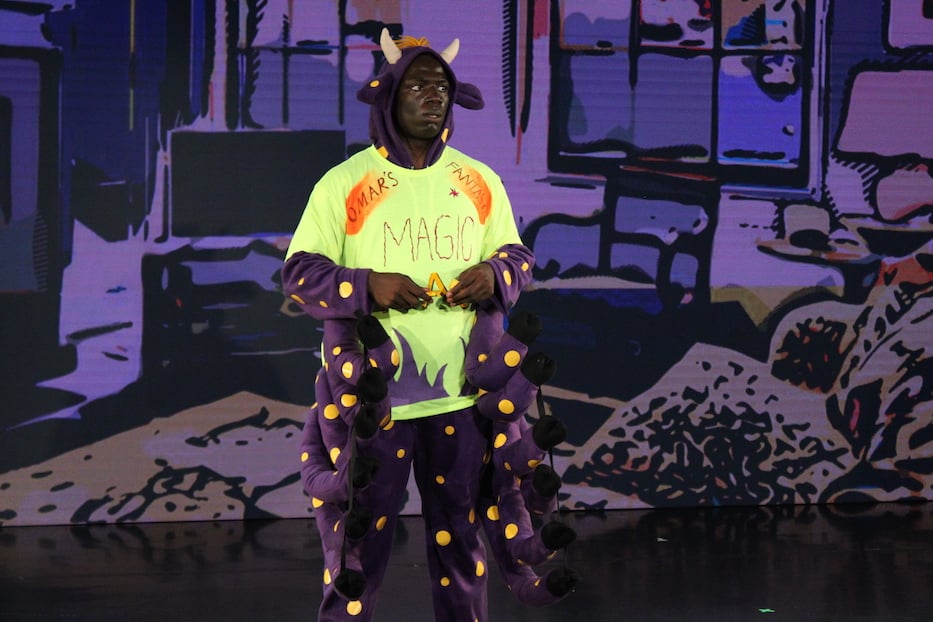 Nomè SiDone as Melvin the Mistacow. Photo courtesy of the Dwight/Edgewood Project.
An eight-legged, purple cow named Melvin shimmied furiously across the stage, desperate for his chance in the spotlight. A rollerskating leaf befriended a talking raindrop, then FaceTimed her mom on the smooth pink side of a conch shell. A sleepy sloth and a hyperactive chipmunk braved the deep, cool waters of the Planet of Eath.
At every turn, time-travel, psychic portals, intricate choreography and inter-species friendships were all well within the realm of possibility.
Those scenes came to life last Friday night, as the Dwight/Edgewood Project made a jubilant, moving, and laughter-laced return to the Off Broadway Theater in downtown New Haven for the first time in two years. A collaboration between the David Geffen School of Drama at Yale and Barnard Environmental Studies & Technology Magnet School, the project pairs School of Drama students with Barnard fifth and sixth graders to write, rehearse, stage, and fully produce short plays. Friday and Saturday, friends and families attended to watch the works.
This year, Barnard students included Omar Mushtaq, Levi Amani Johnson, Camryn Jade Hargreaves, Dennis Muñoz, Jonathan Munoz Sanchez, and Jaelin Cherry. The six worked with directors Hollis Ngai and yao, and a small group of mentors and actors to bring the works to fruition.
"I don't even know how to describe it," said Project Coordinator Emalie Mayo, who has nurtured and grown the program since 2014. "I just couldn't believe that I was seeing it [back in person]. It's relief. It's joy. It's all these small moments of giving and of selflessness. I'm just full."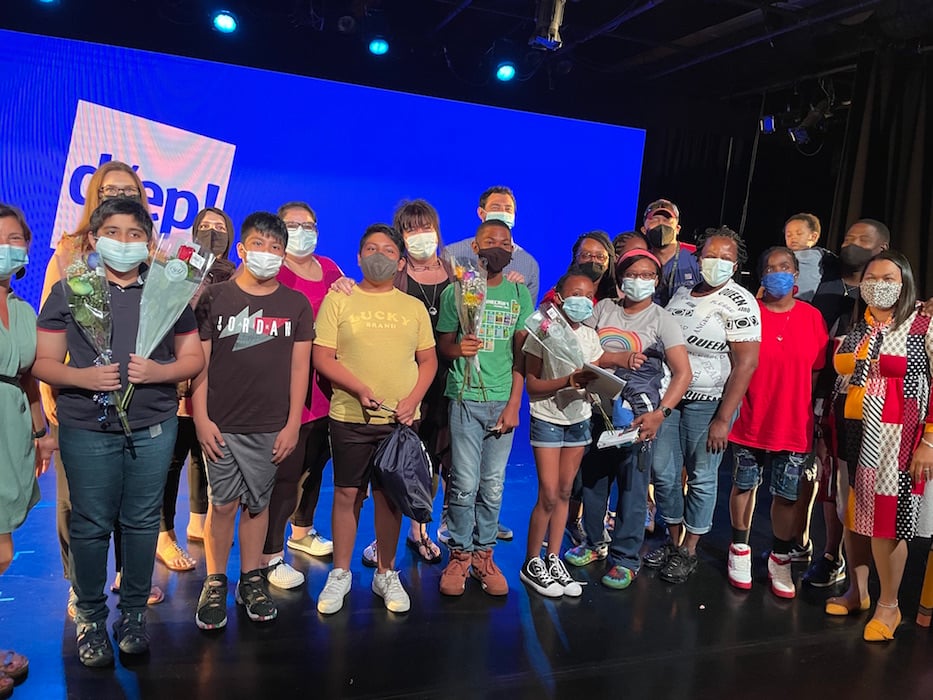 Students and mentors on Friday night. Lucy Gellman Photo.
It has taken a village to get to performance, she added. In 2020 and 2021, the School of Drama suspended the project as Covid-19 rattled New Haven, sending Yale students home and New Haven Public Schools students online. For two years, the Off Broadway theater remained quiet, missing the humanoid bananas, drag queens playing light and shadow, talking sea sponges, and injured clouds who had for years graced its stage.
Then this year, Mayo was able to bring the project back with new pandemic-era guidelines, including a curriculum that started on Zoom, and then transitioned into outdoor playwriting workshops and a final weekend of in-person performances. Earlier this month, participants were able to gather for a two-day retreat at the Eli Whitney Museum and Workshop, during which they did the bulk of their writing. The two days replaced a weekend at sleep-away camp in Griswold, Conn. that is usually part of the program.
Friday, it seemed that none of those changes dampened the experience. Instead, three plays centered the magic and urgency of human relationships, and the un-fixedness of the future. Playing before an intimate house, it was exactly what people needed after three years of quarantine, awkward social interactions, and a world at war with itself.
"I learned a lot about how a play is made, and like the backstage of how the play works," Omar said in an interview before Friday's performances. "Like, I thought it was just like, write the play, and then people just perform it. I didn't know there were lighting professionals, stage professionals, all that other stuff. It's cool."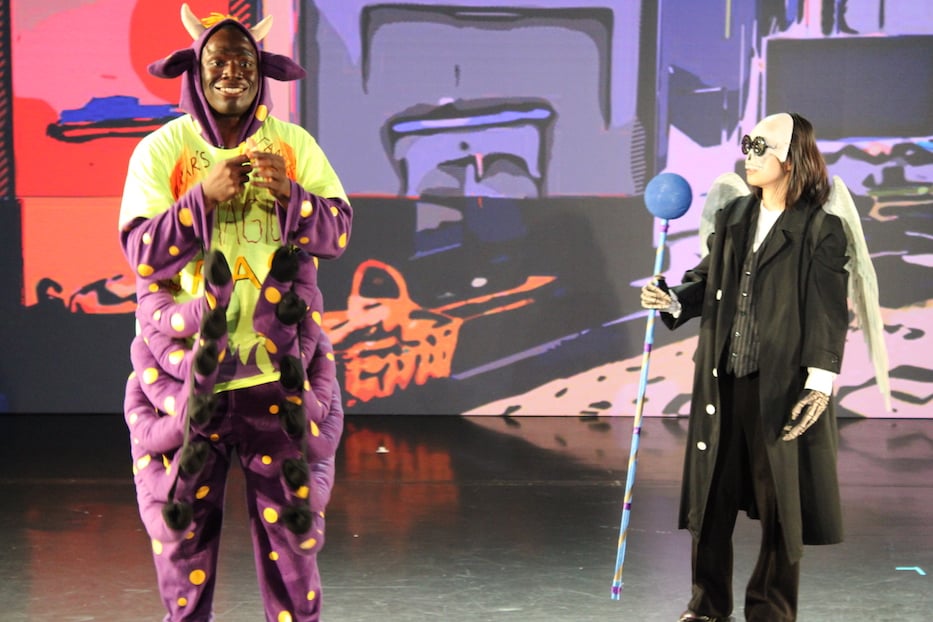 Nomè SiDone as Melvin the Mistacow and Kim Zhou as the Creator of Worlds (COW). Photo courtesy of the Dwight/Edgewood Project.
As lights went up on Melvin's COW-tastrophe Friday night, he sat just offstage, watching his work come to life. Beneath a spotlight, Melvin the Mistacow (Nomè SiDone, who was also Omar's mentor) stepped from side to side, auditioning for a commercial for "Magic Grass," which appeared to be a cross between grass and seafoam-green taffy. The longer he sang, the more undone he became, stumbling over his eight soft feet as he made his way through a hopeful jingle.
When a casting director's "Next!" came from offstage, Melvin collapsed into a purple puddle on the floor, weepy and fretful. Behind him, projections from designer Sam Skynner appeared on a long back screen, transporting the cow from the audition back into his home. He was there when the Creator of Worlds or COW (Kim Zhou) knocked on the door with an urgent rap-tap-tap-tap and came barging in, a back scepter clasped in one hand.
In a total deadpan, Zhou delivered the news that Melvin's parents had been kidnapped in another dimension, and it was up to him to save them. He looked up with wide, sad eyes, and then glanced back at the floor. In the gesture was every petulant teen who has promised they would take out the garbage and spent the day in a simmering pool of angst instead. Beneath a mask, a smile flickered across Omar's face.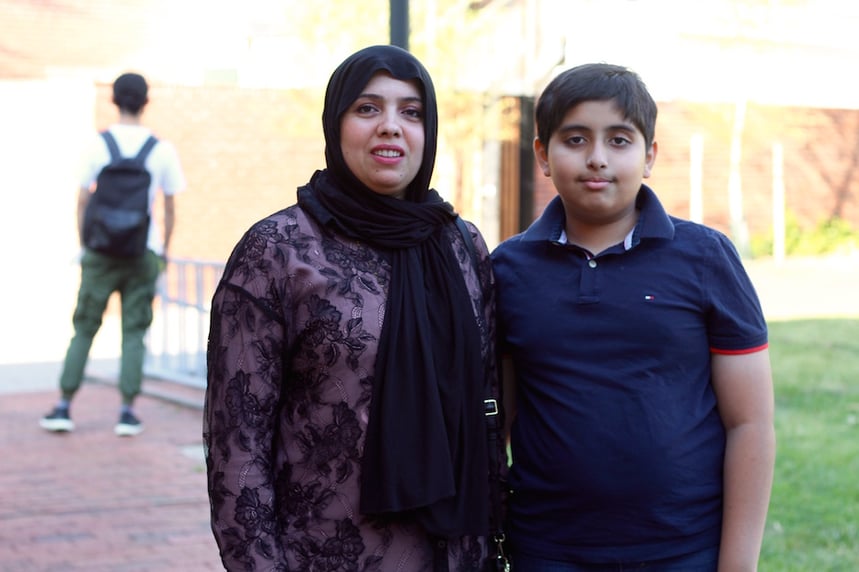 Omar Mushtaq and his mom before the show. Lucy Gellman Photo.
"Not now, I'm busy," Melvin said, and every audience member could hear the pity party blooming in his voice. A few giggles rose up from the crowd. From where a gaggle of drama students and the singer Anne Tofflemire sat in the fourth row, laughter exploded in short bursts, ringing out into the darkness.
The Creator of Worlds tried again, this time more insistent. A skeletal mask over her face shifted just so with the words, and gargantuan teeth hung over her mouth (a nod to costume designer Stephen Marks, on whose imagination there was no limit). Between every word, she summoned the necessity and weight of collective care. Onstage, Melvin could feel the responsibility churning in his gut. In the audience, viewers could feel it too.
"I want to help my parents, but I'm scared," Melvin told the audience. Something in Omar's script, still so fresh, crackled with the young Mistacow's vulnerability. The play lunged forward, taking attendees into a different dimension one projection at a time. As Melvin closed his eyes and chose bravery, he was able to teleport to his parents, two cows frozen in time, waiting for their son to bring them home.
Even with plenty of middle school humor—well-placed moo jokes, bad dance moves (have you seen an eight-legged cow try to floss?), and the ability to make fun of that liminal, moody place that is prepubescence—it became a meditation on what one can do for others and for oneself with a little confidence and a side of intergalactic time travel. No wonder, then, that Melvin ended the show dancing.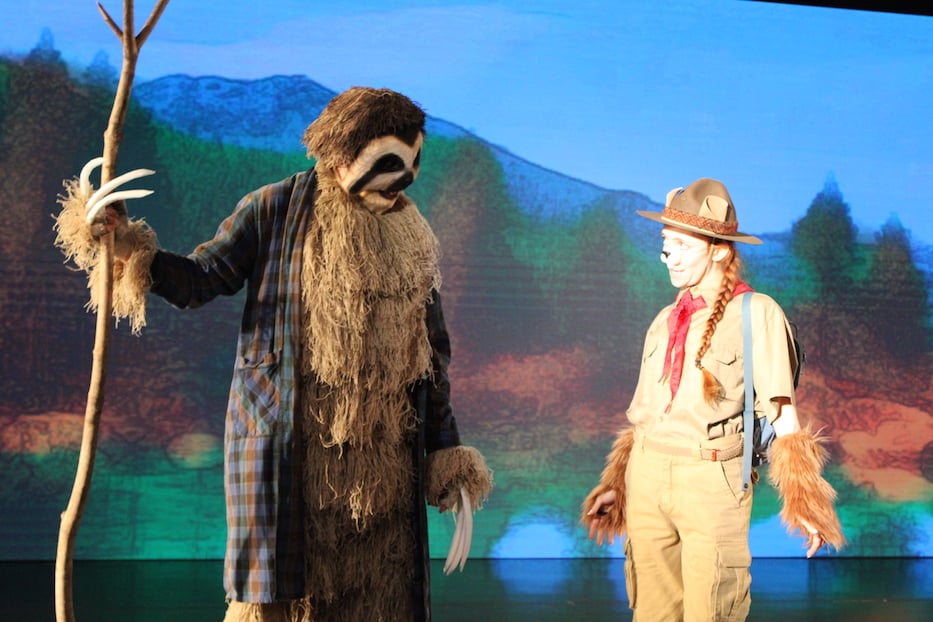 David Mitsch as Brooklyn the Sloth and Sarah Lyddan as Gerald the Chipmunk in Levi Amani Johnson's Planet of Eath: Slothworld. Photo courtesy of the Dwight/Edgewood Project.
That sense of wonder and quirk came through Levi Amani Johnson's Planet of Eath: Slothworld, as Brooklyn the Sloth (David Mitsch, who was also Levi's mentor) and Gerald the Chipmunk (Sarah Lyddan) stumbled upon each other in the forest, both avoiding the planet's snakes. Hanging from a tree, Brooklyn debated the merits of friendship, insisting that he was happier alone.
It was only when Gerald grabbed the scruff of his neck to swim across a lake—that sweet intimacy of human touch—that the sloth started to reconsider. From a chair close to the stage, Levi taught a master class in compromise and interdependence without ever having to say the words.
Throughout, students seemed wise beyond their years—or maybe it was that they seemed exactly on time for their years, a reminder of what adults lost sight of while they were busy growing up.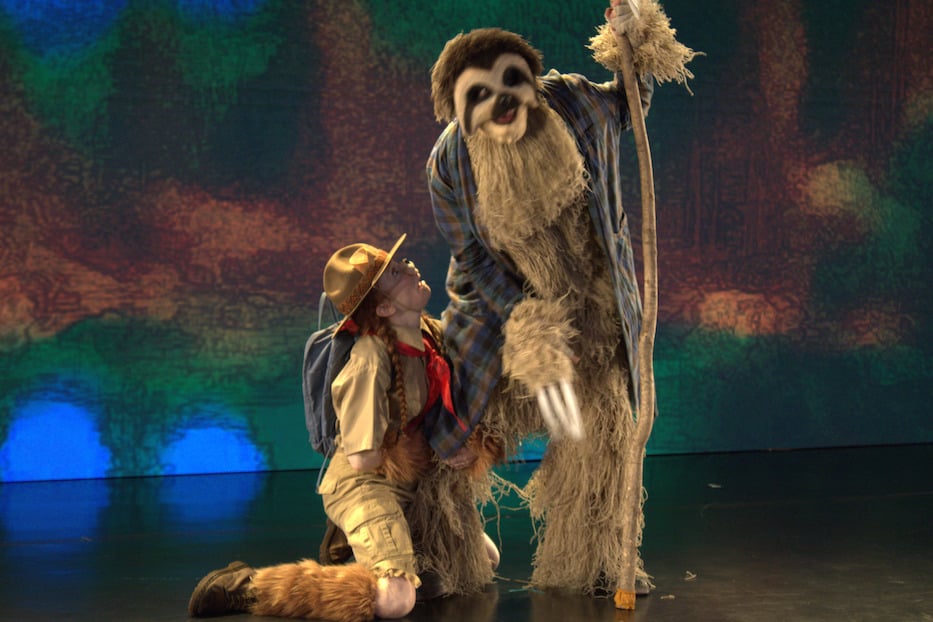 Sarah Lyddan as Gerald the Chipmunk and David Mitsch as Brooklyn the Sloth in Levi Amani Johnson's Planet of Eath: Slothworld. Photo courtesy of the Dwight/Edgewood Project.
Nowhere was it clearer than in Camryn Jade Hargreaves' The Floating Leaf, on which she worked with mentor Danielle Stagger. In the play, seven-year old Lola the Leaf (Stagger) wants to be friends with seven-year-old Rain (Amelia Windom). The two meet somewhere in Manhattan, as a spray of water hits Lola's face. Originally frenemies, the two realize they have more in common than they thought.
There's just one problem: their moms don't get along—an experience Camryn has seen in real life, she said after the show. Lola's mother is Mother Nature. Rain's mom is the Ocean, who Mother Nature happens to blame for sea pollution. In a series of phone calls, the two forbid their children from hanging out with each other. Only years later, when they have become teenagers, do they figure out a way.
After three years of pandemic-era adaptation and in a year that has seen an escalating climate crisis and mounting attacks on people of color, women, and LGBTQ+ folks, the suggestion that humans might just want to get out of their silos and talk to each other felt right on time. So too the way Lola and Rain don't dwell on lost years, or what might have been. They focus on their present instead.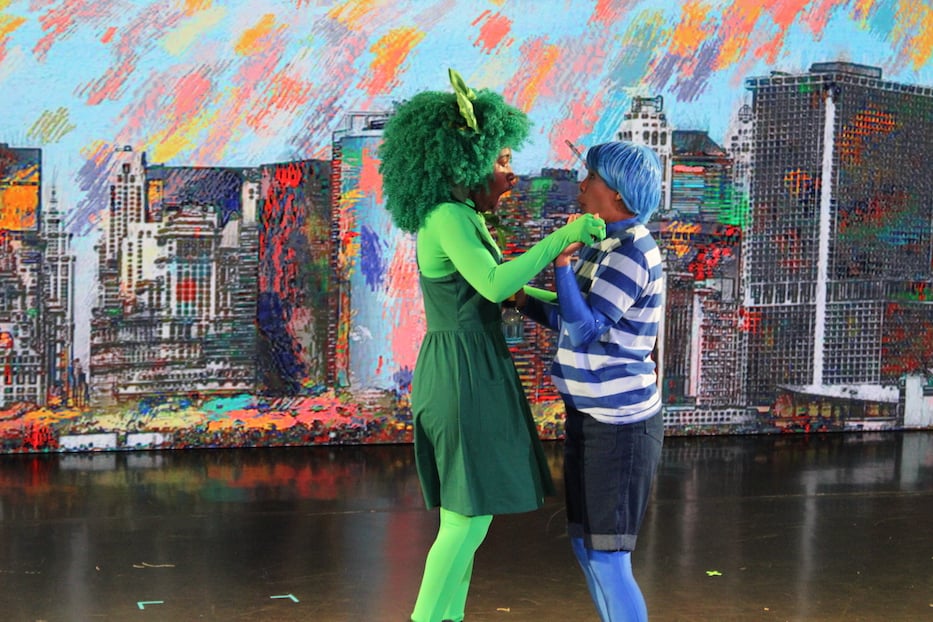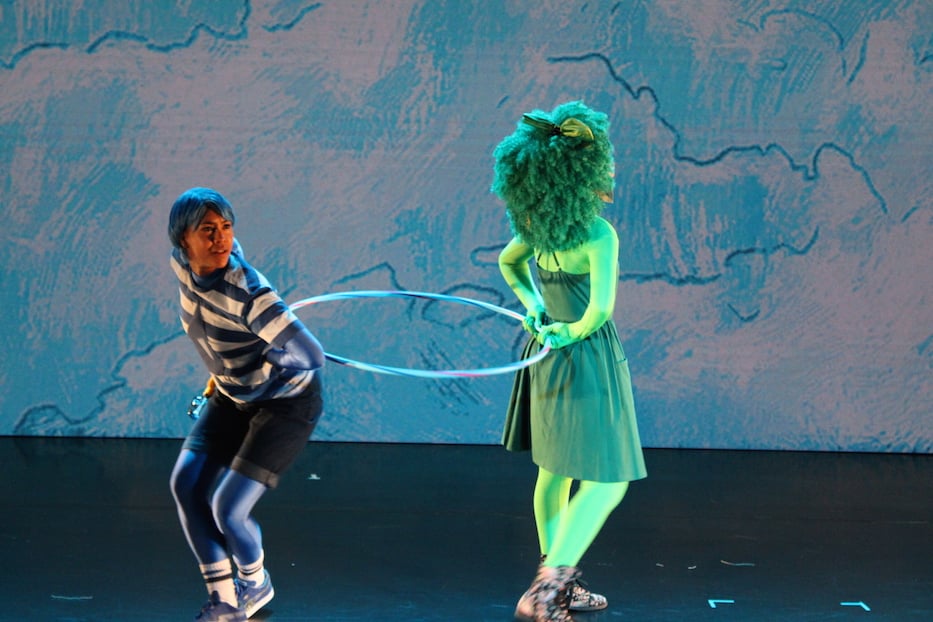 Danielle Stagger as Lola the Leaf and Amelia Windom as Rain in Camryn Jade Hargreaves' The Floating Leaf. Photo courtesy of the Dwight/Edgewood Project.
When Rain exclaimed that "just because our mothers are enemies doesn't mean that we have to be enemies!" something in the words echoed through the audience, slipping beneath every chair and winding up to the ceiling. When they missed each other, communicated through a series of freeze-frames with a hula hoop, their pain was palpable. When the two figured out how to make their friendship work, attendees cheered because the possibility felt so right.
In interviews both before and after the show, students said they learned a great deal from participating. As she chatted with family members in one corner of the blackbox, Camryn said she'd pulled the idea from a "scribble scrabble," or brainstorming session, that she and Staggers did during the writing retreat. She and Staggers bonded during the writing process, working out scenes as they walked in the woods around the Eli Whitney Museum.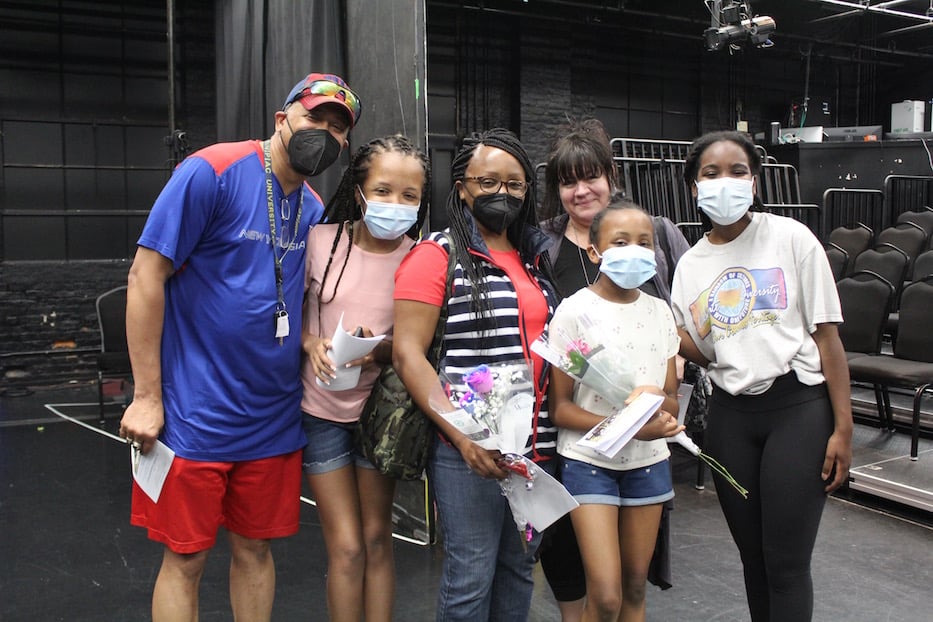 James Hargreaves, Taylor Hargreaves, Lisa Hargreaves, budding playwright Camryn Hargreaves, mentor Danielle Stagger, and Barnard teacher Dyann Sousa. Lucy Gellman Photo.
Omar, a first generation American whose family is proudly Pakistani, settled on Melvin's COW-tastrophe after sketching out one script about a time-traveling bridge, and another about a large portal to another world described as a trap door. While "there's always a subtle reminder" of everything that has changed in the last three years—like the fact that students need to mask up before they step into a theater—he said he was excited for the show. The project has inspired him to keep writing.
Barnard teacher Dyann Sousa, a fifth and sixth grade reading and writing teacher and 18-year veteran of the district, said that she saw students' self-confidence grow as they wrote. This year and last, she's seen a real change in student morale that she attributes to the pandemic, she said. In her classroom, she has a large poster that reads "Believe and Receive."
"I think they just needed to take that little leap of faith and I'm so glad that they did," she said in an interview after the first three plays Friday. "My face hurts from smiling."