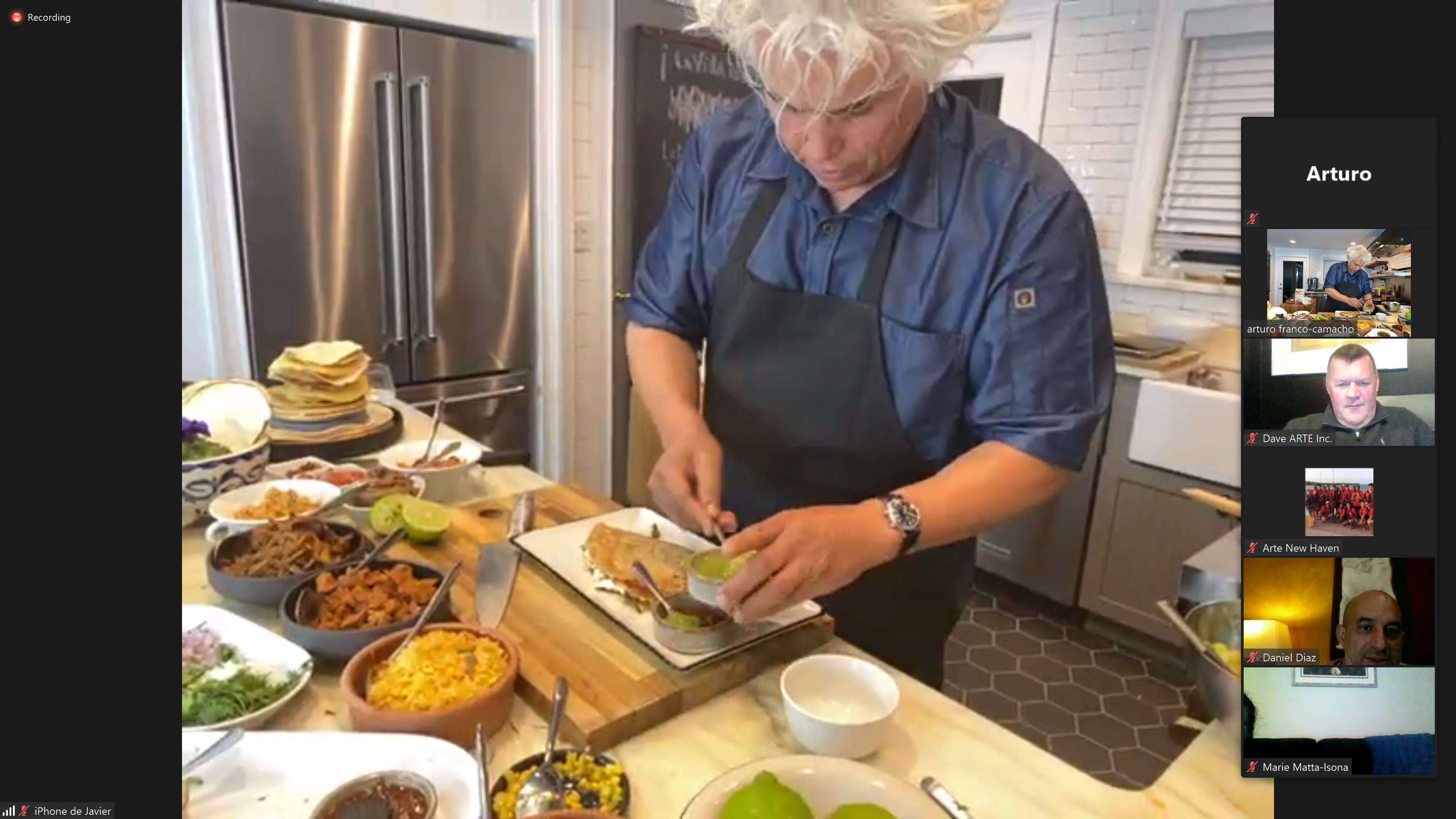 Fair Haven | ARTE Inc. | Culinary Arts | COVID-19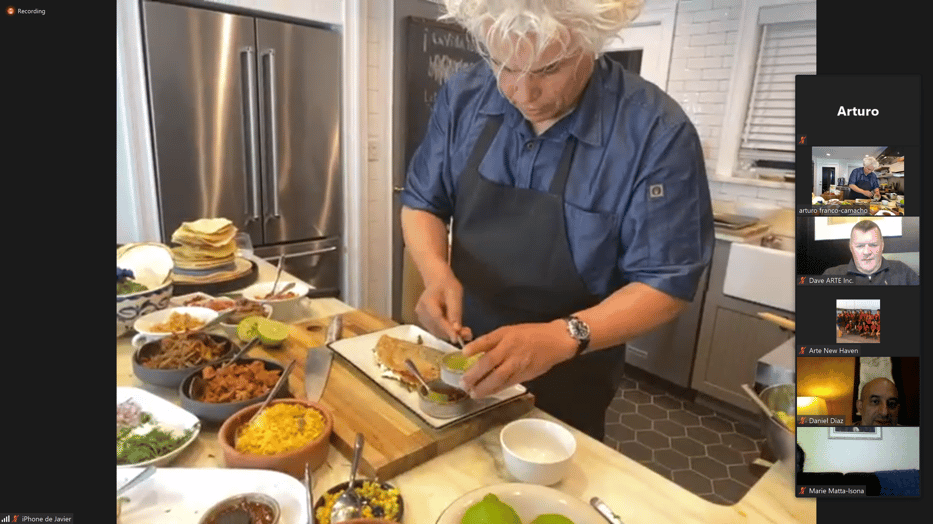 Chef Camacho plating a mushroom quesadilla filled with queso Oaxaca and Chihuahua next to a bowl of green salsa.
The night began with chef Arturo Franco-Camacho flattening balls of corn dough into tortillas. He didn't have a mojito on hand, but he encouraged viewers to make themselves one. Tortillas are easy to make, he said as he worked the dough between his palms. As if to prove it, he rolled out dozens in a matter of minutes.
Wednesday evening, the Camacho Garage owner and beloved New Haven restauranteur reminisced about his journey to the culinary arts during a virtual cooking demonstration from Arte Inc., part of its annual celebration of Hispanic Heritage month. Throughout the evening, Camacho honed in on the importance of Latin cuisine in his life and work, a journey that has spanned multiple countries, thousands of miles, and an understanding of how colonization impacts food.
This year, Arte's Hispanic Heritage month programming has included a virtual display of its exhibition Heroes & Icons, , kid-friendly science experiments with Yale students and professors, and a copycat art contest of famous Latinx artists. Its performance challenge is still open to voting from the public.
The organization has awarded $93,000 in art scholarships to students and community members since 2004. This past cycle, the organization awarded $7,300 to young people from across the state including residents of Wallingford, Guilford, and Bridgeport.
After flipping two tortillas, Camacho told the story of how he almost became a dental technician but quit his studies at 21 to pursue cooking instead. Shortly after, he was accepted to the Culinary Institute of America and never stopped his culinary education. In addition to Camacho Garage, he runs Shell & Bones Oyster Bar in New Haven's City Point neighborhood and Geronimo Tequila Bar downtown with partners Robert Bolduc and Marc Knight.
As he spoke, he turned out three birria tacos, each filled with a beef stew still dripping with fat. The entire countertop exploded with a medley of bright colors —cilantro, red onions, chile de árbol, yellow bell peppers, and a bowl overflowing with avocados and lemons. For him, he explained, cooking is about the theatrics and having options.
It's also no different than art. His passion for cooking took him across Central America and Latin American to seek out new recipes and ingredients to expand his palette. He spoke about the importance of indigenous cooking practices and foods in Latin American prior to the arrival of Christopher Columbus, and the preservation of those practices in cooking.
"Corn and chocolate were the foods of the gods," he said. "It was raw and pure native food."
His own cuisine reflects the principles of simple and refined food, as his new restaurant Camacho Garage focuses on the Mexican street food. As he smashed avocados for guacamole, he reminded the audience to scrape the inside of the skin. Those often left behind scraps help prevent browning.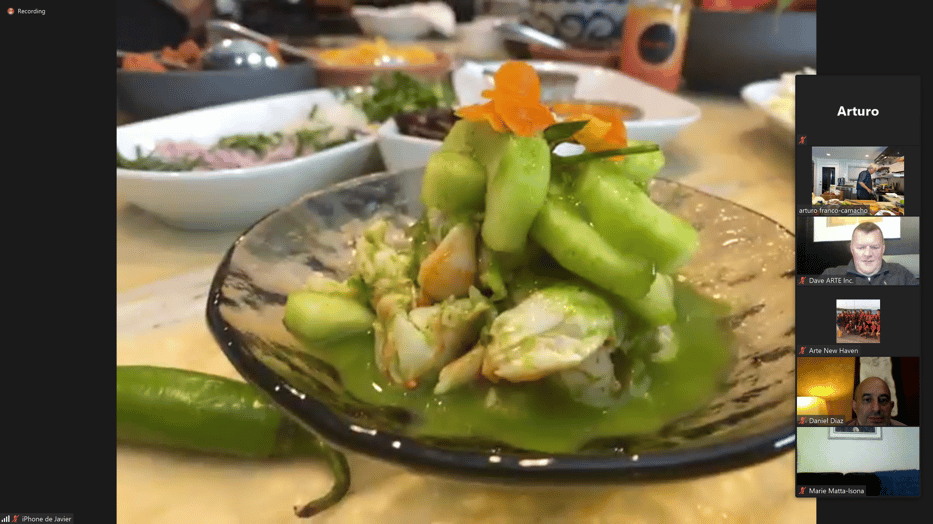 A screen shot of aguachile, a dish composed of shrimp cooked in lemon juice, pico de gallo, and fresh cucumbers.
"Who doesn't love a guacamole for a super bowl party?" he joked as he scraped.
The guacamole was the vehicle, and the toppings were the stars. He sprinkled in a generous handful of pico de gallo, pepitas (pumpkin seeds), and a squirt of lemon juice to cut through the fatty guacamole.
He was prone to fun factoids, pointing out that avocados are one of the few fruits that produce oils instead of sugar during photosynthesis. He then traced what are considered native Mexican foods across the globe.
Mexican cinnamon, a milder cinnamon with a soft vanilla quality, originated in Syria. The salty-sweet Tamarind used across the country for countless dishes came from the West Indies. Even the cows whose milk is used for the iconic cheeses, like Cotija or queso fresco, were introduced by colonizers in the early sixteenth century. Camacho even tries to recreate recipes from the 1700s in his spare time, with mixed results.
The tortillas were finished, he announced to 32 viewers on the screen. Placing them to the side, he dropped a large flour tortilla onto a hot skillet and swiftly dumped a handful of sliced mushrooms, queso Chihuahua, and queso Oaxaca. The two cheeses are mostly similar to Cheddar and Mozzarella, respectively.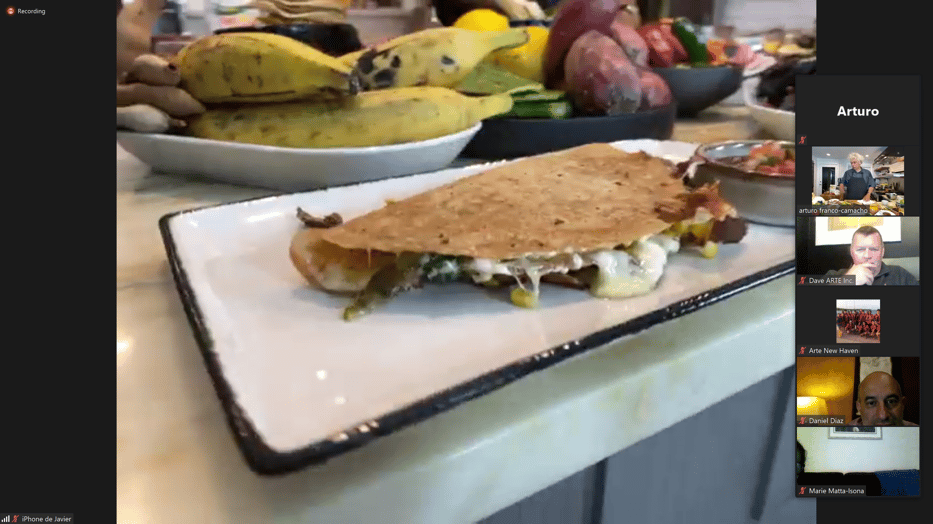 A finished mushroom quesadilla served with pico de gallo on the side
Before closing the quesadilla, he threw in sprigs of epazote. When he first opened his first restaurant Roomba, the herb was a sign of good fortune.
"I was picking up the front sign for Roomba, and I saw epazote growing wild," he said. "I knew, I was in the right place."
Founded in 1999, Roomba paid homage to his grandmother and mother's influence on his cooking. The restaurant closed in 2007 after nearly a decade. In the same tradition, Camacho Garage now draws inspiration from his father Pedro Camacho's auto body shop in Tijuana.
Camacho said he was destined to cook from the start. His mother ran a successful restaurant for many years until she had her ninth child and opted to raise her family full time. "My mother's water broke while she was in the restaurant," he said laughing. "I was meant to cook."
He returned to the cutting board with shrimp in hand to prepare aguachile (chile water), a take on ceviche with shrimp instead of fresh fish. Instead of cooking the shrimp stove top, he placed the shrimp into a bath of lemon juice to "cook." Placing seafood in acidic solutions, like lemon juice, mimics the process of cooking with heat.
To tie the dish together, he poured a celery-jalapeno-cilantro puree over the shrimp. The time came for his favorite part of cooking—plating. Carefully stacking the shimmering green shrimp, he created a pyramid garnished with fresh cucumber slices.
"Food is quite dramatic," he said. "Just like me."
Despite his fun and energetic personality, Camacho recognized the difficult decision of opening a restaurant amidst a pandemic. He ended the evening by noting that he is grateful he can provide employment during difficult times.
Camacho Garage is located at 36 Fountain Street in New Haven's Westville neighborhood. For more information visit there website.