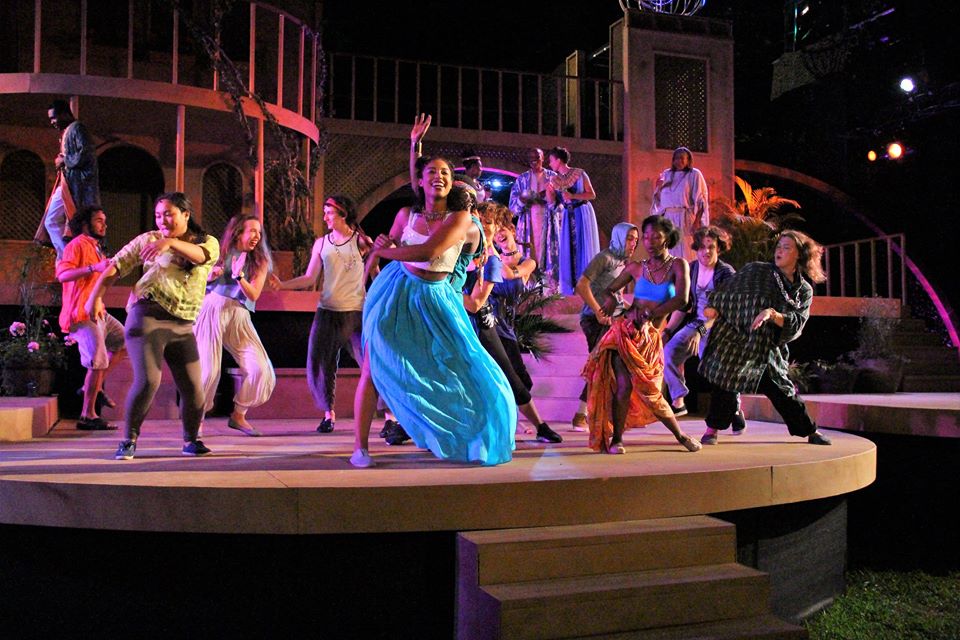 Edgerton Park | Elm Shakespeare Company | Romeo & Juliet | Arts & Culture | New Haven | Theater
"What's a Montague?" wondered Courtney Jamison's Juliet, tilting her head with the question. It was the opening night of Elm Shakespeare Company's The Tragedy of Romeo & Juliet in Edgerton Park. "What's in a name?" "Wherefore art thou Romeo!?"
A week into production, she is still wondering aloud. Her bubbly, pert musings capture the winningly naïve, unstructured curiosity we might expect from a character scarcely turned fourteen. She pushes back against categories defined by powerful adults with rebelliousness, impatience, and not a little petulance.
"Oh, be some other name!"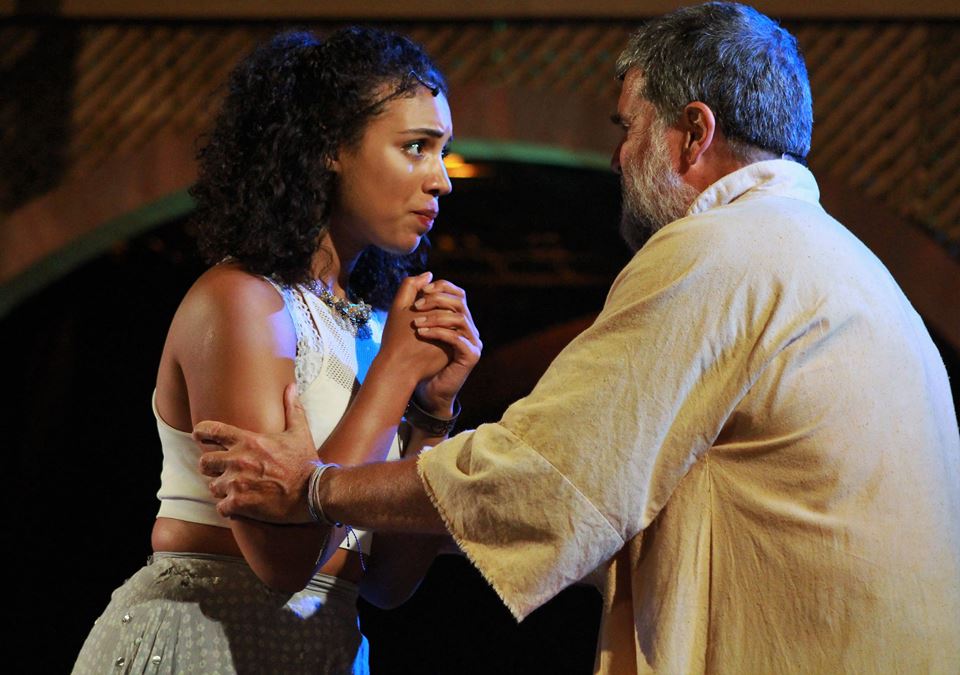 Jamison and her Romeo (Stephen Lee Johnson) offer a convincing illusion of young love and its psychological pitfalls, seemingly tutored by ESC's team of high school interns. They win us over with their charming callowness, but they break our hearts with inconsolable outbursts of anxiety and depression. The political turmoil eats away at their characters' personal lives, suicidally sapping their wellbeing.
Adolescence seeps into the actors' delivery at every point. Throughout the play, Jamison's voice follows a sine wave of high, excited fever pitch into low, husky, rambling digression. She trips and twitters through her first-fling giddiness.
Romeo meanwhile is a hopeless dope. He overflows with an effortless eagerness, sarcastic quizzicalness, and endearing awkwardness. He serves up the golden standard for the well-adjusted, stock sitcom geek. Alone, without his bro Benvolio, his Montague crew, he's just a gangly guy who's yet to really find himself.
Thinking herself unobserved, Juliet grips the balcony balustrade, her hands all clawed up, doubling her body over the railing. Juliet growls to herself with an overmuch, purple passion, rolling her words: "And for that name, which is no part of thee, take all myself!"
"I-take-thee-at-thy-word-call-me-but-love-and-I'll-be-new-baptized," shouts Johnson's Romeo in an act of puppy-like, hurried devotion. He bursts out into Juliet's line of sight, swinging his hands to maintain his balance. As the startled Juliet shrieks and runs off-stage, we laugh at the poor, benighted lover and all his best intentions. His voice audibly deflates, slows, and softens, his hands falling at his side.
"—and henceforth, I never will be Romeo?"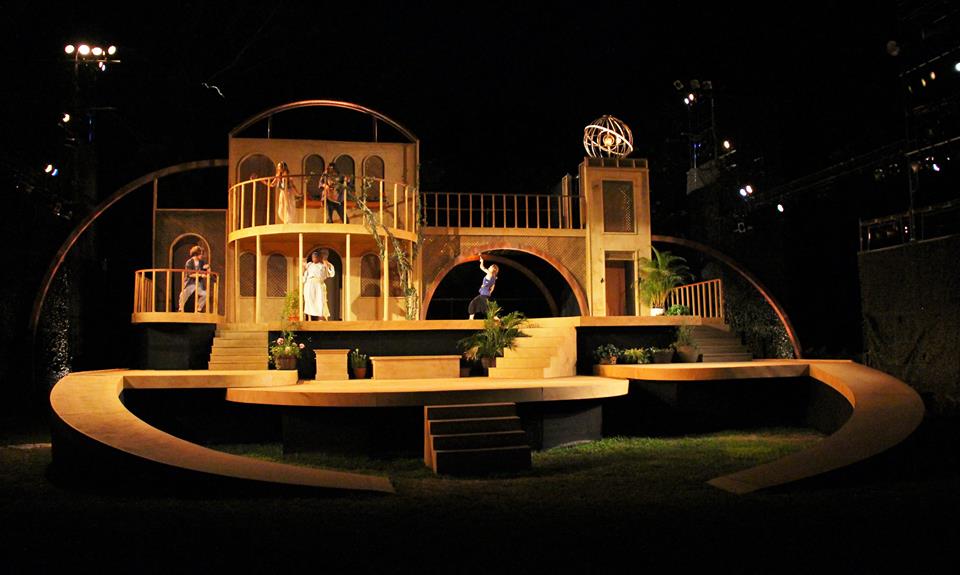 The setup is instantly identifiable for a generation raised on Netflix rom-coms. Juliet finally returns, bantering with a wiser-than-her-years, Beyoncé-like equipoise and moments of pure-hearted genuineness. The love in this Romeo & Juliet always remains innocent. Jamison's invitation to ravishment, to "take all myself," is adequately over-the-top to be a caricature of desire.
For better or worse, ESC even seems to get a little abstinence education in, as Juliet stalks away with a haughty, over-the-shoulder challenge.
"Oh, will thou leave me so unsatisfied," begs Romeo.
"What satisfaction canst thou have tonight," she parries, letting her self-assured sternness sink in for a few seconds.
Called out by Juliet and cowed by the audience's tittering and jeering, Romeo weakly, hesitantly responds: "Th' exchange of thy love's faithful vow for mine?"
The recourse to comedy in the iconic balcony scene helps to cure Romeo & Juliet of its endemic bathos—its impossible, sappy cheesiness as a text. Lightheartedness at the play's emotional peaks proves something of a motif for director Raphael Massie.
For example, as Mercutio (James Udom) and Lord Tybalt (Claire Warden) prepare to duel, Mercutio responds to Tybalt's melodramatic flourishes of rapier and off-hand poniard by licking the blade-edge of his falchion. He shows up the Lord's try-hard attitude with plain ridiculousness. Or: Massie chooses to close out a particularly trying scene of domestic dispute in the Caplet household by panning the overconfidence of Lord Capulet (Mark Sage Hamilton). The Lord sings a few bars of Bob Marley's "Everything's Gonna' Be Alright" as he walks off-stage, the audience getting a much-needed laugh with our ironic foreknowledge of the coming tragedy.
It's very easy to forget that the ESC's production is ultimately a tragedy. The need to rapidly invert the play's initially lighthearted, young-at-heart tone explains the sheer brutality of the combats between Mercutio and Tybalt, Tybalt and Romeo.
ESC's swordsmen repeatedly disarm one another, brawling and grappling savagely. Johnson bashes the Lord Tybalt's head out on a bench, flinging it forward by a fistful of hair. Questionably PG, the battle is justifiably excessive. We need to be traumatized with the two, star-crossed lovers—the street battle a proper taste of things to come.
Massie's Romeo and Juliet do not sober up after Mercutio falls down in a pool of his own blood. Quite relatably, and perhaps quite realistically, they fail to find heroic, superhuman reserves of determination in the face of murder, exile, arranged marriage. Romeo repeatedly shrugs off exhortations to grow up and be a man from his confessor, the confidently masculine Friar Laurence (James Andreassi), as well as from Juliet's visiting Nurse (Gracy Brown). Mounting catastrophe only seems to put the couple through enormous psychic strain, warping and perverting the qualities we came to love in the play's first half.
It soon becomes clear that Juliet's fast-talking, witty gladness and her distraught, distracted, and eventually hallucinatory rants are but two sides of the same temperamental coin. Quick to the noblest and finest emotions, the youthful Romeo and Juliet are as equally disposed to spirals of despair. It is quietly devastating to see such formerly happy, well-adjusted kids visit the Friar's garden—on two separate occasions—and each threaten to slit their respective throats.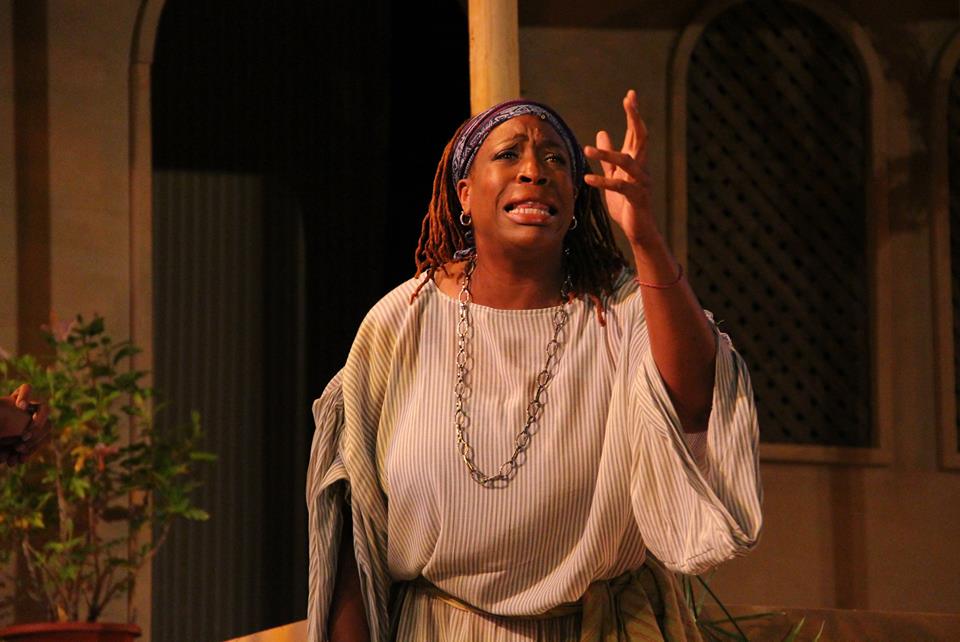 The Nurse and Friar Laurence are the real heroes, the doomed good Samaritans of the play, as they try to calmly counsel the lovers away from self-destruction, physically wresting the daggers from their hands. Despite the tragedy's superficial likenesses to the tragedy that only recently unfolded in Charlottesville, this compassionate adult mentoring might be the adaptation's truer social takeaway.
Both Massie and Jamison gave voice to the linkage between civil unrest in Verona and civil unrest in Virginia—the former in the playbill, the latter in her opening night curtain speech. Nevertheless, this comparison sells short their accomplishments as talented director, gifted actor. The representation of strife in the play is present in Shakespeare's text as a given. It is not something we can comfortably credit to Elm Shakespeare's direction, or anybody's acting.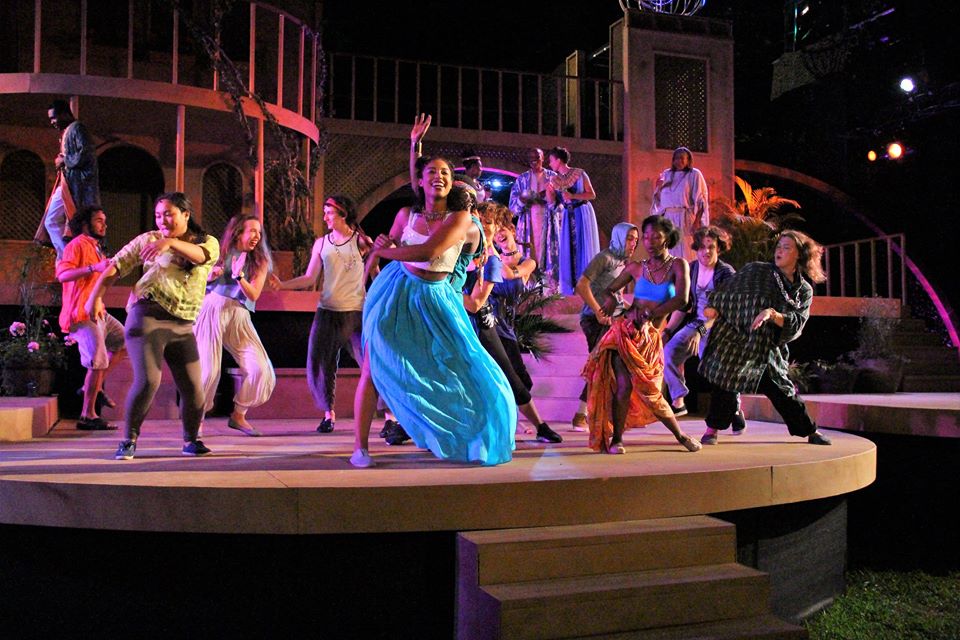 Rather, the adaptation's deft handling of teenaged romance asks us to think about a new generation. What is necessary to keep our own Romeos and Juliets from feeling hopeless and persecuted—from falling victim to the false ideologies of racism and fascism?
The caring encounters we witness between Juliet and Nurse, Romeo and Friar Laurence model the supports New Haven's teens deserve at a time of national crisis and that Elm Shakespeare—as an organization deeply committed to community education—is ostensibly poised to provide.
Shortly after Jamison finished receiving some applause for her remarks that "we feel this story is all the more important now," she and Johnson picked up where the company's development director had left off from the pre-show announcements. They pitched public programs and outreach initiatives, soliciting donations to keep them in the black and another class of Elm Scholars Interns flush with opportunities for growth and professional development.
Jamison and Johnson's capable acting make us care for Shakespeare's teens like Juliet was our own sister, Romeo, a brother. The hell that Verona's politicos witnessed on their young urges us to respect, protect, and empower today's teens, that they might live long, grow old and—with wisdom—choose not to repeat this all-too-timely-story for yet another time.
The Tragedy of Romeo & Juliet runs at Edgerton Park from Thursday, Aug. 17 through Sunday, Sept. 3. For showtimes and more information visit elmshakespeare.org.