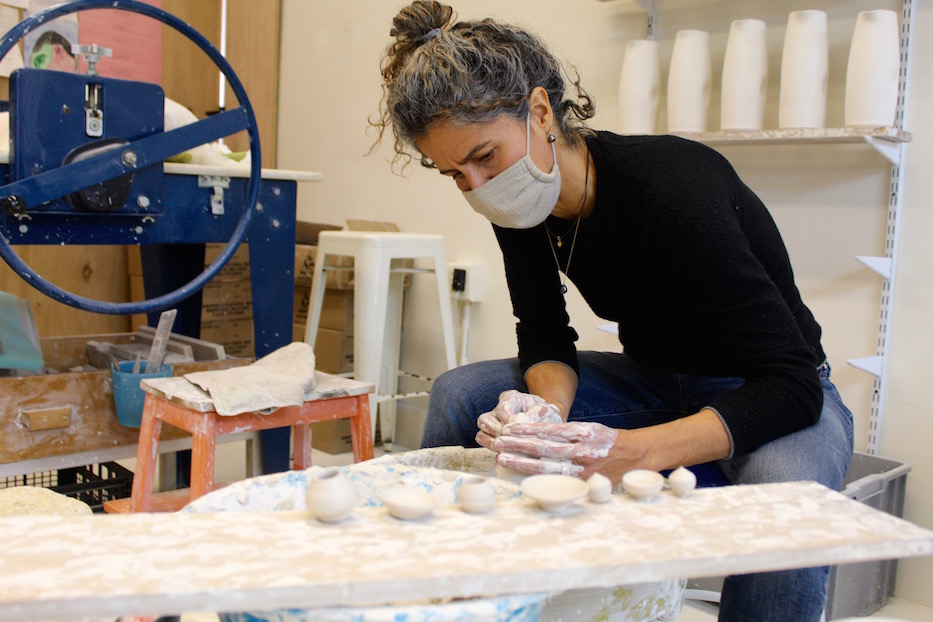 Downtown | Arts & Culture | Ninth Square | Visual Arts | Ceramics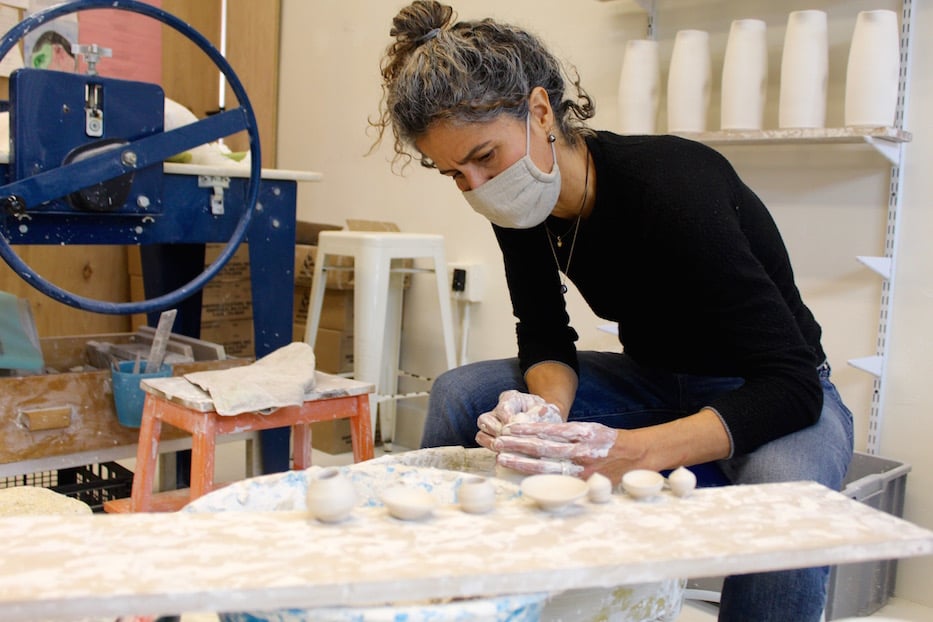 Kiara Matos at work in her new space, which has a storefront and studio. Lucy Gellman Photos.
Kiara Matos placed her feet flat on the ground and pressed one to a pedal, as if she were accelerating down a city street. Beside her, a potter's wheel hummed to life. She wrapped her hands gently around a heap of wet clay and worked them up and down its sides, smoothing the top with a steel scraper. From her slicked fingers, a pint-sized bud took shape.
Matos is the ceramicist behind a new downtown storefront and studio at 137 Orange St., where she has room to both display her work and hone her practice. Nestled between Tikkaway Grill and Whole G Cafe and Bakery, the space marks the first time the 46-year-old artist has had a space to work outside of her home. Her husband, fellow small business owner Andrea Corazzini, runs the cafe next door.
As she opened the door to walk inside Monday, sunlight spilled onto the floor and lapped at the pottery wheel and kilns, as if to welcome her back after a night away.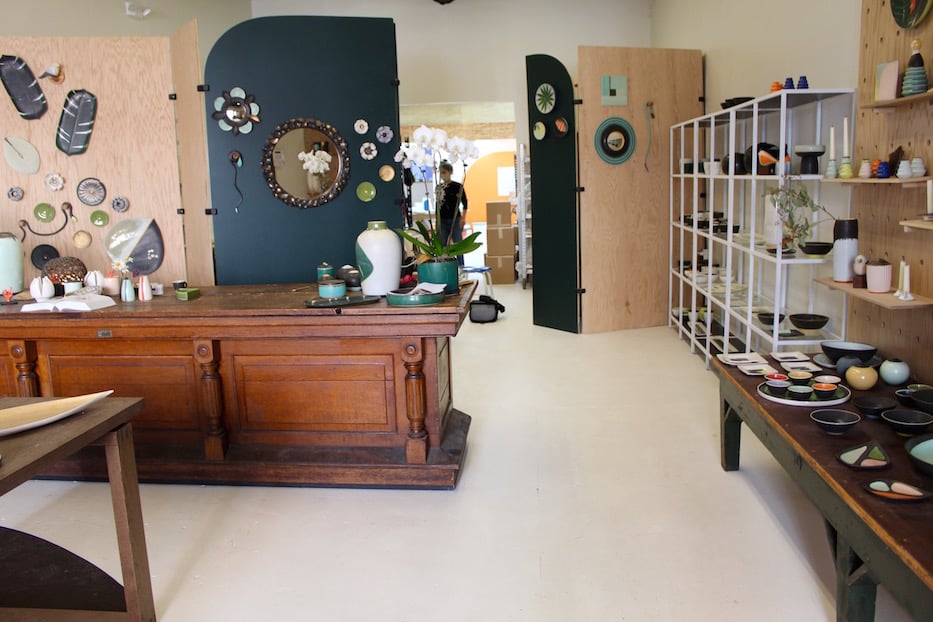 "It was a dream I had," Matos said of the space on Orange Street that she now calls her own.
"It was a dream I had," she said, putting down her bag and taking a seat behind the wheel. "It's one of those things that kept coming back to me, like, 'Wouldn't it be nice to have a store?' I did the numbers, and it's kind of tight, but I felt that I needed to do it. I just needed to do it."
The storefront is the culmination of over three decades of work, often with a foot between two countries. Born and raised in Venezuela, Matos grew up with a pottery wheel and studio in her home, where her mother was an interior designer and her father ran a small, family-owned business.
The eldest of four children, she and her siblings would play in the space, driving the pottery wheel around and climbing on equipment "like it was a playground," she said with a laugh. During her teenage years, she started experimenting with clay using one of her mother's books, following the steps to turn out small pieces of pottery. It was always "a nice hobby to have," she said—but she never thought about it as a viable career path.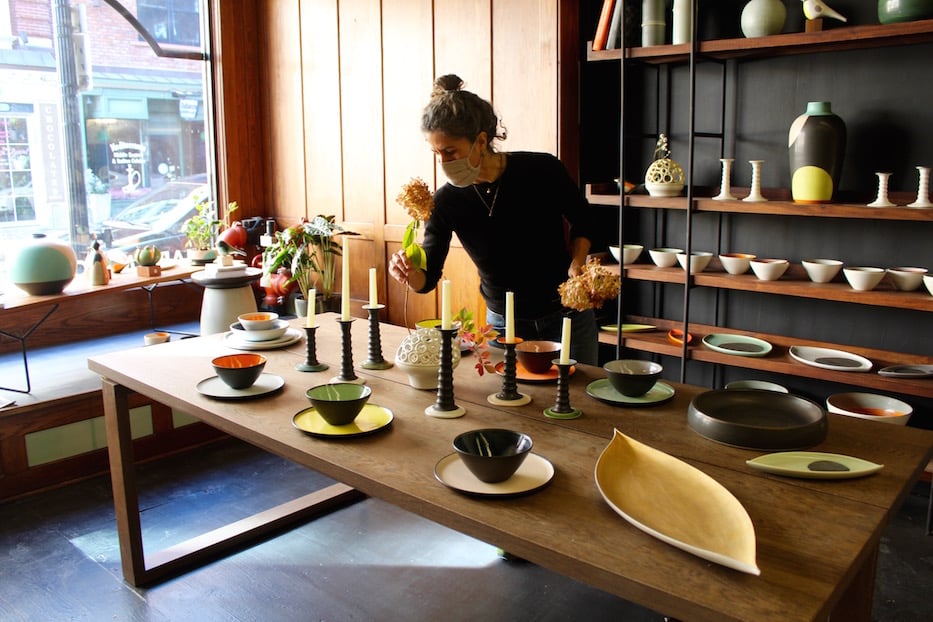 Matos came to New Haven after high school to learn English at Albertus Magnus College, finding a temporary home with Professor Jerry Coffey, Dr. Elizabeth Magenheimer and their young son. She and the family—she still refers to Magenheimer as her "New Haven mother," and has dinner with them each week—"just fell in love with each other," she said. In the evenings, she accompanied their son to a pottery class at Creative Arts Workshop.
She fell in love with New Haven that first year here too, she said. When she went back to Venezuela to study journalism the following year, she grew her craft from home while taking classes during the day. She assumed, just as before, that it would always remain a hobby. Then she and a friend visited a craft fair in Florida. Something clicked in her mind.
"I was mind blown," she said. "I couldn't believe the level of the craft, and the fact that people were making a living doing it."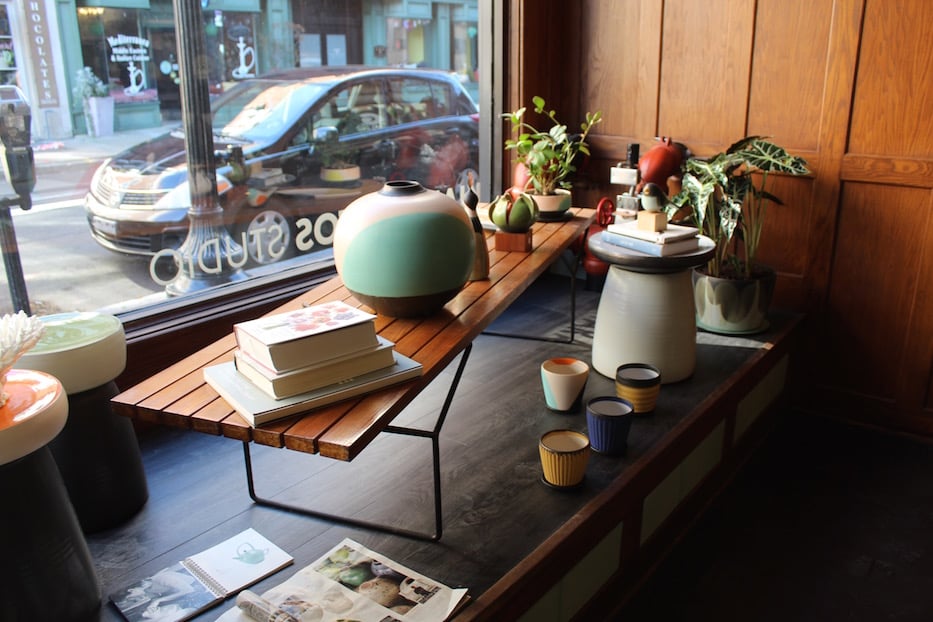 The artist dropped out of school and returned to New Haven, where Magenheimer helped her set up an apprenticeship with artist and biologist Maishe Dickman. By then she was 19, and ready to learn. Her work with him led her to connect with fellow artists, including the ceramicists Hayne Bayless and Stephen Rodriguez, who now work out of studios in Ivoryton and New Haven respectively.
Monday afternoon, Dickman remembered the infectious energy with which she buzzed around his George Street studio, anticipating his needs before he anticipated them himself. No task was too menial or thankless for her, he said. If he needed an apprentice to pry half-dried clay from buckets, re-wet it, and get it back into a form that he could use, she was there.
"Always, always, from the very first moment on, it was clear that her energy level was off the charts," he said. "She was very, very focused on creating a career in clay, and was like a sponge ... she gave 100 percent of her focus, her energy, into bettering herself as an artist, as a potter, as a human being."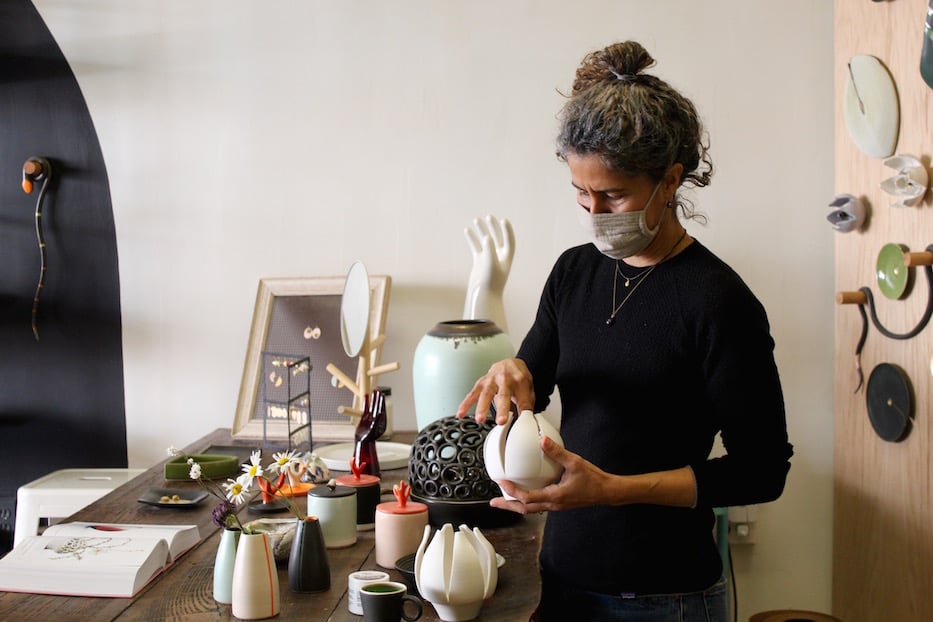 She was also fearless, and "took it all in stride," he said. During the time that Matos was apprenticing, Dickman had just started his work with the Peabody Museum of Natural History, and kept reptiles in his studio. With a laugh, he recalled the day Matos walked in to find a Tangerine Honduran milk snake hanging over the sink. The snake had been missing for two years, and somehow survived. She panicked momentarily, collected herself, then moved on.
"As a teacher the greatest gift I can offer is inspiring them," Dickman wrote of apprentices in a follow-up email Monday afternoon. "Kiara makes me so proud to have known her as my apprentice and now. She is an inspiration to me. It's the best!"
When Matos went back to Venezuela at 21, she set up a studio in her grandmother's old sewing room and started selling ceramics out of her parents' home. Through a family friend, she was able to have her first solo show at just 23. It was around that time that she also met her husband, who lived temporarily with the family, through her aunt. The two moved to Caracas, where she was able to display her work in the city's galleries.
But "Venezuela became really unsafe," she said. By then, Matos was a mother; she worried for the safety of her husband and their two young children, then just four and six years old. "We had a close call and I wanted to leave."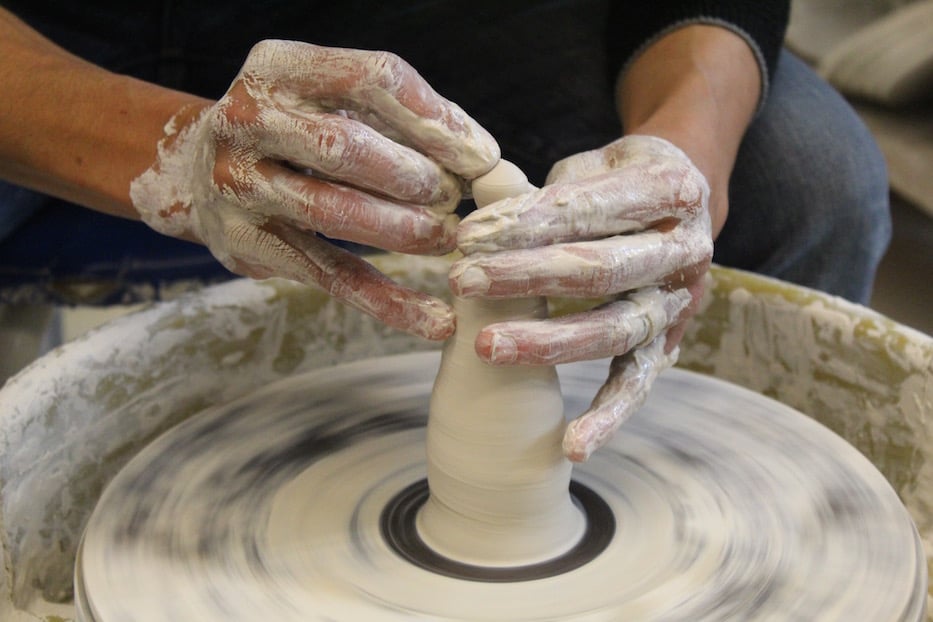 It was 2010. Back in New Haven, Magenheimer "was like, 'just come,'" Matos recalled. She and Coffey opened their home to the family for two years, giving them a place to land until they were able to move into a home of their own. Her kids began attending the city's public schools, where they thrived. For two years, Matos put ceramics on the back burner and helped Corazzini start Whole G, baking out of its Hamilton Street hub and New Haven and Branford outposts.
"I love food and I love cooking, but my heart was really here," she said. "I needed to get back to it."
In 2013, Matos was able to get back to her craft in her own home. She set up a basement studio with two kilns, a wheel, and space to store and display her works. In New Haven and New England more broadly, she found a community that welcomed her with open arms, from the Eli Whitney Museum & Workshop to a pottery invitational in Worcester Center, Mass.
She said that tinkerer Bill Brown, who only recently retired as director of the workshop, as well as sculptor Susan Clinard, Bayless, and many others have been especially instrumental in her Elm City career.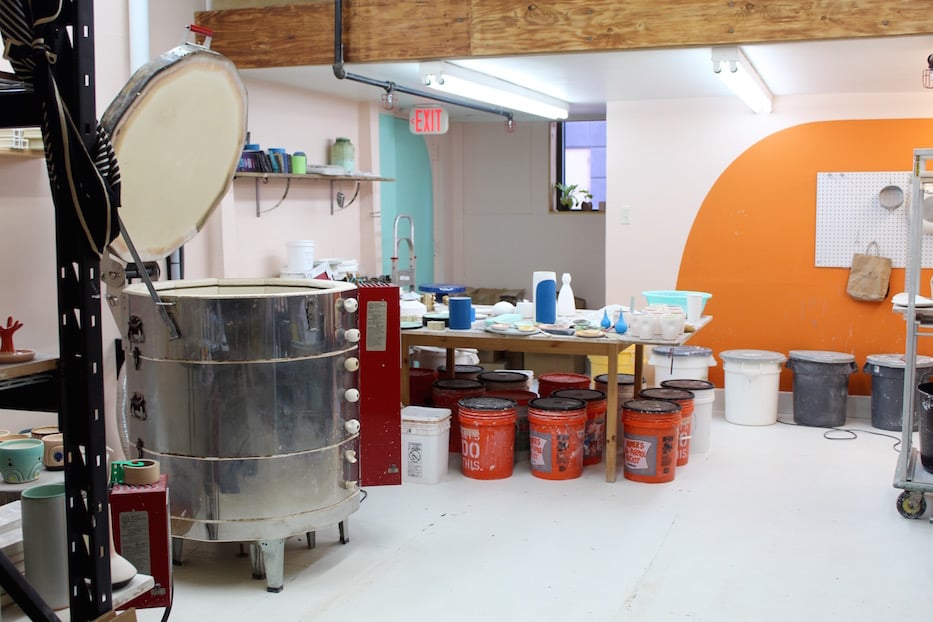 Matos has two kilns in the space: a large one for most pieces, and a small one for glaze experiments and quick firings.
She never let go of the dream of finding her own space. Before the pandemic made travel untenable, she and Corazzini were often in Europe to visit members of his family, and would stop at studio and workshop spaces where artists sold their goods in one part of the store, and worked out of another. That was always her vision, she said.
It took years of building a following "between New York and Boston" for her to feel ready, she added. She knew she didn't want to sell wholesale. Traveling to craft shows, which took her away from her kids, was exhausting. She loved her home studio, but often worried that customers would fall down the steep flight of stairs that it took to get down there.
She started looking for a space last year. Originally, she and Corazzini played with the idea of a joint cafe, workspace and storefront beside Whole G's production hub on Hamilton Street. But they never heard back from the landlord, she said. When she saw the space on Orange Street, managed by Venezuelan-born landlord Juan Salas-Romer and next to her husband's business, it felt like fate.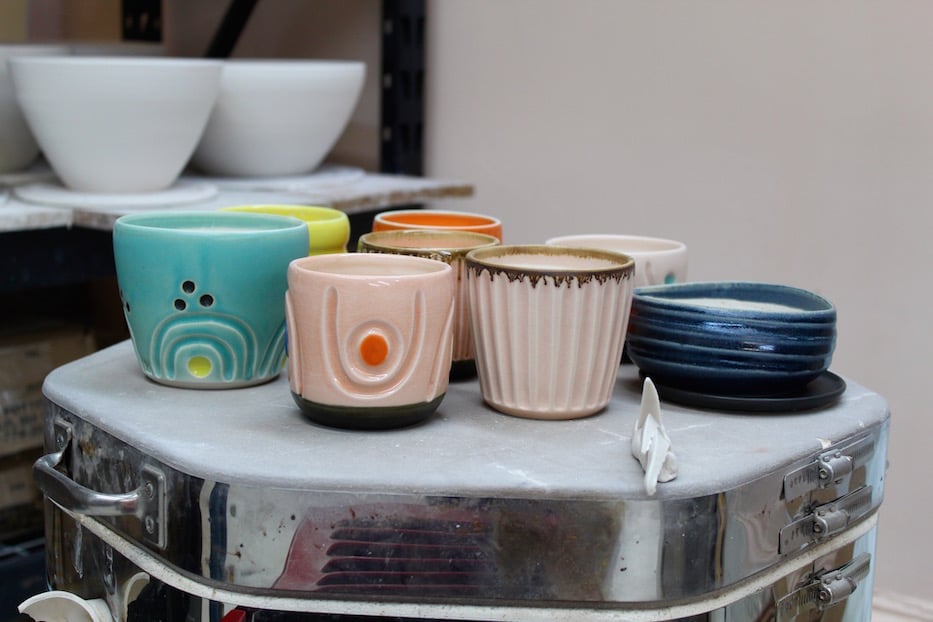 New designs and glazes that she is experimenting with.
She called Salas-Romer a "generous" and accommodating landlord, gesturing around a space that she has already painted, wallpapered, and decorated to make her own. In the finished shop, Matos has included a little bit of everything she creates, from gleaming, ribbed candlestick holders to her signature "pinch cups," petite ergonomic cups in green and black glaze.
Pink- and green-feathered birds, their beaks painted with gold leaf, look out from the shelves and behind the counter. Tiny bird earrings dangle to the right of one wall. Flower-shaped sconces, their leaves curling back, emit warm light through half-inch spaces between their petals. All of her clay is "as local as I can get it," from a supplier based in Massachusetts.
"Right now, there is so much appreciation for hand-made," she said, threading dried flowers through the wide eyes of a vase. "I've always bet that we can go back to our roots, and take care of nature, and take care of the basic, important things in life. So I know that there's a little bit of that going on, and I thought, why not bet on it?"
"It takes courage, and just committing to the decision that you need less," she added. "Less, but better stuff. More meaningful."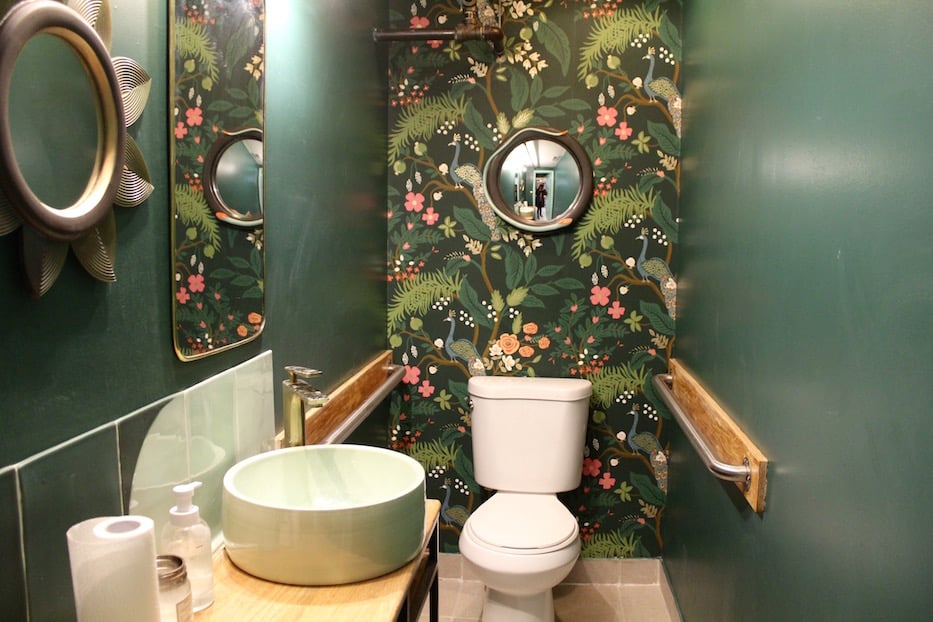 The bathroom, which Matos painted, wallpapered and designed. The sink and tile, as well as the mirror, all come from her studio practice.
She brings to the shop a style that has changed over the years. When Matos began, she turned out ornate, delicate designs with tiny details and a nod to pre-Columbian history. Now, her work is geometric and largely minimal, with splashes of color and glazes that range from glistening and matte to striated and crackly. The bright hues, which have been a constant, are a nod to both her native Venezuela and her father, "a very color-prone person" down to the bright red boots he wore as a teenager.
A sense of whimsy flows through the shop, extending beyond the front showroom. In the bathroom, a pink and green glazed snake slithers around a convex mirror just above the toilet. A deep, blue-gray glazed sink that Matos designed waits for customers to wash their hands, surrounded with tropical green wallpaper and blue-green tile. She experiments constantly with patterns and glazes, using a miniature, doll-sized kiln for test firings.
In the workshop she's kept it spare, with ample room to work and shelving to hold pieces that are in between firings. A row of bone white pitchers, soon to be glazed, sat behind her Monday as she turned on the wheel and began to sculpt. On a wooden board beside her, she set an array of neat, still-wet clay pieces: vases and plates and buds that looked like they could live in a dollhouse. Many of them will become decorations on her mirrors, which sport bright and brass-colored wreaths of ceramic petals. The magic is in the details, she said.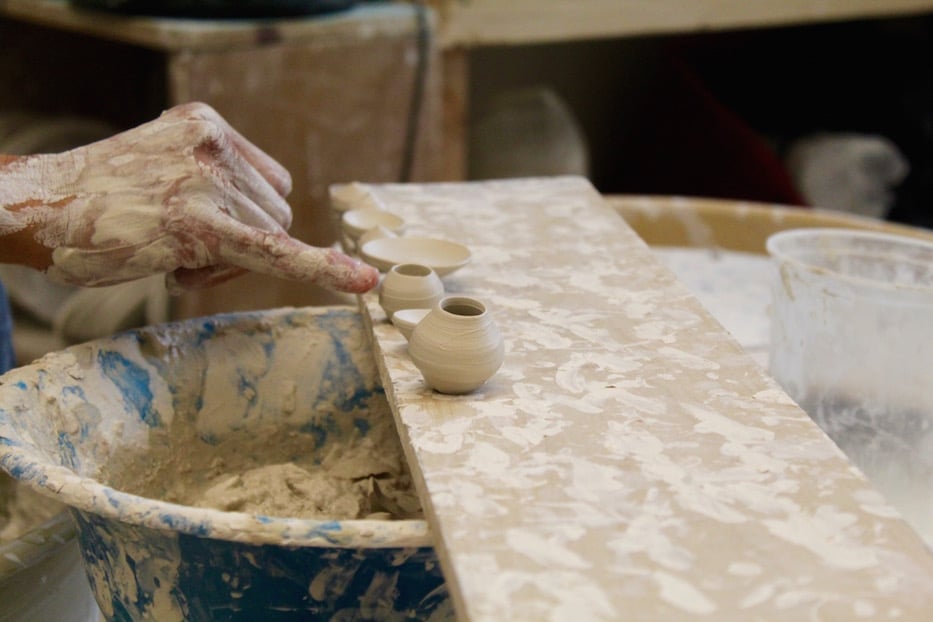 "You have to be able to appreciate small to really appreciate ceramics, I feel," she said. "Like the way a glaze will mix with another one, or the way a handle falls on the cup. Even though there's also big ceramics and it can be really impressive … I'm really into the small details."
Going forward, Matos hopes to open the space to lessons, about which several customers have already asked. She's considering collaborations with artists with whom she is now close, including landscape architect and artist Alexis Brown, Heather Gendron of Heather Hope Atelier, and makers at MakeHaven down the street. She's playing with the idea of making molds and hiring a few employees, who could turn the space into a more robust workshop.
And for the moment, she's also trying to trust her leap of faith, she said. After a momentary, self-described freak out her first week in business, she's taking it one day at a time.
"It's scary!" she said. "You know, you open up, and even though you have to be prepared that this is gonna take a while for things to happen ... . The first week, when I didn't see enough sales to pay the rent right away, I was like 'Oh my God! What did I do?!"
"There's so much you can do, right, that I thought, you know what, let's just go for it—test and see what works, what doesn't," she continued. "There are opportunities to do stuff here that I really wouldn't have at home, so I'm excited to explore. It's a big adventure. I'm all in, you know?"
Kiara Matos' storefront, located at 137 Orange St., is open Tuesday through Thursday and Saturday from 10 a.m. to 5 p.m. and Friday from 10 a.m. to 6 p.m. For an appointment Sunday or Monday, write Matos at kiara@kiaramatos.com. Visit the artist's website for more information.