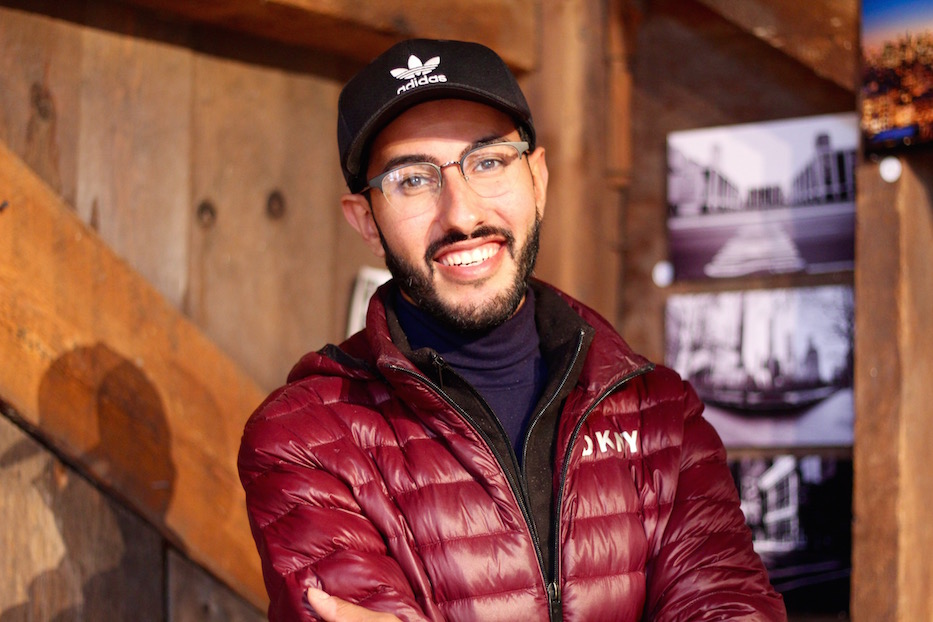 Hamden | Arts & Culture | Artspace New Haven | New Haven | Eli Whitney Museum & Workshop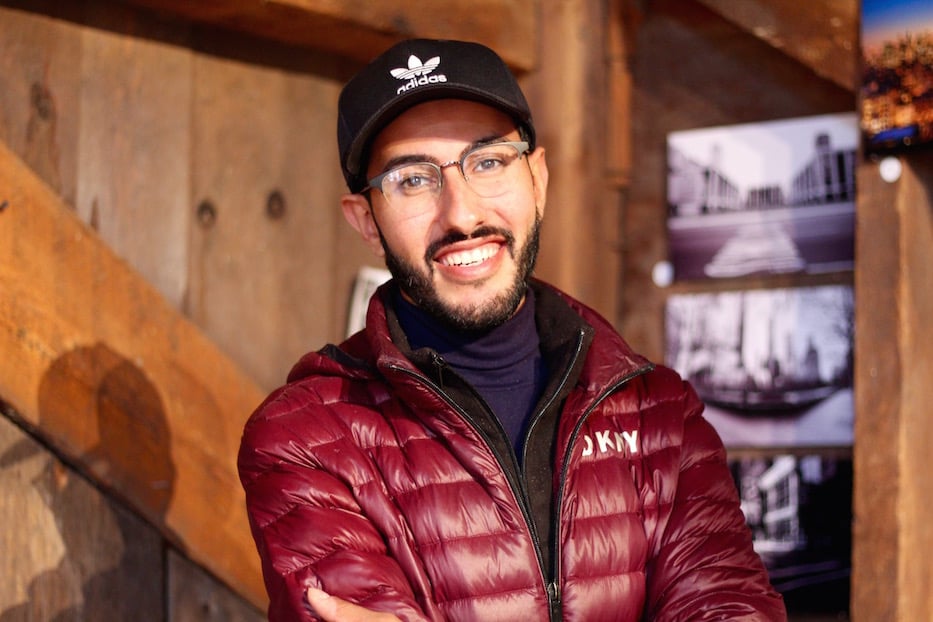 Maher Mahmood, one of several artists showing work at the Eli Whitney Barn over the weekend. Lucy Gellman Photos.
One artist captured a Manhattan totally devoid of tourists, in that moment of eerie quiet after the world shut down. Another turned toward nature and new-old fairy tales to help pull her through. A third realized that a home studio might be the safest place to be in a pandemic, because it would keep her sane.
All of those artists—and several more—brought those stories to the Eli Whitney Barn Saturday and Sunday, as Artspace New Haven entered its second and final weekend of the 2021 Open Source Festival. One year after the Covid-19 pandemic pushed the festival largely online, artists returned to the barn with a practice shaped and transformed by 18 months of uncertainty—often for the better.
The festival also featured a mix of in-person and hybrid events; read more about those here, here, and here.
"I'm trying to get new faces in here every year," said sculptor Susan Clinard, who works out of the barn and invites artists to participate there each year. "It's beautiful to see the space transformed."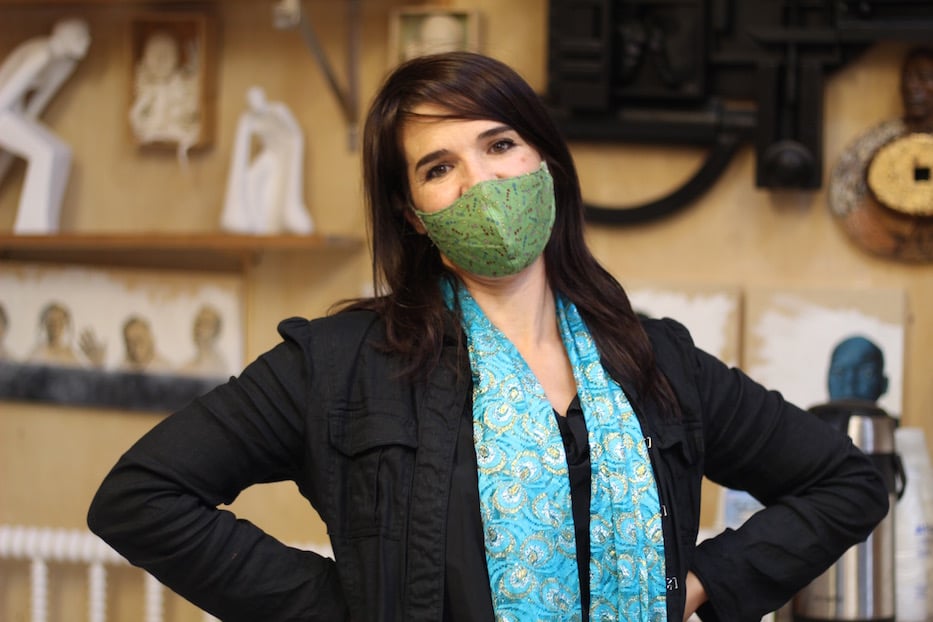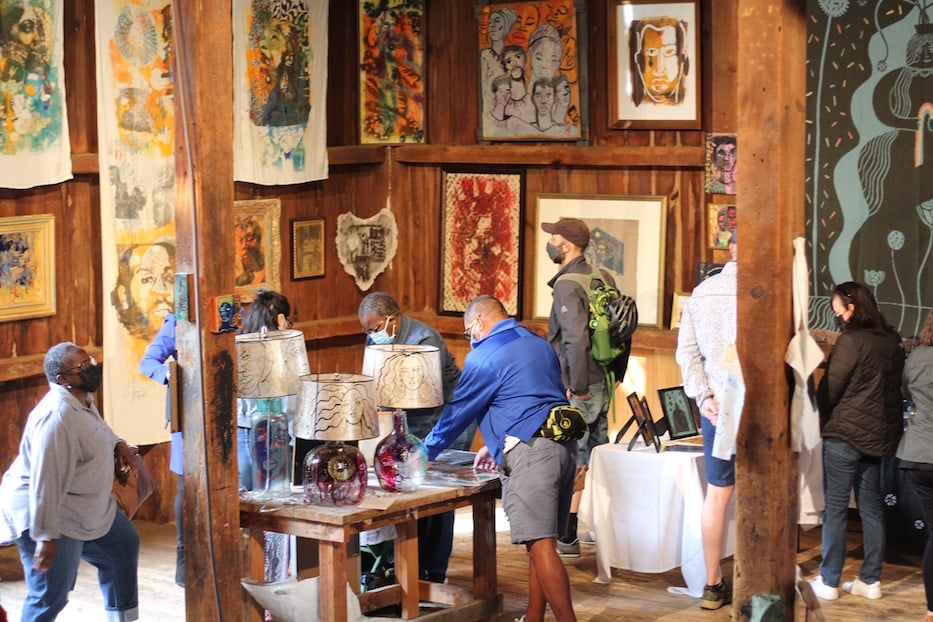 Top: Sculptor Susan Clinard, who seeks to invite new artists each year. Bottom: A view of the barn in full swing.
Saturday, the strong scent of coffee filled her studio as visitors waltzed in from the surrounding lot and park outside. Sunlight scattered across the floor. Overhead, sculptures hung suspended from the ceiling, catching the light. A four-year-old in a sunshine-yellow mask followed the artist around, pointing out old photographs of her sons with delight. It seemed that Clinard was continually in motion, gliding across the floor to answer questions.
The pandemic has changed her practice, she said. When New Haven schools and businesses closed their doors down last March, Clinard was able to continue working in her studio because of its relative isolation. The barn, nestled among grass and trees by the Connecticut Water Treatment Facility, became a sanctuary. As she has long done, she made work that directly engaged with the moment, from Covid-19 and substance use disorder to disparities in maternal care.
As Covid-19 cases rose last March and April, she sculpted a tribute to healthcare workers. When the first six months of 2020 laid bare the twin pandemics of Covid-19 and systemic racism, she memorialized victims of police brutality in several of her sculpted and collaged pieces. When the world gradually reopened, she found ways to engage with young people that were Covid-cautious.
She called that ability to be responsive, often wading through grief and unrest, "freeing."
Saturday, visitors got a taste of that as they walked through her studio and onto the adjoining barn. At one end of the long room, a table of small sculptures looked out onto the barn, guardians of this repurposed space. Nearby, a series of bright, life-sized carved figures held up mirrors, so that viewers could see themselves reflected in the act of looking. On another end of the studio, a full, clay bed stretched across an entire corner of the floor. On the mattress, a family curled into the sheets, recessed from the surface as if they were sinking.
Above the bed, a three-tiered portrait of Breonna Taylor, Ahmaud Arbery and George Floyd peeked out, drenched in blue paint. The work was adorned with fabric marigolds at the edges, so thick it looked like they were growing right out of the wood. In the middle of a barn, people had suddenly found an ofrenda shaped by a year of state-sanctioned violence.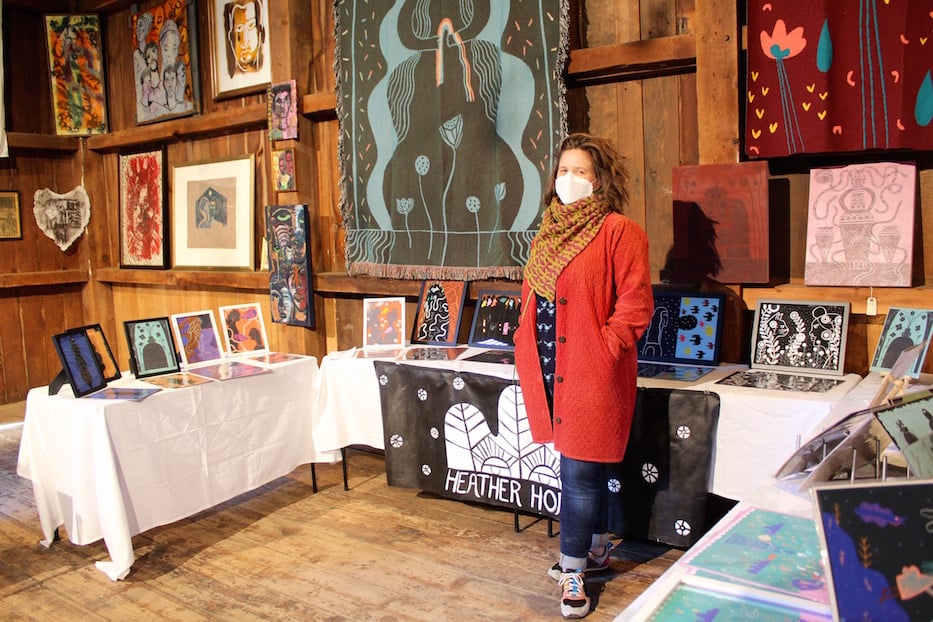 Heather Gendron, who runs Heather Hope Atelier.
That sense of response took different shapes in the adjoining barn, where a mix of painting, collage, photography, textiles and ceramics lined the tall walls. At a station for Heather Hope Atelier, artist Heather Gendron floated between framed art prints and huge, brightly woven blankets that hung on the wall behind her. After over a year of making work alone in her home studio, she greeted colleagues, old artist friends and new visitors alike to her temporary space.
The director of the Robert B. Haas Family Arts Library at Yale University by day, Gendron said that artmaking kept her level-headed when the library shut its physical doors last year. Years ago, Gendron studied visual art at SUNY Purchase, but put it on the back burner when she became a librarian full time. In 2018, she returned to it as a way to deal with her insomnia. She started drawing each day, doodling at breakfast and on the city bus downtown.
When Covid-19 hit the city, that practice helped her deal with a world turned completely on its head. As she and staff braved the remote pivot, she found ways to get into her studio before and after work. Several months ago, she began working with the family-owned company NJ Knitting Corp. to produce blankets woven with her designs. As she spoke, a fleet of amorphous pink flowers made their way up a green blanket, in no particular hurry to get anywhere.
"During the pandemic, I was actually quite active as a way to escape everything," she said.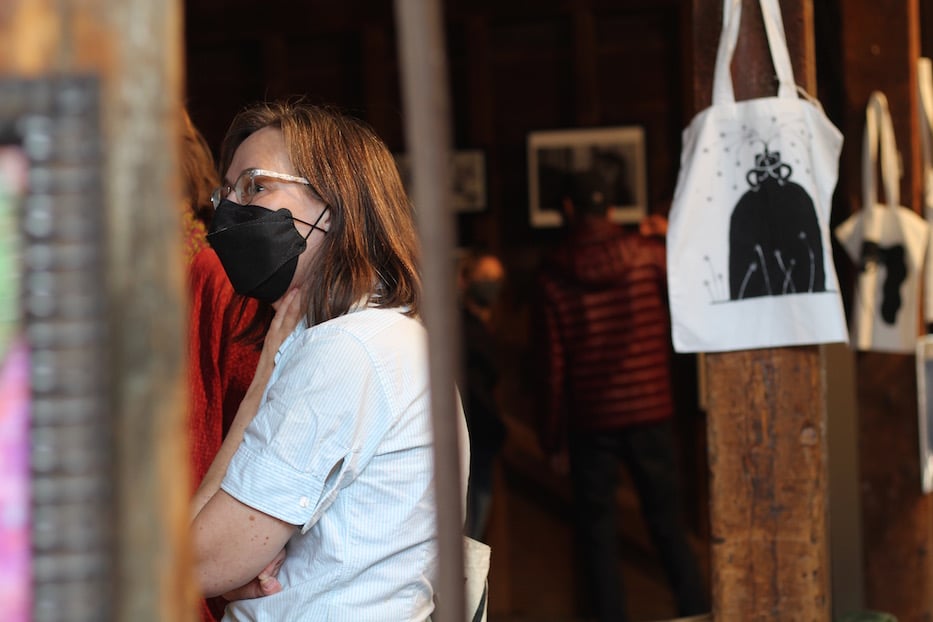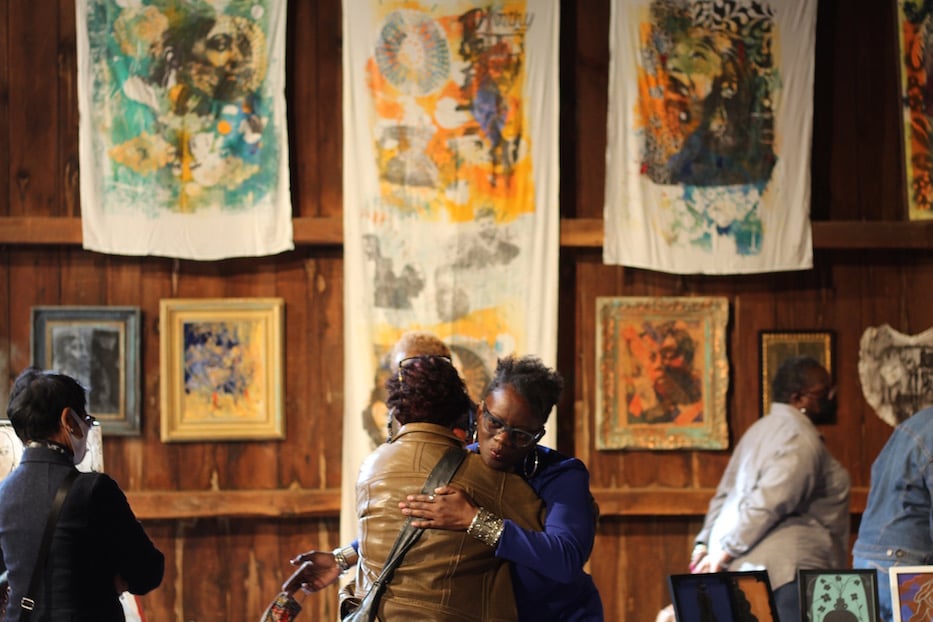 Top: Viewers in Gendron's part of the barn. Bottom: Holloway greets visitors.
Her experience in quarantine became part of her process. A friend's interest in "coping with nature" meant more flowers made it into Gendron's work, often caught mid-sway. A nod to her childhood home of Las Cruces, New Mexico became the foundation of a mural that she painted on Central Avenue in May, as Westville's Artwalk bounced back.
A days-long power outage after Tropical Storm Isaias led to Night Gardner's Wish, a black-and-white print print of a woman in profile looking over her plants. In the piece, one hand reaches up to tenderly touch a long, wispy blade of grass. If a viewer leaned in close enough Saturday, they could almost feel the warm wind stilling around the plants. Gendron said she worked on the piece after she and her husband, the photographer Ed Gendron, lit their house with battery-powered lights for days.
Beside her, printmaker Shaunda Holloway showed a mix of old and new work, from painted lampshades and wooden boards decorated with silhouettes to portraits printed on fabric that appeared in the windows of Creative Arts Workshop last year. A series of old, repurposed frames peeked out from the wall, holding her delicate, layered monotypes.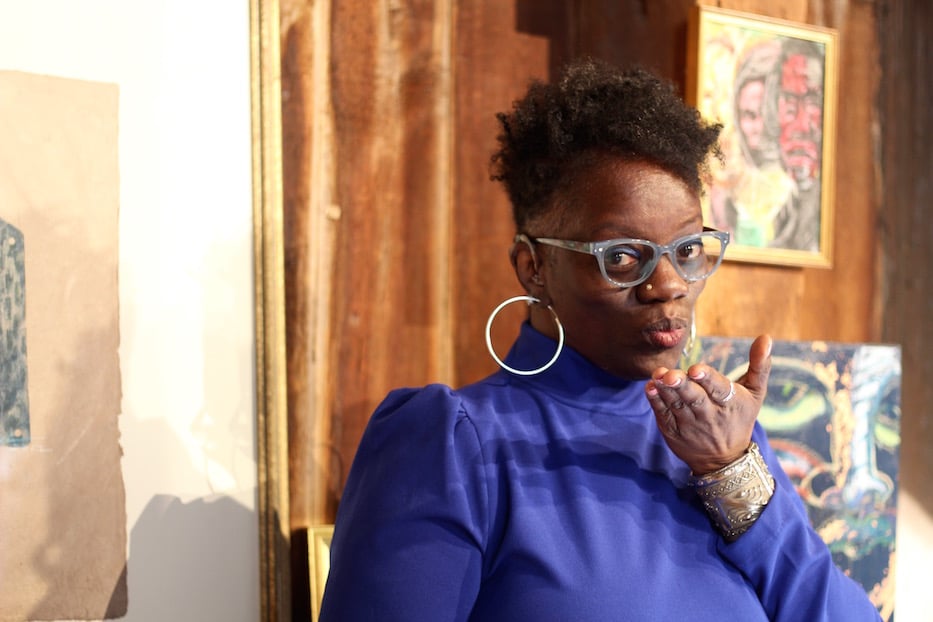 Shaunda Holloway.
Holloway, who recently opened an exhibition at People Get Ready Books, said that artmaking helped her make it through the darkest, most isolating months of Covid-19—just as it's still helping her make it through now. For her, Open Source was a sign that New Haven was coming back: Saturday felt like a miniature reunion of friends, classmates and colleagues from Creative Arts Workshop. Teachers, classmates, godparents and fans all dropped in over the course of the day.
She said she was especially grateful to Clinard, and excited to be exhibiting her work in the barn for the first time.
"You know, you do your daily nine to five or whatever, but this is like—" she paused to give herself a little hug. "Yes! I'm gonna be honest with you. Art, it's the thing that keeps me going."
Up a set of stairs, multimedia artist Clymenza Hawkins displayed her collages of WomenFolk in Nature, a longtime theme in her work that has continued to evolve over the past 18 months. This year—her third in the barn—she said that "it's all about transformation in my artwork."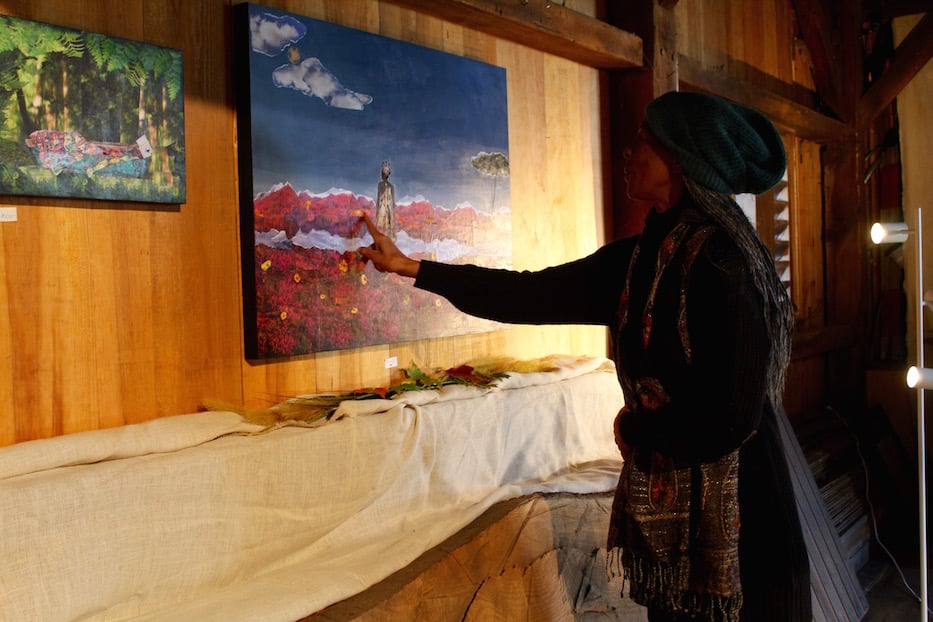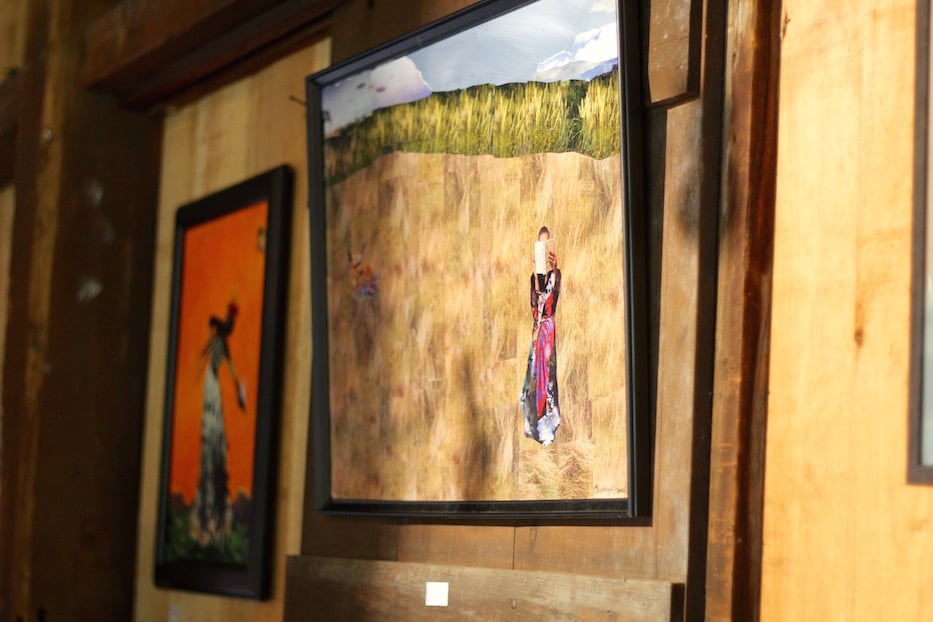 Top: Hawkins with Autumn Falls. Bottom: Once Upon A Time.
On the wall behind her, her collage Autumn Falls stopped viewers with a barrage of bright red against a slate blue sky. Just to the left of center, a woman looked out over a body of water so still it could have been mistaken for a mirror. Clouds edged with gray gathered overhead. The woman stood still, her arms at her sides as a dress flowed past her hips. A single green Acacia tree peeked out across the lake, as if it were calling out to her.
The work, with her fairytale collage Once Upon A Time, is one of her favorites to have come out of the last year. Two years ago, the artist moved from New Haven into Read's ArtSpace in Bridgeport, a live-work space that gave her more room for her practice. In the thick of the pandemic, her father passed away. Her mother needed to be moved into a long-term care facility. That sense of the world shifting sparked something in her, she said.
"It was like going through another transformation in myself," she said. "I love solitude. I didn't feel lonely. I'm comfortable with it. I'm not scared of it."
She found that the stillness was a surprising gift. During months of isolation, she doubled down on a collection of fairy folktales that she is preparing to publish with a friend. She continued producing her fairy and butterfly women, some of which she sells at Welancora Gallery in Brooklyn. Recently, she said that a mix of Kendrick Lamar and Led Zeppelin have helped her unlock something as she works.
"I like the new direction my work is going in," she said, motioning to the barn below as dozens of visitors cycled in and out of the space. "It feels festive in here—and we need it."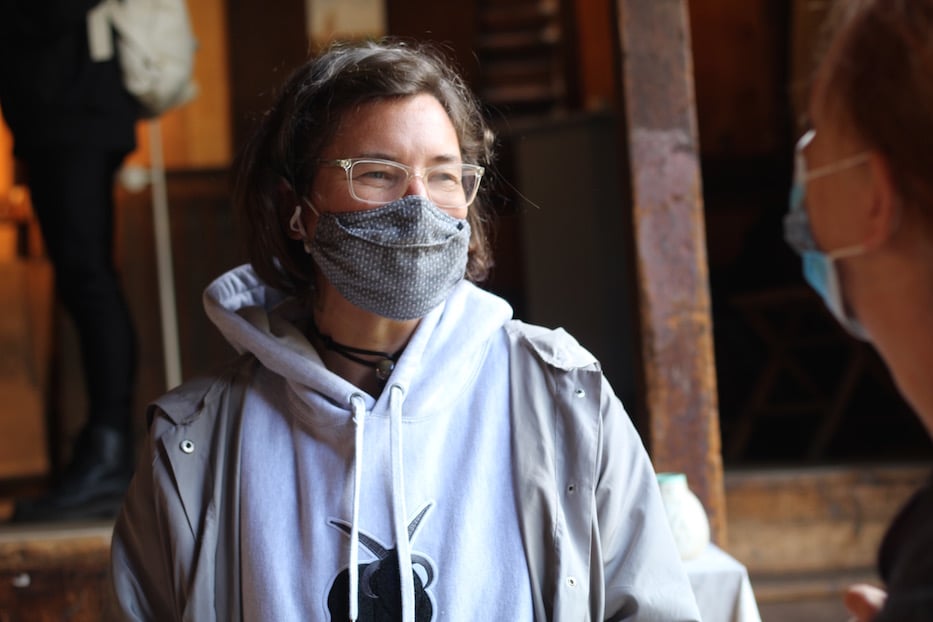 Artist Alexis Brown, whose outdoor sculptures resembled something from another world.
In a brightly lit corner below, photographer Maher Mahmood stood at a wall of images that told the story of almost a decade in his life, ending with the pandemic and a move back to his family's home in Hamden last year. On one side, greyscale images from Iraq and Jordan connected New Haveners to a world upended by war. In 2014, Mahmood and his family fled Iraq as refugees with the help of Integrated Refugee and Immigrant Services (IRIS). They resettled in New Haven and Hamden, where they are now.
Before Mahmood left, he was a photographer in the region. In the images he showed Saturday, time wound itself back to 2012 and froze there. A little girl looked quizzically at the camera, her brows furrowed as one hand reached up to scratch her ear. A single, fastened lock dangled from a wooden door.
In an interaction the photographer remembers particularly vividly, a young boy cocked a freestanding, rough piece of wood like a gun, one eye closed. When the boy told Mahmood that he wanted to become a soldier, the artist urged him to pick up a camera instead.
"I told him, with a camera, I get to show the world what is happening," he recalled Saturday. "I told him, you can be bigger than that."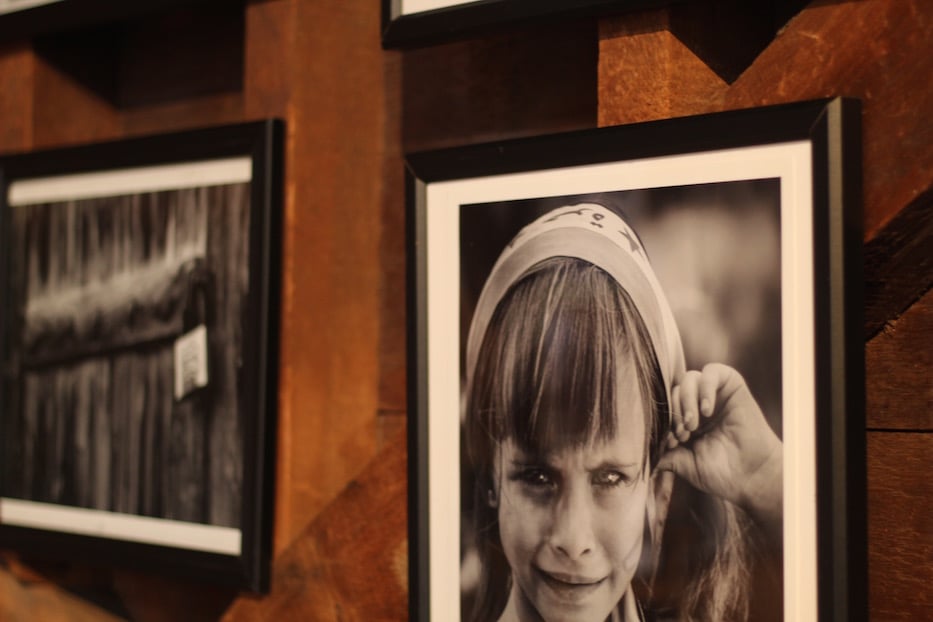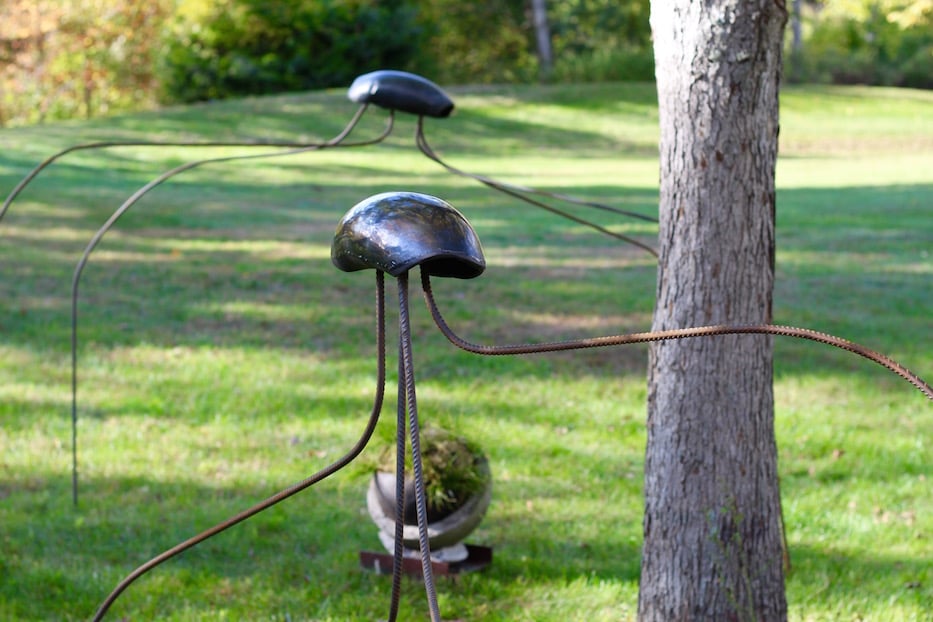 Top: Photography from artist Maher Mahmood. Bottom: A detail of Brown's work, which folds in native plants.
Seven years after coming to the U.S. with his family, Mahmood was working at Google and living in Midtown Manhattan when he heard reports of the novel coronavirus. As New York came to a standstill around him, he took his camera on walks around the city, documenting streets and sidewalks that were suddenly hushed.
He captured a city suddenly foreign to itself: a single person rushing past Lincoln Center, empty subway subway cars, glassy buildings that reached toward the sky with no one inside them.
"It was so empty," he said. "I've never seen the city like that."
Meanwhile, the pandemic was "good" for him—because it forced him to slow down and turn the lens on his own life, he said. He reassessed his priorities, ultimately moving home to be closer to his parents. He quit his job and shifted to freelance photography full time. He said that the past 18 months have reminded him of his first years as a refugee in the U.S., when he often asked himself, "could we survive this?"
"I'm alive, and that's something I'm grateful for every day," he said. "When bad things happen, I think, how can I make this good? It [Covid-19] slowed everything down, which is what we all needed. We knew what normal life looked like. This was a challenge for all of us."
To learn more about the 2021 Open Source Festival and Artspace New Haven, click here.