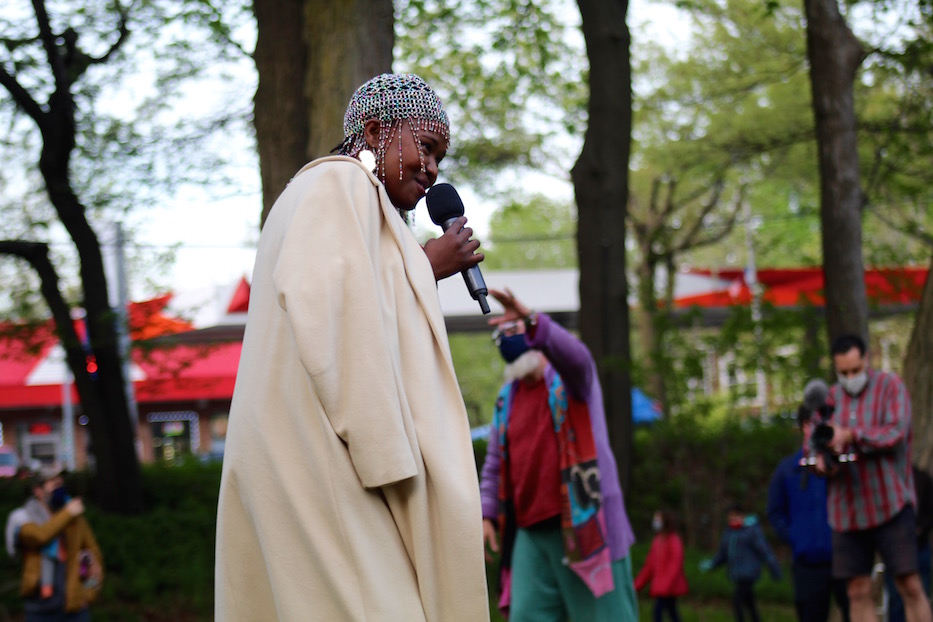 Arts & Culture | Westville | COVID-19 | Westville Renaissance Arts (WRVA) | Artwalk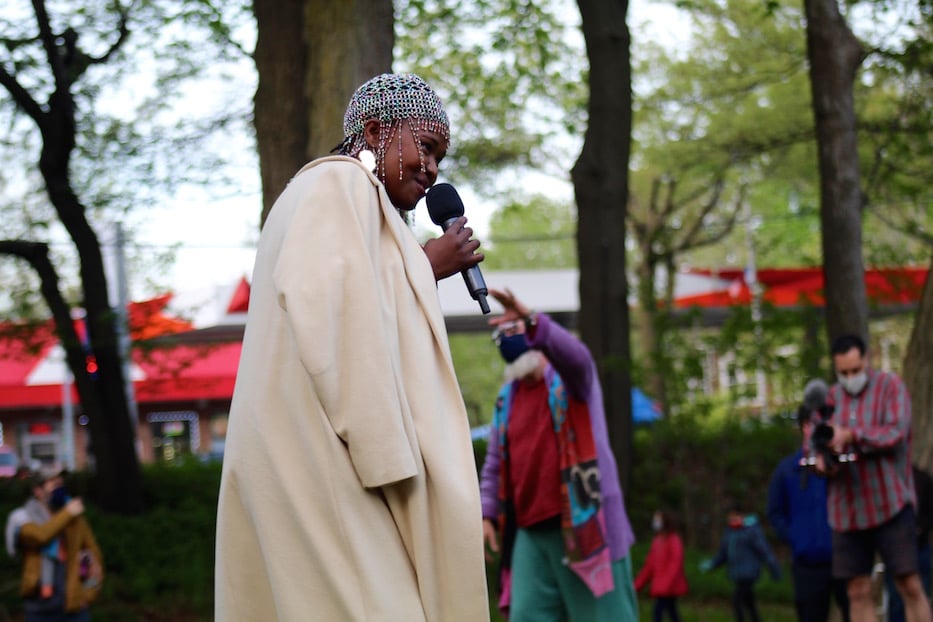 The artist Thabisa Friday night. Lucy Gellman Photos.
Thabisa got the crowd on its feet, where it stayed for hours. The artists of Whalley Avenue opened their studios back up, some for the first time since last February. First-time vendors shared the street with Artwalk veterans and exchanged notes. The duckies still raced, although it was over a big screen. At the end of the day, even a little rain couldn't stop the party.
After all, an afternoon drizzle was basically tradition.
That exuberance defined the 24th annual Westville ArtWalk as it returned to Edgewood Park and Westville Village after a year online due to the Covid-19 pandemic. Held over several days, the arts festival hit its stride over the weekend, as live music and dancing flowed into open studios, arts in the park, and a vendor fair that tapped into the city's diversity.
As in years past, ArtWalk 2021 was a collaboration among the Westville Village Renaissance Alliance (WVRA) and local artists. Members of its core planning team included producer Jes Mack, videographer Travis Carbonella, Design Monsters team Susan McCaslin and George Corsillo and Lotta Studio owners Mistina and Luke Hanscom. Mistina Hanscom, artist Kate Stephen and Vintanthro Modern & Vintage owner Melissa Gonzales helped coordinate the vendor fair.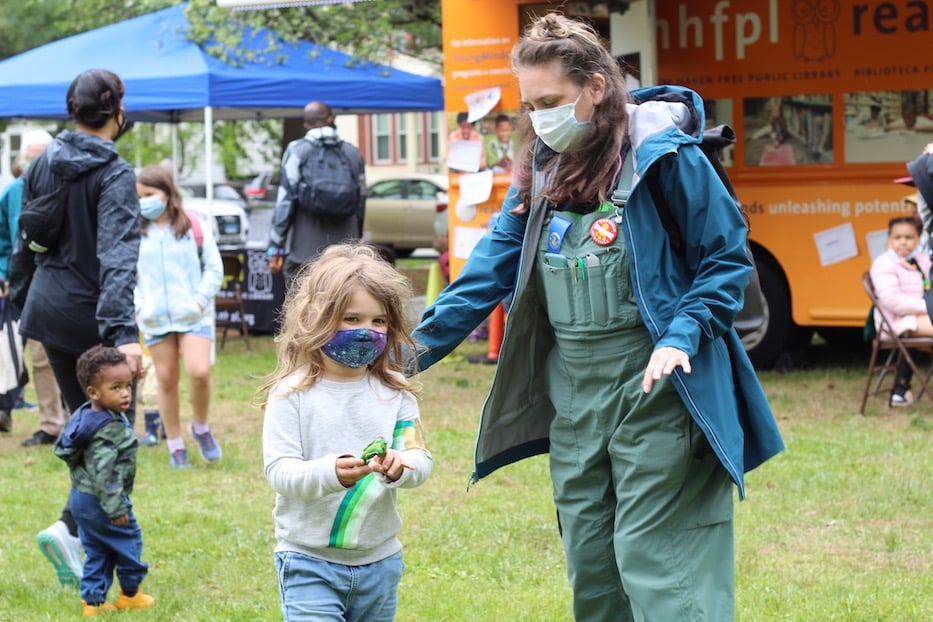 Jes Mack, who produced ArtWalk weekend, in the park on Saturday.
"I thought it was magical," said Lizzy Donius, executive director of WVRA. "It just felt wonderful to be with people. It just felt great, and 1000 percent because we were able to do it in person. I felt that it was necessary for me, and also for other people."
Friday, that magic began as masked couples and families filled Edgewood Park for a socially distanced concert from Thabisa and musicians from the New Haven Symphony Orchestra. On the grass, volunteers had marked a number of wide white circles for people to sit. As attendees set up lawn chairs and rolled out quilts and picnic blankets, strains of djembe and marimba flowed over the grass and wrapped themselves around the park's small gazebo.
On stage, NHSO percussionists Michael Singer and Aya Kaminaguchi became a controlled whir, their hands flying. As they played side by side, two djembes chased each other, their beating voices tumbling forward, and then drifting into the night.
Ribbons of orange started to streak the sky. Families continued to trickle in, a sea of faces stretching several rows back. Friends, some freshly vaccinated, elbow-bumped and hugged each other for the first time in months. Kids in multicolored and rainbow-festooned masks played near a cluster of rugs in front of the stage. From one sweatshirt, a "Black Girls Are Sunshine" logo from the local artist Sun Queen shone in the evening light.
"How great is it to hear live music?!" said NHSO Chief Executive Officer Elaine Caroll to cheers. "It's been just painful to not be able to perform for you."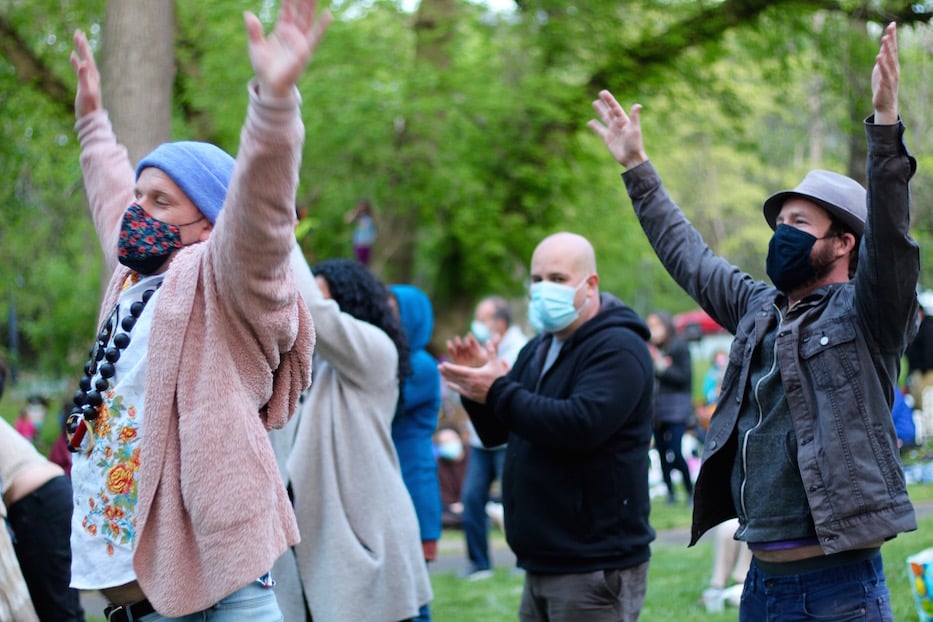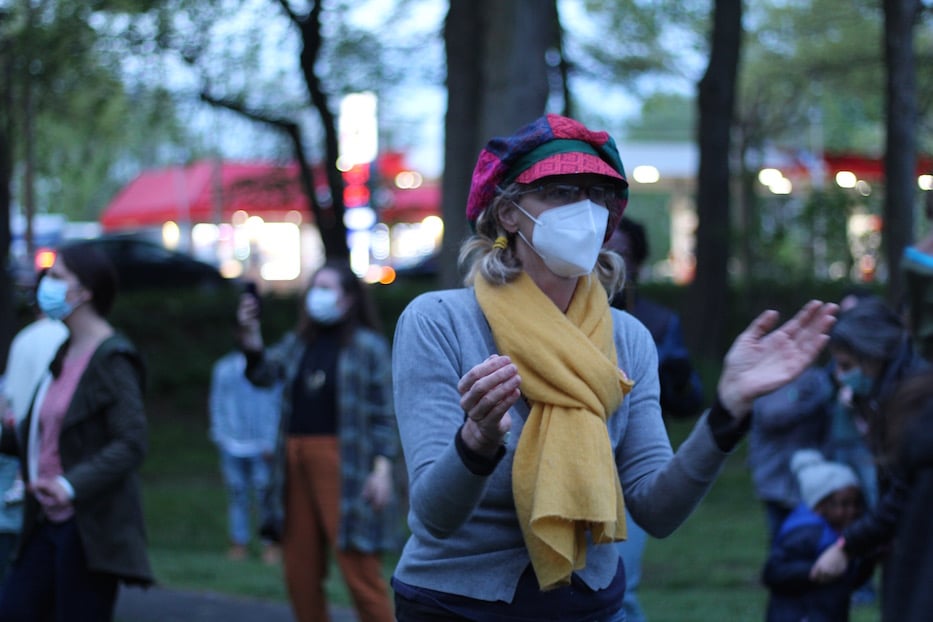 Within minutes of Thabisa's arrival, many of the audience members were on their feet. No sooner had Donius announced the powerhouse musician and Westvillian ("straight from South Africa, by way of Yale Avenue!") than a loose, distanced circle of dancers young and old formed by the stage. Eric Triffin pressed his heart and danced in place, a long white beard exploding from the edges of his mask.
Nearby, one pint-sized dancer became two, and then three, and then four. A few of the youngest attendees watched Thabisa with bated breath, wondering how a queen had suddenly landed in a city park. Others perfected their cartwheels as music swirled around them.
The artist went right into her piece "Diva From the River." Drummer Sam Oliver III eased from a murmur of percussion into a beat that listeners could feel through the ground. Dylan Olimpi McDonnell lifted his saxophone to his lips below and started playing. Clifford Schloss picked up the melody on guitar.
For over an hour, Thabisa unspooled a mix of Afro pop, deep soul, and something entirely of her own making. In English, Xhosa, and occasionally French and Spanish, she blessed the audience, joked about Instagram followers, and made the case ten times over for her own record deal.
As bassist Jim Lawson played out the first notes of Miriam Makeba's "Pata Pata" behind her, she looked out at the audience and decided that there needed to be more dancing. As she shimmied and sang, she beamed out at the young girls in front of the stage.
"Girls, my bones are not the same as yours anymore," she said to knowing laughs from the crowd. "This is one of the things where we are all feeling the moment."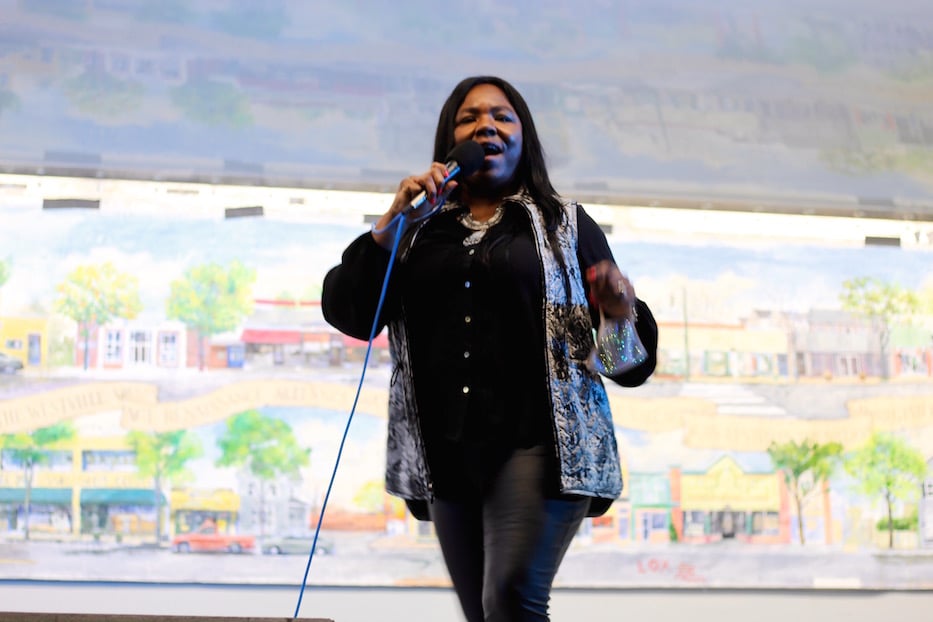 By the time she welcomed musicians from the NHSO, a few dozen dancers moved at the front. They cheered as violin and djembe rose up to kiss strains of bass and flute. She thanked the musicians—Yoon Be Kim, on violin, Brian Isaacs on viola, and Singer and Kaminaguchi on percussion. As the audience cheered for an encore, she came back into the crowd, singing to kids.
The party was just getting started. As Thabisa left the stage, local salsera Alisa Bowens-Mercado and DJ Dooley-O kept attendees on their feet. Merengue crackled through a speaker as Bowens-Mercado started with a basic front and back step. She said that the event felt like a rebirth: she celebrated her salsa studio's 20-year anniversary during the first months of the pandemic, navigating federal relief funding.
A year later, she has reopened to the public in stages. She's also been working to grow her second business, Rhythm Brewing Co. She mimed a move that she called the "shampoo," pulling her fingers through her hair.
"This is cha-cha-cha time!" she said as the music switched behind her. "We are going to teleport."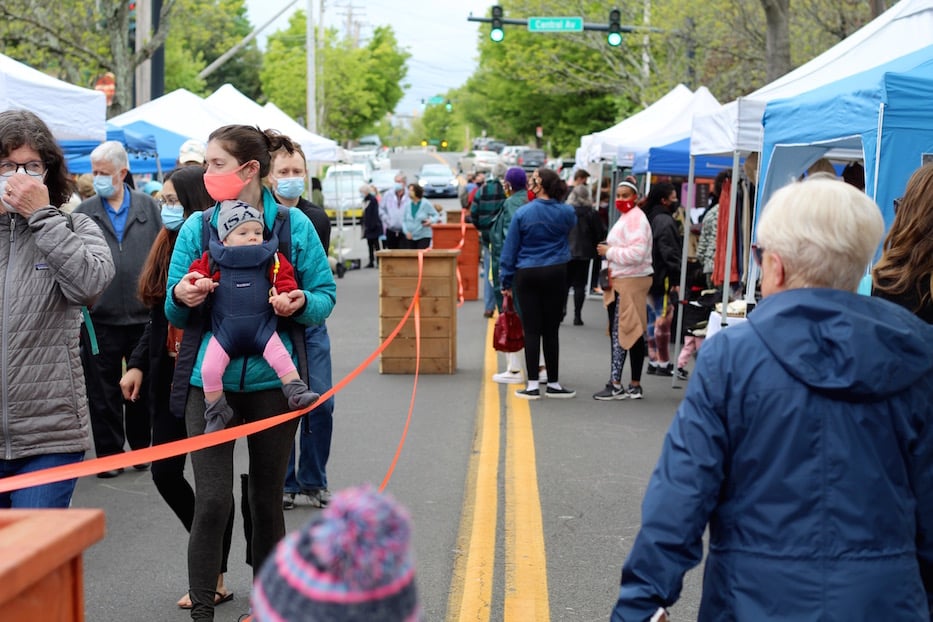 Saturday, attendees returned for more. Down Whalley Avenue, a fleet of white tents rose by mid-morning. A mural from artist Heather Gendron vibrated in pinks and oranges as community members joined in to paint. At West River Studios, the Hanscoms prepared to open the doors to the public for the first time since February of last year. Lysol wipes and pump bottles of hand sanitizer sat at the ready at the top of the stairs.
The year has still been one of transformation for the building, an artists haven where the hallways are lined with mobiles, papier-mâché sculptures and dollhouse-sized renderings of war-torn buildings. Saturday, artists opened their studio doors to old friends and new visitors.
Artist Semi Semi-Dikoko, who has made time on and off to visit his studio, greeted sculptor and friend Susan Clinard with open arms. Both are fully vaccinated—a trend that he's hoping to see among more Americans. Waking among the mobiles in his studio, he pointed out some of his work, on which he collaborates with the artist David Sepulveda.
"The building feels different now," he said. "I can't wait for everybody to get vaccinated so we can get to herd immunity. I have missed this."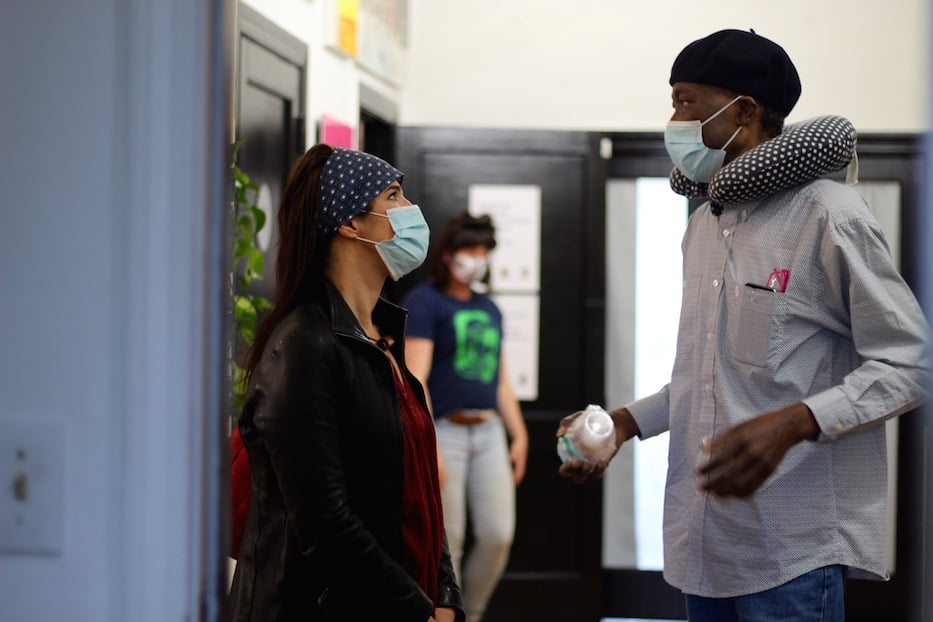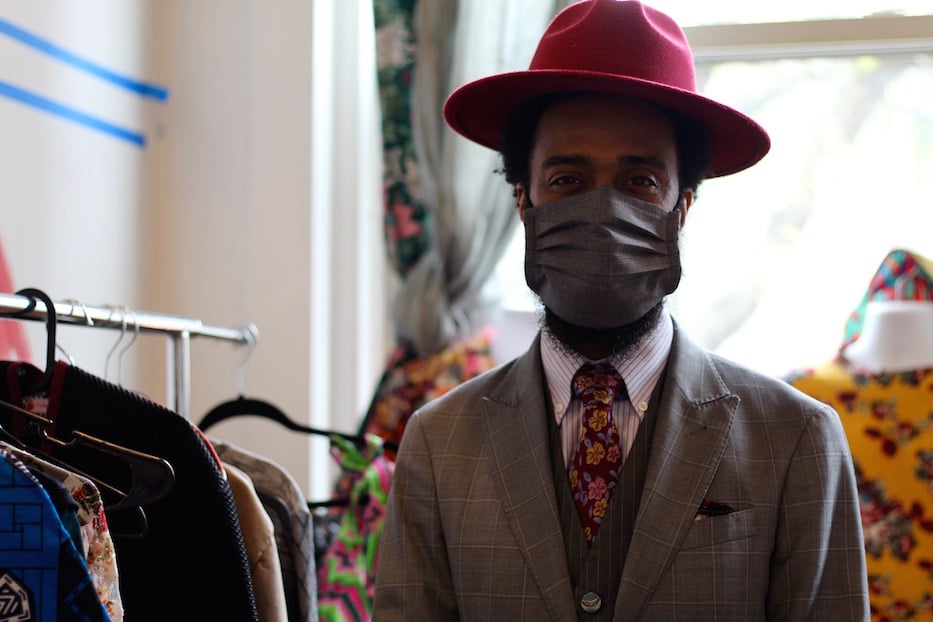 Top: Susan Clinard and Semi Semi-Dikoko. Bottom. Tea Montgomery of Threads By Tea.
In March of this year—almost exactly 12 months after stay-at-home orders were first announced—Threads By Tea designer Tea Montgomery moved into a studio at West River Arts after two years on the waiting list. It marks the first time the artist has had a workspace outside of his home. Saturday, he worked on a series of hats as his parents chatted with visitors. Bright work from the artist Meghan Shah blink out from the walls.
As shafts of sunlight came through his street-facing windows, Montgomery said he's excited to expand his collection, which includes private commissions and work that comes from his head through his fingertips. He described the past year as "steady" given the financial strain of the pandemic. Opening the studio during ArtWalk felt a little like a homecoming: Montgomery grew up in Westville. He ran ArtWalk's fashion show—a casualty of Covid-19 this year—in 2019.
"I've always liked this space, and I'm making it mine," he said. "I'm loving it. I really appreciate the love and support, and I follow the love … my mission is to inspire and empower."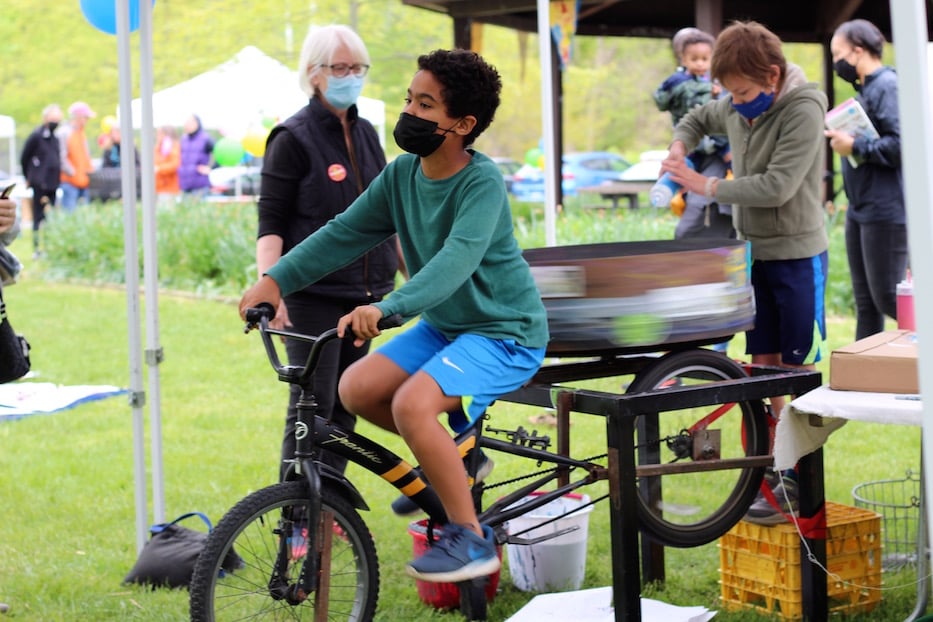 Spin art was one of the many activities to return to Edgewood Park.
On Whalley Avenue, passers-by popped in and out of shops, some lining the block as they waited to try on vintage clothes, fuel up on coffee, and catch concerts as they popped up in the park. Knots of people stood outside of the block's brunch spots. Down the street, a teen takeover serenaded Edgewood Park.
Under tents, masked kids moved around blocks of magnetic poetry, dipped t-shirts in vats of tie-dye ink and spun paint into fantastical webs of color on Muffy Pendergast's revived spin art bike. They head bopped and hip-swayed as The Midnight Strangers cycled through tracks they've been recording. A bright orange bookmobile from the New Haven Free Public Library beckoned from one corner of the park, making its first trip back into the world.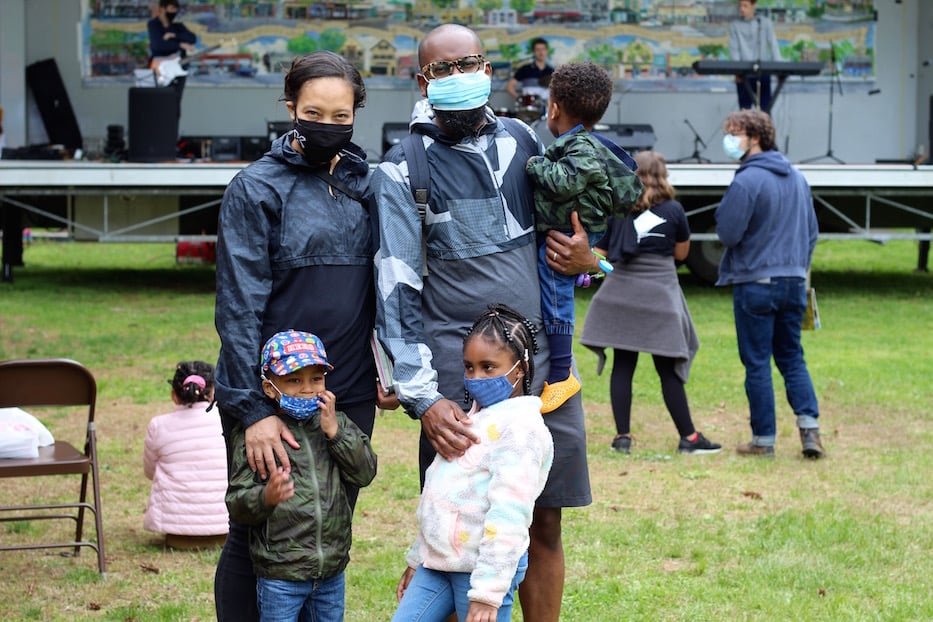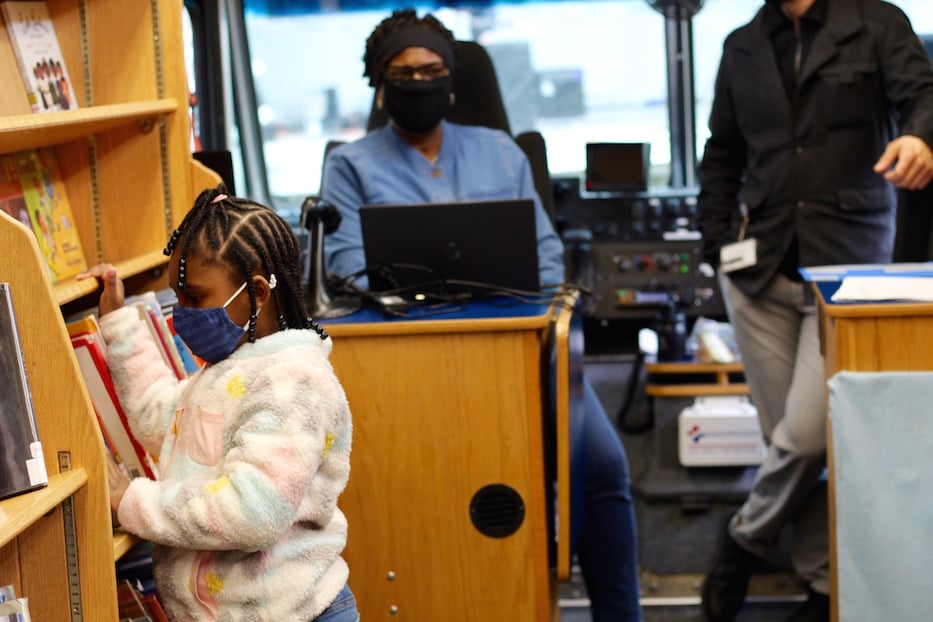 Top: Aliya and Crispin with six-year-old Penelope, four-year-old Lathan and 18-month old Miles (they asked that only their first names be used). Bottom: Penelope with Mitchell Branch Manager Marian Huggins and Library Technical Assistant Jeffrey Panettiere.
Inside, Six-year-old Penelope and her mom Aliya picked out copies of Yasmin the Fashionista and Pinkalicious, the latter of which is one of the library's most in-demand titles.
Mitchell Branch Manager Marian Huggins and Library Technical Assistant Jeffrey Panettiere checked out books at a counter inside. While the family lives on the other side of town, Aliya said they were excited to get back to the bookmobile. Her four-year-old, Lathan, held up a copy of the Black Panther comic before the family made its way triumphantly outside.
Around them, the park bloomed into action. As one of six "artists in the park," Liz Antle O'Donnell greeted visitors with a table neatly arranged with her work. On one side of the table, neat suburban houses from her series The New American Dream were arranged by color in a crate. On the other, newer plates from a series inspired by Instagram photos showed long telephone towers. She waved excitedly to families that she knew as they stopped to chat at a distance. A piece that she was planning to auction off for WVRA sat in front of her.
"It took some getting used to to like, talk to people again," she laughed. "It feels good. I like how they've spaced it out over so many days. I think this is what the new normal looks like."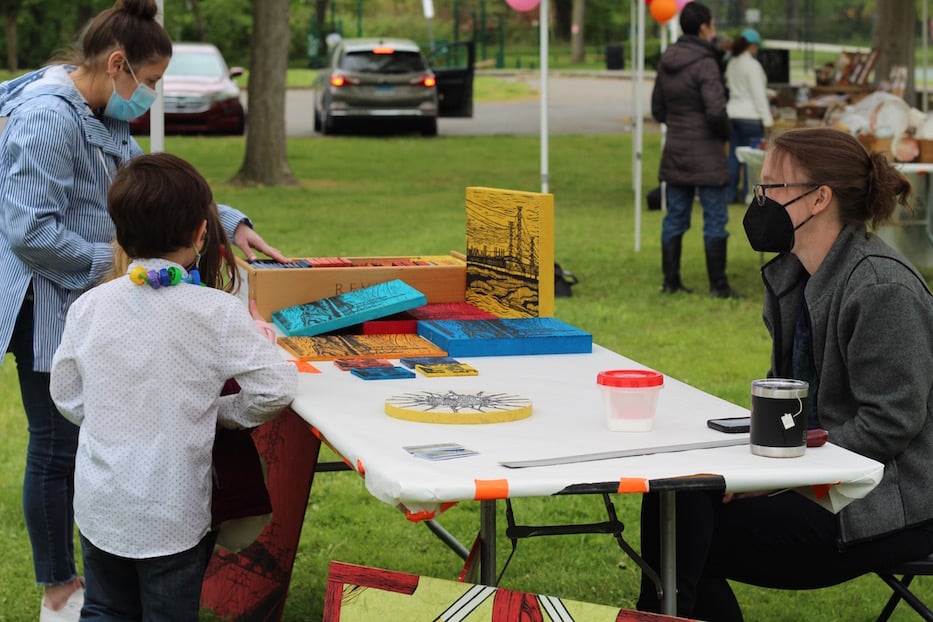 A few streets over, the vendor market was bustling. Beats boomed over the block, courtesy of an outdoor booth from Elm City Sounds. To prevent congregating in the street, WVRA drew arrows on each side of the street to direct the flow of traffic. Westvillian Monique Wilson, a Norwalk transplant who has participated in ArtWalk for three years with her business Garden Mind Decors, said she was excited to be back.
Last year, Wilson didn't realize that ArtWalk was holding a virtual vendor market until it was too late. She wasn't too upset, she said—there's no substitute for on site interaction. She's excited for the spring and summer, when more outdoor markets are possible.
"I like connecting with the crowd," she said. "I like meeting people, and new vendors. Today, I've been meeting a lot of new people."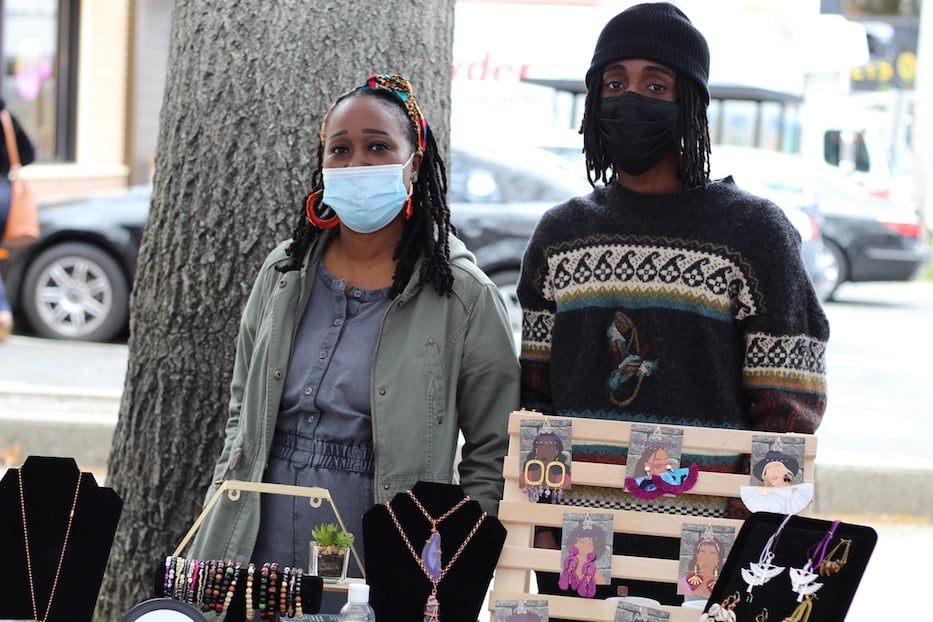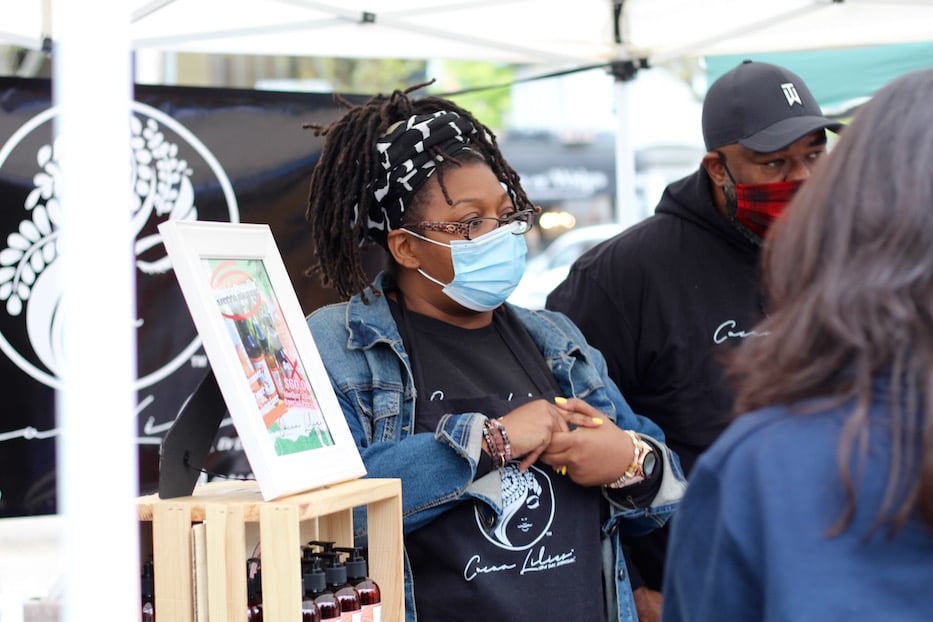 Top: Monique Wilson with her son, Menelik. Bottom: Bonita Robinson-Fuller and Prentice Fuller.
Bridgeport-based business owner Bonita Robinson-Fuller and Prentice Fuller walked passers-by through body butters, skin serums, and foot soak mixes from Cocoa Lilies Skin Care. The business was born last August, when Robinson-Fuller "decided to put my money into a business" that served her needs, and the needs of other women with sensitive skin.
For years, she has experienced combination skin—skin that is dry on one area of one's face, and oily on another—that requires a small army of commercial lotions, salves, and scrubs. When she realized that she could make all-natural, vegan products that worked for her, she began experimenting with coconut oil, green tea, citrus, and even vanilla beans scraped from the pod.
Although she launched in the middle of a pandemic, she said that business is surprisingly good. Because it is her second job—she also works for St. Vincent's Medical Center and currently is a student—she joked that she doesn't sleep much. She has been selling at pop-ups in New Haven and Norwalk. She said that being a Black-owned, woman-owned business is "the best feeling in the world."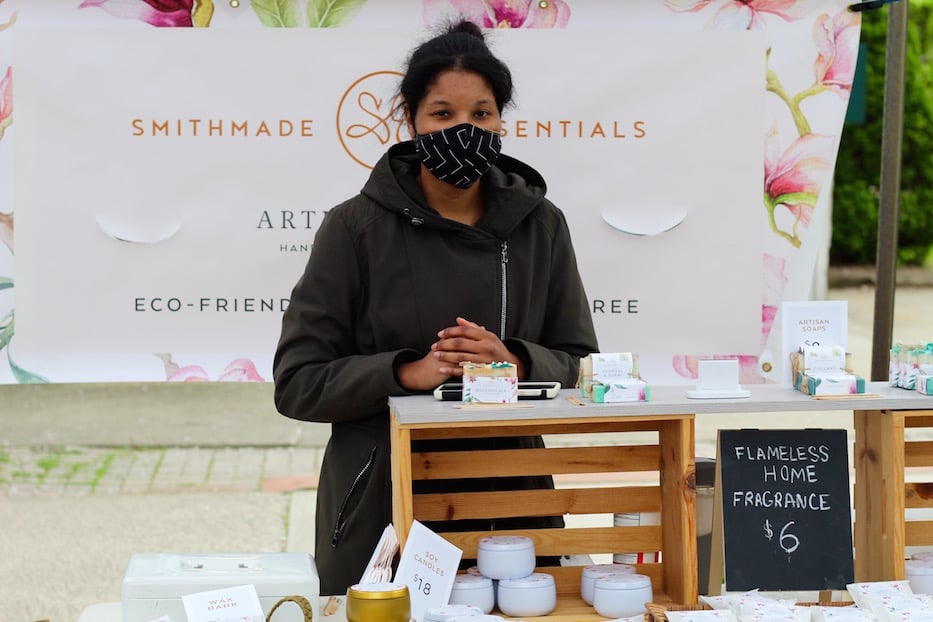 Kiah Smith of Smithmade Essentials.
As a first-time vendor, she was in good company. Raised in Westville, brand designer Kiah Smith grew up coming to ArtWalk, but didn't think about participating until she got into soap making two years ago. The SCSU graduate still lives in the neighborhood with her family. Saturday, she returned to sell products from Smithmade Essentials, her small-batch soap and candle business. Inside her booth, the scents of sandalwood, ripe melon and blooming roses mingled in a sweet, low-hanging cloud.
Just a few booths away, artist and art therapist Rita Charles showed attendees how to use take-home squishy sensory bottles filled with water, paint, clear glue and glitter. As an art therapist, Charles has seen the bottles help patients cope with ADHD, stress, and anxiety. Her own artwork, much of which she's painted in the last year, looked out from behind her. She demoed one of the bottles for Jonnie Garcia, who taught Charles' son when he was a student at Ross-Woodward elementary school.
"If I were in my studio with people, I would teach with these," she said. "This is therapy that people can use in their own homes.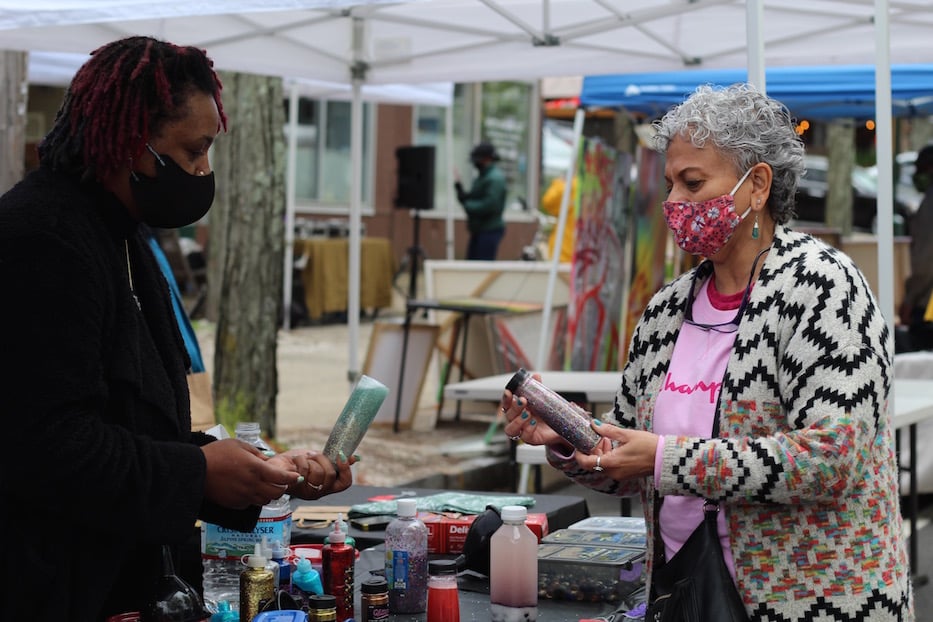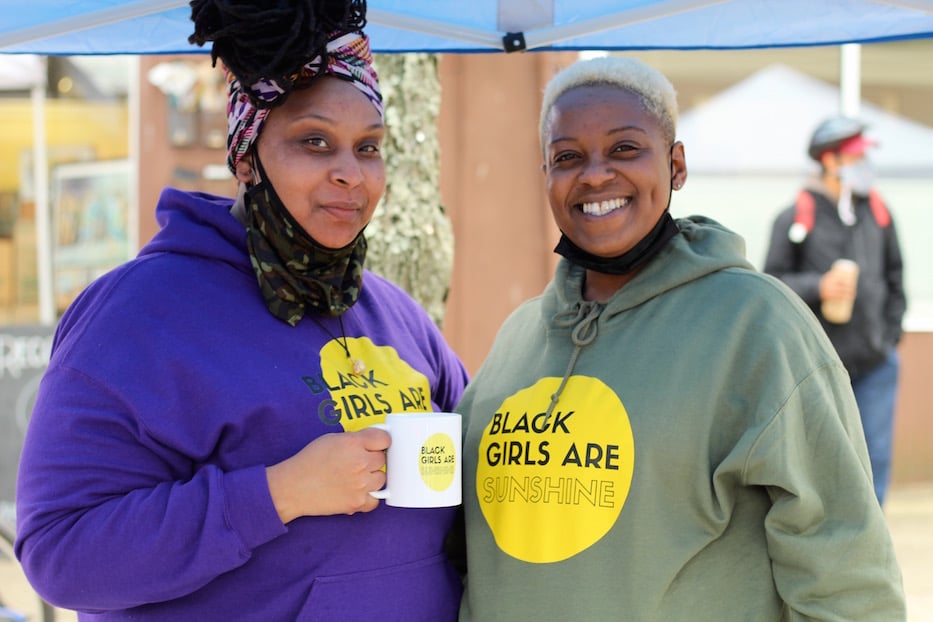 Top: Rita Charles and Jonnie Garcia. Bottom: Sun Queen and Ashleigh Huckabey. Huckabey also runs a small business called Empath Vintage.
Black Lives Matter New Haven Co-Founder Sun Queen was packing up after a day of non-stop sales. Early in the afternoon, she'd had to run home to get more merchandise for her "Black Girls Are Sunshine" line, which includes coffee mugs, journals, t-shirts and sweatshirts. She praised what she saw a more genuinely inclusive ArtWalk, with a higher representation of local and Black-owned businesses than in years past.
"To see all the Black women out here, it's like, okay Westville, I see you," she said. "I've been in Westville for nine years and this is the most Black women, most Black people that I've seen at ArtWalk. I just hope that Westville continues to have it look like this. This is what community and being included looks like. I'm proud of Westville this year."
To learn more about the work that WVRA is doing, click here.