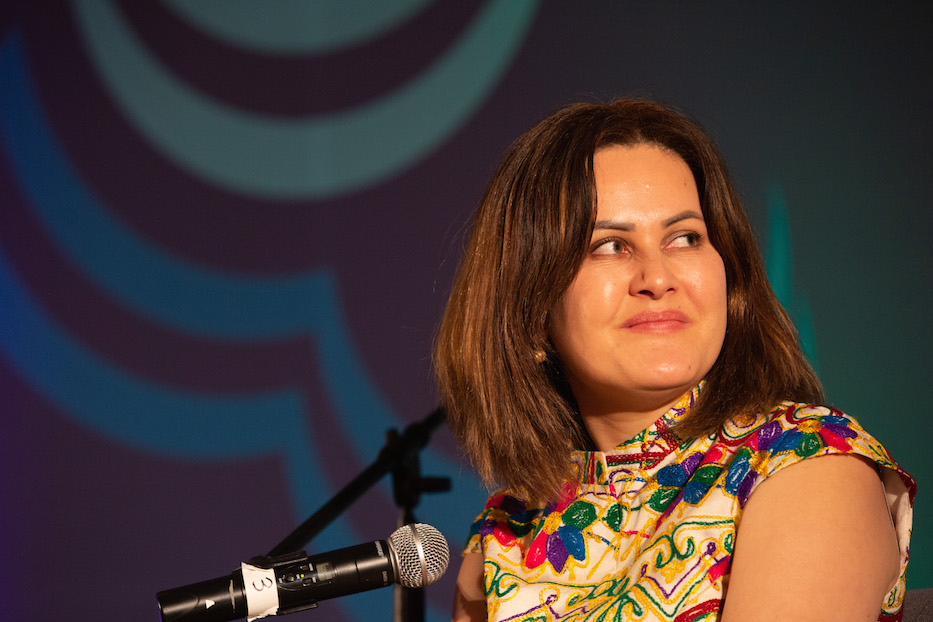 International Festival of Arts & Ideas | Arts & Culture | Film & Video | Arts & Anti-racism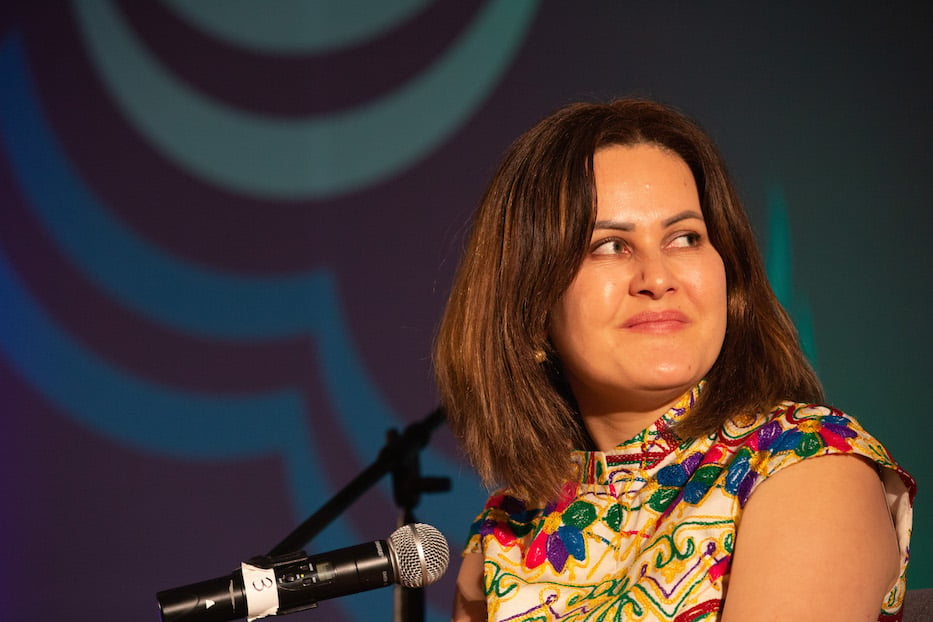 Afghan filmmaker, screenwriter and director Sahraa Karimi. Judy Sirota Rosenthal Photos.
Imagine that a fundamentalist group has taken over your city. Within days, members stop women from attending school and shut down their workplaces. They halt people in the streets, on transportation, in their own homes to check for documents. They kidnap husbands, brothers, sons. People starve. Domestic violence skyrockets. The fabric that has held the city together for so long unravels in hours.
Afghan filmmaker, screenwriter and director Sahraa Karimi described that scenario from the Omni Hotel ballroom last week, as the keynote speaker and honoree at the International Festival of Arts & Ideas' 12th annual Visionary Leadership Awards luncheon. Speaking to a crowd of 200, both she and Connecticut poet Yexandra "Yex" Diaz urged attendees to use their relative privilege, artistic voices, and personal freedoms to advocate for the lives of those fighting oppression overseas and in their own backyards.
"I know there are many clichés about Afghan women—that we are victims or we are heroes," said Karimi, who remains the first and only woman to chair the Afghan Film Organization. "But no. We are universal. Please, look at women of Afghanistan as you look at yourself."
Taking the stage with Narrative Project Founder and Director Mercy Quaye, Karimi brought attendees briefly back through her own life, including her harrowing escape and flight from Kabul last August as the Taliban came to power. Born to Afghan refugees in Tehran, Iran, Karimi first moved to Afghanistan in 2012, after several years as a young actor in Iran and later a graduate student and director in Bratislava.
"I wanted to tell stories of my own people, of my own country," she said.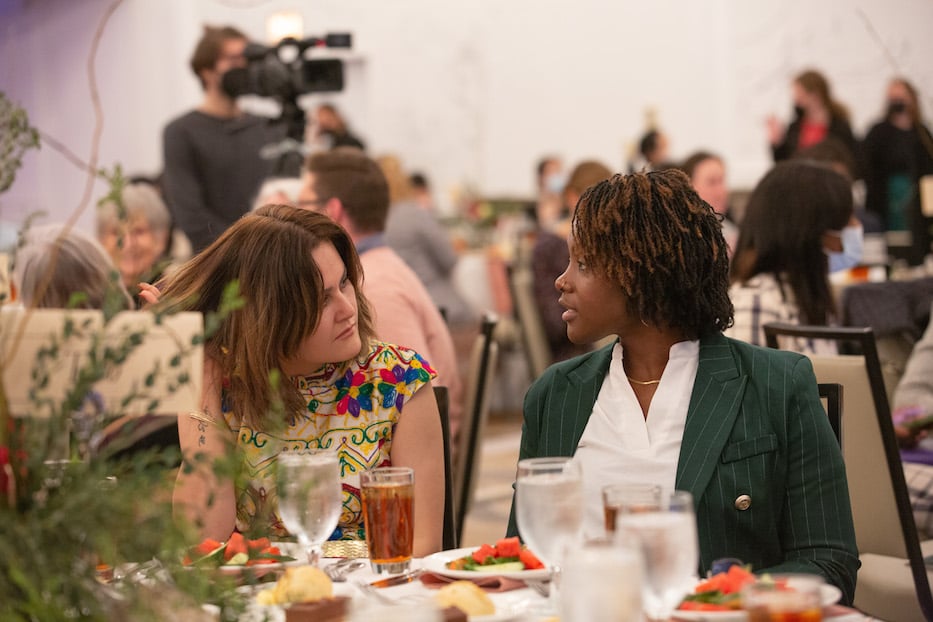 Sahraa Karimi and Mercy Quaye. Judy Sirota Rosenthal Photos.
From Afghanistan, she lovingly chronicled the lives of Afghan women and girls, reveling in the layered and complex stories of homemakers, journalists, daughters on the cusp of adulthood. Her 2019 film Hava Maryam Ayesha made history as the first independent film shot in the country with an all-Afghan cast and crew. Even as the Taliban made threats against her life—she has long been an outspoken critic of the regime, which she described last week as both anti-woman and "anti-beauty, anti-art, anti-our-kind-of-ideas"—she remained in the country, dedicated to her work.
Then last August, Karimi watched as the Taliban moved toward Kabul, waging a campaign of terror across the country she called home. With thousands of other Afghans, she made the decision to leave in less than a day, chronicling her journey to a shuttered bank, through the streets of Kabul on foot, and ultimately to and out of Hamid Karzai International Airport, as tens of thousands of followers watched on Instagram and Twitter .
"I thought I was going to die," she said. She lambasted President Joe Biden's decision to pull all U.S. troops out of the country, calling Afghan women "the loneliest women in the world."
"We wanted you to stay and to see how we grow up," she said.
Even as she ran, she used digital media to amplify her voice as an artist. In one video from August 15 of last year, she sits in a room, a scarf loosely fixed around her face. Speaking in Pashto, Karimi describes the day: shuttered banks, chaos in the streets, the rising fear of the city's four and a half million inhabitants. In written text above the video, she appeals to viewers in multiple languages, writing: "Please pray for us, I am calling again: Hey people of this big world, please do not be silent, they are coming to kill us."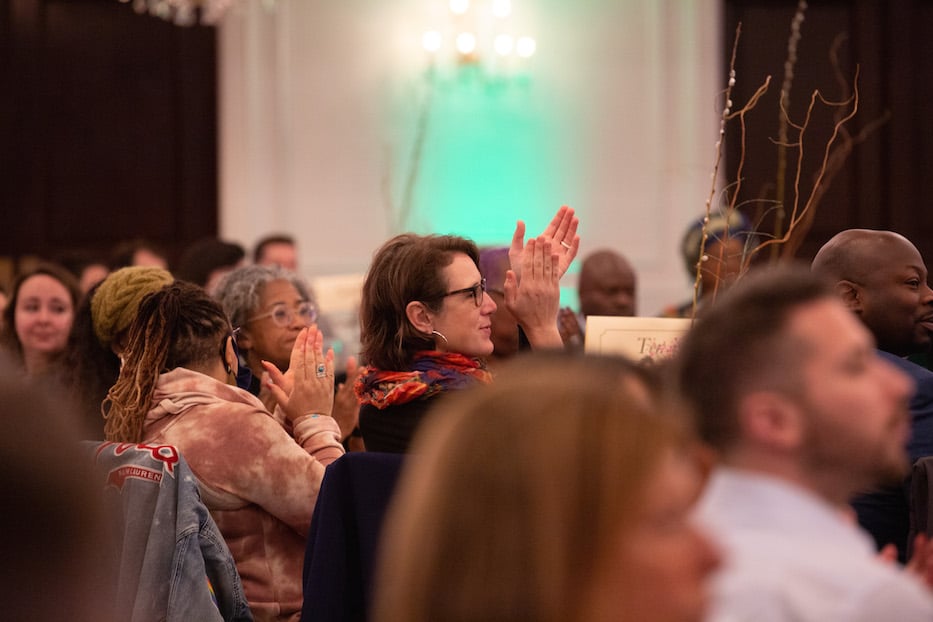 Judy Sirota Rosenthal Photos.
In another, viewers can hear gunfire and the roar of engines over thousands of voices, as knots of bodies gather under the night sky. Lights pierce the darkness, enough to see the hazy tan outlines of tanks. In a third, she is inside a plane, her lens on the off white of the wing as it rises into the sky above Kabul. Oud and woodwind wind beneath the video, with a caption that she has made it out.
After initially living in Kyiv, Ukraine, Karimi moved to Rome to teach at the Scuola Nazionale di Cinema (she did not speak Italian and her students did not speak English, a fact that received both laughs and applause). She credited Charlie Musser, a professor of film and media studies at Yale, for bringing her to New Haven to teach students for a week.
Then she turned her lens back on the audience.
"Please make friends with Afghans," she said, noting that no refugee wants to leave their country. She pointed to Khalid Payenda, the former Afghan minister of finance, who is now an Uber driver in Washington, D.C. "With Afghan people. And especially with Afghan women."
"I just lost a very important concept in my life, which is home," she later added. "I lost it forever."
In addition to friendship, Karimi said, she wants to see more outspoken allyship—and believes that the arts are a powerful tool in activating it. Looking out onto an audience that included educators, organizers, journalists, multi-media artists, theater directors, dancers and all disciplines of dreamers, she reminded attendees that they stand on the shoulders of those who came before them, and fought to make their path that much easier.
She encouraged them to do the same for not just Afghans, but those living under the yoke of oppression across the globe. In her own life, she said, she has done that both as a teacher and as a sharp-eyed director, whose medium has become a tool for international understanding and dialogue. She pointed to the young women that she has now mentored across multiple countries, passing her medium—and her lived experience—on to a younger generation.
"As storytellers, we sit on this platform … We know we have art in our corners," Quaye said. "What is at stake when we lose that?"
"We lose an opportunity to make a better world," Karimi responded to applause that began almost immediately. She read from a tattoo on her forearm, written in Persian and now outlawed by the Taliban. "If you cannot find real human beings in this world, then create a world to be real human beings in."
Before she closed, she urged attendees not to forget about Afghanistan, even as other global conflicts take over a constant, grueling news cycle. She stressed the importance of diversity within the arts, noting that the Taliban has tried to weaponize racial and religious differences for their own political gain. It seemed, for a moment, that she could just as easily have been talking about New Haven, where the scars of redlining still criss-cross the city, making a map of where violent crime, food and housing insecurity, absentee landlords and eviction are still more likely.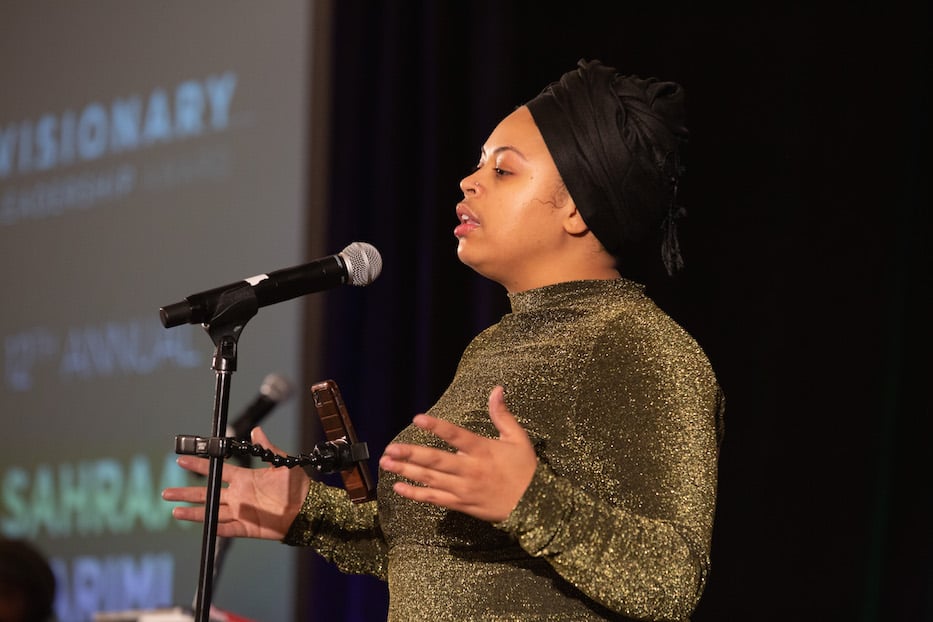 Judy Sirota Rosenthal Photos.
The plea echoed a performance from Diaz earlier in the afternoon, in which she brought the reality of violence and systemic oppression home to New Haven. Five years ago, Diaz wrote her poem "God Body" after conversations with her sister-in-law and close friend. At the time, her sister-in-law was searching for a source of fulfillment beyond motherhood, and realized that it was "when she can see the God in other people, especially when she can't see it in herself," Diaz said. At the same time, the poet, organizer and doula was talking to a friend who felt that God was punishing her, first with a stillbirth and then with metastatic cancer.
As backing vocals swelled behind her, Diaz raised her hands to the audience, and let her voice coast over the room.
I don't believe in a God/However I am not Godless, she read two minutes in.
I mean, if everything happens for a reason, how could I entertain the thought that God exists?
And if he does exist, he's a deadbeat, a mirage, like haze of a dead heat
So too in a second piece, which she wrote specifically for the event. Noting that both she and Karimi are Muslim women—Diaz describes herself as an "American revert" to the faith—she wove a narrative from the Valley of Death to backyards and front stoops and shared spaces, highlighting their shared holiness. It felt especially relevant in the month of Ramadan, which Diaz observes with meditation five times a day.
Verses, all of them tight, turned the ballroom into a sanctuary, where even the rose-studded floral arrangements from Bloom told a story of migration. Lines like "And this is spirit speaking/If Jesus walks/It's through the hood" ran bone deep. Audible snaps and murmurs rippled through the audience at the line "The face of fear is those who seek to oppress."
"I wanted to create a piece that encompassed all of that," she said in an interview after performing. "My womanhood. My advocacy. My identity as a Muslim, and that relation that we have to refugees, to the degree that war happens right here in our backyards. We have to constantly fight and seek refuge, whether it be in an actual, physical place or in culture, in ingenuity."
Learn more about the International Festival of Arts & Ideas here.