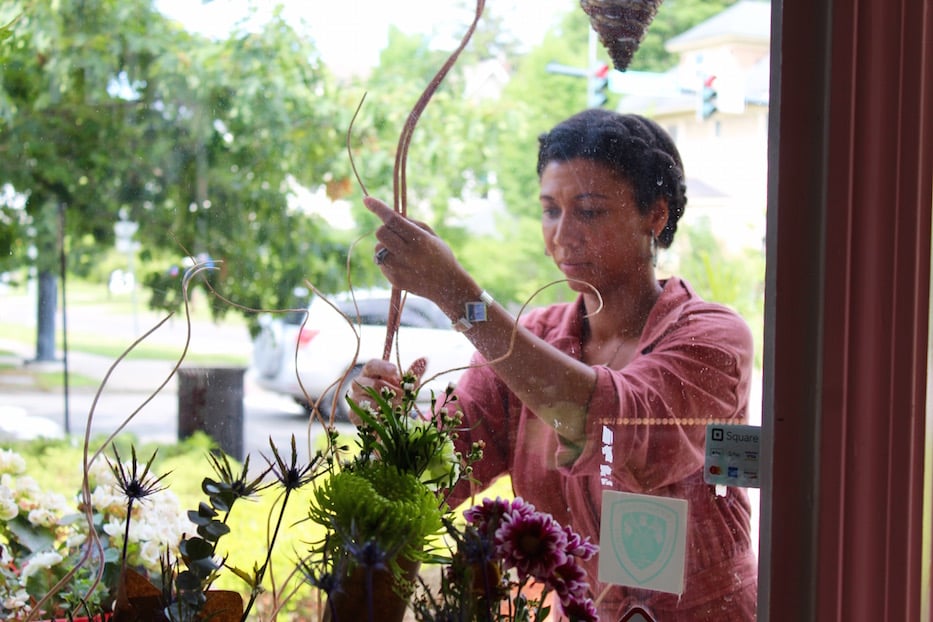 Culture & Community | Economic Development | Arts & Culture | Nature | Westville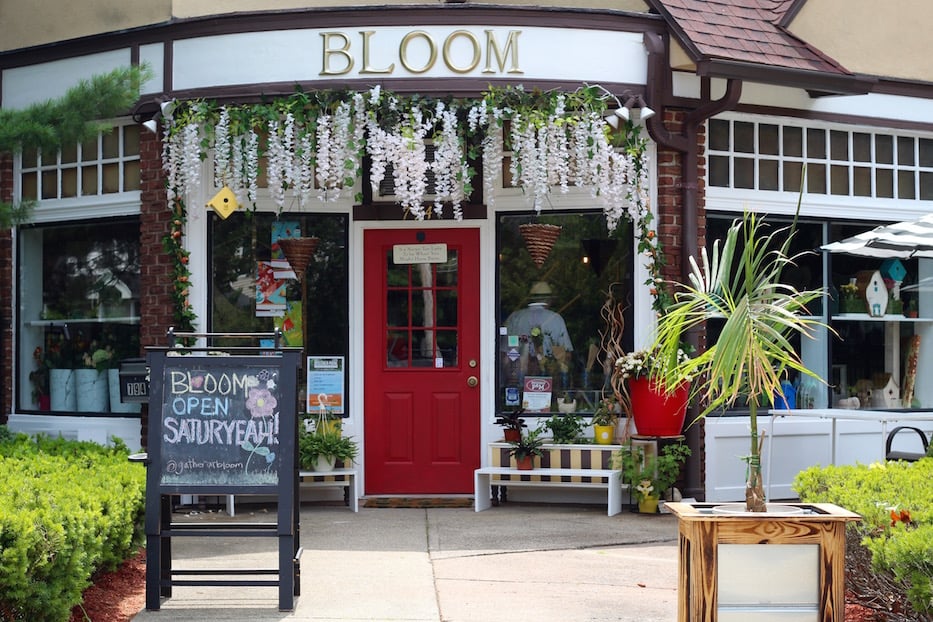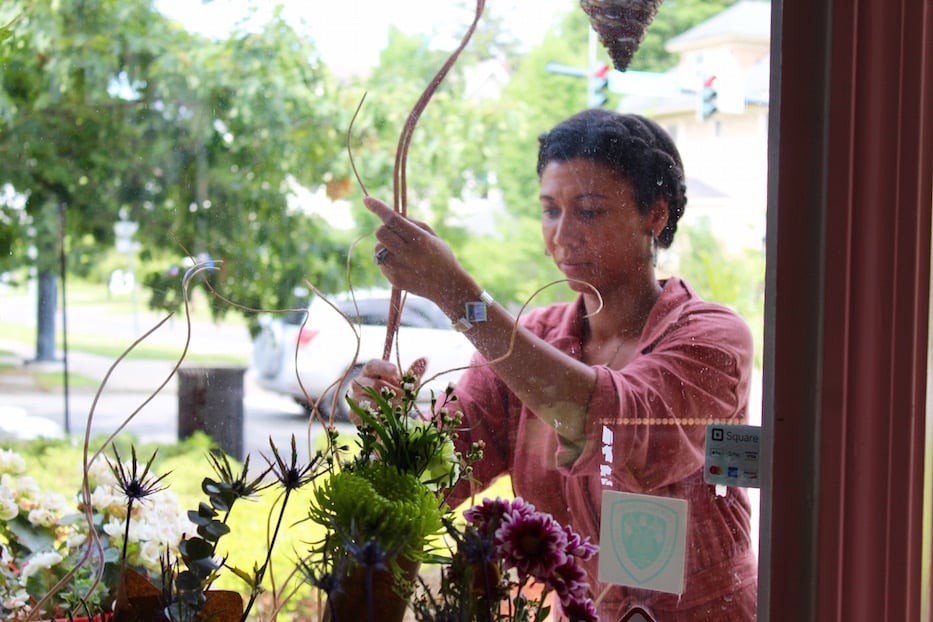 Top: The store from the outside. Bottom: BLOOM Founder Alisha Crutchfield-McLean puts the final touches on a bouquet before it goes out. Lucy Gellman Photos.
It's a refuge from the moment Alisha Crutchfield-McLean opens the door. The smells of lavender, peppermint, bergamot and musk mingle in the air. A huge chalk orchid explodes in oranges and yellows across one wall; bird and butterfly houses chat happily amongst each other on another. Small bouquets of fresh flowers and sprigs of eucalyptus wait for their new owners in the window, soaking up the sun.
Welcome to BLOOM, Crutchfield-McLean's self-described "urban oasis meets community center" just blocks from her Westville home. After months of preparation, she has opened the business as a coworking space, lifestyle boutique, cafe, and therapeutic retreat at the corner of Edgewood and Central Avenues.
For her, the store's emphasis on coming back together feels right on time. Since opening last Thursday, she has already seen dozens of customers come through the space.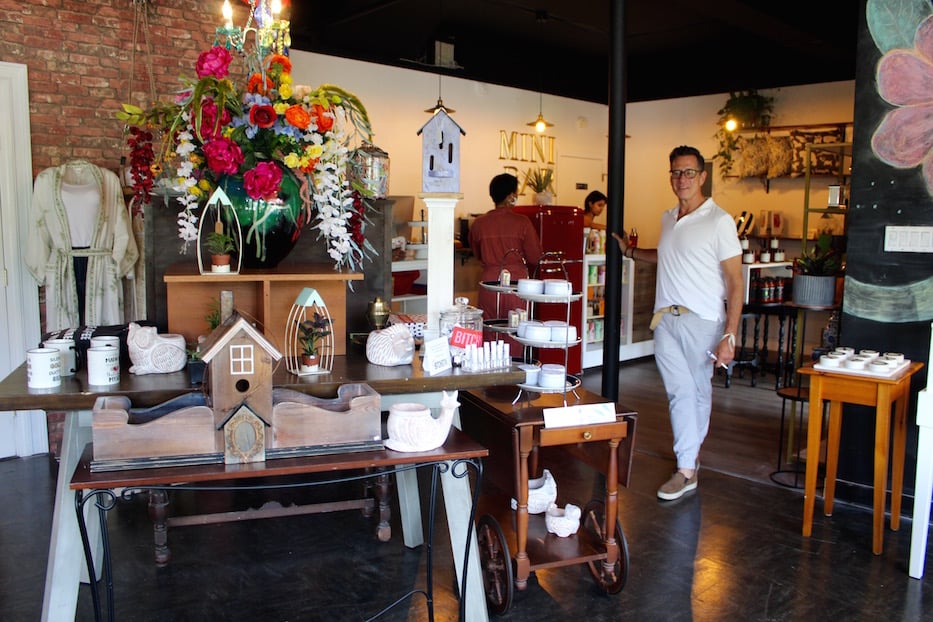 Creative Director Peter Berta, who has lived in Westville for 20 years. This is the first time in two decades that he's able to walk to work.
"The whole idea is to have a space where people in the Westville community can gather to socialize, to get back to some sort of normalcy," she said Saturday afternoon, as business bustled around her. "I think it's important for us to be uplifted during this time. We're still uncertain, but people are getting back out. People are socializing again."
Built into an old office building at 794 Edgewood Ave., BLOOM has "a little bit of everything for everyone," Crutchfield-McLean said—including a three-pronged business model rolled into a single space. Set back from the street and sidewalk, the shop beckons with a curtain of white flowers and handmade birdhouses in butter yellow and thick white polka dots. A sign on the door reads "It's Never Too Late To Be What You Might Have Been." Plants sit around the doorway with dainty veined leaves and huge green fronds, reaching out their fingers to say hello.
Inside, she and four staff members have created a small flower and retail business, cozy coworking room with nooks, a fluffy couch and a large wooden table, a mini cafe-bar and a wellness room. In every direction, shelves are stocked with handmade soaps, candles, tea towels, and birdhouses. A case of necklaces glitter in one corner. Pyramids of pasta sauce peek out from another, backed by a wall of plush, silky throw pillows. Tucked in a back room, two diffusers send streams of essential oils into the air.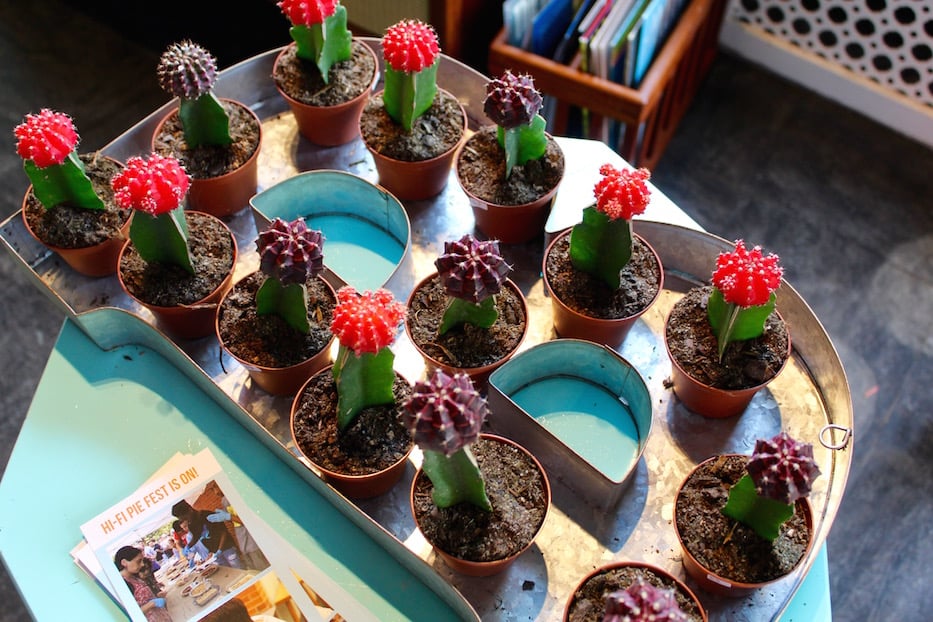 True to the space's name, flowers and houseplants bloom in every direction—along the walls, on the tables, arranged in a neat B for the store's namesake. So do flyers for neighborhood gatherings and events. It is as if the idea has been waiting to burst forth from the building all this time.
While Crutchfield-McLean signed the lease on the space in March, her inspiration for BLOOM has been decades in the making. Growing up in Boston's Mission Hill and Brookline neighborhoods, she fell in love with mentorship opportunities at her local community center when she and her brother were still young, and her mom had to work long hours. Her first job brought her into a flower shop at Brigham and Women's Hospital, where she found she could communicate her feelings for others through just the right bouquet.
After attending UMass Amherst, she spent almost two decades styling celebrities. She said that BLOOM, which also offers a limited selection of clothing, coffee mugs with funky mottos, and small-batch designer goods allows her to put all of those interests into one place. She plans to open the coworking space for day passes, weekly passes, and monthly memberships this week.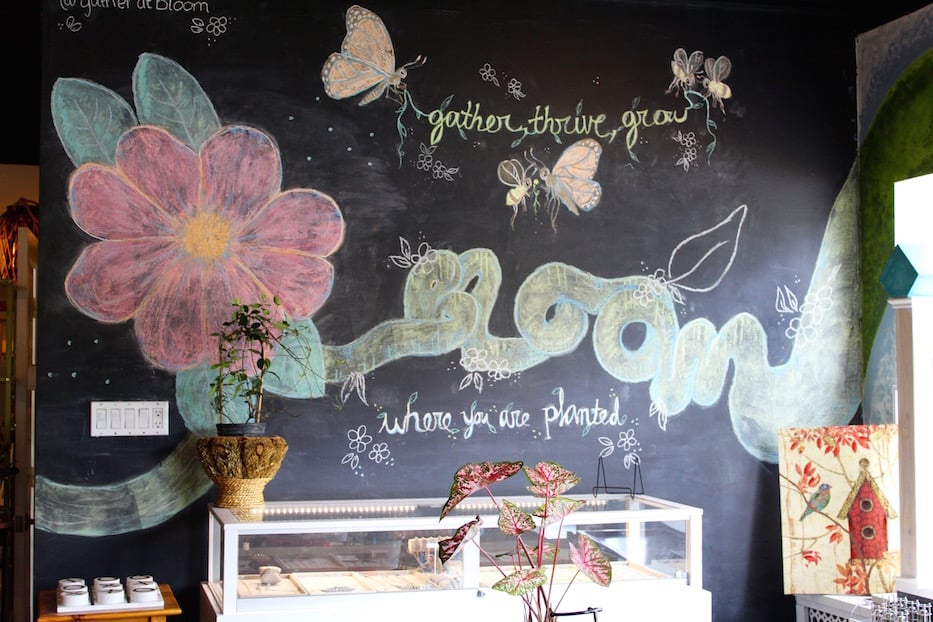 Already, the shop has made her feel closer to the community. While her family has lived in the neighborhood for six years, it wasn't until she opened BLOOM that she and her husband Tom began meeting their neighbors, including families with young kids around their daughter's age.
During the renovation process, Crutchfield-McLean would stop what she was doing to say hello to passers-by, field questions about the shop, and get input on what Westvillians wanted to see in the neighborhood. Those conversations—and the knowledge that Westville Village was going through something of a renaissance itself—ultimately led her to add the coworking component and wellness room. She also plans to host bingo and movie nights, adult and all-ages crafting activities, and social gatherings in the space.
"We don't ever stop to speak and to vibe with each other and get to know each other," she said. "I just feel like Westville is such an amazing neighborhood and community that we should be talking to each other more."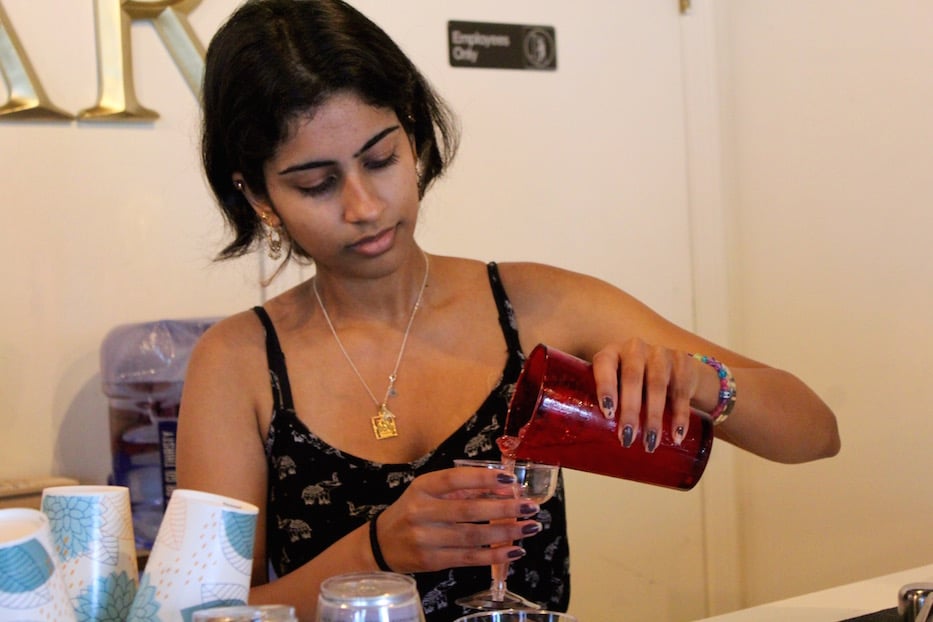 Shizah Mangi, a Guilford resident who is crashing with a friend in New Haven for the summer.
She is also quick to say that she doesn't do it alone. In addition to her husband Tom, who she praised as an impromptu, pro-bono sales associate and steadfast support, the shop has four employees. Peter Berta, a neighbor of hers who is now BLOOM's creative director, has helped shape a business model that revolves around supporting New Haven and Connecticut makers, as well as small businesses that are women-, LGBTQ- and global majority-owned.
Saturday afternoon, he buzzed from one side of the shop to another, bouncing between coffee- and rose-scented soaps and a fleet of bright birdhouses that caught sun in the front window.
"It's really a communal lifestyle experience," he said. "We want it to be a space where the community has the opportunity to come back together and start to engage with each other."
After 19 years of working in New York's high-paced fashion industry, he's taken that mission to heart himself—he prefers the two-block walk to work to a four hour round trip on multiple forms of transit. As he spoke animatedly, he motioned to the store's full container of Bitchstix, a small lip balm company in Chicago that donates a portion of its proceeds to survivors of sexual abuse and assault.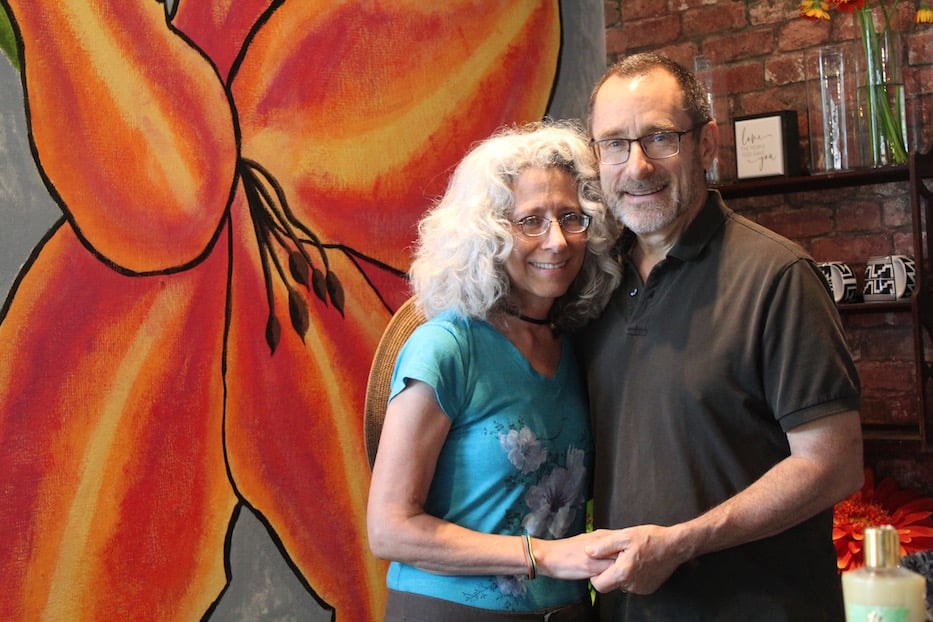 Rev. Kathryn Greene-McCreight and Matthew McCreight.
Around him, the store exploded with activity. Matthew McCreight, a Westvillian and avid gardener, popped into the shop after hearing about it from his wife, Rev. Kathryn Greene-McCreight. In the 28 years that the two have been in Westville, he's seen it change quite a bit—including its recent flourishing of new businesses.
Since the pandemic, he said, he's also noticed that neighbors tend to stop and say hello more often. Since his wife discovered BLOOM in the days leading up to its opening, he said he's been excited to step inside and take a look. Saturday, the two walked away with a few soaps and the intention to come back.
"It's wonderful to have the shop here, and to be able to support business in Westville," he said.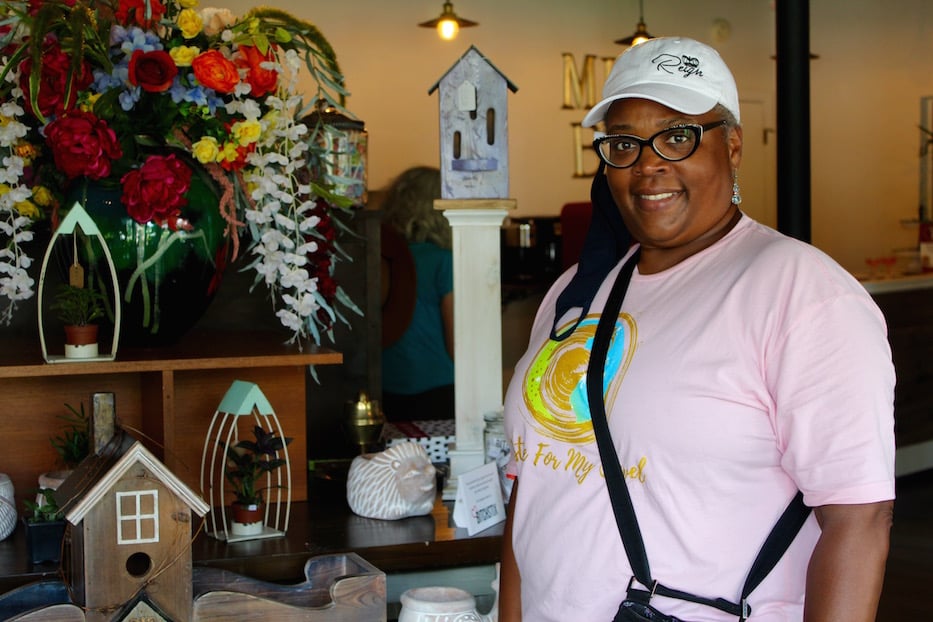 Sharon Lomax: Like being transported.
Nearby, Beaver Hills resident Sharon Lomax looked over sweet, fragrant soy candles set out on a three-tiered stand and sipped a black cherry fizz with lime and lavender. The candles are the work of artist and designer Kiah Smith, who grew up in Westville and still lives in the neighborhood. Lomax said she'd come to BLOOM in the hopes of finding something for a friend who is battling cancer at Yale New Haven Hospital.
She chatted with Shizah Mangi, a Guilford resident who is crashing with a friend in New Haven for the summer and working at BLOOM during her time in the city. At the bar, Mangi did alchemy with egg whites, plump blackberries and a stream of carbonated liquid that glowed gemstone-pink. She said she's been well trained by Eddy Caves, the head of the shop's beverage program.
"This is wonderful," Lomax said on her way out. "You're transported into another world."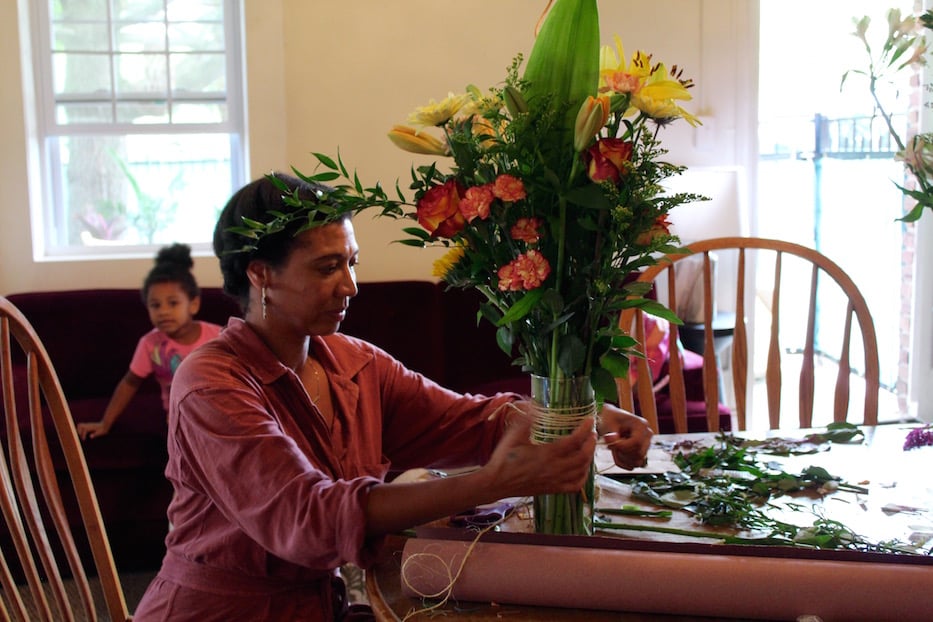 Crutchfield-McLean's daughter is a frequent helper.
Inside the coworking space, Crutchfield-McLean put her finishing touches on a vase that exploded with lilies, sunflowers, and red and pink roses. She padded barefoot to the patio outside, hand-picking thistles that would set off the bright yellows and marbled reds already on display.
Nearby, two friends caught up at a sun-soaked bay of cafe tables. Crutchfield-McLean smiled at them as she studied the plants before her, and made a final selection. She finished the vase and fitted a tiny card inside. In addition to formal arrangements, she offers daily bouquets to brighten customers' everyday lives.
"I say, a flower a day keeps the drama away," she said as she carried the arrangement out into BLOOM for pickup. "I want to encourage people to look for upliftment and good in the small things."
To find out more about BLOOM, visit it on Facebook. The store is still figuring out its hours.