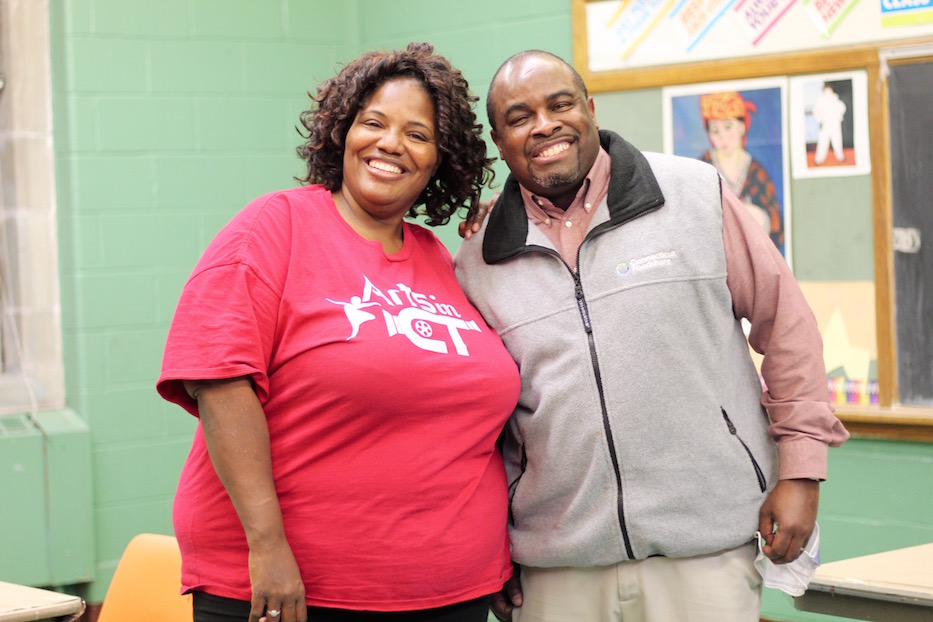 Dance | Arts & Culture | Arts In CT | Visual Arts | Westville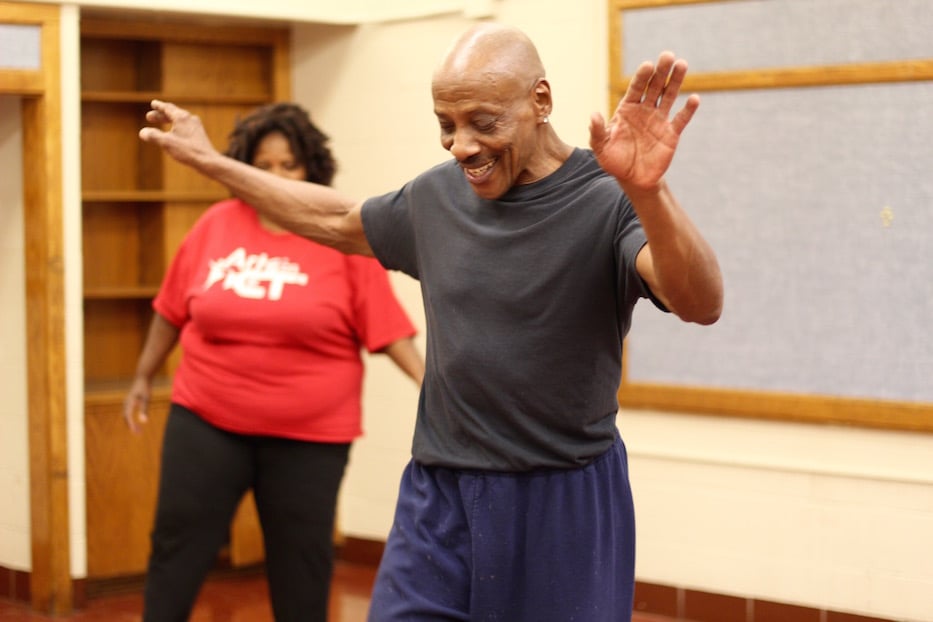 Barbara Alexander, who goes affectionately by Babz, and Wesley Yarbor in the new Westville Performing Arts Center (WPAC) at 351 McKinley Ave. Lucy Gellman Photos.
Wesley Yarbor counted out the steps, crossing one foot one over the other. As he glided across the floor, the chalkboard and empty bookshelves transformed into a dance studio. A stereo sat quiet at the front of the room. "You smooth!" laughed Overton Fletcher as he tried to follow along, stumbled, and caught his balance. Yarbor shook his head. A smile teased at the edges of his mouth until it burst through.
"People make dance seem hard," he said. "Dance is nothing but steps that you put a little spin on."
Yarbor is a teacher at Arts In CT, an education nonprofit that is growing its footprint at the old St. Aedan's Parish school building in Westville. Since October, Executive Director Barbara Alexander has been working to turn the building's second floor into a multidisciplinary arts hub she is calling the Westville Performing Arts Center (WPAC). The only problem, she said, is that people don't seem to know that teachers are there, waiting for students to show up.
It is located at 351 McKinley Ave., which sold to local landlord Schneur Katz's holding company earlier this year and now houses a daycare on the first floor and Arts In CT on the second. A free family paint night is scheduled for Thursday Dec. 16. Register here.
"I have always had a dream of bringing urban and suburban kids together through the arts," Alexander said last Thursday evening, during an open house with contemporary dance and holiday ornament making. "We just need to get them in here! They don't know what they have right in Westville."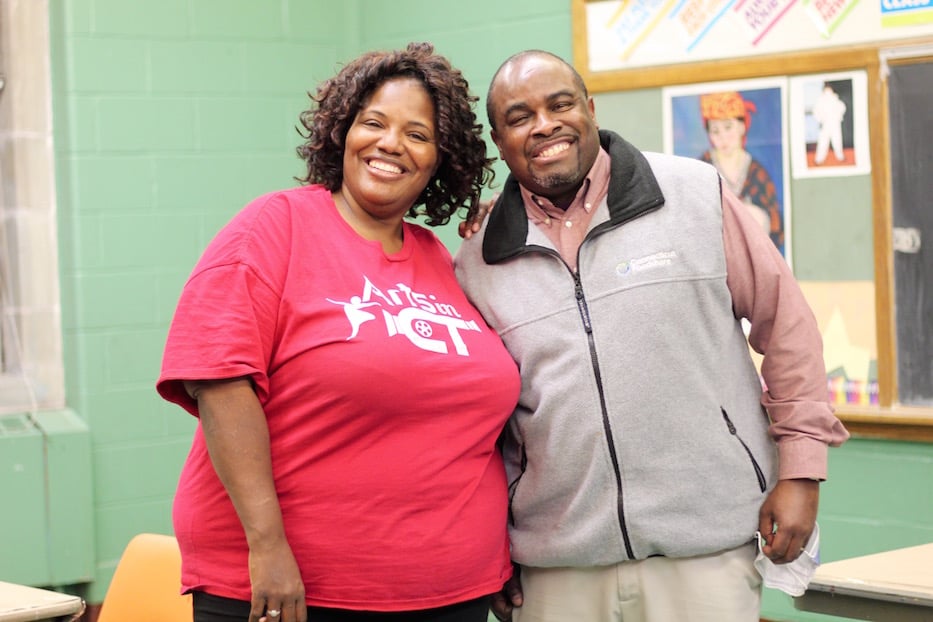 Arts In CT Executive Director Barbara Alexander and Board President Huwerl Thornton Sr.
The new space feels palatial after two years of searching for a new home. Founded in 2016, Arts In CT lived for three years at St. Ann's School in Milford, operating out of two classrooms until the building officially shut down and the organization "hit a snag" in 2019, Alexander said. In those first few years, it had become known for its summer musicals, after-school and library enrichment programs. It is an outgrowth of the Performing Arts Academy of CT, which Alexander ran from 2011 to 2016.
Without a home base, Alexander briefly moved to New York and ran the organization across the distance. But to her delight, "it [Arts In CT] started growing," she said. Schools and libraries were interested in booking the organization for their after-school and summer programming. When Covid-19 hit in early 2020, the nonprofit launched a number of classes online, from virtual cooking lessons to makeup tutorials. Alexander ultimately moved back to New Haven, where she now lives just blocks away from the school in Westville. Several of its classes are still remote, for students who may not feel ready to brave in-person activities.
From its eight classrooms on McKinley Ave.—Alexander prefers to call them suites—Arts In CT teaches a wide range of visual and performing arts classes from flute, violin, piano and guitar to musical theater, African and contemporary dance, charcoal and oil painting (view a full class schedule here). A given Tuesday or Wednesday might start with yoga and end with Shakespeare theater, with drawing, ballet, and arts and crafts lessons wedged in between. While Alexander's focus is youth, she offers mommy and me classes for babies and toddlers and tai chi, dance, and visual art classes for adults and seniors.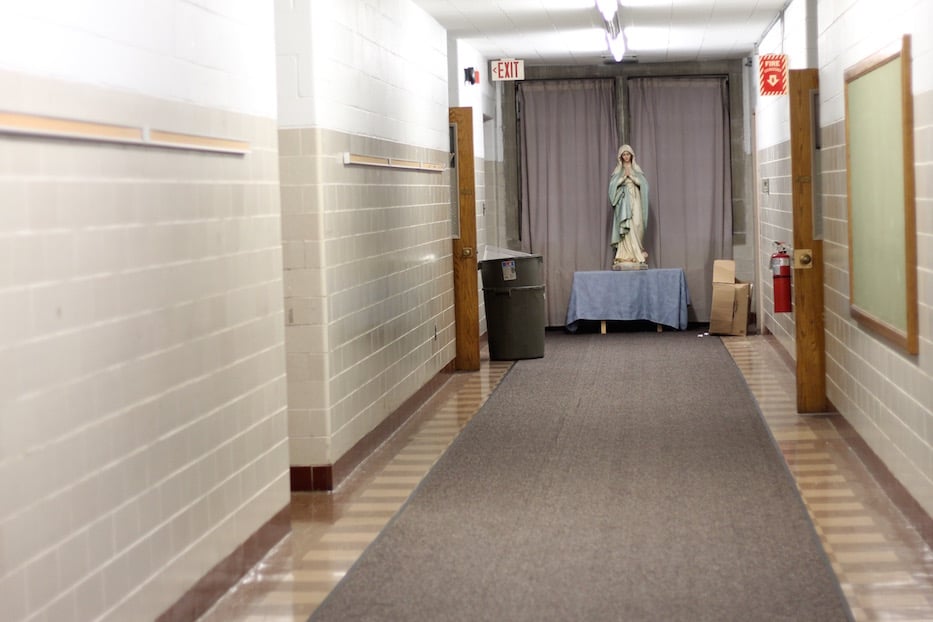 Reminders of the building's former life remain.
Together, teachers include opera singers, internationally recognized composers, aspiring Broadway stars, violinists with the New Haven and Hartford Symphony Orchestras, former members of the Alvin Ailey Dance Theater, and actors who can recite Shakespeare in their sleep. Alexander said that the breadth of talent makes her brain bloom with ideas.
"Just imagine us being able to see a scene from Tosca!" she said, springing upright at her desk at the thought. "Oooh! Or Rigoletto!"
During a holiday open house last Thursday evening, reminders of the building's former life were everywhere, peeking out from still-empty bookshelves, cleaned chalkboards and child-sized tables pushed to the side of classrooms. A statue of the Virgin Mary beamed at Alexander from the end of the hallway, contented in her blue and white robes. Closer to Alexander's office, a series of painted windows and drying Christmas ornaments signalled the floor's rebirth. Faint, pulsing strains of music drifted from the open door of a classroom into the hallway.
Inside, Yarbor was teaching a one-on-one class with Fletcher, who had spotted the open house on Eventbrite and decided to try it out. At the back of the classroom, the two moved slowly through the steps as Yarbor counted off. He seemed easy, weightless as he moved from side to side. His feet sailed across the floor. When he leaned forward and extended his arm, his outstretched hand moved through the air like a bird.
The music switched off; they tried the routine in silence. Fletcher seemed less sure that it was for him. He eyed the steps, and then tried them carefully, as if moving in slow motion. Alexander, shaking her shoulders and then the hips, jumped in. Yarbor walked them through another step, then looked back over his left shoulder and smiled.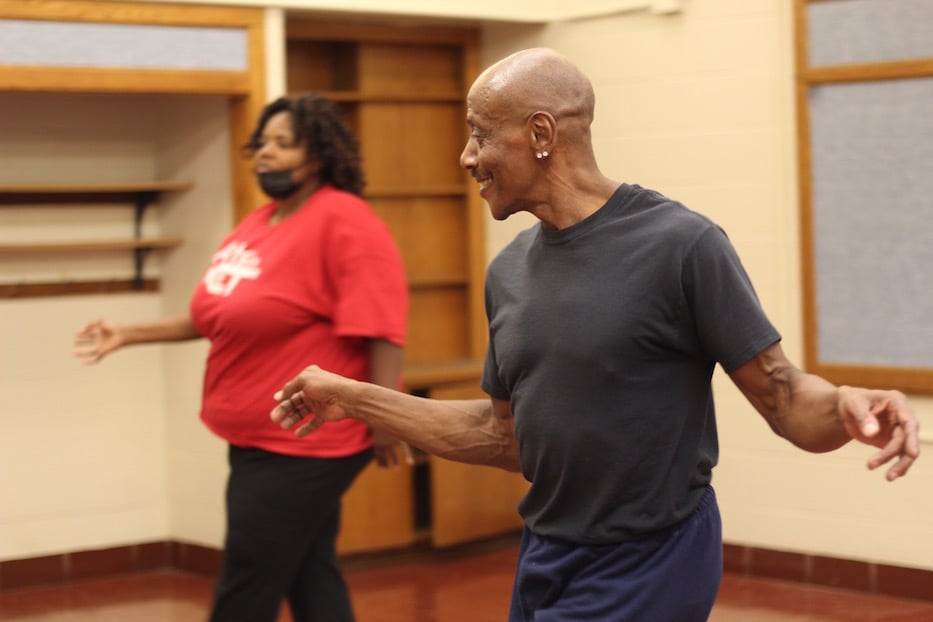 "People make dance seem hard," he said during a class last Thursday. "Dance is nothing but steps that you put a little spin on."
"Drop the weight," he said, his voice gentle even as he gave the command. "Come on, drop the weight."
Fletcher and Alexander readjusted their centers of gravity, and tried the routine again. When they gravitated towards the room's chairs at the end, Yarbor pressed the play button on the stereo, and took his turn in the spotlight. Vintage Whitney Houston blared from the stereo. From the center of the floor, his body became a live wire, arms moving in time with the music. He flew from the front of the room to the back, making it his own.
Each teacher brings a different story into the space, which is part of Alexander's mission. Born and raised in Ossining, New York, Yarbor started dancing seriously at 18, after he was cast as a king in the school play. Iris Merrick, founder of the Westchester Ballet Company, happened to step into the auditorium and see him on the stage. She offered him a full scholarship—twice, because he turned her down the first time—which turned into three hour lessons each day after school, and eight hours of class on Saturday.
"I've been dancing ever since," he said Thursday. After a stint with the Westchester Ballet, he went on to study dance at SUNY Purchase, and then dropped out of college to dance with the Alvin Ailey American Dance Theater. A second, part-time job brought him to New Haven, where he met his wife. After taking a temporary pause from dancing at 50—"everything went South" when he stopped—he started again. He said that he feels more confident in his movement now than when he was young.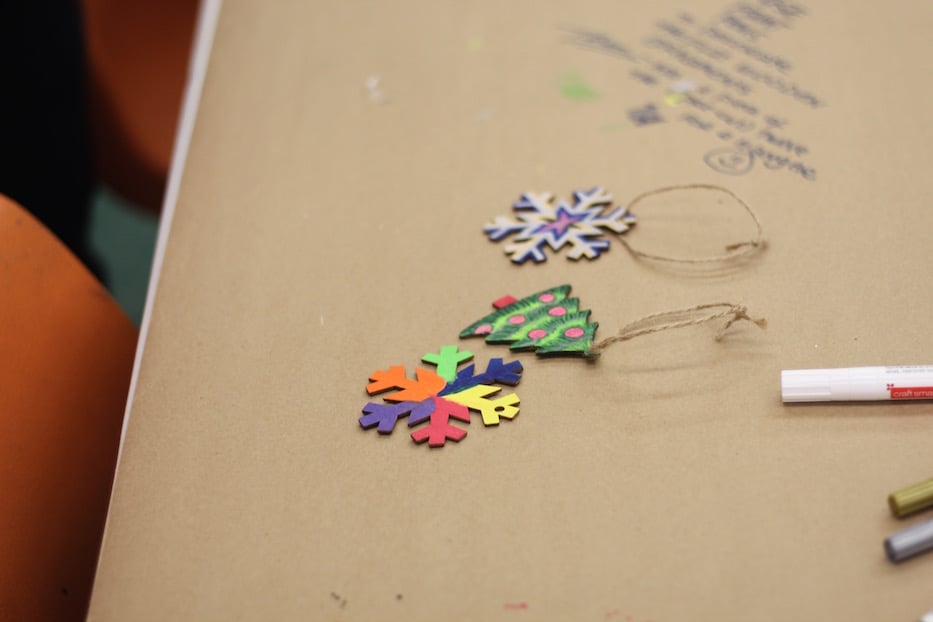 Last Thursday's open house also included ornament making.
It's one of the parts of dance he wants to pass on to his students. Since restarting his practice at 58 years old—he's now 65—he's realized that he has to do some form of movement every day.
"I've always had a big mouth on how I've felt dance is not being taught properly to our young kids," he said. "You need to know the terminology and history of dance. You need to know where it came from. That's what these kids have to learn. That's one of the reasons I want to teach."
He recalled the moment he walked into a class at the Dance Theatre of Harlem as a young adult and realized how much vocabulary he didn't have.When students take their craft seriously, "it's a part of your life," he said. He wants to see them soar.
As he chatted about his experience, Fletcher (who did not want to be photographed for this story) said he was glad to have come and would likely be back. "I just like that feeling when you learn something new," he said.
While Alexander's first priority is filling classes, she said she is also excited to push the definition of "arts and culture" that some New Haveners may have. Before launching Arts In CT five years ago, she was herself a music teacher in the Bridgeport Public Schools and later in the Bronx. She uses what she calls a "SSTEEAM" framework, short for science, social studies, engineering, English, arts and math. For instance, she might help students work out a math problem with a song, in which a given equation or formula becomes the hook.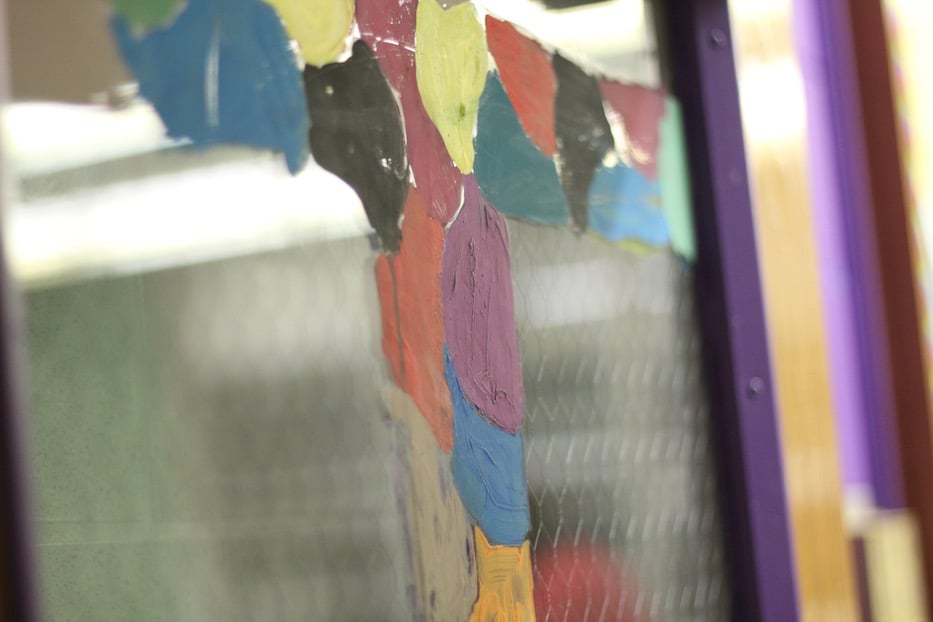 She is currently working on a program called "Scream Out Loud, Don't Shoot" (SOLD), designed specifically for young people of color who are reeling from the twin pandemics of Covid-19 and structural racism, and an epidemic of citywide gun violence that has ripped through New Haven this year. She is designing a second initiative "so you are comfortable in your own skin," with an on-site self care day, hair and makeup tutorials and discussions around self-esteem.
The question that she often asks herself is "How many children can I reach in a year?" she said. On the chalkboard beside her desk, blue and black scribbles cover sheets of white paper, with notes on which school districts to catch up with, which services to add most quickly and what classes she should bring on next.
She added that the organization's footprint "is everywhere," with partners that now include LEAP (Leadership, Education, Athletics in Partnership) and the Woodbridge Recreation Department. Last summer, Arts In CT worked with the City of Stamford to provide summer programming to 600 students across four public schools. She's hoping to expand that work as she also grows the Westville Performing Arts Center.
"It's just been incredible to see the machinations that Barbara has put into place," said Board President Huwerl Thornton Sr., a former New Haven Public Schools teacher who stopped by the building on his way home. "Even with St. Ann's closing … God opened another door. A bigger door. The spirit of this building is still a school."
Arts In CT Corporation is on the second floor of 351 McKinley Ave. in New Haven's Westville neighborhood. A free family paint night is scheduled for Thursday Dec. 16. Register here.