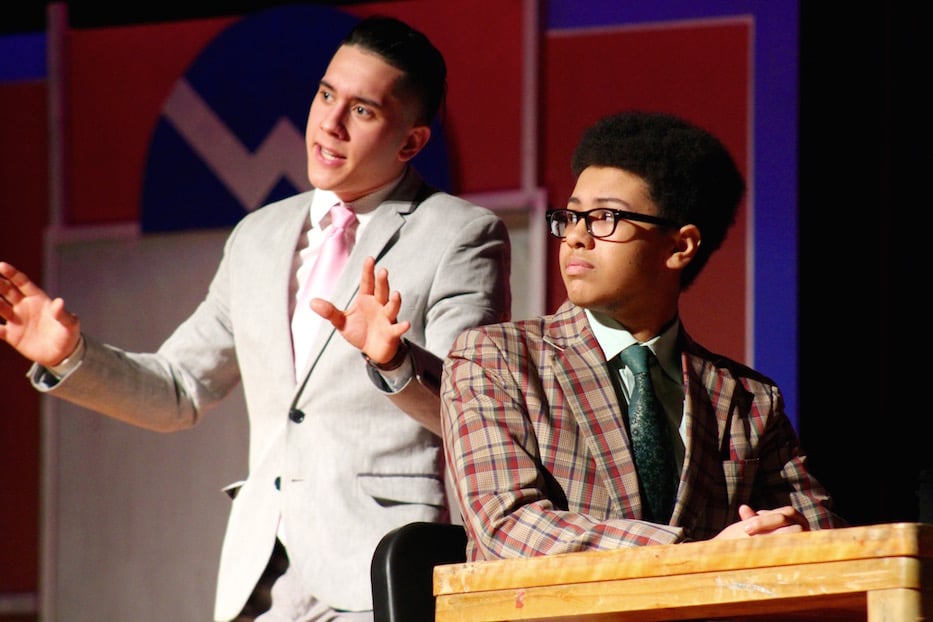 Culture & Community | Education & Youth | Arts & Culture | Wilbur Cross High School | COVID-19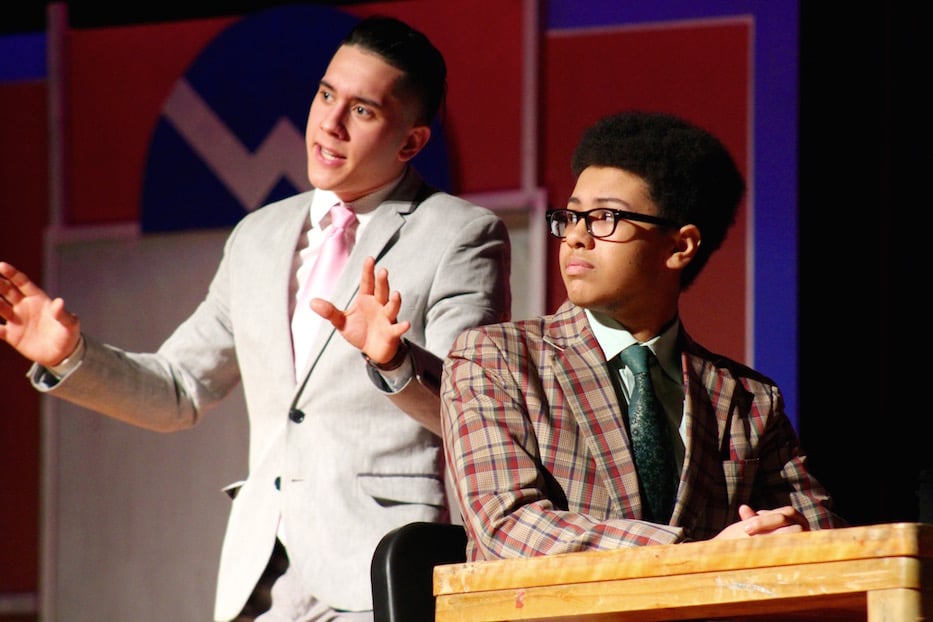 Brandon Oliveras as J. Pierrepont Finch and Eli Wells as Bud Frump in How To Succeed In Business Without Really Trying. Lucy Gellman Photos.
The lights came up to the tinkling of piano keys. The curtains opened, revealing the inner workings of the World Wide Wicket Company. A set piece that looked just like Piet Mondrian's Trafalgar Square winked out. Atop it, Brandon Oliveras jogged down a few steps and transformed into J. Pierrepont Finch. A bass voice boomed overhead with business advice.
Oliveras started singing to an empty house—by design.
Thursday night, Wilbur Cross High School ran through a single, videotaped performance of How to Succeed in Business Without Really Trying before the school shut its doors in the face of mounting precautions against COVID-19. Directed by Salvatore DeLucia and Heather Bazinet, the musical was intended to open this weekend as the spring production of the Lights Up! Drama Club. It has been postponed to May 22-24.
"I'm putting on a brave face, but at the end of the day, this has been really hard," DeLucia said Thursday, as students ran through warmups. "Coming into tech, energy was ramped up to 10. But you can't be mad. We agree with the rationale and the reasoning."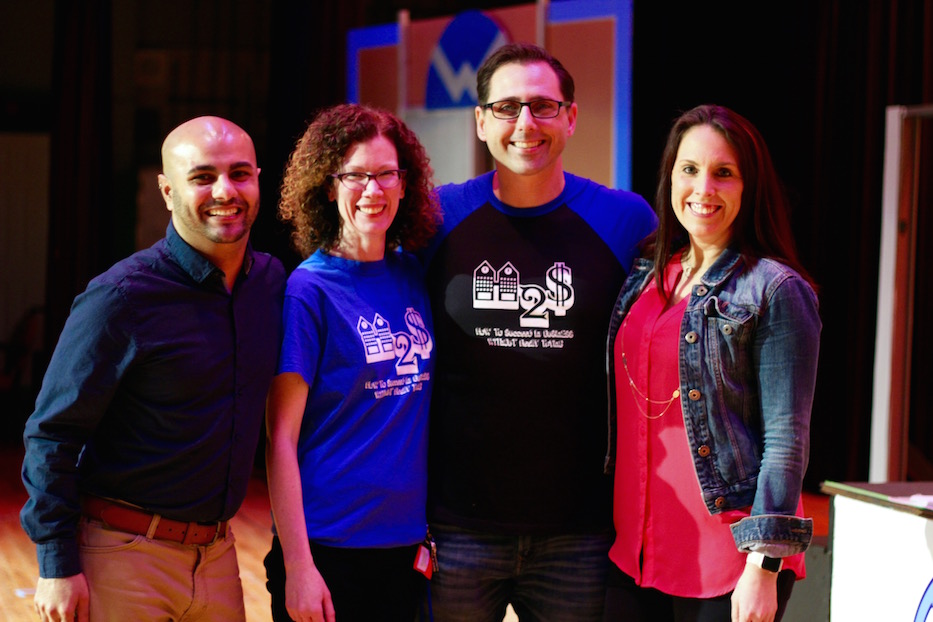 Musical Director Matt Durland, Co-Directors Heather Bazinet and Salvatore DeLucia, and Choreographer Jennifer Kaye.
In keeping with the city's fast-moving work to combat the virus, Wilbur Cross will be closed indefinitely starting Friday. The idea for a videotaped production comes as submissions open for high school theater awards, from the statewide Halo Awards to the National High School Musical Theatre Awards. While students are out, junior Samantha Santaella said they intend to rehearse via the app Band, which allows fluid online communication.
"It was devastating a little bit," she said Thursday. "Because we worked so hard to get here. We saw the finish line in sight."
It has been a week of to-the-minute decision making. On Monday, DeLucia went into rehearsals certain that students would get through the end of the week. Then he learned Tuesday that the play would have to be postponed. As Connecticut Gov. Ned Lamont was declaring a state of emergency in Hartford, he was scrambling to figure out a "possible plan B" for his students.
Part of that plan was the postponement. The other part was the film.
"We're disappointed," Bazinet said Thursday. "Part of this roller coaster of doing a show is the ending. I did not want them to go without having a record of the work we've done so far."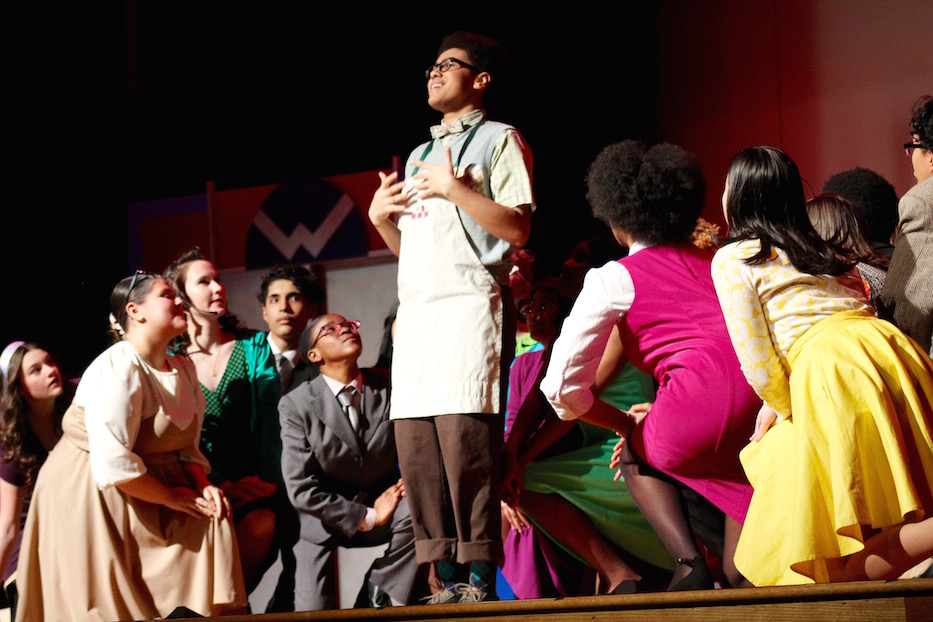 DeLucia and Bazinet delivered the news to the cast and crew on Tuesday afternoon. Both said they were impressed by how high morale remained among students, who have been rehearsing since October and started this week in tech. Several of the actors are seniors, meaning this is their last show together before college.
On stage, it turned out that students were impressed at how high morale was among their mentors—and among each other. Some, like Oliveras and Gabriela Gonzalez, have been friends since elementary school and have spent all of high school doing theater together. It's their final show before they head to college. But both said a postponed performance is just a bump in the road.
"We did this all week for it to be postponed," said Oliveras, a senior who plays up-and-coming businessman J. Pierrepont Finch. "It's a hard pill to swallow. But for us as actors, a story stays with you. You carry it with you. And so we're carrying it with us."
"For us, a performance is a performance," Gonzales added of performing for two videocameras Thursday. "Our stage is a home for us. It's this moment we all have together."
Students Gabriela Gonzalez, Brandon Oliveras, Emmanuel Gonzalez, Julian Lewis, and Eli Wells.
Others called it an unexpectedly bittersweet chance to improve before May, assuming school is back in session by that time. Eli Wells, who plays the boss' entitled nephew Bud Frump, said that he's not happy the play has been postponed—but sees it as a chance to keep workshopping his performance.
"For me, it's like, there's a lot to stress about," he said. "We can take this time to get even better."
As students ran through warmups onstage Thursday, choreographer Jennifer Kaye worked to keep spirits high. Before they tested sound levels, she brought actors into a circle to pass around "Skinny Sam," a stuffed animal lamb that Bazinet brings in from home.
She reflected on the club's performance of Sister Act last year, in which several of the students also appeared.
"I remember this time last year, I asked you who you were performing for," she said. "And this year, I think about the fact that you are performing not just for the 500-something people this audience could hold, but the thousands of people who might see this. So: who are you performing for this year?"
Students passed around Skinny Sam and responded with a mix of laughter, tears, and emotional shoutouts to their fellow actors. Some were performing for parents, grandparents, and siblings who wouldn't have a chance to see the show. Others said they were performing for themselves. One student said he would give his best for all the other actors, because the theater was his home away from home.
"To be honest, I go home and tell my mom it's the happiest I've ever been," he said.
How To Succeed In Business Without Really Trying is, in some ways, unexpectedly bizarre in a time of COVID-19. Based on the 1952 book of the same name, the 1961 musical follows window washer J. Pierrepont Finch (Brandon Oliveras) as he climbs the corporate ladder at the World Wide Wicket Company.
As he succeeds—with moderate trying—a slick voice coasts over the audience with excerpts from the book. For instance, "it is essential that the company be a big one … at least big enough so that nobody knows exactly what anyone else is doing."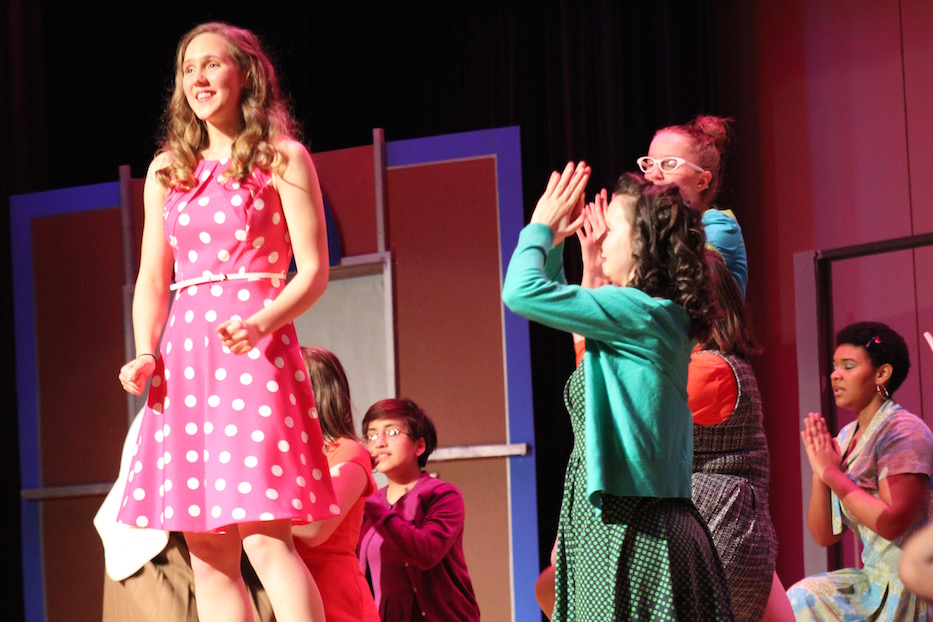 Kate VanTassel as Rosemary Pilkington.
It has all the essential parts of a musical: there's a hot-and-cold love interest named Rosemary Pilkington (Kate VanTassel), a super-villain who is also the boss' unctuous nephew (Eli Wells) and plenty of missteps from executive leader J.B. Biggley (Emmanuel Gonzales) and his underlings (Jency Estrada, Yahir Moran, Julian Lewis, Joshua Sampson and Cesar Queen) that shows how farcical and flimsy the corporatization of America really is.
While there's a definite mid-century timestamp—the secretaries are fairly vacuous women, with numbers that hit differently after #MeToo—it is meant to be cuttingly funny. The play is a sendup of office culture, then-nascent media, and even mass manufacturing at a time of social upheaval. The actors that first appeared in the play—as the actors at Cross—were likely far more counterculture than the characters they depicted onstage.
Thursday, that humor resonated surprisingly well in the midst of a pandemic that has exposed how capitalism is very much at odds with public health. In the midst of stock market jargon, catastrophic business decisions and dreamy nods to New Rochelle—now at the epicenter of New York's coronavirus outbreak—students pushed through the reality of the empty house with unflagging energy.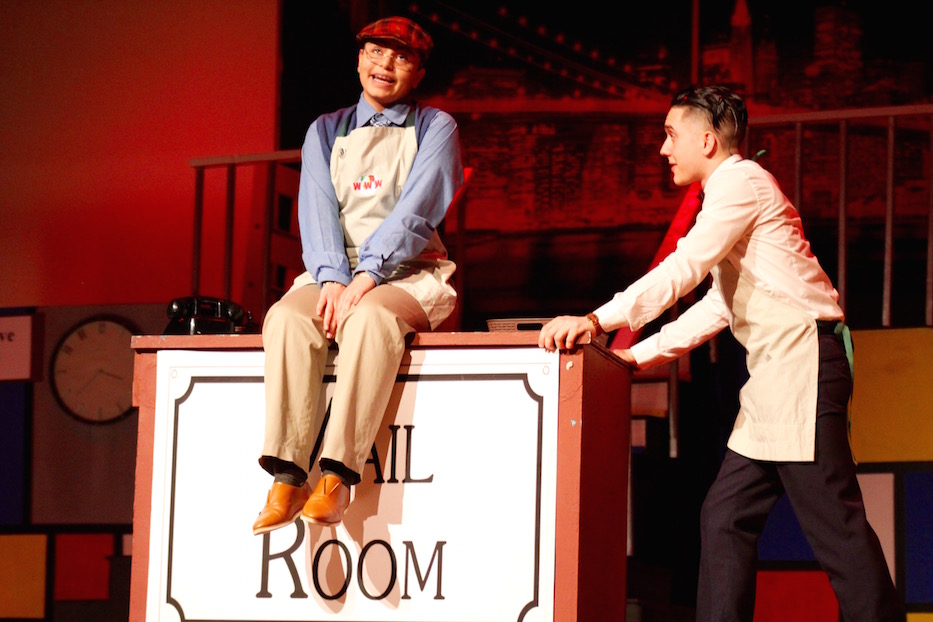 Samantha Santaella, who plays Twimble, and Brandon Oliveras.
As he took the stage and tugged at his jacket, Oliveras belted the first number and flew eagerly into a world of wickets. Voices swelled around him. An office from decades ago, somewhere in midtown Manhattan, came pumping to life. So did Kaye's choreography, bodies propulsive as they filled the stage. A nod to Sylvia Jessen-Cohn, a sophomore who is the dance captain for the show.
This, each of them seem to say, was a celebration of life lived jubilantly. VanTassel jumped through refrains of "Happy To Keep His Dinner Warm" with complete sincerity, sweetness at the edges of her voice. Santaella, who plays the head of the mailroom, mined the role for its inherent humor. As she leaned into "The Company Way," she turned it into a sort of meditation on the fact that she—and her fellow actors—will likely go much farther than the characters they are playing.
As the school shut down around them, students took it as a chance to connect with each other onstage for what may be the last time in weeks. Millie Carlson, who plays the buxom and intriguing secretary Hedy LaRue, found a cunning and strategic side to her character. Oliveras and Emmanuel Gonzales dug so deep on "Grand Old Ivy"—a literal song-and-dance about the so-dubbed "old boys network"—that it became impossible not to laugh. Chemistry between Oliveras and VanTassel, as well as VanTassel and the other secretaries, took on a poetic kind of warmth.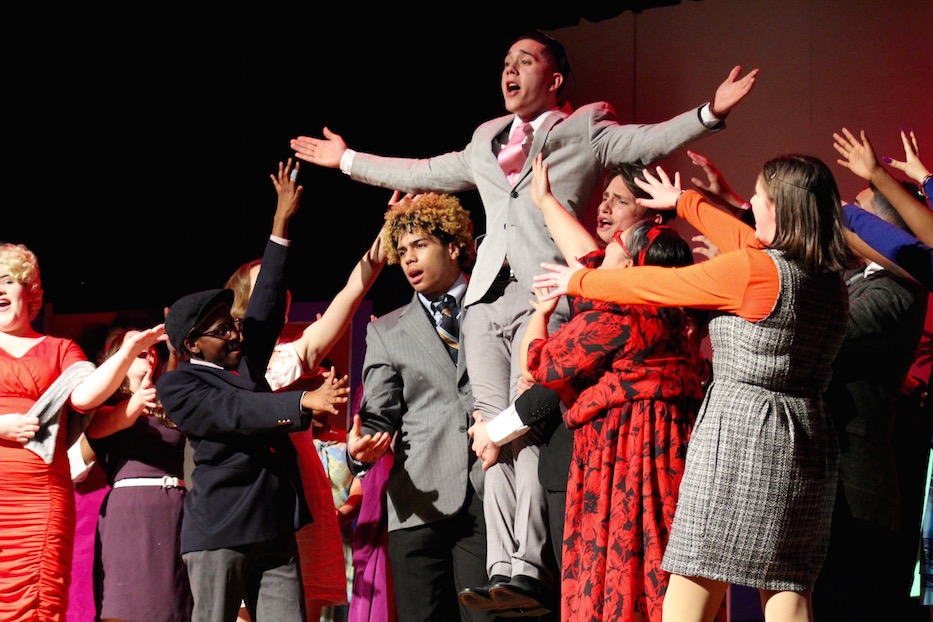 It was as if opening night jitters had been replaced with opening night empathy. By "Brotherhood of Man," actors were dancing in a celebratory kick line. No faces fell onstage as the lights went down on a final triumphant number. As one of the few in the audience, mom Denise Santaella said she is proud of the cast for the performance, and can't wait to see it before a full house in May. That's what DeLucia is hoping for too.
"The Wilbur Cross community has been so supportive, he said. "Tuesday morning, I felt very alone and very worried. But we're gonna get lifted up, and these students are gonna get what they deserve. They are just awesome."
To find out more about the Lights Up! Drama Club, check out their website.