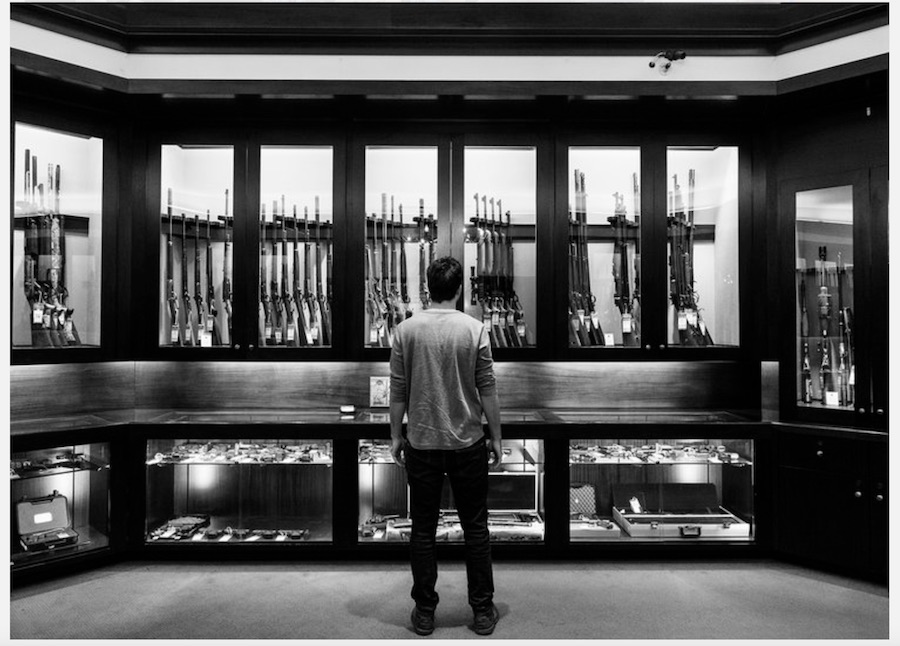 Ely Center of Contemporary Art | Arts & Culture | Visual Arts
Paulette Rosen's work in Unload: Pick Up The Pieces. Ely Center for Contemporary Art Photo.
A string of prayer beads sits on a platform, heavier and more cumbersome than the beads you might expect on a rosary. On each, a tiny prayer has been printed into the metal. They glint just so if you pick them up, black and white like a striped snake. But there's an added weight too: these beads are made of gun parts. Each prayer represents a victim who died in shootings in the United States.
Scott Schuldt's work is part of Unload: Pick up the Pieces, on at the Ely Center of Contemporary Art through Nov. 11. A collaboration with Artspace New Haven and the Unload Foundation, the exhibition includes over 140 pieces addressing rural and urban gun violence, school shootings, police brutality and gun control. Several works pull their pieces—and titles—from 68 guns that were dismantled earlier this year in a knolling demonstration at Artspace New Haven.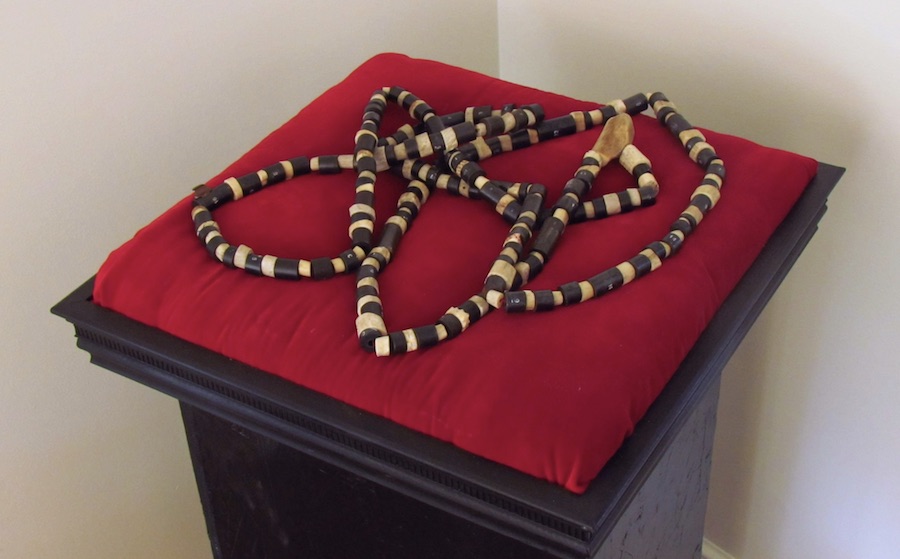 Scott Schuldt's work. Ely Center for Contemporary Art Photo.
"The arts are a neutral platform where we can come together," said organizer Helen During during an opening reception last week. Introducing the show with her, co-founder Mary Himes emphasized Project Unload's goal to listen to the "other side" of discussions on gun control and gun violence.
But pieces in the show are everything but neutral, ranging from the solemnity and ritual of prayer beads to frenzy and unease to public and private expressions of grief.
In Brian Walters II "Mogadishu #2," dark gray pipes taken from shotguns and rifles are arranged like a sprouting weed, parts jagged and dangerous even just to look at. Under the bright white light in its exhibition space, Walters' sculpture throws a high-contrast shadow almost as abrasive as the actual art piece, replicating the theme of an explosion and the potential of violence.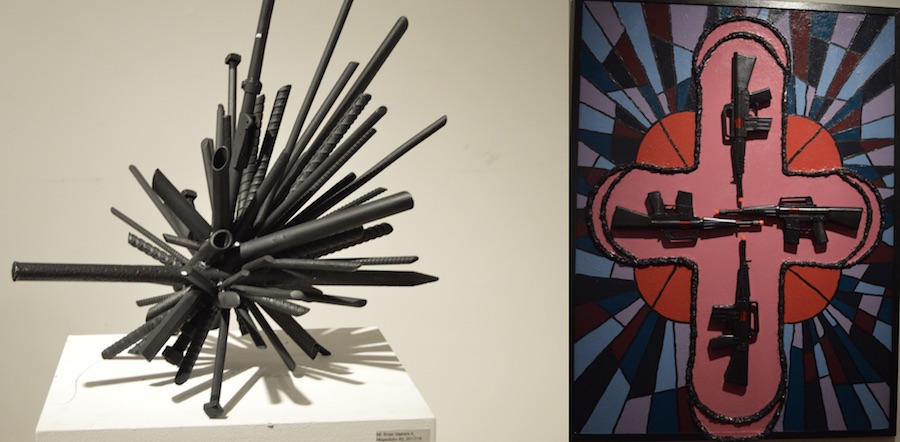 Right: Brian Walters II. Left: Joseph Gomeault + Jim Whitmen's "God Given Right." Karen Marks Photos.
He's not the only one to riff on it. In Joseph Gomeault and Jim Whitmen's "God Given Right," four guns take center stage in the shape of a cross. The cross is framed by shards of stained glass all shooting outward, their cool blue and purple tones contrasting with the bright pink and coral makeshift crucifix.
The guns point inward towards each other and give the viewer a sense that it is a unity between gun owners and guns that is causing the stained glass to shatter outward—even though the glass itself has not been shot directly. The placement of guns in the shape of the cross highlights that a tool of violence has been called upon as a stand-in for higher power, and is a "God-given right" granted only by a Christian God.
Not all pieces have come out of the knolling demonstration— in Michael Amato's photograph "The Library," a young man walks through a gun shop, perusing its wares. His back is to the viewer, framed by the glass cases and shelves of pistols, shotguns and rifles. His shoulders are hunched over as if he is browsing a the library for something to read. But this is no library: the information around him is destructive, rather than generative.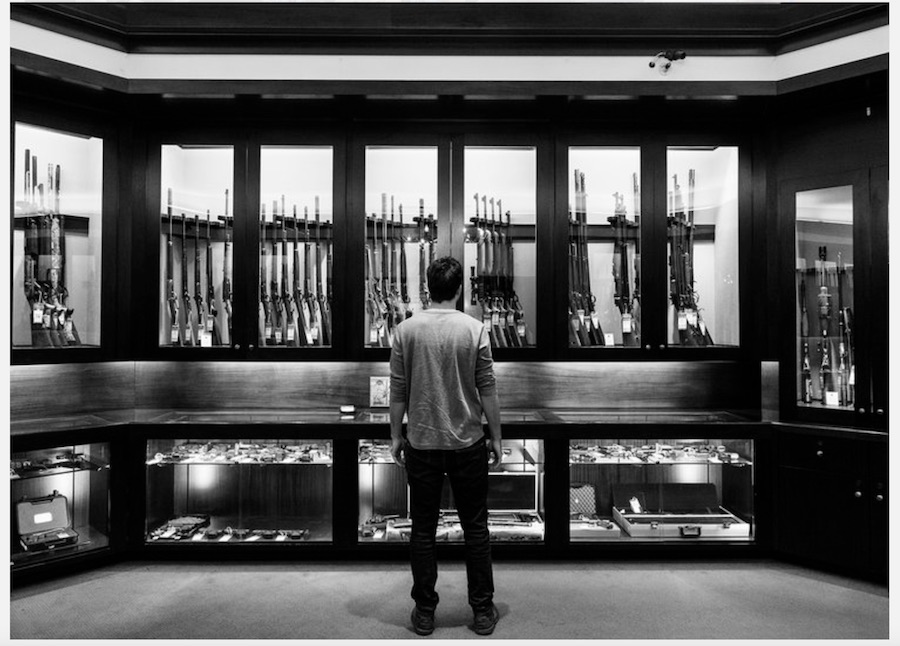 Michael Amato's "Library." Ely Center for Contemporary Art Photo.
Himes and During said they hold the 2012 Sandy Hook Elementary School shooting at the center of their discussion. In a piece During has contributed to the show, recent high school grad Zahrah Butt smiles at the viewer, her eyes soft and trusting as she leans back in a black shirt and aquamarine shorts. In her hands, she holds a rifle. We see what During sees: she's just a kid. Many of the 140 pieces of art also address shooting deaths due to police brutality and violence in urban areas.
Artist Katro Storm's installation of a graveyard of hoodies stands in a garden behind the Ely Center. Storm completed the project by having some children help him out with painting cutouts of hooded sweatshirts earlier this year. Afterwards he and the kids attached names — some familiar, like those of Tamir Rice and Trayvon Martin —to some of the cutouts, which were arranged like tombstones in the garden with small American flags fluttering next to them as if in a military cemetery.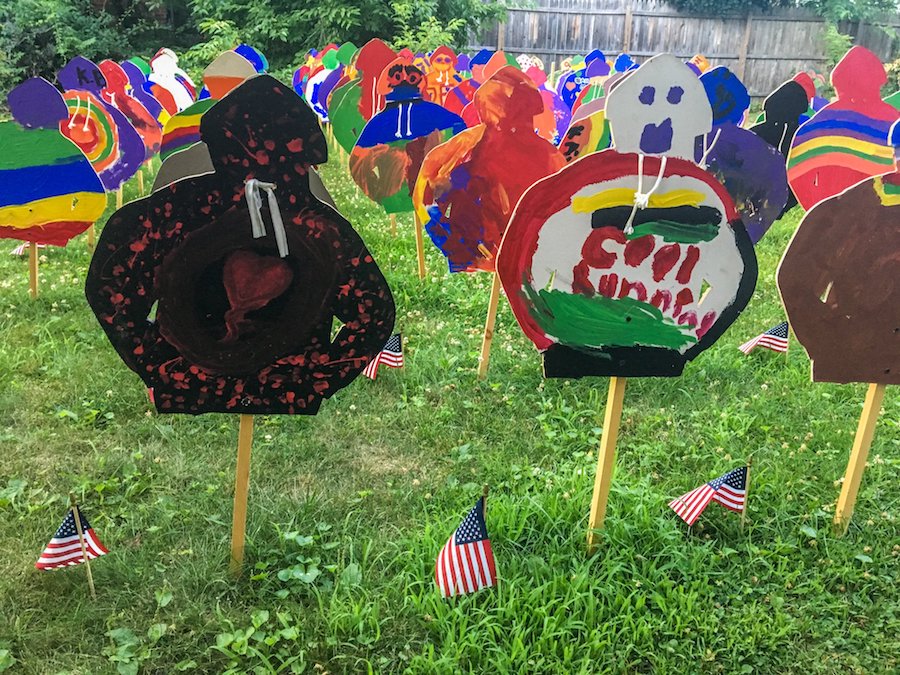 Some of Katro Storm's hoodies on display earlier this year. Ely Center for Contemporary Art Photo.
For Jeremy Stein, executive director of Connecticut Against Gun Violence, the exhibition represents an opportunity for artists to get involved without taking explicit political action or standing on the front lines of gun violence and reform.
"Not all people want to go to the Capitol … or are ready hold a sign or march," he said. Looking at the works, he suggested, still made it impossible to not feel some visceral connection.
As the exhibition opened, that feeling transcended the art that packed the center, crowding its walls and propped on its podiums. Guests milled around as a DJ put on Childish Gambino's "This is America," a song and music video that portrays the struggle of protecting gun rights versus protecting lives.
The music echoed through the Ely Center highlighted the ways guns and gun violence were woven into the fiber of America like a gun sitting among pearls and finery in a jewelry box, ready for the day.
Unload: Pick Up The Pieces runs at the Ely Center of Contemporary Art, 51 Trumbull St., through Nov. 11. For more information on the exhibition and related events, visit the center's website.