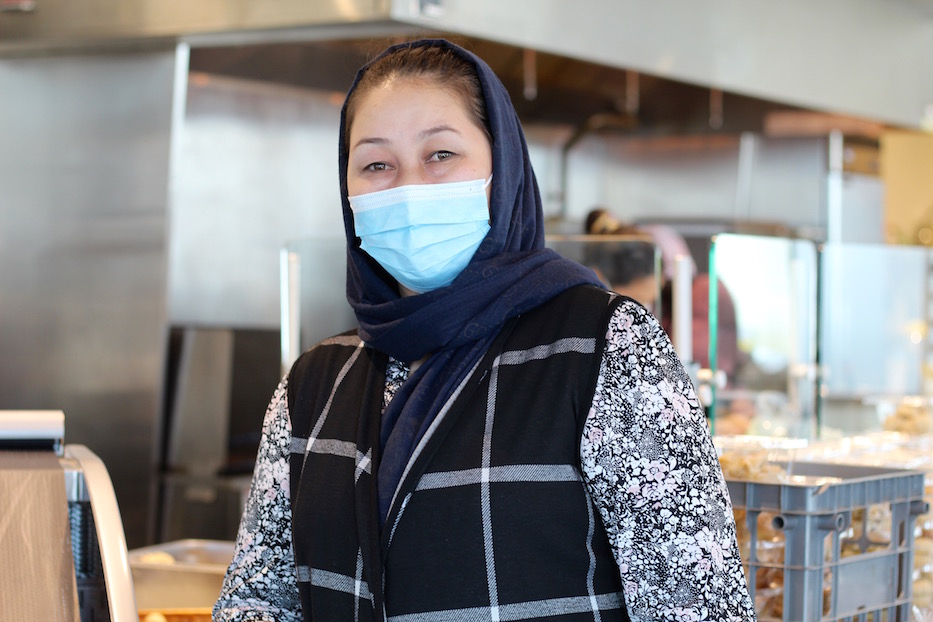 IRIS | Politics | Refugees | Sanctuary Kitchen | Arts & Culture | Culinary Arts | COVID-19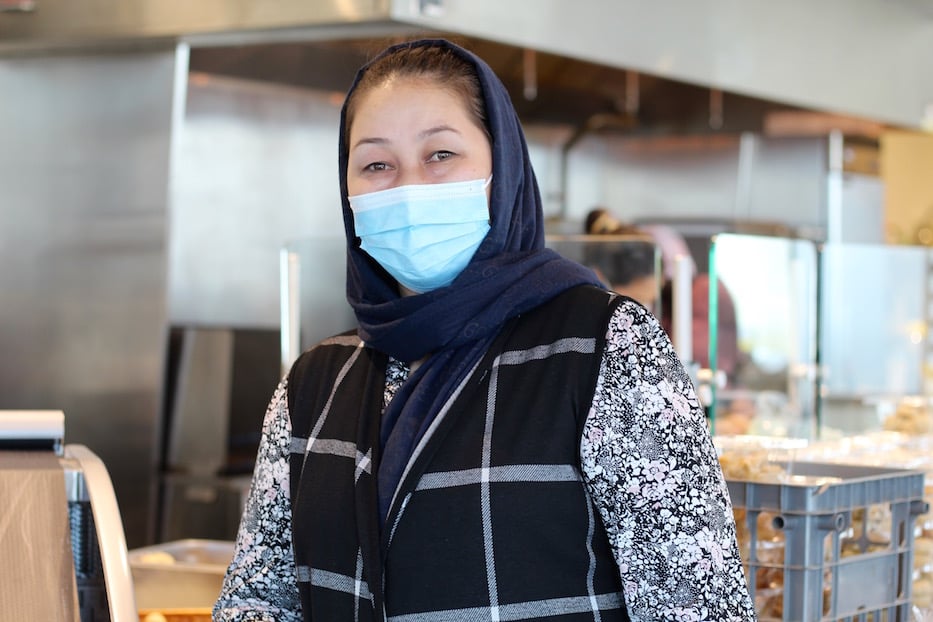 Chef Maleka Taheri, who came to the New Haven with her family in 2013. She has two children, a boy and a girl. Lucy Gellman Photos.
Maleka Taheri can't stop thinking about her brother-in-law.
For years, he was a police officer in Afghanistan. Then weeks ago, during the Taliban's rise to power, he disappeared. Since, her sister has been going door to door trying to learn what happened—and has found a neighborhood immersed in silence and fear.
Taheri, who is a resettled Afghan refugee, New Havener, and chef at Sanctuary Kitchen, told that story earlier this month in an effort to bring attention to an ongoing humanitarian crisis in Afghanistan. Both she and Afghan chef Homa Assadi are speaking out with the hope that it will keep eyes on what is happening in their home country after the withdrawal of U.S. troops on Aug. 31.
Both spoke inside Sanctuary Kitchen's fragrant Legion Avenue home, as chefs turned out trays of nut and date ma'amoul, golden brown naan, spinach dumplings, and small batches of hummus, cauliflower curry, and herb and tomatillo chutney.
"The situation is very bad in Afghanistan right now," Taheri said, speaking in Farsi with translator Hossna Samadi at her side. "Some people are probably seeing in social media or some of the TV channels that people are saying 'No, right now, the security situation is good, there is no war.' But people are saying this in front of the camera. Why? They are afraid. The reality is totally different. Everyone is so terrified there."
For Taheri, as for dozens of Afghan families resettled in New Haven, the news of the Taliban's takeover is deeply personal, woven with stories of family members who are now in crisis. The chef grew up in Muqur, a district in the Ghazni Province of southeastern Afghanistan. During her childhood, the district had such a heavy presence from the Taliban that it often felt like the family was surrounded by them. It meant that there was no opportunity to attend school, particularly for her and her sister.
"There was all the time explosion, war, and bad situation," she said.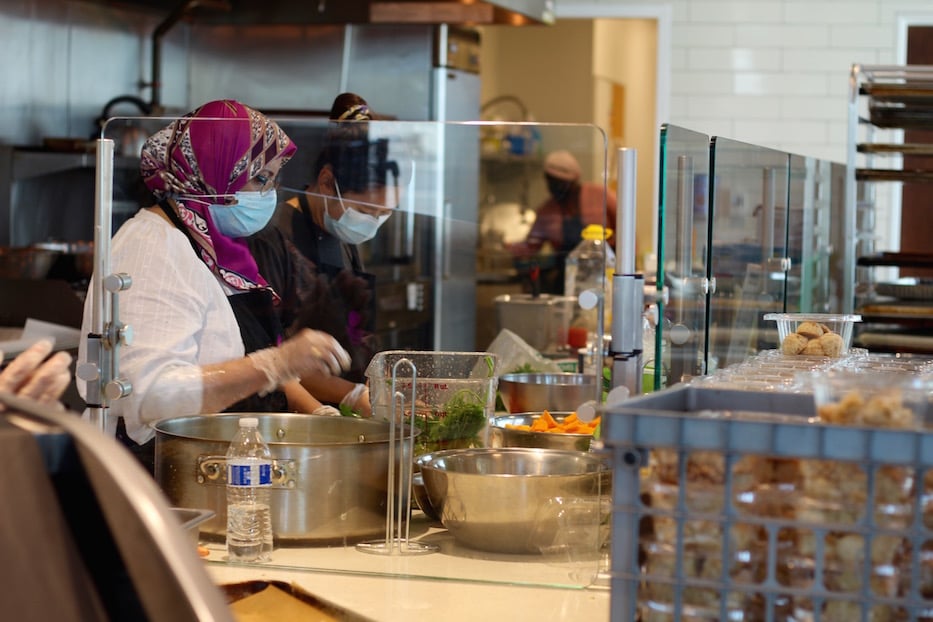 Sanctuary Kitchen's Legion Avenue Offices.
As a child and a young adult, she and her family lived in fear as part of Afghanistan's persecuted Hazara minority, a frequent target of Taliban retaliation and violence. ​​Hazaras practice the Shia branch of Islam, putting them at risk in a majority-Sunni country now ruled by a militant Sunni group.
While she and her family were able to come to the United States in 2013 her sister and members of her extended family are still in Afghanistan. Beginning to cry, she chronicled years of escalating violence against Hazaras, which has culminated in the Taliban's current extremist rule. As she spoke, Assadi nodded knowingly beside her.
Three years ago, Taheri recalled, her uncle was at a public bath when the Taliban stormed it and rounded up a group of four or five Hazaras. Her family does not know what happened to him, and has not been able to gather any information on him since. The situation was bad then, she said. It is worse now.
Last month, as reports of Taliban takeover reached U.S. ears, her brother-in-law went missing. At the time, he was a police officer in the Ghazni Province. When her sister appealed to neighbors for help, she received silence. Meanwhile, Taheri received updates from her nephew that the Taliban was demanding the passcodes to mobile phones and checking their contents. She cried as she spoke, words tumbling in Farsi from her mouth as a box of tissues appeared on the table in front of her.
"My sister is going from one house to another, and when the people heard that her husband was police, they are not helping them," she said. "Because they are saying, 'If we help you, obviously the Taliban will punish us. We will be at risk.' She is just going around from one house to another house to survive and be safe."
"They are just thirsty of our blood," she added. "They want to kill us. That's the reality there. We are more in danger than other people."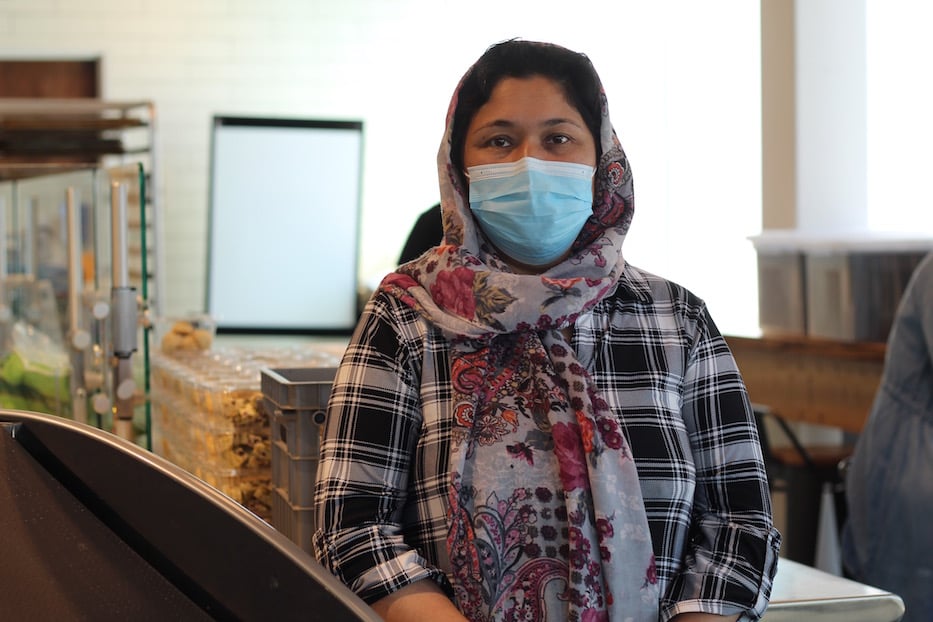 Chef Homa Assadi.
Assadi, who told some of her story at a virtual Sanctuary Kitchen event in August, said she thinks constantly about family members still in Afghanistan. Raised in the Jaghori district of the country's Ghazni Province, she, her husband, and their three children came to the U.S. in 2015. One brother now lives in Indonesia; two are still in Afghanistan's Northern Baghlan Province with her elderly parents.
Both brothers worked as taxi drivers in the years before the Taliban's takeover; one spent days at Kabul's Hamid Karzai International Airport last month, trying to get out of the country. He was there when an explosion killed 13 U.S. troops and hundreds of Afghan civilians. Now, they are both afraid to leave their homes. Assadi said she worries for both their safety and the health of her parents, whose basic needs have been jeopardized by Taliban rule.
"Nobody is going out," she said. "Everybody is staying home. They cannot do their job. They cannot find money to support their family."
She said that she is also deeply concerned for the health and safety of women in the country. This month, there have been multiple reports of Taliban members violently beating women at protests in Kabul. Women's shelters have all but closed across the country. Millions of women are now confined to their own homes, many with domestic abusers. She finds the current situation reminiscent of 1996, when Kabul last fell to the Taliban.
"The security situation in Afghanistan is very, very bad. It's the worst right now," she said. "It's hard for everybody, but especially for women. The Taliban are continuously saying, 'Why should women go out? Why do they need work? Why should they go to the ministry of education or other jobs? They have to stay home.'"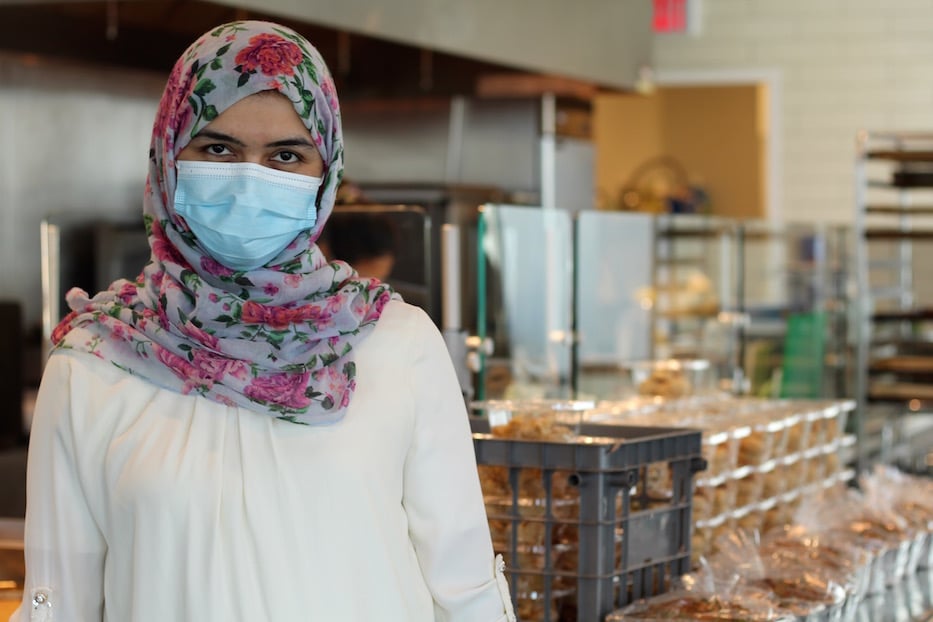 Hossna Samadi, who translated for chefs Homa Assadi and Maleka Taheri, arrived in the U.S. from Afghanistan in 2016. When she saw the Taliban invade Kabul, "I just couldn't believe the nightmare that was happening," she said. "It was a very sad moment. Still, I can't believe that that is happening. Because we don't expect that."
Both take solace in their work at Sanctuary Kitchen, they said. Taheri, who was unable to work for six months during the pandemic, has come to know her fellow chefs as extended family members who hail from Afghanistan, Syria, Sudan, Mauritius, and Democratic Republic of Congo.
"Even if some of them two or three days they are absent, I really miss them," she said. "I really feel that one of my family members is not here."
Assadi, whose seed-dusted naan has gained celebrity status at New Haven's dinner tables and farmer's markets, said she is grateful for the opportunity to learn English, which is the shared language among all of the chefs.
Samadi, whose husband Farid worked for Chemonics and USAID in Afghanistan, said she has also struggled through the past months. For weeks, she has stayed awake until three or four in the morning to get news from Afghanistan. She was watching the news when the Taliban invaded Kabul.
"I just couldn't believe the nightmare that was happening," she said. "It was a very sad moment. Still, I can't believe that that is happening. Because we don't expect that."
While she knew the situation on the ground would change after President Joe Biden's announcement that U.S. troops would be withdrawing, she said, she did not realize it would happen as quickly as it did.
"It was shocking for everybody," she said. "It's totally a disaster. Obviously, when you're sad, you make others sad as well. I was trying to not meet my friends in those days because I was crying. I'm still crying."
A Continued Need For Help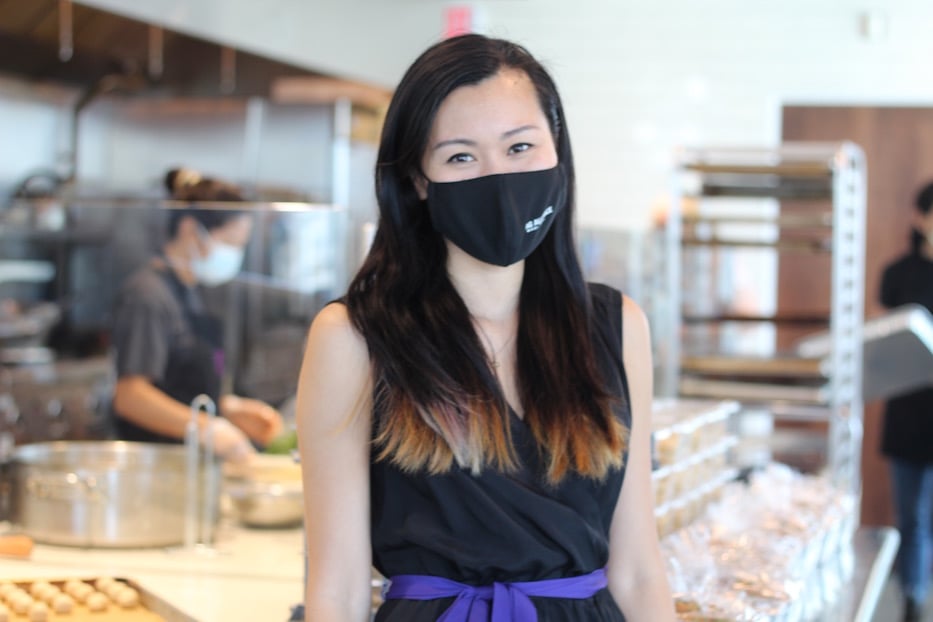 Sanctuary Kitchen Program Manager Quynh Tran.
On Wednesday night, Gov. Ned Lamont announced that Connecticut was prepared to welcome over 300 Afghan refugees "with open arms into our wonderful state" in the next weeks and months. In preparation for those arrivals, the Connecticut Department of Social Services is working closely with refugee resettlement agencies across the state to find safe and affordable lodging for those families.
"It is our obligation and our duty to ensure these Afghan refugees feel welcome in our state, and we will work to ensure they have everything they need from food and shelter to education and job training," he said in a statement Wednesday night.
It follows an announcement from Integrated Refugee & Immigrant Services (IRIS) Executive Director Chris George this week that the organization expects to welcome 1,000 refugees to Connecticut between now and next summer. This fall, IRIS plans to open a satellite office in Hartford, where it has resettled several families in the past years, to keep up with that demand.
As those families arrive, there are several ways for New Haveners, and Connecticut residents more broadly, to help. On its website, IRIS asks its supporters to call their elected state and federal representatives, connect with regional resettlement groups and agencies, collect school supplies, backpacks, and winter clothes and donate to the organization if they are able to. Ann O' Brien, director of community engagement, has asked that those donating clothes keep them in storage for the time being.
For weeks, Sanctuary Kitchen also donated a portion of its proceeds to IRIS. Quynh Tran, program director at Sanctuary Kitchen, said the organization plans to continue its support of chefs with professional training programs, as well as potential outreach efforts to federal representatives.
On Friday, both U.S. Rep. Rosa DeLauro and U.S. Sen. Richard Blumenthal expressed their support for Connecticut's plans to welcome hundreds of Afghan refugees. In addition, Blumenthal said that he would be seeking extra federal funding to support those efforts, with an emphasis on "housing, jobs, health care, counseling, and other services."
"These men, women, and children often fled their home country with nothing and we have made a national commitment to help them build their new lives," he said in a statement Friday morning. "Many Afghan refugees put their lives on the line, and their families at severe risk, serving and protecting American troops and diplomats as interpreters, translators, guards and other critical roles. I'm confident that Connecticut and our country will open our arms, hearts and homes to these new Americans."
Learn more about Sanctuary Kitchen here or donate directly to IRIS here.