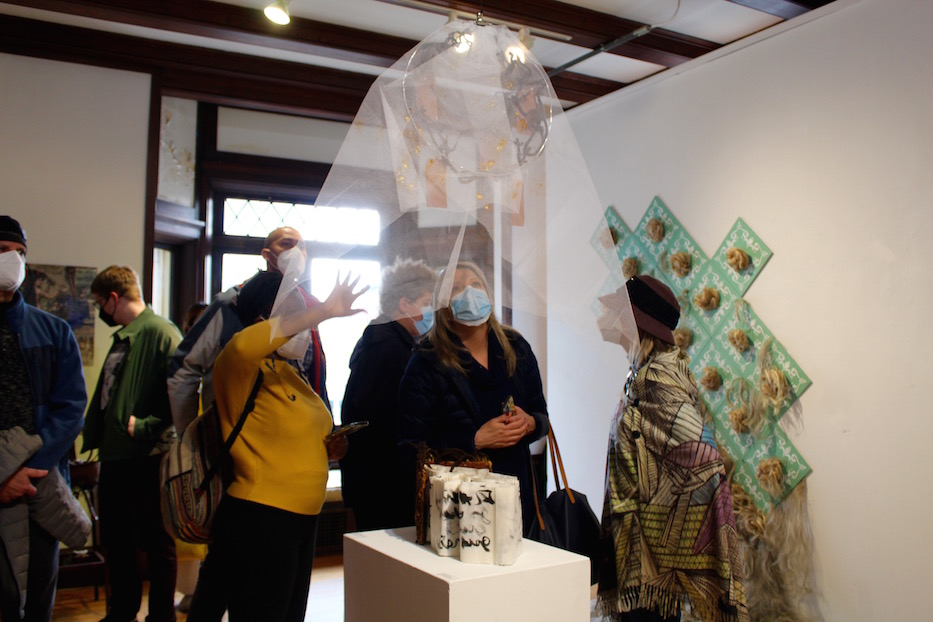 East Rock | Ely Center for Contemporary Art | Painting | Arts & Culture | Visual Arts | Film & Video | Sculpture | COVID-19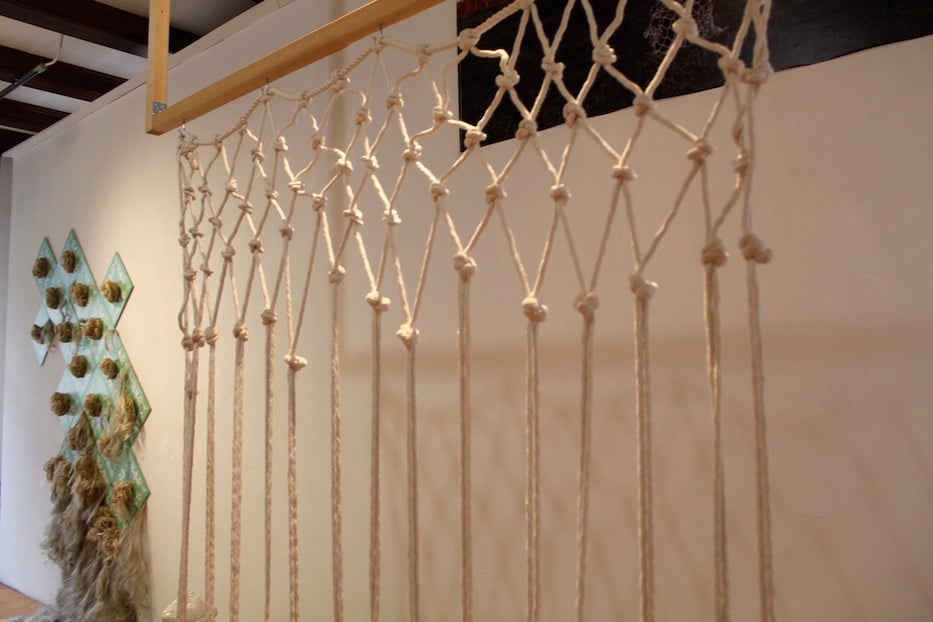 Detail, Yvonne Shortt's Material Investigation at the Ely. Christine Lee Tyler's Outgrown, inspired by the history of Victorian women exposed to arsenic wallpaper, is pictured in the background. Lucy Gellman Photos.
From far away, it looks like a fishing net, unfinished and hung out to dry after an afternoon rainstorm. Or maybe a larger-than-life weaving, suspended from a giant-sized hand loom while its creator is out for a walk. A few steps closer, and a viewer can study the uneven knots, no one exactly the same as the next.
Beneath them, where the rope glows white in the gallery's light, artist Yvonne Shortt offers an invitation. This is a chance to help her create a personal history that is also a reclamation.
Shortt's Material Investigation at the Ely is part of Hair @ Ely, a eight-woman show running at the Ely Center of Contemporary Art now through Feb. 22. The brainchild of Shortt and Megan Shaughnessy, Hair asks both its artists and its viewers to reconsider what they understand about hair, womanhood, agency, race and racism, physical and psychic pain, and personal identity.
Artists in the show include Sherese Francis, Alana Ladson, Candace Leslie, Jennifer McCandless, Abigail Simon, Shaughnessy, Shortt, and Christine Lee Tyler. The Ely Center is open Sunday, Monday, Wednesday and Thursday between 12 and 5 p.m. at 51 Trumbull St. Visit its website for more information.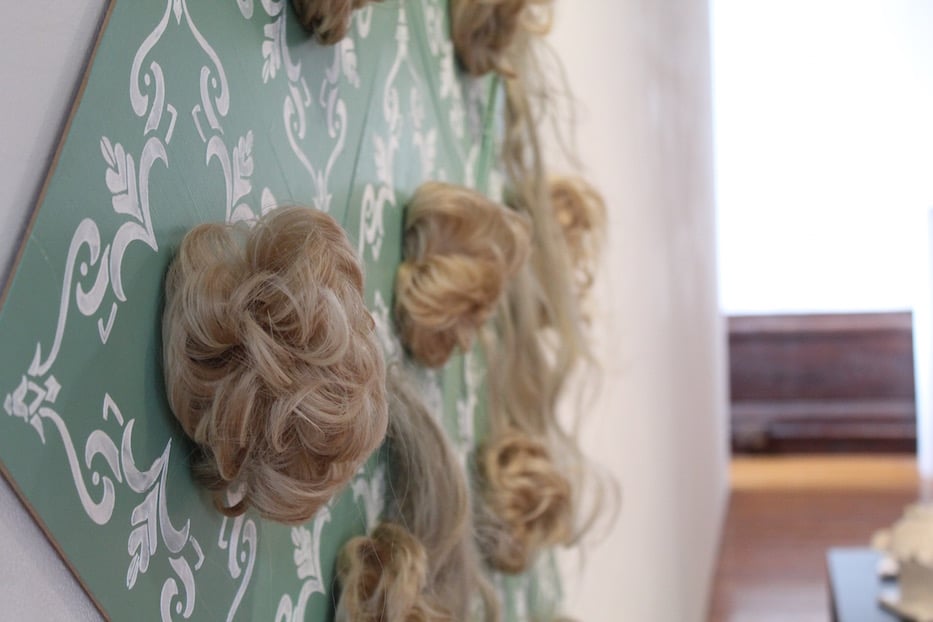 Detail, Christine Lee Tyler's Outgrown. Inspired by the short story "The Yellow Wallpaper," Tyler paired synthetic blonde hair with tiles covered in arsenic green paint and decorated with vulval shapes. She said that she was moved—and disturbed—by the history of Victorian women, who went crazy as they stayed home and breathed in arsenic in the wallpaper. The mounds of hair are a reference to their buns, often piled atop their heads. It is blonde like her own.
"Everyone here self-selected to talk about hair, and that's how we got all this beautiful conversation," Shortt said at an opening reception Sunday. "We just did the work together and talked, and this [exhibition] came out of that."
After artists opted in—a format that Shortt and artist Daria Dorosh launched at A.I.R. Gallery in Brooklyn last year—all eight met once a week on Zoom for three months, in a pandemic-era take on process and workshopping. They talked about hair: their own, others', its power and weight in the world. The fact that not shaving legs, armpits, and pubic hair in the year 2021 was somehow still a radical act. The way hair wove through the Western and non-Western histories of beauty, trauma and empire.
The result is a living, intergenerational collaboration: some artists plan to add work during the show, and at least two invite their viewers to be interactive participants in the experience.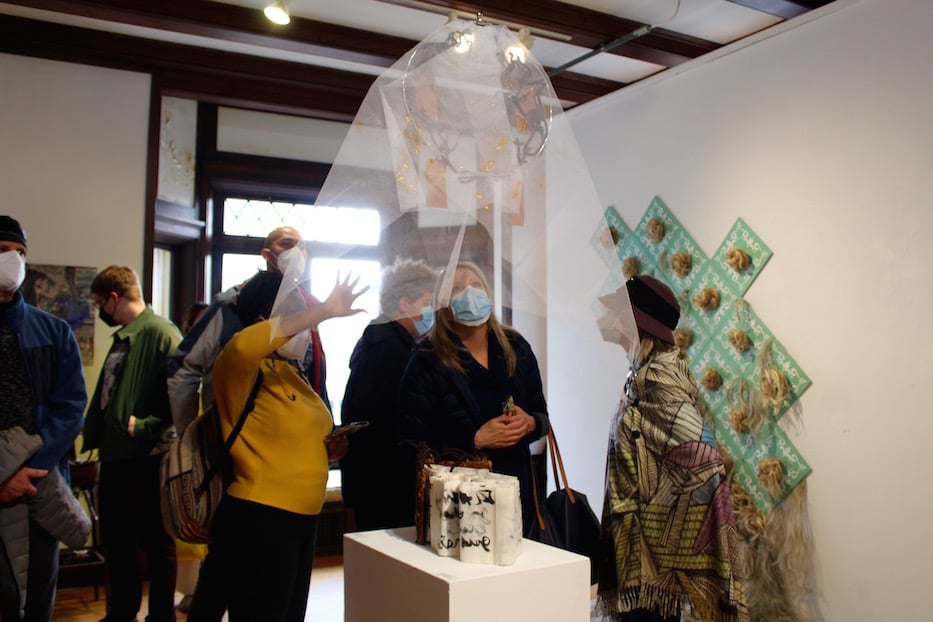 Francis at Sunday's opening. She is pointing to Ntutu Isi Nkemdiche (KwasMeTology Series). Her Samson/SameSun/SamSung/SameSong (KwasMeTology Series) is below.
From its place at the center of an upstairs gallery, Sherese Francis' Ntutu Isi Nkemdiche (KwasMeTology Series) beckons, with a veil of white gauze over a constellation of the artist's severed locs. Beneath the gauze, Francis' hair weaves in and out of a silver hoop, leaving a delicate solar system in its place. Brown paper tags hang off the locs, each with a different question in neat black ink.
Is my hair worthy of respect in its natural state? reads one. Do I have to shave my body hair to be pretty? Beautiful? reads another. How long will it take my hair to fully gray? reads a third. Everything is speckled and smudged with gold paint, as if it has been anointed by a nearby star.
It seems she is in conversation not only with herself, but with the other artists in the show and with the generations of women who came before her, who have been asking these questions for hundreds of years. That's true down to the convention of naming the piece: the title translates to "Hair on My Head, My Uniqueness" in Igbo. The language tethers her to a history that is as vast and complicated as the solar system itself.
This is Francis' personal cosmology, yes, but it's also part of a history in which her own autonomy as a Black woman artist may be revered, undercut, questioned, celebrated, or challenged depending what room she is in, what artistic table she is at, whether she has had to come with a folding chair. When she created the work in late 2021, Connecticut was only months into new legislation that formally banned hair-based discrimination. In November, a group of white parents in the nearby Town of Guilford lost their minds over books with Black protagonists and called it Critical Race Theory. Ntutu Isi Nkemdiche asserts itself joyfully, divinely, squarely into the moment.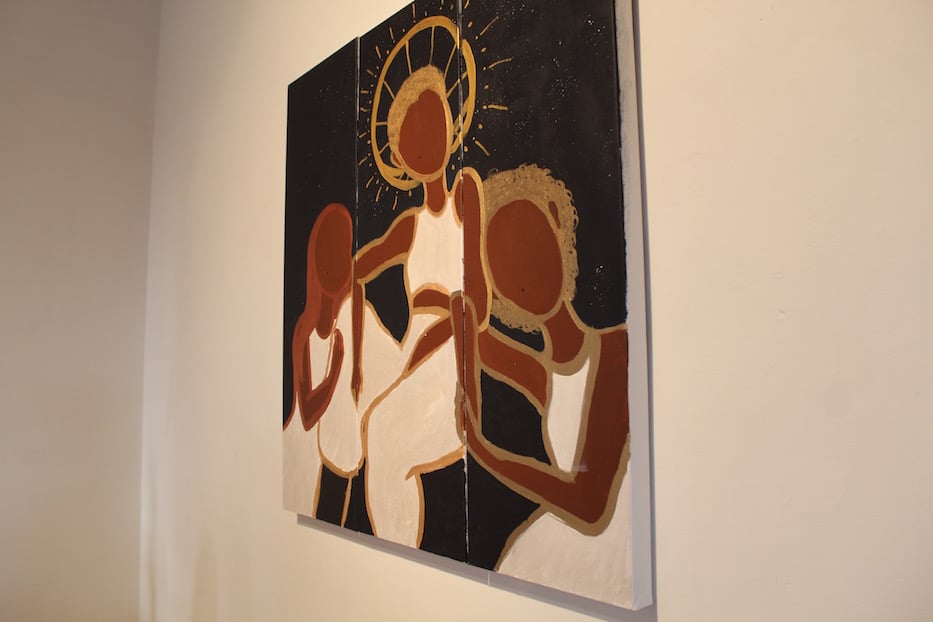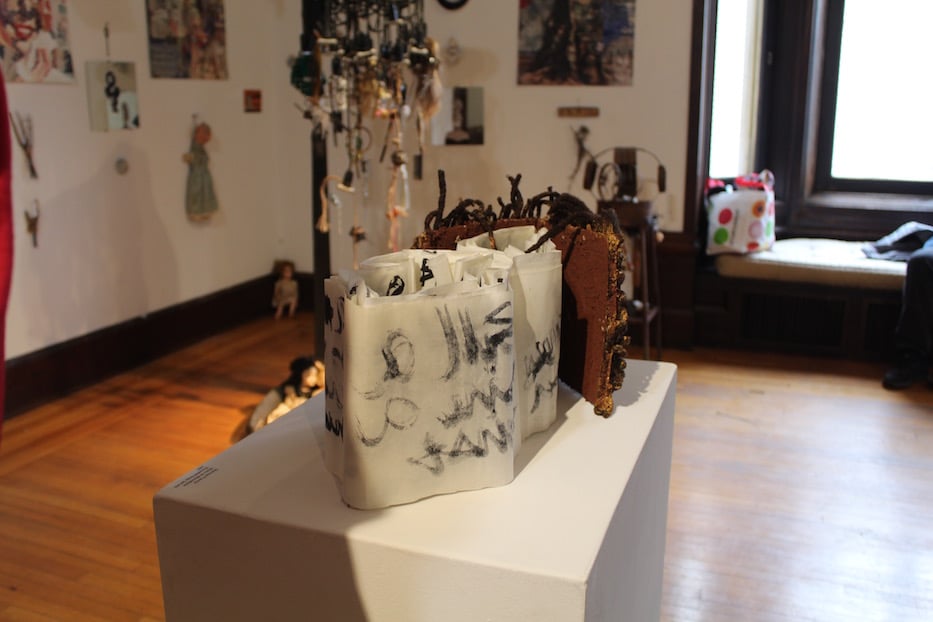 Top: Alana Ladson's work. Bottom: Samson/SameSun/SamSung/SameSong (KwasMeTology Series). Abigail Simon's multimedia All My Sisters Weep For Venus is pictured in the background.
Her Samson/SameSun/SamSung/SameSong (KwasMeTology Series), meanwhile, whispers back and forth with a portrait by Ladson a few feet away. In Ladson's painting, three women lean into each other, forming a reimagined trinity that glows with thick gold outlines, creamy white outfits and cocoa-colored skin. At the center, one rocks a halo that sends bursts of light into the matte black background. They are each other's, their limbs linked so that it's hard to see where one ends and another begins. One presses her head tenderly against another's thigh, in a greeting that needs no words at all.
Back on its pedestal, a manuscript pours out of Sampson, with scrawls of black paint across its white paper surface. Francis said she wanted to both riff on the mythology of Sampson and Delilah, in which an evil seductress cuts Sampson's hair and thus strips him of his power, and explore the idea of a book as a depiction of the body. The use of a scroll made sense: she is also a poet. On the book's cover and spine, she has embedded grains of rice in her own locs. The gesture is a nod to the forced migration and enslavement of Black Africans, who transported rice in their hair as a way to survive.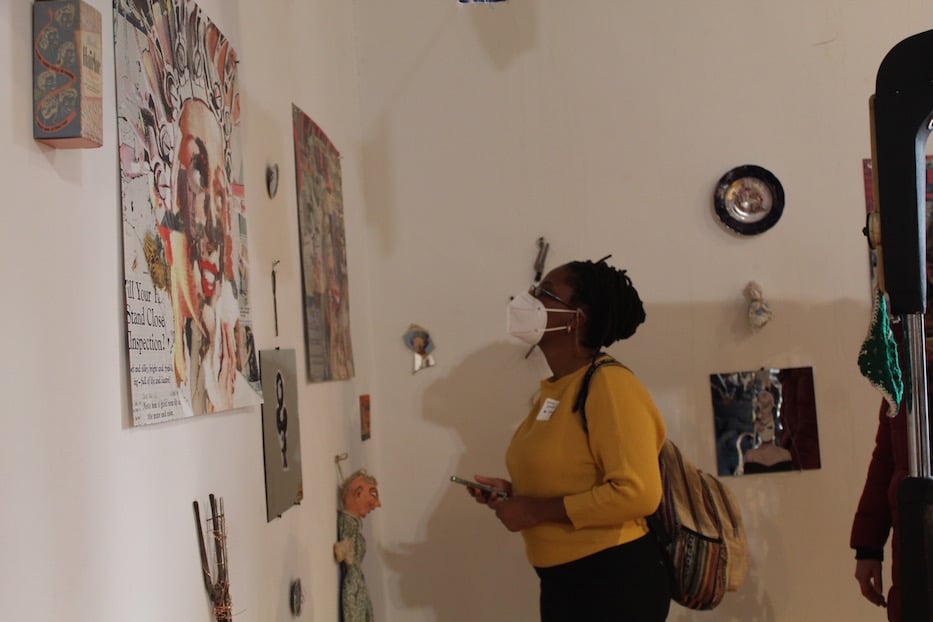 Francis explores Abigail Simon's multimedia All My Sisters Weep For Venus.
Around it, the room comes to life. Installed in one corner, Simon's multimedia All My Sisters Weep For Venus catches a viewer off guard, as if a Medieval torture device has mistakenly made it into an art exhibition. Surrounded by collaged images, a permanent wave machine stands on the floor, foreign and fearsome. Thick ropes of wire, all of them the color of soot, dangle precariously from the top. Clips, meant to hold hot curlers, dangle empty at their ends. Some hold cannibalized wigs, doll limbs, pastel-colored plastic play toys.
Simon's own history is part of the piece. "I'm old enough that when I was growing up, there were no models with brown eyes," she said at Sunday's opening reception. As a kid, she just wanted her thick, curly hair to be straight and blonde. A friend of hers, whose red curls bounced down her shoulders, was so ostracized that she buzzed it off. Simon, meanwhile, took her curls and "bleached it, I burned myself, I cut it all off." She's grown into it only decades later, alongside the veganism and deep dives into Donna Harroway now seem like second nature.
"Hair is a big way to talk about the trauma of beauty," she said.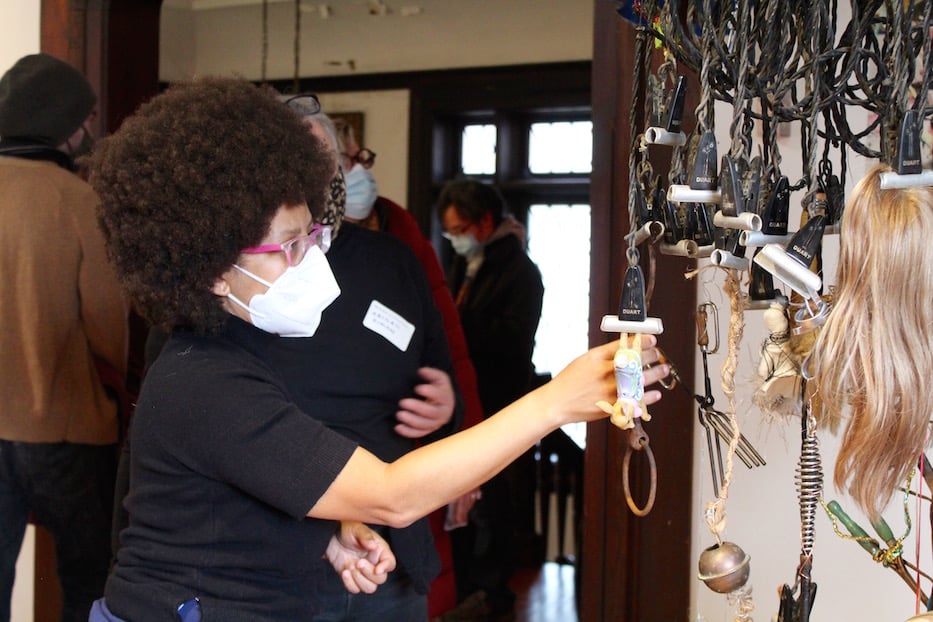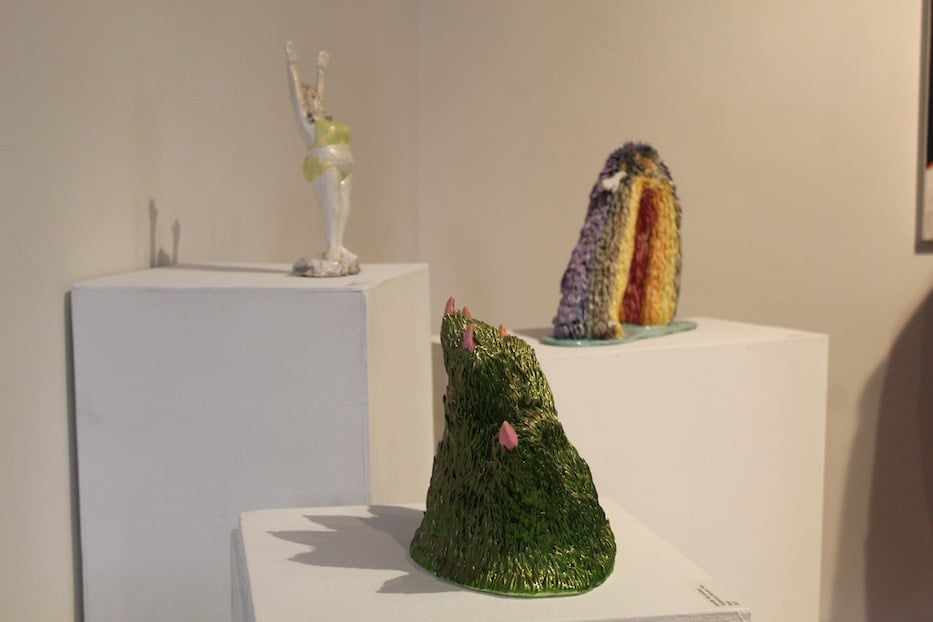 Top: Shortt with All My Sisters Weep for Venus. Bottom: Jennifer McCandless' Fantastical Monster Paw Relic, Flasher and Fantastical Rainbow Monster.
Around the machine, collages, baby dolls in tiny house dresses, boxes of hair lacquer and old trinkets cover the walls, in a take on salon-style hanging that would give the Royal Academy an aneurysm. It feels of a piece with both Tyler's Outgrown and McCandless' Flasher, a ceramic statuette of a woman in her underthings, lifting her arms to reveal thick, hairy pits. Her body, decorated with auto body paint, is joyfully fat, fleshy and pearlescent. A huge smile crosses her face. On either side of her, a hairy, post-apocalyptic looking hand and rainbow seem to say hello.
McCandless, who commutes between Vermont and Connecticut, pointed to the work as a reflection on natural body hair, still often seen as ungainly or unsightly in the 21st century. In Burlington, Vermont, "nobody shaves," she said. It's just not a big deal. But in Connecticut, women are quick to return their bodies to a slick, pre-pubescent state.
"It's really funny and sad that our most radical act" may simply be allowing body hair to grow uninterrupted, she said at the opening reception Sunday.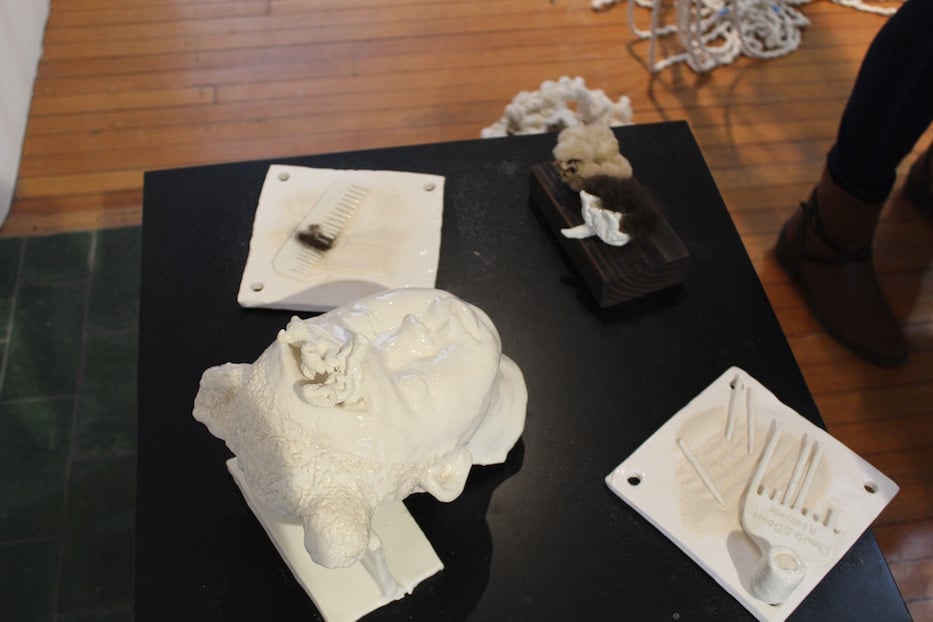 Detail, Yvonne Shortt, Material Investigation at the Ely.
Some of the show's strongest works are inherently collaborative. In her Material Investigation, Shortt invites viewers to join her in making new knots, creating a white cotton net in which she will ultimately cover herself in the Ely's backyard and on the New Haven Green. Last year, she began working on the nets after a fellow artist, a white woman, lambasted Shortt for using rope in her work. The woman insisted that it wasn't appropriate to use the material, because of its once-violent history. Shortt, who is Black, recalled feeling like she couldn't get a word in edgewise.
"I thought, 'Who is she to tell me that I can't use rope?!'" Shortt said Sunday, encouraging attendees to approach the rope, feet its thick softness, and tie their own knot. "Right? And so I started making rope, and going into public places, and just sitting with the nets that I made with the rope. Even today, there are these ideas that people have about Black people and material."
Behind the work in progress, a large photograph shows Shortt crouched beneath a finished net, a farm unfolding for miles around her. On a table beside it, a ceramic comb and afro pick are laid at each end, framing a girl's ceramic head, cotton seed pods, and three tufts of Shortt's own hair. Each holds a story, from the person who asked her if she was a dog walker in her own apartment building (after she reported the incident, the building changed its policies) to the cotton her friend grows in Brooklyn.
"I'm taking it back for me," she said. "People saw nets in one way, and that's the way she saw them. We know how that history is. But I wanted to make my own history with this, and that's what this is about."
Rinse and Repeat.
Out in the hallway, Shaughnessy asks the viewer to become an active and implicated participant, as they kneel on red cushions to look inside a pink wooden box titled Sexy Beast. Through a single, small hole, a viewer sees a mount of cut and collaged public hair, resting atop an oval photograph of two thighs.
There's a collapsing of sacred and profane and simply practical there: Catholic church services and peep shows and OB/GYN visits, confessional booths and cabinets of curiosities, ostensibly "private" parts that are also the only thing in the world capable of creating human life. It's all enclosed within a container that is the same sickening pink of Pepto Bismol, Midol, gender reveals and too many items of children's clothing to count.
Beside it, a razor slowly shaves an armpit, leaving a pink trail razor burn in her video ​​Rinse and Repeat. It reads as a pendant to Strand, a hair-focused show running virtually at the Center through Feb. 6.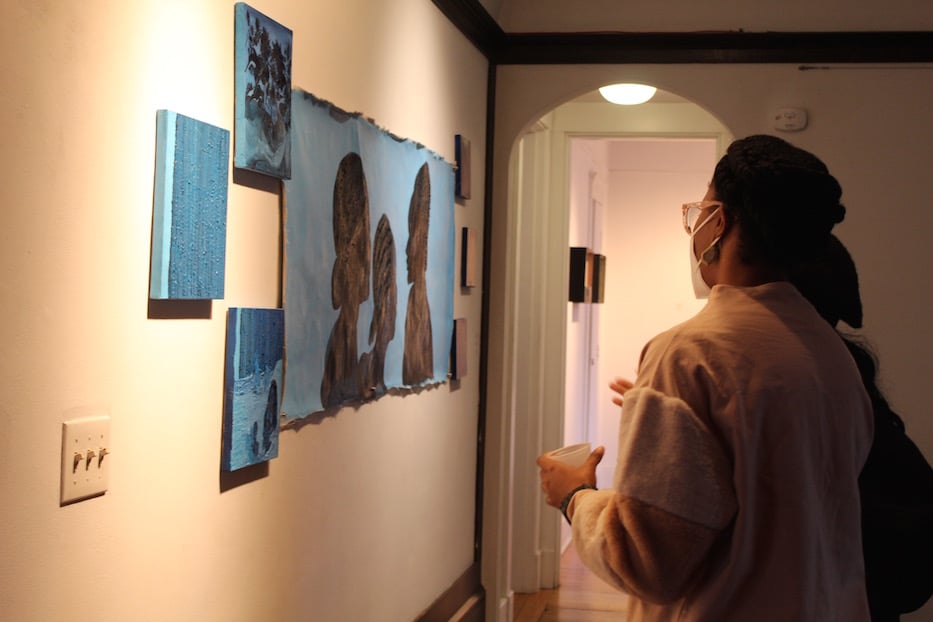 Candace Leslie at Sunday's opening. Her works in the exhibition include Generations Series No. 2: Grace, Beauty Salon and Network.
Leslie's paintings nearby feel like an ending and a beginning to the show all at once. Rendered in a dreamy, thick blue, the works are awash in memory, intimate and also familiar. On a long linen strip, three heads face each other in profile, animated and communing as if they have always belonged beside each other.
From far away, they look flattened, like black paper cutouts Lselie has pressed deep into the linen. But closer to the image, they rise from the fabric, as if the paint is willing them into the physical space. It a listener stood completely still, it feels like they would hear breath, and then laughter. The three, just as they are, are exactly where they're supposed to be.
Hair @ Ely runs at the Ely Center of Contemporary Art, 51 Trumbull St., through Feb. 22. The Ely Center is open Sunday, Monday, Wednesday and Thursday between 12 and 5 p.m. Visit its website for more information.