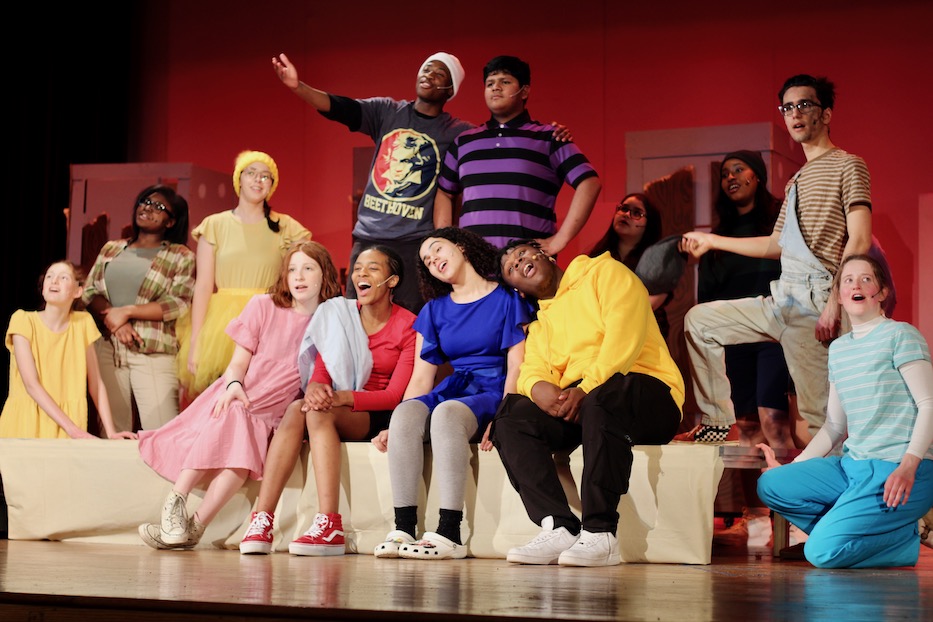 Culture & Community | Education & Youth | Arts & Culture | Musical Theater | Wilbur Cross High School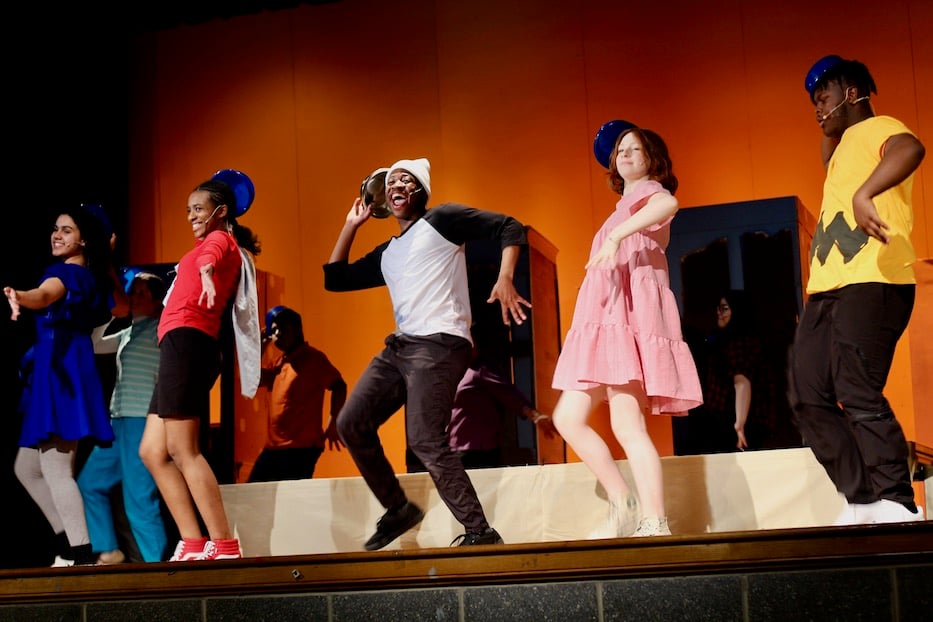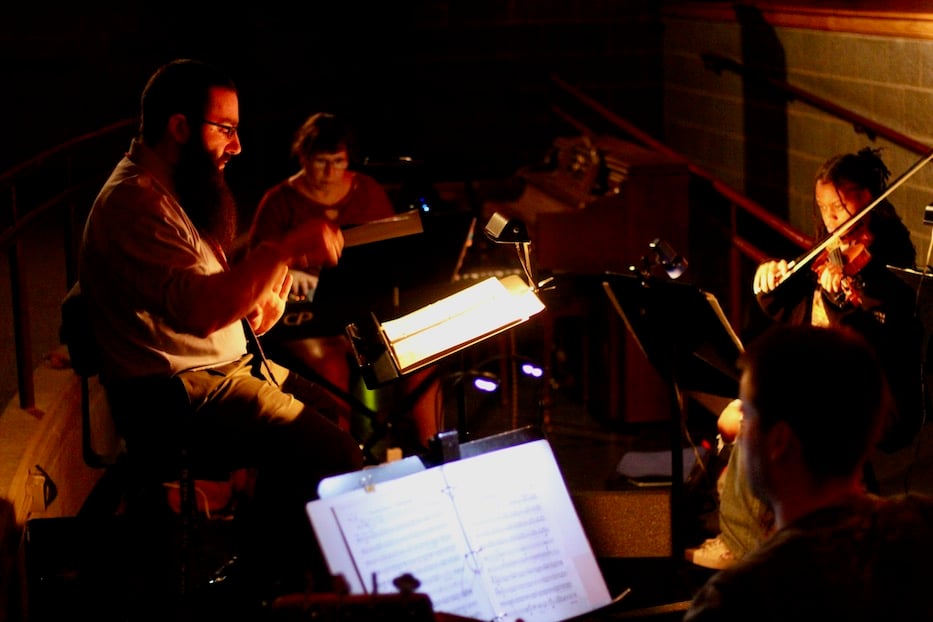 From left to right: Miriam Cruz, Erin Palmer, Noah Brown, Zara Baden-Eversman and Jahlill Coleman. Lucy Gellman Photos.
On stage, suppertime was becoming a revival meeting. Bathed in ochre light, Snoopy held out his bowl and struck a pose, one arm cutting gracefully through the air. He glided across the stage, paying no mind to the confines of the dog house in the corner. One foot left the ground, and the ensemble came alive around him. He was in his element, until Charlie Brown entered with slumped shoulders and a long face.
"Why can't you eat your meal quietly and calmly like a normal dog?" he whined. A dark cloud descended over his head, and for a moment the air crackled and stilled.
That tension—and its antidote—sit at the center of You're A Good Man, Charlie Brown, playing Friday through Sunday at Wilbur Cross High School. A production of the Lights Up Drama Club, the play is a surprisingly deep dive into the mental health and wellness of young people, complete with discussions of intense loneliness, depression, anxiety and small, meaningful acts of kindness.
It is also a testament to a cast and crew that has, in three years of pandemic pivots, continued to rebuild musical theater in a new normal. The play is directed by Heather Bazinet and Salvatore DeLucia, with choreography from Jennifer Kaye and a lively pit from band teacher Eric Teichman. Performances run Friday at 7 p.m.; Saturday at 2 p.m. and 7 p.m.; and Sunday at 2 p.m. Tickets and more information are available here.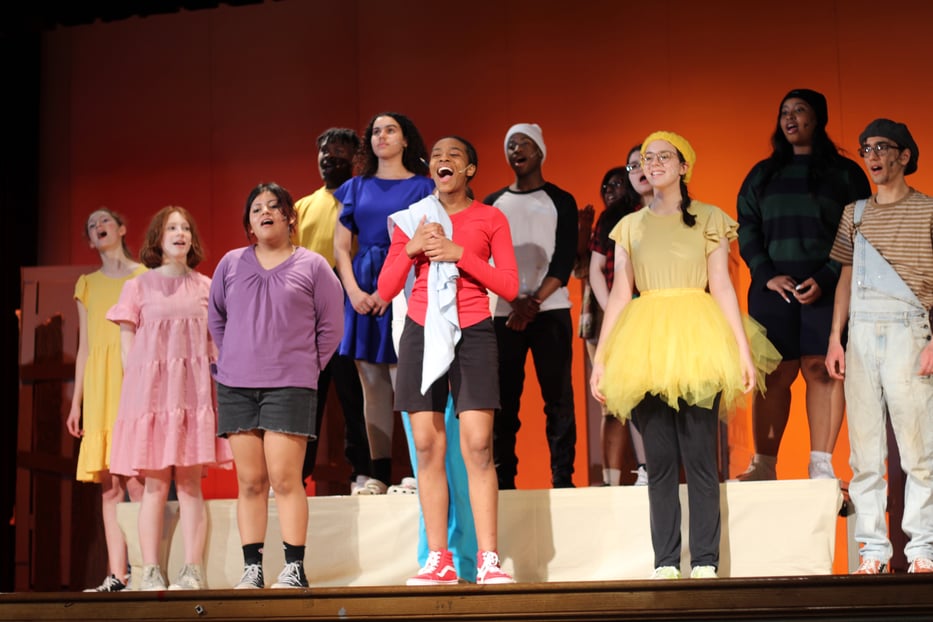 "It's one of those productions where it is what you make it, and we've built the world," said DeLucia, who has run the club with Bazinet since 2018. "It's not what you'd guess would be our show, but it's a perfect fit. It's the personalities, it's the temperament, it's the humility of this cast. This year, they're the most humble close-knit cast we've ever had."
First premiered off-Broadway in 1967 and revised in 1999, You're A Good Man, Charlie Brown begins with Charles Schulz' Peanuts characters, but takes on a life entirely of its own. Performed in vignettes over two acts, it revolves around the young Charlie (Jahlill Coleman) and Sally Brown (Zara Baden-Eversman), Lucy (Miriam Cruz and Rose Bromage) and Linus Van Pelt (Erin Palmer), the ever-contemplative Schroeder (June Lampher and Daniel Cardenas) and a goofy and sweet Snoopy (Noah Brown). In this show, there's also an ensemble that makes the play feel full on Cross' stage.
While readers may remember the cartoons as light, the play is surprisingly heavy, and translates almost immediately to a high school. Charlie is very much in his feelings, weighed down by a world-weariness that feels too big for a kid, and yet very 2023 in tenor. Lucy is trying to reconcile her lack of friends with a sharp tongue that helps her operate in the world. Schroeder lives in another galaxy, where the gold standard sounds like Ludwig Van Beethoven, but it means that he misses some social cues along the way.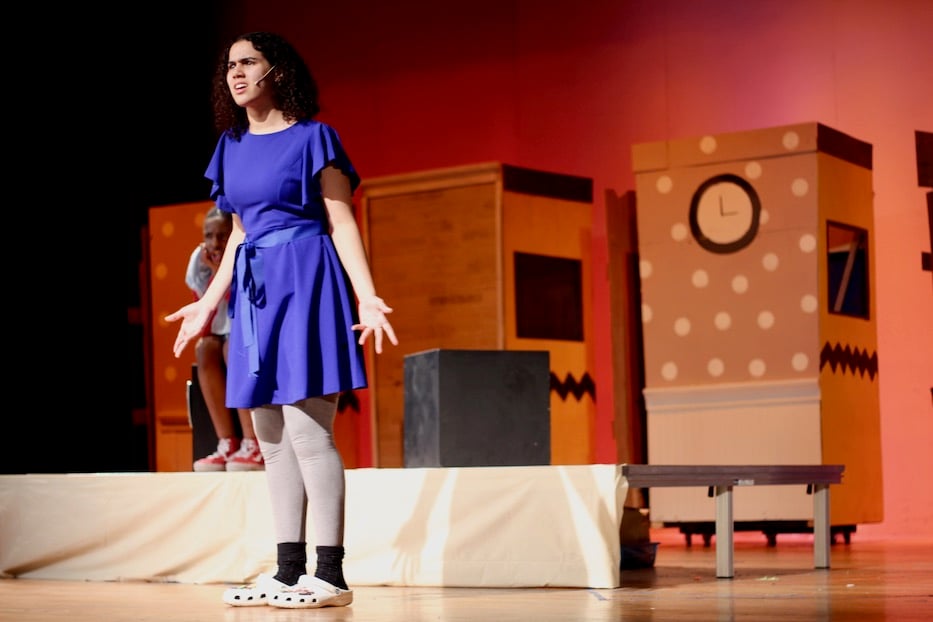 Add in a blanket-toting genius of a toddler, a Snoopy who can Moonwalk for his supper, and a scheming, excitable and gutsy Sally, and the show is galloping forward so quickly that an audience member may have to hold on to keep up.
It was initially a surprising pick for the drama club, which roared back to life with Freaky Friday: The Musical last year. When Bazinet and Kaye first proposed the work last summer, "I was like nonononono,'" DeLucia recalled with a laugh. There was nothing inherently wrong with the show, he clarified—it just didn't feel like the right fit. He was used to edgy work, and didn't think Peanuts could cut it.
Bazinet suggested that he take the script home with him and read it. When he did, he realized that it reminded him of the club's first musical, Is There Life After High School?, in 2018.
Together, an extremely able cast and crew has worked to pull it off without a hitch. On stage, the set fills the entire space, the product of weekends and study breaks spent painting. Designed by senior Kaylee Rose (she asked that the Arts Paper use only her middle name), it works in its relative minimalism: a raised platform center stage can become a school cafeteria, a grand piano, a set of risers, or a sprawling green space from one scene to the next.
Rose, who won Halo and Sondheim Awards last year for her work on Freaky Friday, said she'd been finishing it between classes.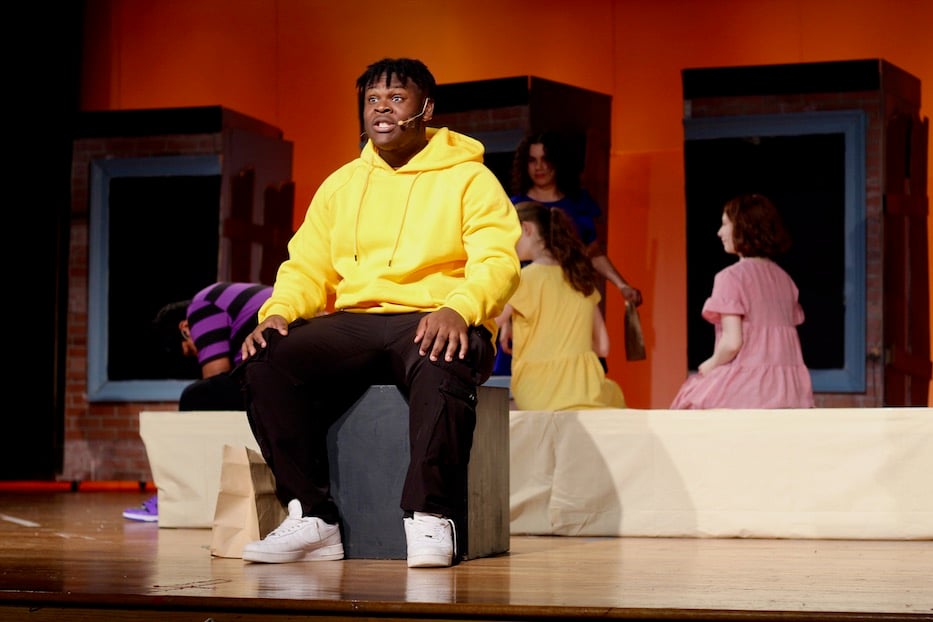 Behind it, a series of tall, reversible boxes become school buses, fence posts, and peer-to-peer therapy offices. At stage right, Snoopy and Woodstock (Maria Hatje Faggion) make grand plans as they laze against his cozy red house, complete with a flat roof he can move and dance on. Around it, shifts in primary-colored light—orange, blue, pink, violet and red especially—make for scene transitions and dramatic, arresting fades.
Students use that backdrop to step into another world, bringing something of their own high school selves with them as they go. In Palmer, Linus is a half toddler-genius, half-songbird, constantly at risk of blankie withdrawal that is powerful enough to sing about. Cardenas' Schroeder plays the piano and daydreams about Beethoven, and Cruz stuns the audience as a brazenness turns to longing in her voice. Meanwhile, Kaye has added snappy choreography, with a dazzling kick line with doggie bowls that is particularly memorable.
With an ensemble raising the roof behind them, the cast turns out a show that is magical in its deeply-felt-ness. Coleman, who described himself as a fairly happy person in a rehearsal Thursday, has nailed Charlie Brown's neurotic sort of loneliness, which plays on a loop in his head. When he announces at lunchtime: "Some psychiatrists say that people who eat peanut butter sandwiches are lonely," he sells it, taking a mumbled bite as paper and cellophane crinkle into the mic. When he mourns a failed Valentine's Day, his sorrow is strong enough to float right into the audience. When he turns to a friend for help, audience members may remember that they've been there too.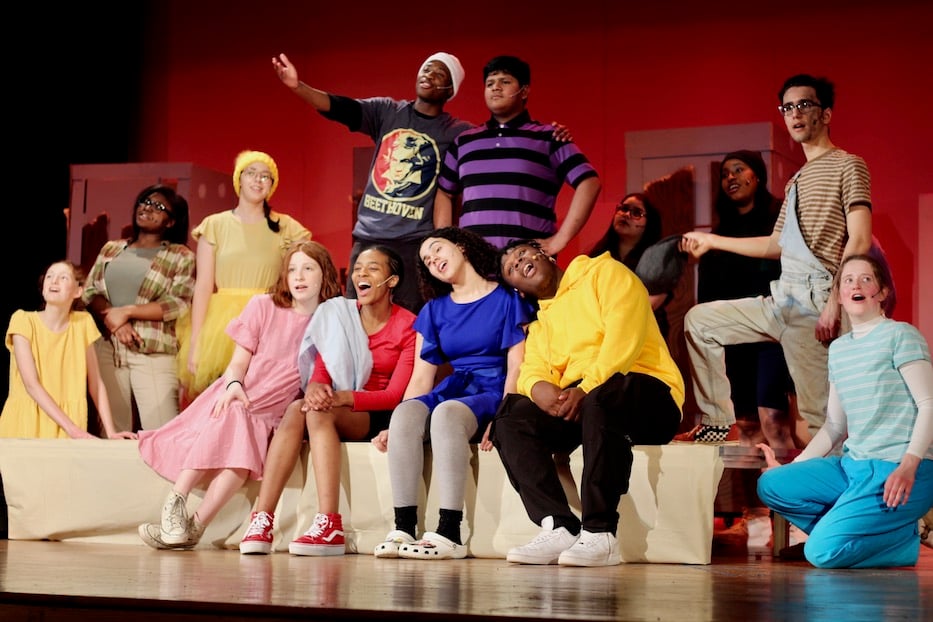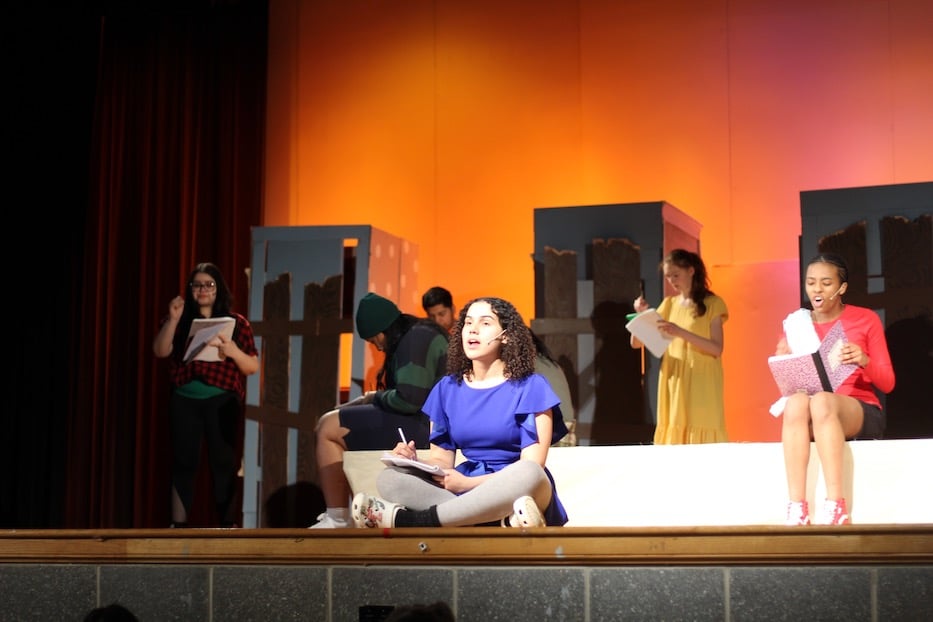 Around him, the show feels perfectly cast. As Lucy, Cruz and Bromage can be imperious, but also have moments of moral clarity that are heart-meltingly real. As Sally, Baden-Eversman hits the right balance of in charge, aloof and reverent to be a believable little sibling (when she announces that she is mad at the whole world, it is Shuri in Wakanda Forever level believable). And in a world upturned, Linus' attachment to his blankie is both effective and affecting. After all, who among the audience members isn't holding fast to something for existential comfort?
But it is Noah Brown's Snoopy who is the unexpected star of the show, just as the spotted beagle was for years the moral conscience of the comic strip. From the moment he appears onstage, Brown is a joy to watch, whether he's sprinting across the stage, howling from the rooftop of his dog house, or sorting out Charlie Brown's feelings as he dreams.
Nowhere is it clearer than in "Suppertime," as he turns a brimming bowl of dog food into a smooth jazz aria. As woodwinds sing from the pit (a nod to Rachel Popolizio, Kendall Alderman, and Cross freshman Dontae James) and a kick line emerges, it becomes a nearly religious experience. At other points in the show, he and Baden-Eversman shine as they weave on and off stage, chasing rabbits that seem more psychological than literal.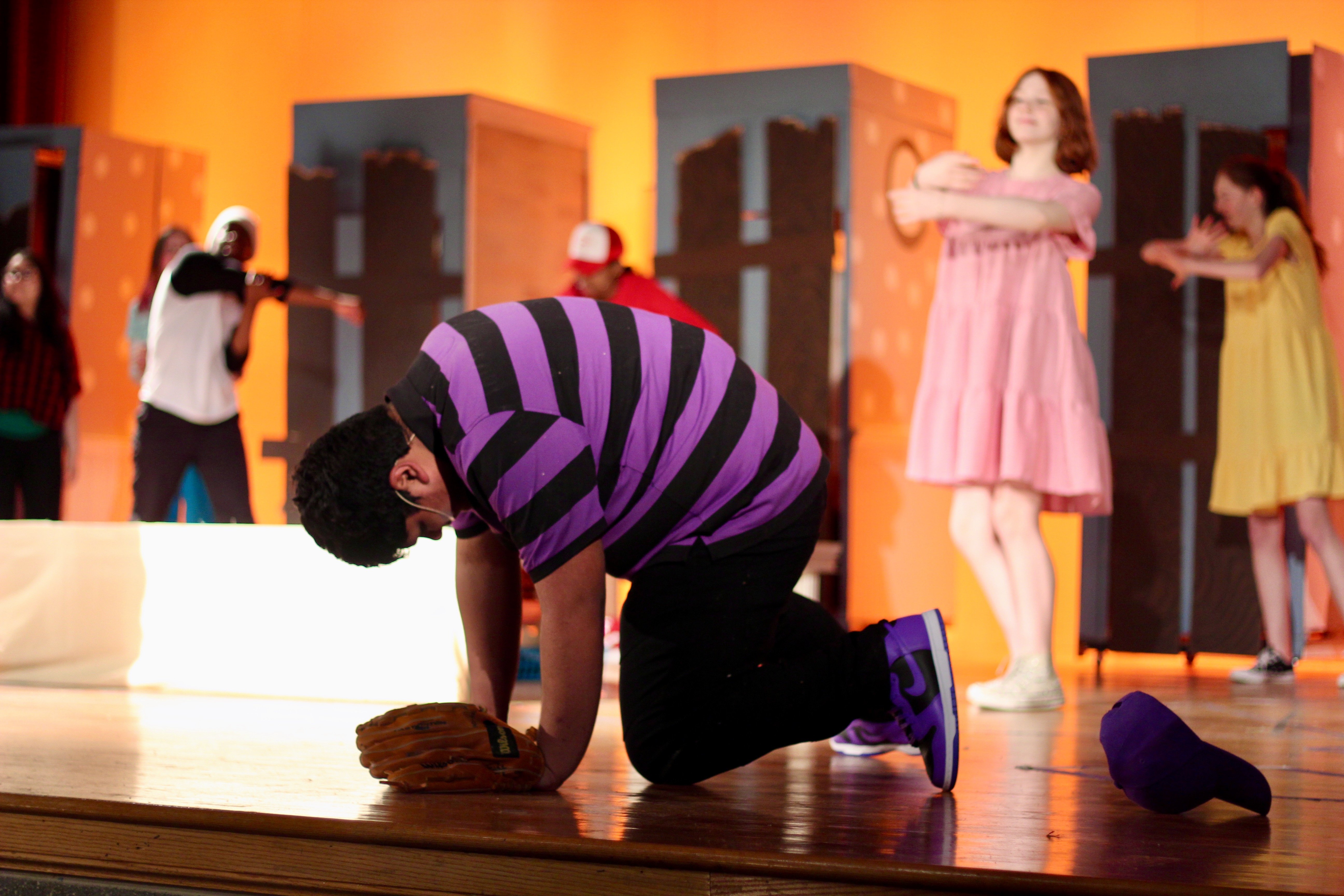 Together, it becomes a play about these young people, who are constantly navigating a world more complicated and overwhelming than the one into which they were born. Charlie Brown may not have had Covid or climate change or the threat of violence at school, but he did have the Vietnam War (which Snoopy publicly protested), residential in-patient treatments, and more self-conscious heartbreak than a first grader should ever have to endure. This cast captures it all, with a star-gazing sequence near the end that brings the weight of it all home.
No wonder, then, that the act of naming happiness—acknowledging that it still exists in this upside-down place—is the antidote. When members fill the stage for a final number, swaying as they begin to sing, it feels easy and natural. Even after losing seven seniors to graduation last year, Bazinet and DeLucia have nothing to worry about. These students, who are incredibly close (the word "family" came up during at least four interviews for this story, as did at least one impromptu dance off to the Jackson 5), are moving forward.
For many in the cast and crew, it's a meaningful return to some kind of new normal—and a bittersweet goodbye to a program that has gotten them through high school. For stage manager Kaylee Rose, there's a controlled chaos to being backstage, where everything is moving at once. The more propulsive the show becomes, the more she thrives off the energy of the actors and fellow crew members.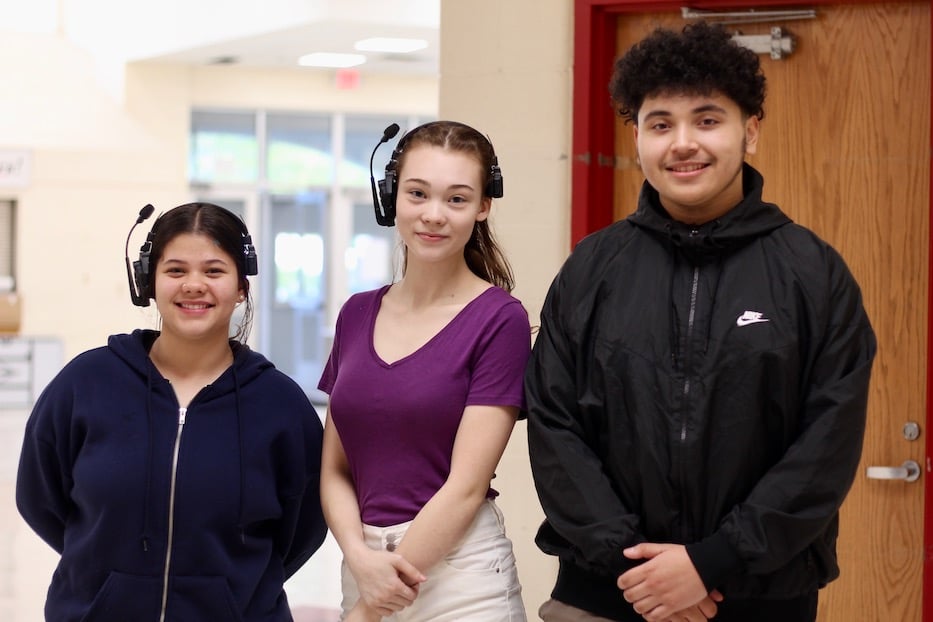 Crew members Caritza Rodriguez, Kaylee Rose, and Brayan Calderon.
"It's nerve-wracking, but kind of exciting," she said before a run-through Thursday. "There's a lot of pressure, and I don't know why, but I just fell in love with that feeling. I love watching the people on my team get opportunities to be part of this."
She added that tech theater was a welcome surprise last year, after she found herself in one of DeLucia's tech theater classes, and decided to hop on the show to help. While she had grown up in the spotlight, she found that she loved this new, quieter backstage ballet, where everything had its own place and timing. After working on Freaky Friday, she knew she would return for the next musical.
During a final run-through Thursday evening, she looked out over the theater with five minutes to curtain, and went still for just a moment. Her eyes scanned the space, at home among the squeaky chairs and methodically placed set pieces. On her head, a blinking headset looked like a crown that had always belonged there.
"I'll be really, really sad when this is all over," she said, adding that she plans to study technical theater at Southern Connecticut State University (SCSU), where she is headed in the fall. "There's no other place that harnesses your creativity in every way possible. It's the way to put everything I have into a show."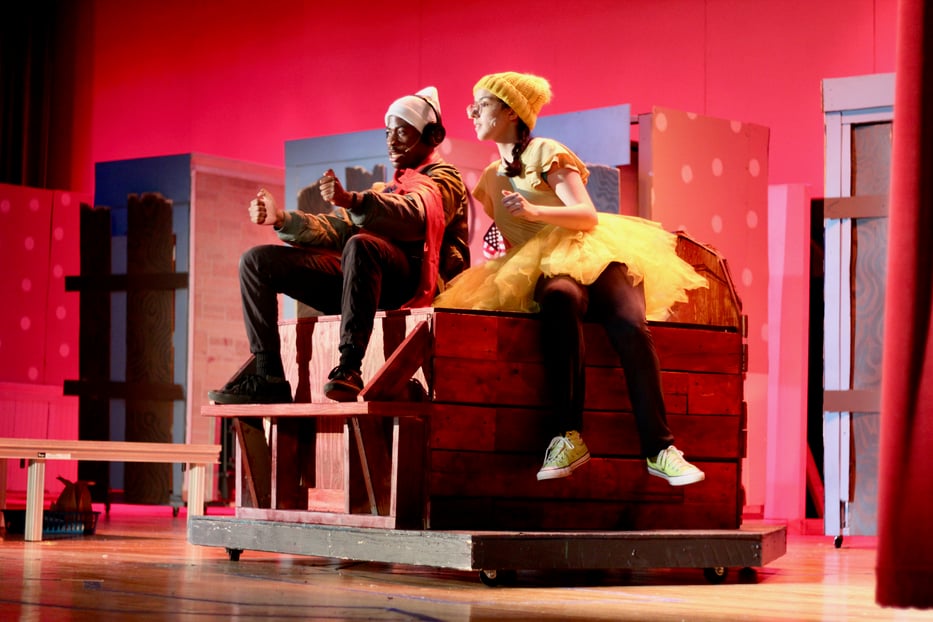 Snoopy and Woodstock fight the Red Baron.
That sense of family is true for several of the students in the show, whether they're behind the scenes or in the spotlight. Soraima Roman, who is a sophomore on crew, praised the backstage, sound and lighting crew for helping keep the show running. After growing up on Charlie Brown—their favorite is the Great Pumpkin—they've developed a deeper love for the characters after watching them come alive onstage.
That was also true for Cardenas, who called it "an honor to play Schroeder" alongside Lampher. A freshman at the school, Cardenas said that he can see a lot of himself in the character—particularly an aversion to distractions like high school antics and social media ("I'm a pretty private guy!" he exclaimed in a break between acts). While he was initially hesitant to be onstage, he's made the character his own.
Together, students give the audience a master class in how to be okay being not okay—and how to get help from peers, siblings, and stage family. Coleman, a junior who plays Charlie, said he'd never realized that Charlie Brown was as complex as he is. Before the musical, "I always thought of him as this lame little kid," Coleman said.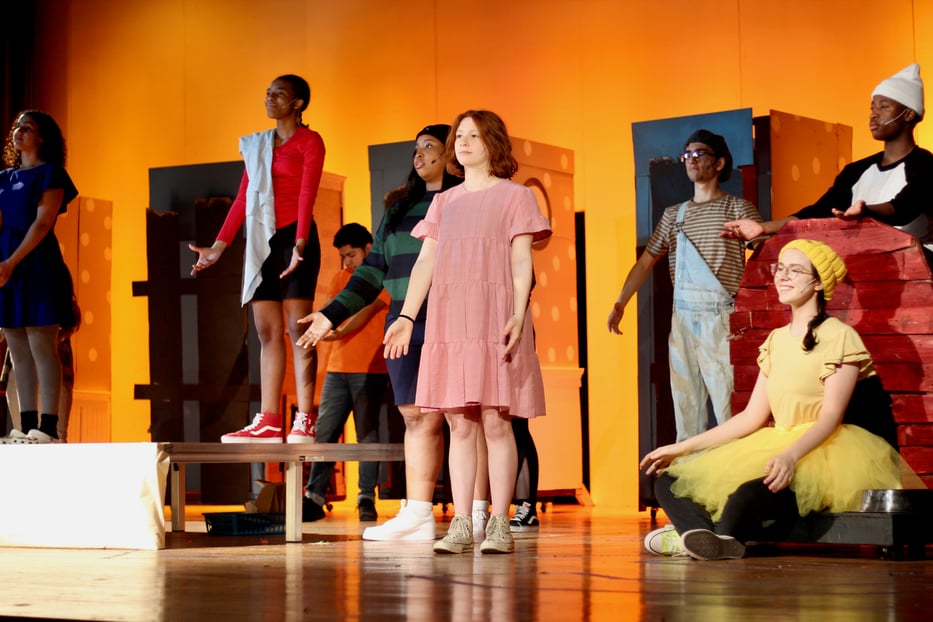 When he read the script, he started thinking about the very real depression and isolation that young people may face as they try to get through high school. As Charlie, he channels some of the isolation he felt when Covid forced him to start high school online, he said. He added that he wants his acting to be a light for those who may be watching: that's why he does it.
"It's like, knowing that I can make people enjoy something that I do, seeing the joy of other people makes me happy," he said.
In an interview later in the afternoon, Brown agreed—it's why he brings a fair amount of schmaltz to the role, and to some backstage antics that keep his castmates laughing. This year, his afternoon classes at the Educational Center for the Arts have given him chances to play more serious roles, including George Gibbs in Our Town. Snoopy lets him get silly before heading to Bard College, where he plans to study theater in the fall.
"I find myself playing backstage with the other members of the cast, cracking jokes," he said. "I'm trying to bring out the happiness, the light."
Nearby, Rose called show time, and the house fell into darkness. At the pit, Teichman lifted his hands, and the band began to play. Charlie looked up right on cue, and set the story back into motion.
To watch a more from Thursday's run through, click on the video above.