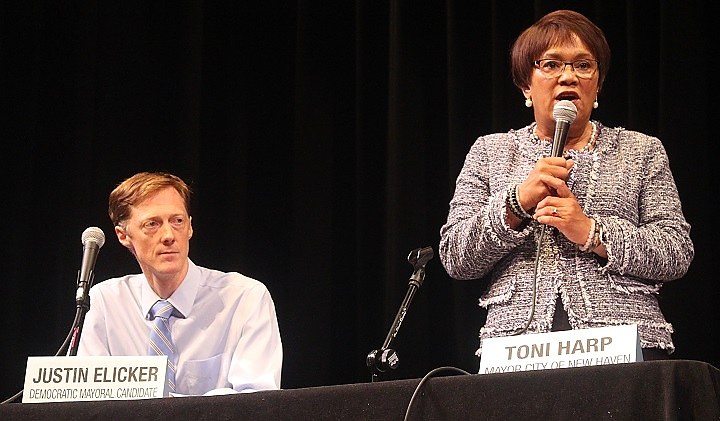 Politics | Arts & Culture | Political Theater | Mayoral Campaign 2019
This is one of our political theater pieces. For a hard news article on Thursday's debate, click here. For a news analysis on the 2019 Democratic Mayoral Primary, which is set for Sept. 10, click here. To find out where to vote on Tuesday, click here or call the registrar of voters.
One candidate believes that she's made some mistakes, but knows how to bring the city into the future. The other is sure he can make it better, but wants to talk about how bad it is first. They're both ready to get in the ring. They problem is, only one of them can win, and it's up to the audience to decide.
That tension is at the heart of The Great Debate Of 2019, an hour-long cabaret and interactive theater piece that premiered Thursday at Cooperative Arts & Humanities High School in New Haven. Subtitled [Sh]It Just Got Real, the performance was co-sponsored by the Democracy Fund, New Haven Independent, La Voz Hispana, and the League of Women Voters. A video of the performance is available here or at the bottom of this article.
A 14-hour encore is scheduled for Tuesday Sept. 10 from 6 a.m. to 8 p.m. across the city of New Haven. Tickets and more information are available here. Admission is free and highly encouraged; attendees at some satellite venues should brace for technical difficulties, based on past performances.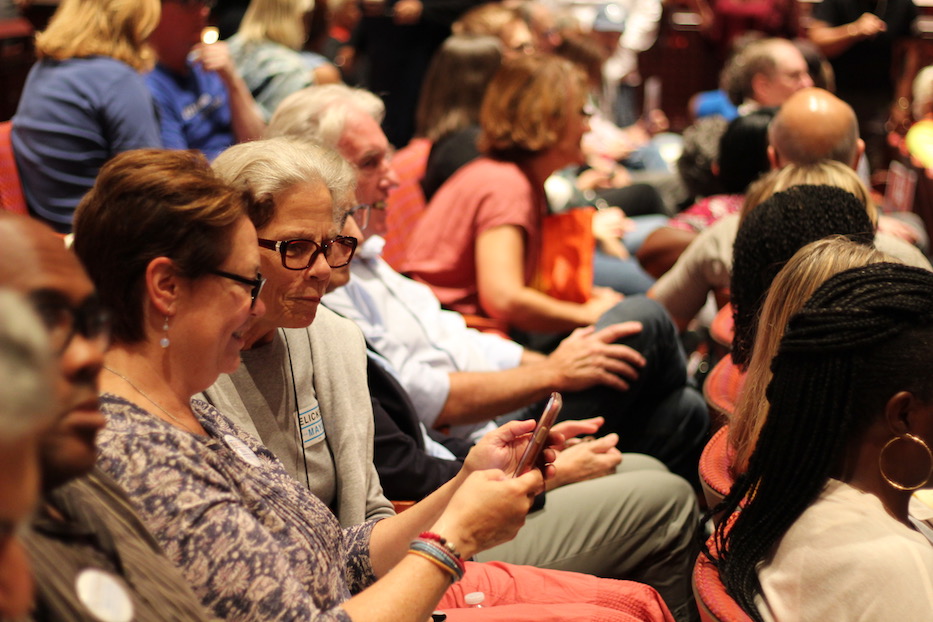 At the heart of The Great Debate are its two main characters, haloed in stage light and dramatically lit against a minimalist set, two big banners and a black scrim. There's a chorus guiding the show, populated by watchdog reporters Paul Bass, Mary O' Leary, Mercy Quaye and Carlos Resto, all playing themselves. But all eyes are on the other side of the stage.
On the left side of a table sits Justin Elicker, by some accounts the scrappy, community-oriented underdog who has knocked on every door in the city and pounded New Haven's 18.7 square miles of pavement and then some. Others in the audience—it's a show heavy on audience interaction—aren't so sure. It's a role that requires swift, minimal but decisive mobility on which the actor delivers: there's a sit-stand cue that he hits with vim and vigor every time.
The role, for which the actor first tried out in 2013, feels uniquely designed for its setting. The show takes place in New Haven, a city where water cooler liberalism is outdone only by middling safe spaces, rampant gentrification and the inevitable white guilt that springs therefrom. There's a little of Lucas Hnath's Torvald Helmer there, a little Captain Kirk, Kermit the Frog for good measure, and that nice friend of Don Draper's that no one can remember the name of. At times, he's a dead ringer for Kevin Costner's Al Harrison in Hidden Figures.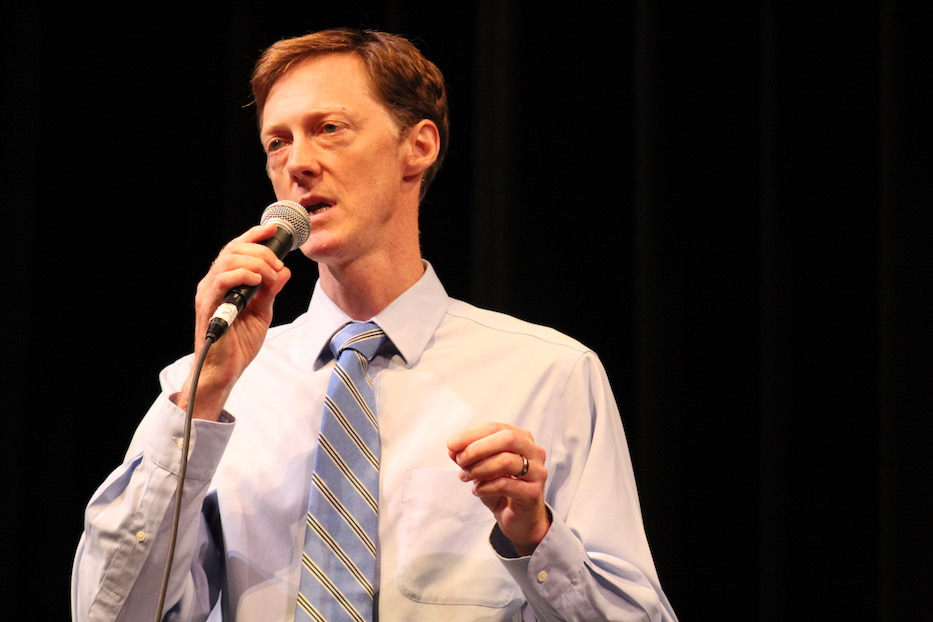 But he holds his own, the audience soon learns: he's revived and grown a regional nonprofit, gotten into the neighborhoods, can turn questions on their head and speaks enough Spanish to give Beto a run for his money. He's ready to talk about corruption in City Hall, and nothing or no one is sacred. The gloves are on, and with them a series of familiar talking points: six-figure lawsuit settlements, a $50,000 trip to China, and a public school system in disarray.
"New Haven is at a moment where we're ready for a new stage, a new type of government and leadership that is more accessible and more responsive," he notes in one of the most passionate monologues of the night, defining the platform on which he has run. "That invests and ensures that everyone in New Haven, no matter their political connections or backgrounds, have the opportunities to thrive."
Beside him sits his match: incumbent Mayor Toni Harp as the readiest, most on-point version of herself. Going into the night, it seems she's read up on her own backstory, and is ready to talk about her record. She has oft-repeated refrains that stick: New Haven needs someone "who makes the hard decisions, and I have made them." She's ready to fight, and the audience can almost smell it.
Three mayoral terms into the role, she's also developed a strategy for keeping it: convince the audience, however true it may or may not be, that Elicker is an out-of-touch white kid from a wealthy neighborhood who isn't ready for this job. That this race is a matter of rich and poor he can't completely understand because of a home in the city's East Rock neighborhood.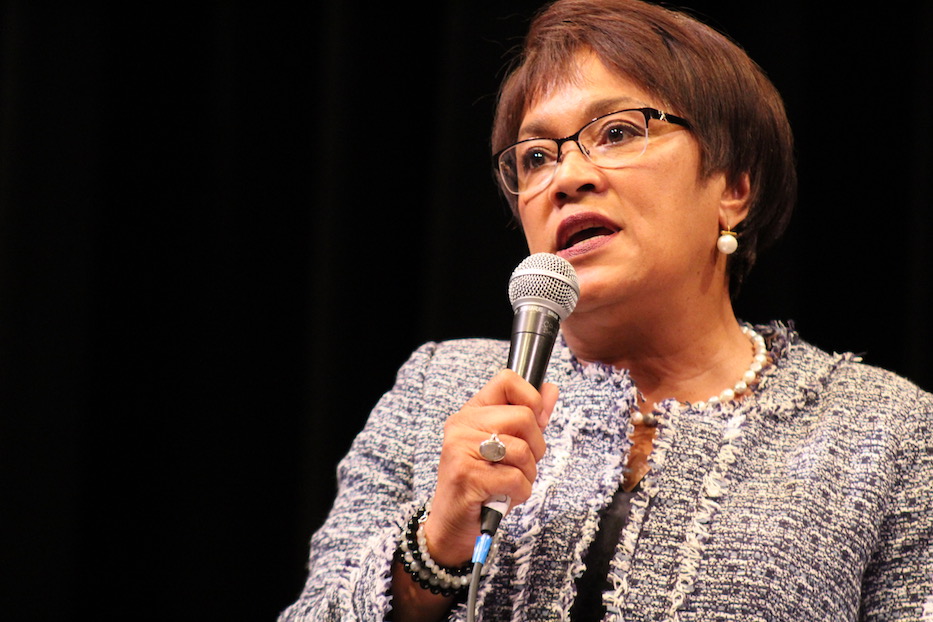 It feels like a tenuous claim, but she sticks to it. In two particularly surprising monologues, she is able to flip her opponent's stance on clean elections and Elicker's Spanish-speaking skills on their head.
"What Justin demonstrated is how difficult it must be if you don't speak the language that people are speaking," she delivers in one zinger of several embedded in the script. It doesn't feel entirely fair, but it lands anyway.
In another , she sidesteps discussion of contributions to her own campaign to paint public financing and clean elections as a system that only rich New Haveners can take part in (read more about that here).
"I'm so disappointed in what the mayor just said," Elicker responds. "... This is not dividing us, or saying that it's a rich or poor thing. This is about good governance, and making sure that my campaign is driven by the City of New Haven."
Yes, the audience realizes. They've arrived at a party where the tea is served piping hot.
But just when audiences think The Great Debate is a drama, the comedy hits. In this show, onlookers have the chance to see just how much the two candidates have in common, even though only one of them can get the next big lead role. They are, for instance, both staunchly opposed to greater oversight from a Municipal Accountability Review Board, which would give the state more control of New Haven in return for increased state funding.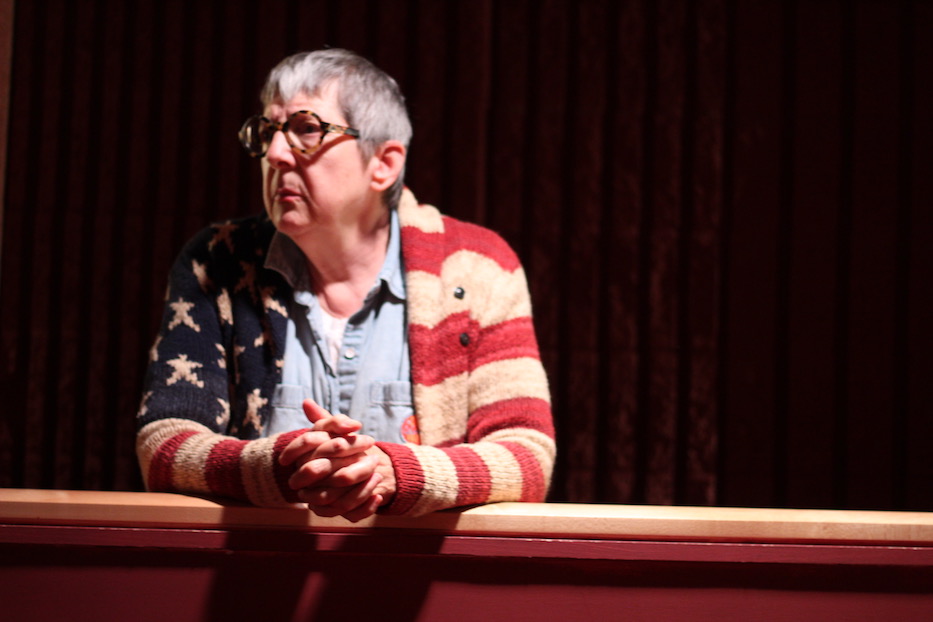 They are both all about equitable opportunity zones and sanctuary policy, although they don't completely agree on what to get there. They're ready to talk about the city's municipal airport, although only one of them brings climate change into it.
They don't like the current occupant of the White House, and have a working plan for countering white supremacy in New Haven. They like community policing, although that part of the script needs a little ironing out, because it's not clear what it is. Chorus members, keeping these similarities contained, slip in enough questions to make clear that Spanish aside, neither knows the difference between Hispanic and Latino, and the word Latinx isn't even on the table.
The problem is, they go so deep on the comedy of it that there's little time left to explore the play beyond its surface layers. There are radically different views of municipal government lurking there, but the audience doesn't get to see them fully, and walks away less informed because of it. The candidates tiptoe and suggest that they're getting there, pulling the curtain back and trading barbs on taxes ("look, my opponent hasn't had to make those kinds of decisions," Harp snaps at one point), affordable housing and ethics in the city.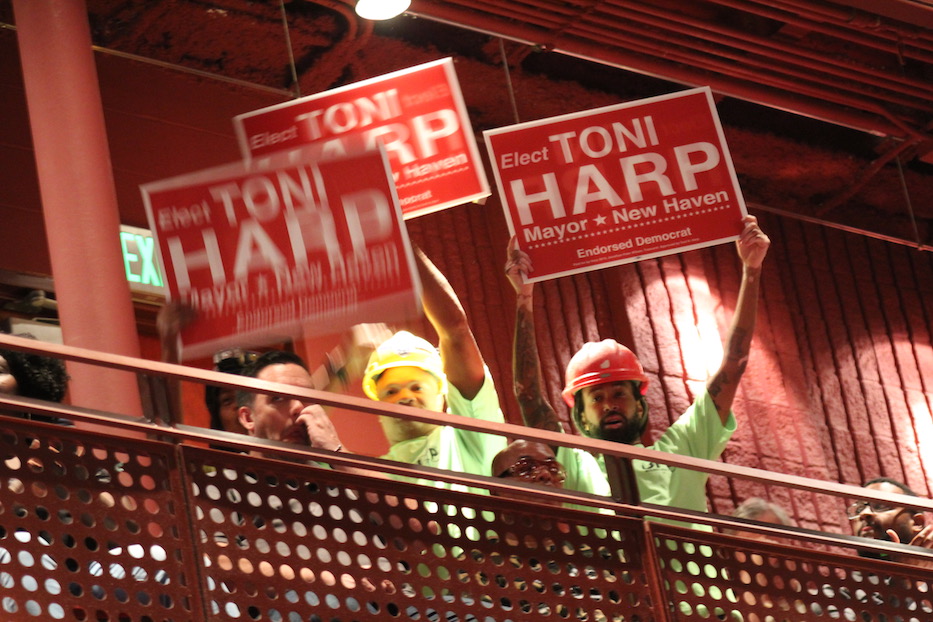 But nowhere in the script is the city's Board of Education, out-to-lunch Health Department, broken public transit system (which Harp herself has called a civil rights issue) or more information on how the city is going to tackle climate change on the heels of a newly passed referendum. Or, alternately, what Elicker will do step-by-step to fix any of them. It's regional theater that doesn't want to give too much away: the audience gets to chew on taxes, zoning, campaign finance and class-based personal attacks, but they never learn how on earth these two are going to fix the biggest problems in the city.
Someone, offstage, has decided that would require too much of their energy. It's not the cabaret, it seems as the curtain closes, that informed theater-goers deserve. Maybe it won't be the encore either.
And yet, the play is still a knockout. The kind that makes you want to sleep through Tuesday, and wake up when it's all over.