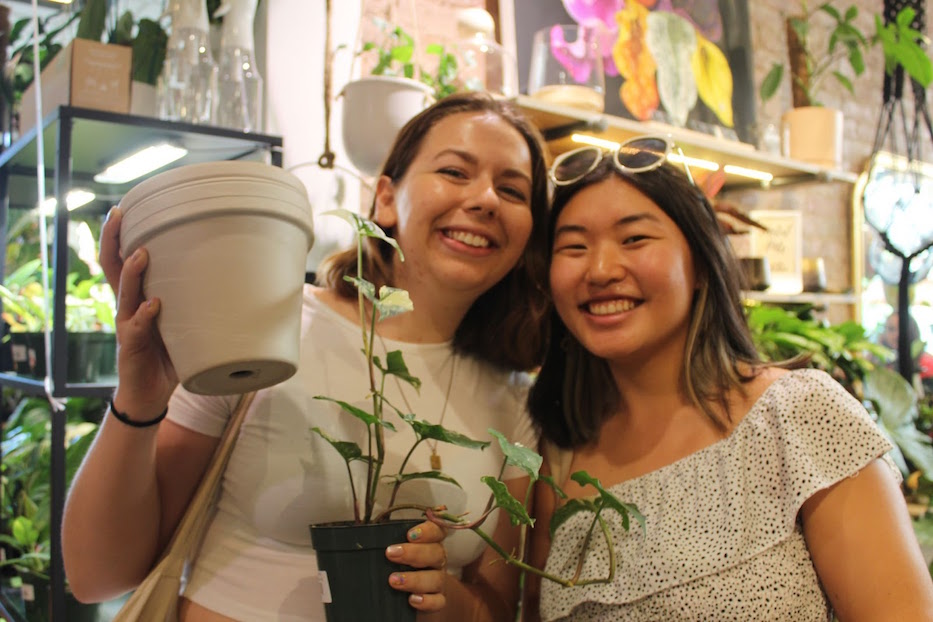 Culture & Community | Economic Development | Arts & Culture | Ninth Square | Youth Arts Journalism Initiative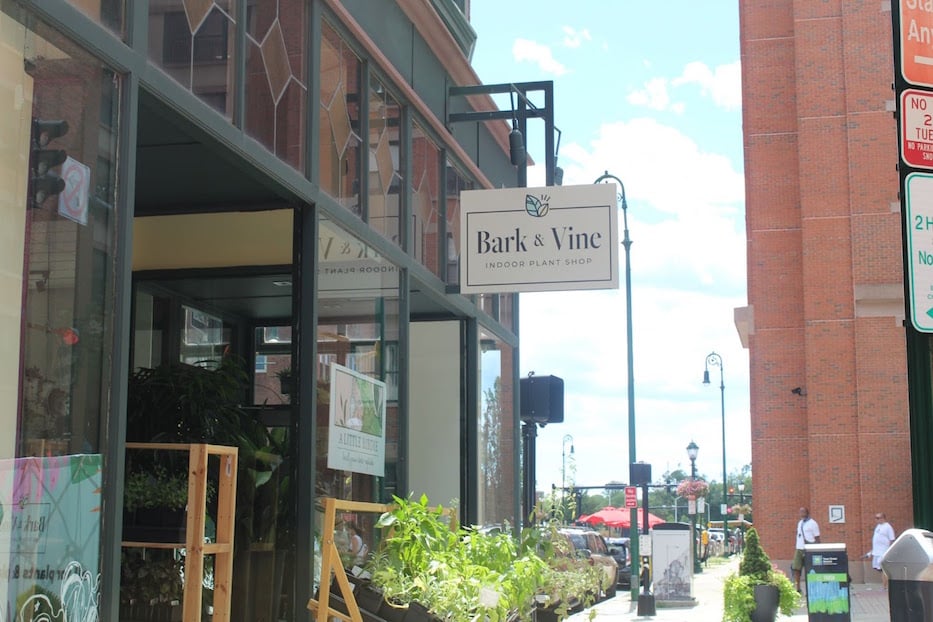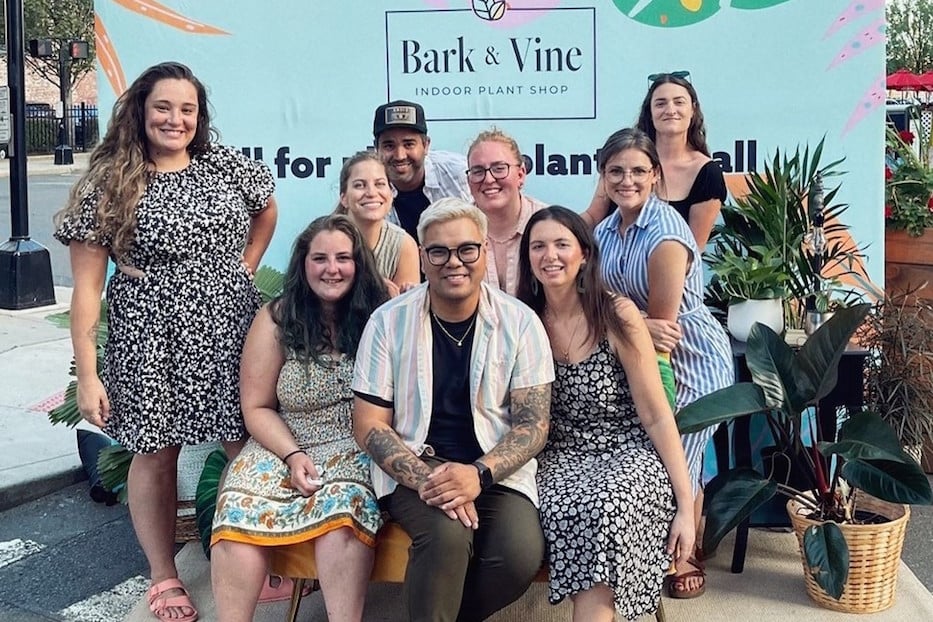 Top: Bark & Vine. Abiba Biao Photo. Bottom: Saldi and the Bark & Vine Fam. Contributed Photo.
A monstera plant spread its leaves toward the midday sun. Music from Model Decoy coasted over the street. People browsed the selection of handmade jewelry from The8thElementt and other street vendors as plants took center stage.
Orange Street welcomed both plants and people Saturday, as Bark & Vine rang in its first anniversary at the corner of Orange and Crown Streets in New Haven's Ninth Square neighborhood. While owners Ralph Saldi and his husband Luis Galindo first opened their doors in February 2021, they postponed an anniversary celebration until July to celebrate with everyone under the warm summer sun.
"We've always wanted to be more than just a plant store," Saldi said during brief remarks outside on Orange Street. "The biggest question we asked ourselves was how can we bring— see I'm getting emotional," he said, pausing to wipe a tear from his eye.
"How can we bring back communities and families after what we experienced in 2020?"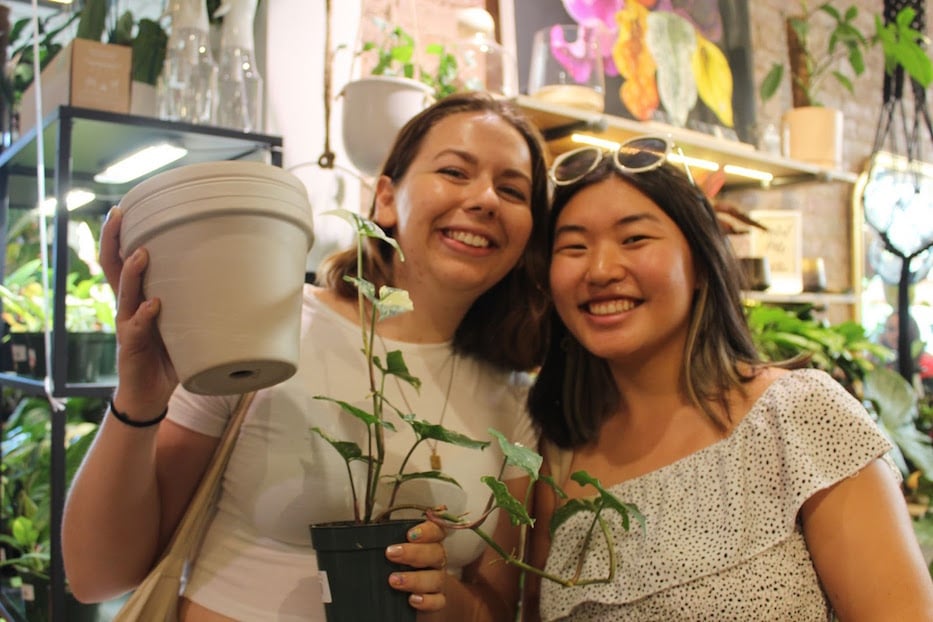 Friends and roommates Audrey Steinkamp and Michelle Tong. Abiba Biao Photo.
In a little over a year, the store has become a magnet for biophiles, who often find themselves weaving through its crowded, green-studded floor plan to find the plant, pot, or green-thumbed accoutrement that is right for them. Saturday, the store's 20 percent sale on houseplants came at the perfect time for New Havener Audrey Steinkamp, who needed to restock on plants after several died while she was on a trip. An office assistant in prints and drawings at the Yale University Art Gallery, she advised new plant parents to stay away from succulents.
Her roommate Michelle Tong was also on the hunt for houseplants. While Tong works for the landscape architects Reed Hilderbrand, she said that it's "a different set of skills than houseplants." Tong's favorite plant is the nerve plant or Fittonia because of its dramatic nature. Tong uses its behavior as a guide to care for her other plants.
"When it needs water it just absolutely faints and it's like my signal plant for watering all my other plants, which is great, because then I have a visual cue of 'alright it's time to feed them,'" she said.
Steinkamp, on the other hand, prefers the neon yellow Pothos or lemon-lime philodendron because of their luscious bright green. "I think it adds a lot of like fun color and my favorite color is yellow," she said. Tong recommended Pathos as beginner plants.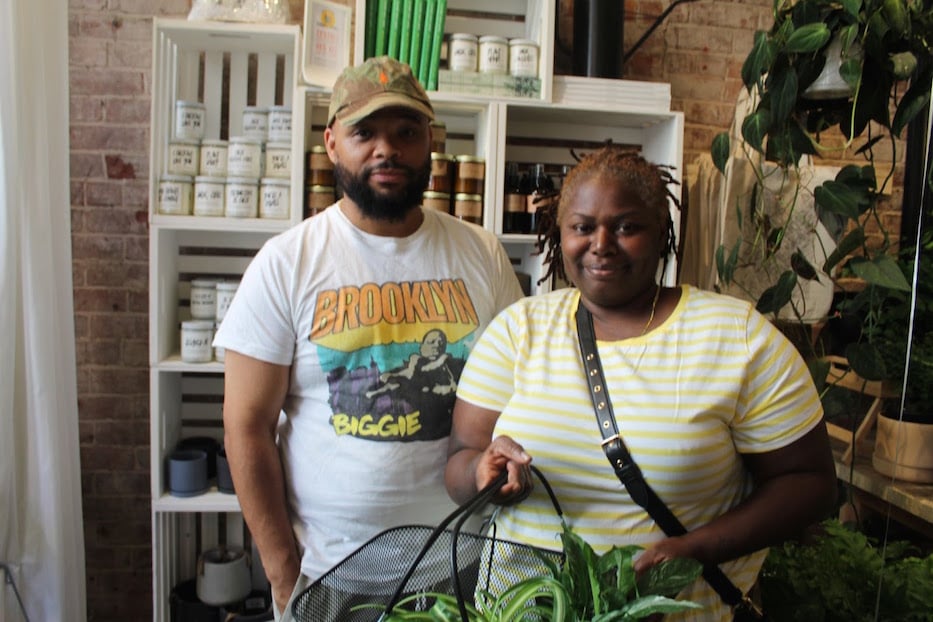 Cody Adams and Annette Edwards. Abiba Biao Photo.
Attendee Cody Adams got into gardening through his mother. After caring for a peace lily, he started to dive into it more during quarantine. He's now trying to pass on his green thumb onto Annette Edwards and add to his collection of over 100 plants.
Adams said that people shouldn't strive for perfection when planting, and should learn from their mistakes. "If you kill a plant don't worry about it. Even experts kill plants so you'll figure it out," he said
Adams advised beginners to start off with snake plants because they "thrive off neglect" and are "hard to kill." The most common way beginners kill snake plants is through overwatering, so he advised people to be wary of that.
Edwards' plant mom aspirations start with a simple goal: avoid killing her plants. She hopes to sustain them for as long as possible— something that'll be easier with Adams' guidance.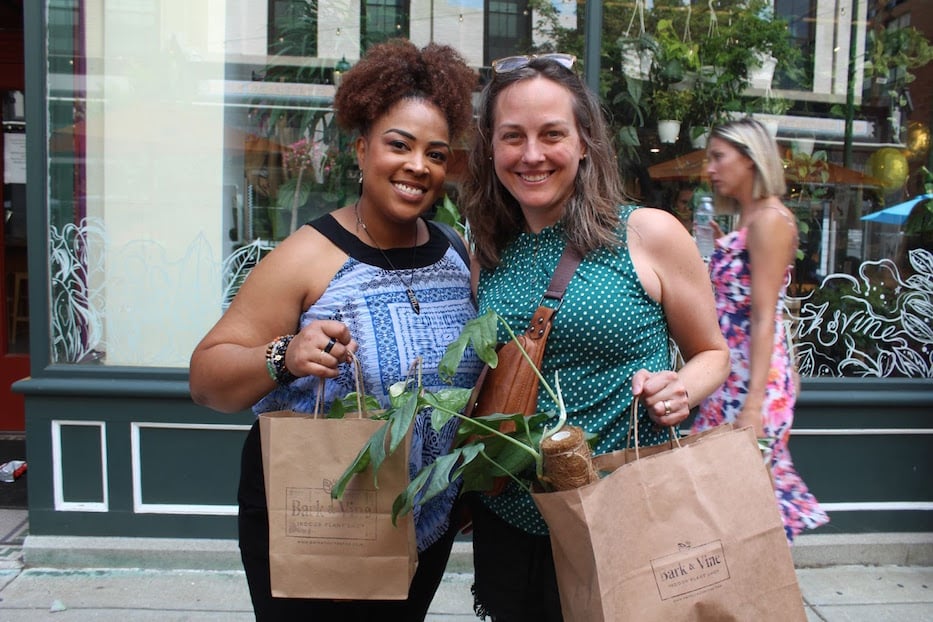 Tanisha Baptiste and Valerie Fortney. Abiba Biao Photo.
Tanisha Baptiste and Valerie Fortney first met at a Zumba class, but discovered each other's love for plants through their plant pictures on Facebook and Instagram. It created their unbreakable bond and friendship, they said.
"The first time I went into Bark & Vine I said I wanted to move in, just like live there," Baptitse said.
Bark & Vine has a wide selection of rare plants, flora which are not native to the region and are thus harder to find and more expensive.
"They're not necessarily domestic, a lot of them have to be imported and then regrown to what we call propagate them and regrow them just to create a presence in this area," Baptiste said.
Baptiste first got into horticulture when she moved into her current house from her apartment and had a larger space to work with. Her hobby fueled a resourceful attitude, se said. She repurposed bookshelves and cabinets to contain sprouts and pots, even decorating her home office with rare plants.
Fortney's plant craze all started with a Bird of Paradise plant, and led to her search for plants to create a tropical ambiance in her house.
"You learn how to water them properly and you learn what proper soil is and then suddenly everything's working out," she said.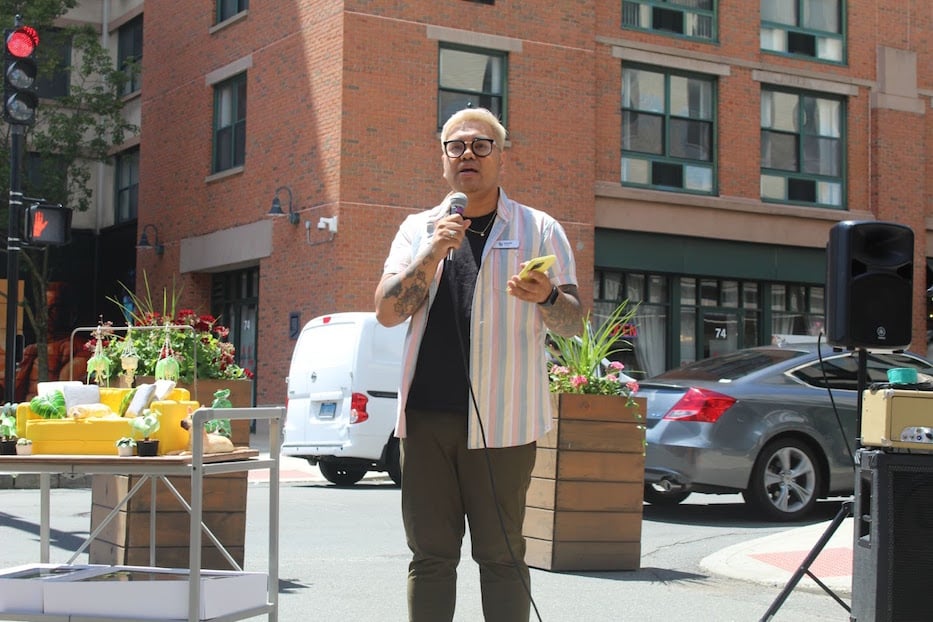 Saldi: Abiba Biao Photo."This yellow couch says that we have space for everyone."
Back on Orange Street, Saldi said the inspiration to start Bark and Vine came from a mix of support from Galindo, an aloe vera plant, and plentiful amount of time he had during quarantine. This bud of an idea blossomed into a full flower, fueling a thriving plant community in New Haven.
"We wanted to create a space where people could safely leave their indoor home and find themselves in an indoor paradise to be amongst other people who love plants and to be a host for a new journey in their life which involves plants and garden," Saldi said.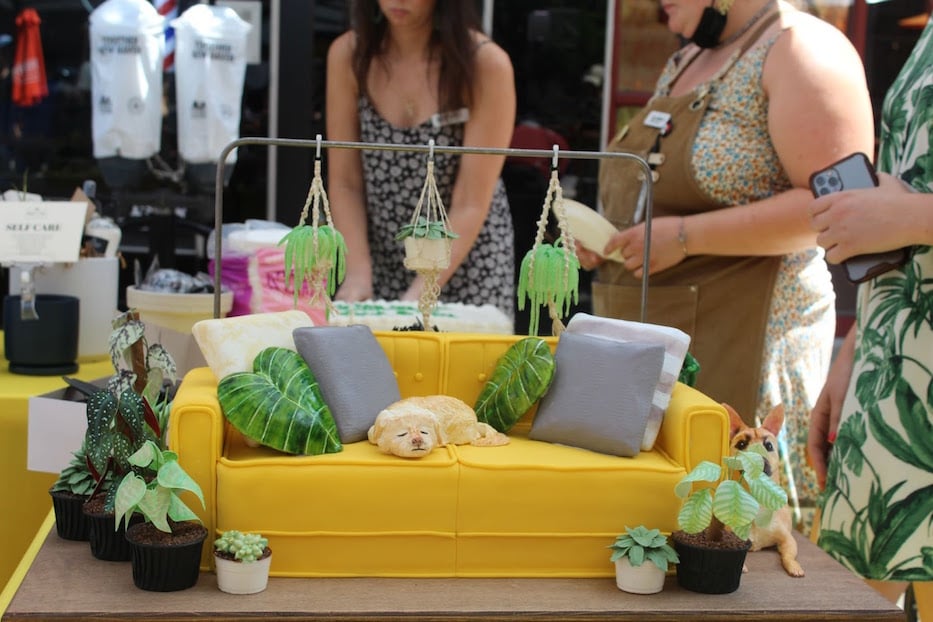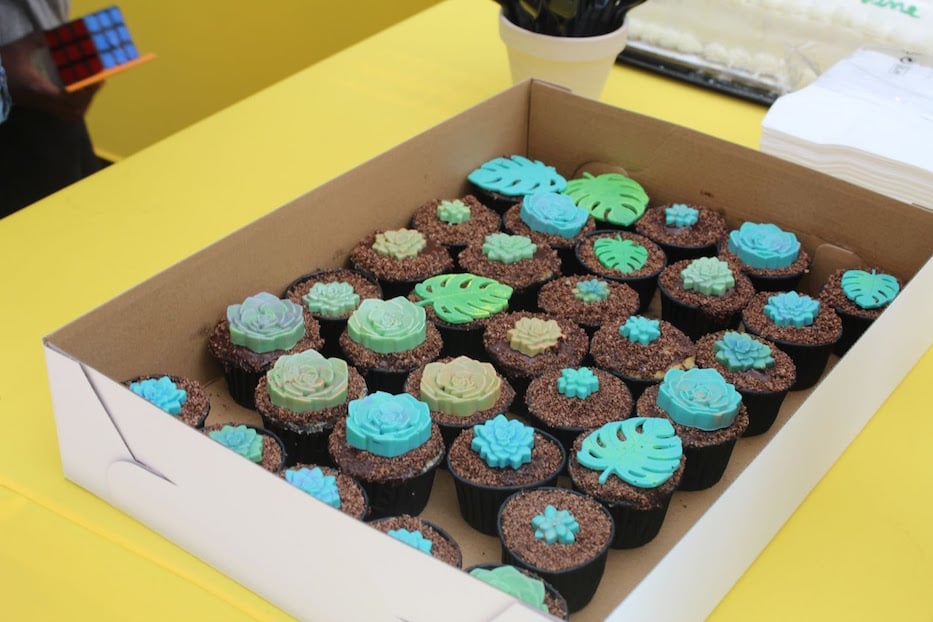 Top: An edible cake showpiece featuring the sofa in Bark and Vine with assorted houseplants around it. Bottom: Cupcakes decorated as succulents. Abiba Biao Photo.
"And this cake truly represents everything that we believe in," Saldi continued, gesturing towards a rack filled with succulent themed cupcakes and a detailed rendering of the store's couch by Meghan Qualey. "This yellow couch says that we have space for everyone."
The show piece was an edible cake, with the couch made from yellow fondant cake with chocolate frosting. The pillows and two dogs, Coco and Moss, were made from Rice Krispie treats covered in modeling chocolate.
Saldi ended on a note of gratitude shouting out his staff, community, and patrons.
"Whether you found us on day one or it's your first time here in our neighborhood, thank you for your love and admiration for Bark & Vine which gives us really an indescribable feeling that I wish everyone gets to experience when you fully live out your dreams."
This piece comes to the Arts Paper through the summer extension of the fifth annual Youth Arts Journalism Initiative (YAJI), a program of the Arts Council of Greater New Haven. Read more about the program here or by checking out the "YAJI" tag. Abiba Biao is a newly-minted graduate of Achievement First Amistad High School and will begin her freshman year at Southern Connecticut State University in the fall.