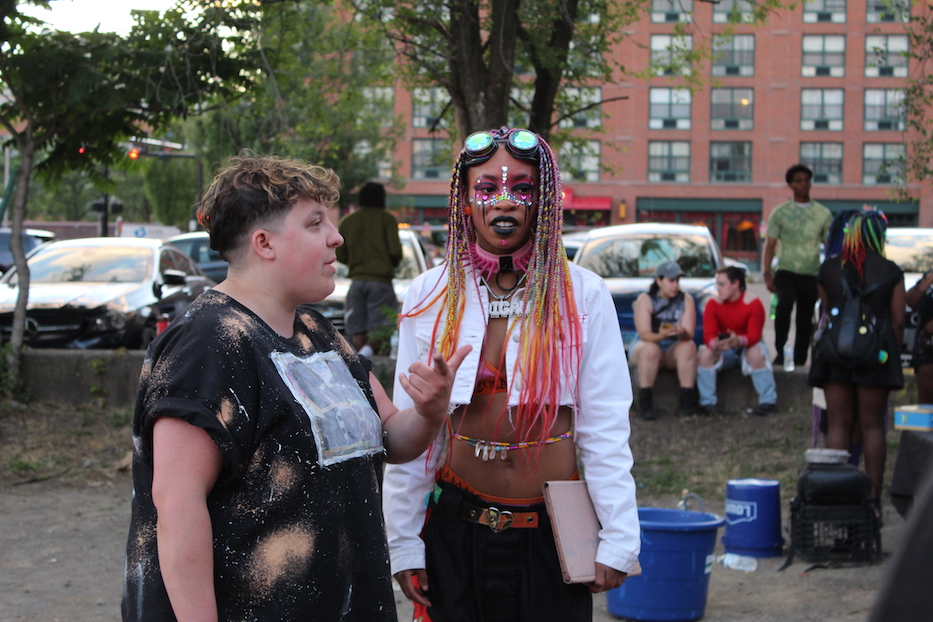 Arts & Culture | Arts & Anti-racism | Punq Noire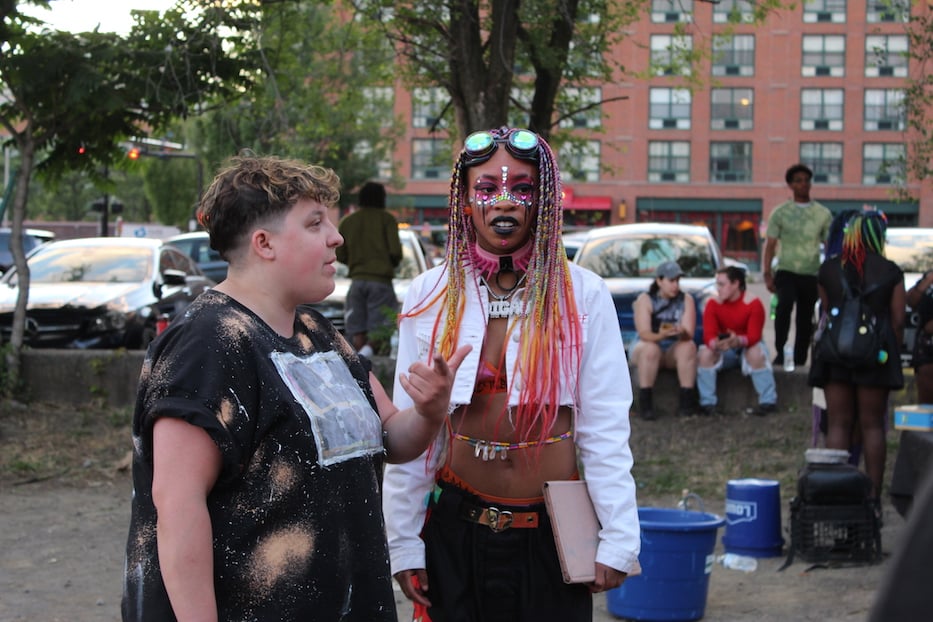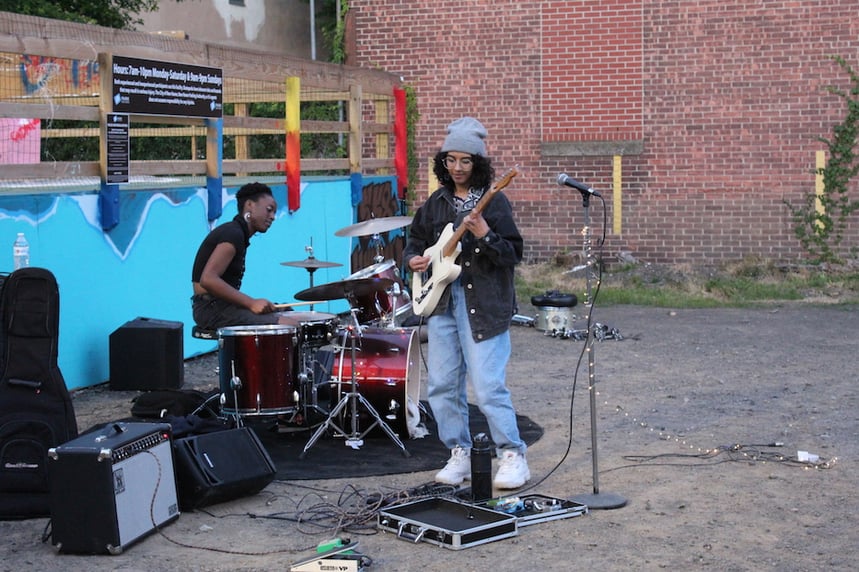 Top: Organizer Dyme Ellis. Bottom: Lamb performs. Al Larriva-Latt Photos.
A gaggle of teens and twenty-somethings started closing in on each other. Their bodies connected, then they bounced off each other, exploding with rhythm. Long purple braids, butterfly hair clips, and pastel platform shoes flashed from the mosh pit. So did gender-defying voices, outfits, and bodies. Elbows tucked in, heavier and taller bodies on the outsides, they were careful not to injure one another.
The lead singer of the second act, ammar, had asked for a mosh pit, and the crowd had answered.
Last Sunday from noon to eight, three public areas in downtown New Haven played host to the first Punq Noir festival, spearheaded by New Haven-based musician, poet, and performer Dyme Ellis (also known as Indigaux). The eight-hour festival included a drag king performance, flash tattoos, two documentary screenings, a fashion show, vendors, and four acts of live music. It centered Black punk artists and musicians.
"We're just saying that we're here and that we are deserving of space—whether that's like physical space and taking up mass in an area or just like being heard and taking up space in other people's minds," Ellis said in a phone conversation on Tuesday. They added that the fashion show was their favorite part of the festival.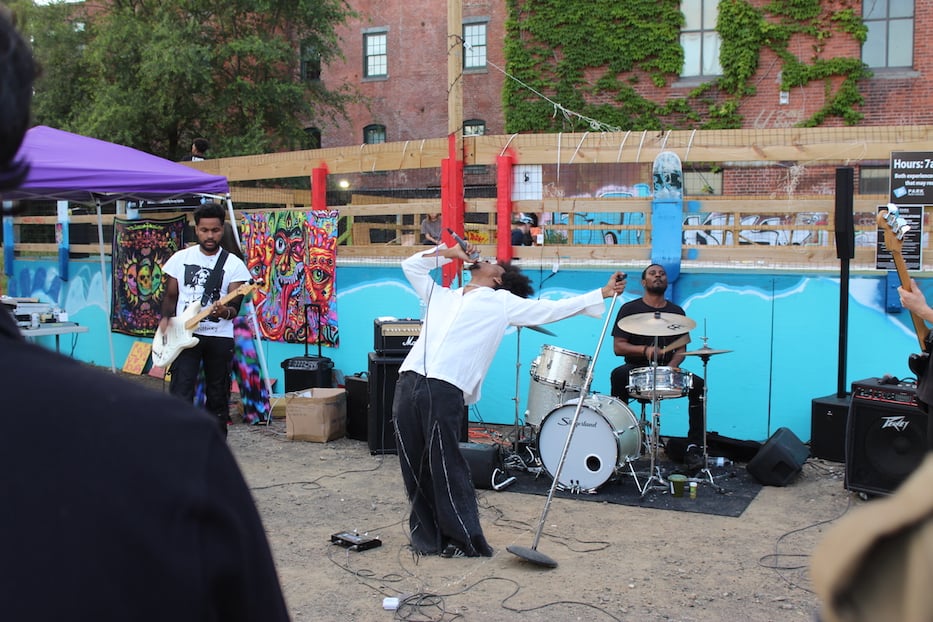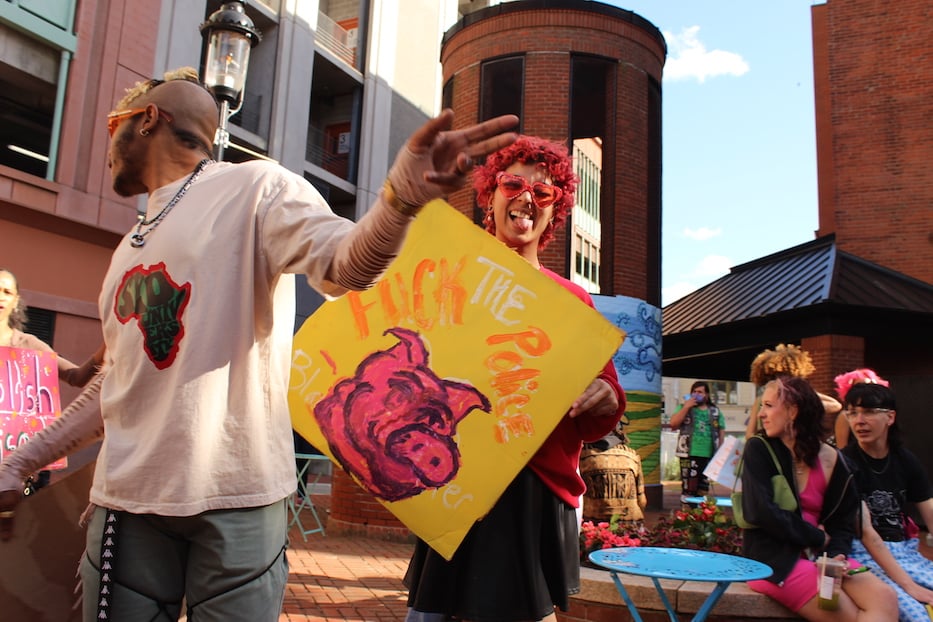 Top: ammar, who declined to give her last name, emotes during her set. Bottom: The scene at Pitkin Plaza.
The event was entirely crowdfunded, with sponsorship from Artspace New Haven and Peer Pride, who provided material resources. A number of imaginative fundraising events, including a spoken word event and a skateboarding and roller skate scavenger hunt, preceded the festival. The New Haveners Nox Amore, Nature, and Steve Roberts of Finding A Line were instrumental to the organizing, Ellis said.
Around 3 p.m., wind rushed through the downtown corridor of Orange St. in front of Artspace where Nox Amore (a.k.a. Annissa Carter) of their small business Wrap Artist Gems was set up, vending handmade, occult jewelry topped with crystals and gemstones. Beside them was Astro Abusten, a Wethersfield-based artist headed to MassArt this fall to continue his undergraduate education in illustration. A blue, white, and pink trans flag was spread across his table.
His friend Jorge Braggi of Massachusetts was sitting next to him, helping sell prints and Kpop trading cards (members of the bands MONSTA X and Stray Kids filled the plastic sheets of the trading card binder). The most popular items of the day were notebook-sized prints of a Kawaii-style cat with rounded ears and wide eyes, who meowed a sheepish "Hewwo!" at the viewer. Another hot seller was a plastic etching of wild mushrooms.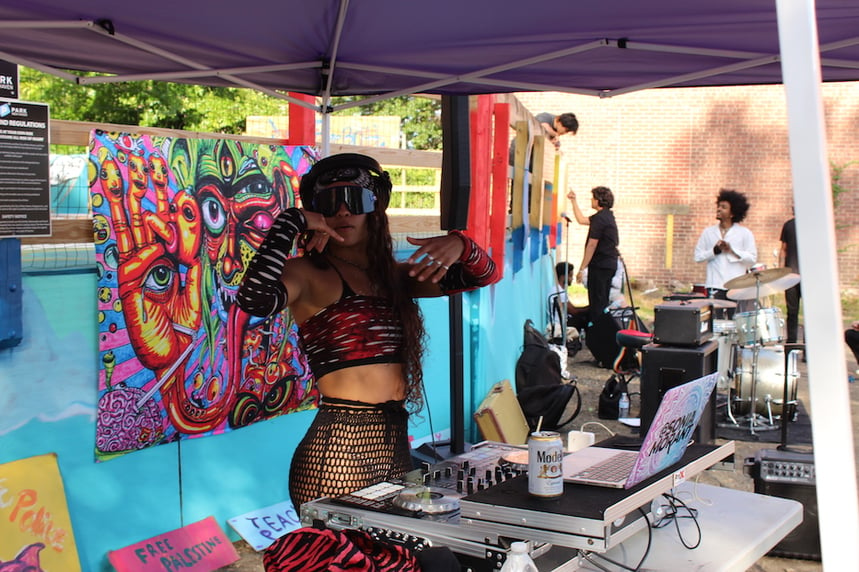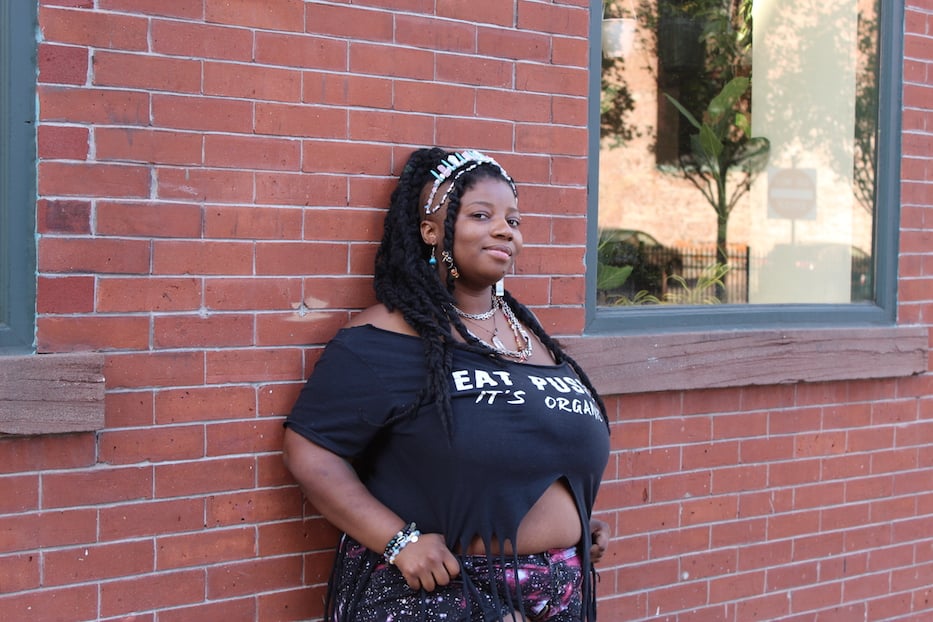 Top: DJ Sonia Morant. Bottom: Nox Amore.
For Amore, who is New Haven born and raised, the event was distinct from other punk spaces in New Haven because it centered around people like them.
"There's a certain amount of authenticity that comes with letting it all out. Being like—I'm here, I'm punk, I'm queer, I'm Black. Let's make a festival specifically for us," Amore said.
Here on the corner of Orange St. and Crown St., Amore was their wild, authentic self, bedecked in a pink, blue, and white diadem crown—another throwback to the trans flag—and a shirt that read, "Eat Pussy It's Organic."
"It's a great vision. There's not a lot of stuff that caters to this specific audience. And to make that space on Juneteenth of all days feels really good," Amore continued.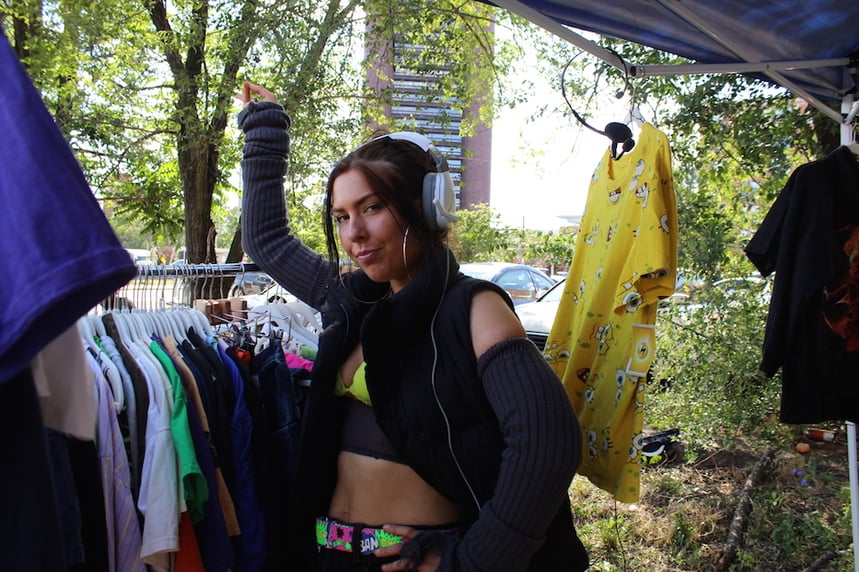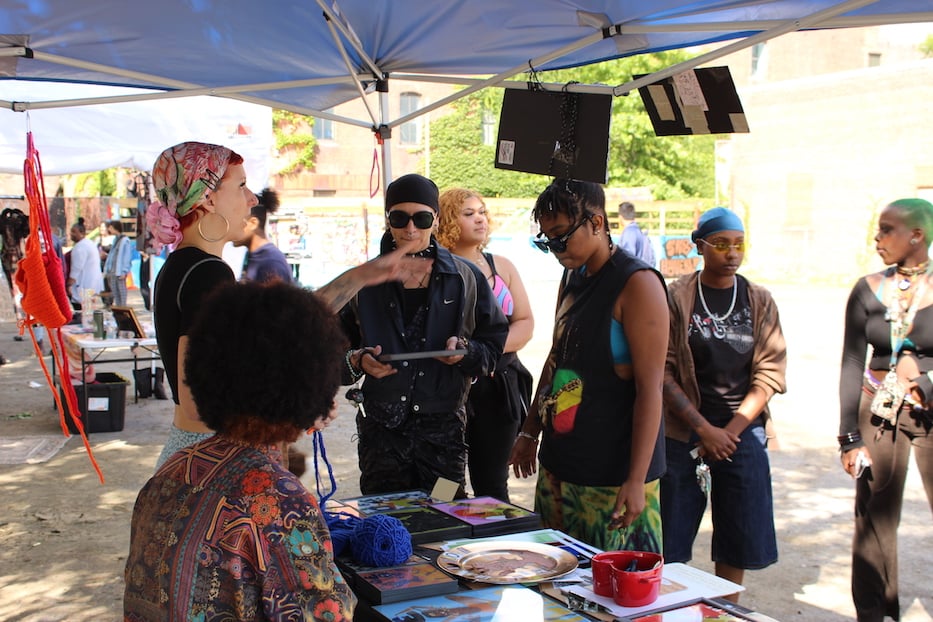 Top: Kayla Hansen of The Nostalgik Space. Bottom: Staché Jones and Kamryn Surprenant.
Three blocks away at the dirt lot on George St., local skateboarders rocked on the lip of the one-year old bowl, installed last fall during Artspace New Haven's Open Source Festival. Kamryn Surprenant and Staché Jones, who are romantic partners and artistic collaborators, were getting attention from a handful of attendees, who pressed close to the table where Surprenant's prints were laid out.
A New Havener in an electric green dress stopped by to check out the booth. She'd just come back from a birthday lunch of fried chicken and the rest of her party was still in the car, deep in digestion—but she couldn't wait to check out the activity. She lingered over the multi-dimensional, multi-colored digital collage of the four jazz greats Charles Mingus, Roy Haynes, Charlie Parker, and Thelonious Monk. The repeating color blocks seemed to capture the complexity and repetition of their music.
The fashion show strutted by in a flurry, costumed in Afro-centric streetwear by Syd University, a New Haven-based designer. Over a dozen people deep, the group surged across a multi-street urban catwalk from Strangeways to George St., holding signs that affirmed their existence as Back and Brown, trans, nonbinary, and queer people.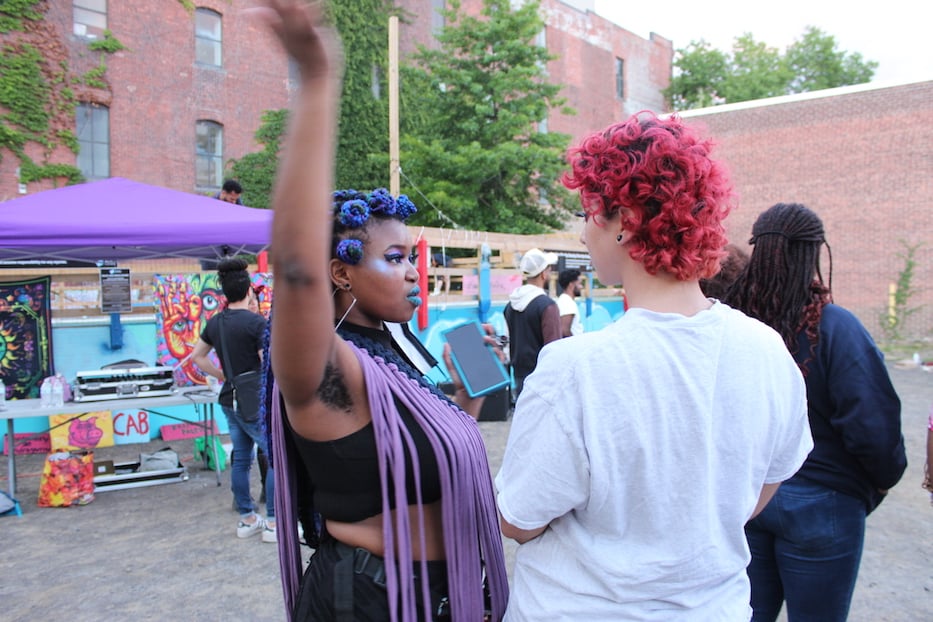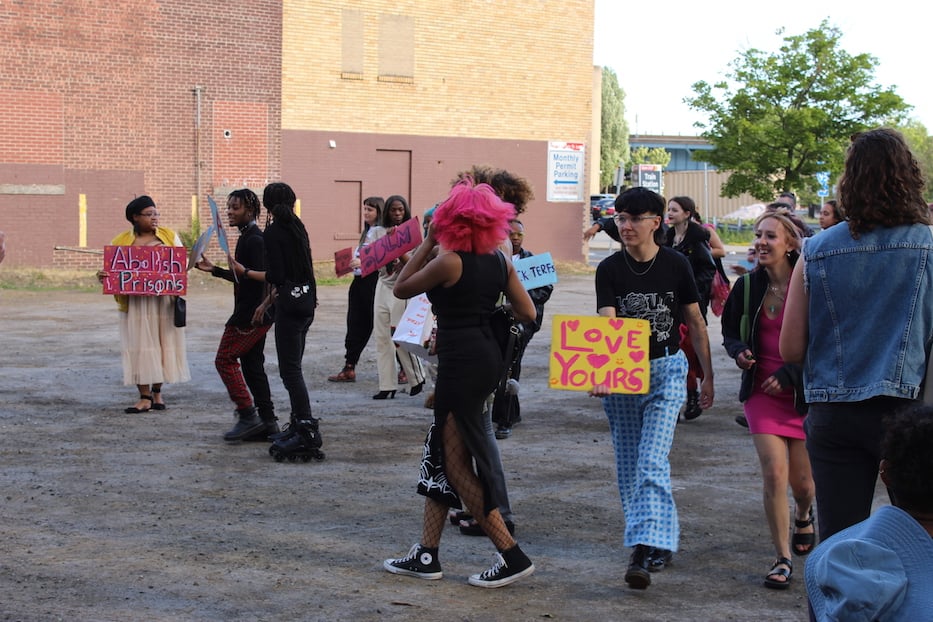 Top: Purple braids and tassels. Bottom: The fashion show arrives at George Street.
"Nonbinary ≠ Androgeny," one read on a rectangular sliver of cardboard painted dark red. "Trans Men Don't Owe You Masculinity," another called out. As they crossed the intersection of Chapel St. and Orange St. and the afternoon light glinted off their outfits, the throng of cars seemed to suspend in motion. They were claiming their space.
Deep in the mix was Ellis. In nylon parachute pants topped with a cropped white leather jacket, they felt like a festival fairy, they later said. They glided across the intersection in pastel pink platform combat boots, boosting their height by half an foot. Not only were they celebrating Juneteenth; it was also their birthday.
The sun began to set on George St. and the party continued, deep in celebration of Black and queer love.
Punq Noire "achieved its mission for the day of connecting artists and giving them a safe environment to pretty much uplift their art, love each other, earn money, and promote love," Ellis said.
Stay connected with Punq Noire here, and be on the lookout for a Punq Noir afterparty this fall.