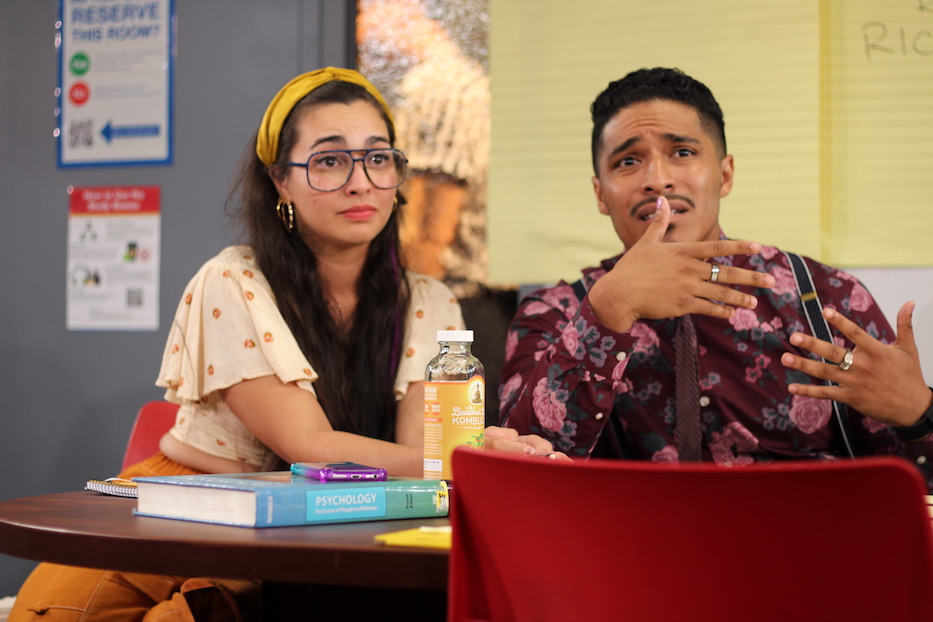 Arts & Culture | Theater | Yale Summer Cabaret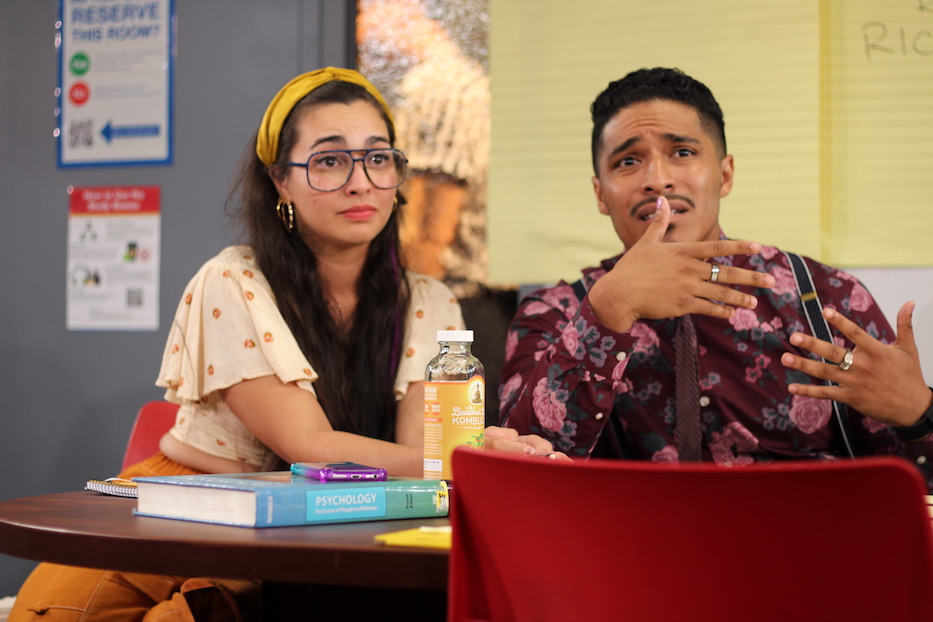 Jackeline Torres Cortés as Monica and Robert Hart as Xavier in Latinos Who Look Like Ricky Martin.
Lucy Gellman Photos.
Do all Latinos like empanadas? What about quesadillas? Tacos? Are tacos even in the running?
Have all of them heard of Selena Quintanilla? What about Selena Gomez?
Are they more authentically Latinx the darker their skin? What if they don't speak Spanish? Can Spanglish be someone's brand?
Those questions—and so many others—come to the Yale Summer Cabaret in Latinos Who Look Like Ricky Martin, the fourth and final play of this year's Verano season. After a summer exploring what it means to be Latinx on and off stage, the artistic team is closing with a comedy that is as bitter and timely as it is sharply funny.
The play runs Aug. 8-10 and 14-17 at the Cab's Park Street theater. Tickets and more information are available here.
"We looked at a lot [of plays] before we actually settled on this, but it also felt like it worked dramaturgically in terms of the scope," said director Jecamiah M. Ybañez at a final dress rehearsal Wednesday night. "We go all the way from the origins of theater to something that's super, super contemporary."
Written by Emilio Rodriguez in 2012, Latinos Who Look Like Ricky Martin is a sort of absurdist drama nestled neatly within a comedy. Set entirely in a community room at a liberal arts college, the play begins as Xavier (Robert Hart) and Monica (Jackeline Torres Cortés) arrive at a meeting of the Latinx Student Union, wait for new faces, and realize they are the only remaining members. At first they are friendly: banter is quick and snappy, revealing the story of two people who have learned to trust each other over time.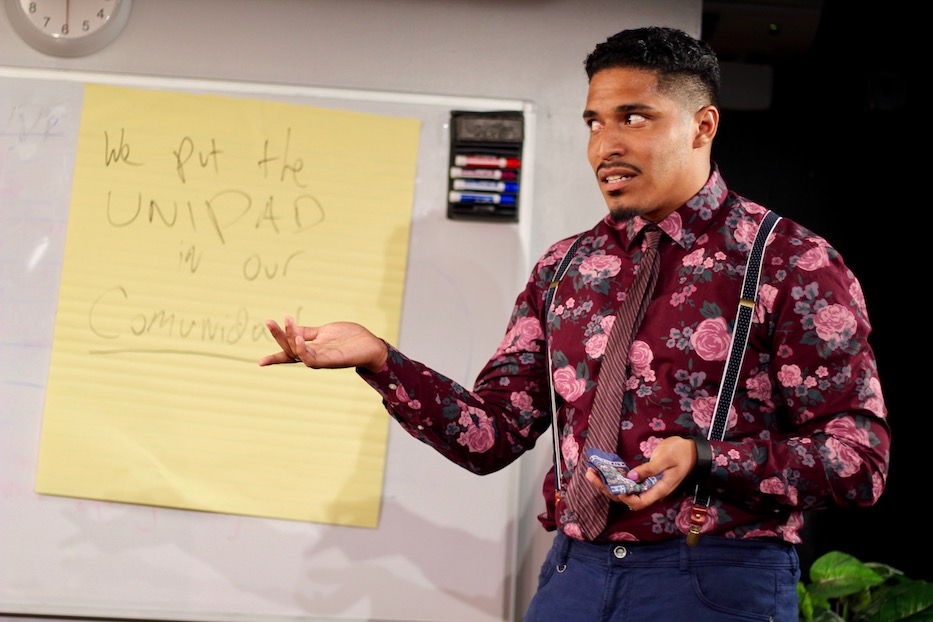 But something's off too. It's the very beginning of senior year, and the two are dealing with the aftermath of a hate crime on campus, in which someone has written "Vete de tu pais"—"Go Back To Your Country"—in big, red spray painted letters on a campus wall. Which seems like it could be the biggest problem of the day, except they also have no new members, are behind on a fall fundraiser, and have to elect a new president.
Start the clock on the play's central conflict, which is actually much bigger than one room on one campus. Both students are qualified to run the group, but have radically different ideas of what they want it to be. Xavier doesn't speak Spanish and has a very visible chip on his shoulder about it, but is committed to raising the union's social justice mission. Monica is more interested in having the union be a place where students can be in community with each other, without the specific pressures of having to prove anything.
When an ostensibly new student member Isaac (Dario Ladani Sanchez) walks through the door, they do exactly what college students (and grown humans too, for that matter) might in real life: try to out-Latinx each other to make a point.
Which, of course, is where the cheeky, comedic rubber hits the road, and becomes a statement about so much more than a student union. Xavier is so righteous about the ravages of colonialism that he doesn't consider students Latinx if they are also white-passing or white-adjacent, because it means they have white ancestry. He scoffs at leaving literature Starbucks ("Latinos don't drink coffee!") but is all about the nearby laundromats. He shrugs off quesadillas and tacos as potential sources of revenue.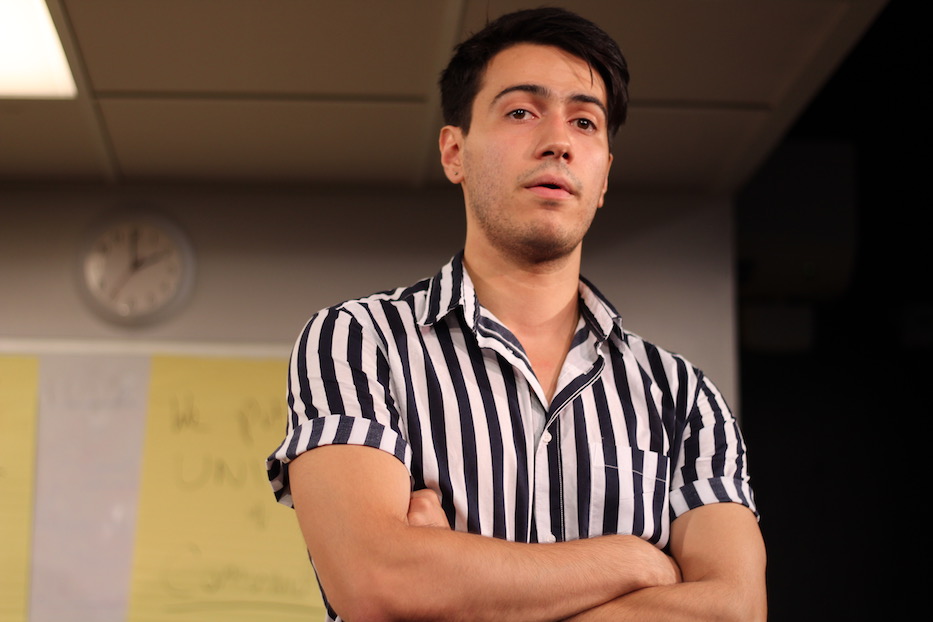 Dario Ladani Sanchez as Isaac in Latinos Who Look Like Ricky Martin.
The shade goes both ways: Monica and Isaac want to know what it means if the president of the Latinx Student Union can't speak Spanish. Or how far the limits of one's Brown-ness actually go. Or whether they get so much trauma everywhere else that they don't need to bring it inside. The longer the three talk, the more obvious their own internalized -isms, which include telling all Asian students that empanadas taste like egg rolls, themselves a product of Americanized Chinese food in 1930s New York.
Performed in the heart of a liberal arts institution, it gets the college vibe absolutely right and then works outward, extending its message to a wider audience. Between identity politics, intense existential woe, romantic hangups and terrible poetry, students race to problematize everything except their own beliefs. They talk past each other. They are so bent on growing into adulthood that they forget to be 21 and ridiculous. They compete to see whose identity is most compelling. Which sounds kind of familiar.
"We have so much information now that you have to just be mindful of the multiplicity of a diaspora," said Ybañez. "Not just for the Latinx community, but communities as a whole. It's this sort of, 'are you blank enough?' And I'm just curious about—why is this conversation persistent in so many communities? What are we actually trying to do? What is it that we need when we try to measure that?"
In the midst of an administration that enables on xenophobia, racism, white supremacy and domestic terrorism, actors mine racial and ideological division for spot-on comedy. It's a joyful and surprisingly heavy task: actors engage directly with the shame, weight, and history of not speaking one's parental language, of not learning cultural tropes adequately enough for the approval of others, of having something to prove if they appear within the matrix of whiteness. Or as Hart deftly puts it, caucacity that may reach Demi Lovato levels of toxicity.
As Xavier, Hart is exactly as rigid and intense as the play needs him to be, bringing into being a full portrait of a character at once in love and uneasy with his identity, certain of and questioning the word around him. He is the character the audience gets to revile and then feel for deeply, watching as his defenses come down one by one, then fly back up again. Cortés is his perfect counter: seemingly lovable and lax, until she flips on the audience and surprises everyone in the room.
The work hits home on the eve of the city's annual Festival Puertorriqueño, in a summer that has seen the president tell four American members of Congress, all women of color, to "go back" to their countries of origin, celebrated the efficacy of protest in Puerto Rico (where the title's much-maligned character was photographed waving both the island's flag and the gay pride flag), and after an academic year Cab season that included Arturo Luis Soria's equally charged Novios: Part One.
In part, that's because Rodriguez has been sending the cast updated language for the show. But in part, it's also because some debates are still raging within communities seven years after the play was first written.
"I think it has to be a comedy," said Ybañez. "The ideas that are communicated by the play are loaded. And so the comedy gives us a little bit more sugar, so that we can take the medicine. But we still gotta take the medicine."
The Yale Summer Cabaret is led by Artistic Directors Danilo Gambini and Jecamiah M. Yabañez, Producing Director Estefani Castro and Managing Director Oakton Reynolds. Latinos Who Look Like Ricky Martin runs Aug. 8-10 and 14-17 at the Yale Cabaret, 217 Park St., New Haven. Tickets and more information are available here.