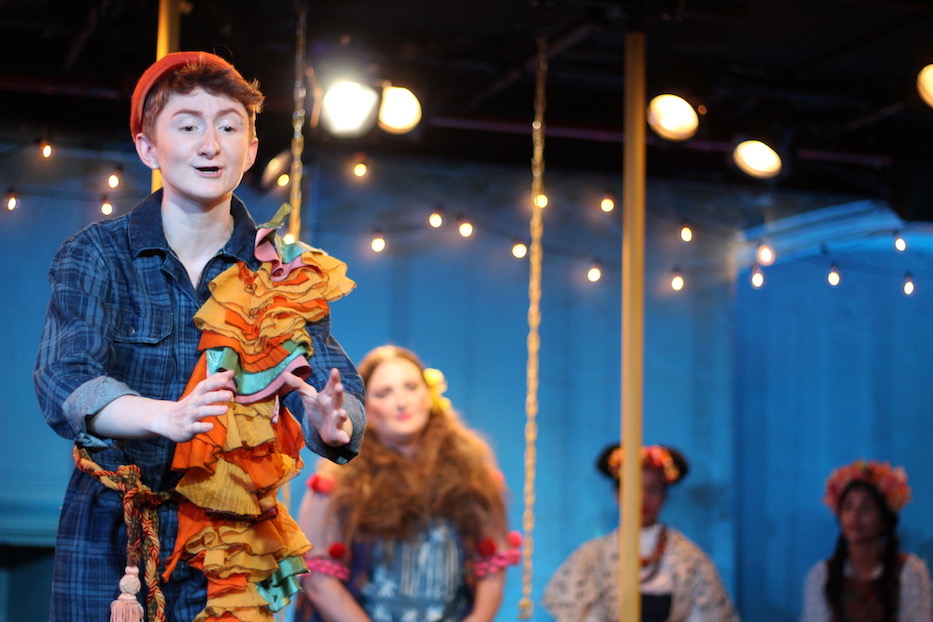 Arts & Culture | Theater | Yale Summer Cabaret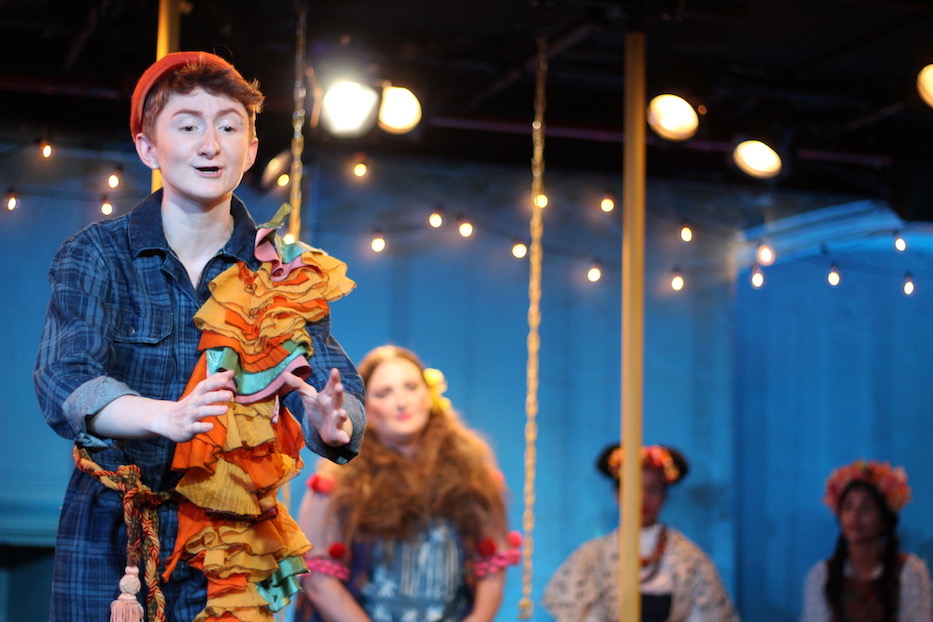 Reed Northrup in The Swallow and the Tomcat, which runs July 18-27 at the Yale Summer Cabaret. Lucy Gellman Photos.
First the Swallow throws twigs at the Tomcat, trying to get him to notice her. Then they strike up a conversation, and she rolls out a few barbs just to keep it interesting. Eventually they head out on the town—which happens to be park—and that's where the going gets good. And complicated. Very, very complicated.
Their messy, tender love propels The Swallow and the Tomcat, the third work in the Yale Summer Cabaret's 2019 "Verano Cabaret" season. An adaptation of Jorge Amado's children's novel of the same name, the play runs July 18-21 and 25-27 with multiple performances each day excepting Sunday. Originally published in Portuguese and translated into English in the 1970s, it includes a new translation from dramaturg Emily Sorensen and is directed by Danilo Gambini.
Like The Whale In The Hudson at the Yale Cabaret last year, the show is designed with young audiences in mind. Performances this weekend include an 11 a.m. showing on Friday, 5 p.m. on Saturday and 2 p.m. on Sunday. Tickets and more information are available here.
Zoe Mann and Anula Navlekar in The Swallow and the Tomcat, which runs July 18-27 at the Yale Summer Cabaret.
When The Swallow and the Tomcat begins, it's a fable within a fable, a narrative nesting doll just waiting to be undone. Cast members enter the stage in bright, richly decorated clothing that both channels Amado's Brazilian background (and the Latin American diaspora more broadly, it seems) and sends the audience into dream-verse, where one is suspended between this world and another. The Wind (Dario Ladani Sanchez) and the Morning (Adrienne Wells) bicker amicably, negotiating the terms that will get the world to wake.
They agree, and the story takes on a life of its own. Characters chatter and shape shift: there is the wise old Owl (Wells), a philosophizing, French-accented Toad (Anula Navlekar), particularly sensitive Cow (Dario Ladani Sanchez) and moralizing Priest Parrot (Julian Sanchez), who isn't particularly good at practicing what he preaches. In between scenes, they morph into additional characters, growing the sense of space and continuity that has been part of the park for so long.
All of them, it's clear, have a role in the park's delicate ecosystem, where like pairs with like—"dog with dog/cat with cat" and so forth, as the cast sings—to preserve the law of the land. And almost all of them fear the Tomcat (a dazzling Reed Northrup), who they've scapegoated for stealing eggs, trampling delicate flowers, and eating birds. Word on the street (or in the grass) is that he's evil, and they're sticking to it. Except Miss Swallow (Zoe Mann), who isn't sure those rumors are true after all and wants to find out for herself.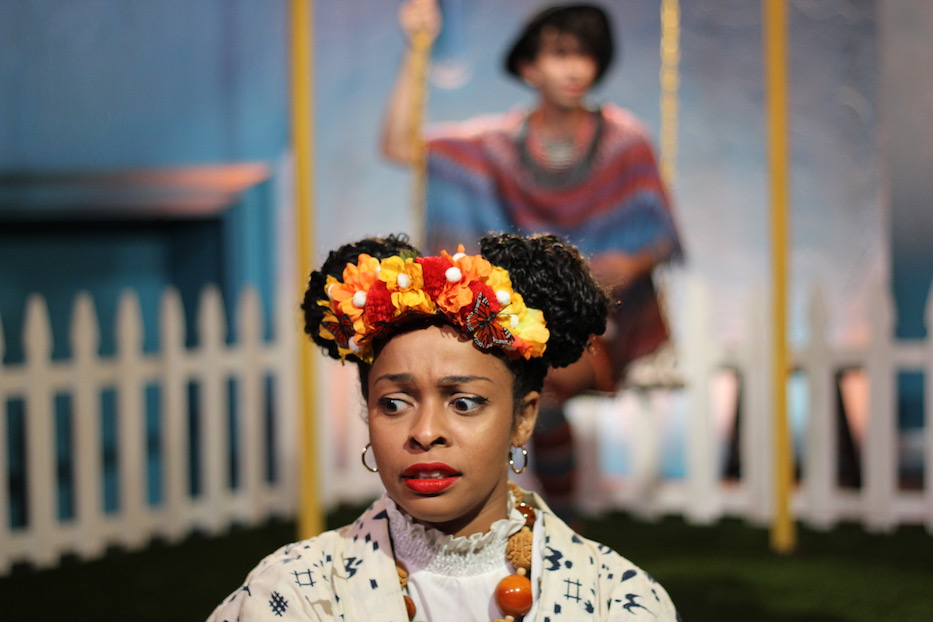 Adrienne Wells in The Swallow and the Tomcat, which runs July 18-27 at the Yale Summer Cabaret.
What makes this world successful is not just Amado's story but the ensemble and creative team that has brought it to life. The stakes are high—can the Swallow and the Tomcat love each other publicly? If not, what does that mean for the rest of us?—and the group delivers at every turn, turning Amado's parenthetical, sometimes neurotic asides into witty, loud and song-filled plot points.
In Gambini's careful hands, characters are punchy but never overwrought, heartbreaking without ever overacting a scene. It's a tightrope they walk nimbly, and often with great care: Northrup adopts a thick and lilting New York accent and transforms into a cat, dynamic as they leap, twirl, contort, stretch out, clean themselves and sulk in a certain, whiskered way. Mann rises to their challenge as Miss Swallow, flitting from her perch to the park with a sing-song wisdom—and sass—that seems well beyond her teenage years.
The other characters follow suit, their actions often enunciated by their bright, layered costumes (praise is due to Stephanie Bahniuk for costume design, as well as Sorenson and Gambini for making a world in which it's possible). Their actions are infused by constant movement, turning the stage into a kinetic, cacophonous wonder that is also a bit of a playground. In one particularly breathtaking sequence, characters score a snake's entrance with pounding, heartbeat-like drums and rattles, wrapping the room in suspense.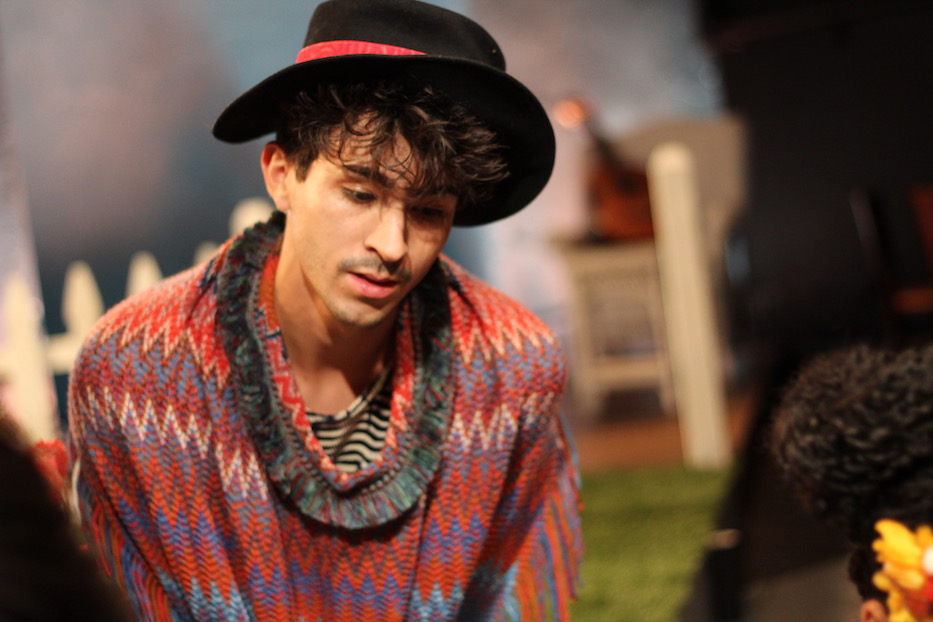 Julian Sanchez in The Swallow and the Tomcat, which runs July 18-27 at the Yale Summer Cabaret.
The result allows characters to tease out the forbidden love, insidious bigotry and deep depression that are embedded in Amado's text and translate and reimagine them for a current audience. Scenic Designer Elsa GibsonBraden has nailed it with a fresh, clean eye and a penchant for primary colors; Music Director Solon Snider world builds with running water and soft piano that comes in at just the right time.
Although Amado's story is over 50 years old, the animal kingdom's version of xenophobia and nationalism feels chillingly spot-on, running parallel to a certain occupant of the White House. When Miss Swallow's lovvey-dovey parents bicker over the ostensible danger that the Tomcat poses, when two salty ducks start another round of gossip, when Priest Parrot cranes to check out a duck's glossy tail feathers, they do so with a humor that is funny but also biting, because it rings so true to the world outside this little blackbox theater.
It urges the audience to ask: who are the swallows and tomcats in their own lives? And at what cost does a lovesick revolution come?
The play continues this year's goal of exploring what it means to be Latinx in not just New Haven, but also the country and the world. Last year, the cabaret went dark for the summer, for both renovations and student-board negotiations. When the team returned this year, it did so with the goal of sparking conversation, inviting in community members, and creating four very different works around the same fundamental mission.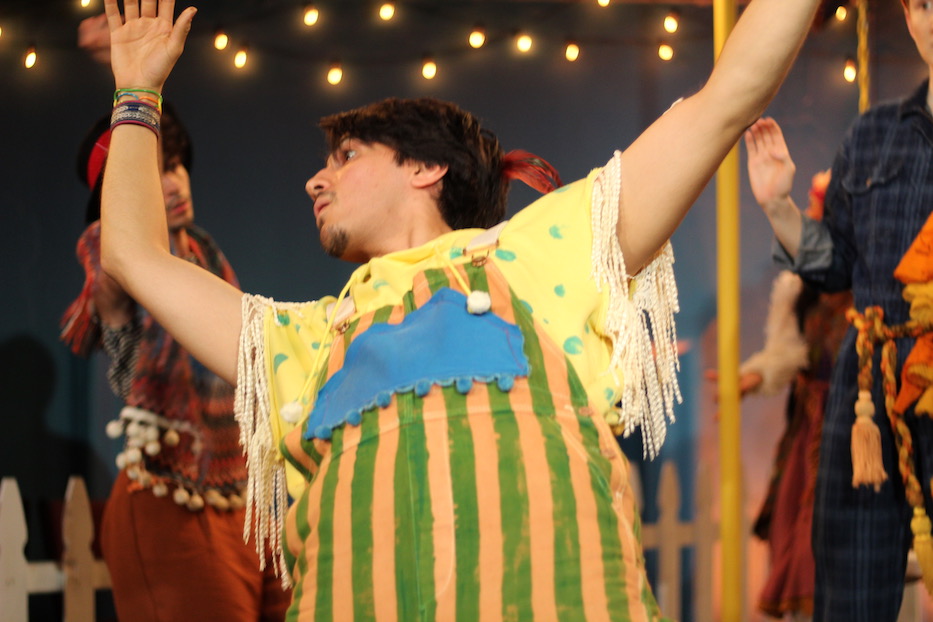 Dario Ladani Sanchez in The Swallow and the Tomcat, which runs July 18-27 at the Yale Summer Cabaret.
In an interview Wednesday night, Producing Director Estefani Castro said that "we're excited to share it with people, so that they can be introduced to part of somebody else's culture, and to have that exchange."
"Some people call it children's theater or theater for young audiences, but it's really theater that takes into account young audiences," she added. "It's theater for a multigenerational audience. It's not condescending or gimmicky, or trying to be. Kids have complex internal worlds, and it's cool when themes that they think about are put into a theatrical form that's fun and whimsical, but also has wisdom and meaning that can resonate with them."
The Swallow and the Tomcat, adapted by Danilo Gambini and Emily Sorenson and directed by Danilo Gambini, runs July 18-21 and 25-27 at the Yale Summer Cabaret, 217 Park St, New Haven. Tickets and more information are available at the Summer Cabaret's website.