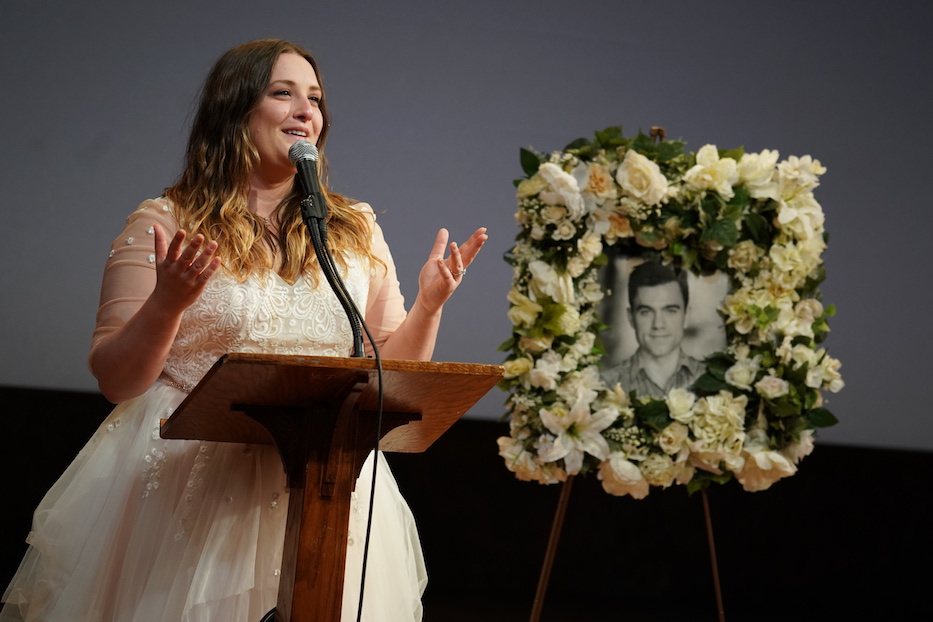 Arts & Culture | Theater | Yale School of Drama | Youth Arts Journalism Initiative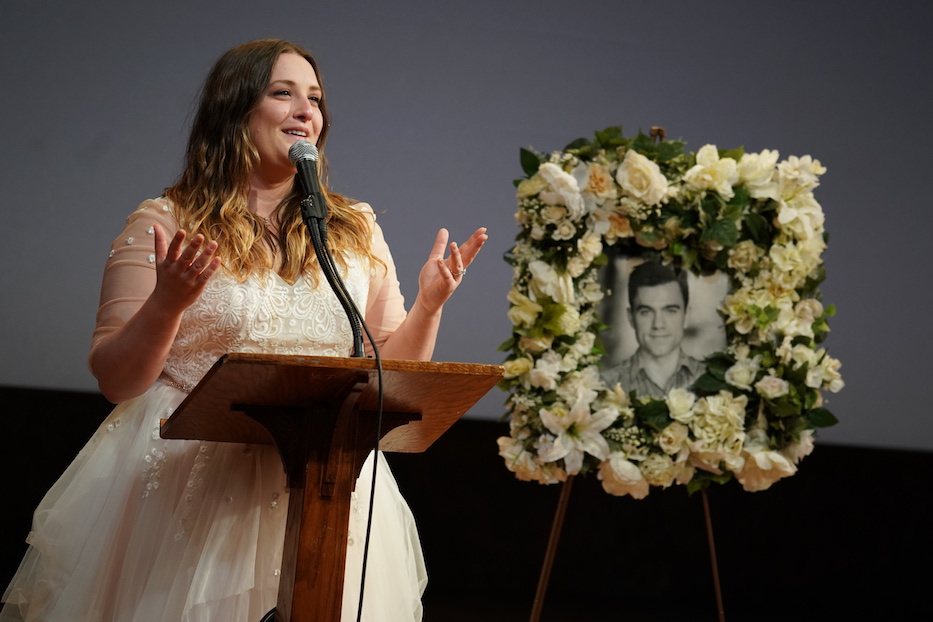 Zoe Mann and Patrick Ball (inset) in Pivot by Alex Lubischer, directed by Em Weinstein. Photo by Joan Marcus.
Doug sits on the ground, a few feet away from where Levi stands. Their hands cover their ears as they try to shout to each other, and the loud clanking sound of the pivot prevents them from being able to hear anything. Smoke starts pouring out of the tool, and Levi runs over to try and fix the problem. He's there when it explodes.
It kills him, and leaves Doug with a severe eye injury. And that's just the beginning of the show.
That tragedy is at the core of Alex Lubischer's Pivot, which premiered at the Yale School of Drama's Carlotta Festival last weekend. The festival is a week-long showcase of new plays all written by Yale School of Drama playwriting students. In addition to Lubischer, this year's class of playwrights included Jeremy O. Harris (Yell: A "Documentary" Of My Time Here) and Christopher Gabriel Núñez (Locust).
Set in Nebraska—whence the playwright also hails—Pivot is a story of a family's grieving process, named after the irrigation tool that takes a character's life. In the wake of Levi's death, the play follows his fiancé Kara (Zoe Mann) as she copes with sudden loss, unstuck with a wedding on the horizon and a groom (Patrick Ball) that is no longer alive.
It's not enough to deal with her grief—she also must reckon with his father George (John Evans Reese) and stepmother Anne Van Acren (Madeline Seidman). There's also his best friend Doug Wessel (Devin White), whose story is one of both losing his best friend and trying to come to terms and accept his sexuality. Lubischer could play it for drama, but he also sees the humor in this situation, where Levi's absence shoves this group together.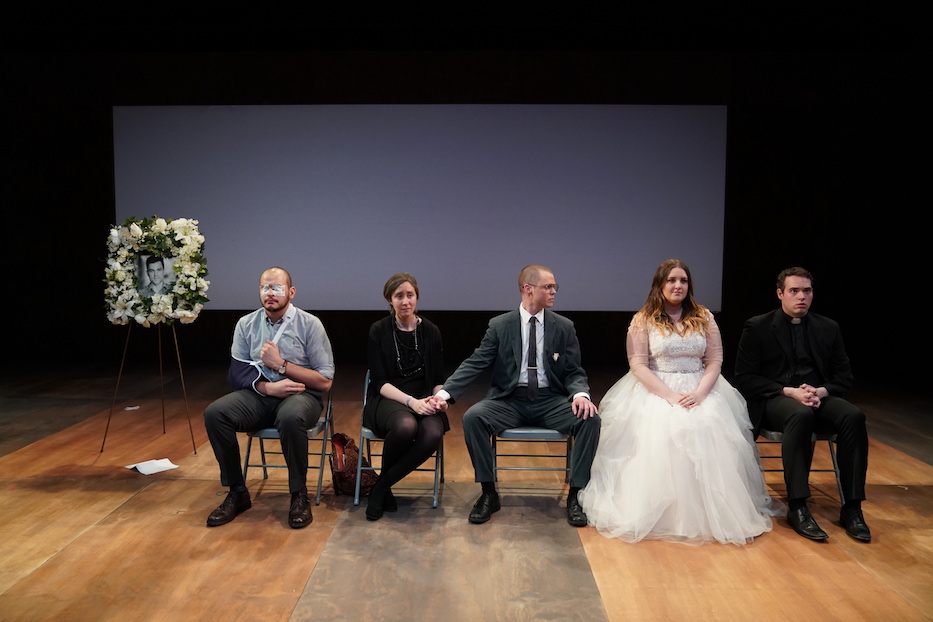 Patrick Ball (inset), Devin White, Madeline Seidman, John Evans Reese, Zoe Mann, and JJ McGlone.
Photo by Joan Marcus.
Somehow, Lubischer manages to intertwine their sadness with a twinge of comedy throughout. When Kara first finds out about the death of her soon-to-be husband, she starts to panic—not because her fiancé is dead, but because he has died just days before their wedding, and all of the wedding arrangements will have to be canceled.
Instead of coming off as callus or slightly abrasive, Mann helps the audience understand that this is the only way Kara knows how to cope with Levi's death. There's no voiceover outlining Kübler-Ross's model of grief, just a reminder of her shock, laid bare.
Unlike Kara, Doug is afraid to express his grief. While he is fully open about his feelings towards Levi's death, he doesn't fully reveal his true emotions regarding his relationship with Levi until he's in front of everyone. On stage, White takes Lubischer's words and adds his own comedic flare. His ability to do this can be seen at almost any point in play, but one moment where it stands out specifically is when Doug reads his eulogy at Levi's wake.
As Doug prepares to read his eulogy, the audience is already chuckling from the visuals of it. George must help a stumbling, blind Doug up to the pulpit, and the two play it for comedy. The audience cackles as he starts sobbing on stage while professing his love for Levi. He breaks down.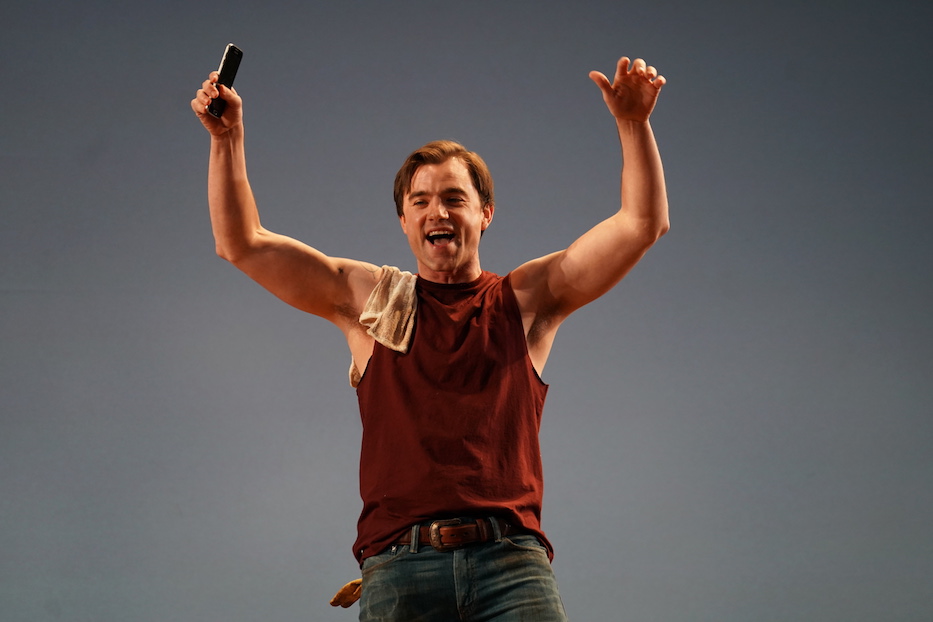 Patrick Ball.
Photo by Joan Marcus.
"I'm a gay man!" he screams. In one performance last weekend, one could barely make out the words he was saying because the audience was laughing so loud.
While White chooses to emphasise the overly dramatic side of Doug, actors John Evans Reese and Madeline Seidman take a slightly more relaxed approach. Lubischer lays on the complexity of George's grief here—not only is he dealing with the death of his son, he is also suffering through life with cancer.
Playing his wife, Seidman becomes something of an anchor, pushing through so her husband doesn't have to absorb everything. While her character isn't biologically related to Levi—this relationship also proves to be a moment of contention between Anne and Kara—she is also feeling the loss as though he was her biological son. Seidman is strong and snappy, ready with retorts that keep the play moving forward.
"He's not your real son," Kara tells her bitterly at one point.
"He's not your real husband," says Anne as a response to Kara.
As the play moves through grief—the good, the bad and the ugly—characters dig into a script that is quirky, deeply feeling and full of heart (it is, after all, set in America's heartland).
At first, Kara tries everything she can do to try and please Anne, thinking it's to save face in front of her future mother-in-law. But when she realizes that she doesn't agree with Anne on the correct way to grieve and memorialize Levi's death, she rebels, trying to hold the wedding reception anyway. Anne bounces back, almost taking on the role of Kara's mother as she reprimands Kara for her actions by tearing down her decorations for the wedding.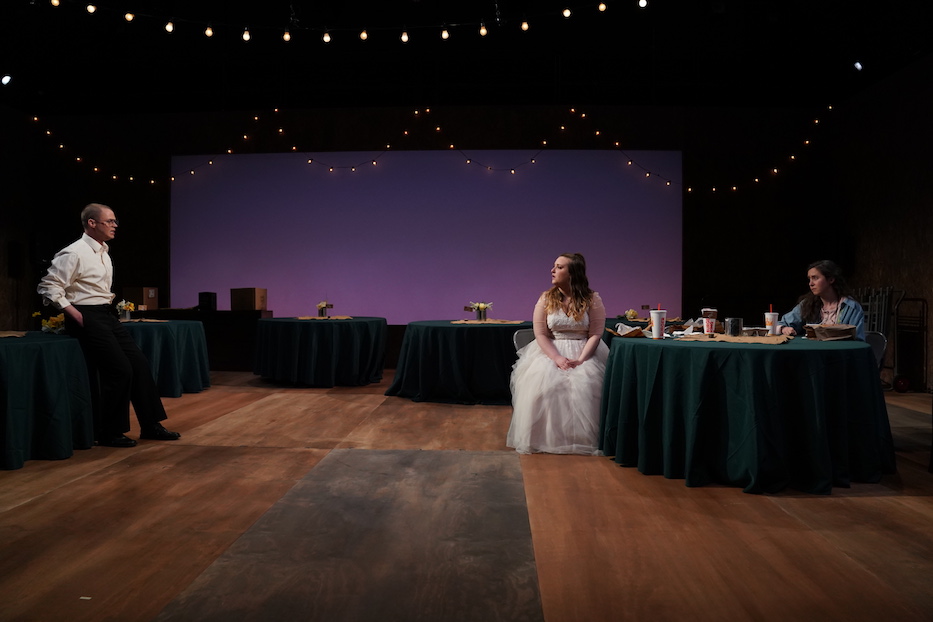 John Evans Reese, Zoe Mann, and Madeline Seidman.
Photo by Joan Marcus.
It's a moment snatched, then turned upside down, from wedding movies about antagonistic in-laws and bridezillas and gaudy, overly, produced ceremonies. And yet, it knocks Kara out of the haze she's been floating in. She finally breaks down. Mann puts all of herself into the role, taking the bitter with the sweet (and the funny) as she realizes what her life has turned into.
While accepting the death of someone—especially that of a loved one—can be hard, it is necessary to a person's healing process. Lubischer's take feels fresh and invigorating. In illustrating the stages of grief an individual can go through, he shows how greatly that differs from person to person. The only option is to stay true to one's own mourning process. It's the most natural thing to do.
This piece comes to the Arts Paper through the second annual Youth Arts Journalism Initiative (YAJI), a program of the Arts Council of Greater New Haven and the New Haven Free Public Library. Over eight weeks this spring, ten New Haven Public Schools (NHPS) students will be working with Arts Paper Editor Lucy Gellman and YAJI Program Assistant Melanie Espinal to produce four articles, for each of which they are compensated. Read more about the program here or by checking out the "YAJI" tag.