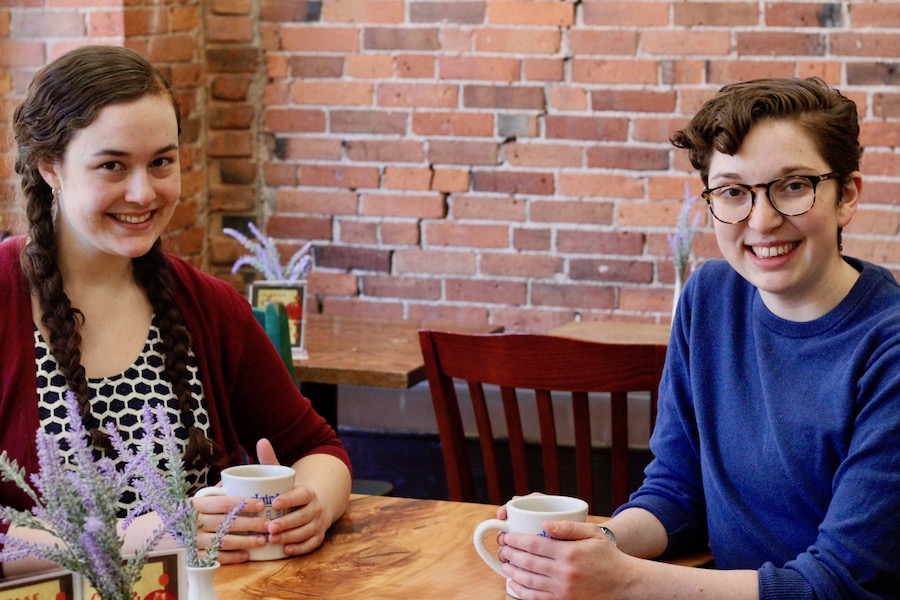 Arts & Culture | Theater | Yale Cabaret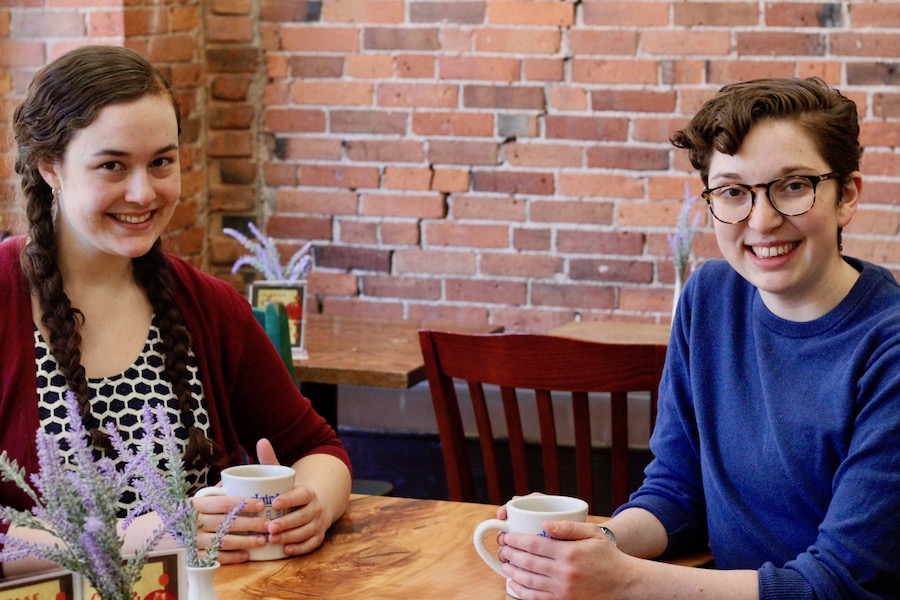 Molly FitzMaurice and Rebecca Adelsheim in an interview earlier this week. Lucy Gellman Photo.
A Black woman stands at center stage, five years of her own poetry knocking around her mind before they make it to her lips. Upstairs, a Yale drama student goes off on the school, frustrated that she can't direct a thesis play by an Asian playwright. And nearby, insulated from the cool night air, two tense passengers sit in the front seats of a pickup truck, headed for the moon.
The year is 2145—or maybe it's still 2019—and they don't even know what's coming for them next.
Those are just some of the works hitting New Haven during the fourth annual Satellite Festival at the Yale Cabaret, a collection of eight new performances scheduled over three nights at the Cab and nearby York Street loading dock and studio. After ballooning out from an original festival in 2016, this year's event is pulling back, centering female voices, and making room for sequels for the first time in the festival's history.
The festival begins Thursday night and runs through Saturday. Tickets, times and additional information are available here.
First conceived four years ago by School of Drama students David Bruin, Julian Elijah Martinez and Leora Morris, the Satellite Festival is intended to bring new, often fresh, and sometimes not-entirely-finished works into the Yale Cab for one weekend only. For both producers and directors, it removes a lot of the barriers of a standard Cab show—there is no dinner service, for instance, or performance schedule that packs in two shows a night.
"The Satellite Festival is the Cab of the Cab," said Molly FitzMaurice, co-artistic director for the Cab's current season and co-producer of the festival with first-year dramaturg Rebecca Adelsheim. "It's to kind of fill any gaps in our programming and opportunities."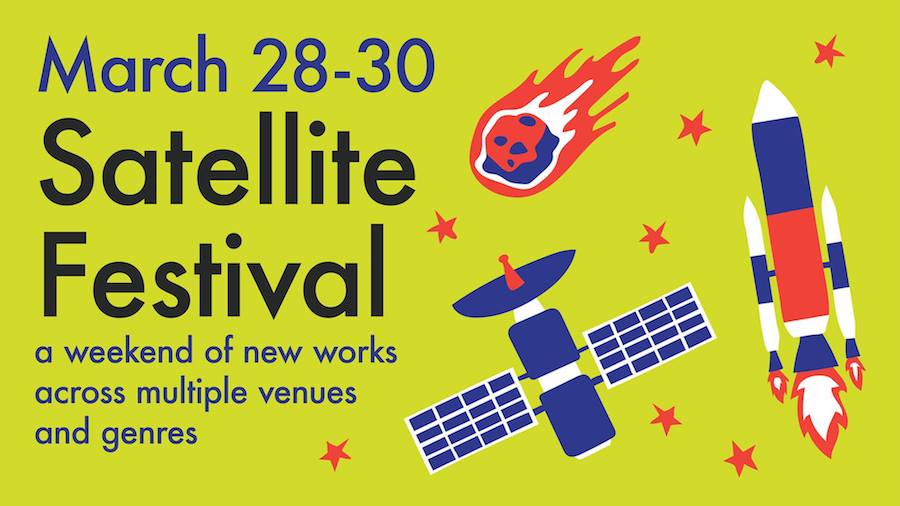 Over the festival's first three years, those have included first drafts and premieres from sound and lighting designers, musicians, and dancers. It has also become a space for Cab leadership to gauge what might be missing from a given season. In the inaugural year, Bruin noticed a flood of proposals from female actors and directors, suggesting that maybe the year-long Cab hadn't made itself as welcoming to women as it had thought.
Four years later, FitzMaurice said the festival has fit into a larger artistic goal to "shorten the distance between getting an idea and having it realized." This year, the Cab's artistic team has opened the season to several proposal cycles, meaning that artists don't have to approach the Cab at the very beginning of the academic year.
The team has also tried to program very different works close to each other, a theme that continues in the festival. During the season, FitzMaurice pointed to pairings like Cab 10 and Cab 11, which placed School Girls; Or, The African Mean Girls Play next to The Rules. During the festival's short run, FitzMaurice said that may look like a dreamy music-scape with indie rockers and guitars, followed by incisive commentary on the lack of representation in American theater.
Now, "it's [the festival] really coming back to some of those earliest impulses," FitzMaurice said. "Last year it got really, really huge and this year it's paring back down."
Thursday night, that starts with third-year actor Christopher Gabriel Núñez, who will be whipping out his hip-hop alter ego Anonymous (And.On.I.Must)—and a few reflections on his time in New Haven—with his hour-long Exit Interview.
He'll be followed by first-year actor (and former Arts Paper reporter) Malia West's Black Girl Burning: An Open Letter, a "first draft" based on poetry that West began writing five years ago, and continued during her time as an actor, writer and educator in New Haven. Of performers, West occupies a unique space—a student who belonged to New Haven before she ever belonged to Yale, now navigating what it means to stand between the two.
In the building's upstairs studio, those continue with performances of Untitled semi-improvised dance/music piece from Yale-China fellow Sarah Xiao and Liam Bellman-Sharpe, which the two have billed as "exactly what it sounds like: a collage of structured and unstructured dance and music that encourages the audience to suspend regular modes of sensing and understanding."
Later in the evening, the festival will get deliberately angry with Kat Yen's This is Not Art, It's Just Asian. The work, inspired by playwright and cultural critic Frank Chin, probes the dearth of Asian and Asian-American playwrights in drama curricula, a phenomenon Yen experienced firsthand when she was told she couldn't direct an Asian thesis play earlier this year (she directed Othello in early February).
On Friday, those feelings will have a chance to cool—if momentarily—as Robert Lee Hart and Dario Ladani Sánchez take on indie music with their dot the jay. Just a few buildings away 149 York St., audiences can listen to a loop of Alexa, Wait for Godot, in which non-Yalie Elliot Mitchell has programmed two Amazon Alexa speakers to converse with each other as if they are Vladimir and Estragon, "waiting patiently for someone who may never arrive."
For its quirk and experiment, FitzMaurice and Adelsheim are also expecting much of the material to stick as hard-hitting social commentary. In addition to original performances from several fiery women, dual-degree student Sam Linden will premiere a musical inspired by the work of writer, critic and generally funny human Alexandra Petri, with whom he is also friends. And Margaret E. Douglas returns with Truck II, the first sequel that the festival has seen (audiences do not have to have seen Truck to fully grasp the show).
"The team has been pretty flexible and amazing in the face of some technical challenges, and the play is just awesome," Adelsheim said of Truck II. "Theater in places that is not a theater is something that really excites me."
"Watching designers get to work both in and out of their medium is really thrilling to me," she added of Bellman-Sharpe and Xiao's collaboration. "And to see a first-year actress really take charge of their own piece. They're all really exciting to me."
"The spirit of the satellite festival is sort of like, get in there and roll up your sleeves and experiment," FitzMaurice chimed in. "Which is sort of always the spirit of the Cab, but it's on warp speed."