Dixwell | Arts & Culture | New Haven Caribbean Heritage Festival | COVID-19 | Goffe Street Park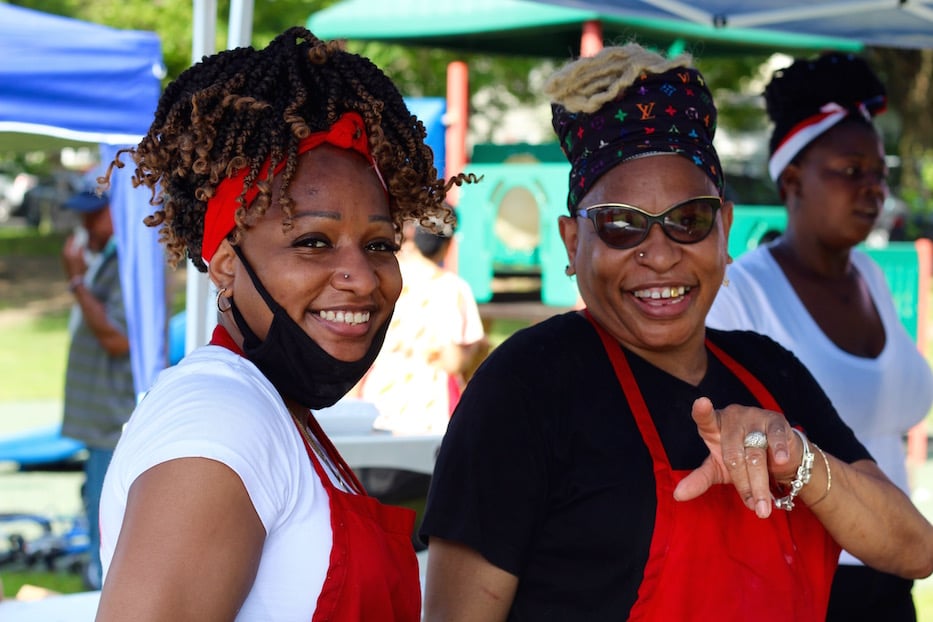 Patty Deroche (at right) and her daughter. Lucy Gellman Photos.
The smell of curried potatoes, rice and peas and fresh roti wafted through the air as drums sang across the grass. From the stage, Diamond Tree lifted a hula hoop and moved her hips to the heartbeat-like rhythm. Across the lawn, Elaine Peters and her dog Coconut rose from their booth and prepared to join in. A few yards away, Patty Deroche kept serving up steaming plates of chicken, rice, chickpeas, and roti. A Trinidadian flag flapped in the breeze beside her.
Families and friends gathered Sunday at DeGale Field for the seventh annual Caribbean Heritage Festival, back after the pandemic forced it to go on hiatus last year. For six hours, hundreds came through the park to learn, eat, dance, drum, and shop their way through a diaspora. This year, organizers Karaine Smith-Holness and Shermaine Edmonds worked with colleagues and Griffin Health to provide vaccinations on site.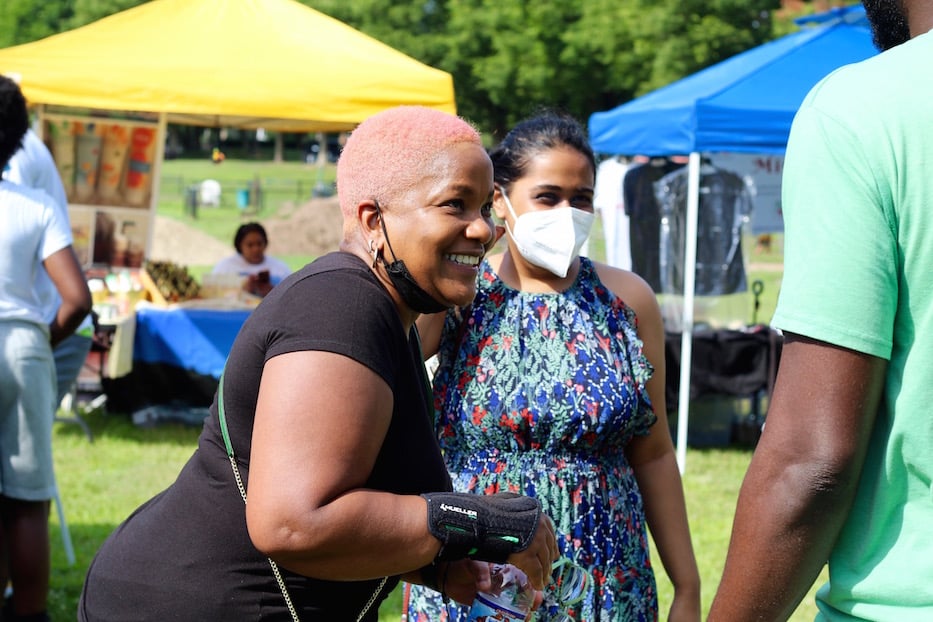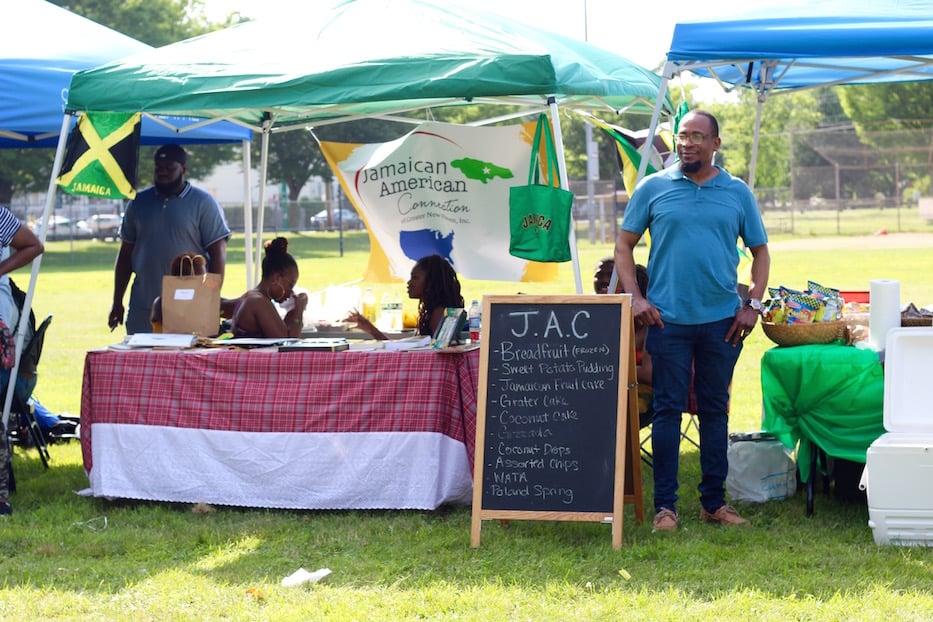 Top: Organizer Karaine (Kay) Smith-Holness. Bottom: a booth for the Jamaican-American Connection, of which Smith-Holness is an organizing member.
"I have all the feelings," said Smith-Holness, who is a proud Jamaican immigrant and the longtime owner of Hair's Kay Salon. "This has really been the best one. People are coming up to us saying 'thank you,' and that they really needed this. Everybody has their island pride. This is for our children and our spouses, so that they will learn about their heritage."
As Smith-Holness checked in with friends and basked in the sunlight, the festival came alive around her. On stage, 12-year-old Kyndal Rice danced to Charice's "Note To God," the audience cheering as she leapt across the concrete bandshell and transformed it into a concert stage.
A student at Wintergreen Elementary School, Rice made the space her own, her body bending and going airborne with the lyrics. When she grabbed her head in her hands, attendees waited with bated breath to see what would come next. Some clapped and cheered well before the song was over.
"Yes! Give it up for Kyndal!" boomed emcee Andrew Clarke from the stage. "We are going to see her dancing with Alvin Ailey and Dance Theatre of Harlem!"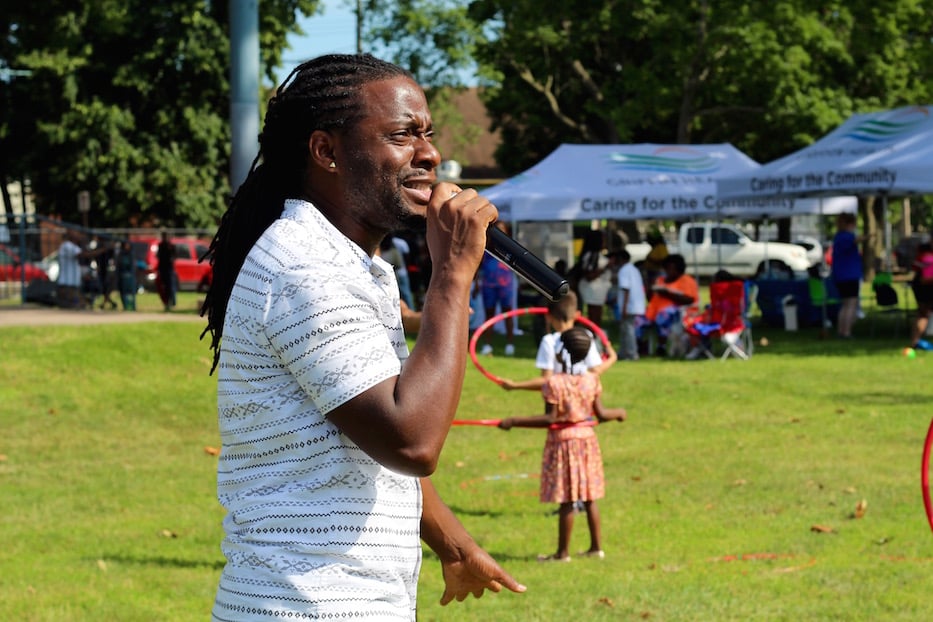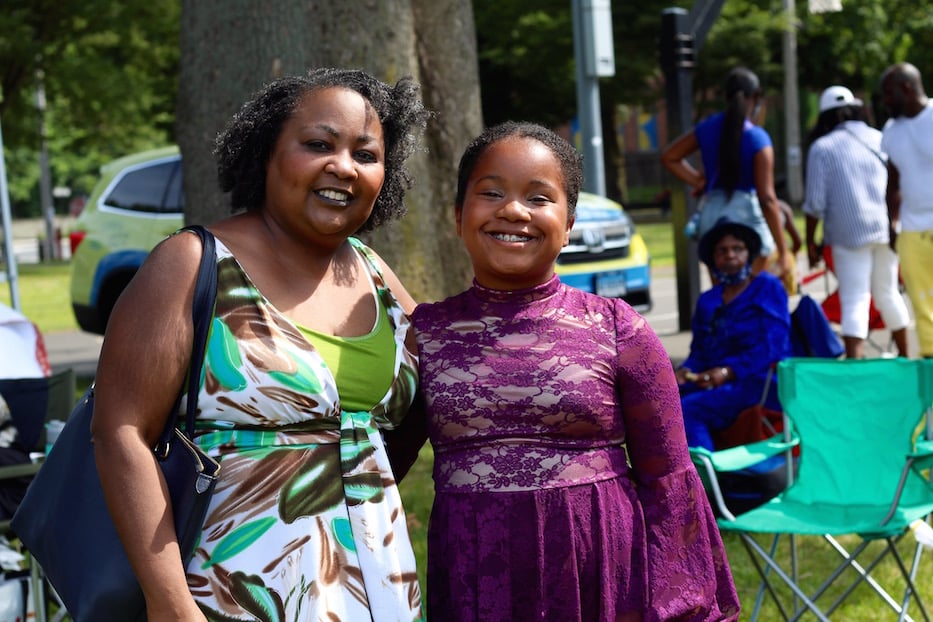 Top: Emcee Andrew Clarke, who works with Braata Productions. Bottom: Paula Rice and her daughter Kyndal, who has danced at the festival for four years. Smith-Holness said she has watched her grow up before her eyes.
After her performance, Rice said it was partly an homage to her maternal grandparents, who are Jamaican immigrants based in Bridgeport. Her mom, Paula Rice, added that she and Kyndal come to the festival as part of tradition—it has become just as integral to their year as family dinners with her parents each Sunday. This is her fourth year performing, a tradition that Smith-Holness said is now baked into the fabric of the day.
"I think it's important to learn about your heritage," said Paula, who is the director of Diversity and Equity Programs at Southern Connecticut State University (SCSU). "It's such a fascinating story to hear about the people who immigrated here. You do not want to lose the traditions."
In a shaded tent nearby, Peters and Coconut offered stolen shell cosmology and reminisced about Barbados, the small eastern Caribbean island from which her family hails. Born in Boston, Peters moved to New Haven decades ago, where she was part of the legendary Bowen-Peters School of Dance. Her parents aways "made sure I knew where I was from," she said.
She passed a hand over the shells arranged on a bright blue cloth on the table, palm down. A variety of smooth, cream and stone-colored shapes glistened as the sun shone in on them. Two brown and white speckled honey cowry shells sat face down. A circle of bone white cowries laid nearby.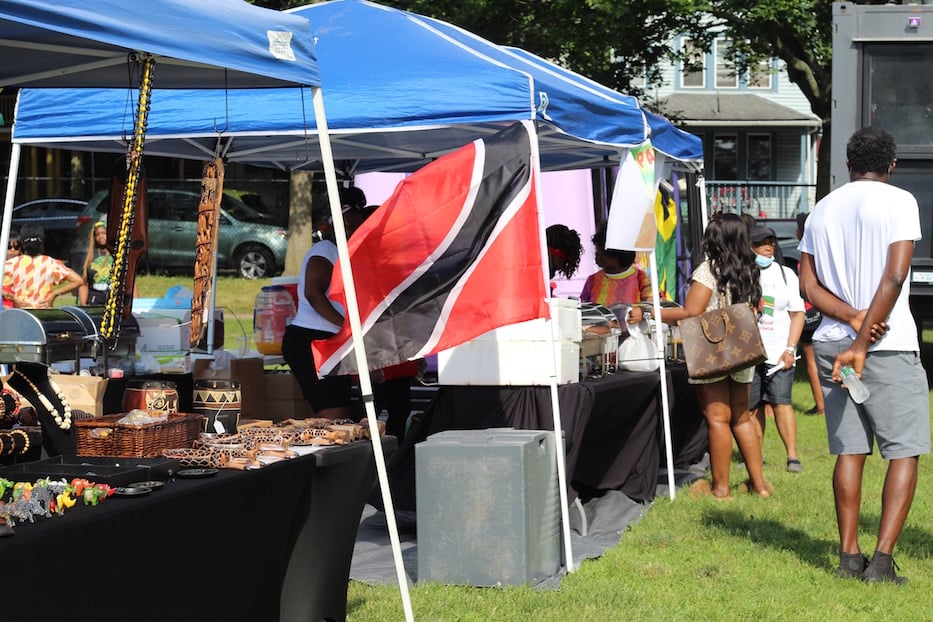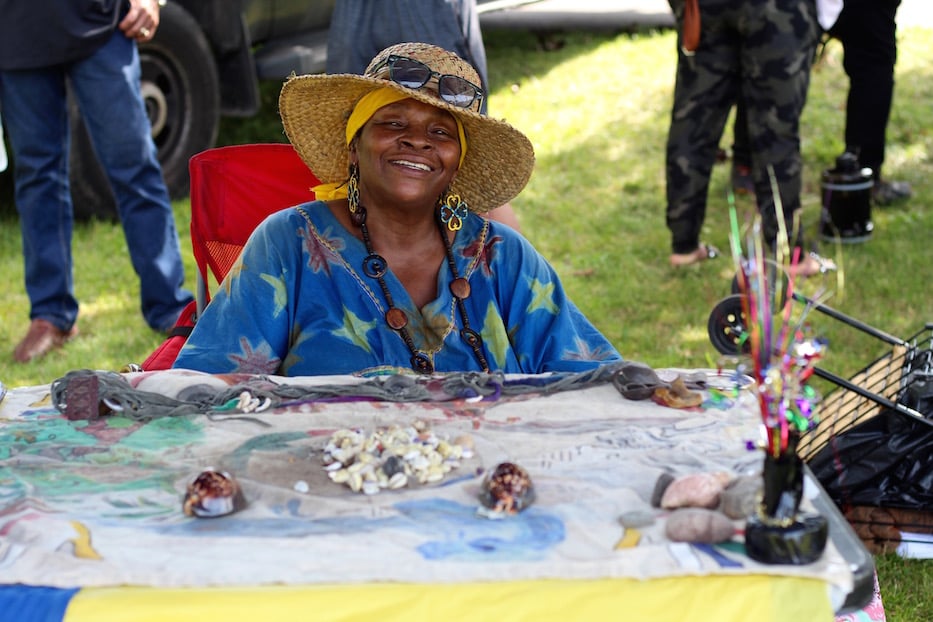 Top: Some of the booths at Sunday's festival. Bottom: Elaine Peters.
"Cosmology connects you to your ancestors through nature to open you up to blessings and find out what's blocking you, and to move forward," Peters said. "We all need to move forward in these times."
As drums echoed from the stage, she stood to join Gammy Moses and a few children who had assembled. Taking a drum between her knees, she and Moses hammered out a beat that connected them back through history. As an elder in the community, Peters said she wants to teach young people about Caribbean heritage through drumming, dance, and music, just as classes at the old Q House and Bowen-Peters School of Dance once did. She is still in the process of finding the funding and space to do it.
As kids ran up to the stage, Moses pointed them to a pile of instruments waiting for new volunteers. Looking to the Afro-Caribbean diaspora, he pointed to white colonizers who tried to forbid drumming as another form of oppression. He called the music he and Peters were about to make a kind of resistance.
"This rhythm passes down from generation to generation," he said. "That's how we really survived through slavery. We have to study our history."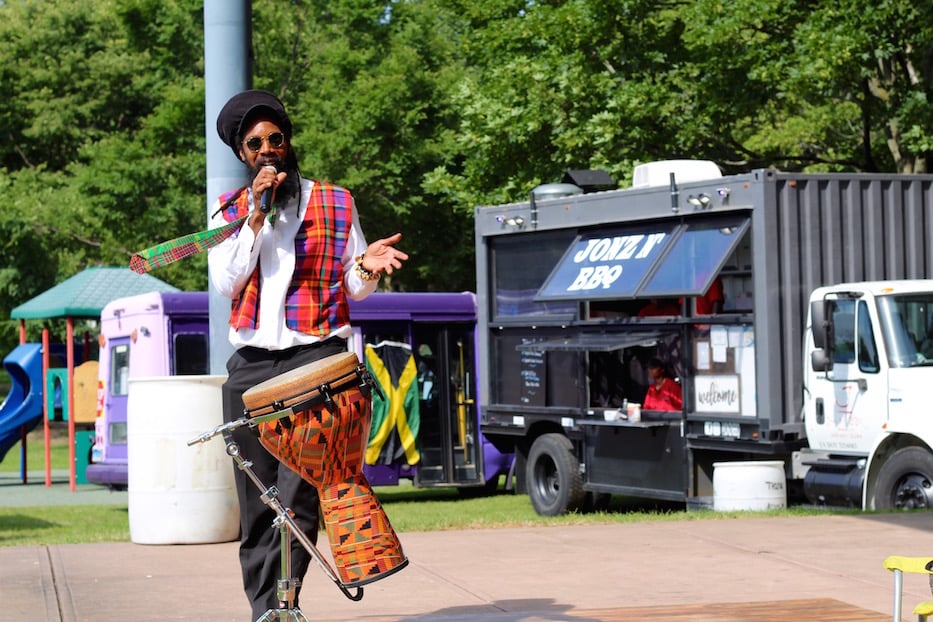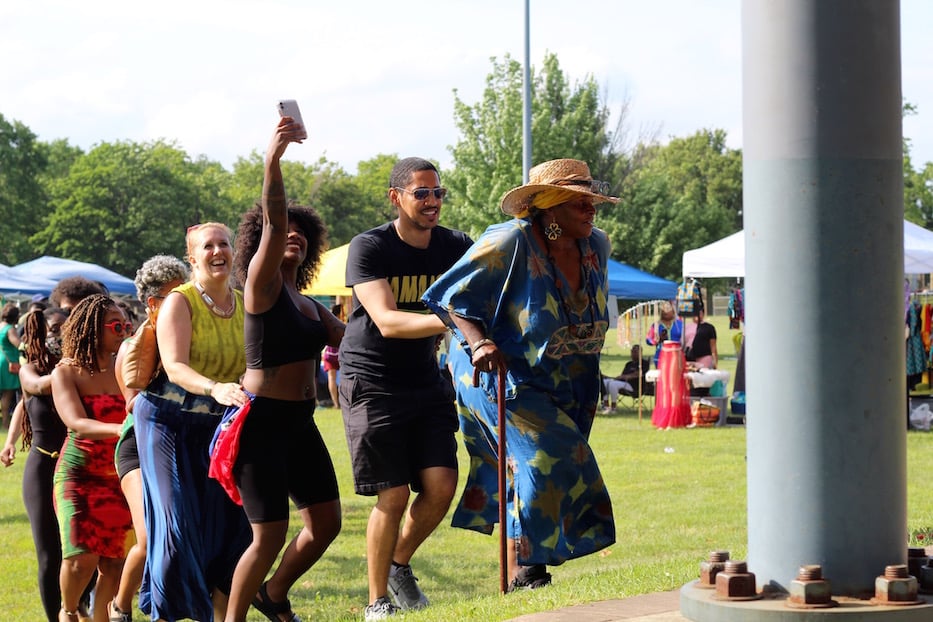 Top: Gammy Moses sings Dominica's praises. Bottom: Peters leads a conga line later in the afternoon.
Moses finished with a poem, praising his native Dominica as an unsung hero of the Caribbean—and one of the earth's greatest and most endangered treasures. When he finished, he jogged back to a table on Dominica, where lanyards, keychains and bright fact sheets sat amidst calabash bowls and a large mahogany drum. He showed off the goatskin pulled taut across the drum's top and chatted with Edmonds, who said she was happy to be back and soaking in the summer sun.
Born in Dominica, Edmonds immigrated to the U.S. over three decades ago, when she was 16 years old. A few years ago, she heard someone speaking on WYBC about a Caribbean Heritage Festival, which was then at City Hall. She didn't catch the name of the organizer, but remembered thinking "this is happening and I didn't know?!" She was so curious that she called up the station afterwards. The voice belonged to Smith-Holness. The two have been working together ever since.
As half of the festival planning committee, Edmonds said that it's important to her to spread knowledge about her country, the history and natural beauty of which often goes unknown. When people hear her accent, she said, they often assume she is Jamaican. She uses it as a chance to set things straight about the difference between Jamaica and Dominica. As an advisor to Caribbean students at SCSU, she also sees it as part of her job as an educator.
"People who don't know, they don't know," she said. "And they don't understand. We are here making connections."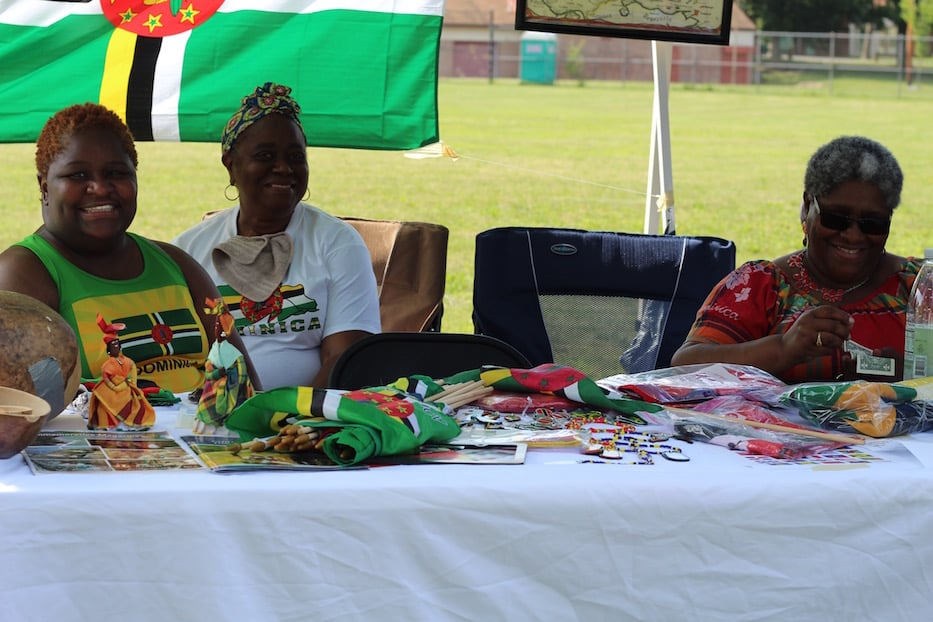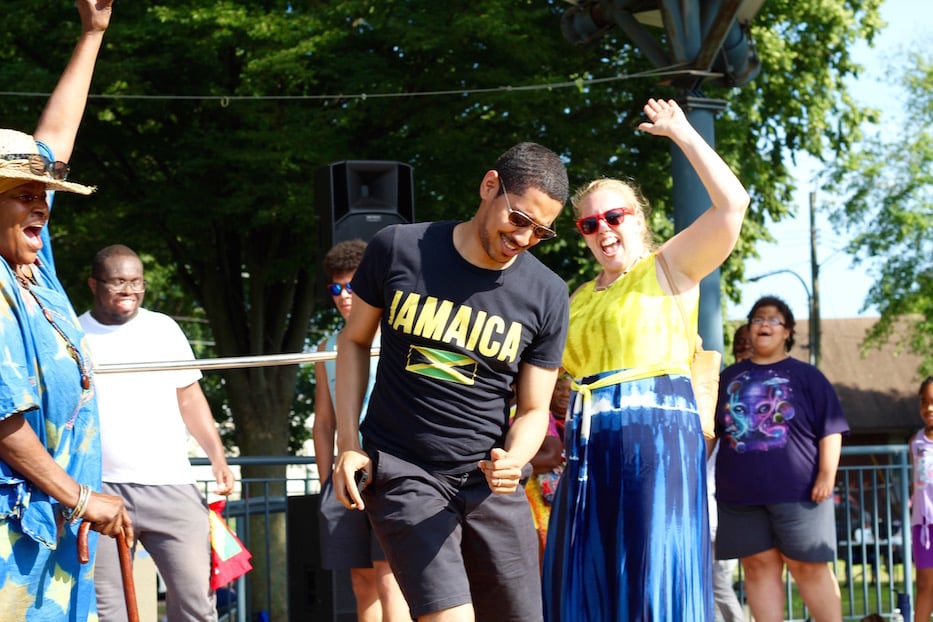 Top: Shermaine Edmonds (at left) with her mother and stepmom. Bottom: Shubert Executive Director Anthony McDonald nails the limbo, and Peters and International Festival of Arts & Ideas Director Shelley Quiala cheer him on.
At a tent for the Shubert Theatre next door, new Executive Director Anthony McDonald swayed to the music, shoulders and knees loose as he chatted with Smith-Holness. This year, both the Shubert and the International Festival of Arts & Ideas joined the Caribbean Heritage Festival as sponsors.
As the child of Jamaican immigrants. McDonald said it was incredibly important to him to support the city's Caribbean community—and let them know that there was a home for them at the theater. Since arriving earlier this year, he has been vocal about making the Shubert less of a white and exclusionary space, with programming that appeals to all of the New Haven community.
When he addressed the crowd with a traditional "Wah gwaan?," he drew cheers. He said that he hopes to bring new, inclusive programming to the Shubert within the next year and is already in discussions with "an artist who has been in the Jamaican entertainment community" for some time.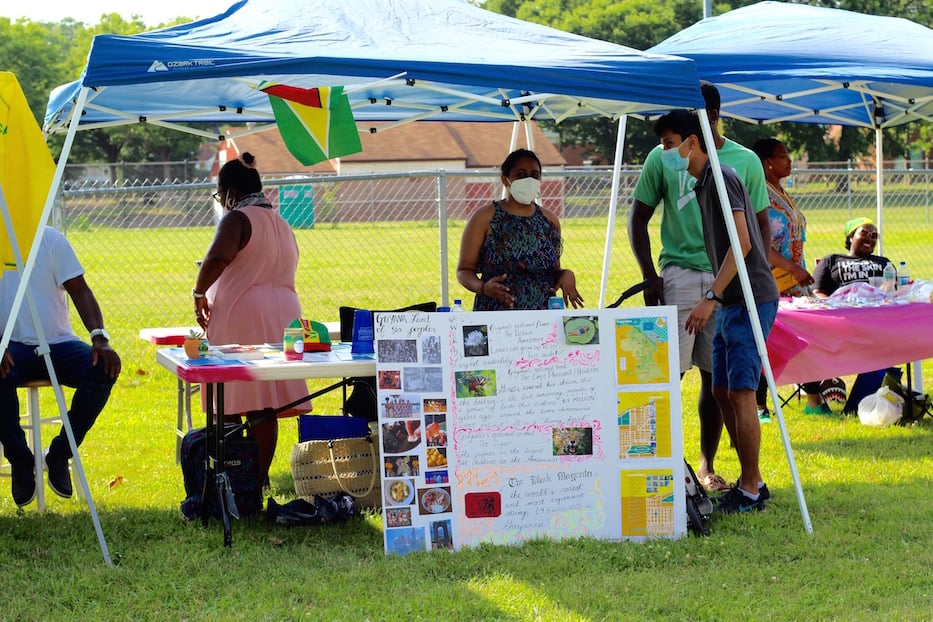 Ashley Anthony (in blue and mask): A teachable moment.
As a lesson from Hood Hula instructor Diamond Tree unfolded on stage, rising Yale senior Ashley Anthony and Professor Yasmin Amico spoke to passers-by about Guyana. As the president of the Yale Caribbean Student Organization, Anthony said she wanted to design the booth to teach people about the place she calls home. Her entire family is still in Guyana as she navigates school in New Haven.
When she moved to New Haven three years ago, she was surprised and frustrated by how little fellow students knew about the country, which boasts one of the world's tallest waterfalls, a lookout from which one can see the borders of Guyana, Venezuela, and Brazil, and deep diasporic history. She said that sometimes, students would ask "do you mean Ghana?" as if she did not know the name of her own birthplace. She tried to channel that frustration into a teachable moment.
As she spoke, attendees rolled by with doughy, oxtail- and pork-filled patties and foam containers heaped with potatoes, rice and peas, curried chickpeas and chicken roasted crisp and brown at the edges. Deroche, who runs the restaurant Patty's on Congress Avenue, said she was delighted to be back after Covid-19 turned business upside down for months. When she was 18, she immigrated from Trinidad to New Haven. She has been cooking for over two decades.
"I love people, and I love to give them my food," she said. "It just feels so good to be back, to see every customer's face."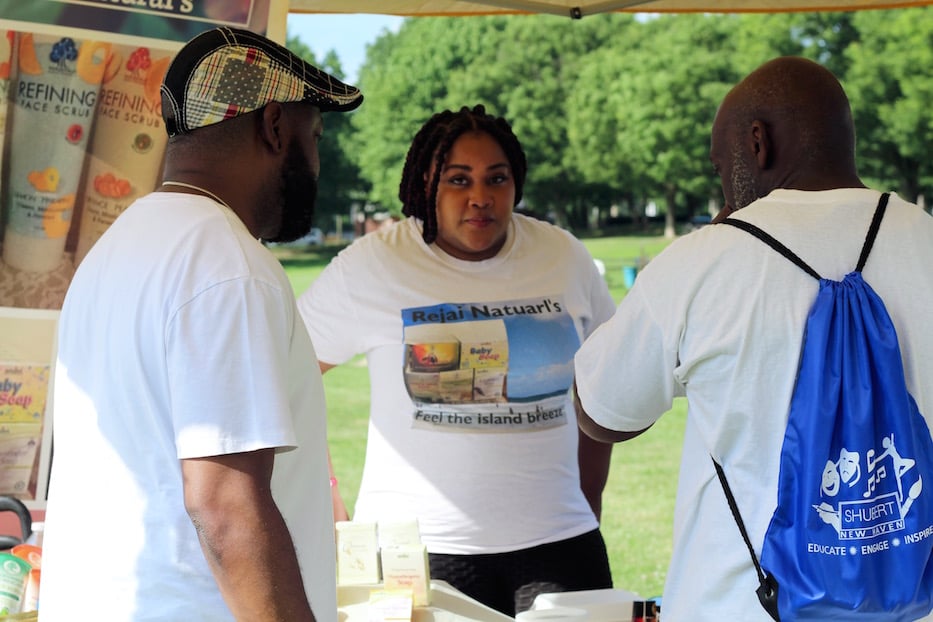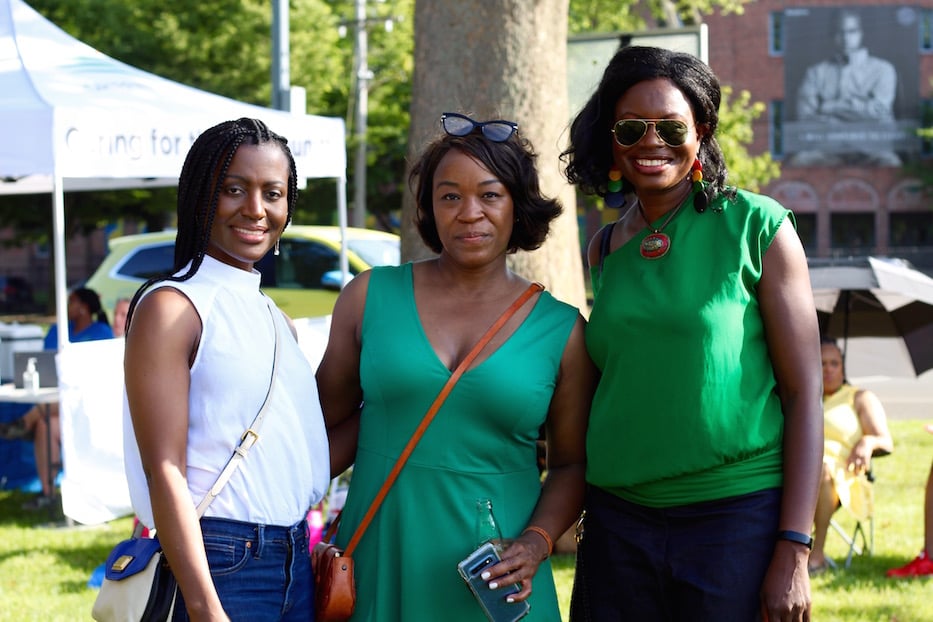 Top: Shamerika Vargas. Bottom: Doctors Taneisha Grant, Sherene Mason-Bloodworth, and Camelia Lawrence.
Shamerika and Wanyania Vargas of Rejai Naturals sat at a table selling essential oils and natural soaps. Like Deroche, Shamerika said she was relieved to be back at the festival. As a small business owner, Covid-19 hit Rejai Naturals hard. A lack of outdoor fairs and festivals meant no in-person sales for over a year.
She added that the products are part of her proud Trinidadian heritage: much of what she and her daughter sell is directly imported.
By the end of the afternoon, the festival also became a celebration of medicine and a community bouncing back against Covid-19. Dr. Taneisha Grant, a gastroenterologist at the PACT Gastroenterology Center, worked with Smith-Holness and Edmonds to offer on-site Pfizer vaccinations from Griffin Health. In total, Griffin Health vaccinated six people.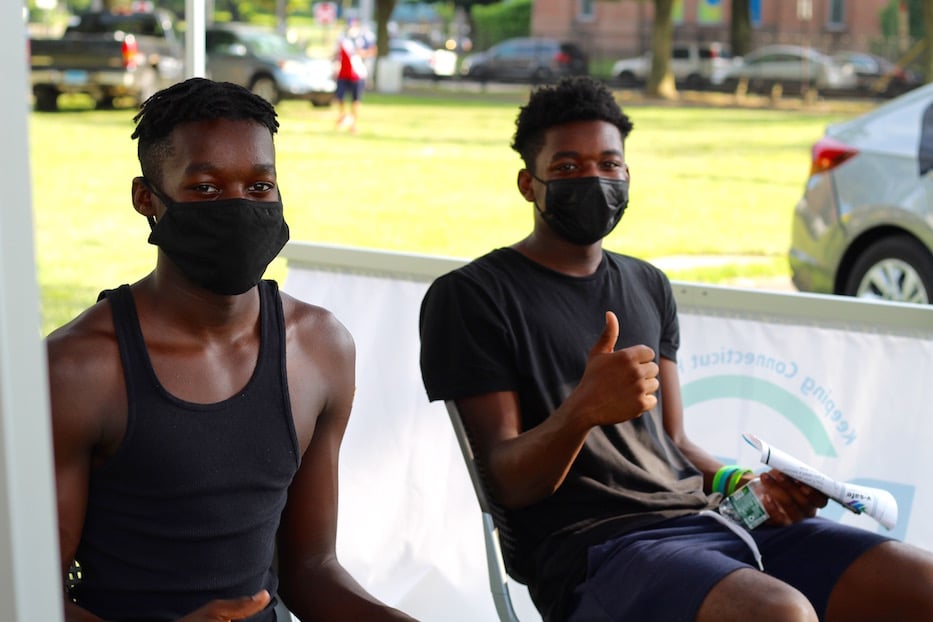 Top: Martin and Marcus Duff. Bottom: Kadian Hunter.
Sixteen-year-old twins Marcus and Martin Duff, both rising juniors at the Sound School, were two of them. As they took a 15-minute waiting period after their shots, both said that they chose to get the vaccination to protect their elders and fellow community members. Martin added that he's tired of masks—they get hot in the summer, especially on sticky, sweaty days like Sunday. He motioned to the sweltering afternoon around him as he spoke.
Kadian Hunter, who started working at Griffin two weeks ago, said the festival was her favorite vaccination spot "by far." Born in Jamaica, Hunter first moved to Stamford several years ago. She now lives in Stratford.
As she spoke, she waited in line for patties at a truck emblazoned with the Jamaican flag. Yards away, a conga line had formed in the park. Peters led it, her cane perched gingerly in one hand.
"It's a beautiful thing, seeing all the islands coming together," Hunter said.