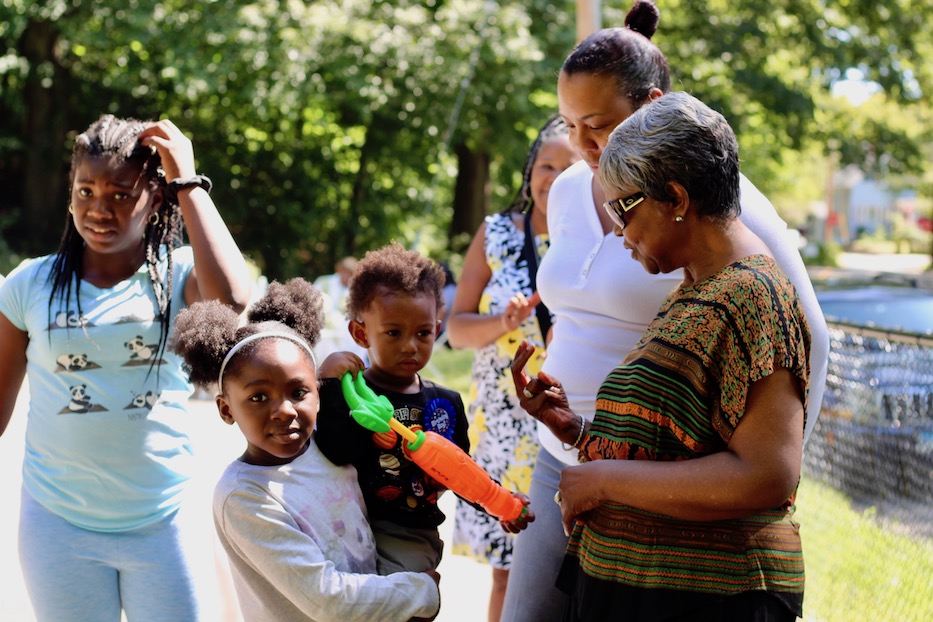 Cedar Hill | Cedar Hill Association | Arts, Culture & Community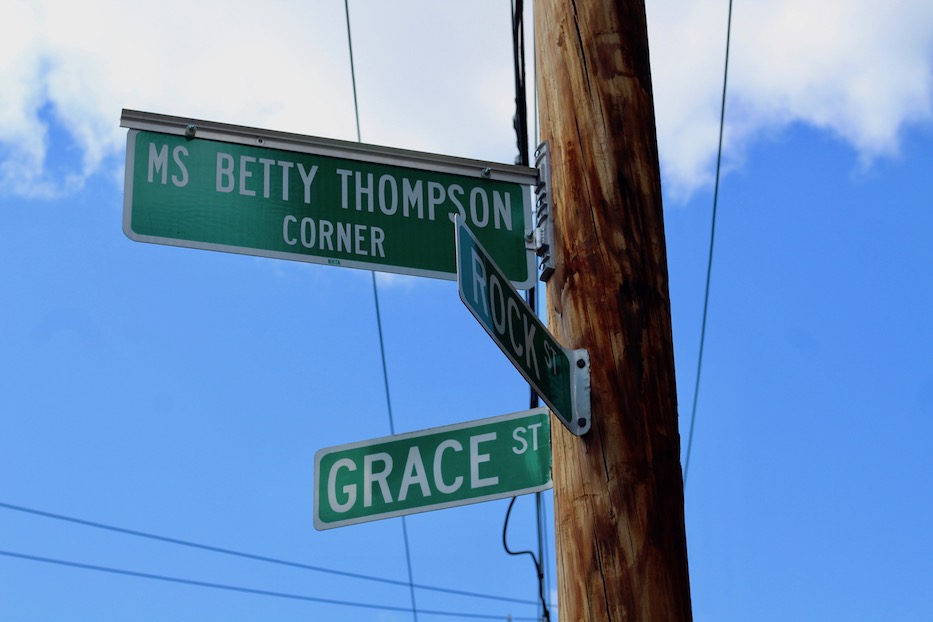 Ms. Betty Thompson Corner. Lucy Gellman Photos.
One earned her stars knocking on every door in the neighborhood, just to make sure new residents felt welcome. One organized to keep slumlords, drugs and prostitution out of the area, sometimes screaming all the way down the block. One churned out so many hot dogs and hamburgers that he lost count, and kept on going.
Saturday, Cedar Hill residents, city officials, and several Friends of East Rock Park members gathered on Rock and Grace Streets to celebrate Cedar Hill stalwarts Ms. Betty Thompson, Rebecca Turcio, and Horace and Clara Lawhorn. The gathering doubled as a heartfelt memorial for Turcio and Horace Lawhorn, whose deaths have left a hole in the community in the past year.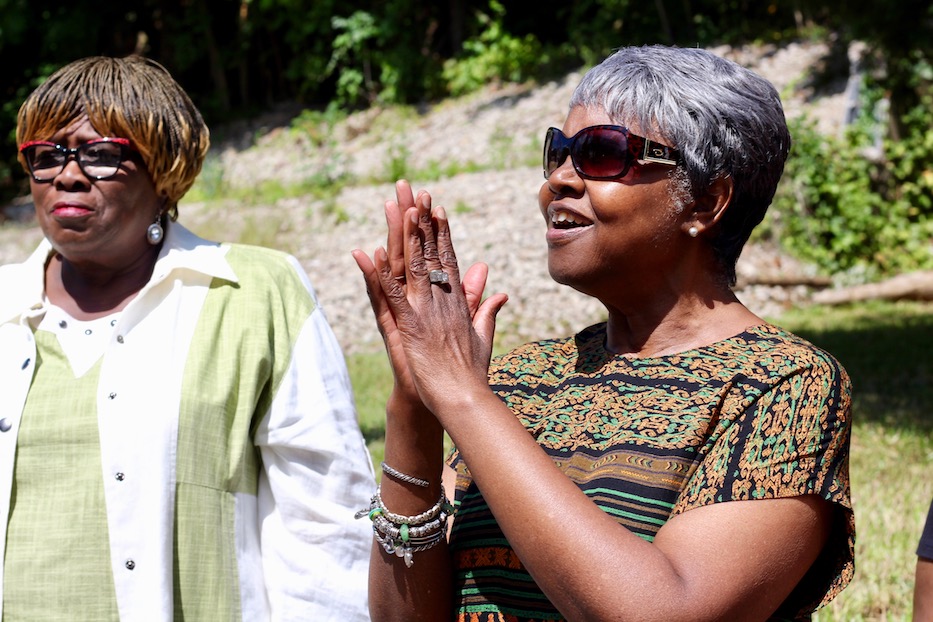 Ms. Betty Thompson (in focus) with Pastor Bernice Gibbs.
"This has been a labor of love," said Camille Ansley, who has been an outspoken advocate of the neighborhood for the past several years. "I'm sad that there's gonna be a few people who are not here, because they screamed and hollered for the basic needs [of the community], for just everybody to be the same."
The ceremony began at the corner of Rock and Grace Streets, where a new sign marks the intersection as Ms. Betty Thompson Corner. A survivor of a heart transplant, cancer treatments, and ocular surgery, Thompson has lived in the neighborhood since 2001, sharing its tiny eight-block radius with her daughter Kenya Adams-Martin and her grandchildren and great-grandchildren.
After relocating from the city's Dwight neighborhood, she quickly became known for welcoming new residents to Cedar Hill with a knock on the door and warm face-to-face conversation. Despite multiple illnesses that threatened to keep her bedridden, she rose almost every day to tend to the neighborhood's gardens, working with volunteers from Cedar Hill and the Urban Resources Initiative (URI) to pick weeds, rake old leaves, and plant new flowers.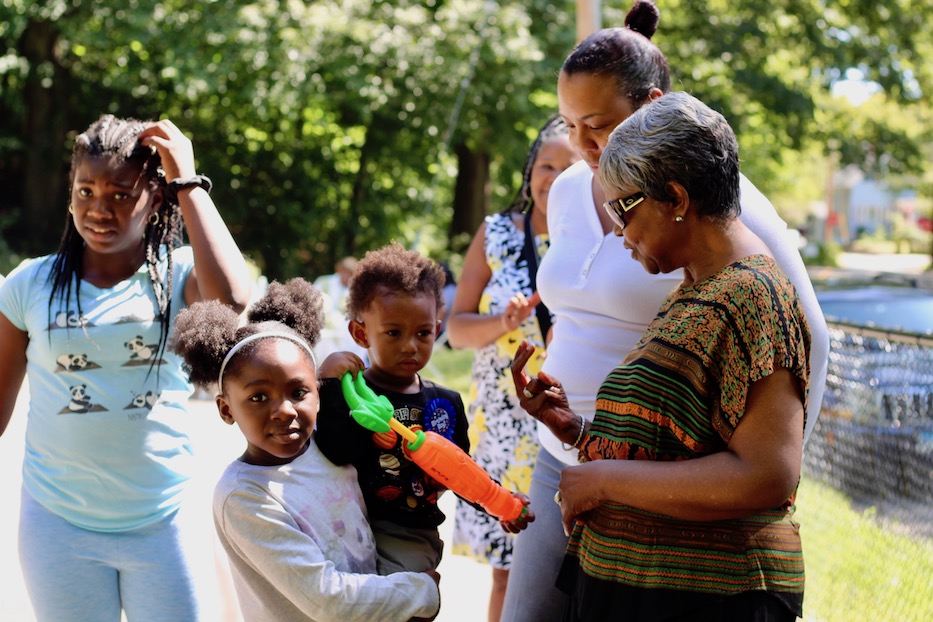 Even when she was undergoing cancer treatments, she recalled, she would haul herself from bed and walk as far down English Drive as she could before getting exhausted and having to turn back. Now, the area from the corner to English Drive is known as Ms. Betty's Way.
"I am very honored for this corner," Thompson said. "Doing URI gave me the idea that I can speak. I can represent my community. I can be a part of this that I wanted to do."
"I do not know everybody now, but I've got to make it my mission to bring in the new people," she added. "This is so beautiful."
One by one, attendees lauded Thompson for her tireless work, from growing the number of gardens in the neighborhood to advocating for the now-installed splash pad and half basketball court on the edge of Rice Field. Fighting back tears, Ansley recalled getting that initial knock on her door when she moved into the neighborhood several years ago. She has tried not to miss a gardening work day or neighborhood meeting since.
"Residential pride happens with just a cup of coffee and just saying good morning, and just sweeping the front of your own property," she said. "She welcomes everybody here. I personally am who I am because of her coming and knocking on the door and saying, 'hey, I'm your new neighbor. Welcome to the neighborhood.'"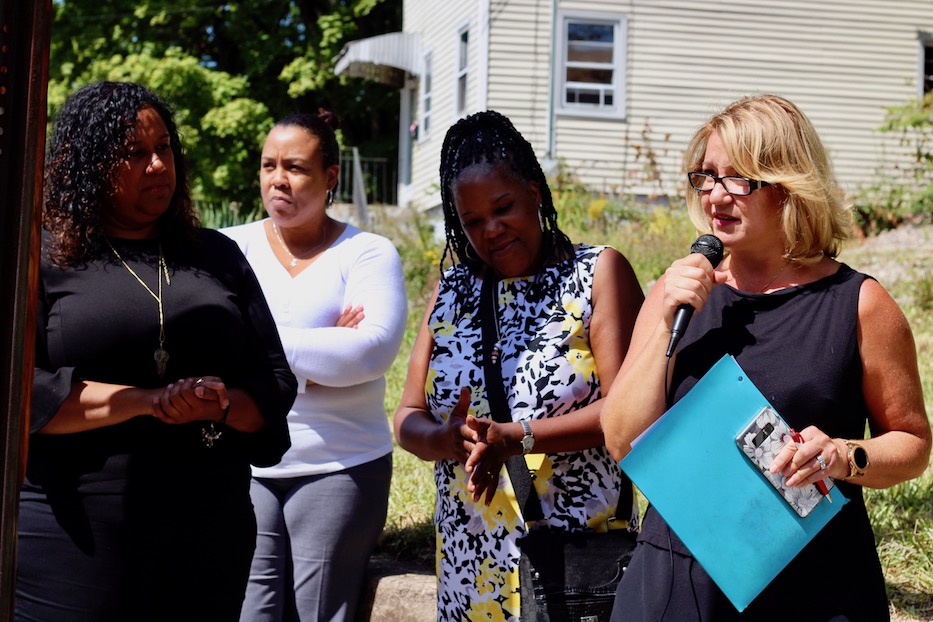 Camille Ansley, Kenya Adams-Martin, and Anna Festa.
Pulling from the Gospel of Matthew—the parable of the mustard seed—East Rock/Cedar Hill Alder Anna Festa praised Thompson for a tireless, methodical approach that often included caring for neighborhood kids, recruiting new gardeners, and co-founding Friends of East Rock Park with then-Alder Justin Elicker. She praised her as "the unofficial mayor of Cedar Hill," a comment that drew claps from Mayor Toni Harp herself as she stood beside Thompson.
"She is a passionate, fierce, loving community activist whose heart is so big that she needed a new one," Festa said, stopping mid-sentence for cheers and applause. "Betty, you are truly the pillar of this community. You are an example to us that no matter what cards you are dealt in life, you can continue to build a community … your strength, Betty, surpasses any example I have seen."
"May the community be reminded every day as they look up at this corner and say 'I need to be more like Ms. Betty Thompson,'" she added to more cheers. "And maybe even the ones who are having some challenges will look up and say 'dear lord, that is the direction I need to take.'"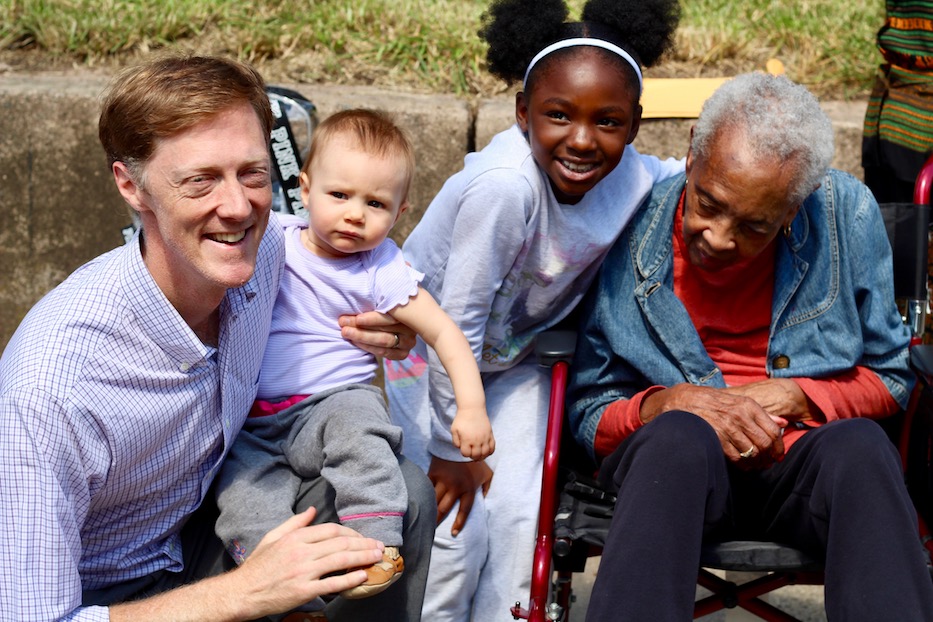 Justin Elicker and his youngest daughter April with Ms. Clara Lawhorn and a member of what Ansley called "the next generation" of Cedar Hill.
From Ms. Betty Thompson Corner, attendees made their way up Grace Street, across English Drive and into Rice Field, where a sapling was planted earlier this year in Turcio's honor. After a moment of silence, attendees passed the mic to each other, remembering Turcio as a fierce advocate of Cedar Hill, whose gruff exterior was matched only by her dogged neighborhood activism and genuine care for those who loved the area as much as she did.
After growing up around Wooster Street, Turcio moved to Cedar Hill as a young adult, raising her son Louis and daughter Danielle as a single mom. Earlier this year, she passed away at 54, just months before her first grandchild was born. Saturday, her brother Richard remembered her as a fighter, holding her ground not because she was territorial, but because she cared about the neighborhood, the city, and its residents so deeply.
Choking up as he spoke, he recalled the Saturday earlier this year that URI invited him out to the site, and invited him to join the planting.
"It's beautiful," he said of the tree. "I'm so thankful for everyone involved. It means a lot to our family."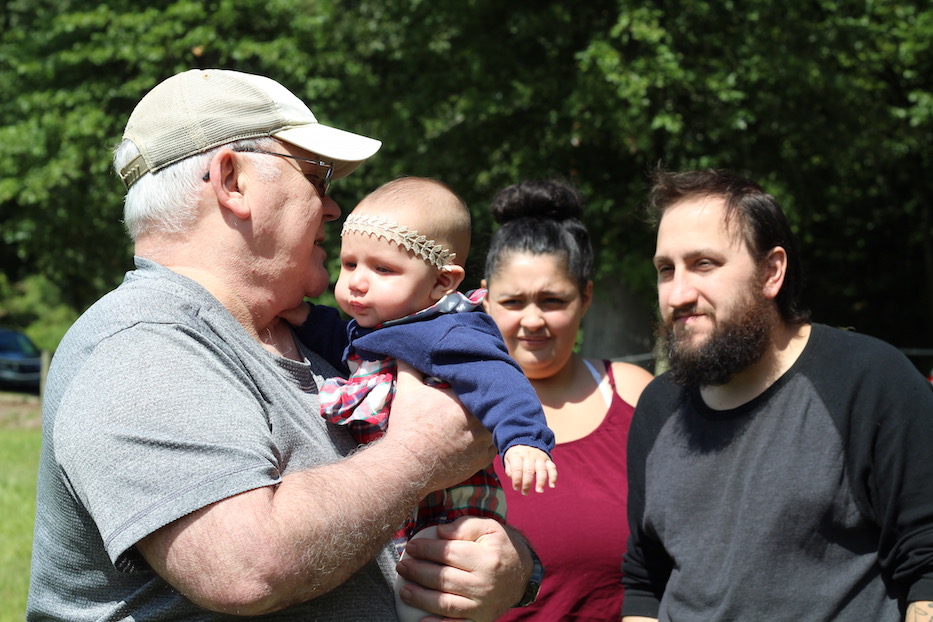 Rebecca Turcio's father, Richard, with the newest member of their family and her son Louis and his wife.
That grief, and in it a celebration of her life, abounded. With his months-old daughter in tow, Turcio's son Louis remembered his mom as tough as nails and equally gentle, a woman who would do anything for her two children and for New Haven.
"My mom is a character," he said. "I don't say was, because I think about her every day. I think about all the stuff that she's taught me … if she knew all these people were here, she'd say some outlandish things and be really excited."
In tears, Festa recalled meeting Turcio when the two were both students at St. Mary's High School, where Turcio was a few years older and looked out for the underclassmen. Even then, Festa recognized her as "this tough Wooster Street Girl," whose heart seemed to grow larger with every person she met.
As the two grew into adulthood, Festa watched Turcio become an advocate for civic engagement, working long hours at polling locations during every election, commenting frequently as Cedar Hill Resident in the New Haven Independent, and attending countless city meetings to advocate for fellow residents or voice her disapproval of a proposed measure.
Festa learned to listen for her laugh—a grating, loud "Elmer Fud laugh" that she now misses each day.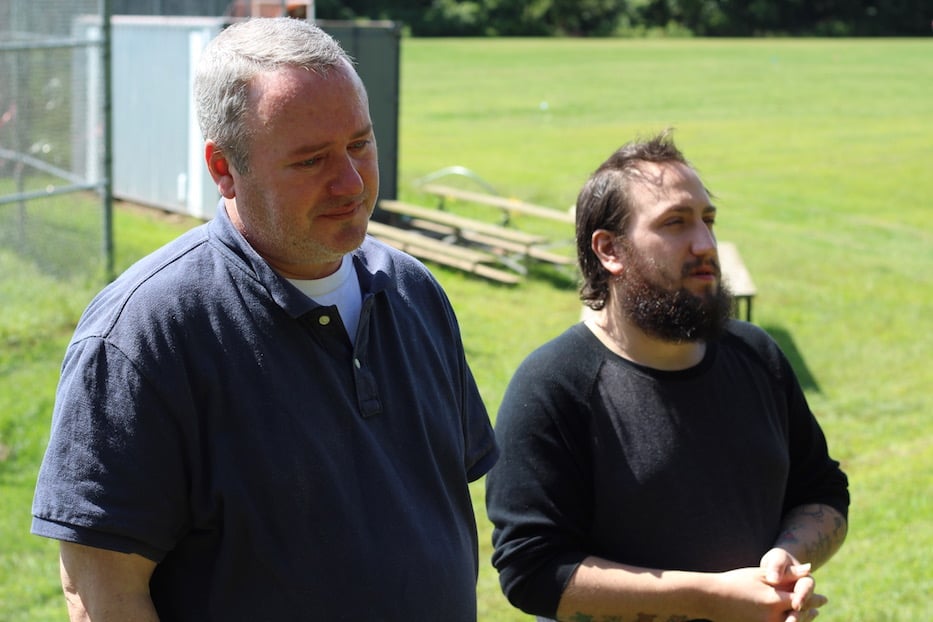 Turcio's brother Richard Jr. with her son Louis. Her uncle, Reno Angeletti, was also in attendance.
"She accomplished more than anyone that I know," Festa said, adding that her memory lives in all who came in contact with her. "She never gave up. She was always hopeful about everything, including her own health. She was an amazing woman who will never be forgotten, and I miss our conversations."
"No matter what, she always ended the call with 'I love you,'" she added. "Becky, I love you too."
Ansley, who met Turcio shortly before she met Thompson, recalled a fellow single mom who wasn't afraid to get out in the street and yell at passers-by who were dumping illegally, throwing trash out their windows, dealing drugs on Rock Street ("we don't want prostitutes, we want a clean park!" she recalled her yelling). Soon, Ansley was out in the street with her, carrying her young son on her hip. She joked that because of Turcio, his first words may have been "get out of here!"
Then she got serious, a catch in her throat.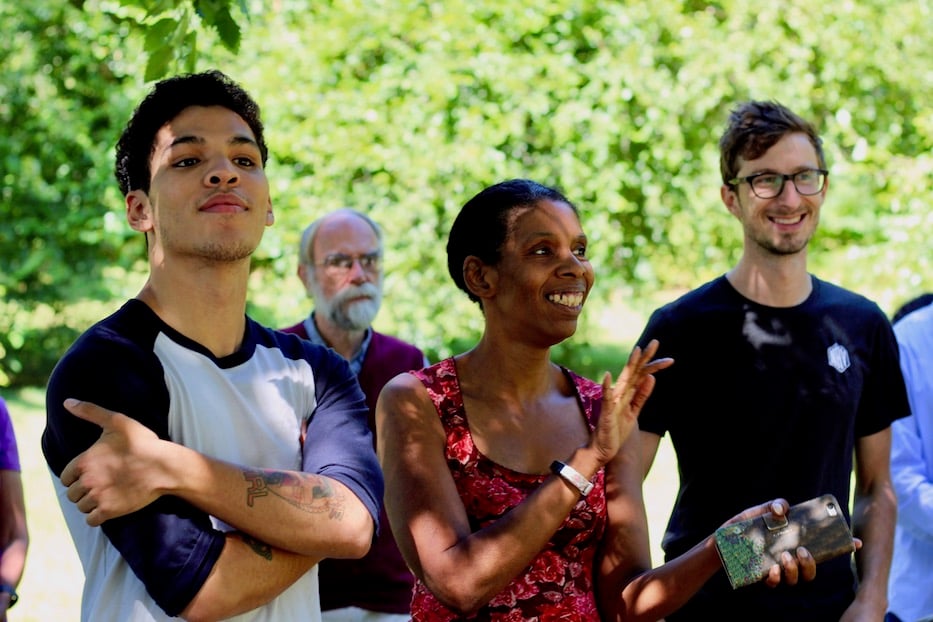 Cedar Hill-ers Mark Ifill-Hamey and Meg Ifill, with FERP members John Martin and Kevin McCarthy in the background.
"For me, Rebecca not being here is very difficult," she said. "She would have loved this tree. She loved the park. She loved nature. She really was the one who was instrumental in teaching a lot of us about plants, and just being in nature and walking through the park."
Across the street, the celebration continued with a bench dedication for Ms. Clara Lawhorn and her late husband Horace, who died last summer at the age of 83. By that time, they had lived in the neighborhood for almost five decades, sharing their homegrown produce with neighbors and making a mark as community stalwarts at neighborhood meetings, clean ups, and annual picnics at which Horace grilled hundreds of hot dogs and hamburgers for neighbors.
Sitting on the bench, Clara Lawhorn recalled watching Cedar Hill-ers pull up to their house of 47 years, marvel at rows of beets, string beans, carrots and collard greens, and ask if they could take some of the vegetables home. The answer was always yes. For the couple, sharing with the community was just another way to show how deeply they cared for it. New Haven may have been her adopted community—she grew up in South Carolina and moved to the East Coast in 1952—but it was also home.
"I love you, Horace," she said quietly.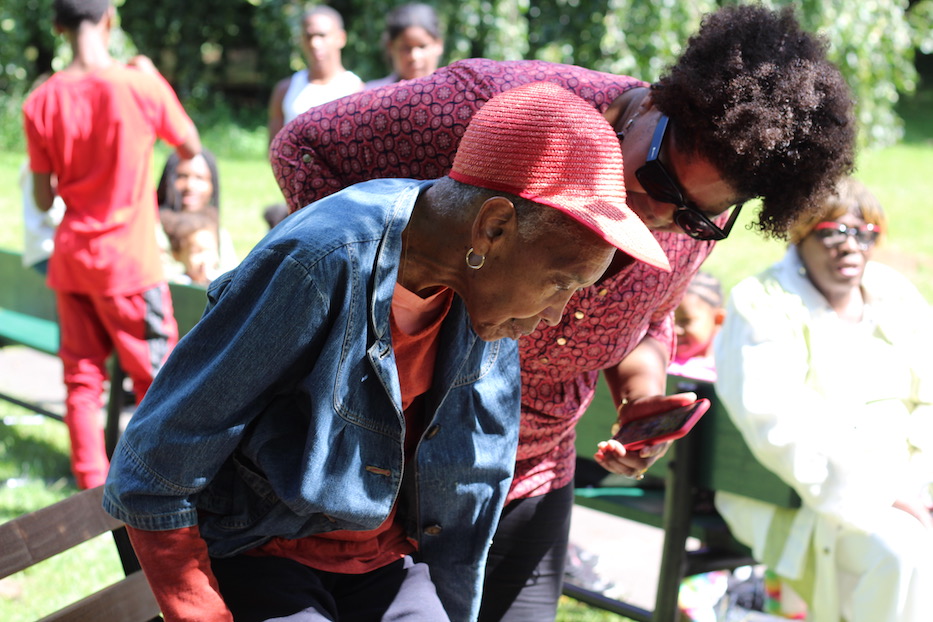 Ms. Clara Lawhorn and her daughter, Superior Court Judge Robin Wilson.
Other attendees hailed the couple as a sort of glue that held the neighborhood together. Ansley, all smiles after a moment of silence, suggested to Clara Lawhorn that the bench "exemplifies that you'll always have a seat in Cedar Hill." She recalled a series of years over a decade ago, when aggressive treatment for breast cancer wasn't enough to stop Lawhorn from making her way outside to tidy up the neighborhood and check in on residents.
State Rep. Roland Lemar, who represents the neighborhood, thanked her for "always being a person for me to talk to" about what was—and wasn't—going right for the neighborhood.
Their daughter, Superior Court Judge Robin Wilson, recalled growing up in the neighborhood and learning to be a good steward of community from her mom. She recalled it as "a village of love and respect," in which everyone looked out for those eight blocks and for each other. Now, she said, she hopes that Cedar Hill residents can think of that whenever they sit on the bench.
To find out more about events in Cedar Hill, join the Cedar Hill Association on Facebook.