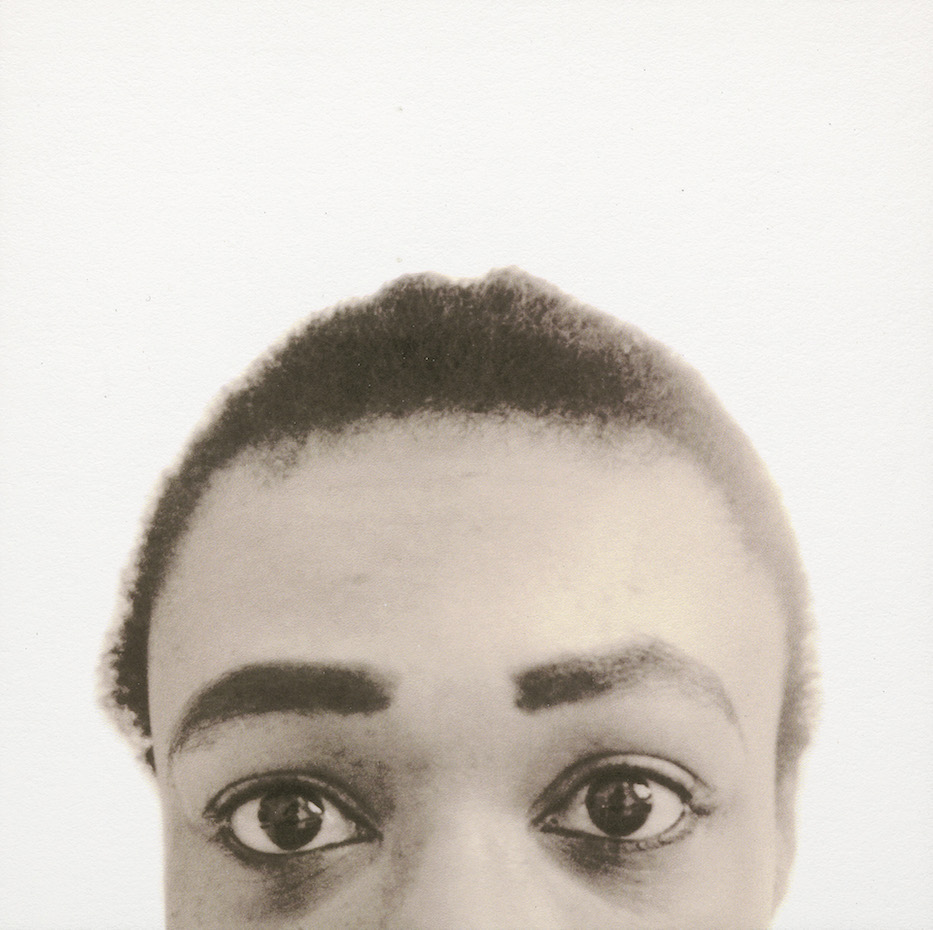 Arts & Culture | Visual Arts | Yale Center For British Art | COVID-19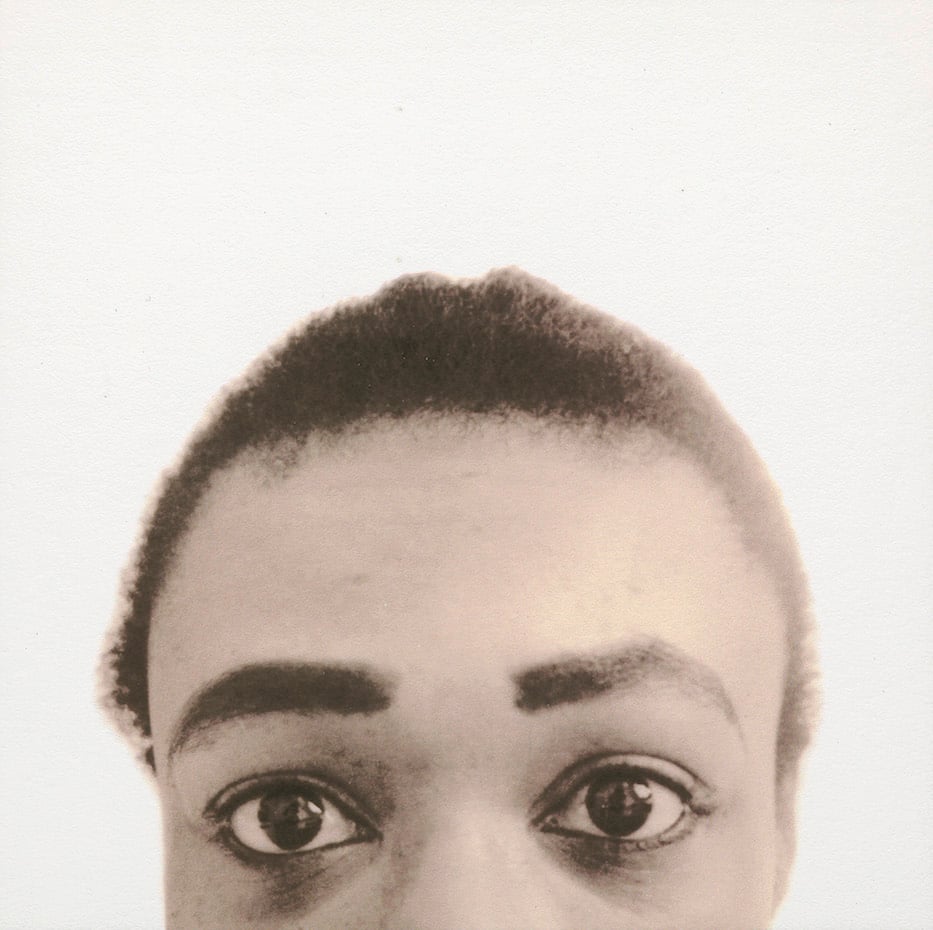 Joy Gregory, Autoportrait (detail), 2006. Yale Center for British Art, Friends of British Art Fund, © Joy Gregory.
Two large brown eyes dominate the page. The close cropping of artist Joy Gregory's face leaves her nose and mouth out of view. Farther down, this detail is shown with eight others from her 2006 Autoportrait series. Nine giclée prints are displayed in a square grid. The sepia tones of the photographs imbue the imagery with nostalgia, contrasting with the artist's oversized geometric earrings and atypical poses.
Many prints reveal Gregory's face from an angle or behind; her hands cover her features in another. Gregory invites viewers to see only pieces of herself, controlling how much is visible.
Gregory's prints are on view as part of the Yale Center for British Art's exhibition, Art in Focus: Women From the Center. While the Center remains closed due to Covid-19—with the exception of limited viewing hours for anyone with a Yale ID—the exhibition is accessible online. It runs through May 2 of this year.
The show, which coincides with Women's History Month, follows Yale's 2019 commemoration of two important milestones. In 1869, female students attended the School of Art when the graduate program opened. A century later, women finally joined their male peers at Yale College.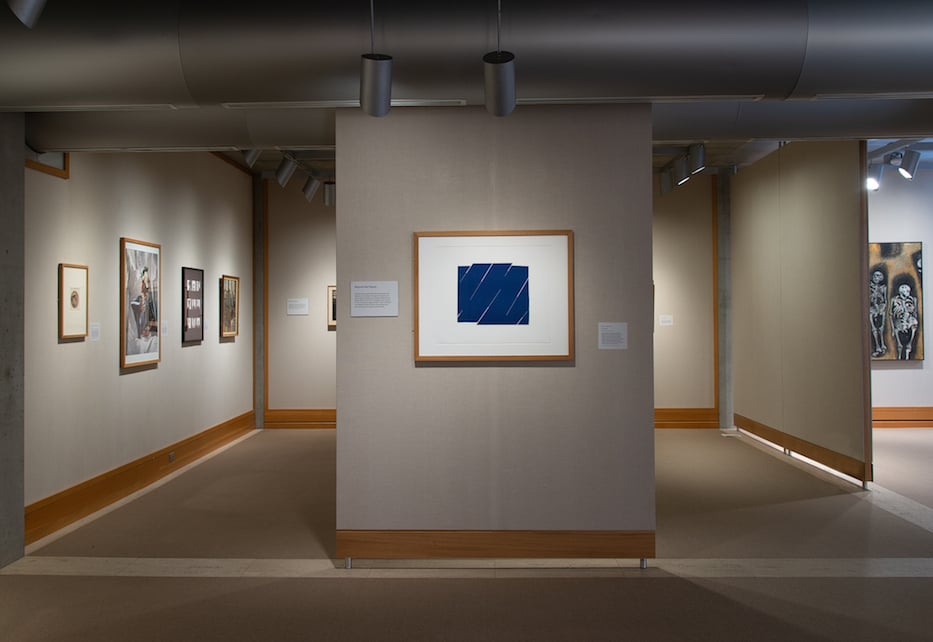 Art in Focus Women From the Center runs at the Yale Center for British Art through May 2. Richard Caspole Photo.
The exhibition title is a play on words, referencing the name of the Yale Center for British Art — shortened to "the Center"—and Lucy Lippard's 1976 text, From the Center: Feminist Essays on Women's Art. American writer and curator Lippard opened her collection of essays by describing how the Women's Movement had changed her views as an art critic. Lippard recognized the imbalance of the art world: the representation of male artists outnumbered their female counterparts in gallery and museum exhibitions then and now.
With representation in mind, Women From the Center is an all female show and the product of the Student Guide Program, which oversees an annual student-curated exhibition. The curatorial efforts of five undergraduates—Emma Gray, Sunnie Liu, Annie Roberts, Christina Robertson, and Olivia Thomas—were led by Senior Curator of Education Linda Friedlaender, former Curator of Education and Academic Outreach Jennifer Reynolds-Kaye, and former Postdoctoral Research Associate Rachel Stratton.
First, the student curators were assigned the vast topic of women. They began by combing through the Center's collection, amassing a varied list of works by female artists while making an effort to resist essentializing the idea of womanhood in the process. While some of the artists have name recognition, others are not as common, such as Prunella Clough and Kim Lim. As their shortlist emerged, the curators then grouped the works into four categories, with natural overlaps among these thematic groupings.
"Women and Institutions," for instance, takes a broad view of different entities, many of which were not designed to serve women and some of which were intentional in their oppression. The ways that women picture themselves within environments that have catered to men are the core of "Space and Place," with standout works from Cornelia Parker and Gillian Wearing. The most poignant among a section titled "Women as Muses" is Joy Gregory's aforementioned series, which confronts one of the most pervasive art historical genres — the female muse alongside her partner, the male gaze.
Lastly, the curators brought fresh eyes to the female form—or rather, its absence—in "Beyond the Figure." This final category showcases three artists who have contributed to the field of abstraction.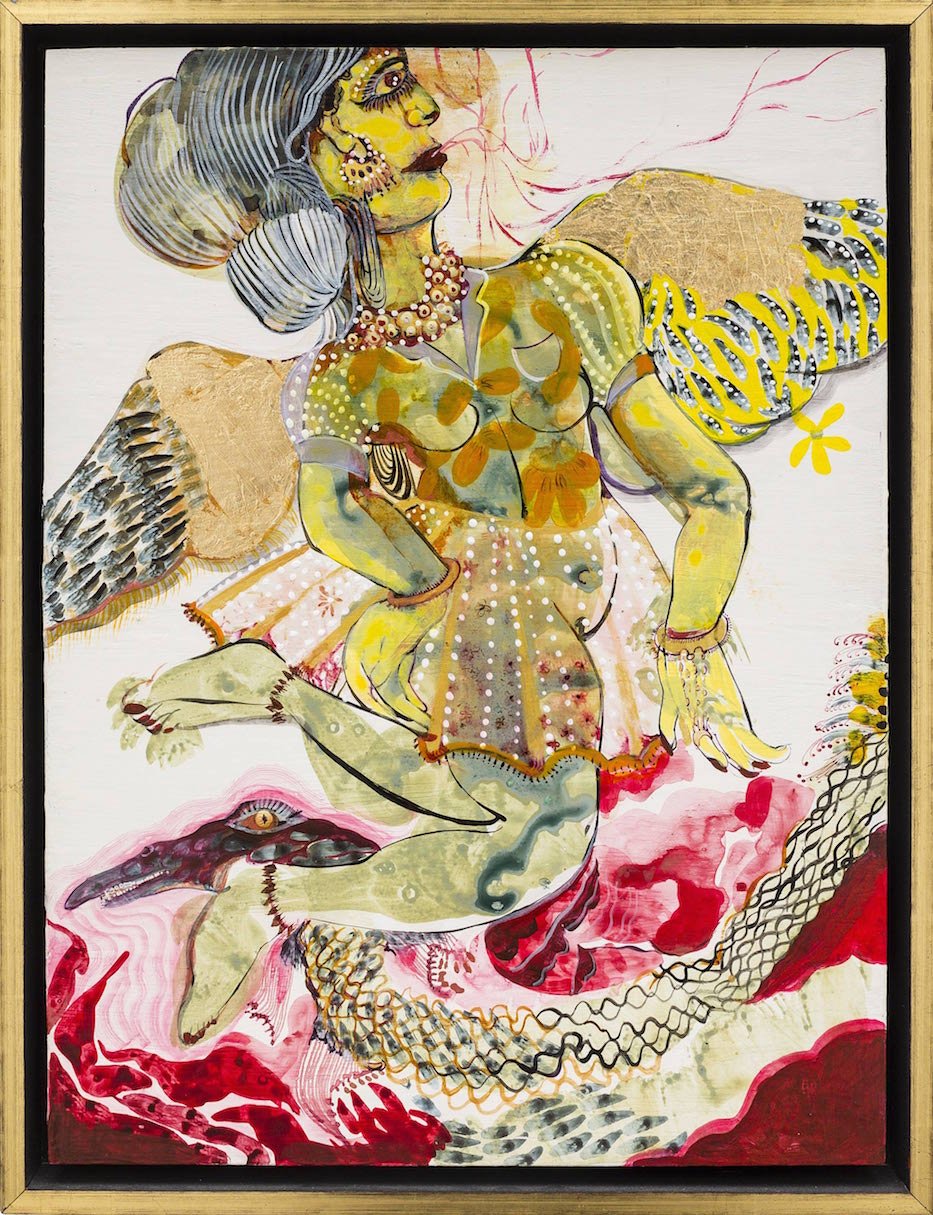 Rina Banerjee, Upon first Myth and empirical observation the hero, her angel leaps in cry, opens the moon to urge on a rain that may cleanse all the sweat of her jealous man, 2013–20. Acrylic, ink, and gold leaf on panel. © Rina Banerjee.
As part of "Women and Institutions," Joscelyn Gardner depicts a formerly enslaved, anonymous woman in her hand-colored lithograph titled Eryngium foetidum (Prue). Born in Barbados, Gardner often mines her family history in the Caribbean. Viewed from behind, the woman's elaborate braids may recall the African practice of embedding seeds and rice into hair during the transatlantic slave trade. The vertebrae of her neck are replaced with spikes from a torture device, and below are sprays from the titular botanical specimen. Enslaved women used E. foetidum to induce abortion, thereby preventing the cycle of forced labor.
By juxtaposing an implement of torture with human and natural elements, Gardner underscores how the field of science has been corrupted by racist agendas. Slavery is linked to a system of human classification demarcated along contrived racial lines. The meeting of science, race, and gender within this work reminds viewers of the importance of intersectionality for feminists. It likewise nods to the necessity of outing assumptions and biases that stray from scientific truths.
A mixed-media painting that touches on all four themes of the exhibition is Rina Banerjee's Upon first Myth and empirical observation the hero, her angels leaps in cry, opens the moon to urge on a rain that may cleanse all the sweat of her jealous man. This colorful, densely patterned work depicts a female who appears to have wings. Her legs and arms bend in directions that imply weightlessness as delicate pink wisps spill from her mouth. The profile of her head details her long hair, which is gathered at the nape of her neck surrounded by ornate jewelry.
Banerjee, who received her MFA from Yale's School of Art, presents a multi-cultural vision of a female deity, a melange of reverie and mythology that balks the colonialist impulse. This work channels the celebratory inspiration of the exhibition — a glimpse of a woman in control of her destiny, however fantastical.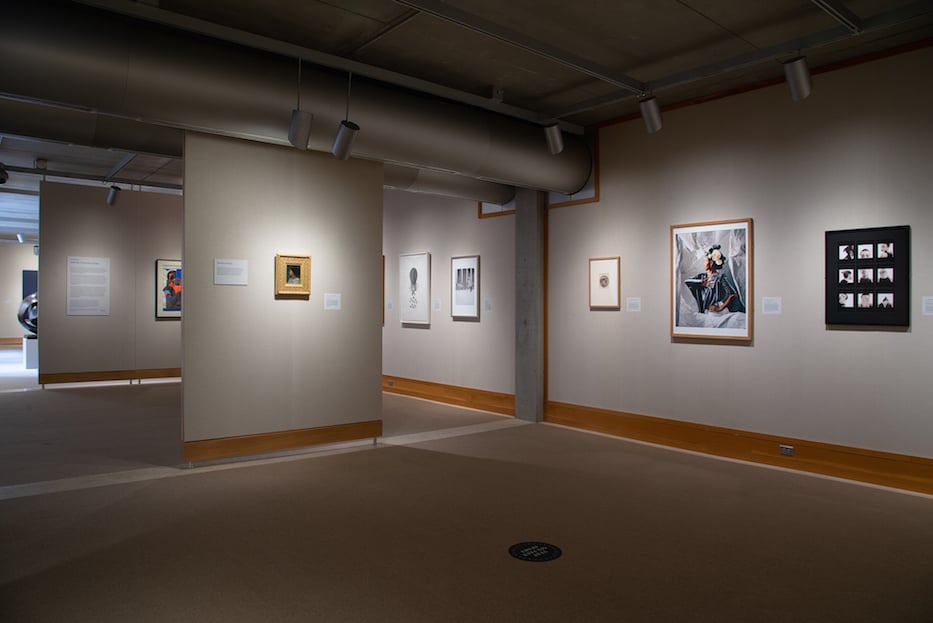 Art in Focus Women From the Center runs at the Yale Center for British Art through May 2. Richard Caspole Photo.
Many farfetched dreams of women have become reality since Lippard pushed forth her modest claim that female artists deserved the same reverence afforded men. Nearly 45 years later, the quest for equity persists, and the need for greater representation of female artists continues to outweigh the danger of putting them into a proverbial box. Shows such as this one aim to close the gaps, bringing much-needed attention to female artists.
For this exhibition, at this exact moment, the notion of privilege also arises. How can museums share their work with the largest audiences without the aegis of a physical building or internet access? And how can art spaces transform the act of viewing jpegs on a screen into a meaningful experience? These questions were far from necessary considerations when the team of student curators envisioned this show. Yet one year into the pandemic, many aspects of daily life such as viewing art in person have been slow to return. Even with a hopeful image of the future developing, the onus falls on art institutions to find safe ways to open their doors to the general public or compete with other forms of digital entertainment.
Art in Focus: Women From the Center runs through May 2, 2021 at the Yale Center for British Art. To view the online exhibition, visit its website.