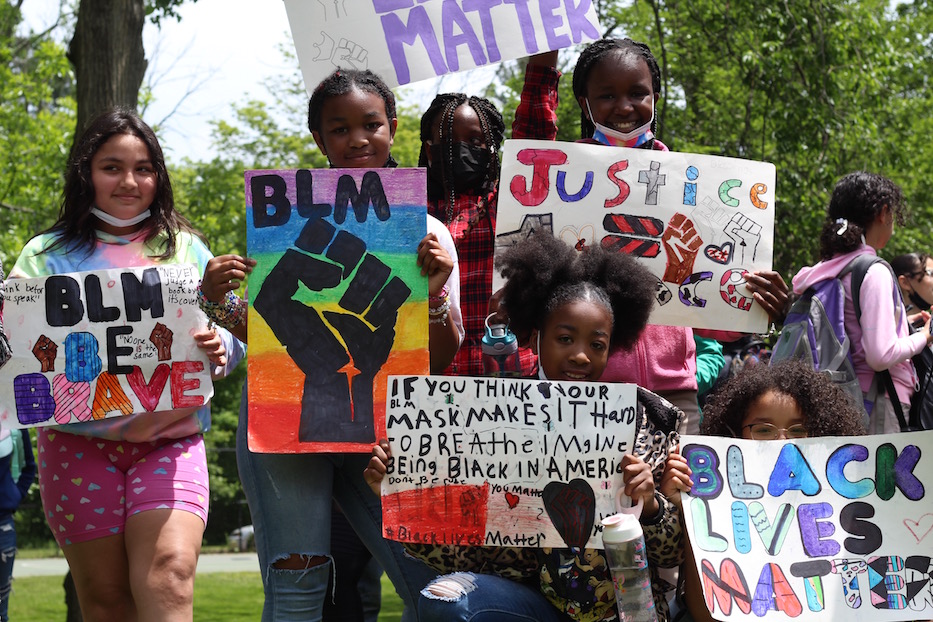 Culture & Community | Education & Youth | Environment | Arts & Culture | Black Lives Matter | Arts & Anti-racism | Elm City Montessori School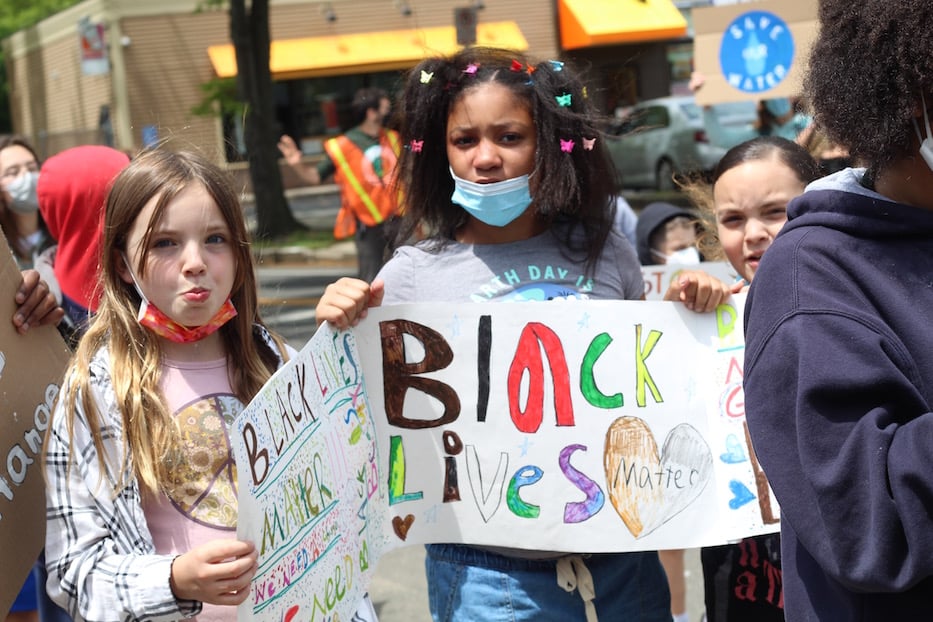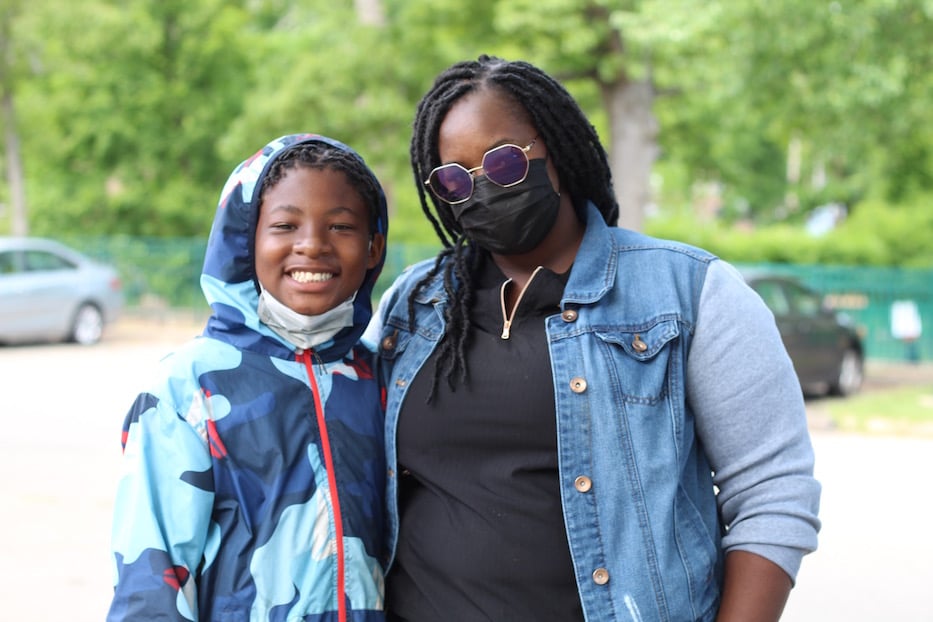 Top: Students from ECMS march toward the park. Bottom: Cameron Barnaby and his mom, Tia Baker. Lucy Gellman Photos.
Cameron Barnaby looked out over Edgewood Park, scanning the crowd for his classmates' faces. Bringing the mic to his mouth, he recalled how he'd gone home Tuesday, and learned that a school shooter in Texas had murdered 19 children and two teachers. That he knew the country had been here before—and before that, and before that.
He never wants to hear that news again.
"They were fifth graders like me," he said.
Thursday afternoon, Cameron was one of over 100 students to attend Elm City Montessori School's (ECMS) second annual Children's March in Edgewood Park. For over an hour, fourth through seventh grade students gathered to speak out against gun violence, systemic racism and white supremacy, statewide abortion bans, climate change, anti-LGBTQ+ discrimination, animal testing and lack of access for people with disabilities.
They included not only ECMS students, but students from L. W. Beecher Museum Magnet School of Arts and Sciences, Edgewood Magnet School, and Common Ground High School. Co-sponsors included High School in the Community, Mauro-Sheridan Interdistrict Magnet School, Black Lives Matter New Haven, New Haven Pride Center, Citywide Youth Coalition, City of New Haven LGBTQ Youth Task Force, New Haven Climate Movement, Westville Village Renaissance Alliance, Semilla Collective, and Students for Educational Justice.
For many of the students involved, it is the first time they have had to address their peers in public.
Nylah (in red plaid): "I want everybody to be seen as equal, no matter what their race is. No matter who they are." Friends Za'Karia Jones and Nevaeh Germain, interviewed at the bottom of this article, are at the lower right of the image.
"I'm out here today because I wanted to make people recognize that there's a lot of challenges in the world that we could all change if we all came together," said Nylah, a seventh grader and student body president at Beecher School who asked that her last name not be used. "I've been thinking about the Buffalo shooter. This one white male who drove miles to hurt people. I thought it was sad. I want everybody to be seen as equal, no matter what their race is. No matter who they are."
At ECMS, the march has been months in the making. During the year, students follow an Anti Bias Anti Racism (ABAR) curriculum helmed by Amelia Allen Sherwood and informed by the work of Louise Derman Sparks and Julie Olson Edward. After starting with a unit on self-love and confidence, students move into learning about human diversity and celebrating difference, and then study justice and activism alongside each other. Like last year, students and staff were especially inspired by the Birmingham Children's Crusade, which unfolded over two days in May of 1963.
"It really is the showcasing of what they're most passionate about," Sherwood said of the march.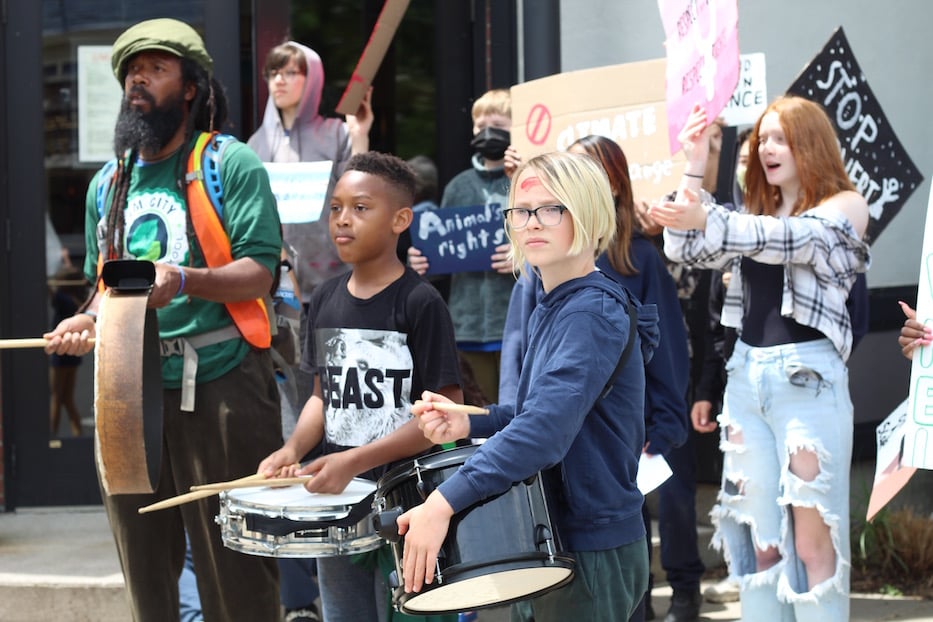 Thursday, that passion wound from the Blake Street campus down Whalley Avenue, as students lifted handmade signs, beat drums, and walked toward the sun-dappled park with their heads raised toward the sky. As they gathered on the sidewalk, cries of "Black Lives Matter!" and "No Justice/No Peace!" sailed through the air. Drivers honked in support. Close to the park, a few ECMS families waited on the sidewalk, cheering students on. One raised a simple cardboard sign that read "Grandparents for Justice."
"Show me what community looks like!" students spoke-sang as they waited for the light outside of Rawa on West Rock Avenue. Drums rumbled and rang beneath them.
"This is what community looks like!" teachers sang back.
As they moved into the park, the weight of recent mass shootings in Uvalde, Tex. and Buffalo, New York was everywhere. Students carried hand-painted signs that read "Stop Gun Violence," "Terror Is Real," and "Protect The Victims/Not The Culprit." In the middle of West Rock Avenue, a student lifted the hand-drawn image of a semi automatic rifle with a clean, thick red line drawn through it.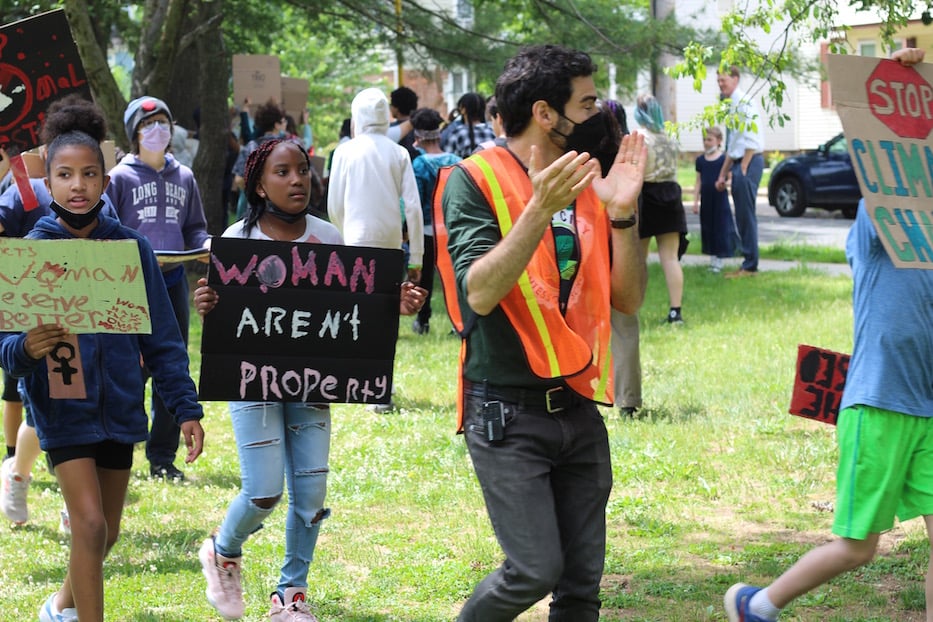 Magnet Resource Teacher David Weinreb, who helped organize Thursday's march.
"We hope this never happens in our community, in our schools," said ECMS' Alejandra Corona Ortega, an elementary assistant who co-emceed the march with seventh grader Alex Fuentes. "Everyone deserves the chance to go to school safely."
Over and over again, students harnessed the grief, uncertainty and horror of the moment to insist that a different, safer and more peaceful world was entirely possible. Many called for stronger gun control legislation than any Republican in Congress has this week, drawing a line from widespread gun violence in American cities to mass shootings in schools, movie theaters, grocery stores, and shopping malls.
Others noted the link between violence and lack of access to resources and mental health care. Others still held space for their peers and their parents, who are now afraid of the buildings in which they and their children are supposed to learn.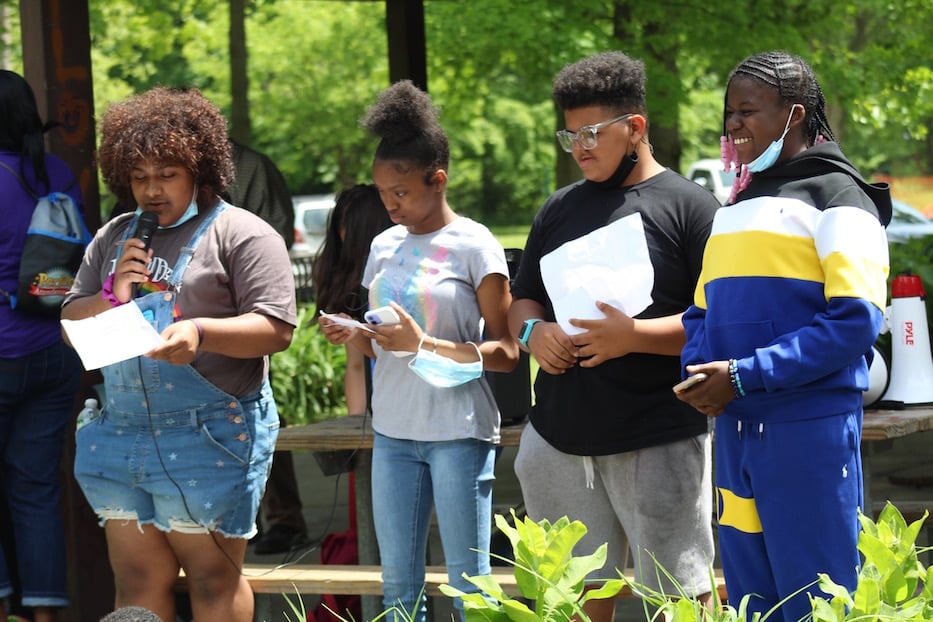 Edgewood students Theo Rivera, Tracine Allen, Ryan McKnight and Ja'Mese Hunter.
"There's a large amount of violence within our schools, whether it's gun violence, physical violence, verbal abuse," said Ryan McKnight, a sixth grader at Edgewood School. "School is our second home, where we learn, laugh, play, and meet new people. Our parents should not have to worry about violence when we are in our secondary habitat."
When he stood to speak, 10-year-old Cameron Barnaby deplored gun violence not only in Uvalde and Buffalo, but also from Aurora, Col., to Sandy Hook to New Haven. His voice cresting gently over the crowd, he said that gun violence is not just a national issue, but a local one too. As he spoke, it was hard not to think of 15-year-old Elijah Gomez, a gentle teenager who was shot walking home on the Farmington Canal Heritage Trail earlier this month.
In an interview afterwards, Cameron said that several of his peers had been afraid to march, worried that violence could strike their own school community at any time. In turn, his own thoughts drifted to his parents. His mom, Tia Baker, stood in the back of the crowd, hanging on to each word.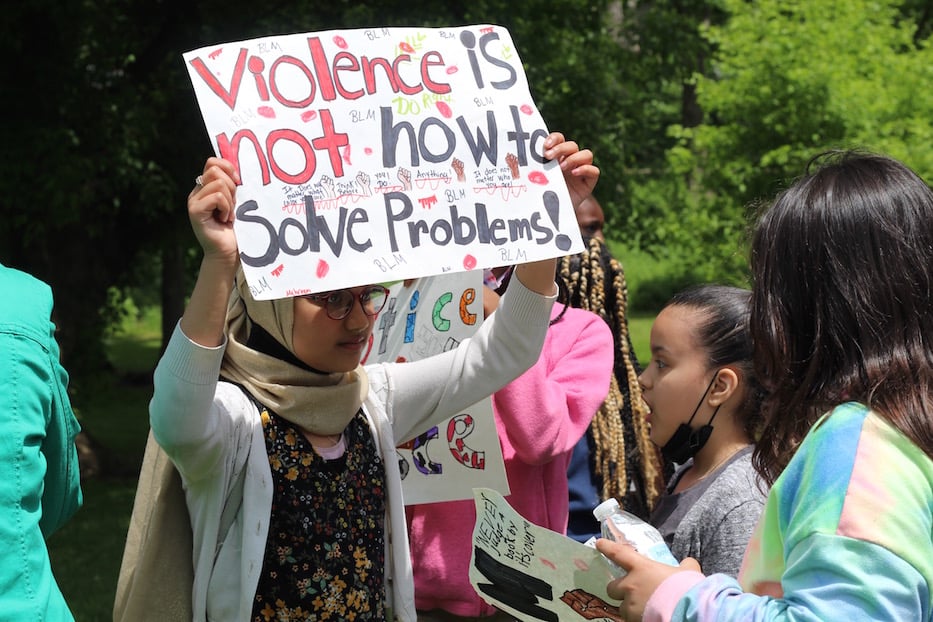 Beecher students enter the park.
During and after the march, several of his peers added their voices to that call. Seventh grader Alex Fuentes, who co-emceed the event, said she was trying to guard her heart after a traumatic week within a traumatic years-long stretch of time.
"That could have been me," she said. "Fourth graders being gunned down, shot—it's really heartbreaking. To be in the parents' shoes, or their friends' shoes, it's really sad. All I can do right now is say my word, do whatever I need to do to get my point across."
Back at the school, 12-year-old A'landa Canty and her mom, Frances Fountain, said that the shooting had been weighing heavy on their hearts since Tuesday afternoon. Fountain, an ECMS parent of three who came to support students during the march, described herself as feeling both hurt and exhausted by the news of another school shooting. She praised students' courage in speaking out Thursday.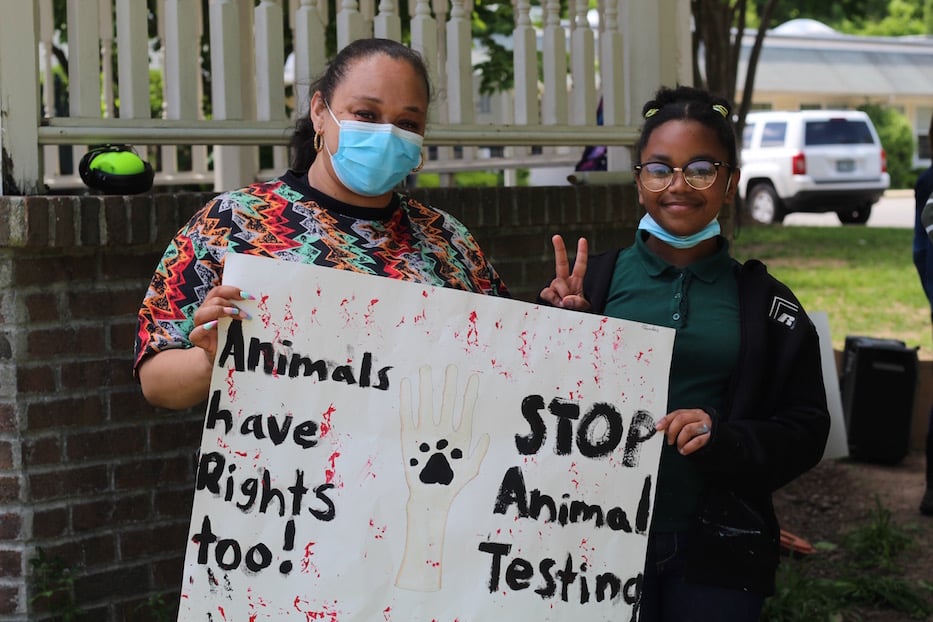 Frances Fountain and 12-year-old A'landa Canty.
"It could have happened to anyone,"A'landa said. "All these kids had a full life ahead of them."
Standing in the school's parking lot, Baker described her heart as "torn." She was proud of her son for speaking out, she said—and deeply saddened by the reason he had to. Since Tuesday, she's been thinking about the parents who sent their kids off to school Tuesday morning, and will never see them alive again. Thursday, they were supposed to be celebrating the end of another academic year.
"It's crazy to me because you send your children to school in the morning, and when you're getting ready, you're not always the most pleasant," she said. "To know the last thing you said was 'hurry up' or 'let's go' and then you never see them again?"
Why They March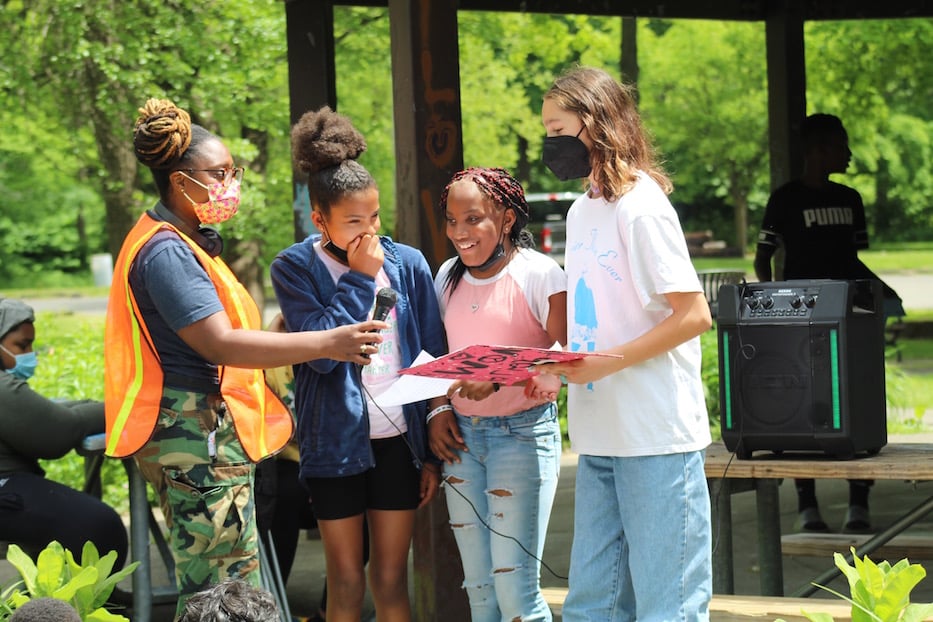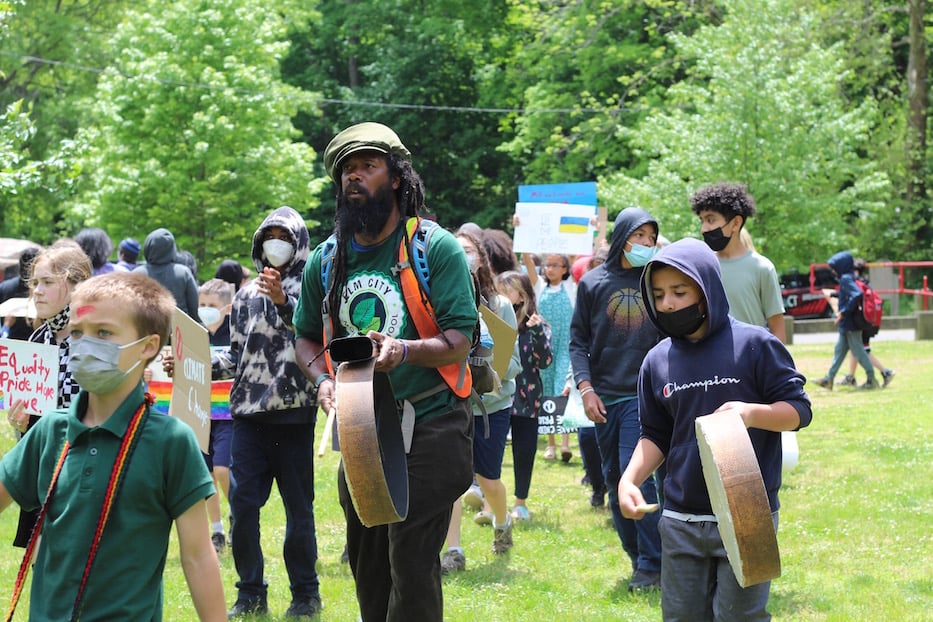 Top: Amelia Allen Sherwood supports students Hayden Hawthorne, Princess Elliot, and Kayla Krolak. Bottom: Gammy Moses and young drummers from ECMS.
Speaking for over an hour, fellow students focused on climate change, reproductive rights, racial justice, support for refugees, the war in Ukraine, and increased access for people with physical and developmental disabilities. Almost all came with actionable suggestions, from planting more trees and eliminating plastic waste to following the Americans With Disabilities Act (ADA) to the letter.
Early in the afternoon, Edgewood students Theo Rivera and Tracine Allen turned their attention toward the refugee crisis, and particularly the lives of young refugees. For the two of them, the issue isn't abstract: immigrants and refugees are a vibrant and growing part of the New Haven Public Schools (NHPS) system.
Theo urged classmates to extend kindness and tolerance to young refugees, who do not leave their homes willingly and often come to the United States with very little. Tracine chimed in with data, including the number of child refugees that come to the United States each year. A single monarch butterfly hovered above them, as if it was listening to what they had to say.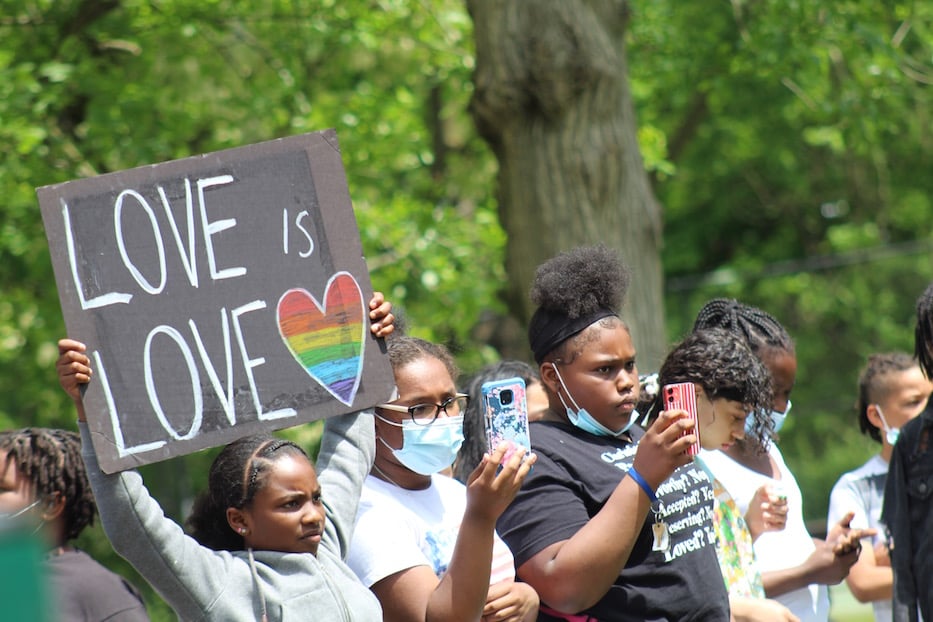 Students from Beecher.
"Imagine bombs coming down your street where you live," Theo said. "Imagine having the military come into your home and take you to a different country. Refugees have to leave with the clothes on their backs and they do not get to take anything with them. How would you feel if this happened to you?"
"It doesn't hurt to be nice," Tracine chimed in. "You never know, you could be sitting next to one right now."
Each time they took the mic, students stepped into a wider national conversation, from the dangers of pregnancy to the realities of a quickly shifting climate. Dressed in a foliage-green pair of overalls, ECMS student Estela Rivera urged her peers to pay more attention to the growing climate crisis. Beside a sign that read "Access Matters," Teddy Anderholt advocated for better ADA enforcement on behalf of her young sister.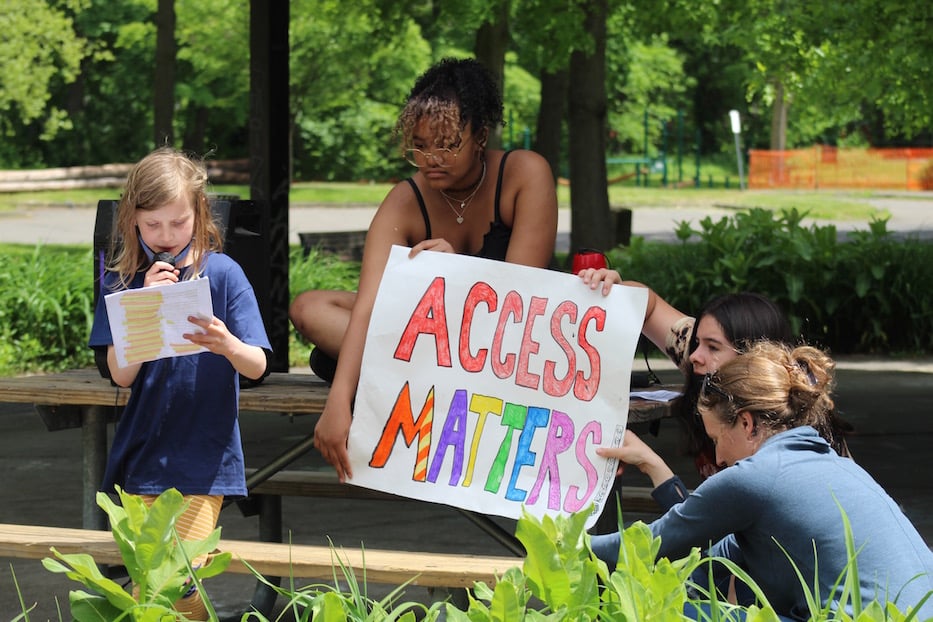 Teddy Anderholt, who advocated for stronger enforcement of the Americans with Disabilities Act.
Gathered around a pink sign that read "Women's Rights," ECMS students Princess Elliot, Kayla Krolak, and Hayden Hawthorne began reading comments on bodily autonomy, misogyny, and access to abortion. When the three hesitated, cheers of "You got this!" and "Yes Princess!" rose from the crowd, which had grown to include parents, young siblings, and curious Westvillians drawn in by the noise.
"When I say 'My body,' you say 'My choice!'" Corona Ortega yelled into a bullhorn. "My body!"
"My choice!" students cried back.
Aurora Irizarry Cardone, another student at ECMS, spoke about the sheer toll that pregnancy takes on a human body. Her voice sure and clear, she looked at the emotional and financial cost of raising a family, and the reality of maternal mortality in the United States and worldwide.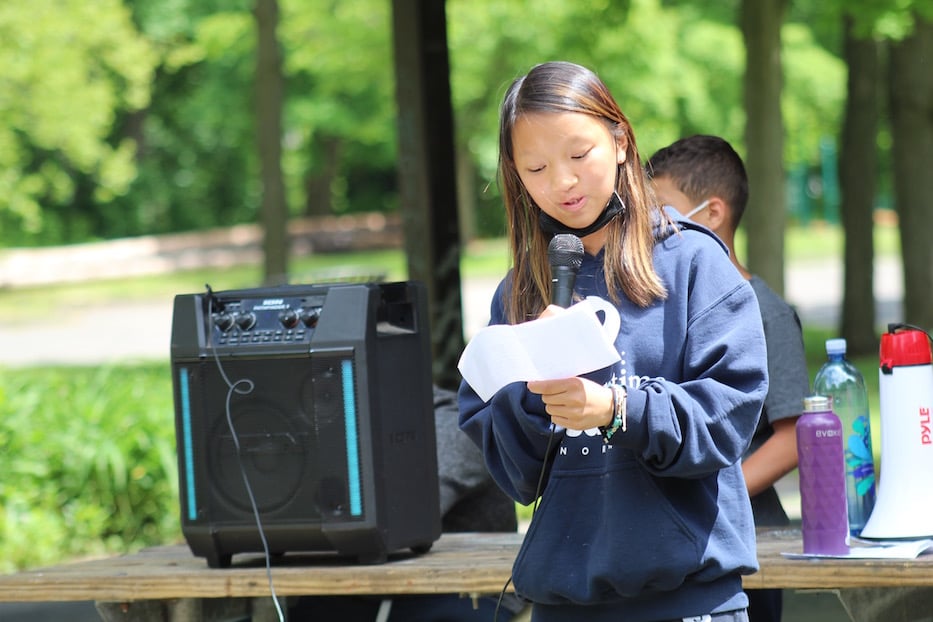 "Abortion rights are a healthcare issue," said ECMS student Lillian Price.
Across the globe, over 300,000 women die annually in childbirth and pregnancy each year, according to the United Nations. In 2020, that number was 861 in the United States alone—representing a maternal mortality rate that is rising, rather than falling. If a person doesn't want to be pregnant, Aurora said, they shouldn't have to be.
The comments are timely. Proposals for full and partial abortion bans have spread to 26 states across the country in the last year. As of this week, legislators in Idaho, Indiana, Montana, South Carolina, and South Dakota all proposed special summer sessions for the explicit purpose of institutioning abortion bans. Some of these include early gestational bans—at which point many pregnant people don't yet know they're pregnant.
"Abortion rights are a healthcare issue," said ECMS student Lillian Price.
Friends Nevaeh Germain and Za'Karia Jones, both fifth graders at Beecher, said they come out to support the Black Lives Matter movement. As they took their seats in the grass, friends came in close around them, all holding signs supporting the movement.
"How many more people have to die?" Nevaeh began. Za'Karia jumped in.
"We need to stop this," she said. "They need to stop treating us badly just because we are another color."