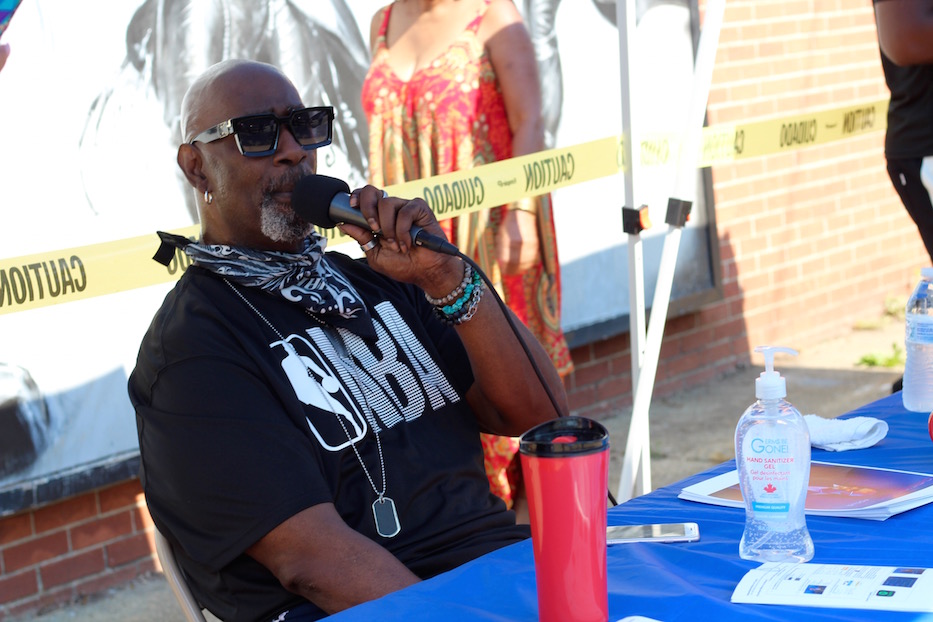 Dixwell | Music | Arts & Culture | New Haven Free Public Library | COVID-19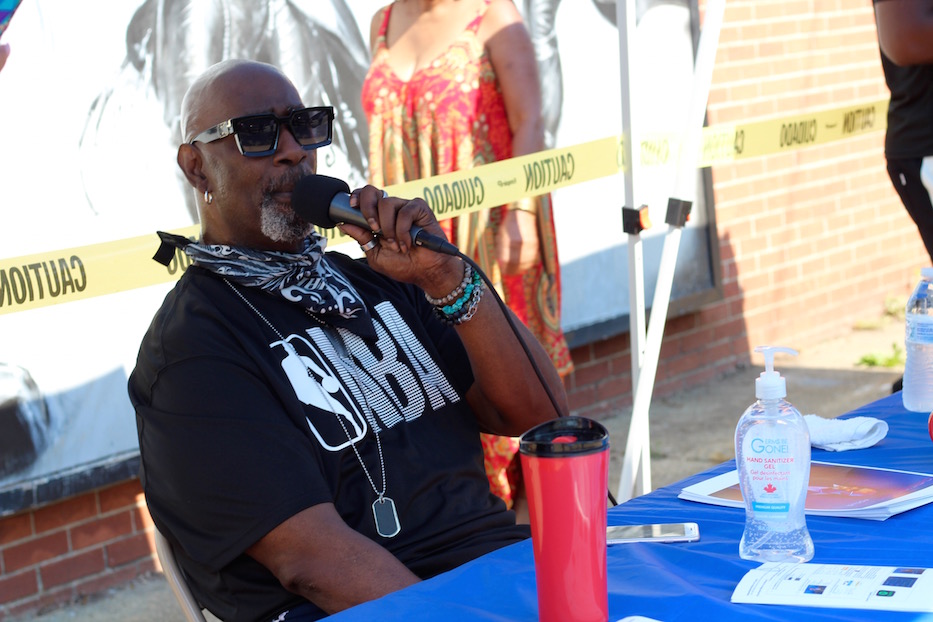 Chris 'Big Dog" Davis: "I want to talk to the world now. I want to share my gift." Lucy Gellman Photos.
Chris "Big Dog" Davis sat under a blue tent, swaying from side to side. Music filled the air: the lyrics Get up! And focus! Don't let your dreams out of your sight! boomed across a parking lot off Goffe Street. In front of him, his granddaughter McKenzie tried out a new move, and then another. He shoulder-shrugged in time with her tiny steps on the pavement.
He's not taking any of it for granted. After a recent battle with stage four lymphoma, he is focusing on the living—and the music—he has ahead of him.
Davis is a Grammy-nominated, award winning musician and producer, born and raised in Connecticut between Waterbury and New Haven. Thursday afternoon, he held a release party for his new album Focus behind the Stetson Branch Library, in a sprawling Dixwell parking lot that allowed for social distancing. The album, which he made during his treatment and recovery from cancer this year, was released from Newton-based Shanachie Entertainment last week.
Branch Manager Diane Brown set up the lot with individually packaged food, a DJ, and extra masks for those who had forgotten theirs at home. Balloons sat to the side, a reminder that Davis will turn 60 later this month, on July 26.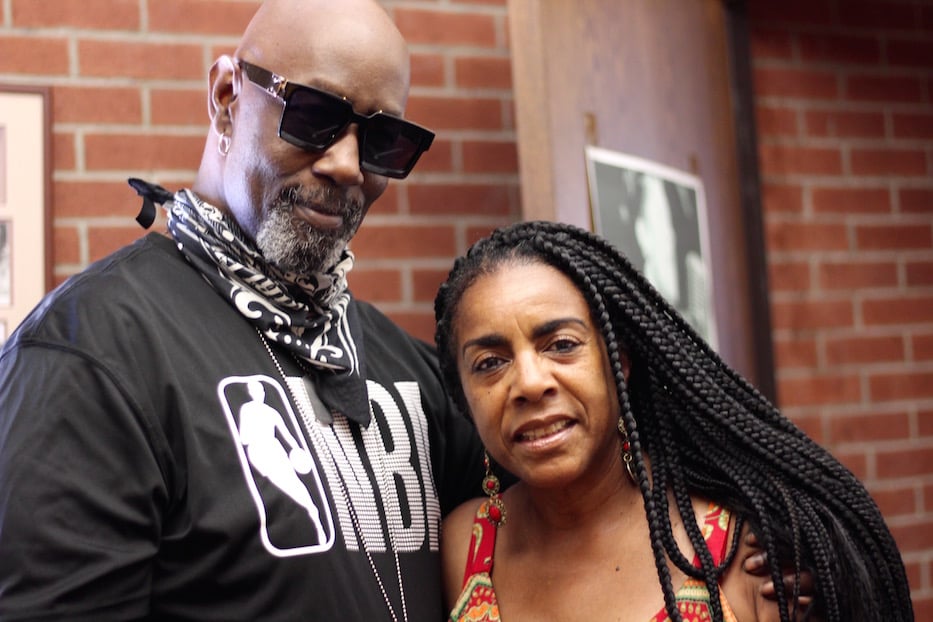 Big Dog Davis with Stetson Branch Manager Diane Brown.
"I'm so happy to be sitting here," he said Thursday. "I want to talk to the world now. I want to share my gift. I want to share what I've been through. And hopefully it will help someone."
Davis was born in Waterbury in 1960, one of six kids in a house that was almost always filled with music. He learned to play piano when he was four, practicing at the Refuge Church of Christ, where his mom directed the choir (almost all of his siblings still sing gospel; one is a pastor). His brother Woody Davis, who was in attendance Thursday, recalled "listening to him play the boogie-woogie on keys," a passion that inspired him to take up the drums.
As Davis got older, music took him around the state and then the country: to music programs at Yale in New Haven, to the Hartt School in Hartford, and then to prime time, where he played on late night television and went on tour after tour. Even as his star rose—Davis has now produced 17 number one albums and received two Grammy nominations—he continued to give back to the community that raised him. He has become a fixture at the Stetson Branch Library, where he plays a holiday show almost every year.
In 2010, Davis had his first bout with metastatic lymphoma. Chemotherapy treatments left him feeling as though 10 percent of his existence had been shaved "off my life." So when he started sensing that "something wasn't right" in December, he knew the cancer might be back.
He had just finished a tour with saxophone player Gerald Albright. Two nights before Christmas, he appeared for an annual holiday performance at Stetson, where both kids and their parents were excited to see him. He was exhausted; his stomach felt like it was in knots. Friends and family told him he looked like he'd lost weight. It wasn't meant as a compliment.
Then two weeks after Christmas, the pain in his stomach became so bad that he couldn't sleep anymore. A friend gave him a piece of life-saving advice: "Man, get your ass to the hospital."
Davis went into the emergency room January 8. Doctors found signs of stage four lymphoma while pumping pounds of water out of his stomach, and transferred him to Smilow Cancer Hospital. When he came out three months later, it was a different world, besieged by COVID-19 and new restrictions on medical care.
His sister, Carolyn Ellison, became his caregiver when he was too weak to care for himself. When he got the news would have to start chemotherapy—"it's poison," he said, showing where chemo burns on his hands are just starting to heal—he called Shanachie Entertainment. He had already started thinking about songs while looking up at the steady drip of his intravenous tubing.
"Things were looking kind of grim, and I wanted to leave something here before I left this earth," he said. "I'm a producer so I produce a lot of records, but I haven't done my own. So this was my first."
"It's interesting what you got to go through when you're that sick," he added. "I couldn't walk. I couldn't go to the bathroom. Everyone had to help me to get through that. All I wanted to do was when they bring me home, to sit in my studio with a bucket beside me."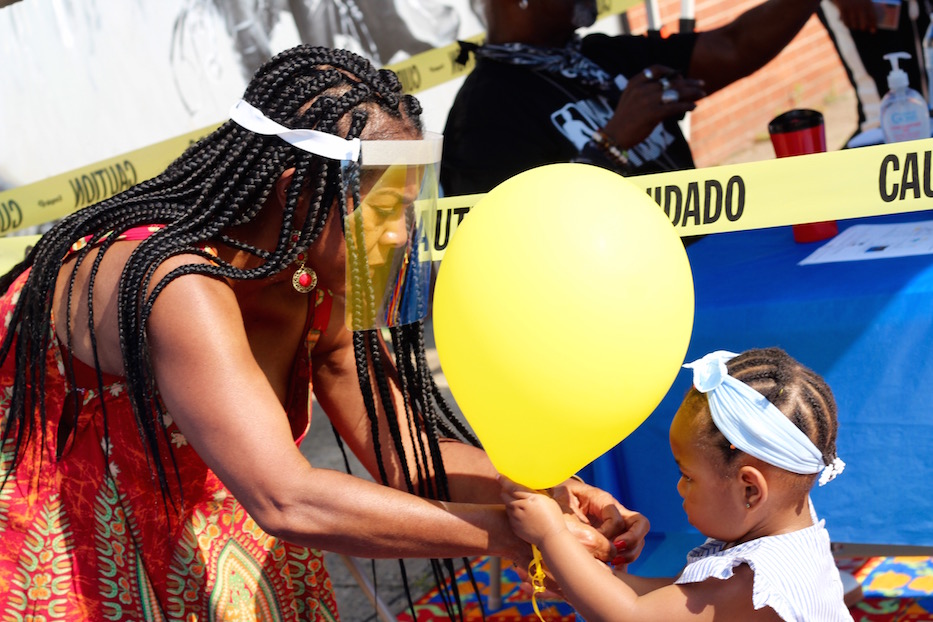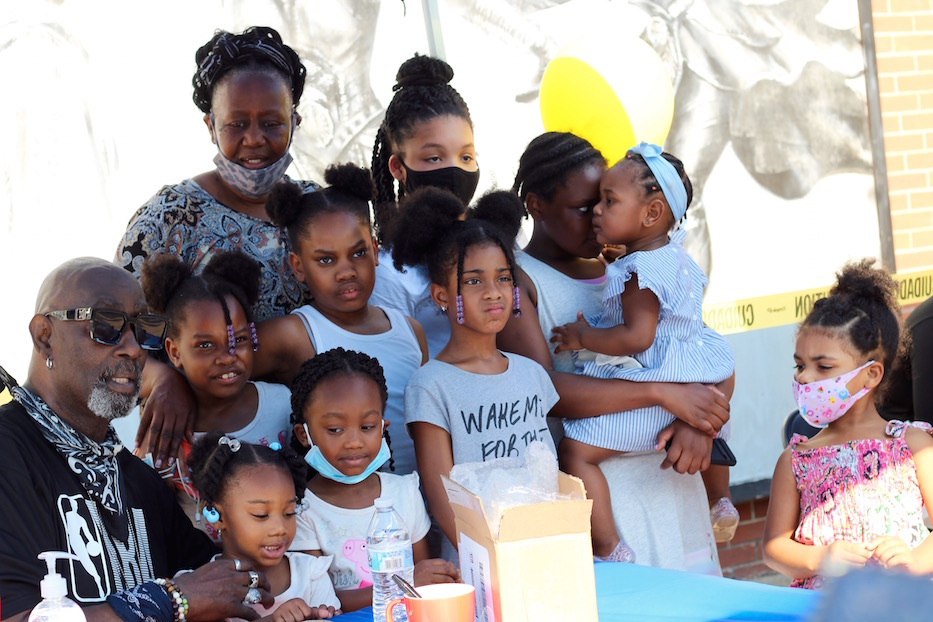 Top: Brown gets the party going with Davis' granddaughter, McKenzie. Bottom: Davis with his sister Carolyn nieces, and grandchildren.
He made a wish list of artists he had produced, including the jazz musician Bluey, jazz vocalist Maysa, saxophonist Dave Koz, Tony Depaolo, Albright and several others. Because of COVID-19, Davis was working alone in his studio, and doing everything with other musicians electronically. Songs—including the title track—are all references to his experience fighting cancer.
"Whatcha Gonna Do for me," for instance, is a chance for him to talk directly to the cancer. "Natural High" is a nod to the natural high he wanted to feel during chemotherapy, which left him exhausted and weak. "Silver Street" is named after his street, where he struggled to get back into the studio on days when his energy was depleted. "It's All Love" is a message to keep going, despite the odds.
The treatment was brutal: chemotherapy left him with burns on his hands, a condition known as Palmar-Plantar Erythrodysesthesia. As Ellison cared for him, Davis said he felt "like less of a man," suddenly reliant on her to attend to basic physical needs. He has five daughters, and brought them together to talk about the possibility that he might not make it.
At the same time, his oncologist urged him to push back against the disease. With a laugh, Davis recalled initially feeling skeptical of "this young Italian kid" who walked into the room with slicked-back hair and a baby face. He now credits that kid, Dr. Armand Russo, with saving his life.
"You know, I fought," he said. "I fought again. This new chemo they have is insane. I don't even know why they give humans that. That stuff, it eats at me. They came in on my first chemo, it wiped me completely out. You're never gonna be the same. The first bout with cancer took 10 percent off my life. This one took 12. So now I'm at 78 percent living life. That's what cancer does."
"But here we are, six months later," he added.
He is bringing that sharp focus with him this month, as he celebrates his 60th birthday and works on promoting the record. Three weeks ago, a positron emission tomography (PET) scan showed signs that the cancer is in remission. At his doctors' suggestion, he will soon start a stem cell treatment meant to keep it there. He praised Rick Simpson Oil, a cannabis-based product with high THC content that is helping him "keep the cancer at bay" in the meantime.
He isn't wasting any time: he is back in his studio working on collaborations with musicians Marion Meadows and Najee, vocalist Kimberly Brewer, and New Haven-based artists Mike G and Ricky Alan Draughn among others. On Thursday, he had plans for a Friday recording session with Draughn in the studio, where the two planned to cover Sam Cooke's "A Change Is Gonna Come."
"It's a bad time, but sometimes we need a story to help lift us up," he said. "Like, 'Oh man, he can beat cancer like that? Wow, okay.' We're all going through something. It's all love. I beat cancer. Cancer also beat me up."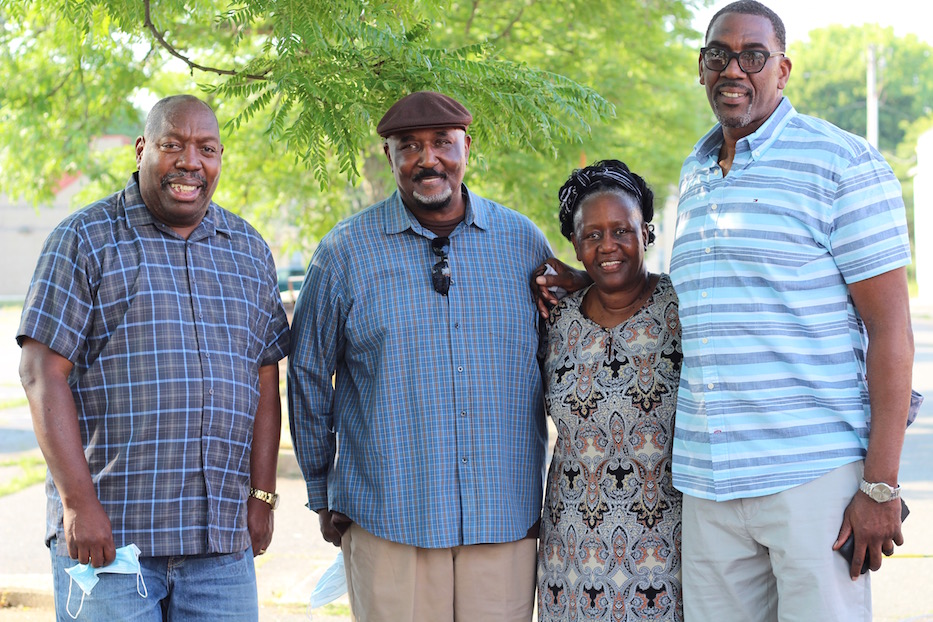 Davis' brother-in-law Rev. Leon Ellison, Woody Davis, Carolyn Ellison, and Will Davis.
For those fighting cancer, "I would tell them to focus," he added. "Buy the record and play it. During chemo, put your headphones on, and it's gonna take you away. It'll take you right away. All the songs kind of come into, like, a book, and it'll settle you down."
Behind the library, family and friends came to celebrate with individually packaged food, two huge birthday cards, and a Focus listening party that lasted for almost two hours. Brown, who has known Davis for years, made sure pavement was marked with X-shapes in white tape for social distancing.
When she saw anyone without a mask, she hovered like a mama bird, making sure they picked one up and kept it on. She has been waiting to have him at the library—in good health—since hearing from him in April. At the time, he asked if he could return to Stetson to perform, "God willing." She said she was overjoyed to have him back—even if it was a socially distanced celebration.
"We are celebrating Chris' health," she said. "And we will keep celebrating for the rest of the month."
Nina Silva, chair of the Dixwell Community Management Team, brought birthday balloons with the gold numbers "6" and "0" floating in the bundle. As they grooved to the album, attendees said they are deeply grateful that Davis is still alive and still making music.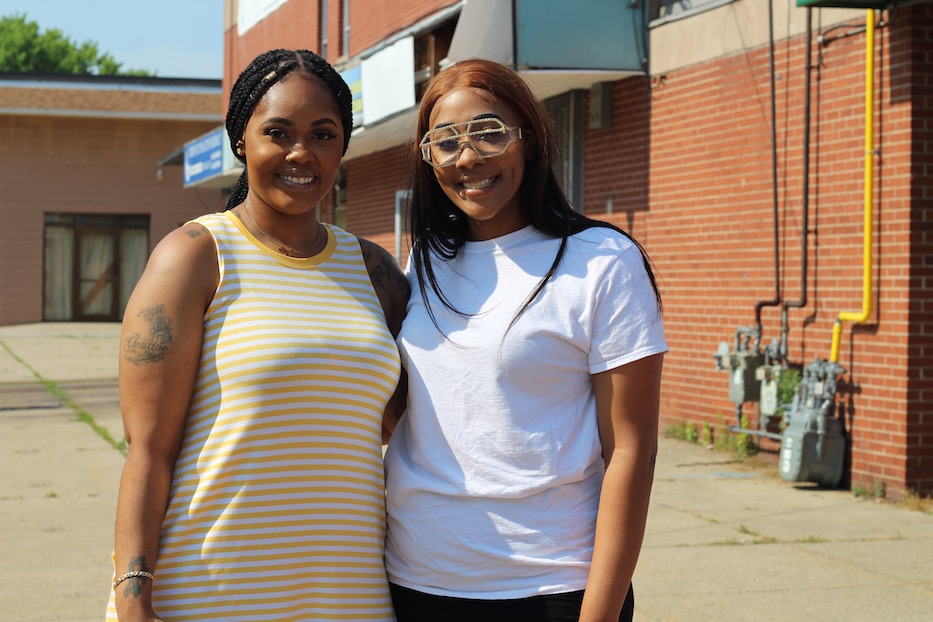 Two of Davis' five daughters, Christine and Melody Davis.
"I'm really happy," said his daughter, Christine Davis. "It's amazing. It's a blessing to have him here, and I'm really happy for him."
"It's amazing," added his daughter Nakiesha Davis. "He survived twice. So we're celebrating. He's so humble, and this is exciting to see."
His sister and brothers arrived a little halfway through the album, with a group of nieces, nephews and grandchildren who danced, mingled, and munched on potato chips and cold water that the library had put out. His brothers Will and Woody, both of whom play the drums, said they feel blessed that he is still alive. So is Ellison, who saw him when he was at his sickest.
"It's overwhelming and exciting," she said. "To top it off, his parents would be so overjoyed right now. Just to see him smile again is worth all the money in the world."
Focus is now available from Shanachie Entertainment. To find out more, click here.