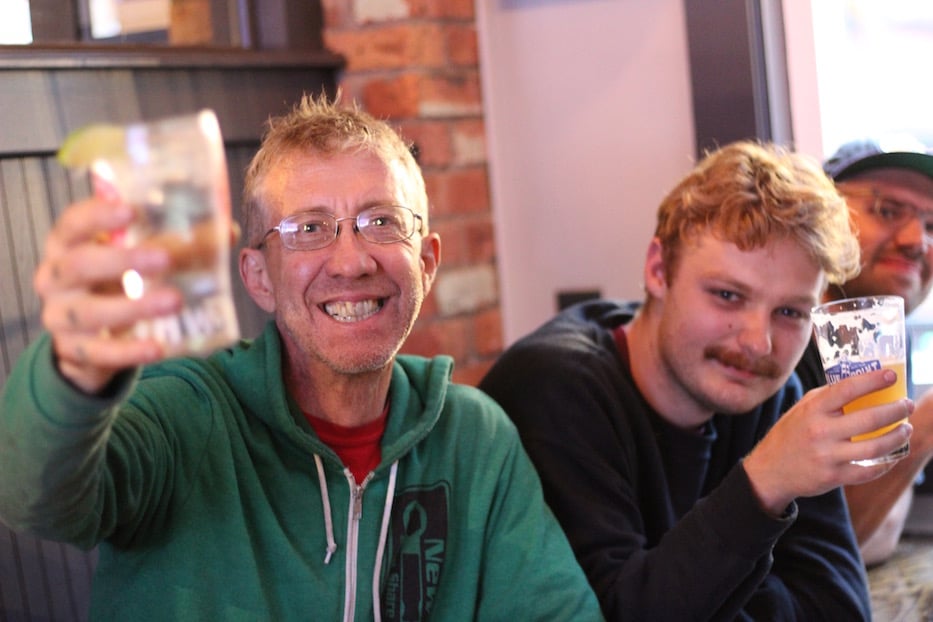 Food & Drink | Arts, Culture & Community | Trinity Bar & Restaurant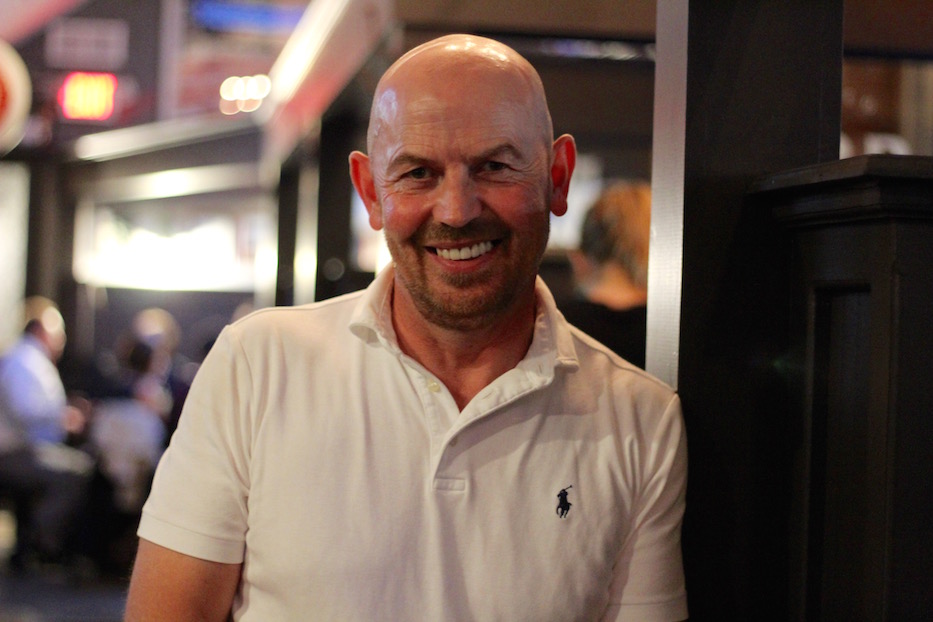 Eddie Higgins: We're finally here. Lucy Gellman Photos.
Shane Carty and Eddie Higgins weren't sure when—or if—they'd see people coming back through the doors of their Orange Street bar. On Wednesday, they finally did.
Carty and Higgins are owners of The Trinity Bar & Restaurant at 157 Orange St. Nineteen months after a devastating fire ripped through the property, the bar reopened Wednesday afternoon with a short Facebook post, celebratory text messages, and immediate, boisterous fanfare from the community. By dusk, hundreds had cycled through the bar, and it seemed like hundreds more would make it out before closing.
"It's a mixed bag of emotions," said Higgins, who opened the bar with Carty in 2015 in the space that was formerly O'Toole's Irish Pub. "But we're finally here."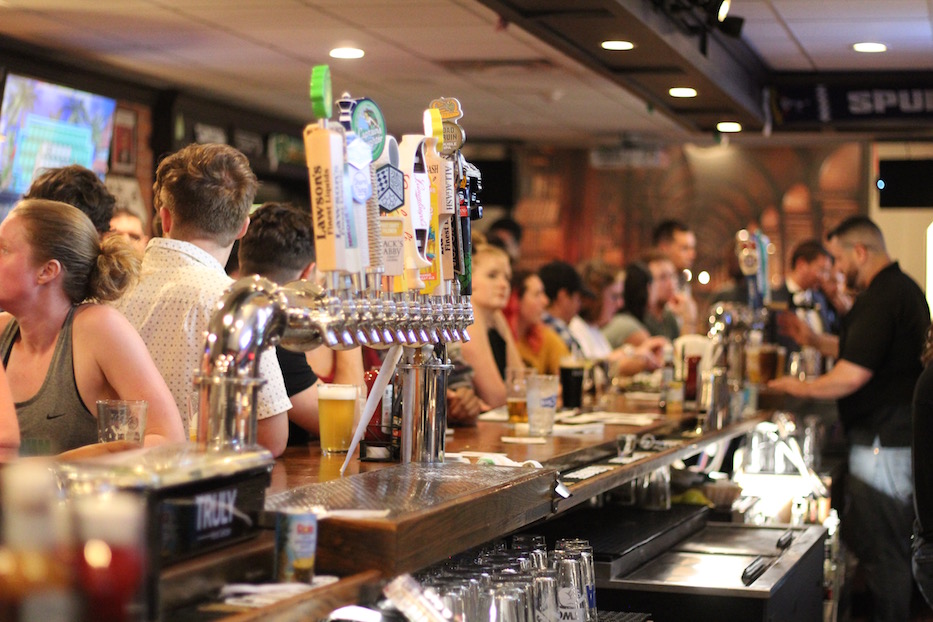 The Trinity closed unexpectedly in early September 2017, when the building burst into flames on a Friday afternoon. As owners and contractors worked to sort through wreckage, find out what was covered by insurance, and rebuild, Carty and Higgins remained hesitant to put a reopening date out for the public but assured New Haveners that it was indeed coming back.
Higgins, meanwhile, said he and Carty were nervous for how long the cleanup and renovation was taking, because "you're only as good as the last beer you pour, the last meal you serve." The two worried about negative or snarky Yelp reviews, none of which ever came.
Instead, the community rallied around them. Fellow bar owners held fundraisers and asked what they could do to help. People wrote messages of encouragement in colorful magic marker on the boarded-up windows. For so many of them, the burnt-out building represented a void in the community, particularly during the 2018 World Cup.
Then the boards fell away from the windows. The doors looked clean and shiny again. Earlier this week, Carty and Higgins let a few close friends know that it looked like Wednesday would be the day. On Wednesday, they made that announcement to the public with a simple Facebook post: the words "Felt cute... might delete later/........Surprise we're officially open!" over the picture of a cold, foamy Guinness.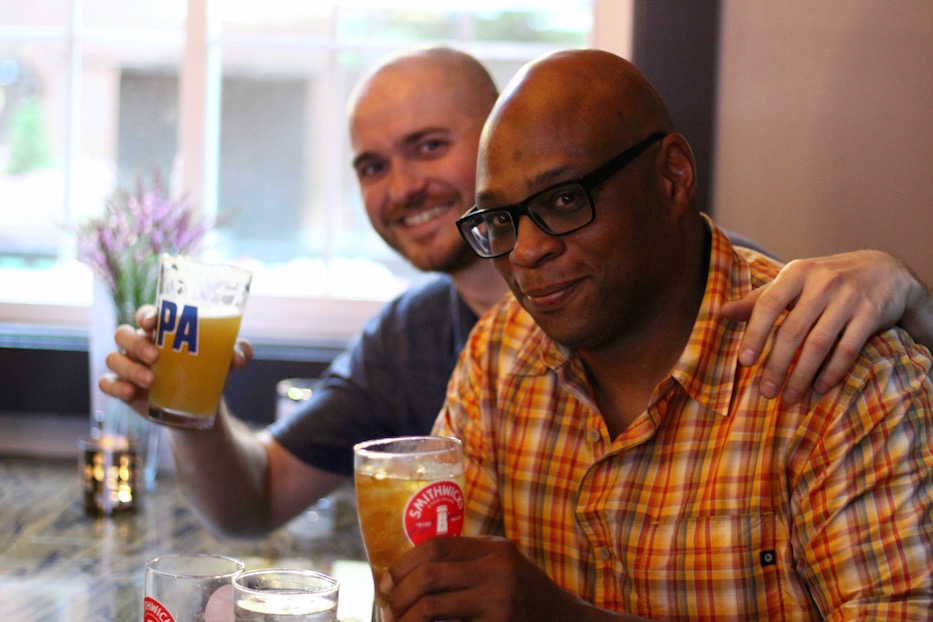 Johnny Brehon: Great to have it back.
"We did it, and we would do it again," said Higgins, making the rounds as Carty held it down in a kitchen turning out hundreds of burgers, fries and salads. "After the fire, we had offers from other bars, to reopen in other locations. We had no interest in going anywhere else. Our neighbors have been so supportive."
While he did not wish to share how much the renovation had cost the bar (it was partly but not fully covered by insurance from the fire), he marveled at how clean and very Trinity-like—as in, the old bar—it looks after almost two years of work. He peeked into the other room, where televisions played over the bar, and conversation and laughter rose as drinks made their way around the room.
Next to the bar, Nicola Watterson and her husband Craig raised their glasses—Magner's cider and Yuengling, respectively—to a night out on the town without their young daughter, who was at home with a babysitter. Longtime friends of the owners, both found themselves at Trinity two years ago, on the night that the fire broke out.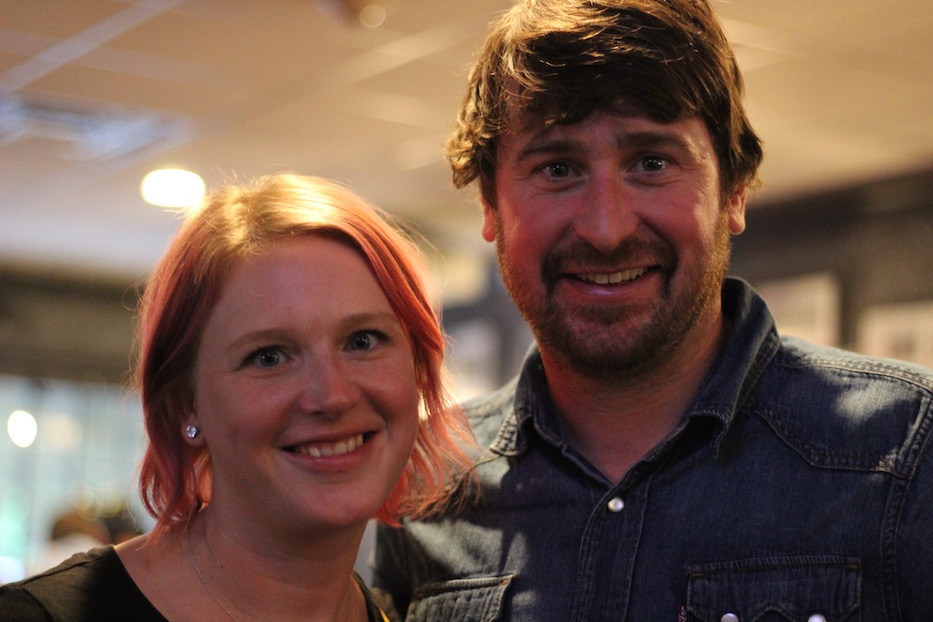 Nicola Watterson and her husband Craig.
It was a laid back Friday afternoon, Nicola Watterson recalled, and she was meeting friends there before a Depeche Mode concert at Foxwoods Resort. She had just ordered her first drink of the night. Beside her, Craig was there with their daughter, then just one and a half at the time.
Then a fire alarm went off.
"As you do, you just think it's a mistake," she said. The bartender who was serving them asked them to leave the bar as a precaution, noting at first that it was probably just something hot that had tripped the alarm. Then the couple saw smoke pouring out from the side of the building.
"We watched the whole thing," she said. "There was this huge bang, and I told my husband that he had to take the baby and go. I was worried for her health. We know the owners well, and we were just heartbroken."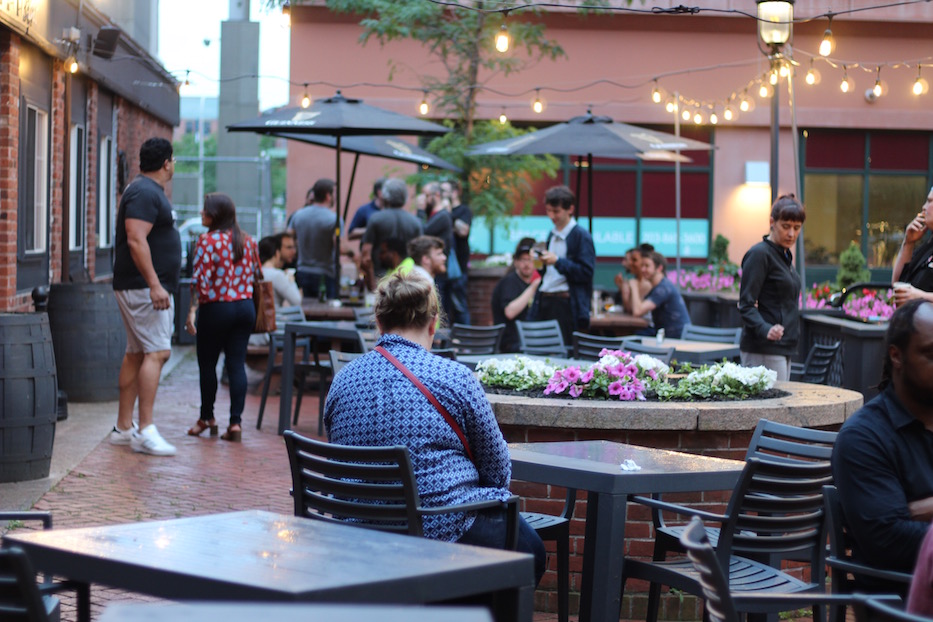 For months, she stayed in close contact with Carty and Higgins. When they told her that Wednesday would be the opening, she booked a babysitter and headed over. Around 8 p.m. Wednesday night, she said she was thrilled to see the place full again, and planned to return soon.
That was also true for Nick Lombard and Ferial Mohammadkhah (pictured below), who live nearby and saw that it was open on the way to work today. As an employee at the Federal Courthouse downtown, Lombard recalled watching smoke from the bar pour skyward that Friday in 2017, and realizing that the fire wasn't going to be easily contained.
"I was really bummed to see it closed," he said. "This is great to have back open."
Wednesday, he celebrated with a Counterweight Headway IPA, brewed just down the road in Hamden. Next to him, Mohammadkhah tried out a mixed drink called a Malibu Bay Breeze, a purple tint blooming through her glass as she lifted it up.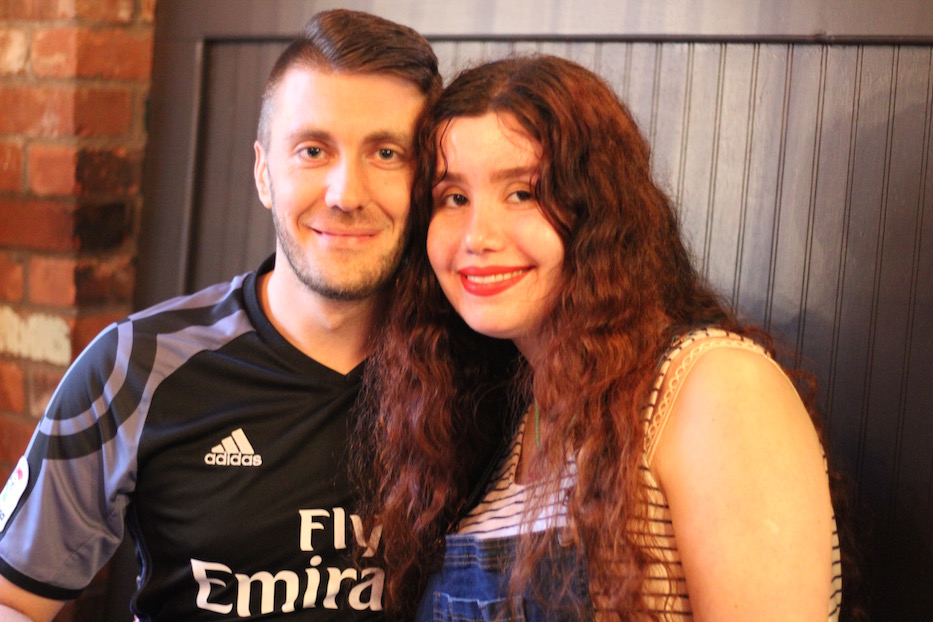 Orange Street bike gurus Matt Feiner and Johnny Brehon, who became unexpected and unofficial first responders on the afternoon of the fire, crowded into a designated Devil's Gear booth near the front, toasting colleagues with a mix of bubbly water, Counterweight Headway, Sea Hag and a whiskey-ginger ale with smooth Irish Whiskey.
"This is so wonderful," said Brehon. "You just don't even know. The neighborhood needs them."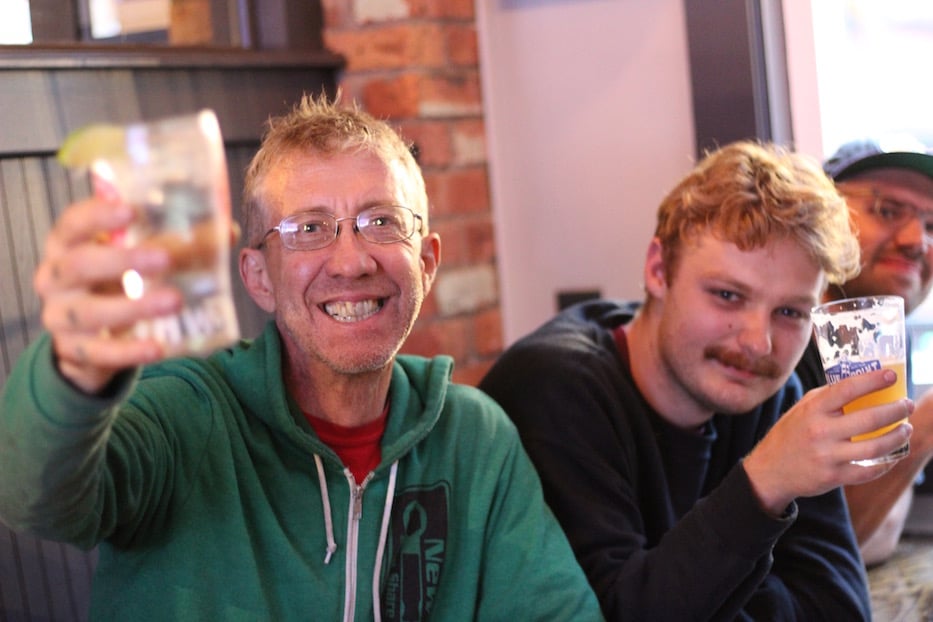 Raising both a glass of sparkling water and a half-nibbled piece of chicken, Feiner said he is incredibly happy to see the space open again. While he was just dropping through before getting back to the shop, he took time to fist-bump Higgins, cracking a big smile as he did.
"I feel really good for everybody here," he said as he returned to the table packed with Devil's Gear employees. "These guys [Carty and Higgins], I've seen them every day for the past year and a half. And this place is beautiful. This is our bar."