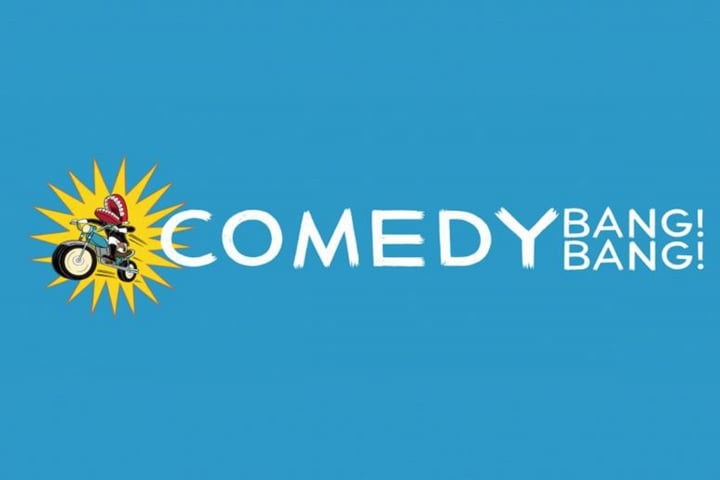 Downtown | Arts & Culture | Comedy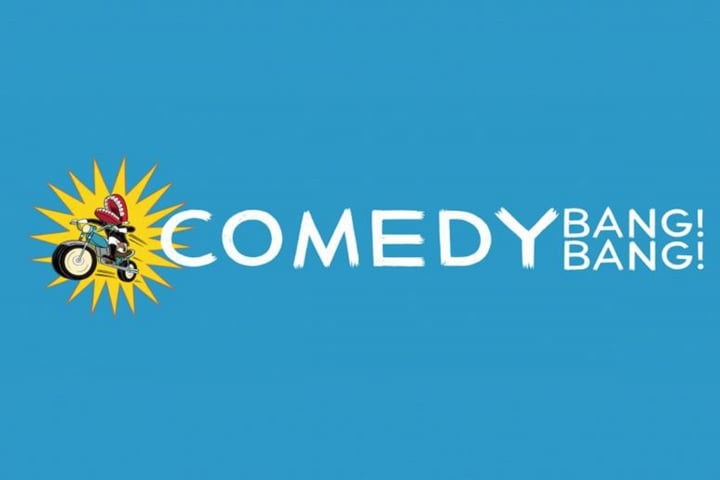 Comedy Bang! Bang! Photo.
Just a few moments into a live recording of Comedy Bang! Bang! on a recent Friday at College Street Music Hall, host Scott Aukerman let the audience in on its first secret of the night. The show almost didn't happen.
The shocking and unexpected death of "beloved" billionaire David Koch, explained Aukerman, had rocked the five performers. They had to pull things together in just a few hours to be able to put on a worthwhile show. In the end, they made the decision to put on the show in Koch's honor. Or as a self-described "intrepid" Aukerman put it: "David, if you're down there, this one's for you, buddy … see you in hell."
It can be difficult to describe exactly what Comedy Bang! Bang! is to people who are unfamiliar with the long-running podcast, now touring live to celebrate its 10th anniversary. Part interview and part improv comedy show, Comedy Bang! Bang! is zany by design, so much so that it has gained a faithful following of listeners who return week after week, year after year (including this reporter, who is also a comedian).
While Aukerman jokingly describes it as "the show where [he] talks to interesting people"—and he often does—the tagline completely undersells the actual content of the show. There's a distinct joy to hearing him riff back and forth with the dozens of characters created by some of the best improvisers in the world. There are old favorites like comedian Jon Gabrus' "Intern Gino," a perilously thin, perpetually 23-year-old Long Island native whose knowledge of the Long Island Rail Road is only equaled by his ineptitude as an audio engineer.
There are relative newcomers including Shaun Diston's "Rudy North, professional dirtbag" and many others, all of whom have rich and ever-expanding backstories that could make jumping into the show a harrowing undertaking.
So, it was a surprise when Aukerman asked how many people in the audience had never heard the show, and there were more than one shout from the crowd. Just as he does on episodes of the show with returning comedians, the host made sure to do a painstaking recap of his guests' histories.
For the New Haven show, the aforementioned Gino was an unannounced special guest who came out to a raucous ovation before launching into a story of how he got to the show—on a jet ski across the Long Island Sound. Laughter rolled through the room. The show was underway.
It wasn't long before Gino was regaling both Aukerman and the audience with the tale of how the Baha Men's 2000 hit "Who Let The Dogs Out" landed him in a lawsuit with the band after he and a group of Long Islanders let loose all the dogs in a Long Island town, then dealt with the aftermath of them dragging children in the town off to the woods.
The kicker: Gino was the plaintiff in the suit. He was suing the group for the subliminal messaging that compelled him and his consorts to act, because "what the Baha Men want, the Baha Men get."
Joining Aukerman and Gino onstage were other podcast favorites Paul F. Tompkins (Mr. Show, Bob's Burgers) and Lauren Lapkus (Orange in the New Black, Crashing) debuting New Haven-centric characters Tony and Lucille, owners of the very real, but now-shuttered restaurant Tony and Lucille's Little Italy on Wooster Street. As they launched into the routine, which appeared to be completely improvised, the two blamed the demise of their restaurant on rival pizza joint Frank Pepe Pizzeria Napoletana.
"He put us out of business," claimed the pair.
"How did he put you out of business?" asked Aukerman.
"By having better food," they responded.
Tony and Lucille's appearance was predicated on using the show as a place to promote a supposedly new business venture, but they spent most of the listing off the names of their 12 senior-aged children, with which they came up on the fly. Of the bunch, children 10 and 11 were named "The Chainsmokers" (two children, presented as one kid) and "the Schnozz," who was born nose-first. They then revealed that all their children underwent legal name changes, so those were listed as well. "
Sneezy" became "Mr. Coffee", "George Washington" became Lin Manuel-Miranda (not the famous one), and so on. And at some point it was revealed that Tony spent 12 years as a ghost due to a "Freaky Friday"-like situation. Eventually, they pitched their new business, a nonsense product vaguely centered around legs called "the Leginator."
Aukerman, Gabrus, Lapkus, and Tompkins had incredible chemistry onstage, likely due to hundreds of hours of recording together in various combinations. That was especially true—as it often is on the podcast—when the joke was on Aukerman. Ego Nwodim (Saturday Night Live), who is one of the newer favorites on the show, didn't miss a beat when she took the stage playing her fairly new character Judge Heaux Brown, who likes to get Aukerman's name wrong.
Brown called him John. "I said it right once by accident," the judge announced to the audience.
If the name sounds familiar, that's because the character is a lot like television's Judge Joe Brown, except Judge Heaux Brown's rulings decide if one is a hoe or not, using Bhad Barbie's 2017 spelling of the epithet. And his rulings aren't free. Or final. Judge Heaux Brown flip-flops on who is or isn't a hoe/heaux several times due to his confusing criteria.
Nwodim's time on stage was the shortest of all, but she nailed it. Between her character's many rulings, total derailment of Tony and Lucille's new business, and a "tight five" minutes of standup, it may have also been the most action-packed.
Aukerman closed the show in a way only he could. After a big laugh line flecked with potty humor—"if you build it, they will cum"—he lamented that he didn't end the show right there. So he cued the line up again, strolling forward into an imaginary spotlight. His comedian-guests stood behind him and saluted him. Then, pausing for just a moment, he repeated the line to raucous applause.
Find episodes of Comedy Bang! Bang! here.