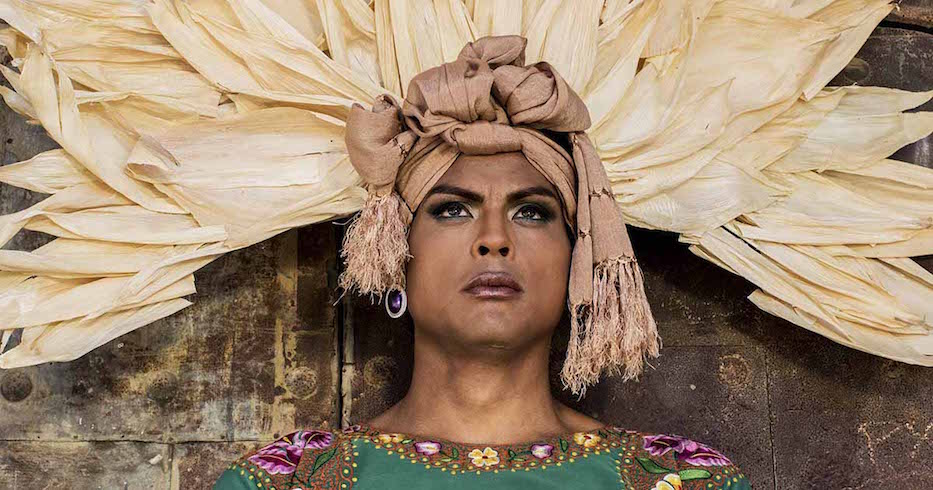 Cinestudio | Film | film festival | Hartford | LGBTQ | Pride Month | Arts & Culture | Film & Video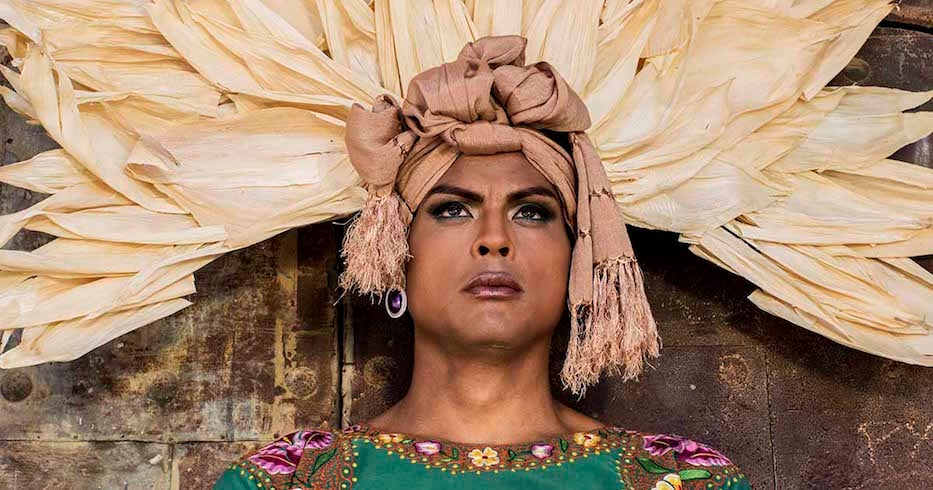 A still from Finlandia. All images courtesy of Out Film CT.
Amaranta walks out onto the patio, where her friend Delirio is dipping lace into a bowl of cloudy, starchy water, wringing it out and stretching it to dry along a clothesline. Amaranta, who is caring for her transphobic and verbally-abusive ill father, has had a rough morning. Her face is long and sad. She doesn't have to spell it out; the two are so close that Delirio can guess what's happened.
The lace, the starch, the clothesline, this chosen family on the patio. These moments spread out like a balm over the cutting words of the previous scene, soothing the jagged edges.
"You know I love you," Amaranta says to her friend.
"You know I love you too, girl," Delirio replies.
Scenes of quiet togetherness like this one anchor the film Finlandia, screening as part of the 35th Connecticut LGBTQ Film Festival beginning this weekend. Organized by Out Film CT, the festival runs from June 3 to June 12 and features 113 films from creators around the world, screening primarily at Cinestudio at Trinity College in Hartford and online.
Festival co-director and treasurer Shane Engstrom said that Out Film CT is taking advantage of the virtual platform they created during the pandemic, even as the organization returns to in-person events like filmmaker talk-backs, opening and closing night parties, and a centerpiece reception.
"We can only fit so many [films] on the big screen, but when you're virtual, you can have as much content as you have available," he said during a recent phone call.
A still from Mascarpone. All images courtesy of Out Film CT.
In addition to programs of gay, lesbian, and trans short films screening at Cinestudio, several new shorts programs have been added to the online platform this year, including collections of BIPOC, bisexual, and youth shorts, as well as the "Special Blend" program, which features the selection committee's favorite short picks.
The festival kicks off with opening-night feature Mascarpone, an Italian film that tells the story of Antonio, who is remaking his life after his marriage to Lorenzo breaks up. He struggles with the idea of dating again until, with the help of a friend, he realizes he needs to start setting the rules for himself.
Screening the following night is Sweetheart, in which teenager AJ falls for lifeguard Isla while on a seaside vacation with her "tragically un-woke family." Both protagonists are navigating romance and self-discovery at the same time, and the pairing is a gentle reminder that, no matter our age, we're always just trying to figure it out.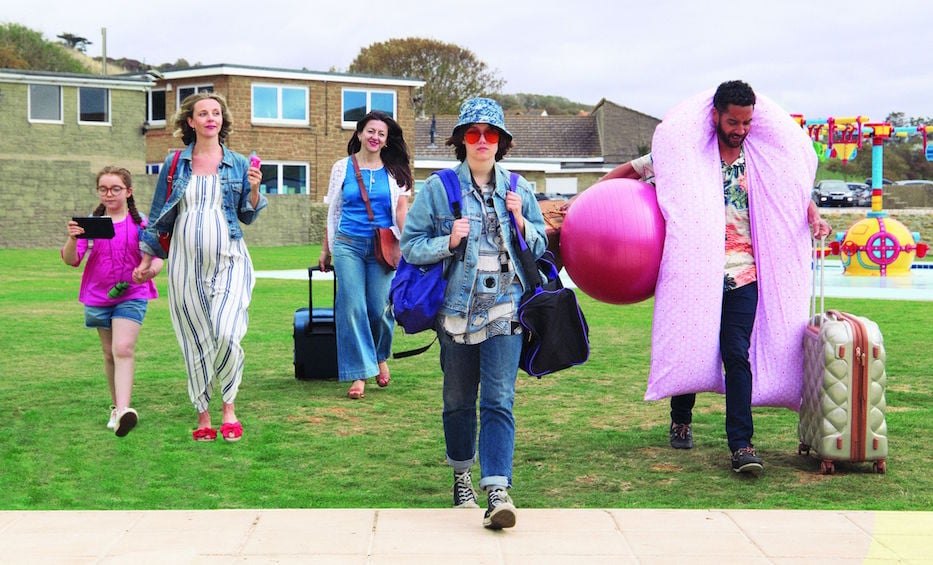 A still from Sweetheart. Chloe Sheppard Photo. All images courtesy of Out Film CT.
Festival centerpiece Framing Agnes uses case studies from a landmark gender and sexuality study at UCLA to re-enact and re-imagine true stories of trans lives in the 1950s. The film employs a cast of trans actors and takes a creative, multi-layered approach, stretching the boundaries between documentary and biopic.
The kernel at the heart of Framing Agnes is a reenactment based on transcripts from those clinical studies, filmed in black and white and reimagined as scenes from the Mike Wallace Interview, a 1950s talk show that featured a recurring "colorful people" segment.
But we also see the actors at rest on set, talking and preparing in between scenes. They pop in and out of character as the film pops from black and white to color.
In other segments, the actors portray their characters as they might have been in real life, with period costume and set, imagining scenes based on the content of their interviews.
Interspersed between these clips are interviews with the actors, director, researchers, and others involved discussing how learning about the UCLA study and portraying its participants has affected their own life.
To complete the picture, we also see the cameras and interviewers as they capture these "talking head" moments.
The film is rooted firmly in truth, but it's presented like the "making of" a backstage musical. It starts with the backstage musical trope that underlies movies like 42nd Street and A Chorus Line, but then it pushes a step or two beyond.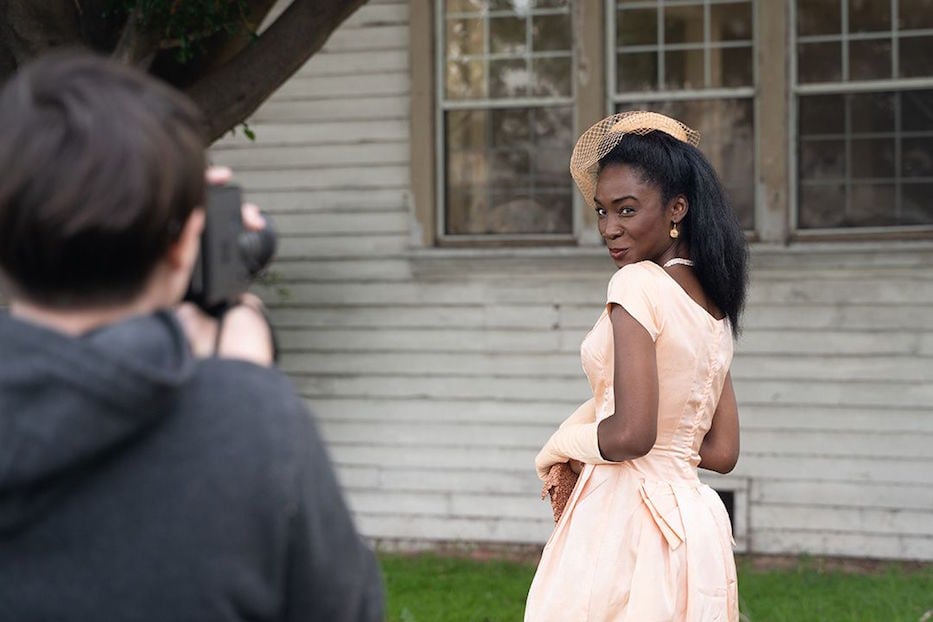 Angelica Ross in Framing Agnes. Stephanie Owens Photo. All images courtesy of Out Film CT.
In one scene, actor Jen Richards, who plays study participant Barbara, speaks with director Chase Joynt, who portrays Mike Wallace. Richards wears a mint green dress, full of sparkle and texture, paired with a cream cardigan with floral beading to match. Her auburn hair is in an updo with bangs framing her face. A member of the crew marks the scene with a clapperboard as Joynt and Richards discuss the way Barbara seems to always be a step ahead of her interviewers.
"I love how everything she does is like, 'I know where you want to go, and I'm not going to let you,'" says Richards.
Then, it cuts to the scene the actors filmed. In stark black and white, Barbara's dress drained of color, the set dark and empty except for a desk and chairs. Barbara and Wallace face each other over a vintage microphone. The host asks Barbara when she decided to "make the change."
"One day I realized that people were going to react to me no matter what I did, so I might as well live more truthfully. For myself," she says.
"How did you go about finding others in your situation?" Wallace continues, rapid fire.
"When we were younger we didn't know about homosexuality, but we knew we were feminine. We knew we were different. And we found each other," she says.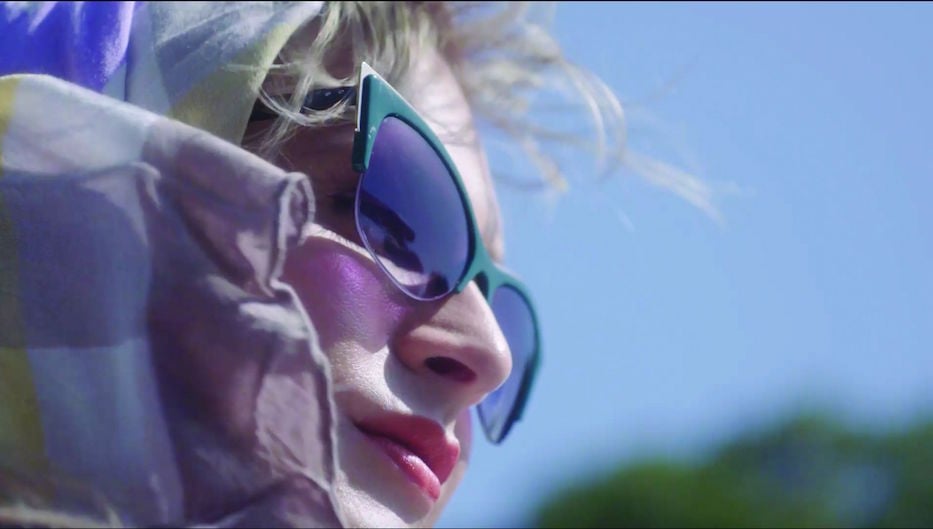 A still from Framing Agnes. All images courtesy of Out Film CT.
As Barbara describes how the trans women in her network reach out when someone has been arrested for cross-dressing and do hospital visits after someone's operation so they won't be alone, the b-roll shows Barbara at work in a hair salon, wearing a blue, checked wrap dress cinched at the waist. First she talks on a light-pink rotary phone, pen and paper in hand, then she laughs and chats with another woman who is having her hair set in curlers.
Back in black and white, Wallace asks again, "But how do you find each other?"
"Well it's all about trust," Barbara says. "Once you're in the network you realize it just goes and goes and goes. Like a club."
In between these moments, the scene shifts to actor Richards in street clothes, combing through racks of costumes and sitting for an interview on the set.
"What I love about Barbara is exactly that, that she is so networked, that she rebukes this notion that trans people have to be isolated or lonely," says Richards. "What I loved about playing Barbara, why I'd like to spend more time with her, is the confidence with which she discusses, not only networking, but dating, passing. She has a self-possession that I don't have in real life out in the world, and that's the fun part, cause that's where you get to be different."
Sharing a multi-textured approach with Framing Agnes is Finlandia, an art film from Spain and Mexico that is visually stunning and which Engstrom called ideal for viewing on the big screen. A narrative film, Finlandia takes place in Oaxaca among a community of muxes (pronounced moo-shays), non-binary individuals who are caretakers in their families and community in addition to designing and embroidering their own clothing.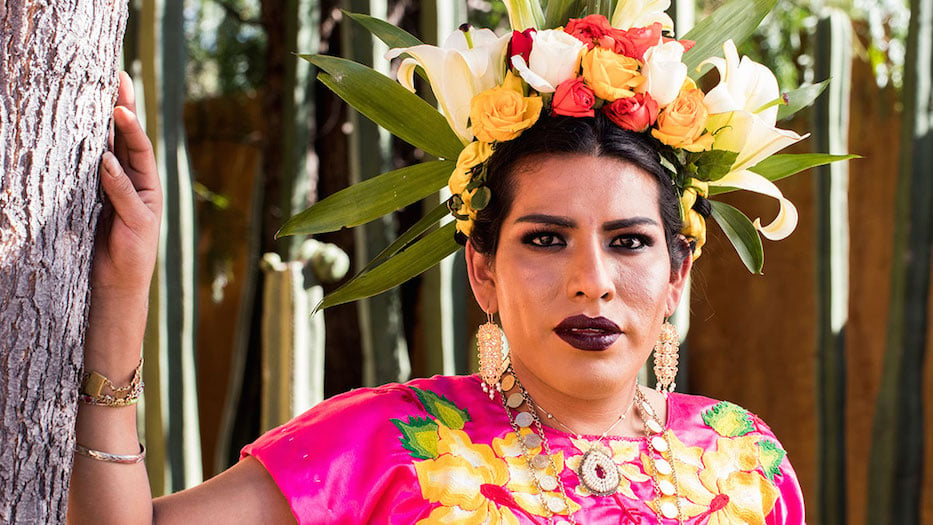 A still from Finlandia. All images courtesy of Out Film CT.
The scenes in the film are interspersed with the dramatic landscapes of Finland and Oaxaca, but the fullness of the story is revealed in everyday shapes and contours: the landscape of a coffee pot on a stove, of a face lost in thought, of fabric on a washboard, of footsteps on a tiled floor. The beauty is in the saturation of colors, the contrast of textures, the clarity of details.
That visual style is employed to full effect in depicting the world the muxes create together. In one scene, they embroider a length of olive-green fabric stretched tight on a frame, passing the fine loops of colorful thread back and forth as they gossip.
Later, when young Mariano is physically harassed by peers, Delirio mends her torn shirt and Amaranta invites her to help fold a long length of fabric, welcoming Mariano into their group. Mariano lightly touches the appliqué on a quinceañera dress, then drapes a length of tulle over her head like a veil as Delirio talks about her beloved who sends her letters and gifts from Finland.
The muxes' time together is calm and loving, standing in such contrast to the way their parents, peers, and lovers treat them, and their textile work is like a ritual at the heart of their community.
In the same way, Engstrom said, films like these are at the heart of the Out Film CT community. For the selection committee, narrowing down the list of films each year is a challenge, "but it's a fun challenge," and "it's done through collaboration," he said.
It's the same ethos that is threaded through the scenes with Barbara in Framing Agnes. Barbara constantly talks about what "we" do in the community. "We" make hospital calls. "We" found each other. "We" look out for each other. "We" are a network.
"You say we a lot," Wallace says at one moment, interrupting his own line of questioning to press the point.
Barbara fixes the host with a penetrating, defiant stare and says, "I'm not in this work alone."
Organized by Out Film CT, the festival runs from June 3 to June 12 and features 113 films from creators around the world, screening primarily at Cinestudio at Trinity College in Hartford and online.