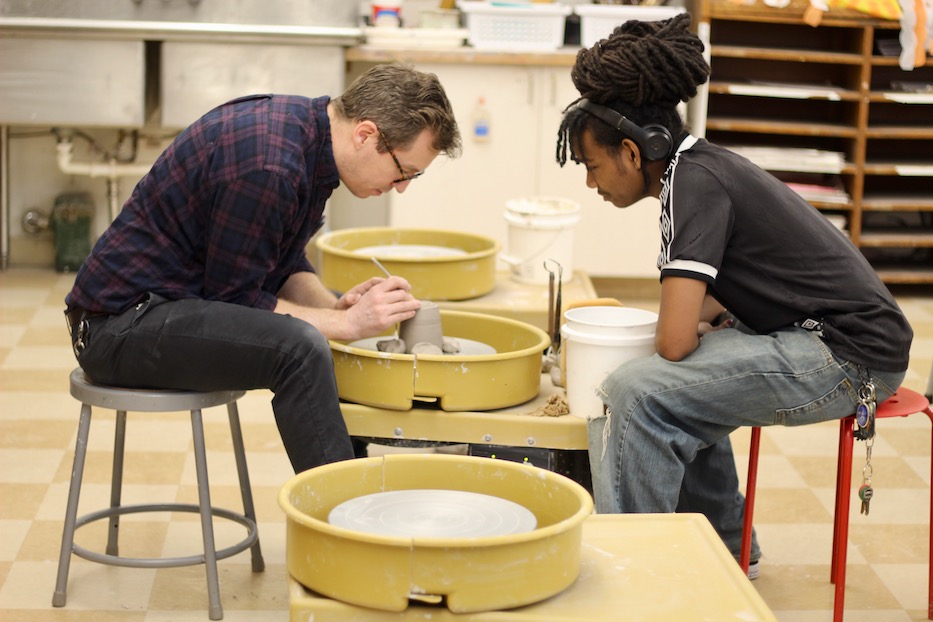 Co-Op High School | Downtown | Education & Youth | Arts & Culture | New Haven Public Schools | Visual Arts | Sculpture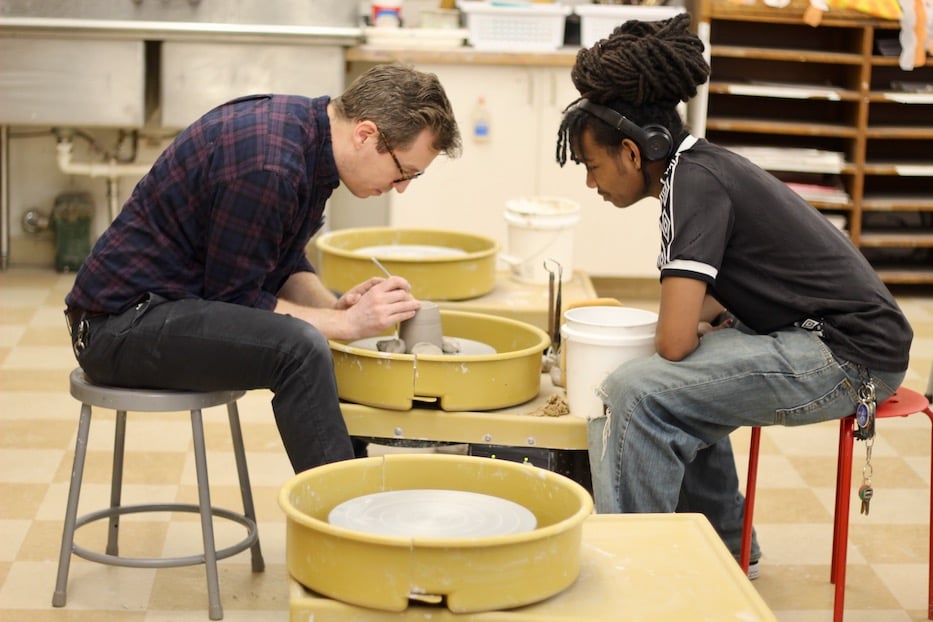 Ryan Minezzi and Mahari Kerrison. Lucy Gellman Photos.
Mahari Kerrison leaned over a pottery wheel, watching the methodical spin and whirr of wet clay taking shape. Across from him, teacher Ryan Minezzi lifted his palms from the wheel and held out a ceramic loop. Slowly, Kerrison extended an index finger towards the clay. His nail hovered over a shining slick of gray, then pressed down slowly.
"You feel that? It's like, tugging at your finger, but it doesn't move your finger. That's what you want, alright?" Minezzi said, working the pedal as he made eye contact. "Remember, you always want to anchor yourself. You don't want to let the clay move you. You move the clay."
It's a normal scene in Minezzi's classroom, a sculpture and art studio on the second floor of Cooperative Arts & Humanities High School where he is still getting the lay of the land. The newest face in Co-Op's visual arts department, he has started the year listening to his students, in the hopes of building a classroom culture around trust and mutual respect.
He replaces Christopher Cozzi, who retired last year after decades in the New Haven Public Schools.
"I have all these big ideas and big dreams," Minezzi said between checking students' progress at the tables. And at the same time, "I'm trying to pace myself."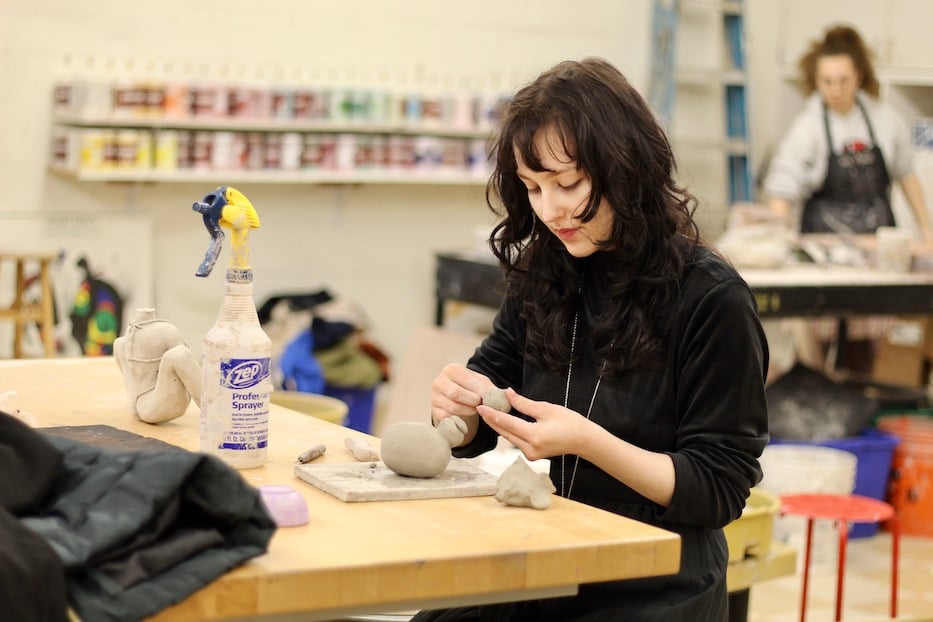 Kai Zundell, who is a senior. While she loves sculpture, she said that she's interested in trauma surgery or neurobiology.
On a recent Monday, that meant a mostly quiet classroom, filled with the sound of hands working clay, the hum of pottery wheels and a playlist heavy on Jill Scott. Across the room from each other, juniors Amaya Blount and Hannah Adolphe worked on "smash banks," or piggy banks that they would ultimately smash to retrieve the contents.
Kerrison re-wet a ceramic cup and eyed the wheel, ready to try anew. Senior Kai Zundell returned to a frog lady, re-sculpting her head with wide eyes and big, neatly rendered space buns. White dust settled on the pleats of her black skirt as she worked, spritzing the sculpture every so often to keep the clay pliable.
It was a delicate ballet, unfolding one finger pinch of clay at a time. For both Minezzi and members of the class, it was exactly where students were supposed to be.
"It's ever-evolving," he said of his teaching philosophy as students worked quietly around him, jumping in with a question every few minutes. "Listen to kids. Everything should be student-centered. As a white man, my job is to listen."
"Community is important," he added. "It is a teacher's job to build a classroom culture, then faculty's job to build a school culture."
From New York To New Haven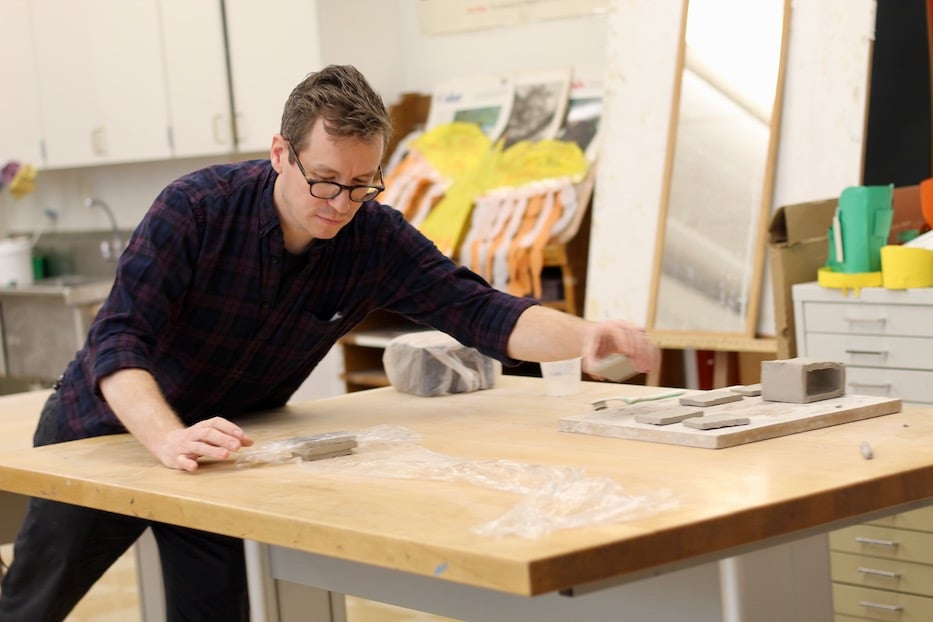 Born and raised in Quincy, Mass., Minezzi graduated from the Pratt Institute in 2005, and began his teaching career in the New York City public schools the same year. For over a decade, Brooklyn was his home base, including years at the School for Human Rights, Fort Greene Preparatory Academy and Brooklyn International High School. Most recently, he was on visiting faculty at Pratt, where he was able to virtually "visit" arts classrooms across the city, and learn how different teachers approached the visual arts.
At Brooklyn International, the school's approach was "deeply rooted in restorative justice," he said—a philosophy meant to break a cycle that disproportionately punishes Black and Brown students. Paired with his involvement in the New York Collective of Radical Educators (NYCORE) and a stint studying special education in Portland, Oregon, it informed an anti-racist and student-led approach that he now brings to the classroom each day.
That's still a relatively new approach in the New Haven Public Schools, which in early 2021 passed its first district-wide restorative practice framework. Reached Tuesday by text message, Co-Op Assistant Principal Amy Migliore said that the school is "working on the restorative piece," including mediations and staff trainings.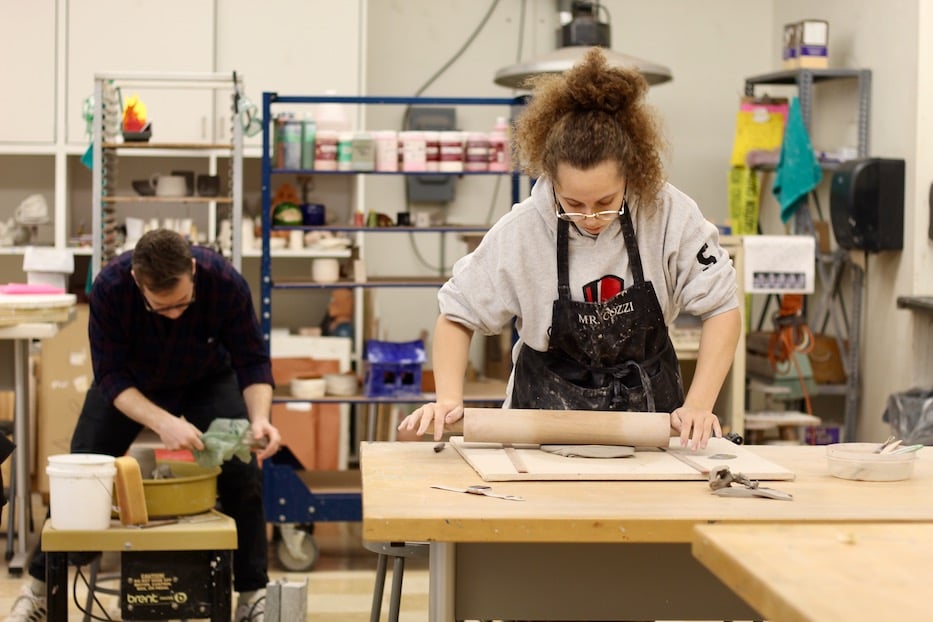 Hannah Adolphe: "It [ceramics] motivates me a lot. A can make whatever I want. I really like ceramics because it's physical and I get to work with my hands."
For years, Minezzi never saw himself leaving Brooklyn. He loved the students he worked with, and he loved Brooklyn too. But by last year, Cobble Hill was also very different from the place he'd moved two decades before. He and his wife, who hails from New Haven, were trying to raise a small child in a 600 square foot apartment. Then they found out they were expecting a second. When they bought a house in New Haven's Westville neighborhood, Minezzi began looking at the city's public schools. He found an opening at Co-Op last summer.
"I'll be an art teacher, but it will be different," he remembered thinking. He was hired at the end of June, and started working in late August. At the beginning of the school year, he had only been in the city for a few weeks; his youngest was still a newborn. "It all fell into place."
At Co-Op, he's working to create a classroom where students can both learn and lead, which are sometimes one and the same. Since August, his juniors and seniors have started learning to throw on a pottery wheel and design treasure chests, salt and pepper shakers, mugs, and ceramic homes for animals (the prompt was birdhouses; Zundell designed a space for a shrew). In between, he's trying to work with returning students to choose their electives for next year.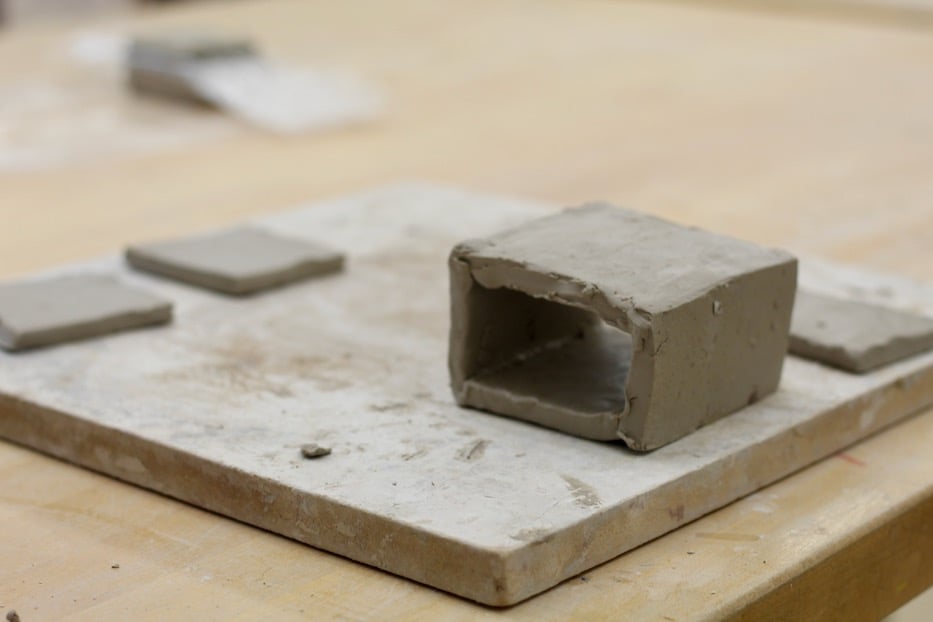 While his classes are not immune to the chronic absenteeism that has plagued the district, he said that he tries not to fixate on who shows up and when. Last Monday's class, for instance, was about half-full, more intimate than it usually is. When he put on a playlist, Jill Scott's "Golden" crackled over the room, winding its way toward back shelves stacked with glazed and unglazed works in progress.
"It's kind of the philosophy of, when you come you come, and you'll be here," he said. He buzzed from station to station, checking in with students as they worked. In the occasional lull, he sketched out his vision for a more integrated arts approach, in which dance, creative writing, drama, music, and visual arts all work together towards a collaborative project.
"Not A Perfect Science"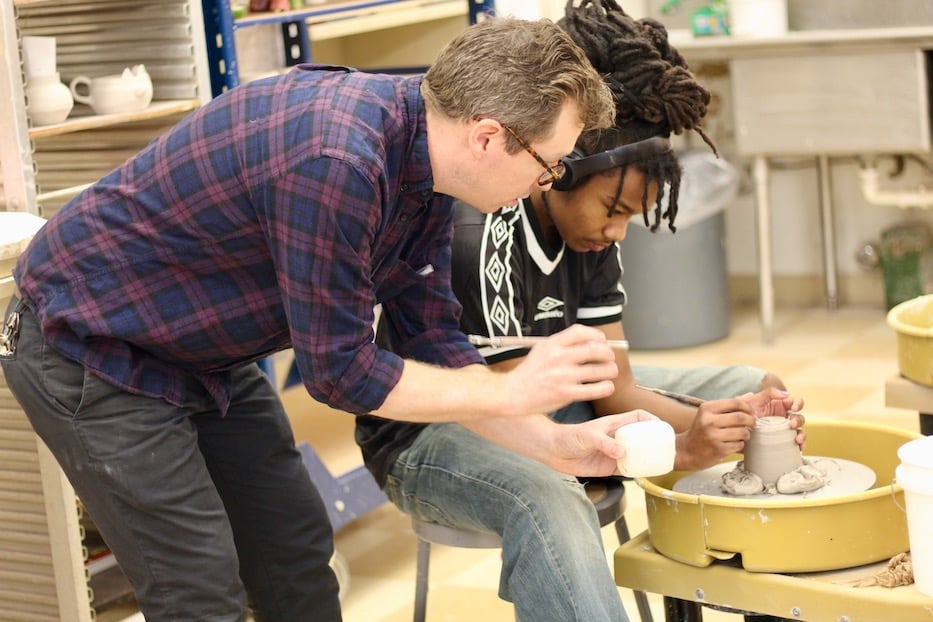 "A master potter has tried more times than we've ever attempted."
When Kerrison called him over, Minezzi studied the clay intently, slipping into the stool in front of the pottery. The problem: Kerrison had let his ceramic mugs dry out completely before being fired, but it wasn't done. He and Minezzi were working to re-wet and re-sculpt it.
"Here's something I've learned," Minezzi said. "A master potter has tried more times than we've ever attempted."
He extended his hands, running them gingerly along the wet clay. From afar, it looked like an act of muscle memory. Closer up, it was clear that the clay had a mind of its own, and would fold if left to its own devices.
"It's not a perfect science," Minezzi said. "To get this, we're kind of gonna go on either side, so if we do push it—" Kerrison leaned over his shoulder to watch. "We push it equally from both sides. See how it's not touching the clay equally on either side just yet?"
Kerrison pulled up a chair, nodding with the occasional murmur of Mmmm hmm. Minezzi placed three small gobs of clay at the base of the shape to stabilize it.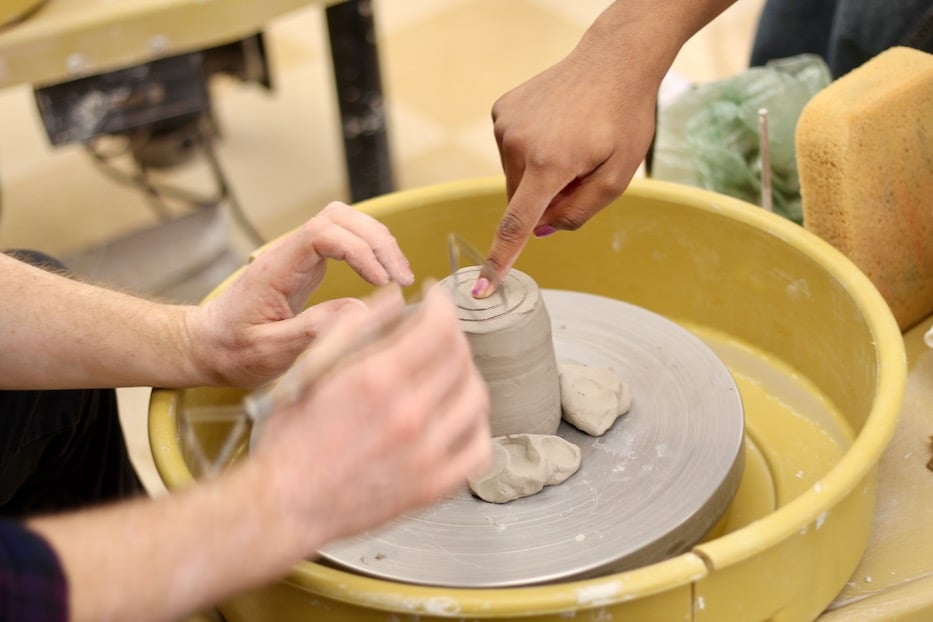 "This is not, you know, superglue," he said. "This is not gonna hold it in. This is really firm. We might have some problems getting this trimmed—" he pulled out a small ceramic loop and made a quiet, surprised sound. "It's not bad."
He made a small mark with the loop, meant to guide Kerrison's hand as he took over. "Do you remember why we have feet on these?" he asked as he prepped the piece. Kerrison was quiet for a moment, his eyes locked on the wheel.
"There is a function to it," Minezzi said. The wheel continued to spin and hum; Kerrison had pulled up a chair. "Glaze is like, a glass. So how does a foot impact the glaze?"
"Oh, yeah, yeah," Kerrison said. "It doesn't let it stick."
"Right!" Minezzi said, showing Kerrison where he was applying pressure as he worked. "Do me a favor. Put your hand on this. Try to find the center. If your finger moves—"
"Oh no, I'm moving it," Kerrison said.
"You feel that? It's like, tugging at your finger but it doesn't move your finger. That's what you want."
The classroom phone rang, sending a shuddering automated bellow through the room. Near it, a green-and-white mug from Brooklyn International High School rested quietly on his desk, beside a whiteboard filled with ongoing projects.
A yellow note announced Curiosity Over Compliance/Questioning Over Quiet from where it was taped to a cabinet. Errors are information, Not confirmation of low intelligence.
"Anyone have clean hands?" he asked. Adolphe scurried to the front of the room, then put the phone back on its receiver when it turned out to be a mixup from the front office.
"It Just Helps"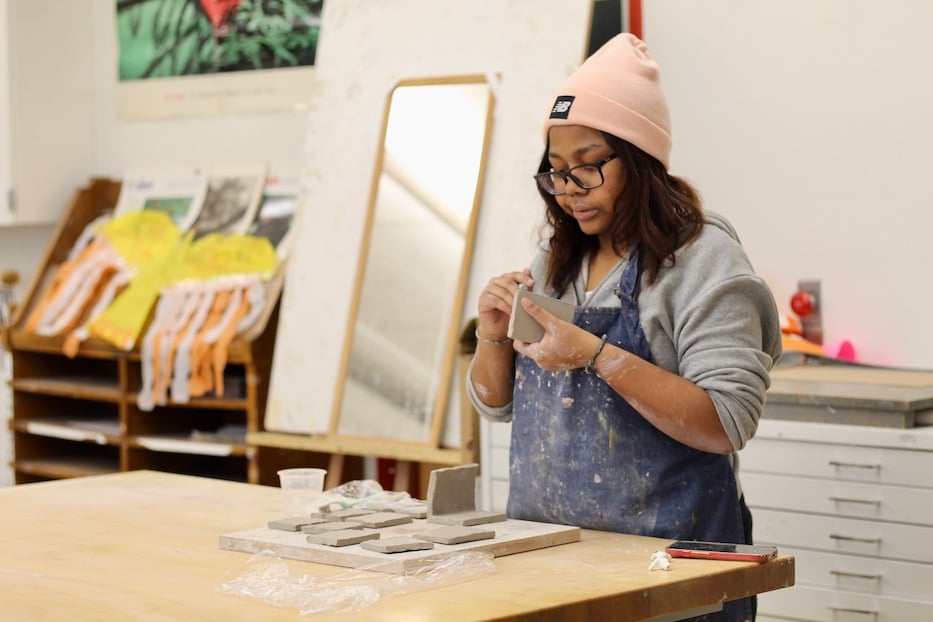 Amaya Blount.
Five months in, Minezzi's approach seems to be working for his students. As juniors and seniors fanned out across the classroom last Monday, many of them praised Minezzi's classroom as both a learning hub and a refuge, where they are able to process what they are going through at school and at home through their art (many have said the same of visual arts teacher Kris Wetmore, whose students exhibited at the Mitchell Branch Library last year).
"I love him. He's great," Zundell said as she reunited her frog lady with its head, which had fallen in an accident the week before. In elementary school, Zundell fell in love with Co-Op when her dad drove past the school downtown, and explained to her what an arts magnet was all about.
During her four years at the school—including a pandemic that sent classes online—she honed her skills in sculpture and visual arts, but also realized that she wanted to pursue a career in trauma surgery or neurobiology. Cozzi wasn't thrilled about that, she remembered. He urged her to stay in the arts.
As she made a neat, tiny incision at the frog lady's neck, it felt like her years of arts training had prepared her for surgical training that is still to come. "I think it's a good opportunity," she said of Co-Op.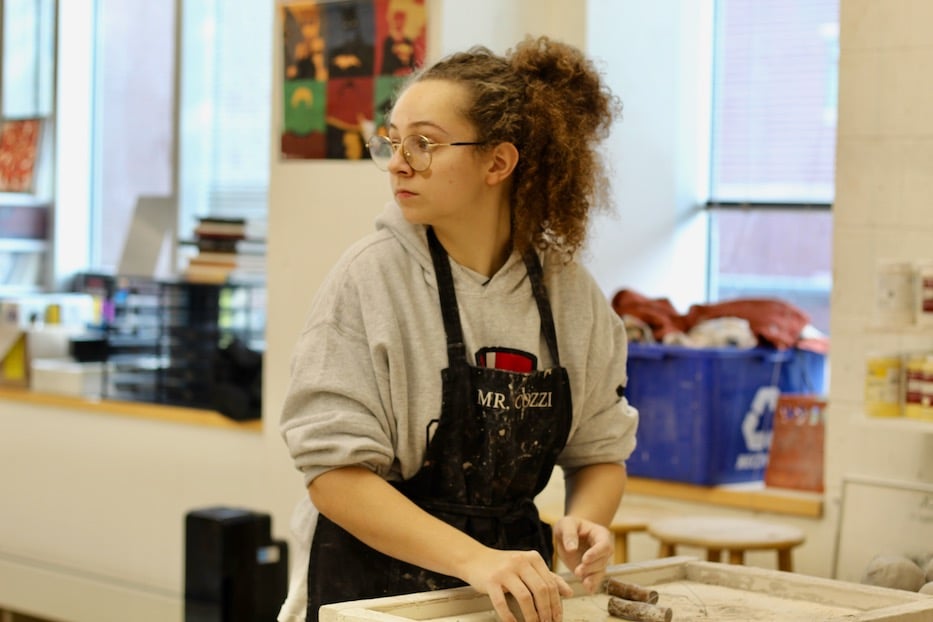 Hannah Adolphe.
At a station behind her, Adolphe pulled a hunk of damp clay from its wrapping, and began to design a cloud-shaped smash bank ("I'm just kind of winging it," she said with a smile). A junior at the school, Adolphe said that visual art helps her work through her emotions, like "petty arguments" with her younger siblings.
"Sometimes when I get angry, I just simmer in it," she said. So when Minezzi announced an assignment that included a smashing portion, she was game. "It [ceramics] motivates me a lot. A can make whatever I want. I really like ceramics because it's physical and I get to work with my hands."
As he worked solo, Kerrison said that visual art often helps him focus and stay calm both in and outside of school. Raised in New Haven and Hamden in "a very artsy household," he's found that art can be a coping mechanism, particularly as he deals with the stresses of high school. It echoed a piece of advice that Minezzi had given students at the top of the hour: "Don't forget to breathe."
"It definitely opens up the mind a lot," he said. "Depending on how you're feeling, it can help that feeling. It just helps. It helps a lot."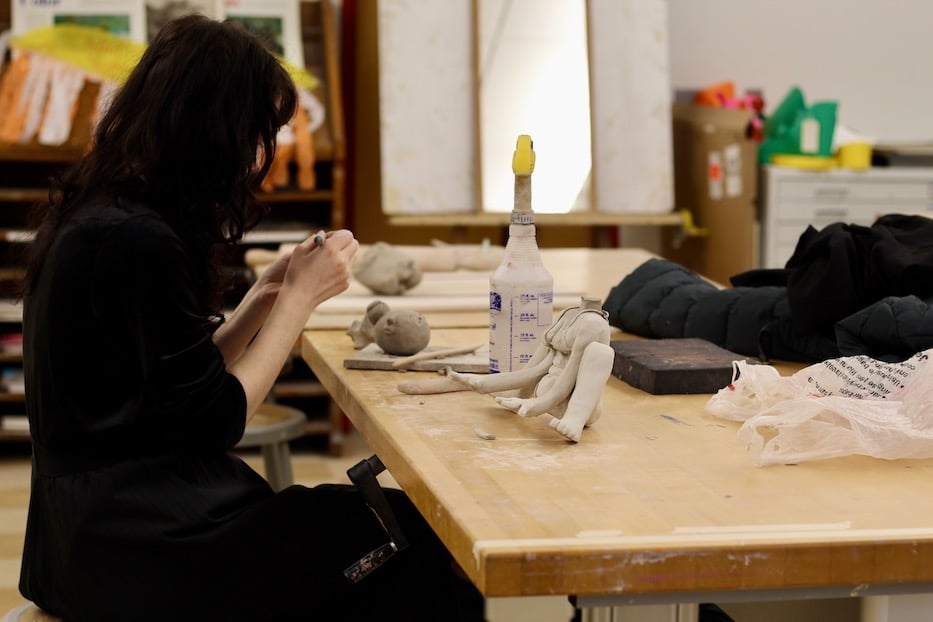 Zundell, reconstructing the frog lady.
Halfway through the class, photography student Daniel Carter came through the door, searching for a prop he could use for an assignment. His eyes settled on the masks that line Minezzi's walls and hang from a cabinet behind his desk, some gifted by friends and some collected on the sidewalk in Brooklyn. Within minutes, they were spread across a table, Carter studying their sharply carved features and soft, gentle lines.
As she watched from her station, junior Amaya Blount continued her work on a thick slab of wetted clay. For years, she said, she's loved the arts and knows that she wants to be a part of them. For her most recent assignment, she plans on making a sculpture of television sets, stacked on top of each other.
"I have the picture in my head of like, if you've been to a junkyard," she said. While she prefers painting to add other forms, she added that Minezzi's class has opened her eyes to new artists and given her different ways to think about ceramics.
"I've just always loved art in general," she said. "It never really came from a specific place."