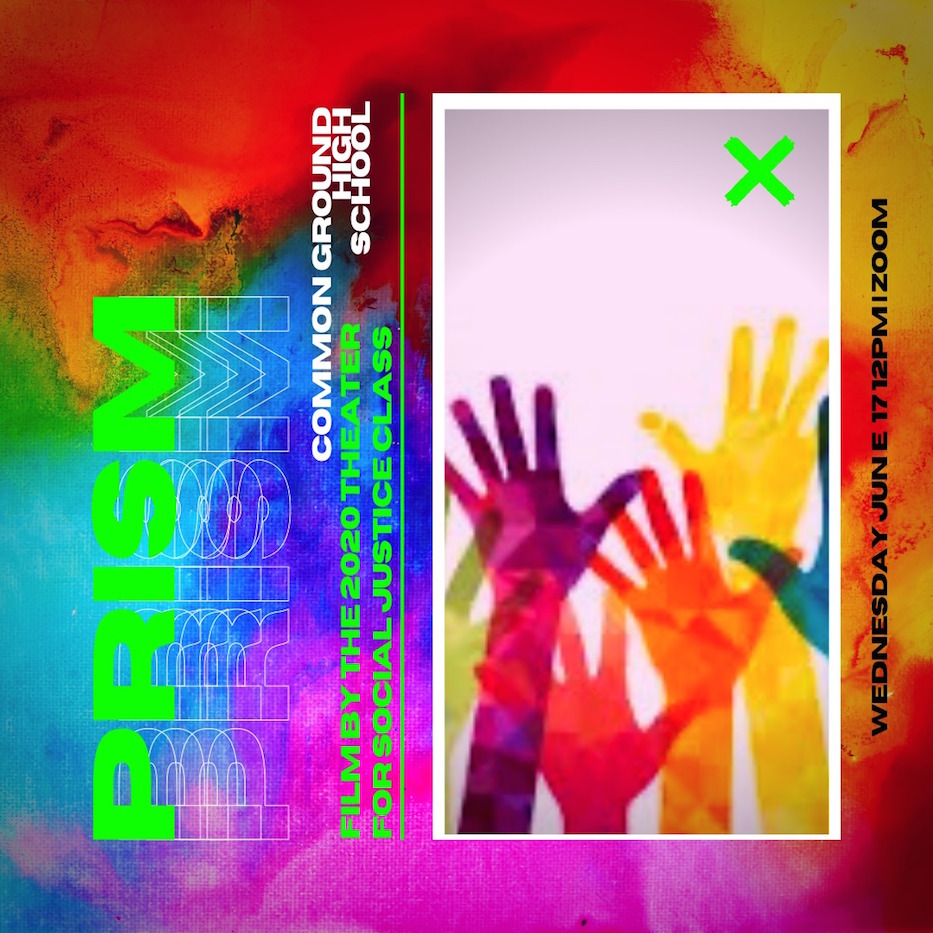 Elm Shakespeare Company | Arts & Culture | COVID-19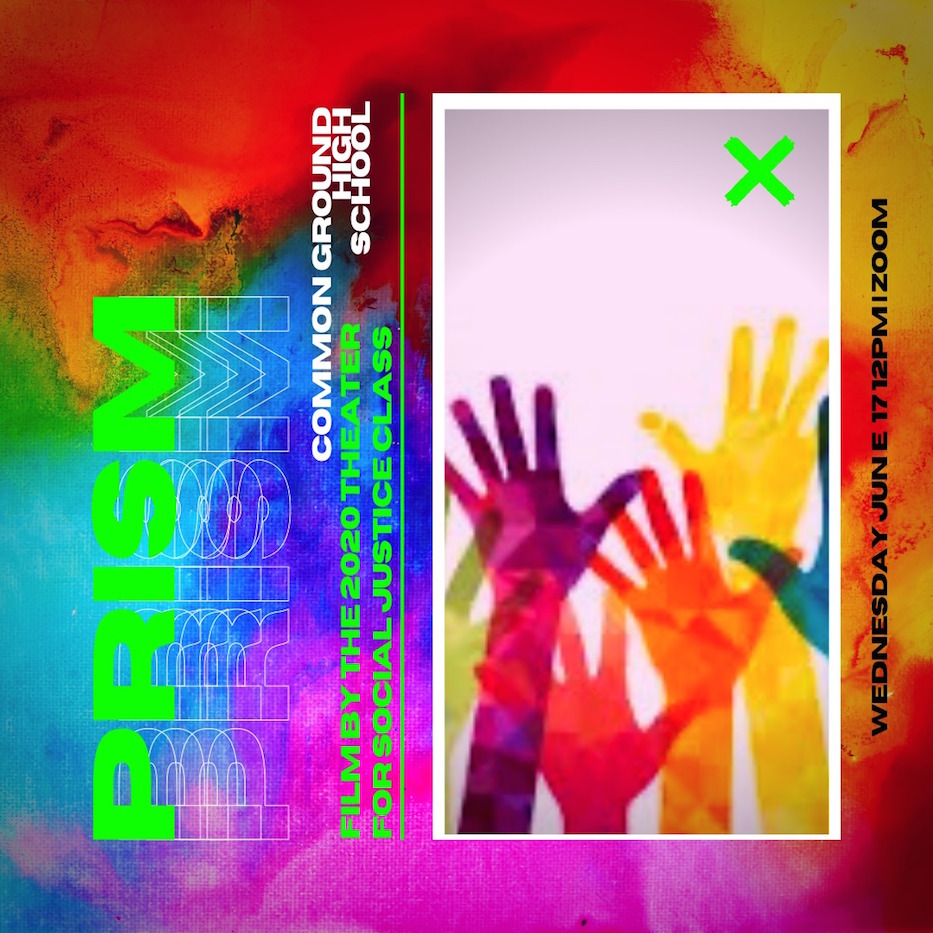 A girl (Zoe Hubbard) walks down the school hallway, the same thoughts running through her head on loop.
You will always be a burden. Am I even good enough? The others are never going to like me. You'll never look as good as them.
She doesn't notice a classmate beside her, asking if she's finished her math homework. The voices keep going. The classmate asks if she's okay. She says she's fine. But a panic attack is rising; the voices are deafening. The girl screams, her hands clutching her hair as her her head turns toward the ground.
That scene came to life last week, as Elm Shakespeare Company and students from Common Ground High School presented Prism as the culmination of a social justice theater class. The film was written and performed virtually by students with the help of Elm Shakespeare Education Program Manager Sarah Bowles. It joins other work that the organization has done online, including a performance of Cymbeline from Mauro-Sheridan Interdistrict Magnet School, since the beginning of the COVID-19 pandemic.
The work's title was meant to reflect students' multiple interests and kaleidoscopic (or, more accurately, prismatic) points of view, on topics from LGBTQ+ rights and non-binary youth to white supremacy to institutional racism, economic inequality, substance use disorder, and mental health.
"Due to the pandemic we had to turn the project into a film," Bowles wrote in an email before the film. "But it turned out pretty awesome, and we are incredibly proud of their work."
Originally, Common Ground students thought they would be able to produce and perform the work together. Then in March, schools across the city closed as the first wave of COVID-19 infections hit. Elm Shakespeare pivoted online, bringing several of its programs into digital space before the end of the month. As schools remained closed, the element of film kept the project going.
Students developed the film together through discussion, improvisation, and rehearsal, a process known widely as devised theatre. While Bowles was the faculty advisor, she said she let students drive the dialogue, listening as they cycled through topics. In the opening of the film, students described what a prism was, explaining the different shapes and dimensions that it exposed.
"I personally feel like we are in the shadows," said Darlenne Carzin, a junior at the school. "But ... it takes courage to shine a light on those shadows and on that darkness."
The introduction faded into scenes where students talked openly about their current feelings on police brutality and the current protests in New Haven and around the country. Messiah Moore, a junior at the school, dipped into his own history. He spoke about the fear he experiences as a Black person everyday, as people in society see his skin and make a series of incorrect assumptions about him.
He is "a strong Black man that just wants to be free," he told the group, eyes looking into the camera.
The scene shifted. Senior Maximus Phil appeared on the screen, ready to explore substance use disorder and attempted suicide. In the skit that followed, a man walked in the door with food in his hand, looking towards his friend. A big smile spread across his face.
"Hey, I brought you some food! You hungry?" he asked.
His friend didn't say anything. He was still, sitting on the steps with a serious, but very hurt facial expression. He explained slowly, deliberately, that a close mutual friend was in the hospital with an overdose.
The words seemed hard, heavy. He wiped his face with his hand, trying to keep them coming.
"I don't get it," he cried. "Does he not care about his family!?"
The first character tried to comfort him, explaining that the issue might be more complicated. No dice.
"When you see him, let him know that he is no longer invited to stay here," his friend said.
"Well, if he can't stay here then, where will he go," the actor responded. "We can't just leave him out there his own."
"I don't know," said his friend. "But he'll figure something out."
The distance between them went silent for a minute.
"So, you still want to eat?," asked the first guy, holding the bag by his friend's face and grinning once again.
This skit sparked mixed emotions of understanding, anger, frustration, and confusion, students said. So did others, as students acted out intimate experiences of depression, anxiety, bullying and feeling unsafe as queer and non-binary members of the community.
During a talkback that followed, students also spoke about how the spring has exposed a series of new challenges to them, from the pandemic of coronavirus to the pandemic of racism. Students opened up to discuss their feelings during quarantine, which ranged from boredom to frustration with distance learning and separation from their friends. A few joked that celebrities who say they are bored have no idea what real boredom is.
They then gave their thanks to the viewers who'd attended and to Bowles, without whom the film would have been impossible. No curtain closed. But the screen went dark.
Prism comprised Elm Shakespeare and Common Ground students Aidan Betancourt, Darlenne Cazarin, Jayvon Edwards, LeQuanna Glass, Imani Harrison, Zoe Hubbard, Cody James, Messiah Moore, Kailyn Morales, Nouria Ntite, Brandi Ocasio, Maximus Phill, Shane Porter, Yaniel Ramos, Jaelyn Roberts, Lucifer Russell-Thornton, Shirley Spearman, Shawn Williams-Wellons, and Kaelyn Yancey.