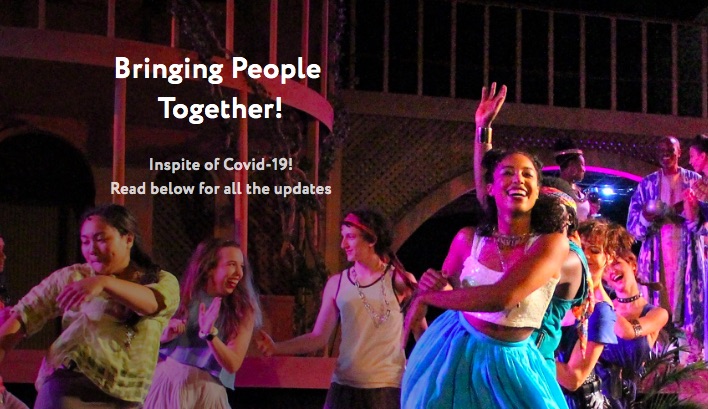 Education & Youth | Elm Shakespeare Company | Arts & Culture | Theater | COVID-19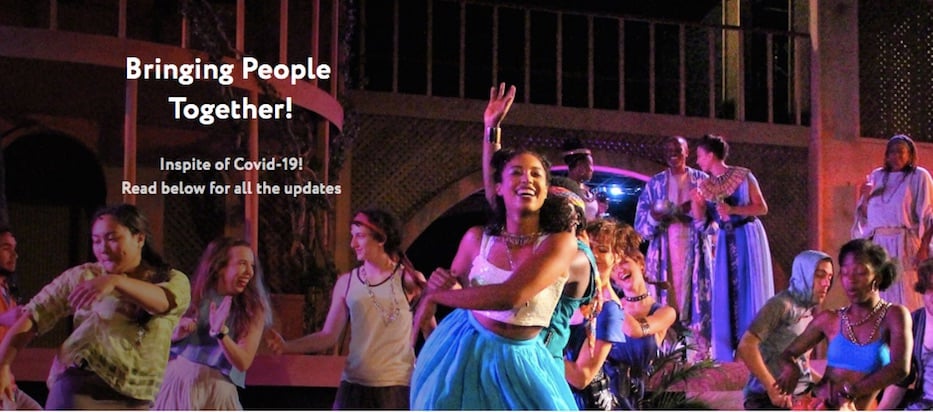 Monday, Elm Shakespeare Company rolled out Elm Education Online and a brand new relief fund for artists who have been part of the organization over its 25-year lifespan. Elm Shakespeare Website Photo.
William Shakespeare's Globe Theatre survived the bubonic plague. Now, Rebecca Goodheart is hoping that New Haven's own dedication to the Bard will survive COVID-19.
Goodheart is the producing artistic director of Elm Shakespeare Company, New Haven's portal into community-based summer performances and Shakespeare-based education with thousands of New Haven students per year. For the first time in its 25-year history, the nonprofit is moving its educational programming online as it works to grapple with new artistic and educational realities of COVID-19.
"In the last 10 days, we've spent most of our time creating contingency plans," Goodheart said in a Zoom interview Friday. "I'm extremely proud that we've been able to do all of our spring residencies and spring programs and move them online."
While Elm Shakespeare may be most often recognized for its annual August Shakespeare in the Park, the company will not be making a decision about its summer performance until June 1. Goodheart said there are too many moving parts to call it: New Haven's Department of Parks, Recreation and Trees has suspended permits through September. Southern Connecticut State University's (SCSU) campus, where rehearsals are held for some of the summer, remains closed until further notice.
And gatherings of over 100—let alone five—are no longer permitted.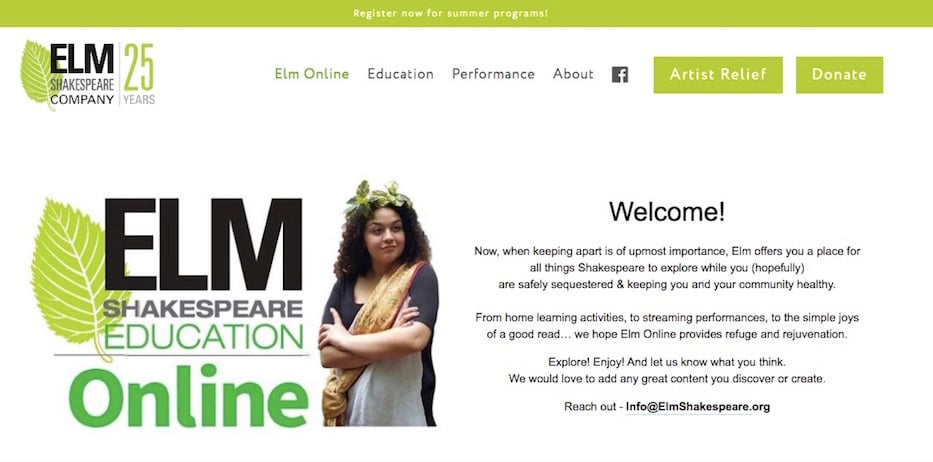 Instead, she and staff have pivoted to reshaping the nonprofit's educational programs, which range from teaching partnerships with Mauro-Sheridan Interdistrict Magnet School, Common Ground High School, and SCSU to its teen troupe to annual summer camps. In the midst of the pandemic, the organization has been able to retain three full time staff members, one part-time staff member, and six additional designers and teaching artists.
While Elm Shakespeare is not signing any further contracts, those 10 workers were all with the organization when COVID-19 closures hit. Goodheart said the nonprofit will compensate them "for as long as possible," which currently looks like late May. If closures continue into the summer—which would put both summer camps and the August show in jeopardy—she said she'll have to figure it out as she goes.
"My entire industry went to zero in the course of two days," she said. "And we just don't know for how long. We don't know if this is the new normal. Our society has chosen an artistic model that supports art through institutions. And yet, the art is created by freelancers ... and those freelancers are still at risk."
She recalled a Zoom meeting with Shakespeare theaters across the country last week, in which colleagues talked about slashing staff, losing hundreds of thousands of dollars, and instituting furloughs. Some of them didn't know if their theaters would make it to the other side, because they aren't sure what the other side looks like. One lost $10,000 in under an hour, all while she was on a call with Goodheart.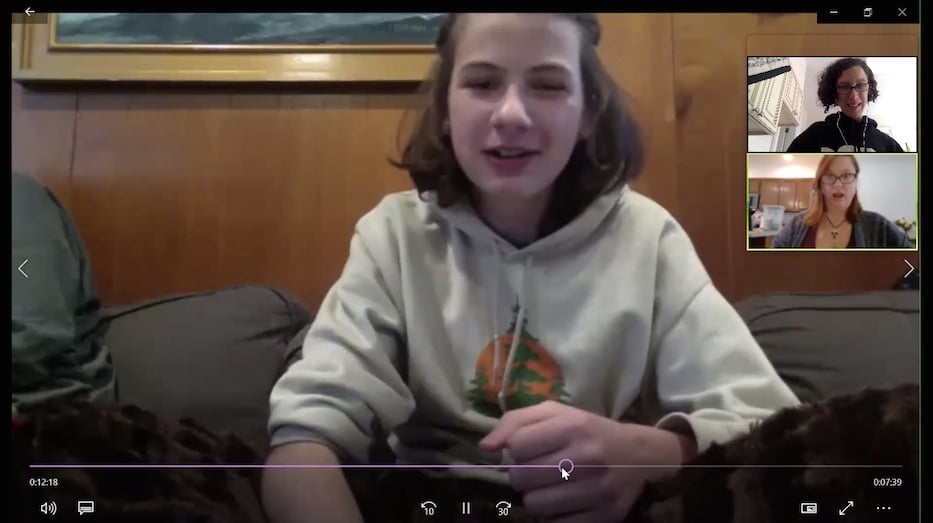 "Those institutions are saying: 'We're fighting for our survival, so we're gonna lay off the artists who are making the art," she said. "Elm Shakespeare doesn't exist without its artists. We have to find a way to pay these artists."
Part of that, she added, means growing out the organization's strong educational arm ("you know, we're not just pumpkin pants in the park," she joked). As regional theaters cancelled the remainder of their seasons and Broadway went dark two weeks ago, she and staff were bringing the Bard into the twenty-first century. In a single calendar year, Goodheart estimated that Elm Shakespeare teaches 1,000 students in the greater New Haven area and reaches closer to 3,000.
If schools were moving online, she figured, Elm Shakespeare could too. Within a week, staff had created distinct "Zoom Rooms" for students in their different programs. In one, students in the teen troupe picked up their scripts for A Midsummer Night's Dream and rehearsed, running their lines across time and space with almost no digital delay (watch a video of that below).
In another Zoom Room, staff created an open space for Mauro Sheriden students, some of whom have struggled with reliable access to technology and internet connection. While Goodheart said she's worried about both their learning and their basic needs—like food and housing security—she said the organization is doing what it can. She pointed to a need for both art and peer-to-peer connection in a time of extreme uncertainty.
"How can we be a creative and emotional refuge and a place where kids can feel connected and know what's going on for them?" she asked. "Our students are hungry to be able to connect with each other. These are creative kids."
This week, the organization also rolled out Elm Education Online. The platform provides free, at-home online learning activities pulled from the organization's curricula, an online performance library, long Shakespeare bibliography, and growing list of classes, books, lectures and activities offered across the country.
There are, for instance, directions to make one's own coat of arms at home, with whatever they may have around the house. The platform is neatly divided into four parts on a single page.
In so doing, the organization has also looked to its oldest and greatest source of inspiration: Shakespeare himself. In the late sixteenth century and into the early seventeenth, rapid spread of the bubonic plague caused London theaters to shutter repeatedly in the face of a violent, cyclical disease that devastated the city. In a matter of months, the plague claimed tens of thousands of lives. Shakespeare's troupe, The King's Men, stopped performances by executive order.
But while the doors to the theater were closed, the artist continued to create. So too did many of his colleagues. In the 1590s Shakespeare published narrative poetry that is still seen as some of his most stunning. In 1606, during another closure, he pumped out plays that are still read and performed as masterworks today. When the city came back, but by bit, he was part of its rebirth.
"The community not only survived, but some of the world's greatest plays and the sonnets were created during these dark days," Goodheart wrote earlier this month. "Art prevailed. So, I look to follow Shakespeare's lead, and continue our creative work with great hope."
The organization is also starting a relief fund open to artists who have worked with Elm Shakespeare anytime over the past 25 years. Goodheart said she was particularly inspired by the success of the Prague Shakespeare Company, as well as similar relief programs that have popped up across the country.
Originally, she thought of holding readings online "to get money right into actors' hands," but ran into red tape with licensing rights and actors' unions, which are struggling with the transition from live performance to online. She said the amount that the organization is able to distribute is contingent on the amount that it is able to raise.
As it jumpstarts that work, Elm Shakespeare is planning to press forward with its programs, even if they're in digital space for now. That doesn't mean Goodheart isn't also being realistic: she has also done some "disaster planning" in case closures extend into the summer months. She's not ruling anything out.
After five years of steady financial growth for the organization, she acknowledged that there's a chance that Elm Shakespeare could go from being a $500,000 per year organization to closer to $237,000. The cut would devastate staffing and performance capacity. Her approach: get through a plan for the day, then a plan for the week, then a plan for the next few months. She doesn't allow herself to get too negative, she said.
"There's a condition that I've outlawed at the summer theater—the saying 'it shouldn't be this way,'" she said. "'It shouldn't be this way' is a deadly thought. I think there's a lot of that in online teaching. When we do that, it cuts us off from 'what could it be?' If we let our creative selves into the Zoom room, something else is possible."
"I trust artists to give their creativity over to this," she said. "I think art that can change our world can still happen. We just switched our medium. We've gone from a real live interactive real time model to a real time digital."
To find out more about Elm Education Online and the Artists' Relief Fund, visit Elm Shakespeare Company's website.