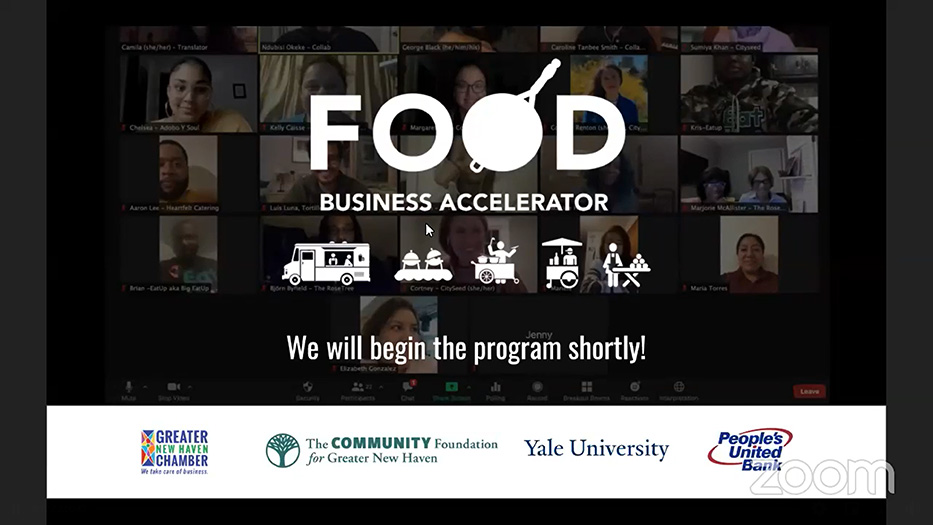 CitySeed | Collab New Haven | Fashion | Food insecurity | Food Business | Entrepeneurship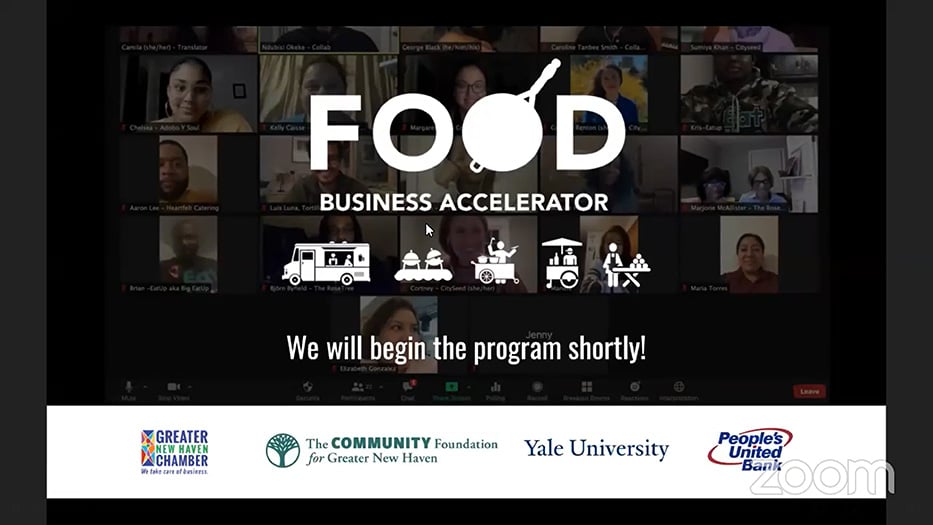 Screenshots via Zoom.
A grassroots collective that wants to create jobs in Fair Haven by opening up a tortilleria. A dynamic duo of two best friends that sell gourmet alcohol-infused cupcakes. An Italian and soul food inspired catering company that will also have a fashion line on the side.
These are a few of the 10 culinary ventures that pitched their businesses Thursday night, in the latest cohort of the Food Business Accelerator by CitySeed and Collab. Emceed by Collab Venture Manager Ndubisi Okeke and CitySeed Food Entrepreneurship Program Manager Cara Santino, the event featured food startups from across the city and the Greater New Haven region.
They included a husband and wife duo looking to open a Mexican-Italian fusion food truck, a line of locally jammed and pickled goods from a family-owned farm, and catering companies aiming to provide flavorful, healthy meal options. In almost every presentation, both biological and chosen family took center stage.
"Tonight's event is the culmination and celebration of 11 weeks of learning and hard work," said Cityseed Executive Director Cortney Renton. "We hope you will walk away inspired and with a few more spots to check out."
The Food Business Accelerator aims to reduce barriers to food entrepreneurship across the state and create leadership among people of color and immigrant communities. This year was the most competitive in its young history, with more than 70 applicants vying for 10 spots.
The nine presenting ventures included Adobo y Soul, Alegría Café, EatUP LLC, Fantastic Foods, Heartfelt Catering, Je T'aime Cupcakes & Cocktails, KDCrop Farms, The Rosetree, and Tortilleria Semilla. Westville Quality Market did not pitch, but attended in the audience. Read more about the ventures here.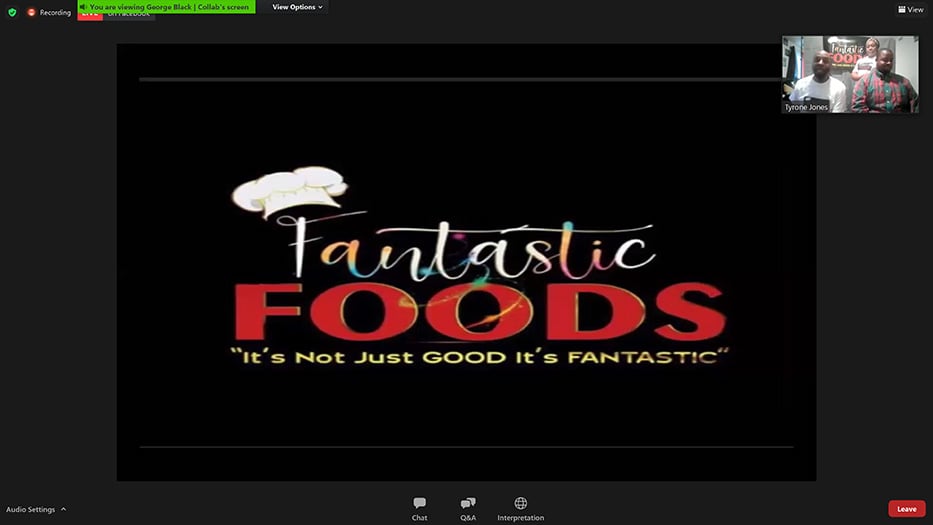 Early in the evening, Fantastic Foods delivered a lively pitch outlining a plan to obtain a food truck and expand its American Comfort Food catering business. The triple threat group—Trevor L. Johnson, Lanekia Johnson, and Tyrone Jones—bring with them more than 30 years of culinary experience and are hoping to address food insecurity around the Cedar Street area by donating leftover food to community members. Lanekia and Trevor are married, and Jones is a long-term friend and business partner.
In addition to their signature dish, dubbed the Chopped Cheese Grinder, the menu offers a spread of main courses and side dishes including salmon crostini, buffalo wing dipping cups, and fried chicken. Their slogan: "It's not just food. It's fantastic food."
Johnson and Jones have worked their way through New Haven's food landscape. Johnson currently works as a chef at Yale University and Albertus Magnus College, and Jones is a graduate of ConnCAT's Culinary Arts Program. He currently manages Petals Market on Ashmun Street in the city's Dixwell neighborhood.
For Jones, food insecurity became a reality when he was laid off last year. He relied on the support of family and friends to get through the worst parts of that time.
"After losing my job I could've been on the street," he said. "I was one degree from being right there. It opened my heart and eyes to go and feed. So many people are in need."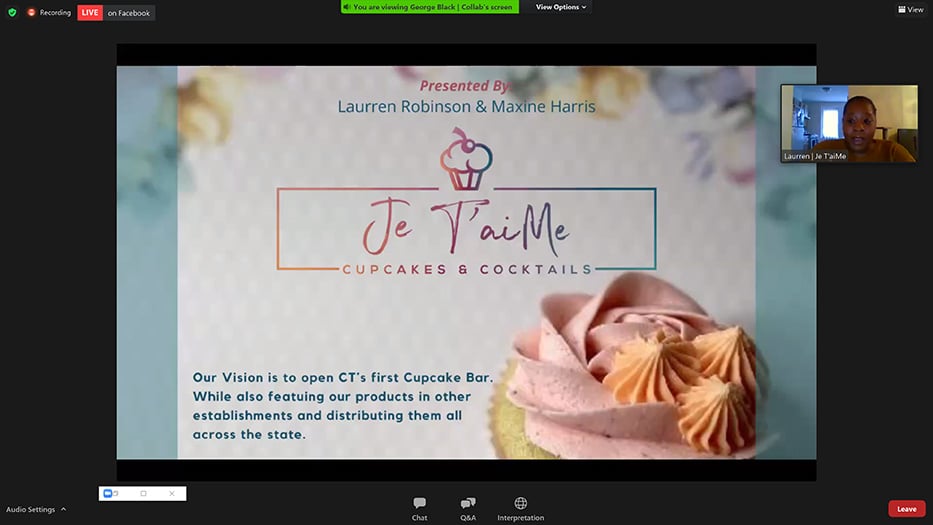 Following that act, best friends and Je T'aime Cupcakes and Cocktails co-founders Laurren Robinson and Maxine Harris, gave their pitch to open the state's first cupcake bar. The two had been baking together for 15 years before deciding to soft launch the venture in 2020. Currently, they sell through other retailers and popups, but do not have a storefront.
"We started off as best friends and ended up as business partners," said Robinson. "Memories are created over dessert."
The cupcake bar would be the ideal place for drinks with friends, or to grab a cocktail with something sweet, said Robinson. The menu would feature their signature alcohol-infused cupcakes like the Manhattan—a gourmet $50 cupcake that includes all of the ingredients of a Manhattan cocktail and edible, 24-karat gold flakes to top it off. This summer, the two plan to launch a $100 cupcake called "The Symphony."
One of their signature cupcakes is now the "Russian Tres Leches," which marries a White Russian cocktail with the dense, sweet and milky foundation of Tres Leches cake. The business also offers a range of more affordable and non-alcoholic cupcakes and cookies, including strawberry cheesecake and cookies and cream flavors. Their baked goods are already available at Ordinary New Haven downtown and Ricky D's Rib Shack in Science Park/Newhallville.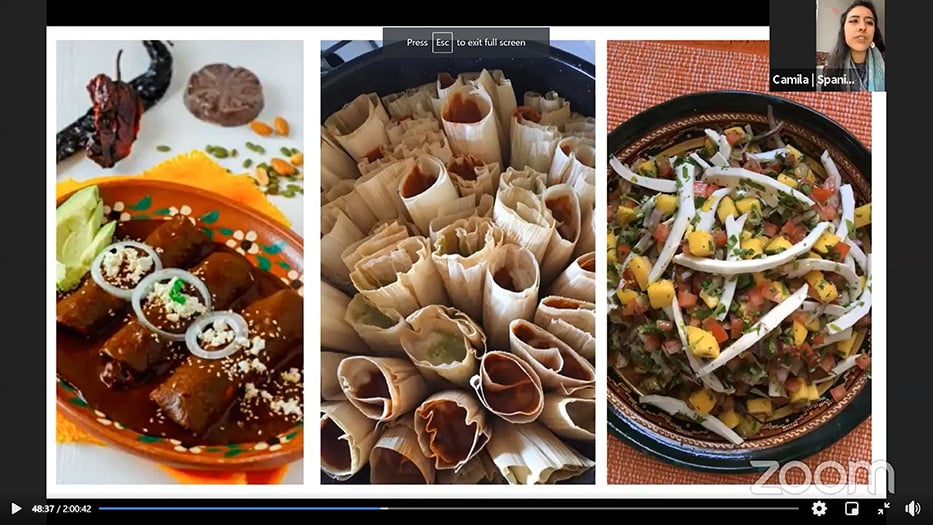 Family continued to underscore the night with Maria Torres, who introduced Alegría Café with her husband Saul Torres. The cafe is in fact not a brick-and-mortar cafe at all, but a Mexican-Italian fusion food truck. Saul brings more than 20 years of experience cooking Italian food, and Maria brings her Abuela Paula's traditional tamale recipes.
"We've always been a great Robin but now it is time to become Batman," she said.
To distinguish itself from other food trucks, their truck would cater to morning commuters, opening up at 6 a.m. in downtown New Haven. Torres said that some of their fusion dishes include pizza tacos and a carne asada pizza alongside blueberry tamales and margarita pizza.
"We hope that with our food truck we can satisfy and give a range of options with our Mexican [and Italian] cuisine," she said. "Mexican food has a range of flavors from the sweet to the spicy."
She explained that food extends beyond the cuisine—she sees it as a way to create jobs and bring people together.
"We would have an opportunity to create jobs for all those who would like to join our work team," she said. "Food is unity, a joy, a prize; and that is what we want for our community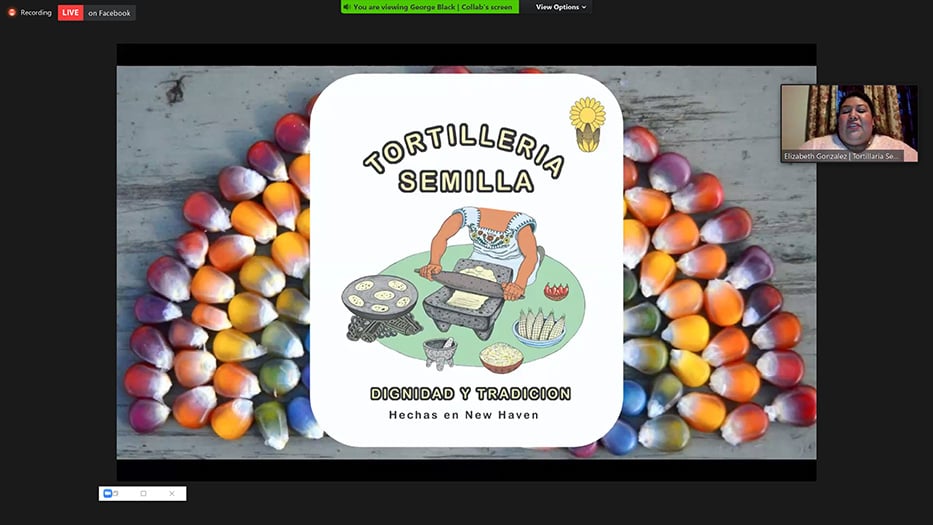 Throughout the night, ventures spoke about potential partnerships with other ventures or existing businesses to help one another grow. Alegría Café would look to establish a partnership with Tortilleria Semilla, a tortilla shop pitched by Semilla Collective.
At the beginning of 2020, the pandemic completely stopped the collective's original plans. Members shifted to building mutual aid networks and providing food relief to immigrant families that had been left out from federal aid due to their immigration status.
"With this in mind and thinking about self sufficiency, economic autonomy and access to work, we had the idea to create our own tortilla cooperative," said member Luis Luna.
Elizabeth Gonzalez got involved in the collective after she herself received one of those food relief bags.
"Our job is to address the job crisis in New Haven by creating a living wage job in a cooperative model," she said.
To honor their cultural and ancestral roots, the shop would prepare its tortillas through the Aztec and Maya tradition of nixtamalization from Pre-Columbian times. In the process, grains of corn are soaked and boiled in lime water before being ground into the dough. The store would also use organic and non-genetically modified produce.
The limewater process increases the overall nutritional value of the tortilla, said Luna. In the process, there is more calcium in the finished product. Other nutrients such as zinc, folic acids, and niacin are more easily absorbed.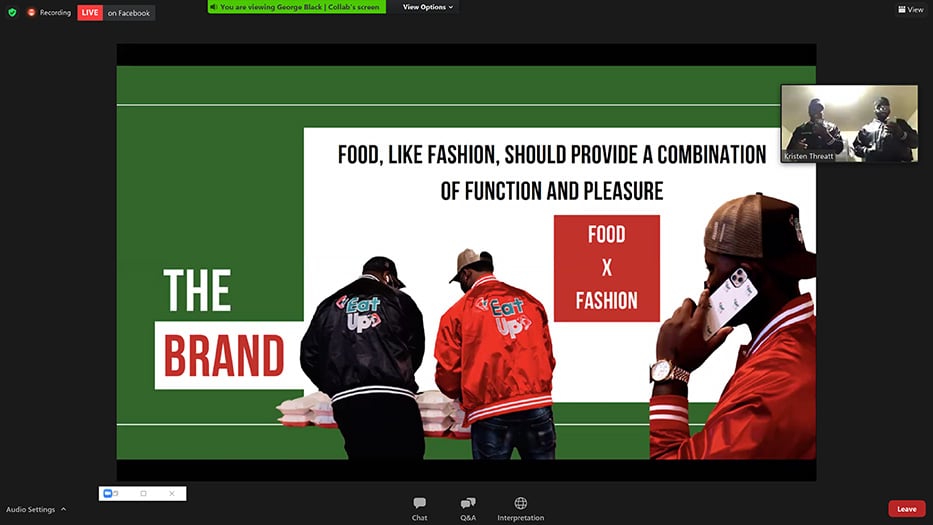 Later in the night, the energetic duo of Brian Burkett Thompson and Kristen Threatt presented Eat Up, a venture that aims to bridge food and fashion through Italian and soul food inspired fusion and a matching line of merchandise. Onesies, bibs, and hoodies are a few of the items they hope to sell. The two already provide food to New Haven through Eat Up Catering,
"Food, like fashion, should provide a combination of function and pleasure," said Threatt.
The juncture between Italian food and soul food isn't far-fetched to Thompson, who has dreamed up dishes including Cajun Garlic Parmesan and Chicken Broccoli Alfredo. The business already leans into its soul food roots by offering fried chicken and an assortment of wings with sauces that "will knock your socks off," ranging from Salted Caramel Whiskey, Eat Up Heat, and their allegedly famous Mambo sauce.
The spicy red-tangy sauce is a D.C. staple that the duo wanted to introduce to the community, they said Thursday. They are already dedicated to New Haven, they added. Last year, the duo donated 110 meals to the Casa Otoñal Community Center in the midst of the pandemic.
"We are dedicated to seeing a change within our inner city community and being able to provide jobs," they said. "And ability to transform lives."
Watch the full presentation here.