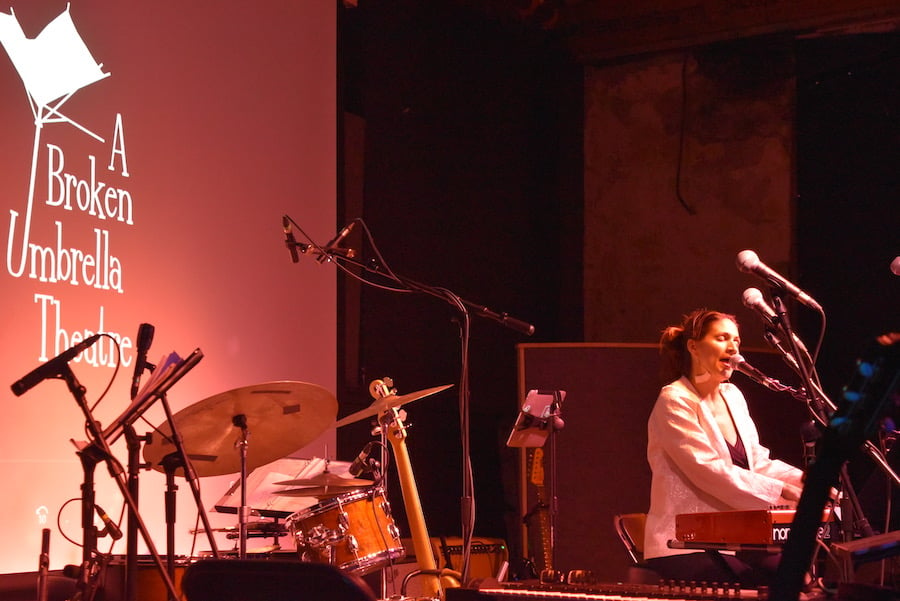 Downtown | A Broken Umbrella Theatre Company | Arts & Culture | Political Theater | The State House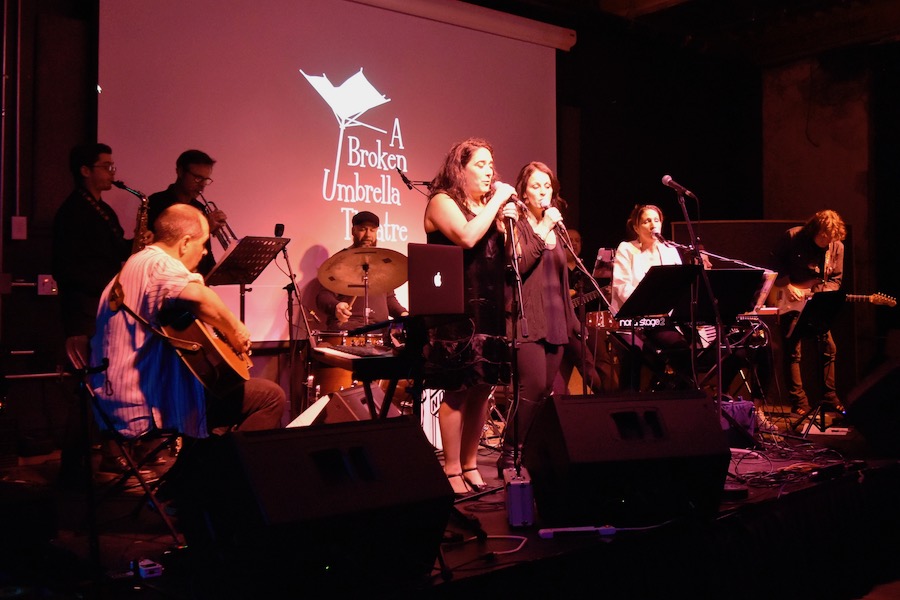 The audience at State House started howling and clapping as the music heated up on stage. Chrissy Gardner was bouncing in her piano seat and layering fresh, unexpected, almost classical piano riffs over the pounding drums and bass as she sang:
Now before this world I wake and know what I must find
A sacred place inside to feel myself alive
Gardner played "Alive" during her concert last Thursday, a fundraiser for A Broken Umbrella Theatre (ABUT), of which Gardner is a founding member. ABUT uses New Haven's history as inspiration for the original plays and musicals they perform on-location at historical sites around the city, from parks and libraries to old boiler rooms in former factories.
The evening doubled as a birthday party for ABUT, celebrating the company's tenth anniversary (read about its history here) with an audience of 100 enjoying drinks and music at cabaret tables and in the standing room around the house. Gardner was joined by Dave Livolsi on bass, Nick D'Errico on drums, Benny Landa and Jerome Fox on guitars, Tim Kane and Dylan McDonnell on horns, Dana Astmann on accordion and keys, and Michelle Ortiz, Rachel Alderman, and Cynthia Astmann on backup vocals.
On-stage during the concert, Rachel Alderman, another founding member, explained how ABUT used a placemaking grant and a partnership with the International Festival of Arts and Ideas to gut and renovate the old Horowitz Brothers warehouse on Chapel Street.
"The place looks wonderful, if we could just get everything out of there," she recalled thinking at the time.
The company saw potential in the square box of a building and its layers of history, using the site to produce their 2013 show Freewheelers, a musical capturing the mid-19th century moment in New Haven when the mass production of corsets and the arrival of the bicycle gave some women a choice between constricting tradition and modern freedom.
Five years later, Alderman said, Slate Ballard and Carlos Wells got their own placemaking grant to turn the cleaned-up space into a full-time performance venue "that's a home for artists," and the State House was born. Alderman smiled with joy as she related the building's revitalization.
"This is exactly the point," she said. "This is the whole point of what we do."
As one of the group's primary composers, Gardner honored that history by playing a half-dozen or so songs either directly from or inspired by numbers from ABUT musicals, one of which was "Little Lady."
Gardner started the song on the piano with a cycling, arpeggiated melody in a minor key that rolled out a layer of tension. By the time the second verse rolled around, Landa and Fox had joined in, the lightness of Gardner's haunting piano melody contrasting nicely with the heaviness of their electric guitars.
During a break between sets, Alderman explained that the core of "Little Lady" comes from "Skimming Along Like a Bird" from Freewheelers. The song highlights the moment the main character learns to ride her bike, and the "pedal power" of the piano line captures the freedom she gets from those rapidly-turning wheels.
Gardner said on stage that many of her songs are inspired by the works she's done with ABUT. "It turned out to be a good playground for songwriting," she said.
Gardner reworked most of the lyrics of "Little Lady" to fit her own life experiences, but the kernel that unites the two versions comes in the bridge:
Now is the time. I'll make it on my own.
There's no going back and there's no going home.
The band built to a crescendo as Gardner moved towards the ending. "Don't want to be a little lady. Can't be it. Don't need it," she sang, her voice getting more raw and raspy each time she repeated the line. In the very last moments, the band dropped out, leaving Gardner playing the same intense-but-quiet arpeggiated theme. As her fingers left the keys, she smiled a little and sighed, as if feeling the lightness of a catharsis.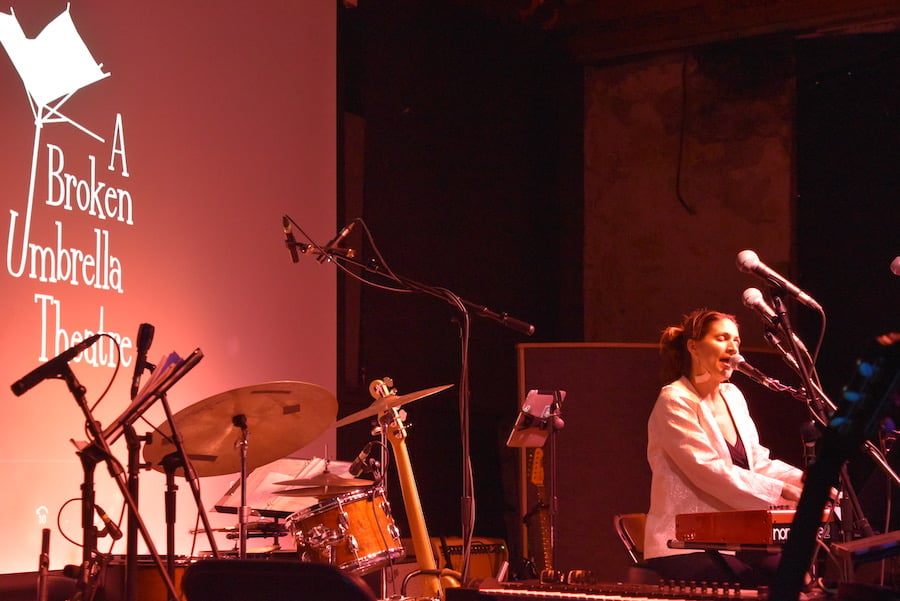 Gardner also played a great deal of her original work, including cuts from her latest album, Waxwing, and a "brand spanking new" song she called "Redemption."
Listen to the sound of my voice
For no reason at all the times I've been silenced before
I'm done screaming, just hear my words as they fall to the floor…
And I know this world I find
Will hold these truths of mine
Gardner's rolling piano chords were evocative and her voice was pure and unadorned, fluttering up to the high notes. Ortiz's harmonies and Kane's muted trumpet solo added to thick emotional resonance of the song. The audience listened in complete, rapt silence as Gardner paused and heaved a tearful sigh before continuing to the last lines, her voice breaking.
And it's only love I find
When I listen to the sound of my voice
There was a magical moment of silence between the last note dying out and the thundering applause of the crowd.
Gardner returned to the theme of empowerment again and again, adding a bright feminist thread to the concert's cloth. "Walk On", which she said she wrote after her divorce, started with Gardner, Alderman, and Ortiz singing three-part harmony a cappella, added a thumping bass line and quick hi-hat rhythm on the drums, and ended up a hard-hitting rock-blues song:
Oh girl, she's growing up strong just to give herself away
Oh no, you gotta live in this world
Don't you trade it all for this diamond ring
Gardner also played "Gigi's Song," which she wrote and performed for her grandmother's funeral. "I feel like it came from her," she said, explaining that when she sat down at the piano to write the song, it came out in five minutes.
"Speaking of wonderful women, she was amazing," Gardner said. "She lived right up to the day she died," joining a band at age 82 and often leaving big family dinners early to go on dates.
And so now can we celebrate this day
For the life that she brought through
And it's now up to me and you
To let her song come through
The gospel-inspired tune featured soulful horn charts and strong harmonies over a slow, driving beat from the rhythm section. Gardner, Alderman, Astmann and Ortiz finished the song humming the melody, each with their eyes closed. At the end, Gardner glanced skyward before looking out to the audience to take in their applause.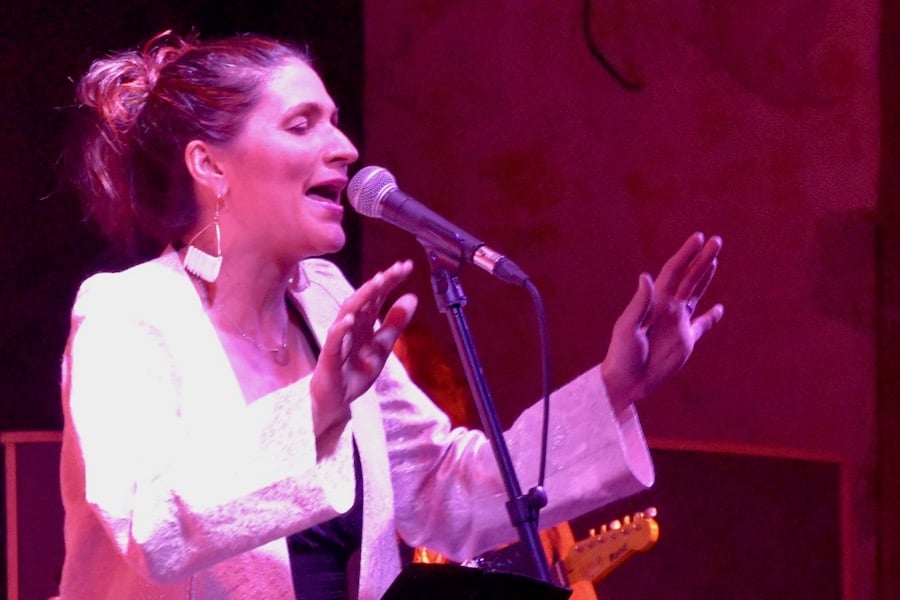 During the concert, Gardner decided to launch a new tradition: "I'm making a commitment tonight that every show I do, I'm going to do a cover of a song by an awesome woman," she said.
For this first iteration, she decided to follow an ABUT tradition and take inspiration from a nugget of New Haven history: the fact that the Indigo Girls' Emily Saliers was born in New Haven. Gardner performed "Closer to Fine," the song stripped back with just Fox on acoustic guitar and Ortiz on harmony.
Gardner said she was inspired by the courage Saliers showed in coming out as a lesbian in the 1980s, and by something she said she once read in an interview with Saliers.
"'If you're feeling like you're a woman and you're beating your head against the wall, against the system, then walk away and create your own opportunities,'" she recalled Saliers saying.
Speaking for herself, but perhaps unwittingly capturing ABUT's decade-old spirit at the same time, Gardner added, "And that's what I've tried to do for the last 16 years."