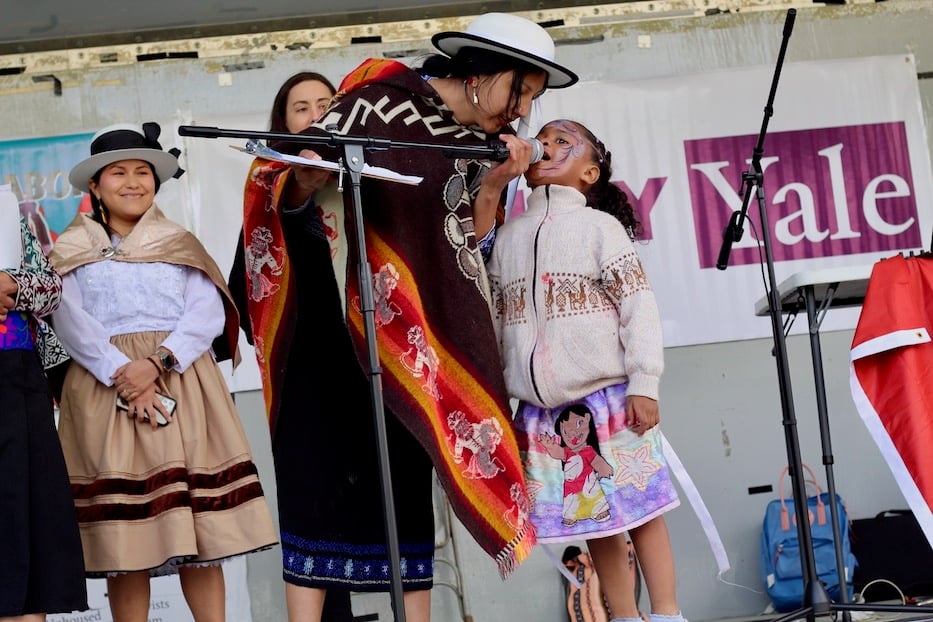 Environment | Arts & Culture | New Haven Green | Unidad Latina en Acción | Indigenous rights | Worker Rights | housing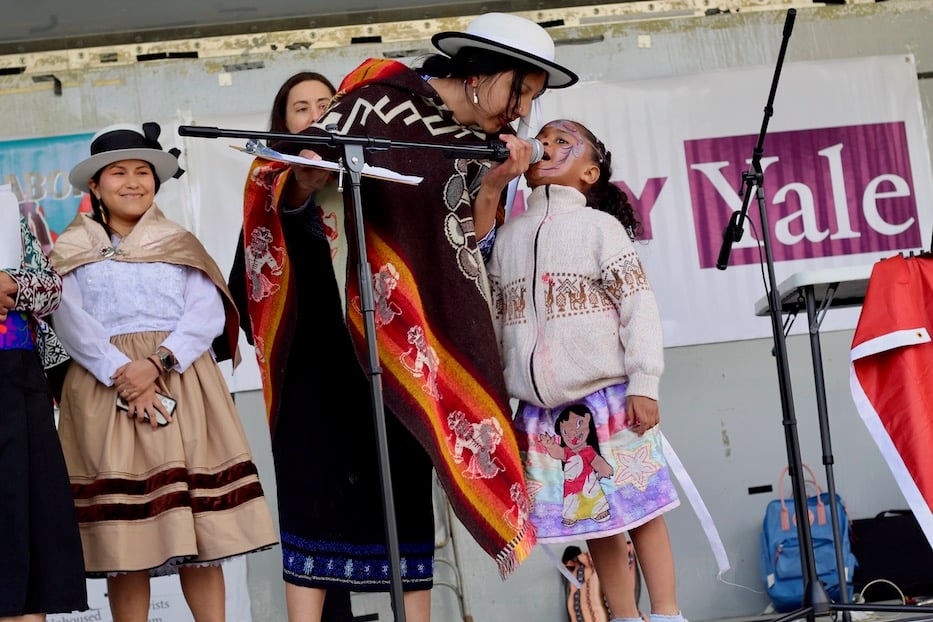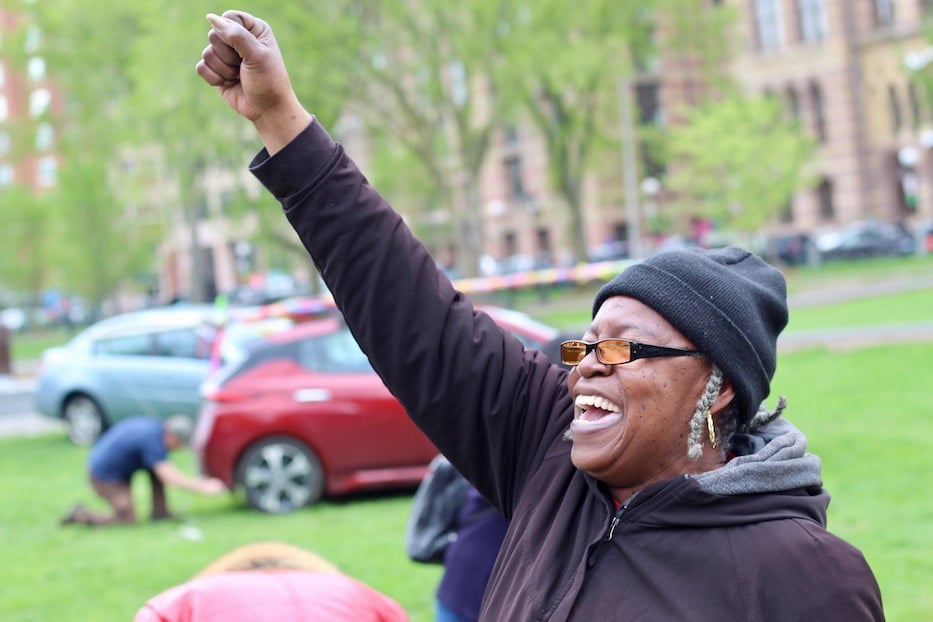 Top: Azucena Minaya (in embroidered skirt) with Estefania Cuzco and Isabel Davis-Cuzco. Bottom: U-ACT member Bridgett Williamson. Lucy Gellman Photos.
Guitar floated over the New Haven Green as Nehway Sahn looked out over the crowd, then back down to her feet and nimble fingers. In front of her, tables for ​Unidad Latina en Acción, Stop Cop City, the Yale Law School National Lawyers Guild, Connecticut DSA and the Unhoused Activist Community Team stretched out across the grass. At the side of the stage, Tammy Imre and Bridgett Williamson let the music wash over them.
Not tryin' to get by, get by, no no no, Nehway sang, the words drifting out towards a Maypole still wrapped in bright lengths of ribbon. I'm trying to get free. I'm trying to get free.
Monday afternoon, that sense of moving toward freedom—for oneself, for one's community, and for one's planet—defined a May Day celebration and rally on the New Haven Green, as activists converged to celebrate, recognize, and march for workers' rights in New Haven. After starting with speech, music, art and dance on the Green, members marched on City Hall, and then on to downtown New Haven and Yale University's campus.
Locations downtown included Starbucks, where Travis Glenney of Starbucks Workers United spoke, and Pizza House on Howe Street, where ULA has alleged verbal and physical abuse of a former employee.
From environmental stewards to immigrants fighting wage theft, speakers wove a deeply intersectional message, in which immigrant justice, climate justice, tenant's rights, wealth redistribution, land reparations, affordable housing, and public education were and are all part of collective liberation. Often, the colonial and capitalist history of the United States—theft of land, followed by theft of people—hung over the crowd as speakers took the mic.
"We cannot talk about houselessness, climate change, poverty, on these unceded lands without first centering the struggles of Indigenous peoples of this hemisphere," said Azucena Minaya, speaking alongside Griselle Bello of Culturas del Pasado, Voces del Presente. "It is imperative to understand that the current social ills did not exist on these lands prior to European colonization. The first civilizations in the Americas were created by centering equality across species."
May Day, also known as International Workers' Day, was founded in Chicago in 1889, three years after thousands of workers in Chicago collectively went on strike to demand an eight-hour work day. In 1886, backlash from law enforcement was strong and violent, and people died in what is now known as the Haymarket Massacre. Three years later, the first May Day began as an effort to honor their memory.
From Chicago, it spread across the globe, where it is now recognized in some countries as a holiday, and often seen as a moment to rally for better working conditions. It is not the same thing as Labor Day, which the U.S. recognizes in September.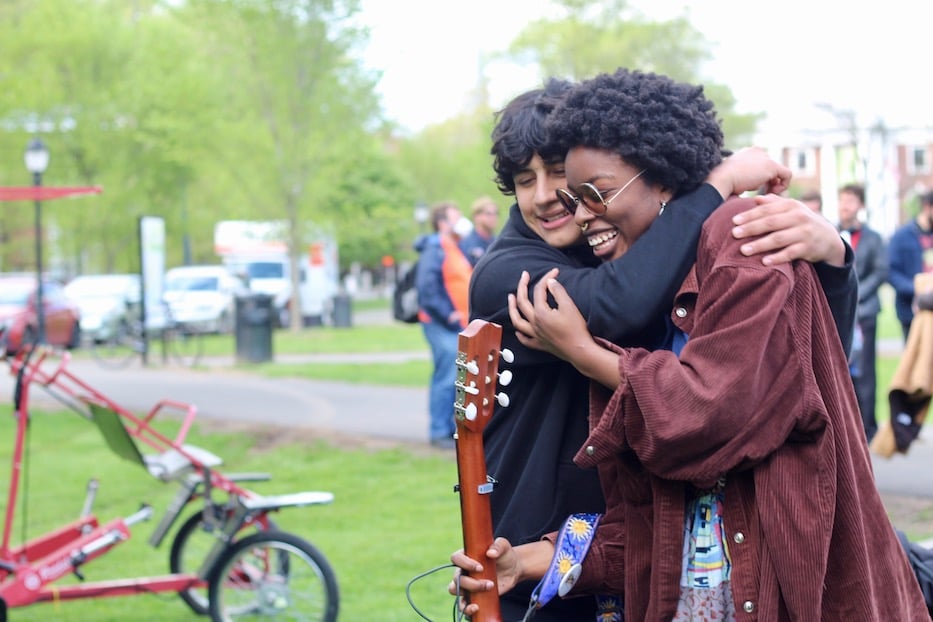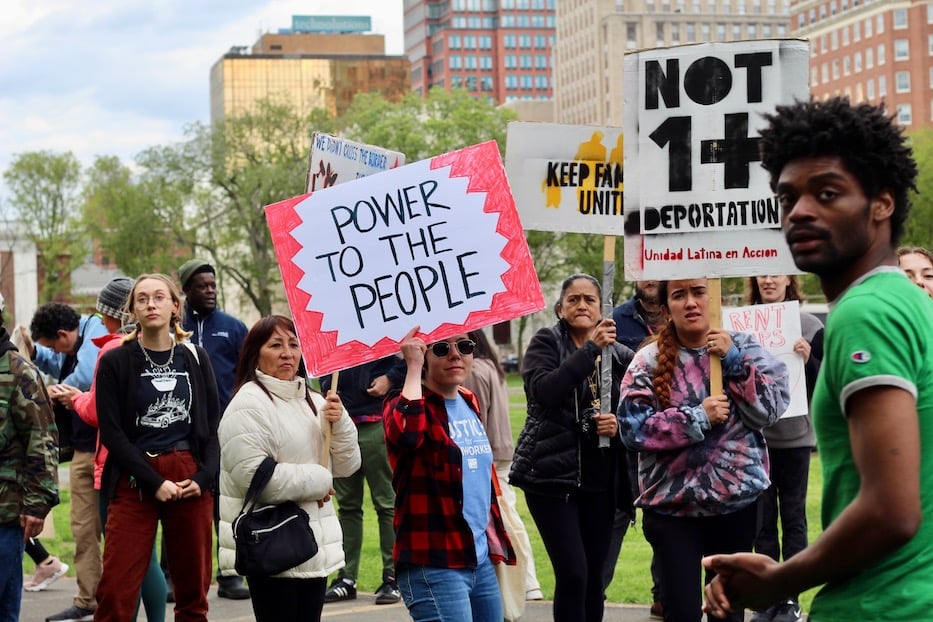 Top: Nehway Sahn after her performance. Bottom: Marchers assemble before heading to City Hall. Lucy Gellman Photos.
Monday, attendees and speakers alike pushed for a world in which worker rights are tied to a cleaner and fossil-free earth, to immigrant justice, reproductive freedom, and equal pay for equal work. Across the stage, banners from Occupy Yale (Pay Your Fair Share!) to U-Act (The Emergency Is Tonight!) looked back at a growing crowd. From a trio of microphones, emcees Estefania Cuzco, Alison Escobar and Nayeli Garcia led the crowd in chants of "El pueblo/unido/jamás será vencido," "Land! Back!" and "Water Is Life!"
Speaking early in the afternoon, CT Climate Crisis Mobilization's Melinda Tuhus pointed to the tie between corporate interests, fossil fuels, and a precipitously warming world, in which extreme weather events are becoming both more common and more deadly.
Last year, she said, banks across the globe invested a total $673 billion in fossil fuel projects, according to the Rainforest Action Network. These include fracking in Argentina's Neuquén Basin, a coal power plant in Pakistan, Liquefied natural gas (LNG) terminals in coastal Louisiana and Texas, and two pipeline projects in Canada that cut through Indigenous land.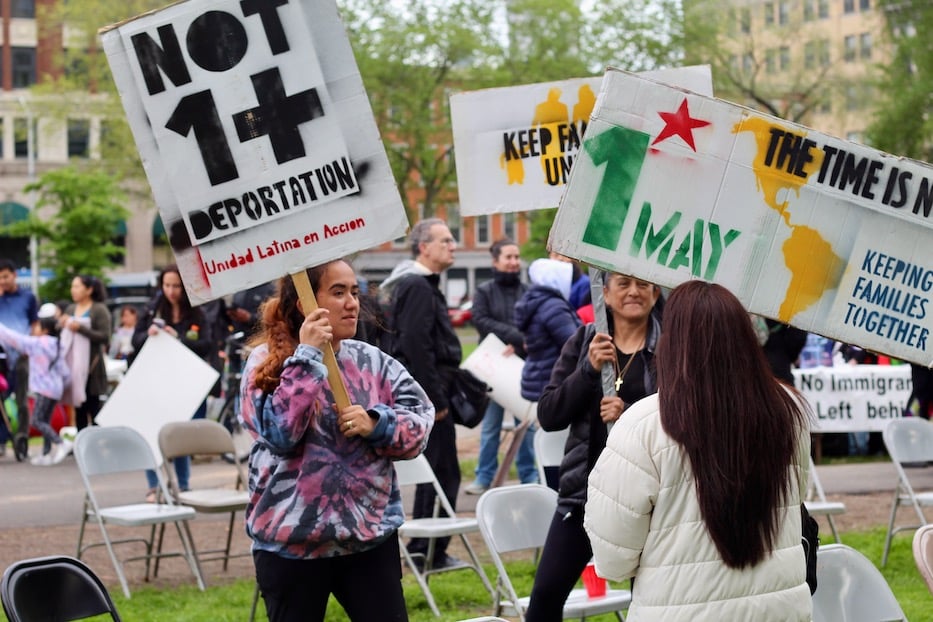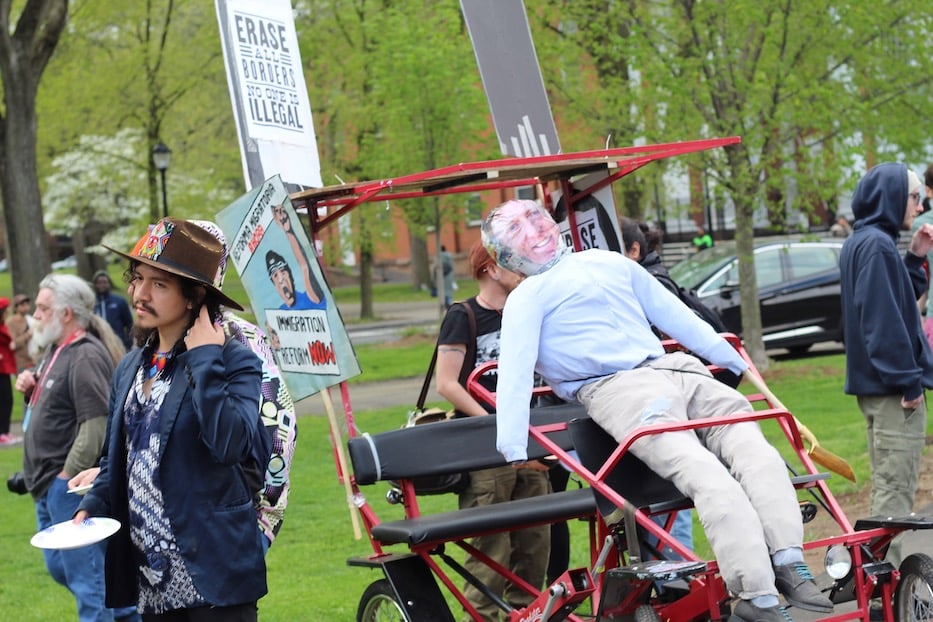 Top: Laura Garcia, Karin Garcia, and Janet Quespe. Monday, Karin was celebrating both her birthday and her recent win in an asylum case that will allow her to stay in this country. Bottom: The effigy of Mayor Justin Elicker. Lucy Gellman Photos.
"You could say the biggest global banks are guilty of mass murder," she said, singling out Citibank for its investment in oil pipelines including Line 3 and the Dakota Access Pipeline. "Their investments in fossil fuel development continue and their profits have soared beyond belief since Russia invaded Ukraine. Meanwhile, fossil-fueled climate chaos and resulting human and ecosystem destruction is ramping up at a terrifying pace."
She urged attendees to take action, noting that if such investments continue, it will be impossible to mitigate a growing, human-made and very present climate crisis. Already, some of the nations least responsible for emissions-fueled warming and sea level rise are bearing the disproportionate burden of it. She pointed to the work that CT Climate Crisis Mobilization is doing, including a proposed "Green Amendment" that would bring new environmental protections to the state.
As the words echoed across the Green's newly-paved walkways, tables seemed to multiply. Volunteers handed out food, offered free legal advice and invited attendees to make art projects or play with toys left along the grass. Across from a table for the Party for Socialism and Liberation, an effigy of Mayor Justin Elicker slouched back, a balloon head bobbing in the breeze. Only later in the afternoon did it become part of a caravan headed towards City Hall.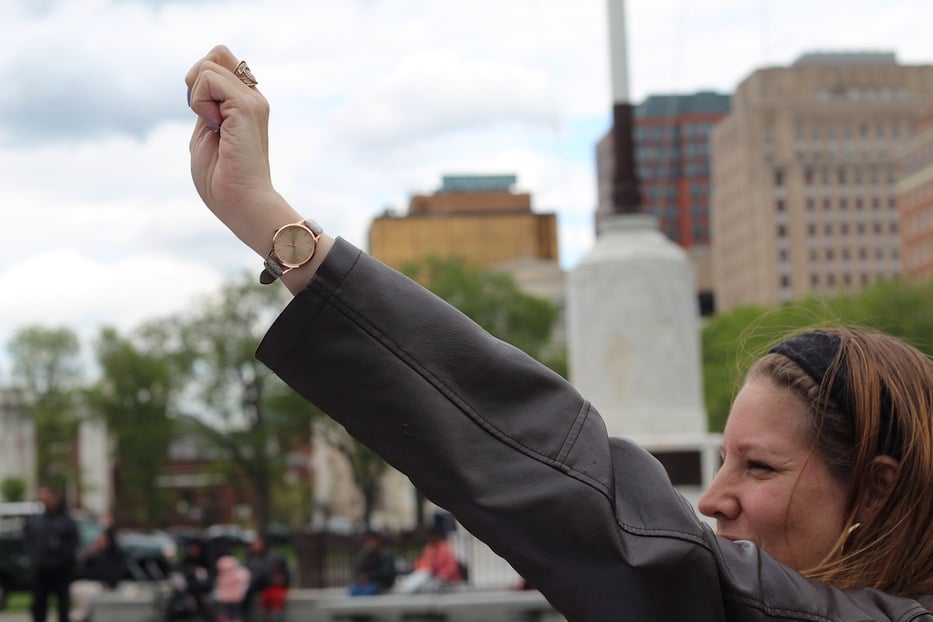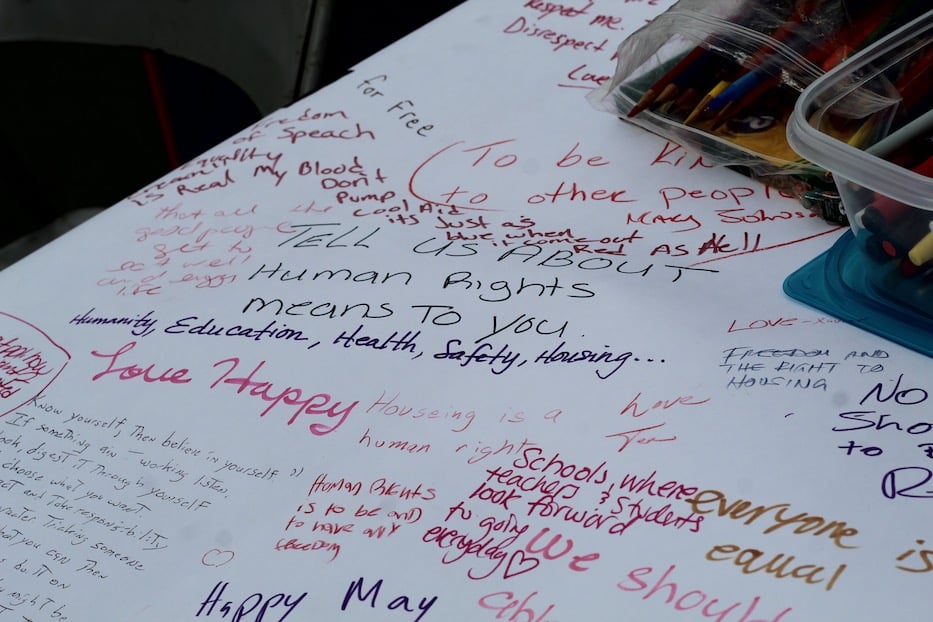 Tammy Imre: What do human rights mean to you? Lucy Gellman Photos.
At a table from the Unhoused Activist Community Team (U-Act), Imre welcomed curious attendees, inviting them to write down "what human rights means to you," she said. Across a long sheet of white paper, words and phrases multiplied in brilliant color. Prison reform is needed/Pray for them/They are human too, read one submission. Human Rights Mean We Are Treated Equally No Matter What, read another. On a third, simply We are the people!, in scrawling blue cursive.
Imre, who is a member of the group, said that the work is part of both U-ACT and FACE (Focus, Act, Connect Every-Day), which uses art making, peer-to-peer conversation, and weekly check-ins to provide support for those experiencing trauma, houselessness, and poverty in the city. For her, that mission is a deeply personal one: Imre spent over a decade trying to find stable housing after experience with the carceral system, and joined FACE in 2018. She now advocates for those in whom she can see her own experience.
They include friends and colleagues like Williamson, the co-director of Yale's Citizens Project and a member of U-ACT who is currently looking for stable housing. Recently, she said, she lost an apartment that had been home for 33 years. As a lifelong New Havener and "model for what recovery looks like," she said, access to housing should be her right, rather than a privilege. That's especially true as rents in the city continue to rise, stretching her beyond her financial capacity.
For her, the city's housing crisis is everywhere and immediate, she said. Some days, "I go without eating" because the stigma of waiting at a soup kitchen or food pantry feels like too much. Others, she's worried about where she'll sleep that evening. She knows that she is among hundreds in the city facing the same issue.
As she looked over the table, now crowded with phrases on human rights, she pivoted to the need for safe and secure housing for every New Havener. The words resonated just a month after city officials bulldozed tent city with almost no notice.
"We should be able to have a warm place to sleep," Williamson said, later cheering as Imre and fellow U-Act Member Arthur Taylor demanded the right to safe housing, free and clean public restrooms, and more humane eviction processes from the city and from landlords. "Housing is a human right."
Williamson would like to see the city "meet people where they are," she added. Often, she feels like people struggling with homelessness—particularly when they are non-white—are treated as second-class citizens, or disregarded entirely. "People that are unhoused are not unhoused because they want to be."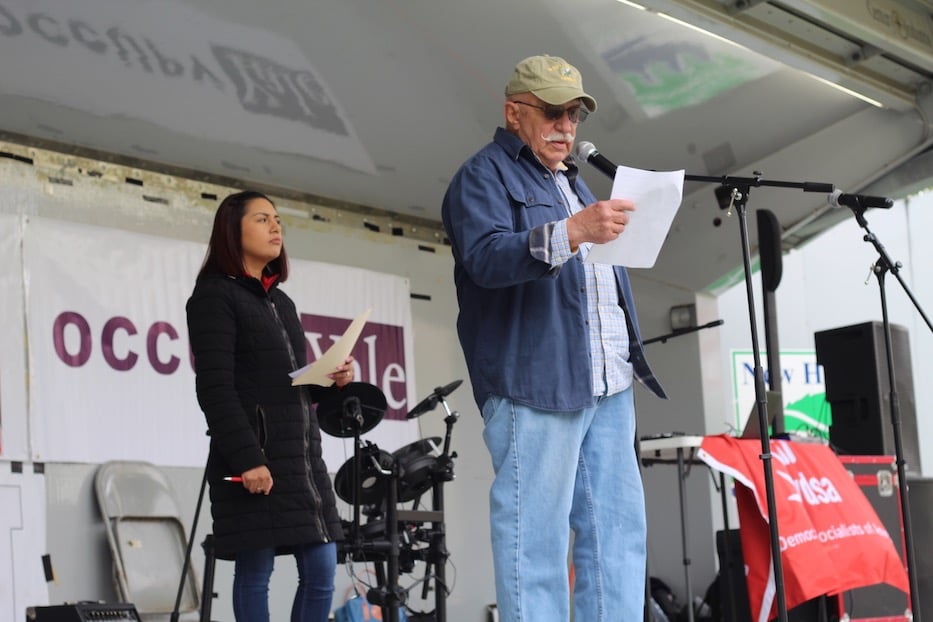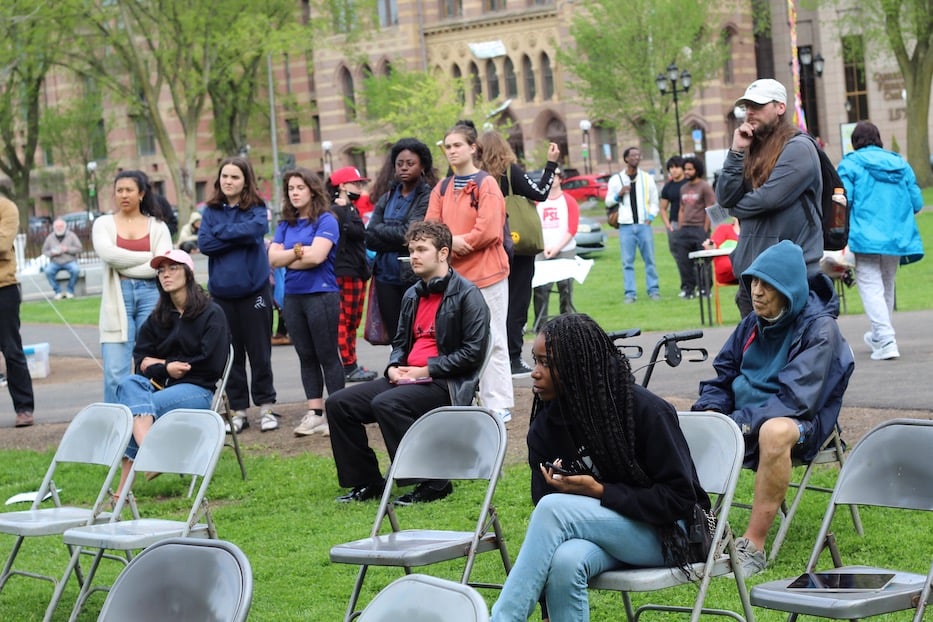 Jim Pandaru. Lucy Gellman Photos.
Back on stage, several of Monday's speakers tied housing justice to the climate crisis, wage equity, public education and an epidemic of state-sanctioned violence that has grown out of the country's colonial roots. Taking it back over a century, speaker Jim Pandaru remembered the victims of the Haymarket Massacre, and urged attendees to continue pushing forward in their honor. Over a century later, he still sees so much work to do.
"The struggles of workers for a better life then are just as important today," said Pandaru, part of the Greater New Haven Peace Council. "The fight against every human injustice, exploitation, economic servitude and a morbid caste system still continues and must be confronted successfully at every turn."
Others looked to the importance of public education, which continues to struggle under the weight of a teacher shortage and a proposed budget from Gov. Ned Lamont that will significantly cut support to community colleges and public universities across the state.
With a roar at the edge of her voice, New Haven Federation of Teachers President Leslie Blatteau pointed to the need for all educators to receive more equitable compensation, and use their collective power to fight for the needs of their students. As an educator and a mom, she's seen firsthand the lifesaving role that teachers play, particularly in the last three years.
So why, she said, does the city and the state seem to have forgotten about them?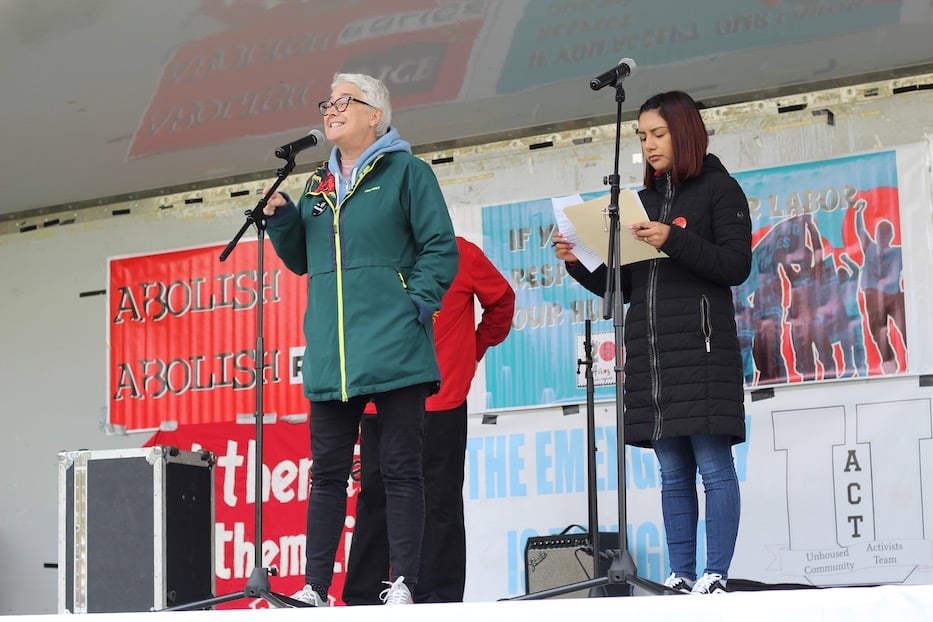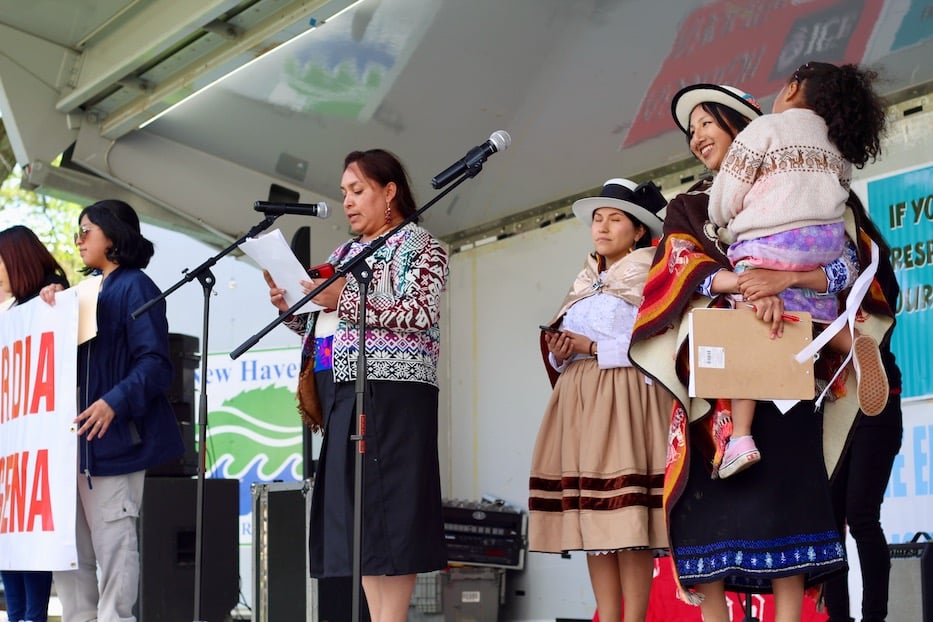 Top: Blatteau (Nayeli Garcia is to her right). Bottom: Griselle Bello speaks out for Indigenous Rights. She is a member of the group Culturas del Pasado, Voces del Presente. Lucy Gellman Photos.
"The world can't function without teachers," she said, members of the crowd cheering as she spoke. "We knew this early on, when everyone was freaking out about the shutdown, but pretty quickly they forgot that the world—the capitalist world that keeps spinning and spinning around—depends on the work of people in our public education systems."
Blatteau, who for years taught at Metropolitan Business Academy, pointed to the work that educators do outside the classroom every day—they are confidants, counselors, after-school tutors, and sometimes food providers for their students. For her, that includes teachers, as well as paraprofessionals, school nurses, custodians, secretaries, administrators, and part-time teachers that are struggling to make ends meet.
She pointed to the Boston Teachers Union, which last year negotiated an extra $100,000 per year for unhoused students in the district. During the 2020-2021 school year, 4,000 students in the Boston Public Schools were homeless, according to BPS. That equals out to a little over 11 percent of the student body.
"That's called bargaining for the common good, and that is something that we all have to learn more about, so we can keep fighting for what our students need," she said, tying it to the Federation's own fight for Husky 4 Immigrants, capping the rent in New Haven, pushing Yale to pay "what they owe" to the City of New Haven.
"These things should not be a dream," she said. "These things are possible."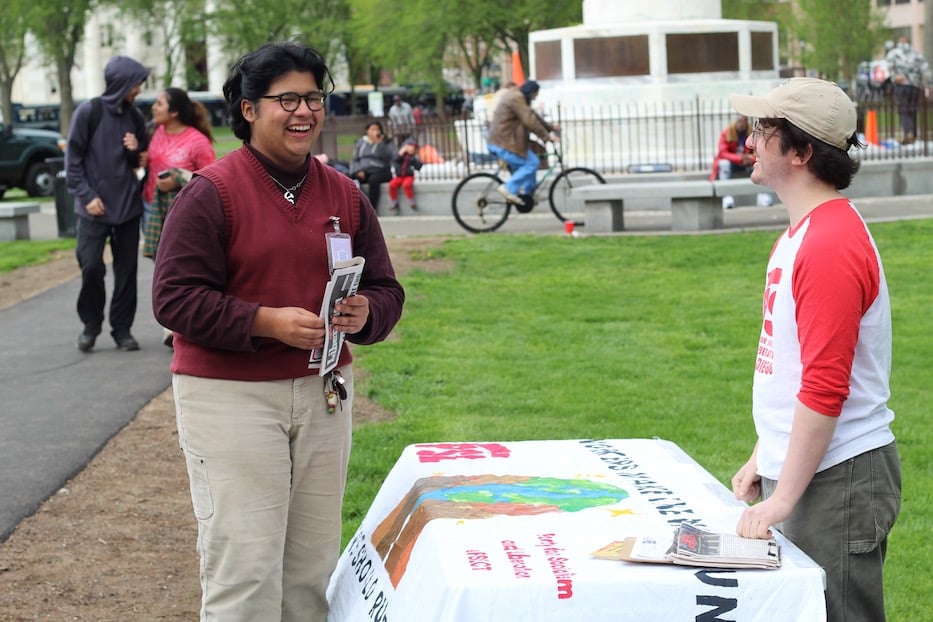 "May Day is the day that we remember why we're fighting."
Back in the crowd, Wilbur Cross High School junior Dave John Cruz-Bustamante listened, floating from table to table before a march carried them to City Hall. As a student representative on the New Haven Board of Education and the child of Ecuadorian immigrants, they described May Day as a chance to reflect on the community that workers create and sustain every single day.
"We get caught up in the fight, the fight, the fight, and May Day is the day that we remember why we're fighting," they said. "It's for other people. It's for the practice of love. Not love in a 1960s hippie way, but love as in, an unfettered, divine duty to one another."
On May Day, they added, they think of their family in New Haven and in Ecuador—farmers, educators, workers—and take strength from them. "All of us have power."