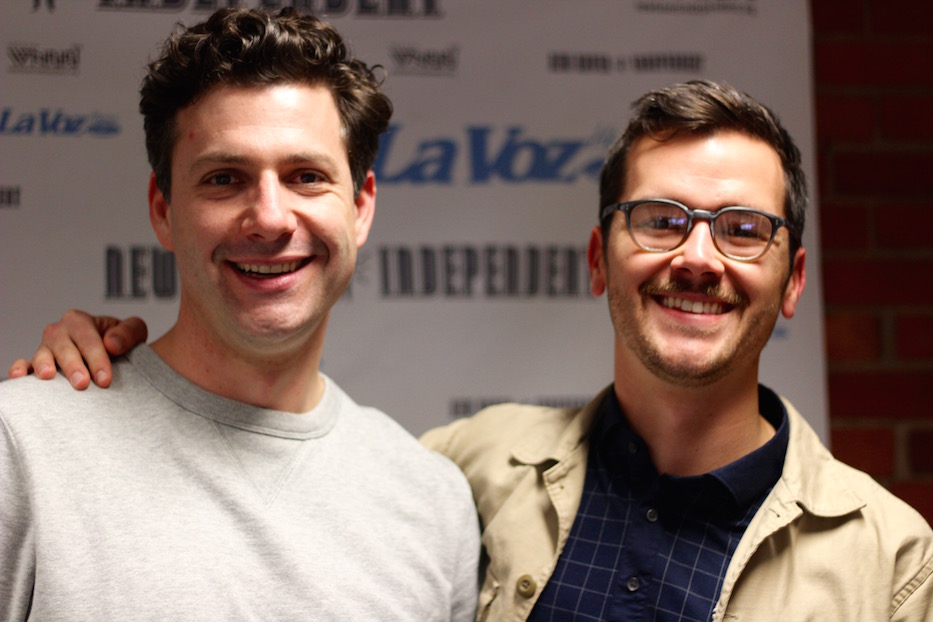 Chabaso | Arts & Culture | WNHH | Culinary Arts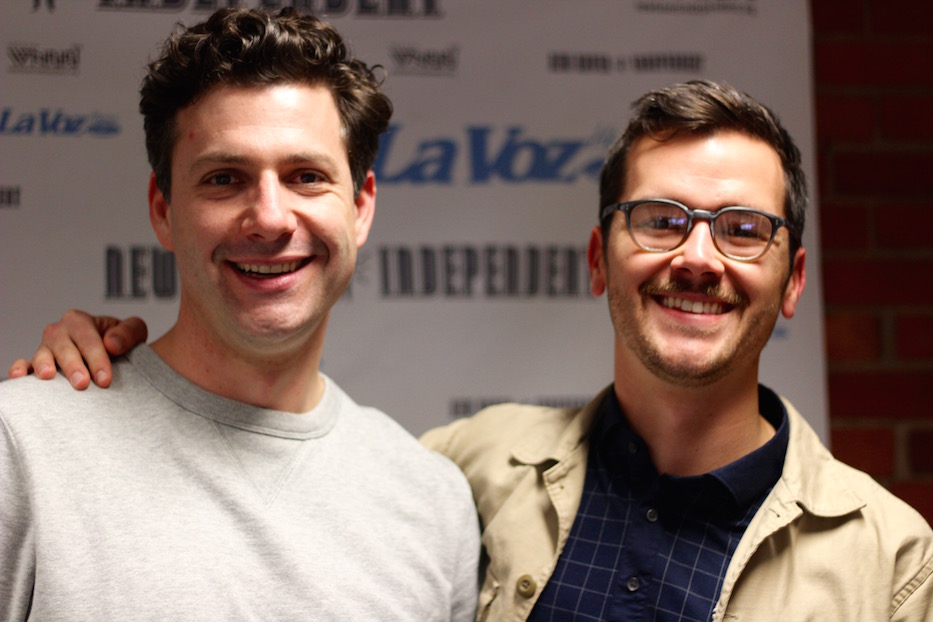 Charles Negaro, Jr. and Reed Immer in the WNHH Community Radio offices. Negaro is the new CEO of Chabaso Bakery and Immer is its communications director. Lucy Gellman Photo.
Charlie Negaro is planning to put Chabaso Bakery on the map for regional grains. That starts with getting back to the local roots on which it was founded decades ago.
Negaro—whose father Charles Negaro, Sr. founded Atticus Bookstore in 1975, added a bustling cafe in 1981, and opened Chabaso Bakery in 1995—is the new chief executive officer of Chabaso Bakery, the 40,000 square foot bakery and bread factory located on James Street in Fair Haven. Negaro, Jr. took over last month for CEO Trish Karter, who plans to stay on in an advisory capacity.
"It's really been a wonderful, fulfilling experience to get back into our roots," he said on a recent episode of WNHH Community Radio's "Kitchen Sync" podcast. "This sounds cheesy, but we're refocusing on what started the businesses."
Prior to his role at Chabaso, Negaro, Jr. served as chief operating officer at Chabaso and president and chief executive officer at Atticus, where he and baker Josh Kanter started a small-scale bread program focused on long fermentation and regional grains. Now, he's planning to bring that same plan to Chabaso, where he can roll it out on a much larger scale.
He's got a hometown advantage: he grew up watching his dad do it for decades. But it wasn't always part of his plan to take over.
"You Can't Escape Something"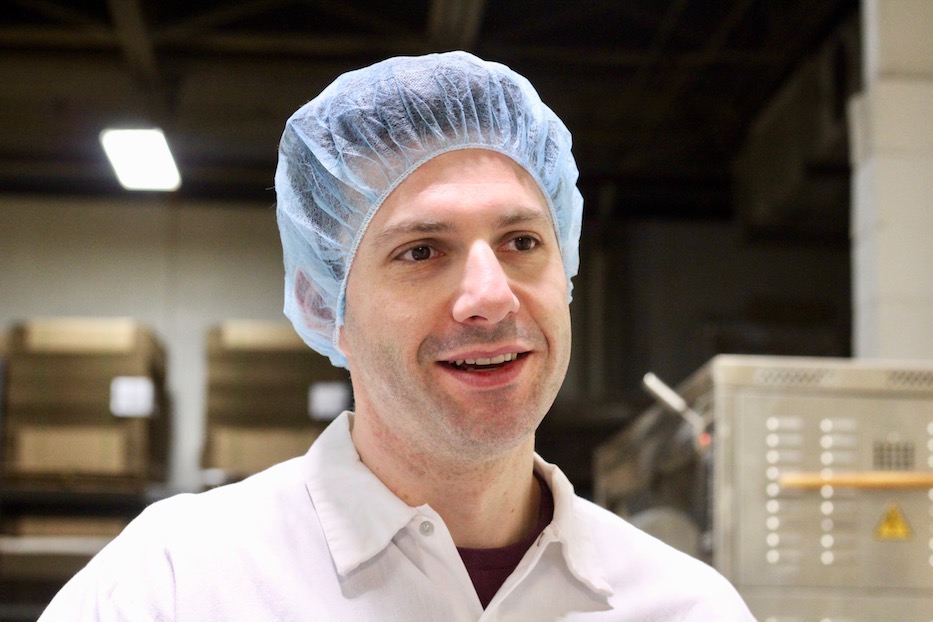 Atticus started as a bookstore in 1975 and added a cafe in 1981, two years before Negaro, Jr. was born and over a decade before Negaro, Sr. also launched Chabaso and then inadvertently started New Haven Farms with a bumper crop of tomatoes. As a kid, Negaro, Jr. grew up going to the cafe on Chapel Street and nascent kitchen-bakery on Crown Street, then staffed by grad students from the Yale School of Art.
For him, it was a quirky and creative mecca: young staff members would churn out bread and experiment with pastries, tinker with the restaurant's well-loved black bean soup and try out dishes that, by Negaro's own estimation, wanted to "bring home to their families." It was home, at a time when the city didn't have the same number of cafes and restaurants that it has today.
"My whole life, I had gone to the Atticus on Chapel Street with my dad for breakfast or lunch," he said. "I grew up thinking that that was just kind of what everybody experienced."
But he had no intention of doing it for the long term. In fact, "I like, vehemently didn't want to do it," he said. Until it roped him in.
In 2004, Negaro, Jr. left college after his first semester to work behind the scenes at Chabaso, first as a production manager and then as a project manager. He liked the work: in those years, Chabaso was experimenting with guest bakers, looking at new ways to expand the ciabatta with which it had started its flour-dusted footprint.
But "I didn't think you could change the world with bread," he said. "I didn't think it was sexy. I didn't think it was cool."
He also saw a trend that bothered him: the more energy that went into expanding wholesale, frozen ciabatta operations at Chabaso, the less seemed to go into Atticus. In 2015, he realized that "I didn't just want to be involved in just growing a thing. I wanted to be involved in something more. In the mission and in building an institution."
"There's this certain degree of, you can't escape something if it's your fate," he said. "It's gonna happen."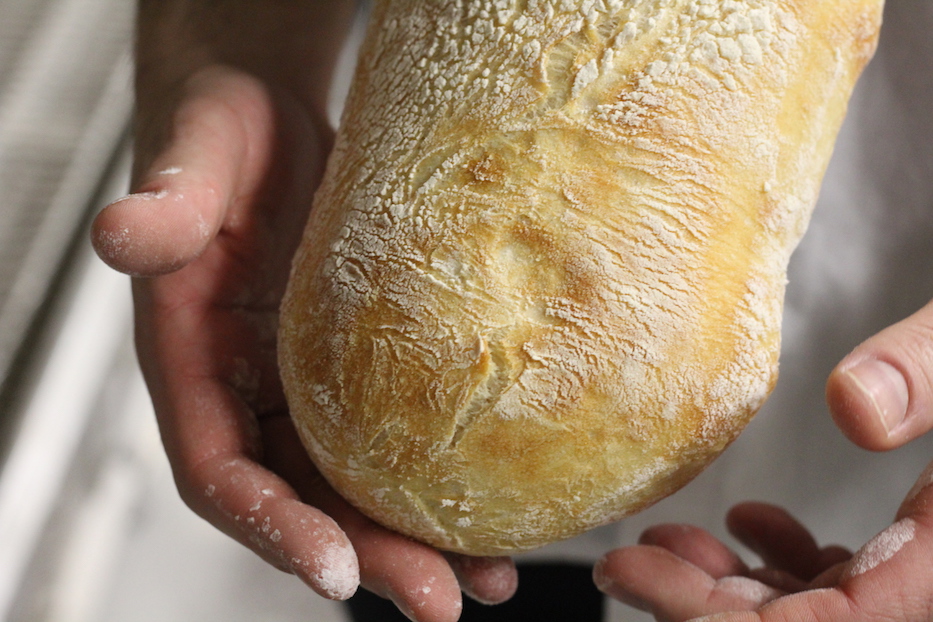 Negaro at Chabaso in an interview last year. Lucy Gellman File Photo.
In 2016, he got that chance when he took over at Atticus, starting "almost from scratch, but with this wonderful foundation." He looked at other New Haven business models, including the team at Junzi Kitchen. He hired a culinary director, general manager, and a baker. He worked with a team of chefs, some of whom had been there for over two decades, to rewrite the menu and bring back old dishes while trying new ones until they stuck.
And he started going into wheat fields. Lots of them. For Negaro, seeing how wheat was grown and harvested made him think about the thousands of pounds of flour Chabaso and Atticus used each week. It was a revelation that grew every time he connected with another farmer, from hipsters in the middle of a Portland barley field to fledgling experiments on former tobacco farms in Connecticut.
"I started to see how we were messing up, and how to take this thing to the next chapter," he said. "Who needed to be on the team to make it happen. What it looked like to get back into making bread, cause I hadn't made a loaf of bread in 10 years, probably. And how that could be something that could change the world."
"We started to realize that this is something that can have a huge, huge impact," added Reed Immer, director of communications at Chabaso. "With the level of scale that our bakery is at, we can actually help some of these struggling farmers in the Northeast totally make the switch over."
From Atticus To Chabaso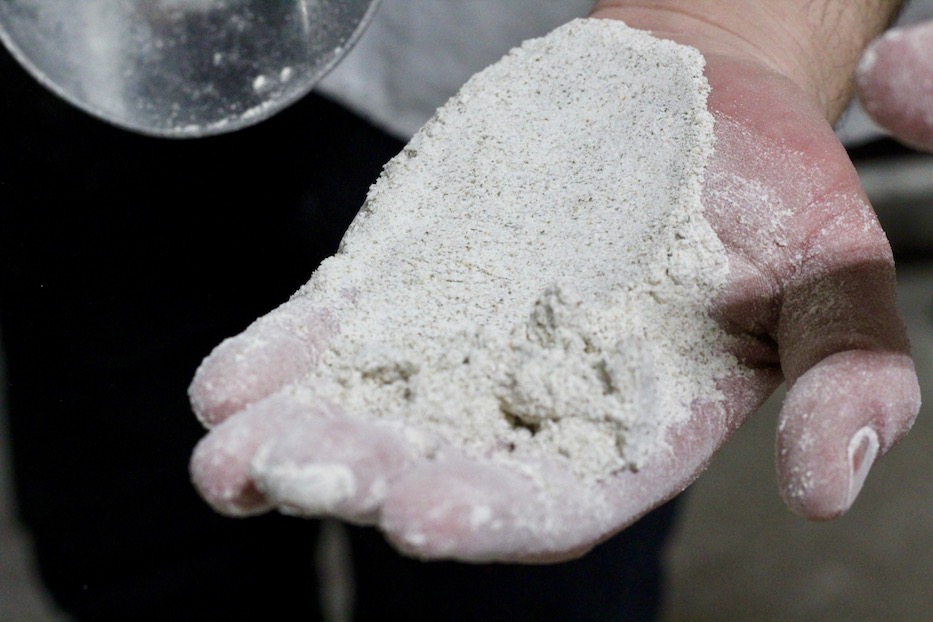 At Atticus, Negaro, Jr.'s goal is to remove commodity white flour completely by the end of 2020. Part of that, he said, is relying more heavily on regional farmers. For the first time in 2018, Atticus planted its own 25 acres of Glenn hard red spring wheat in a 500-acre family farm in northeast Connecticut. This year, he helped organize the inaugural Northeast Grain Gab, a check in and regional show-and-tell on the state of the industry held at Yale University's West Campus.
"White flour—how we make it and how we ship it and process it around—is not great for the planet, it's not great for you as a person and as a consumer, and it's not great for the community," he said. "It's controlled by one very giant agricultural company."
At Atticus, he used the fresh start as a chance to start talking about local grains, both with self-professed "grainiacs" and with New Haveners. He's also been trying to spread a grain gospel that the state's bad reputation for agriculture—that soil was too dry, rocky, and unpredictable for grains—isn't entirely accurate. It's a message that seems to be hitting right on time, as some family farms across the state move away from other crops, particularly tobacco, and experiment with types of wheat.
"Our goal is to connect these dots so we can … facilitate a Connecticut and Northeast grain economy," he said. "If New Haven ends up being some kind of hub around that, we would love that."
Now, he's looking at how to bring that approach to Chabaso, with both ingredients and collaboration in the community. He's realistic, he said: Chabaso is much larger than Atticus. They don't work on a one-to-one scale with each other. Currently, the bakery serves the Northeast Corridor down to Virginia and out to Pittsburgh, as well as outposts in Denver and Seattle.
At its foundation is a four-ingredient ciabatta loaf that is parbaked and shipped frozen, for which the bakery goes through 200,000 pounds of bagged wheat flour each year. Negaro's first goal is replacing that flour with fresh-milled, regional grains.
With Immer, who launched a Chabaso redesign in 2017 and the Bread Breakers discussion series last year, he said that he plans to also more "intentionally connect with the community." He's also planning to test out products at Chabaso's website and outlet store, nestled at a James Street entrance of the Chabaso building. The bakery has been experimenting with small-batch bread products with local chefs, most recently with Sanctuary Kitchen at Cityseed.
"Ten years ago, making ciabatta was pretty special," he said. "And now it's not. And that's fine—product life cycles kind of wane. We're looking for what they next thing is. And the culture in our business is we want to find stuff that we're really passionate about. We want to know that it has a higher meaning."
To listen to the entire episode of Kitchen Sync, click on or download the audio above. This piece is made possible through The Arts Paper's content sharing partnership with WNHH Community Radio and its longstanding news affiliate, the New Haven Independent.