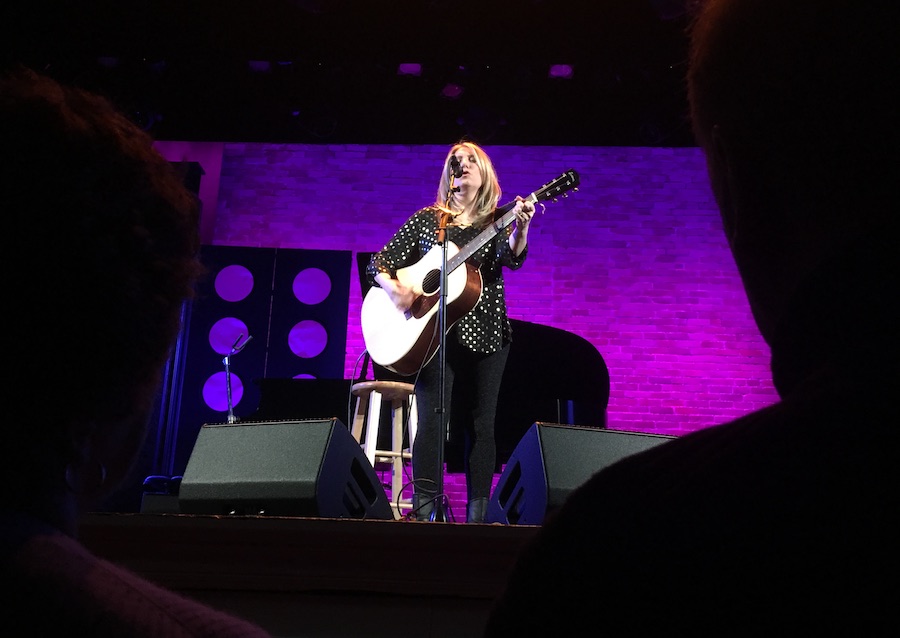 Ponybird launched into the anthem she plays "when we need each other." First came the guitar, mournful yet stirring. Then her voice, a smooth alto at once conversational and deeply resonant.
"I am with you," she repeated over and over.
The song was a highlight of Ponybird's set Friday night at The Katherine Hepburn Performing Arts Center, also referred to as The Kate. The Guilford singer-songwriter opened for headliner Jeffrey Gaines, and the pair played for an audience of nearly 200 in the intimate Old Saybrook venue.
Ponybird's emotional, downbeat set highlighted the artist's way of finding beauty in pain, sweetness in sadness. As she played, there was a broadness in her tone and a fluttery vibrato reminiscent of Stevie Nicks. The artist plays an acoustic Eastman guitar in a dreadnought shape that she purposely chose for its warm, bassy low register.
"In songwriting, you pick your instrument as your other half," she said during a quiet moment backstage after the concert.
On "Tender Trap," her "other half" laid in with a sound thick with melancholy.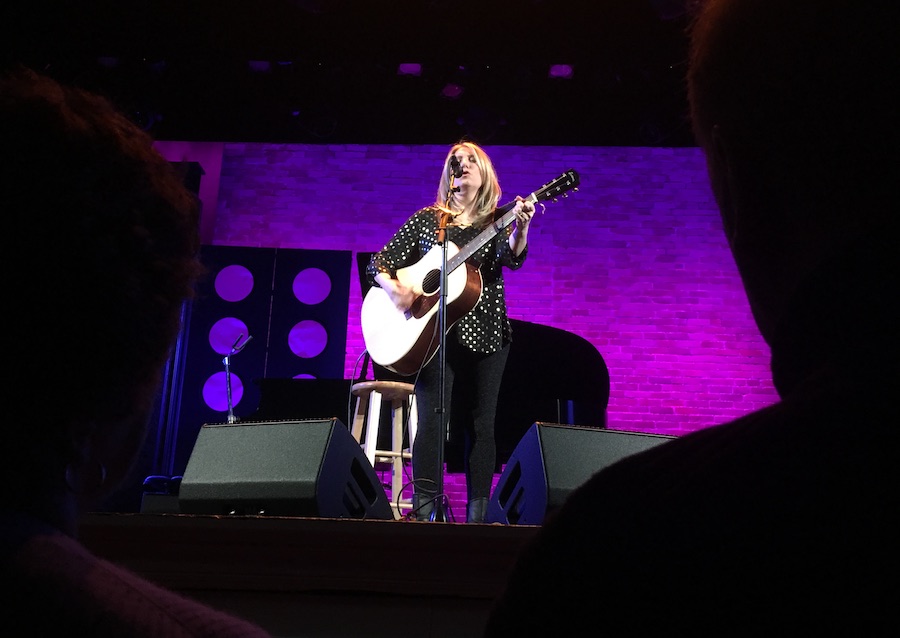 Ponybird. R

aquel Vidal Photo.
"I try to live with grace, but I just got to be honest/ You and I have done wrong," she sang on the chorus. The timing she used left words to hang alone at the ends of phrases. Ponybird has a voice like honey and leather, as if Melissa Etheridge decided one day to play folk music.
That's no surprise given the artist's background as a drummer in heavy rock bands. When she told her bandmates she was quitting to take up folk, "they said, 'We're not talking to you again. You're a traitor,'" she recalled with a laugh. But Ponybird followed her muse, honing her songwriting skills and polishing guitar picking patterns she created herself.
Ponybird said she felt honored to play at The Kate, on the same stage that had hosted her "folk hero" Dar Williams just a few days prior. For several years, Ponybird has attended Williams' summer songwriting retreats in the Hudson Valley.
"Just 30 to 50 kooky songwriters in a contemplative environment," she said. "What could go wrong?"
"Singing with folks one week straight, it's like a musical. Then you get home and notice how quiet it is," Ponybird told the audience. "But you tune in and find yourself in music. That's where you find those friends again."
Then she began "In the Threads" with a soft guitar intro in a minor key.
"On a night without sound, I walked alone in the dark/ Heavy-footed over heavy ground," she sang, taking her time and hanging on the consonants.
After each verse, the guitar tumbled down to a single bass note and there was a moment of silence before the lift of the chorus: "And then I saw you there in the storm, in the threads, in the songs."
Ponybird is adept at honing in on a moment of conflict or trial in her music. "My songs come from working through some kind of pain, but with an upswing to it," the artist said in an interview. "There's a mix of hopefulness with the pain."
Gaines took the stage next, playing a long and wandering set that delighted the fans in the audience. The Philadelphia artist nearly always performs solo, and he knows how to fill up the stage with energy and sound. At times his guitar sounds like a full rhythm section, and even singing with his eyes closed, Gaines' voice has a husky, rock edge that holds the attention in the room.
Playing "Fear," Gaines delivered a rapid-fire, driving guitar underneath passionate lyrics sung with a mouth full of grit.
And it's such a hurting feeling
Playing possum with another man
When you know it's your soul he's stealing
And I find it hard to understand
Why nothing ever seems to change
He bent his knees slightly to dig into the notes, stepping back and forth from the mic in between lines.
Gaines' voice is all about texture, and it was on full display Friday. Sometimes his singing wassandpaper, but sometimes it was the wood sanded smooth. Every now and then there was a tiny hint of a smooth soul riff, but it always went ragged.
He sat on a stool to play "Toast and Tea," a love song with a bright, racing, finger-plucked guitar part. For a moment, it was clear why Gaines and Ponybird made such a good pairing: another rock voice over a folk foundation.
"Without a word we realize / There's something missing from both our lives/ And we both close our eyes," he sang, lifting his eyebrows with the chord changes and bobbing his head softly to the guitar line.
Between songs, Gaines delved into comedic monologues and philosophical ramblings. In one breath he went from the importance of education and the inevitability of automation to getting a coke out of a vending machine at 3 a.m. to avoid an awkward convenience store conversation since he tends to "miss the cues of the social dance."
Gaines told the audience that he longs for the human connection he gets onstage. "That's why I get in a car or get on a plane and go wherever, like a parcel, to meet you," he said. "I'm shy at parties, but not on stage. And when I do have something to say, I put music to it."
In contrast, Ponybird has just as much to share in her private life as she does on stage. Having taught for years in New Haven public schools, she is now an assistant professor at Quinnipiac University, helping to train other teachers.
"My heart is in teaching," she said. She even named that Eastman guitar Destiny, after a former student. "She was having a difficult year … but we bonded and she ended up having a great year."
Ponybird offers private music and songwriting lessons and relishes the chance to mentor younger artists, merging teaching and music. "It puts my two loves together," she said.
Even so, Ponybird seemed to share whatever it is that drives Gaines to bear his soul on stage. Gospel music is a big influence for her because of the way prayer is folded into the singing. Sharing those vulnerable, emotional pieces of herself is scary, Ponybird says, but she is confident about taking space on stage.
"It's your turn and then you sit down and let someone else do it," she said. "A performance is my turn to pray out loud."