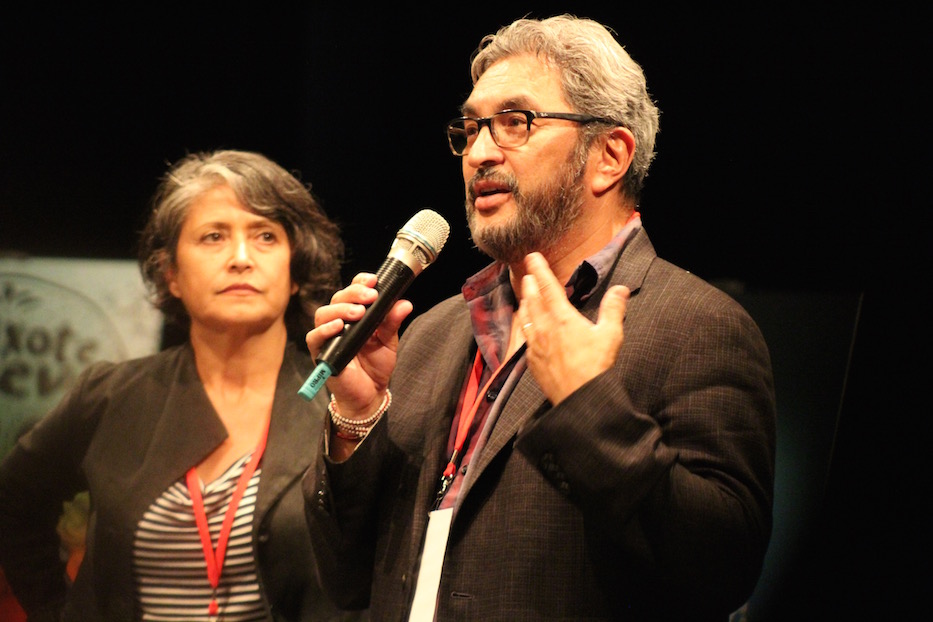 Hartford | Arts & Culture | Theater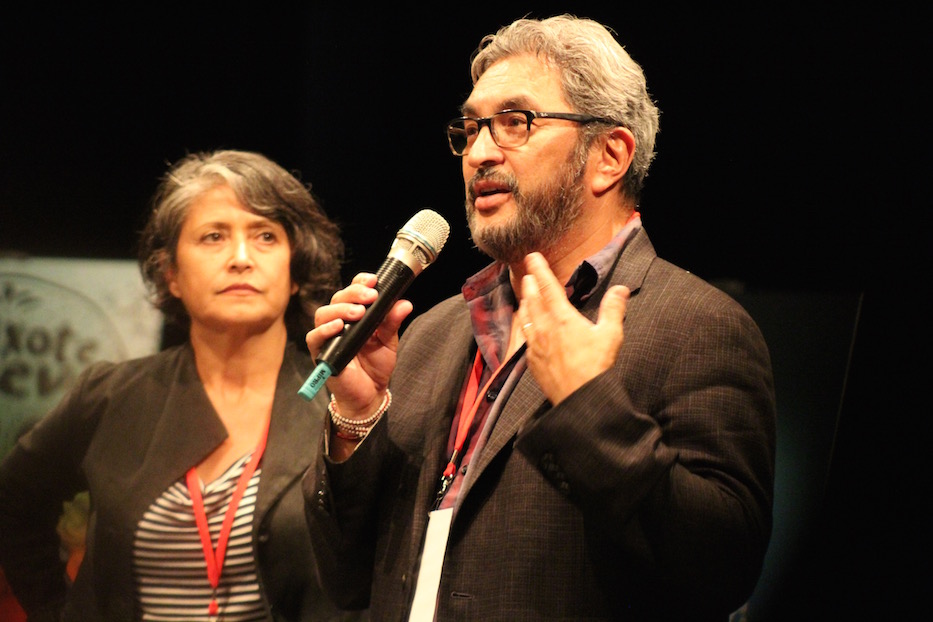 Director KJ Sanchez (in stripes) with Quixote Nuevo playwright Octavio Solis. Lucy Gellman Photos.
Child care during performances. Growing partnerships with the city's public schools and community colleges. A one-woman show pulsing with Boricua pride and another on the fourth trimester of pregnancy nobody talks about. A stage where no one chases windmills anymore, but taking down Customs and Border Patrol is another matter entirely.
That's the pitch Melia Bensussen, in her inaugural season as artistic director at Hartford Stage, made Tuesday night at a season launch party, meet-and-greet, and sneak peek of Octavio Solis' Quixote Nuevo, which opens Sept. 19 and began rehearsal Tuesday. The evening doubled as an opportunity for attendees to meet new Managing Director Cynthia Rider, who began her tenure in July.
"You're in communion with us here on the stage, and it's never the same," Bensussen said.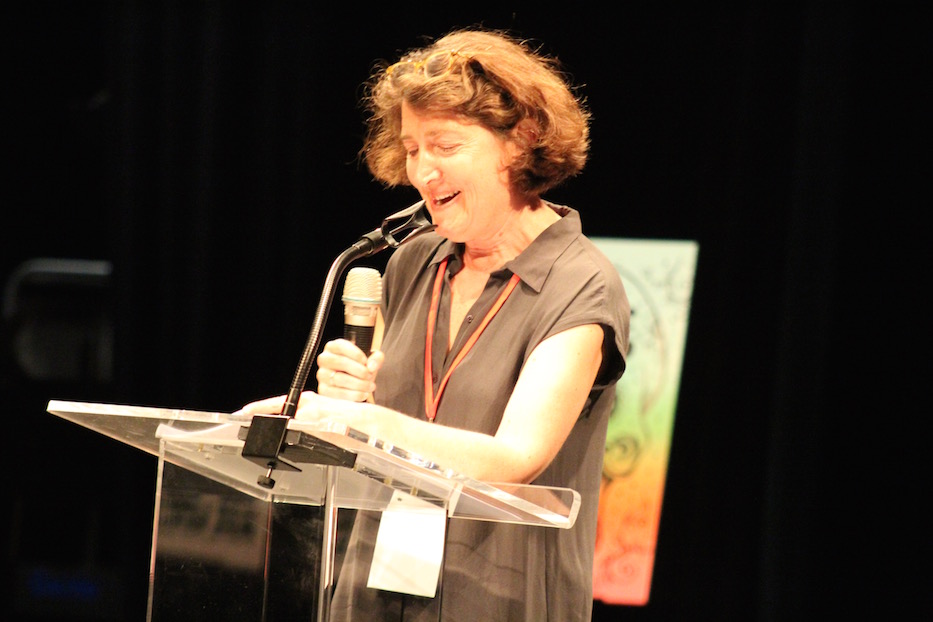 "You're in communion with us here on the stage, and it's never the same."
The season begins next month with Quixote Nuevo, a bitingly funny, contemporary adaptation of Miguel de Cervantes' Don Quixote produced in association with Boston-based Huntington Theatre Company and Alley Theatre in Houston. Solis, who grew up in El Paso, Tex., and has been thinking about his hometown recently, said the play feels particularly timely in the current political moment.
"To have it come to life, here, in Hartford, is very very meaningful to me," he said Tuesday. "And yet, you know, it's still a comedy. We still have to find some way to offer empathy, and to offer humor, and to offer healing. Because it would be so easy to just write the angry play … that's really where I think a lot of our impulses are, and that's not what I did."
In October, Quixote Nuevo will be followed by Molly Smith Metzler's Cry it Out (Oct, 24-Nov. 17), Charles Dickens' A Christmas Carol (Nov. 29-Dec. 28), Ron Russell's Pike St. (Jan. 9-Feb. 2), Elizabeth Williamson's adaptation of Charlotte Brontë's Jane Eyre (Feb. 13-March 15), David Seidler's The King's Speech (March 19-April 19) and Eugene O'Neill's Ah, Wilderness! (May 7-31). The final show will be directed by Bensussen.
Tuesday, Bensussen praised all of the works, focusing on the one that is less than a month away. Set in Texas in the present, Quixote Nuevo follows aging professor Joe Quijano (Emilio Delgado, perhaps best known for his role as Luis in Sesame Street) who has spent his life studying Don Quixote, and believes himself to be its titular character as he is overtaken by dementia.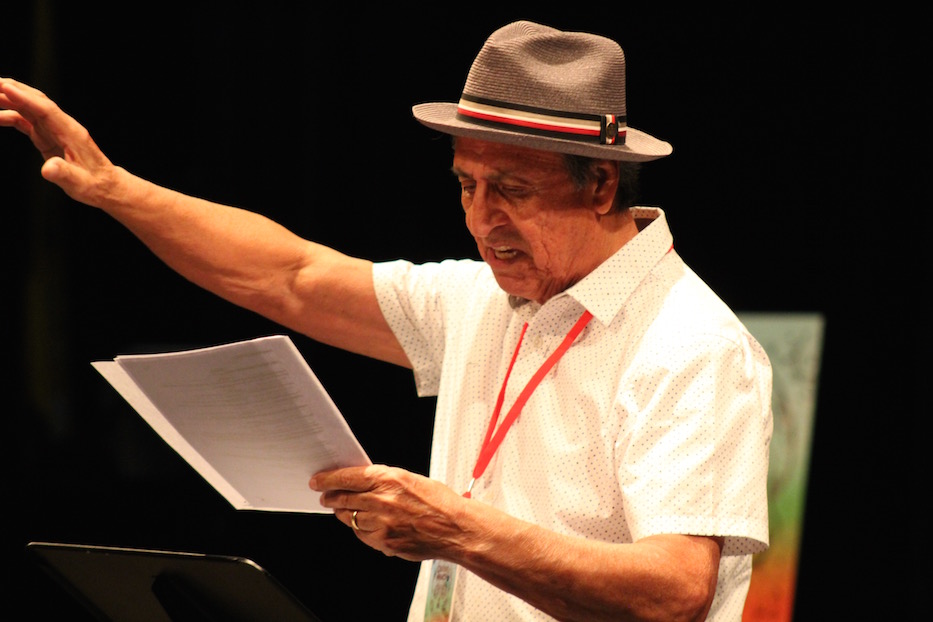 Emilio Delgado reads as Joe Quijano/Don Quixote.
Along the way, he finds his own Sancho Panza (Juan Manuel Amador), a paletera named Manny Diaz who doesn't know exactly what's going on, but is pulled into Quijano's web. As the two jump between fact and fiction, a literary past becomes cemented with the country's present, ultimately taking on Customs and Border Patrol.
Tuesday, Director KJ Sanchez called it "a celebration" as she introduced Delgado and Amador to read a scene. Born and raised in New Mexico, she said that the play is resonant and bittersweet as it lands at the theater this fall.
"We Brown people, some of us have been here forever, some of us have been here less than forever, and we come in all shapes and sizes and shades of Brown," she said. "At this moment, when it is a little scary to be a Brown person and you go into a Walmart—you're thinking about that now, right?—what a gift to do a play that's funny, that's musical, that's full of love, and hope, and heartbreak."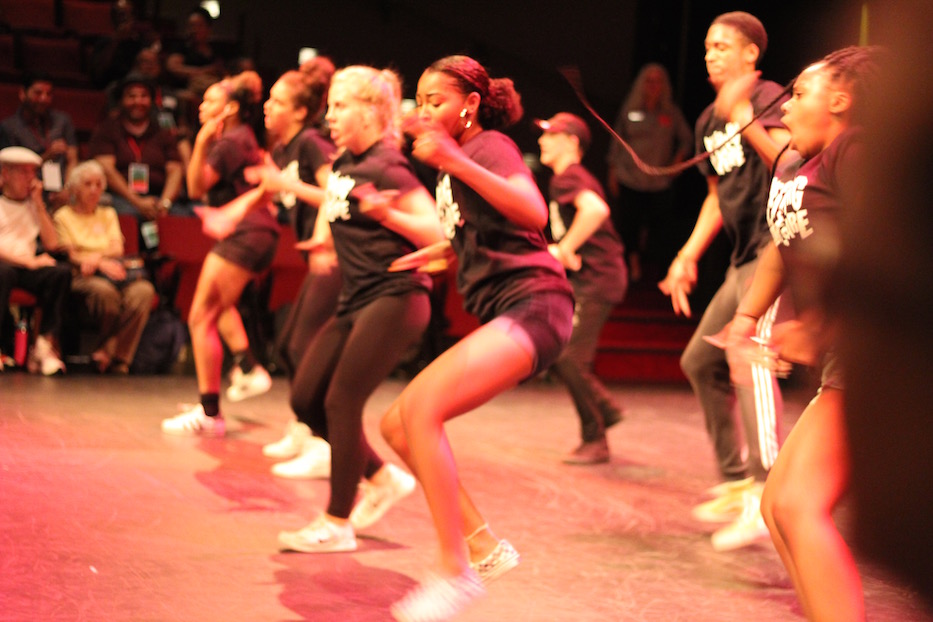 Students from the theater's Breakdancing Shakespeare summer program.
The 2019-2020 year also marks an expansion of the organization's artistic footprint in and outside of its walls. For the third year in a row, Hartford Stage will continue its partnership with the Hartford Public Library, through which patrons can reserve free tickets at all five of its branches. It is anticipating working with 20,000 students at the theater and across the state, building on summer programs that served over 300 students (including Breakdancing Shakespeare, which performed Tuesday night).
But it is also starting a series of new community engagement initiatives sensitive to younger, broker, more diverse theater goers who might not be able to secure a babysitter or score a single ticket over $25. With Cry It Out, Hartford Stage will be piloting a new, free childcare program in partnership with Christ Church Cathedral, which is located just across the street from the theater ("We won't talk about that needing to be a national initiative, cause we're not gonna go there," Bensussen said).
The theater is also rolling out new partnerships with Capital Community College and the University of Hartford. And as preparation begins for Pike St. later this year, Associate Director of Education Nina Pinchin said that the organization will also be starting a new inter-district initiative called "Project Transform," in which students will be able to devise and perform new work.
"I think we have to recognize right now that it is a very tender and very frightening time for people in our community," Rider said. "So [there's] the extra care and sensitivity that is required as we aspire to be a place where our artists can do their very best work, where audiences can enjoy, and be inspired, and be challenged here."
Hartford Stage opens its season with Quixote Nuevo on Sept. 19. Season tickets and more information are available here. To watch part of Tuesday's performance from Breakdancing Shakespeare, click on the video above.