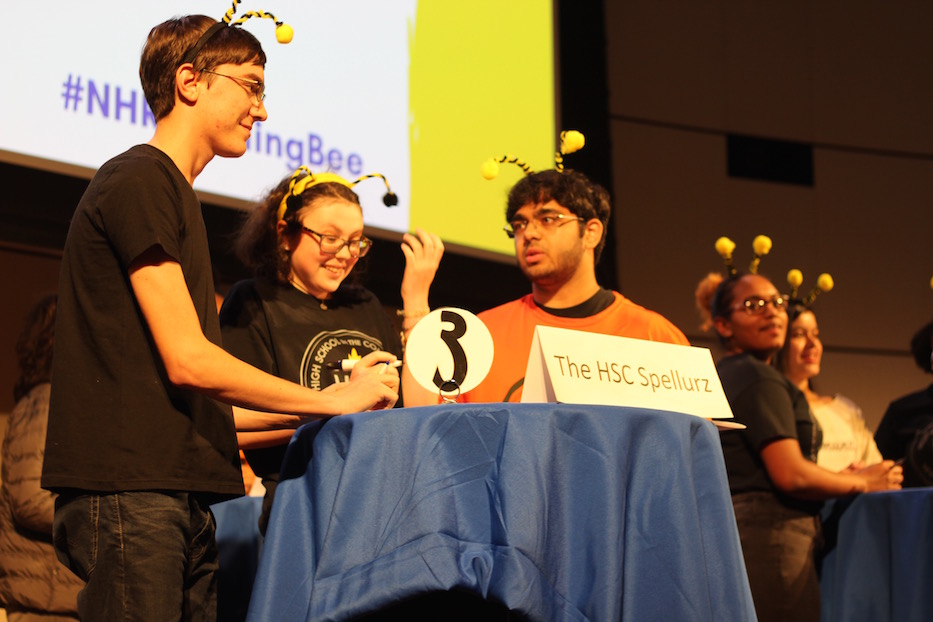 Education & Youth | Arts & Culture | New Haven Reads | Literacy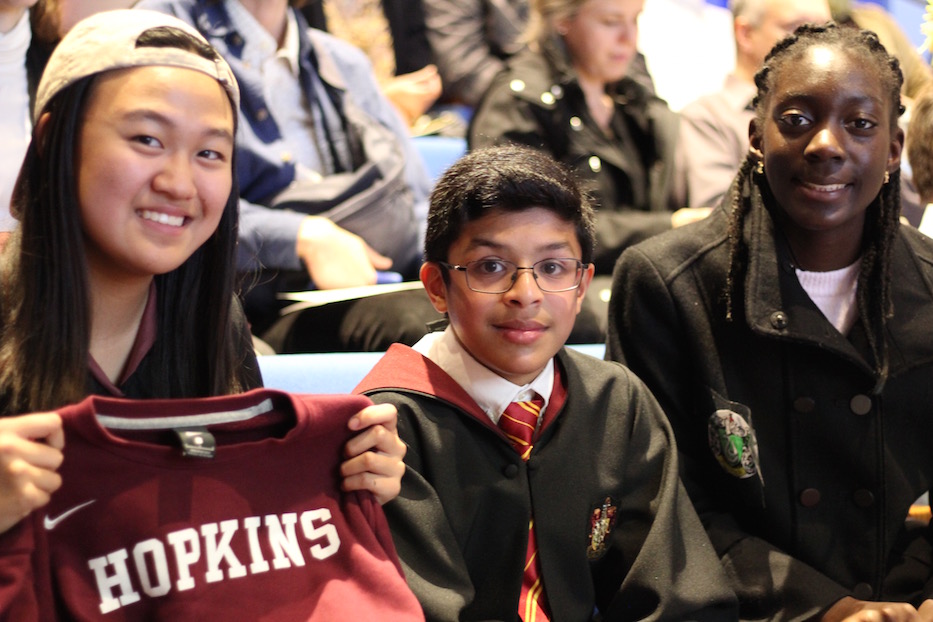 Team Beeddikulus: Amanda Wang, Arin Bhandari, and Nana Dondorful-Amos. Lucy Gellman Photos.
It all came down to numnah. Then just as quickly as Team Beeddikulus had out-spelled the competition in its first round, it had made history.
That was the scene Friday night at the eighth annual New Haven Reads Spelling Bee, held at the Yale School of Management for the third year in a row. Over two word-packed hours, 42 teams of three competed for the title of 2019 spelling champion, held last year by a team of fierce Yale Linguists.
For the first time ever, three high school students from Hopkins School took first place. The winning word was numnah, which the Oxford English Dictionary defines as "a pad, typically made of sheepskin or foam, which is placed under a saddle."
Over 250 New Haveners attended the event, which raised $34,000 for the local literacy organization. As in previous years event was organized in large part by New Haven Reads Spelling Bee co-chairs Ellen Kannatt and Jill Savitt. WTNH Anchors Ann Nyberg and Keith Kountz served as emcees.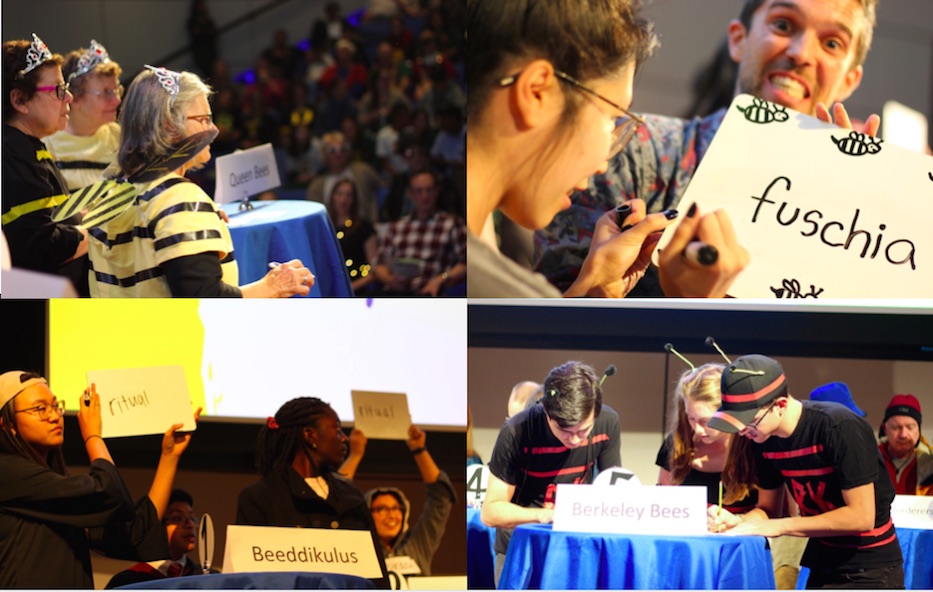 "All the children we work with are children with dreams and goals of their own," said New Haven Reads Director Kirsten Levinsohn Friday night. "Just like us … all of our kids want to learn to read. Nobody wants to be illiterate."
"New Haven Reads is so amazingly successful because all kinds of people from all over the community come together for a common cause: to support our city's youngest readers," she added. "Let's continue to work together to help all of our children learn to read, so that their dreams can come true as well."
Since the organization's humble beginnings in 2001, Levinsohn said it has been able to tutor 4,000 students with the help of 3,500 volunteer tutors. Through after-school programming and semiannual new book giveaways, New Haven Reads has also given away more than two million books.
But the organization is struggling to expand its footprint in a landscape of continued illiteracy and kids who read well behind grade level. While New Haven Reads tutors 550 kids a week, an all-time high of 234 more remain on the waitlist. Friday, a few attendees gleefully raised their hands and signed up to tutor before the end of the evening.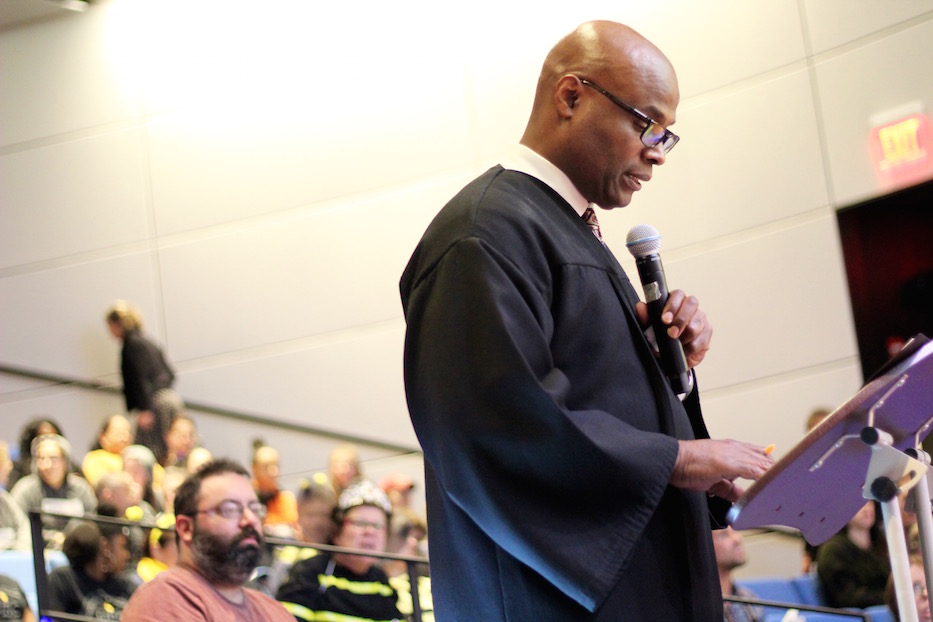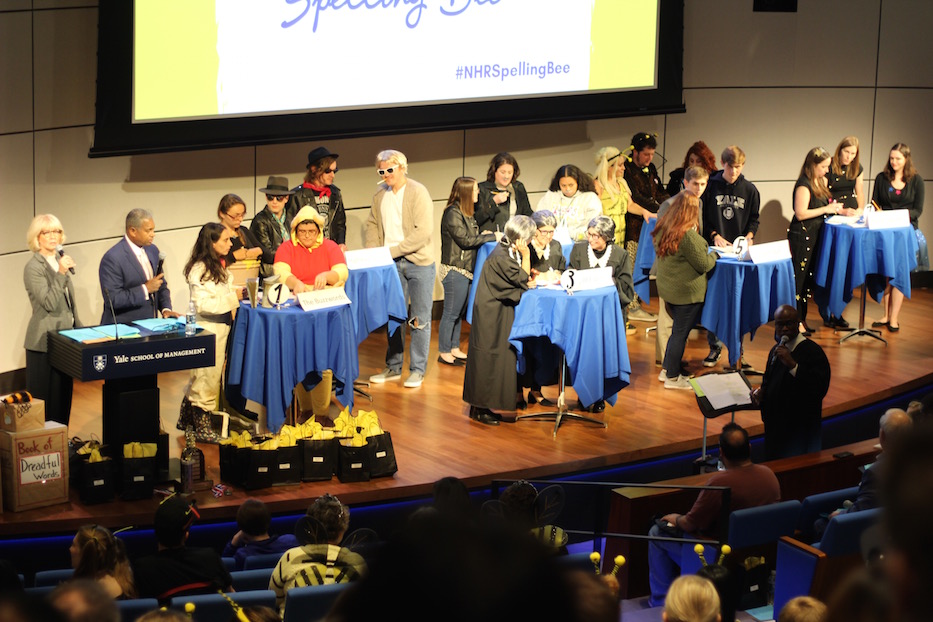 Top: Joe Ugly. Bottom: Swarm Four.
In many ways, this year's competition marked a bee of firsts. As he swooped in in a homemade black robe and black-rimmed glasses—think Albus Dumbledore meets Judge Judy chic—Ugly Radio host and founder and WNHH Community Radio pundit Joe Ugly took the place of word master, standing before "swarms" of teams with a fearsome-looking booklet of words.
Behind him, judges included some familiar faces—Project Longevity's Stacy Spell and State Sen. Gary Winfield among others—but also new judge Martha Cedeno-Ross, community engagement officer with the Yale Police Department.
It laid a fresh kind of groundwork for a new team from Hopkins, composed of two freshman and one sophomore all dressed as characters from Harry Potter. As they took the stage in the third round, members Amanda Wang, Arin Bhandari, and Nana Dondorful-Amos kept their cool, surveying their competition.
There were teams from High School in the Community, Hamden High School, Sacred Heart Academy, and Engineering and Science University Magnet School (ESUMS). They sailed through words including ritual, amnesty, symmetry, and pterodactyl, ultimately taking the round.
"We're just having a good time," said Bhandari, who has competed in the National Spelling Bee twice and is now a freshman at Hopkins. "The best part is the teamwork."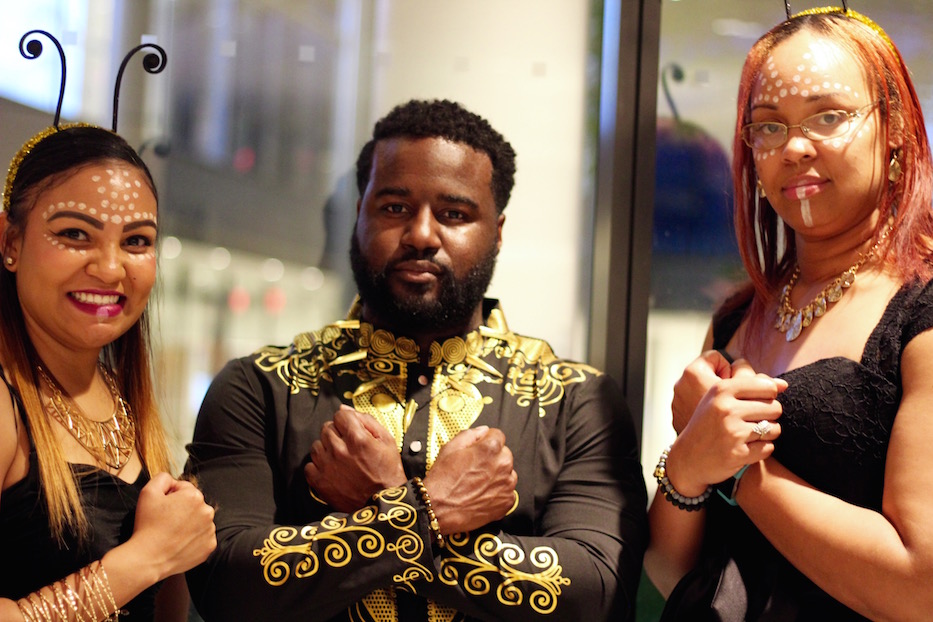 Future Leaders of Yale (FLY) members of Denval Lawrence, Alyssa Antunes and Marinda Monfilston of The Buzz In Wakanda.
Other first-timers came out for the fun of the bee. Before they headed to the stage in the first swarm of the evening, Denval Lawrence, Alyssa Antunes and Marinda Monfilston of The Buzz In Wakanda showed off their skills with careful makeup, glittering costumes and delicate bee wings that had been painted and decorated with cardboard letters. All friends through the Future Leaders of Yale, they said they came out not specifically to win—which they did not—but to represent FLY and have fun.
Elsewhere in the audience, veteran spellers Linda Goodman, Jill Jensen and Suzanne Serviss had returned to the event as the R BEE Gs, three silver-headed, gavel-wielding justices who knew their way around the alphabet. Sort of. All current and retired clinical social workers, they said they also do the bee each year not to win, but to relax together as friends while supporting literacy. This year, the team was supported by Kenneth Bronson Architects.
"We just love New Haven, and it's a way to support the kids," said Serviss, who laughingly added that the first thing the team was planning to do was sack Justice Brett Kavanaugh.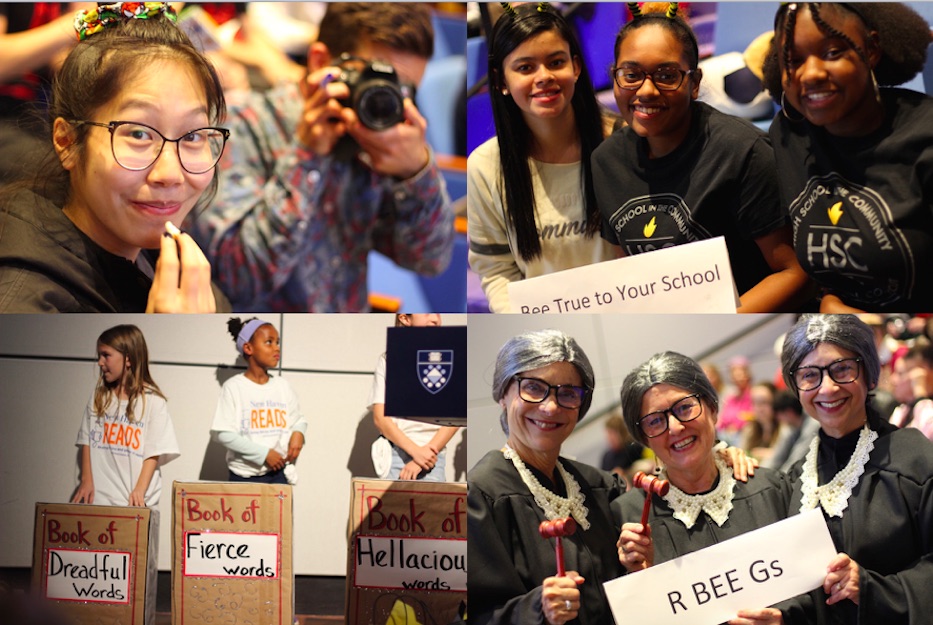 Clockwise from top: Emily Chew and Thomas Breen prepare to spell for the EniBEEs of the BEEple, Bee True To Your School members Jeinilee Salame, Airiqa Hoheb and Emani Severance, The R BEE Gs, and the words as they are marched out.
Not far from where they chatted, returning and new teams from High School in the Community came with their A game, then stayed to root on their teachers after the student round didn't go as they'd hoped.
Back for her final spelling bee before graduating, senior Emma Bender of The HSC Spellurz said that she returned for the competition after loving it last year. While her teammate Zuhah Syed will also be graduating this year, a new teammate named Benjamin de Blasio said he's now inspired to find a way to volunteer despite an already busy schedule.
Beside them, spelling newbies from Bee True to Your School had come out for the fun of the evening.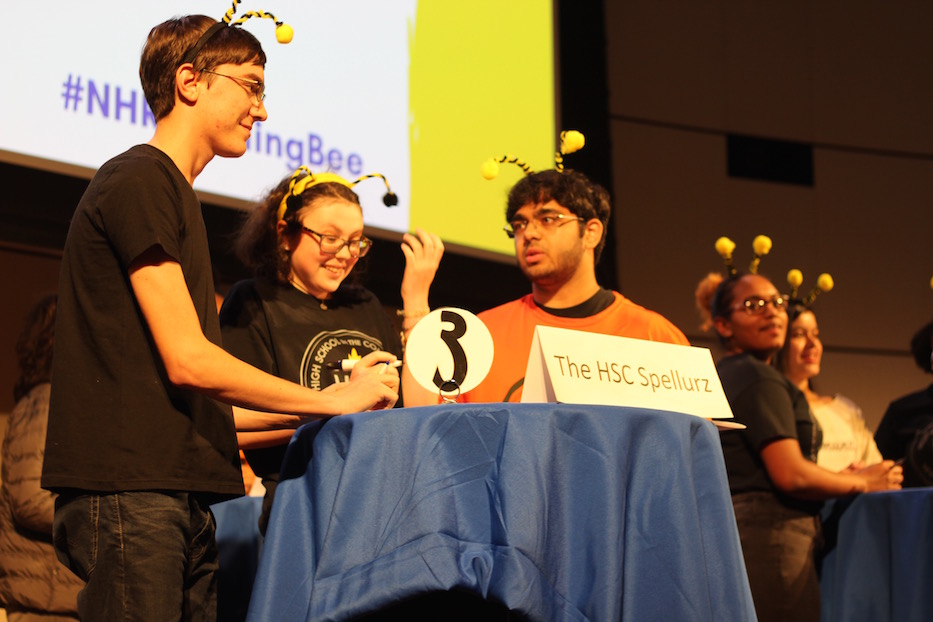 "It's just a new experience for us," said Airiqa Hoheb, a sophomore at HSC. "It makes us come out of our comfort zones."
"I just feel like it was the height of fun," added Jeinilee Salame, a junior at the school. "You win some, you lose some. But we'll be better next year."
To find out more about New Haven Reads or become a tutor, visit the organization's website.