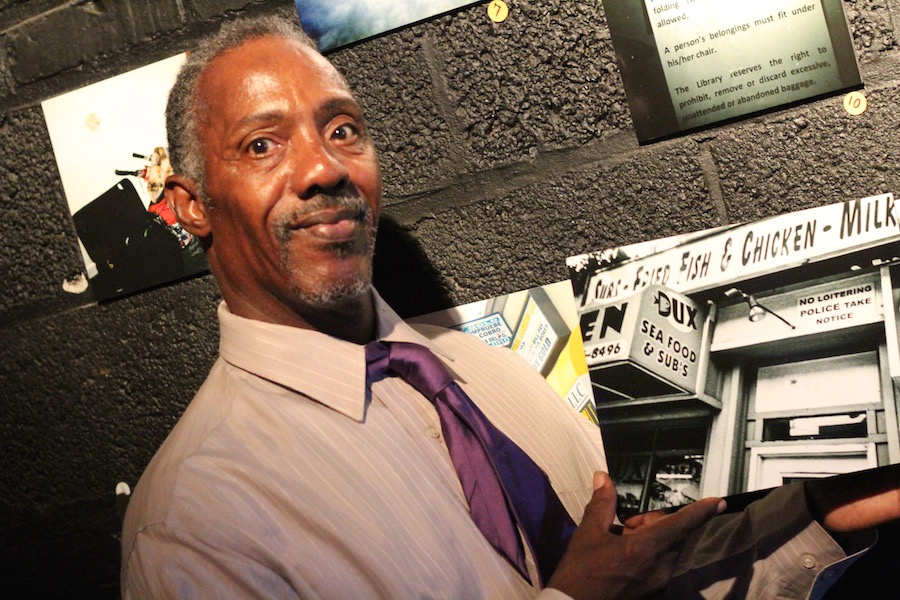 Culture & Community | Politics | Arts & Culture | Visual Arts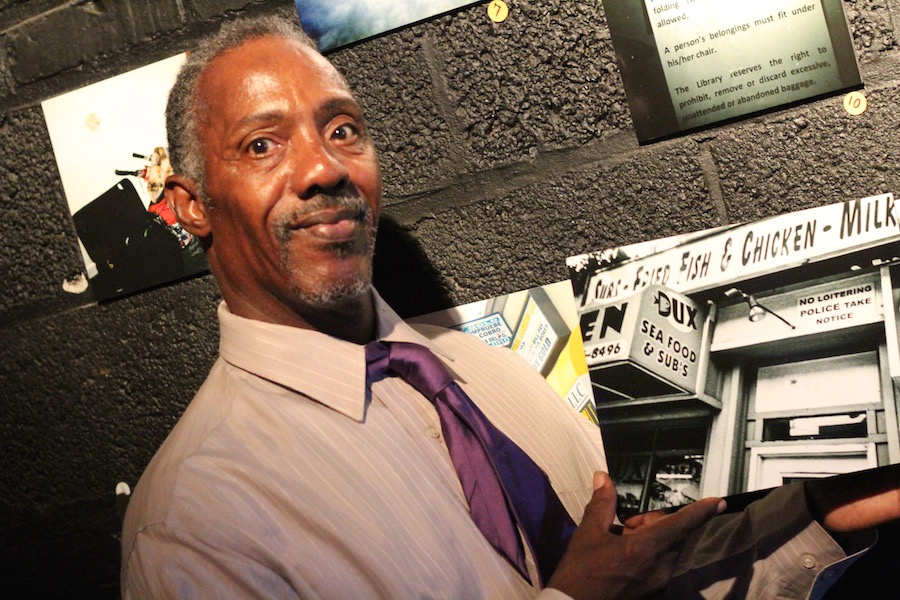 Kevin Dasilva with one of his photographs, depicting Dux Market on Chapel Street, in New Haven's Dwight neighborhood. Lucy Gellman Photos.
The market could be anywhere. A shiny white sign advertises the goods inside: milk and groceries, fried chicken and fish, cigarettes and lotto tickets. There are breakfast sandwiches still steaming somewhere past the counter. Big, bright posters of food wink out from the window, inviting the viewer closer.
But something stops you from wanting to enter, unsure if everyone is welcome here. "NO LOITERING," a sign above the doorway reads. "POLICE TAKE NOTICE."
The photograph, a close up of Dux Market in New Haven's Dwight neighborhood, comes out of "The True Untold Stories of New Haven," a new collection of photographs, poetry and short plays by Housing Not Jails, a collective of currently and formerly homeless New Haveners. Friday night, members of the grassroots group gathered for an exhibition and performance at Bregamos Community Theater in Fair Haven. Over 100 attended the event.
The evening, billed as both an exhibition and fundraiser, was organized by the Connecticut Bail Fund with support from Planned Parenthood Of Southern New England (PPSNE), Via Arts, and artist Arvia Walker's initiative Zora: The Coming Of The Sun. It raised $984 over the course of the evening, said Bail Fund Co-Founder and Co-Director Brett Davidson. He added that the group will be deciding together how to use that amount in a meeting this Thursday.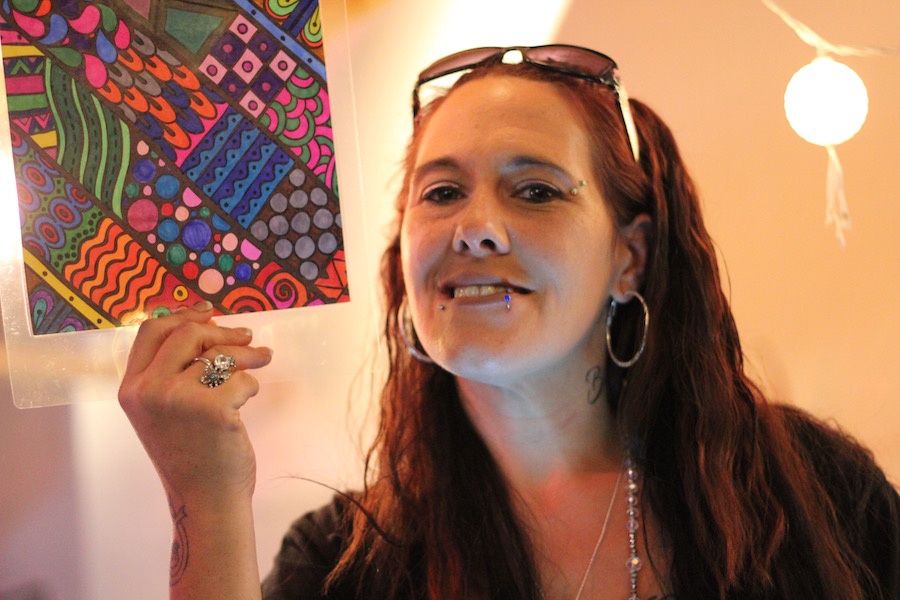 Melissa Wilson, one of the participants, said that her art is helping her cope with the death of two children and a subsequent relapse, from which she has since been in recovery. She said she is surviving, and making art, in part for her 16-year-old daughter. "I just wanna help people," she said. "I think people don't understand what it is to be homeless."
Bail Fund Co-Founder and Co-Director Ana María Rivera-Forastieri said the event was a "long time in the making," with discussions that began after a rally and march for housing and jobs in November of last year. In weekly support groups and general meetings that followed that rally, members honed in on a model of participatory defense, intended to empower individuals and families to know and better fight their cases. Members, some of whom have pending court cases, started talking about the city's criminalization of poverty. Then in February or March of this year, they expressed interest in making art that told those stories. Their stories.
In the spring, Housing Not Jails brought in Via Arts Director Kristianna Smith and Walker to help with photography, distributing disposable cameras and later developing the film. The group also branched out to theater, after members expressed interest in showing audiences what homelessness looked like in New Haven and Connecticut, and how many forms it could take. Friday, performances included vignettes of "a day in the life," alongside poetry and song that drew cheers and applause from the audience for almost an hour. (There is a video of the entire performance, including a discussion of policing houselessness at the New Haven Free Public Library, below).
"How do we use these stories to advance a bigger agenda, which is ending homelessness in New Haven?" Rivera-Forastieri asked aloud after the performances had ended. She added that it's a question the group is still working through as it thinks about future, larger-scale art projects and performances.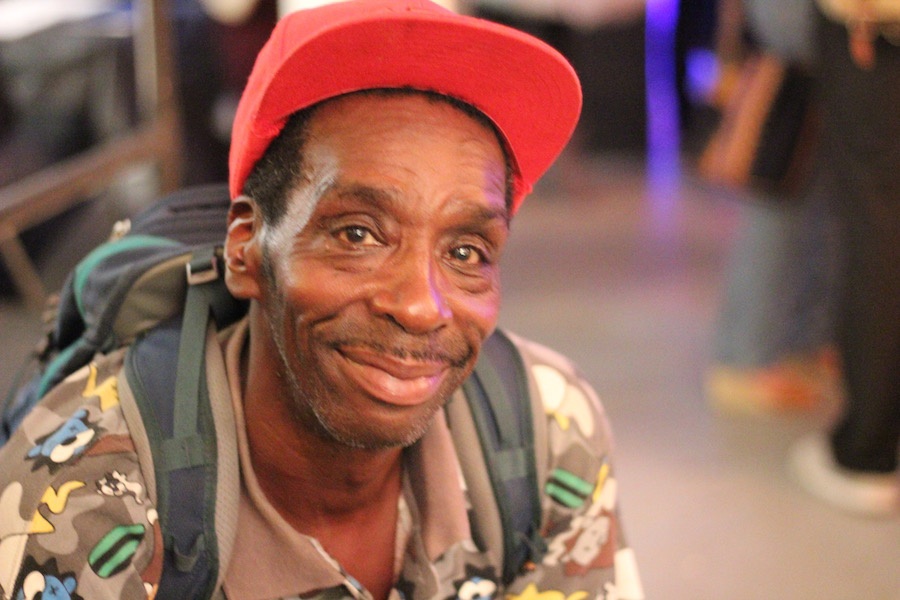 Housing Not Jails collective member Winston Echols, a poet. At 56, he said he has been homeless for the last six years and is working "to get back on my feet."
As applause subsided and audience members mingled, several artists showed off their work, bright drawings dangling at the back of the room as photographs winked out from the walls. In one corner, Kevin Dasilva walked viewers through his work, a series of greyscale portraits depicting struggles with, as well as institutional reactions to, homelessness in New Haven. Born and raised in Bridgeport, Dasilva said he has experienced bouts of homelessness in Bridgeport, New Haven and Waterbury on and off for 27 years. He is currently living in an apartment with his wife, housing they secured after "I realized what I was missing was help." He said they have been living there, settling into a new place, since late January.
The images aren't easy to stomach; Dasilva said he doesn't intend for them to be. In one, a homeless man sleeps on a bench at a train station, cables criss-crossing high above him. In the foreground, his pillow—or is it his head?—is a shock of white. A plastic bottle, nearly empty, sits below. It's not clear what season it is, but something about the ground looks cold and unforgiving.
In another set also by Dasilva, a grainy, greyscale photograph of black, rolling suitcases sits atop a portrait of the library's baggage policy, framed and installed in its entryways downtown. One rule reminds visitors that large baggage, bedrolls, and luggage carts are not allowed. Another reads that "A person's belongings must fit under his/her chair." For him, Dasilva said, it's a sign that homeless people aren't welcome inside.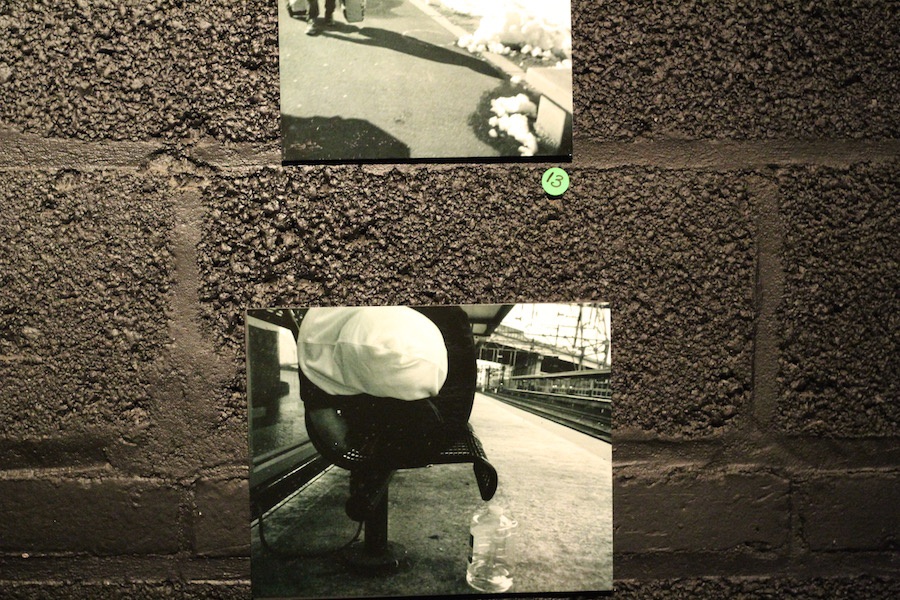 "I'm sending a message to the world, and to the community, to let them know that they're not forgotten about," he said. "A lot of people, they see these photos and they're captivated by it, because you don't see shots like this."
"Being homeless, most people say 'you put yourself there' or 'this is what happens when you don't do what's right,'" he continued. "No. It's not that. Sometimes you lose a piece of yourself that brings you down. And once you're down, it's hard to get back up. You have to start from the bottom before you get to the top."
Across the theater, his wife Keesa looked over her photographs, eyes fixed on one of a dining room table loaded with food. Between two red candles, there's a dish of cornbread, still hot from the oven. Plates orbit it like planets: macaroni salad, potato salad, collard greens. She said it remains her favorite, a testament to the power of her cooking in a new home.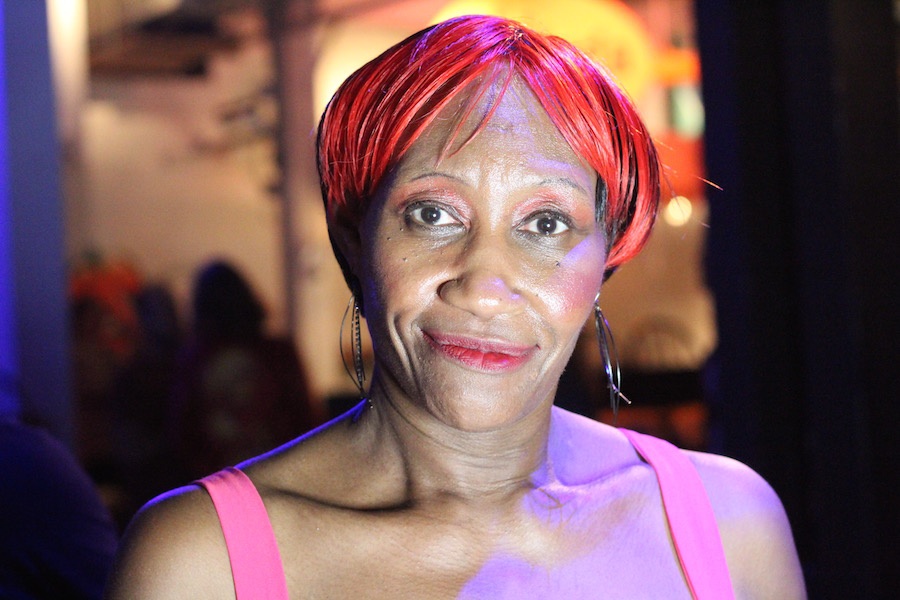 Around her, photos of her new house and neighborhood looked out, as if to say hello to passers-by. There was a sloping red section of roof, below which her door sits. A friendly brown dog, doing his dog-smile through a locked gate. The center where she and her husband go for support. An evolving ecosystem, in progress.
"It felt awesome," she said of making the art. "I've known Brett and Ana María for a year and a half now, and then when everyone else started working with us, it made it more stronger. Our unity became close, because we worked together as a team. We're perfect as a team."
To watch a full video from the performance, click here.