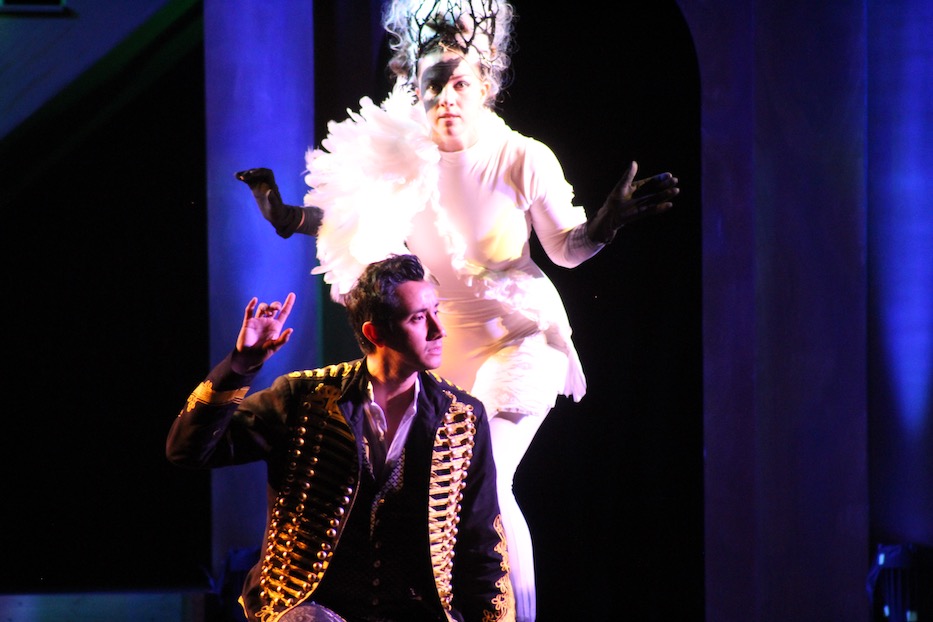 Elm Shakespeare Company | Shakespeare | Arts & Culture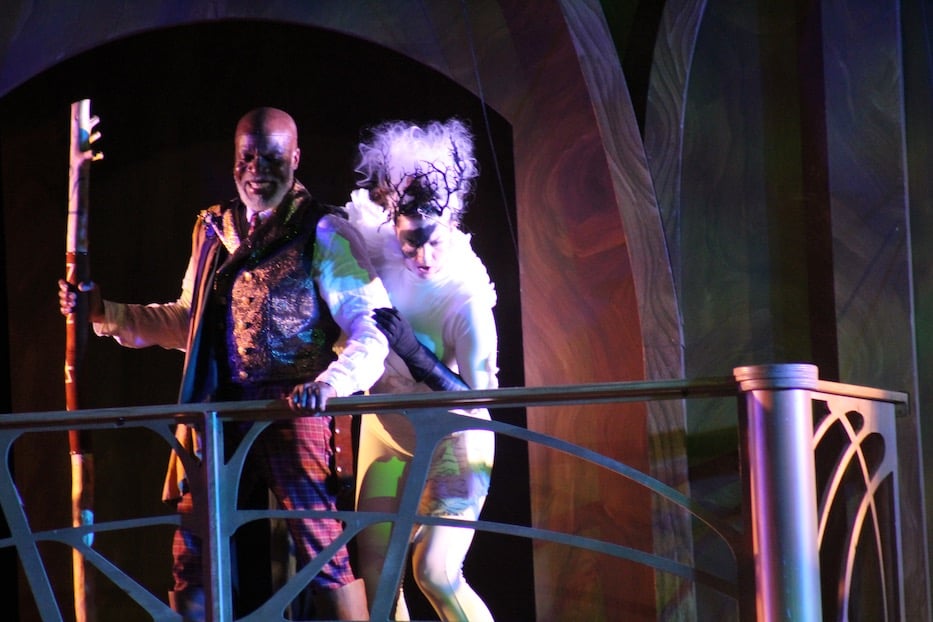 L. Peter Callender as Prospero and Sarah Bowles as Ariel in Elm Shakespeare Company's The Tempest. The performance runs in Edgerton Park through Sept. 4. Lucy Gellman Photos.
The storm is no longer brewing—it's here. From atop his perch, Prospero lifts his thick, gleaming staff and summons the wailing winds, the high seas. Webs of green foam and seaweed rise over the ship. The waves crest, hungry, and carry crew members one by one to a strange shore. They are spread across the island, unable to find each other, unsure of who is dead and who is still living. It seems that all is lost.
Or is it? What good can come from a tragedy of this scale?
That question knocks at the heart of Elm Shakespeare Company's The Tempest, running Tuesdays through Sundays in Edgerton Park through September 4. After two years of pandemic-era adaptations, the group has returned to its well-loved spot in the park with a full cast and crew, leaning into the magic of the centuries-old work. It is directed by Elm Shakespeare Executive Director Rebecca Goodheart.
It marks Elm Shakespeare's 27th season of summer performances in the park. For the first time ever, they take place in the troupe's long-awaited Alexander Clark Playhouse, dreamed into being by veteran designer (and no stranger to Elm Shakespeare) Izmir Ickbal. Directions and more information are available here. An electronic playbill is available here.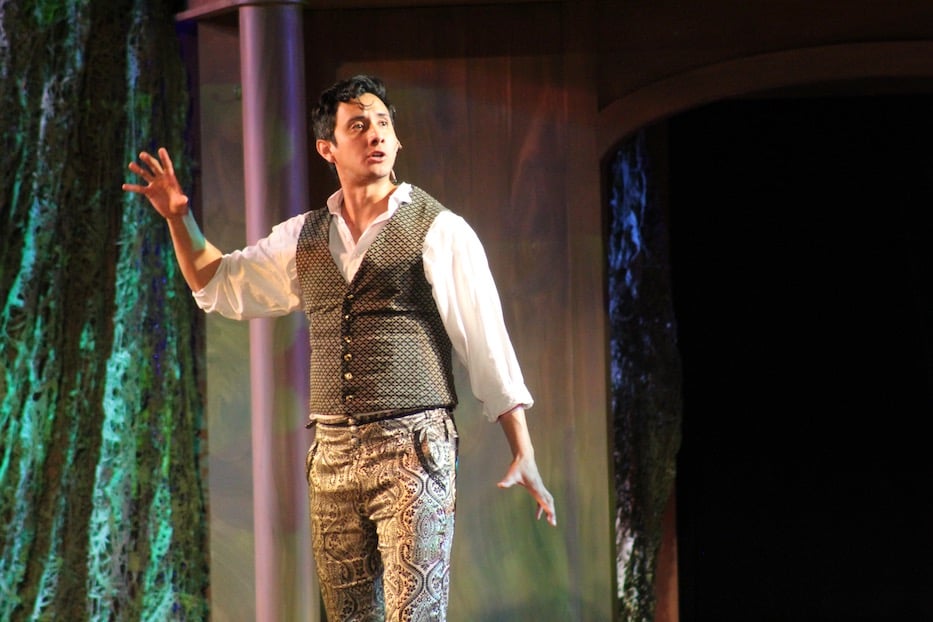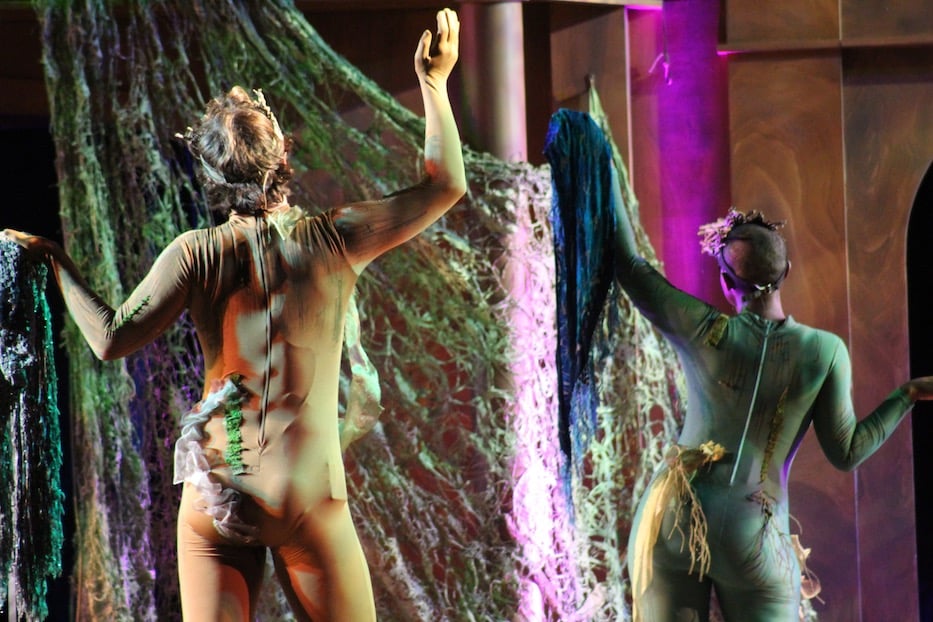 Top: Mauricio Miranda as Ferdinand. Bottom: Some of the movement that makes the work into magic. Lucy Gellman Photos.
"We're back!" exclaimed Goodheart last Friday, at an opening night performance that drew hundreds to the park with their lawn chairs and picnic blankets. On stage, a house band (Benjamin Curns, Jeff Raab and Josh Innerst) played actors in, cycling from hits by the Beach Boys to David Gray and Creedence Clearwater Revival. Behind the stage, actors prepared to travel from New Haven to an island governed by magic.
Written by William Shakespeare in the first quarter of the 17th century, The Tempest tells the story of Prospero (L. Peter Callender), an island sorcerer whose power is fueled largely by his rage. He has cause for the anger: his brother Antonio (a masterful Manu Kumasi) left him on an island with his 3-year-old daughter Miranda (Tyler Cruz), and Prospero has never escaped. Meanwhile, he's supposed to be the Duke of Milan—a position that his brother has wrongfully usurped. Rude.
Now several years and at least one love song to Colonialism later (Sycorax and her fishy spawn, anyone?), he has tools at his disposal. That is, actual living tools. The island sprite Ariel (Sarah Bowles) and reptilian swamp thing Caliban (a golem-esque Benjamin Curns) are both trapped in his ownership until he formally frees them. So when he has a chance to wreak havoc on a ship that carries his brother, the King Alonso (here, Cynthia DeCure as Queen Alansa) and Prince Ferdinand (a sweet-eyed, tender Mauricio Miranda) of Naples, he and Ariel get to work.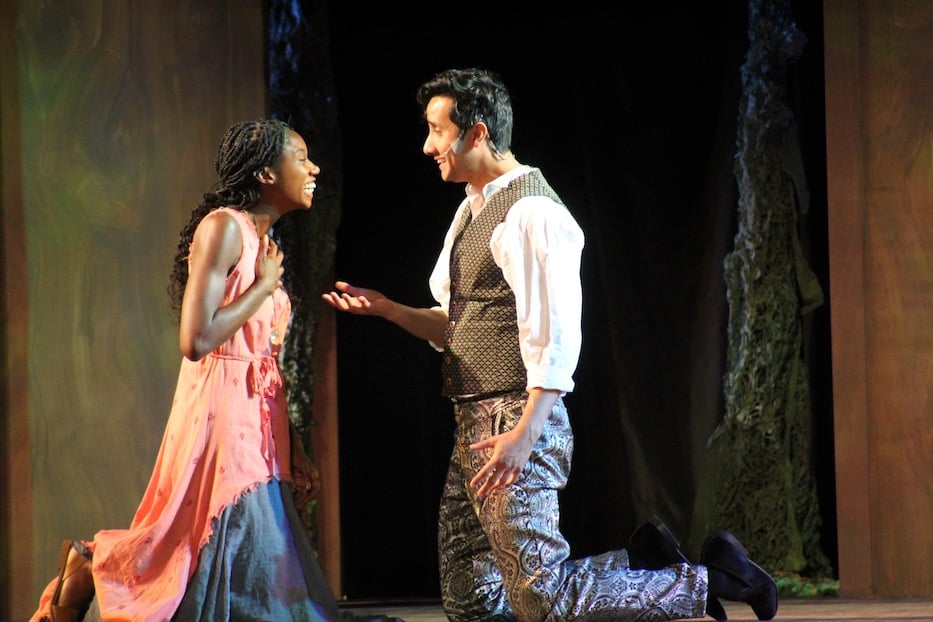 Tyler Cruz as Miranda and Mauricio Miranda as Ferdinand in The Tempest. Lucy Gellman Photos.
From the beginning of the play—lit by Jamie Burnett in otherworldly blues and purples—actors are excited to dive into this brave new world, and bring all of that verve to the stage. And from the moment Prospero conjures the titular tempest, they are all in.
No two may be sweeter than Cruz and Miranda, who channel a breathlessness and delight in their young love that makes them fun to watch throughout the show. From the moment the two first see each other, they are smitten: Cruz is light on her feet, and there's a sense that something is cracking open inside her ribcage, flooding it with light. As Ferdinand, Miranda responds with a gentle, totally genuine charm, shaking off any shipwrecked panic for a sort of love-induced, baby-faced haze that totally works for the role. He doesn't dwell on the trauma that has transpired, but focuses on his potential future with Miranda and her imposing father.
It's a dynamic that feels especially moving three years into a pandemic that has changed the tempo and urgency of intimacy, touch, and sex. The character Miranda has seen very few humans in her life, and Cruz channels a kind of Little Mermaid meets Little Miss Sunshine sense of wonder that works here (truly, it would not be surprising if she dropped the Shakespeare and said 'dinglehopper' at some point). While his Ferdinand is best opposite her, Miranda is equally delightful paired with Prospero, who gives him a series of arduous tasks as a sort of test of his love.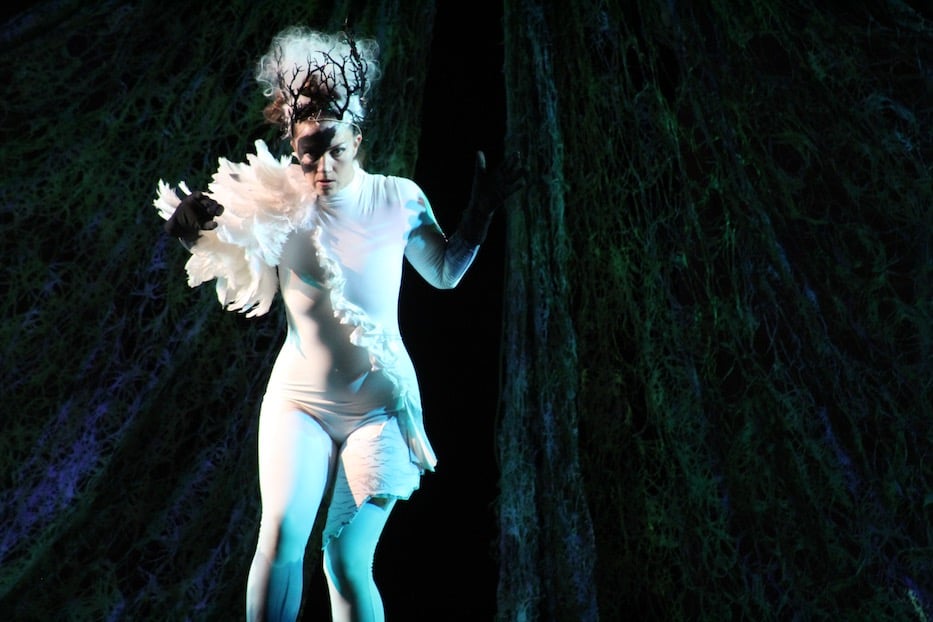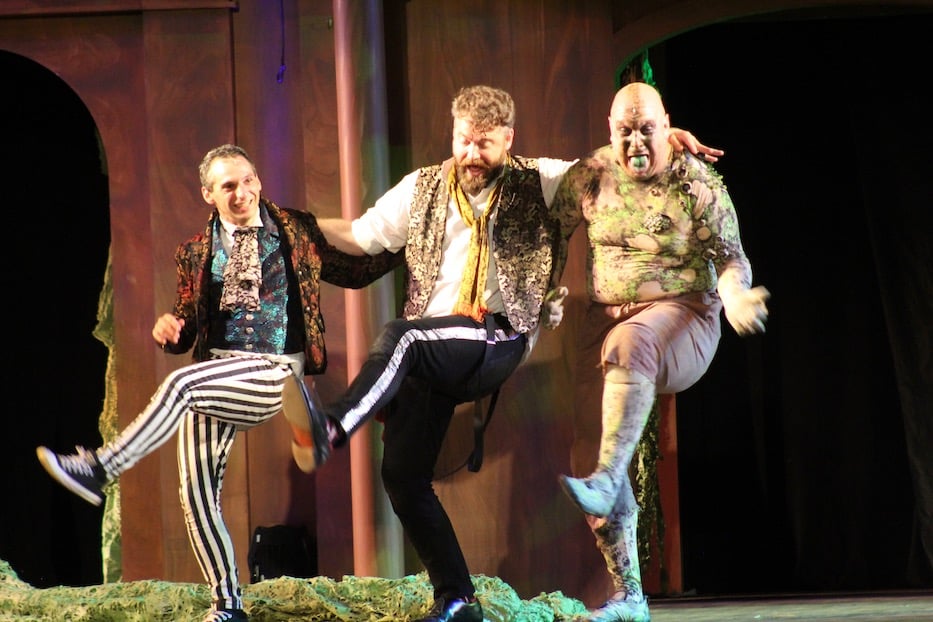 Top: Sarah Bowles as Ariel. Bottom: Jeff Raab as Trinculo, Josh Innerst as Stephano and Benjamin Curns as Caliban. Lucy Gellman Photos.
Equally magnetic are Bowles and Curns, who turn the conditions of their servitude into an embodied practice. As Ariel, Bowles fills the whole stage with her presence, gliding down the steps, onto the balcony and across the stage in a bone-white bodysuit and thick black eye makeup. The transformation works: her character feels fuller and more interesting than the waify, Tinkerbell-esque Ariels that sometimes hop about the stage. Her edges are smarter, sharper, with a knack for both sung and spoken timing.
As a sort of pendant, Curns' Caliban is wonderfully monstrous: he crouches, sniffs, slobbers, growls, hisses and moans as he makes his way across the stage. As characters stumble upon him—Jeff Raab as Trinculo and Josh Innerst as Stephano may be the silliest pair—it becomes easy to see how his anger at Prospero has calcified into something of a wicked mess.
For all the physicality, Curns also brings depth to the role: Caliban's lifelong wounded-ness, his sense of being both lonely and wronged, makes him a surprisingly sympathetic character, particularly for a two-legged reptile-man who smells like rotting fish. When at last he gets back what is rightfully his—call it land reparations, and not Prospero's generosity—it's a triumph as much for the audience as it is for him.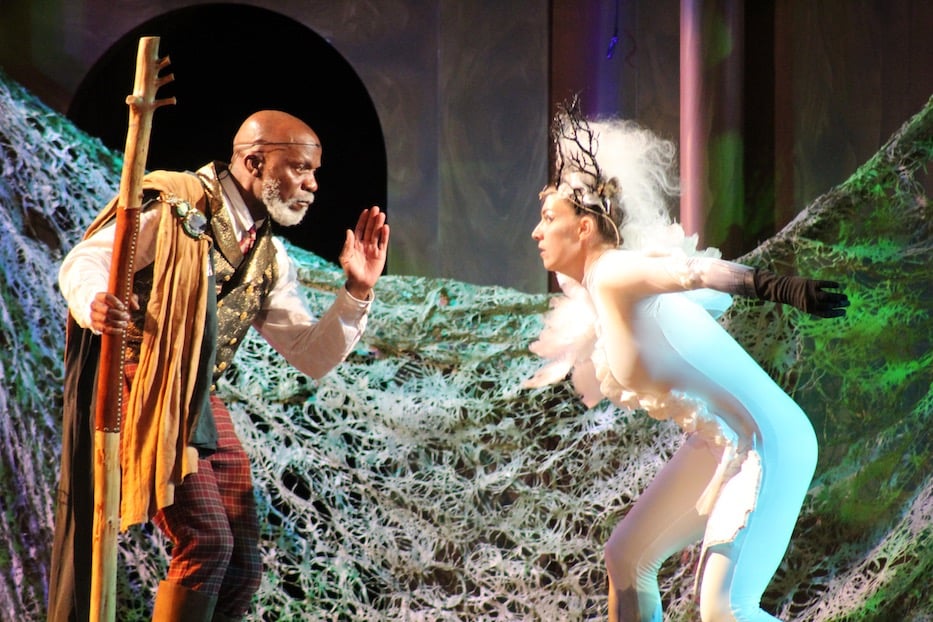 L. Peter Callender as Prospero and Sarah Bowles as Ariel. Lucy Gellman Photos.
In the literal eye of the storm, Callender is especially adept at probing Prospero for all his complexities. Prospero, after all, is extremely good at playing the victim—he's been marooned on an island by his power-hungry brother, left to raise his daughter as a single parent. But he isn't exactly a Shakespearian choir boy, either.
Yes, he's doing the best he can by Miranda—and Callender and Cruz have real chemistry onstage. But he's also holding two characters hostage, in what audiences would today call indentured servitude or straight-up enslavement. He and Ariel may seem at times like equals or partners in crime, but it is he who will choose when and how to grant her freedom. Meanwhile, the island never belonged to him—really, it's Caliban's birthright—and yet he has bent its slippery and spirited inhabitants to his will.
Goodheart is interested in that nuance—as are the other characters that fill the stage—and the show is better for it. In just a few moments in the spotlight, Kumasi is nimble enough with the Bard's language to make the audience wonder if maybe Antonio, in all his evil and scheming, has a point. So too Sebastian (a virtuosic Gracy Brown, who also appears as Juno), who turns a churlish, at turns bombastic and apprehensive, sometimes rough-edged character into a more conflicted portrait of a dude who just wants his power-hungry friends to like him once in a while.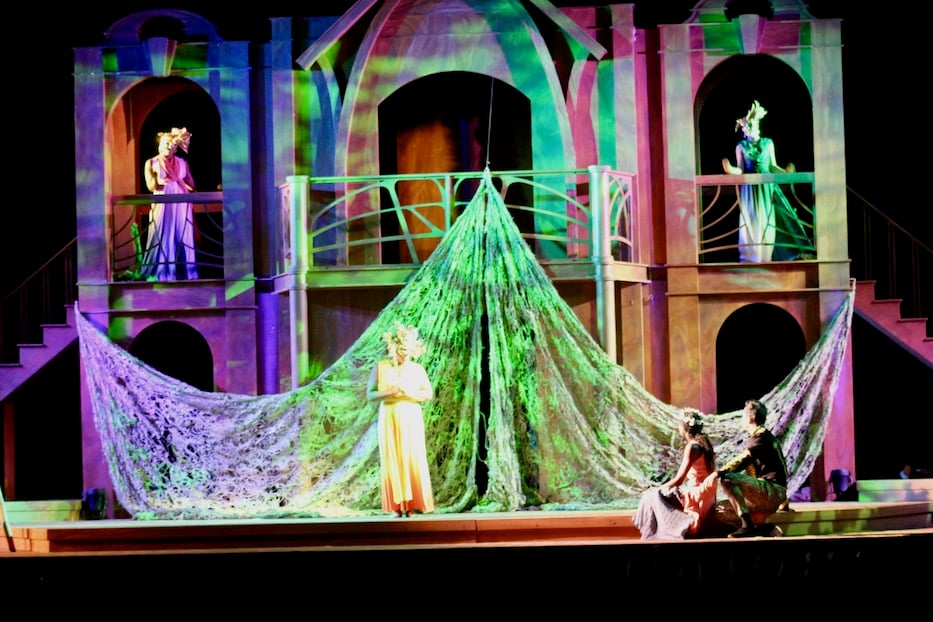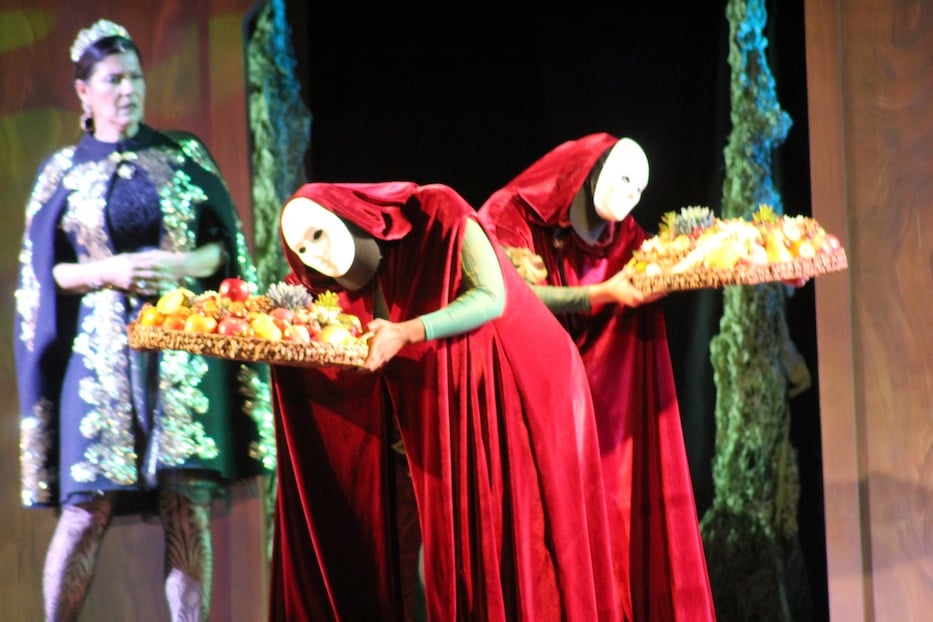 Top: Gracy Brown as Juno. Bottom: Some of the magic that comes from choreographer Jessica Natalie Smith and costume designer Rebecca Welles. Lucy Gellman Photos.
To Shakespeare's 1611 script, the company has woven in dance, interpretive movement, morsels of Spanish and Italian, and music that make the show soar. In a credit to choreographer Jessica Natalie Smith, characters glide, sway, tiptoe and tromp their way across the stage, pulling apart a magical world as they do so. When spirits appear dressed for Carnival, or the goddess Juno twirls and bows in a flowing yellow gown and a glittering mask, or drunkards form a kick line and nail the beat, it is movement that ties the work together.
The playhouse, in its composite parts, also works in their favor: characters emerge from doorways, burst out onto balconies, unfurl props from all corners and heights, and play with shadow work and profile poses that double as narrative. In a conversation before the show, Goodheart hinted at the possibilities that the structure, which the company owns and can use in parts or as a whole, provides.
And indeed, it seems right on time. While Elm Shakespeare has been anything but dormant for the past two years—the group became a champion of outdoor pandemic-era theater, and has very much used the time to innovate—there is something specific, unnamable about this three week run on the lip of autumn. Beneath a magic that fills the park is a reminder that there is always a coming storm —and that not all is necessarily lost.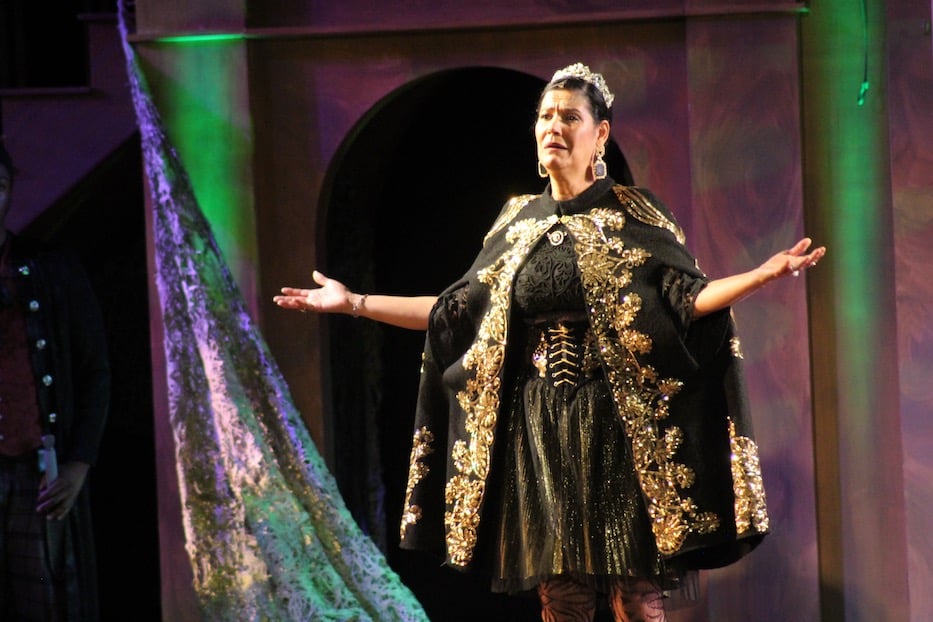 Cynthia DeCure as Alonsa. Lucy Gellman Photos.
In a year that has seen the man-made continuations of several equally man-made disasters—climate change, white supremacy and Covid-19 perhaps chief among them—it is an unexpected call to forgive, to extend grace, to believe in the possibility of tomorrow.
This is not the "rough magic" of which Prospero speaks—and ultimately leaves behind for a lux life in Milan—but something more immediate. It's a lesson that audiences might bring with them after bows are over, the final lighting cue has faded, and night has fallen around the park once more.
Performances of William Shakespeare's The Tempest run Tuesdays through Sundays through Sept. 4 in Edgerton Park, 75 Cliff St., New Haven. Live music at 7:30 p.m.; all performances begin at 8 p.m. and run for two hours. Elm Shakespeare will announce weather updates on its Facebook page.