Arts & Culture | Film & Video | Yale University | COVID-19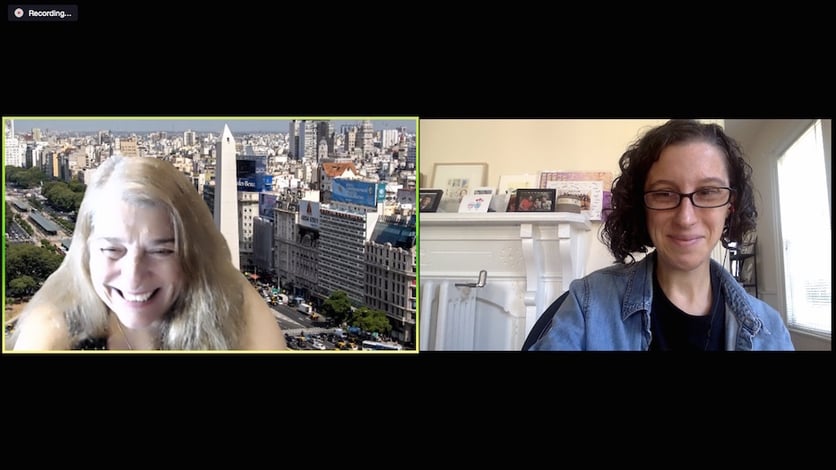 Zoom.
A Spanish-language film festival is braving the pandemic to move into its first decade online. To do it, it's shifting the lens on Latinx filmmakers, storytellers, and documentarians who are all working to speak truth to power.
That's the story for this year's Latino & Iberian Film Festival at Yale (LIFFY), a weeklong event that begins Monday Nov. 9 with short student films and an evening feature from Dominican director Bladimir Abud. The all-virtual program runs through Nov. 15 with online panel discussions and roundtables in both English and Spanish. This year's theme is "bringing diversity, truth, and justice into focus," a riff of Yale's motto of "lux et veritas" (light and truth) that is also inspired by the current administration. The year is written as 20/20 to suggest perfect vision.
"The New Haven community expects our festival every year," said Margherita Tortora, who has organized the festival since 2010, in a recent interview over Zoom. "There's a great expectation. Also, I think it's not fair to the filmmakers to not have a festival. Many of these films are experimental. They're all independent. And they really don't get to show these films in many venues."
In total, there are 16 feature-length films and documentaries, and close to 50 short films. A jury comprising Guatemalan producer Bea Gallardo, Colombian filmmaker Víctor Manuel Gaviria González, and Argentine producer Cynthia Sabat will select awards for the films, which span 15 different countries. It is supported by Yale's MacMillan Center, through which Tortora also teaches a course on Latin American filmmaking.
Tortora's decision to move the festival online came after checking out what other festivals in both the U.S. and across the globe were doing during the COVID-19 pandemic. Some, like the Cartagena International Film Festival, had postponed. Others had cancelled entirely. A third group of festivals had moved online. Meanwhile, Tortora fielded queries as submissions for LIFFY kept coming in.
Over the summer, the university announced that fall courses would be online. By then, she had already been teaching virtually for months. She knew that Yale had the technology to hold screenings and open them to a larger community. She was also inspired by Raymundo Gleyzer's Cine de la Base movement, which focuses on "bringing the films to your base," she said. Gleyzer was an activist and Argentine filmmaker who went missing in 1976.
With the online format, short films will be available for viewing for an entire day, while feature films will only be available at their set time. The majority of directors have pre-taped short video recordings to stand in for the talkbacks that exist . On the opening and closing nights of the festival, Tortora has planned live question-and-answer sessions on Zoom.
She is particularly excited that LIFFY's breadth has not been hindered by its virtual presence. Viewers will be able to log in from across the globe, including from Spain and several Latin American countries from which travel is not currently possible or safe. Several of the filmmakers have told her that they're happy for the shift this year, because their families are able to watch the films in real time.
She was also able to organize special events, including a panel of nine women filmmakers and producers from nine different countries, entirely through Zoom. She said that the panel dovetails with the year's theme of truth and justice—all of the women are fighting a male-dominated industry to make their work.
"I think it's an important discussion to have," she said. "These are all women who are fighting to make their voices heard. You know, you need money, and you need clout, and you need connections. And of course we've seen what 'me too' has brought out. Terrible sexism in the film and entertainment industry. And some of these women are fighting doubly. Frida [Muenala] is not just a woman, she's also Indigenous. Orisel [Castro] is a Cuban woman filmmaker."
On Monday, the festival opens with Abud's La otra Penélope, one of three films from the Dominican Republic in this year's lineup. The work, which premiered last year at El Festival de Cine Dominicano, opens during the Joaquin Balaguer dictatorship that followed the iron-fisted rule of Rafael Trujillo and U.S. coup to overthrow democratically elected president Juan Emilio Bosch. It is a political story, but also a romance, in which a freedom fighter's best laid plans are complicated by a love interest.
Tortora added that many of the works feel intensely human and relatable, despite any language barrier (all films are presented with subtitles). She singled out Ernesto Daranas' Natalia, a documentary from Spain and Cuba about the folklorist Natalia Bolívar Aróstegui, as well as Héctor Valdez' Malpaso, a "really, really raw and powerful" story of two brothers—one Black and one albino—raised close to the Haitian-Dominican border.
She praised Marcelo Diaz' Maria Luiza, a documentary that follows the first transgender member of the Brazilian armed forces. In the same breath, she said she is excited for New Haveners to learn more about Indigenous Quechua women in Ecuador through Frida Muenala's Warmi Pachakutik /Tiempo de Mujeres, and about female mariachi players in Sonia Fritz' 2020 Mariachis con pantalones. Fritz, who is Mexican and Puerto Rican, is one of the nine directors talking about women in the film industry in a bilingual panel on Nov. 12.
As in years past, there will also be a screening entirely for New Haven Public Schools (NHPS) students, who are currently learning remotely. On the morning of Nov. 12, Tortora has planned a remote setup for Alejandro Malowicki's Terrible, which tells the story of a puppeteer tormented by his titular puppet when it comes to life. She said she is still working out the details, but will likely send out a link to teachers who can then screen it for their students.
In the lineup, she has also made it a point not to avoid COVID-19, which began as the festival was still taking submissions earlier this year. On Monday, LIFFY will be screening thesis films made during COVID-19 from students at the Instituto Superior Tecnológico de Cine y Actuación in Quito, Ecuador, where she is usually able to teach a summer program through Yale.
In the early months of the pandemic, the country saw some of the highest COVID-19 infection and death rates in the world, in part due to travel that had remained open between Ecuador and Spain. From Guatemalan director Uli Stelzner, there is also Arqueología de la dignidad trabajadora, a short 2020 documentary that chronicles the fight for worker rights and the gross mishandling of COVID-19 in Guatemala.
The festival closes on Sunday Nov. 15 with the Argentine film El Encanto, a fairly minimalist work from Juan Pablo Sasiaín and Ezequiel Tronconi. The film follows a young man as he waffles on whether he is ready to commit to a long-term relationship with his girlfriend. Tortora called it a sweet way to end a week of dozens of films. She said it is a labor of love.
"I think it's very important to have a free festival and expose people to these wonderful realities that have been created with sincerity, with a lot of heart, and with a lot of hardship many times by these incredible filmmakers," she said. "Many of these films are very enjoyable, but all of them give you something to think about. I just truly appreciate all of these filmmakers and their teams, who have made these films and have brought these realities to us."
"I think many times, we learn the real story through these kinds of films," she added. "These aren't the stories we read in history, history which is written by the winners, those that are in power. These are the microhistories from inside that really show us different faces of reality. These are stories that show us that we're all human beings."
The Latino & Iberian Film Festival at Yale (LIFFY) runs from Nov. 9 through 15. As in years past, all of the films are free. View a complete schedule here.