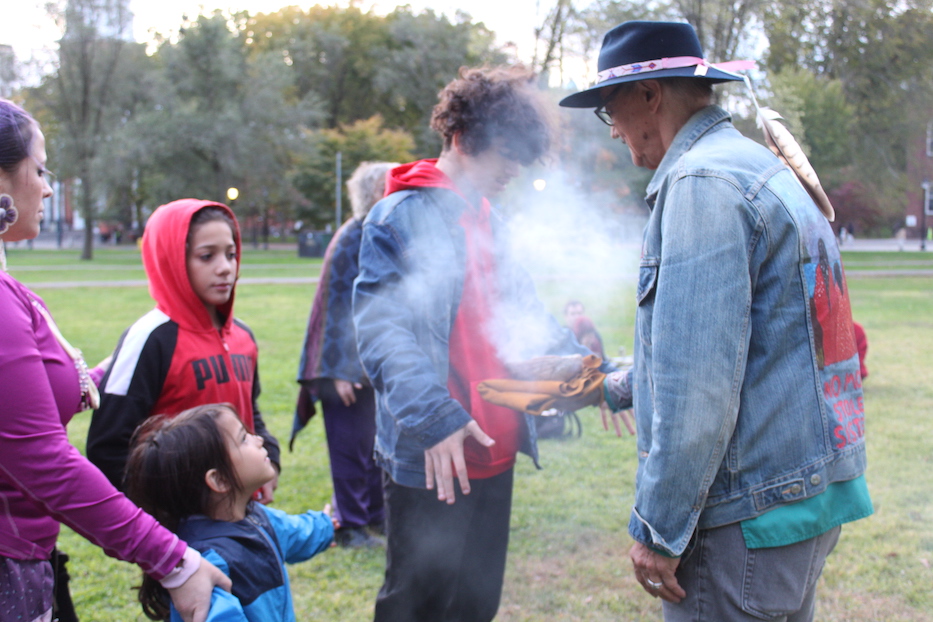 Culture & Community | Arts & Culture | New Haven Green | Indigenous rights | Arts & Anti-racism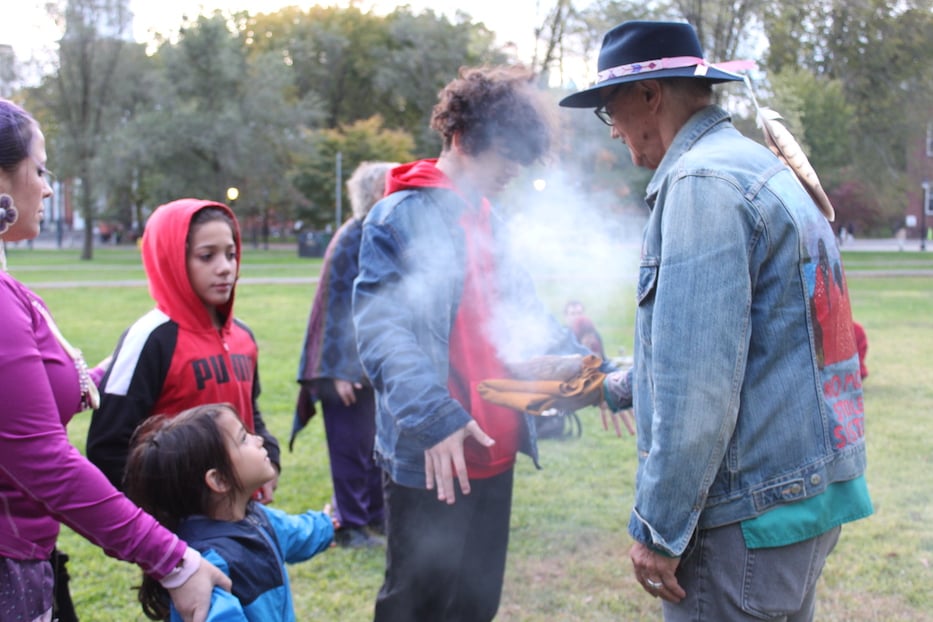 Rachel Massaro (in purple) with her kids and Clement during a ritual smudging. Danielle Campbell Photos.
Rachel Massaro stepped forward, her purple hair and clothing vibrant in the afternoon light. She took in the circle of people around her, the ground firm beneath her feet. The smell of sage hung low in the air, sweetgrass and turkey feathers laid out on nearby. Sentence by sentence, she wove through a history of residential schools, missing and murdered Indigenous women, of children fleeing with their parents.
A history that had yet to be taught—and learned from—in Connecticut and across the country.
A member of the Northern Cheyenne and Saponi tribes, Massaro was one of roughly 30 people to attend an observance of Indigenous Peoples' Day Wednesday afternoon, held on the New Haven Green in a now-annual observance. As in previous years, it was organized by New Havener Norman Momowetu Clement, a member of the Penobscot nation and a confederate member of the Quinnipiac tribe.
He said that he'd chosen Wednesday—rather than Monday—because many still observe Oct. 12 as Columbus Day. It marks the day in 1492 that Columbus landed in what is now recognized as the Caribbean, beginning the the mass rape and murder of Indigenous Taíno people.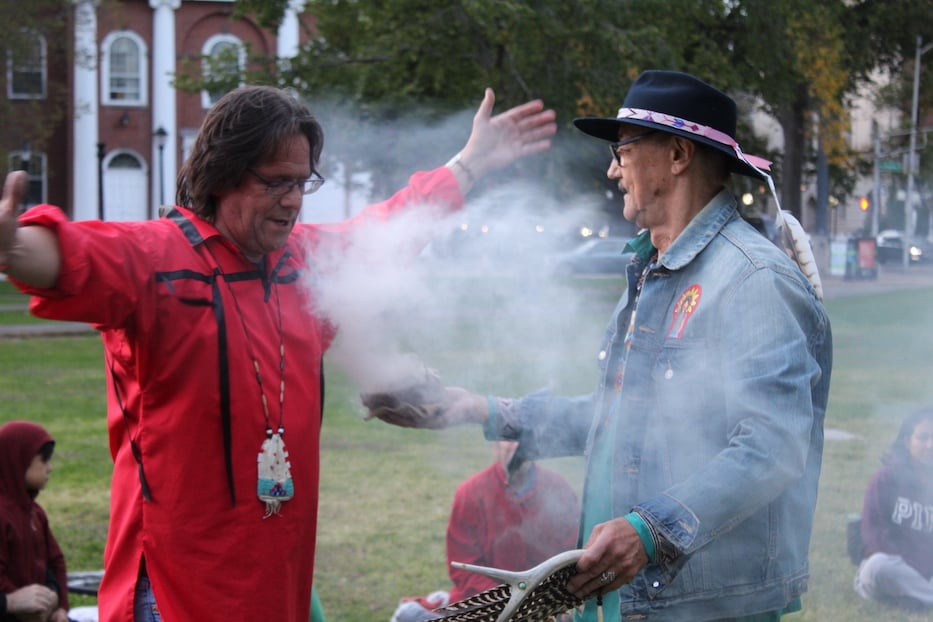 Ricky Looking Crow and Norm Clement. Danielle Campbell Photos.
"We're trying to do away with Columbus," he said. "So, unless you're fighting to get that change to have Indigenous Peoples' Day, then you shouldn't be celebrating that day. One has to cancel out the other. We're not going to be canceled out. We fought too hard to be canceled."
For Clement, that fight is personal. Decades ago, his own father was adopted by a white family ostensibly trying to "better" Indigenous children, he said. In his father's case, that meant hiding his culture and history from him. Growing up in that environment, Clement did not know he was Indigenous until he was 35 years old. His father never spoke of it because he was taught not to. He did not even know what tribe his father was from until he started searching for answers.
As people gathered, Clement wove song, speech, and ritual into the event. For him, any recognition of Columbus remains a painful reminder of genocide, displacement, and erasure. In that grief, he has long made space for story, reminding attendees of all backgrounds that Indigenous history is living history.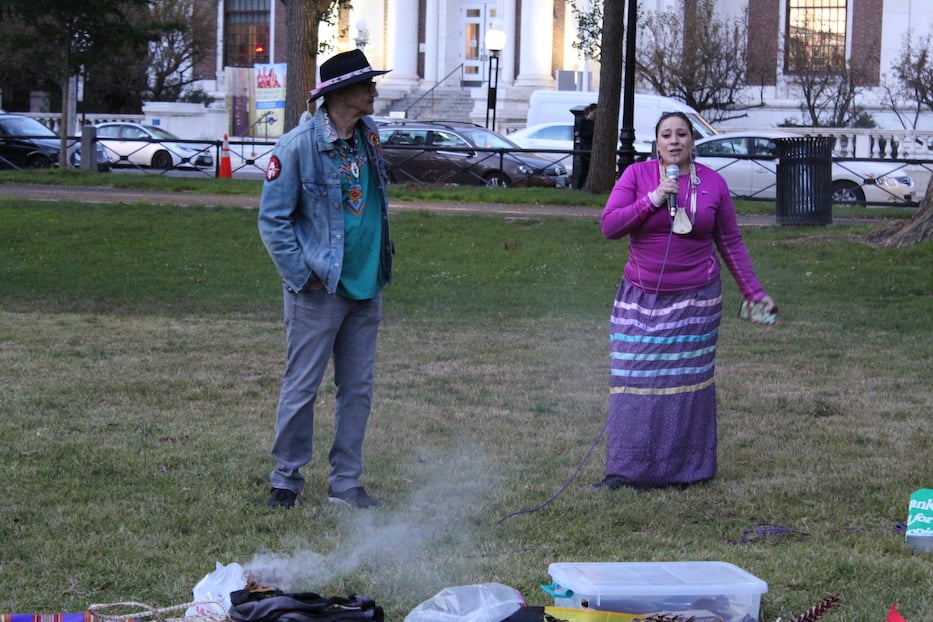 "If everybody knows the true story, there's no reason to celebrate Christopher Columbus but there's every reason to celebrate Indigenous people." Danielle Campbell Photos.
He added that he is also ready to pass the organizing torch to a younger generation—he has been doing this for years on his own, and is tired. Wednesday, it seemed that there were younger voices ready to take up the charge. As she has in years past, Massaro came with her family, working to pass the rites and rituals of community on to her children.
As she spoke, she remembered her grandmother, who was taken from her family and forced to attend a residential boarding school. She grieved the tens of thousands of children taken from their parents and communities, including those who never made it home. She advocated for the Missing and Murdered Indigenous Women (MMIW) who have been stolen from their homes, their jobs, their lives and often killed. The federal Bureau of Indian Affairs currently estimates that there are approximately 4,200 unsolved cases—a number that continues to grow.
"If everybody knows the true story, there's no reason to celebrate Christopher Columbus but there's every reason to celebrate Indigenous people," Massaro said. "It hits home when friends and family have gone through it … Having family that survived Indian residential schools is very important because it hasn't been recognized. Hasn't been taught."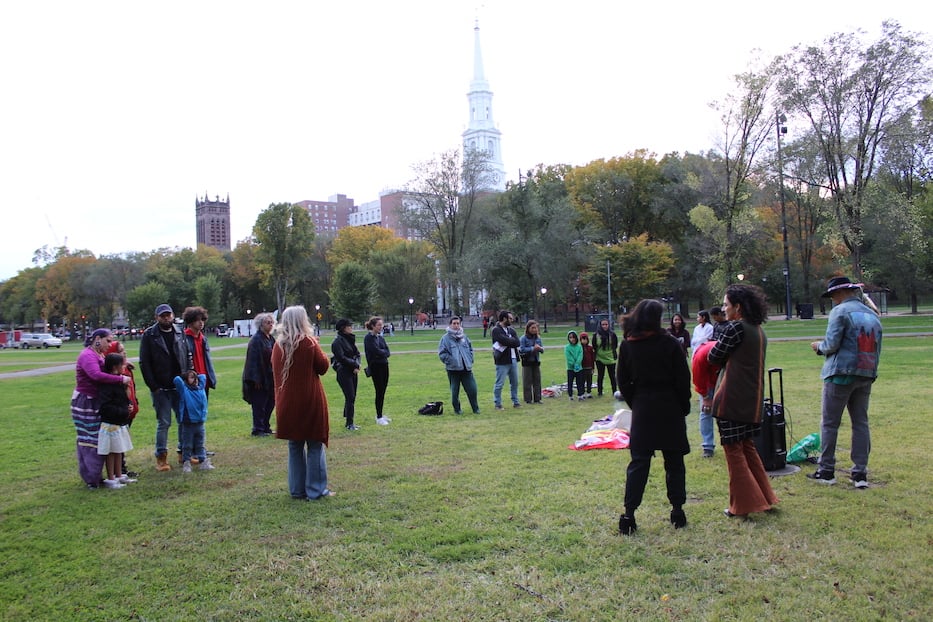 Danielle Campbell Photos.
Ricky Looking Crow, a high warrior of the Passamaquoddy Tribal Nation, added that he wants people to know they Indigenous people are still here—rather than a page in the history books—and that the day is not a celebration of Columbus.
"It's actually prayer time for the people that perished," he said. "And not only did the American Indian perish, Columbus' people perished also. We also pray for them also."
Several speakers also noted the way Indigeneity, displacement, forced migration and diaspora runs through New Haven's present. Javier Villatoro, of the Zapotec people of Mexico, spoke about being made fun of for years for his little eyes—a face that ties him to centuries of Zapotec ancestors. He said it took him years to realize they are beautiful for that very reason. His love for tradition, like the Guelaguetza, has never left him.
"I grew up practicing the ancestral traditions because back where I come from, is still very strong," he said. Now, relearning Indigenous language and communing with ancestors through cooking is an important part of his life—particularly as his family navigates a city so far away from Mexico.
In a poem, he spoke of being separated from Indigenous culture by colonization (watch it below).
"I get updated. A colleague tells me, 'We are no longer Indigenous, we are mestizos now,'" he read. As he continued, every ear hooked on to the words.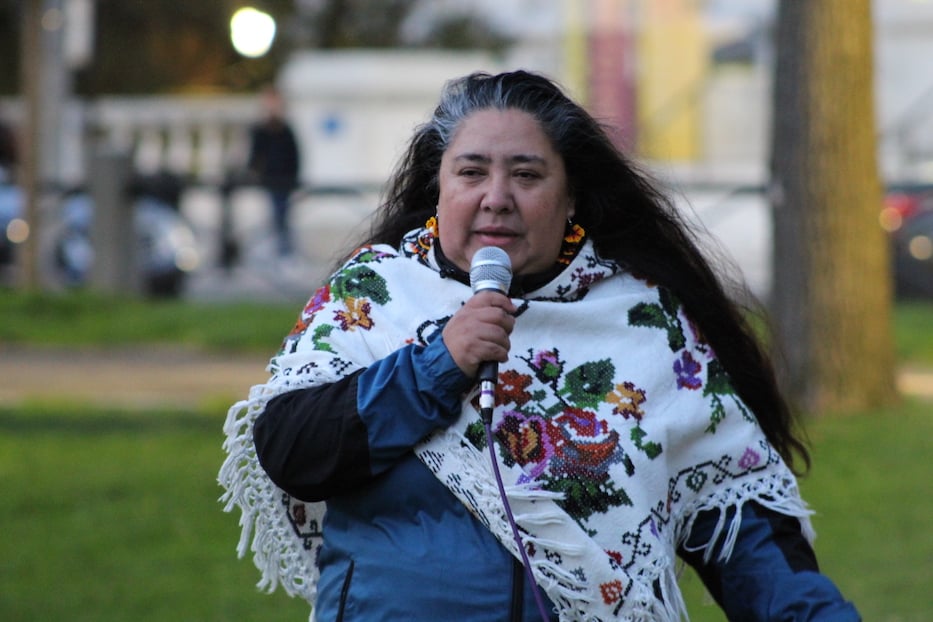 "I am here to share our Indigenous traditions, our Indigenous roots and to share that and to walk our lives and walk our walks with our face up," said Rojas. Danielle Campbell Photos.
Fatima Rojas is Nahuas from Mexico. She explained that colonization is so ingrained in Latin America that as soon as Indigenous children reach a certain age, they are taught Spanish and told their language is bad or primitive. When her daughters were born, she vowed that she would teach them where they came from.
"I am here to share our Indigenous traditions, our Indigenous roots and to share that and to walk our lives and walk our walks with our face up," she said.
By the end of the evening, Clement had built a solidarity that transcended any single background or affiliation. Listening in the crowd for most of the evening, Ukrainian American Elena "Helen" Koulidobrova stressed the importance of learning about—and from—the past. On Tuesday, Russian forces bombed her hometown as part of an ongoing war.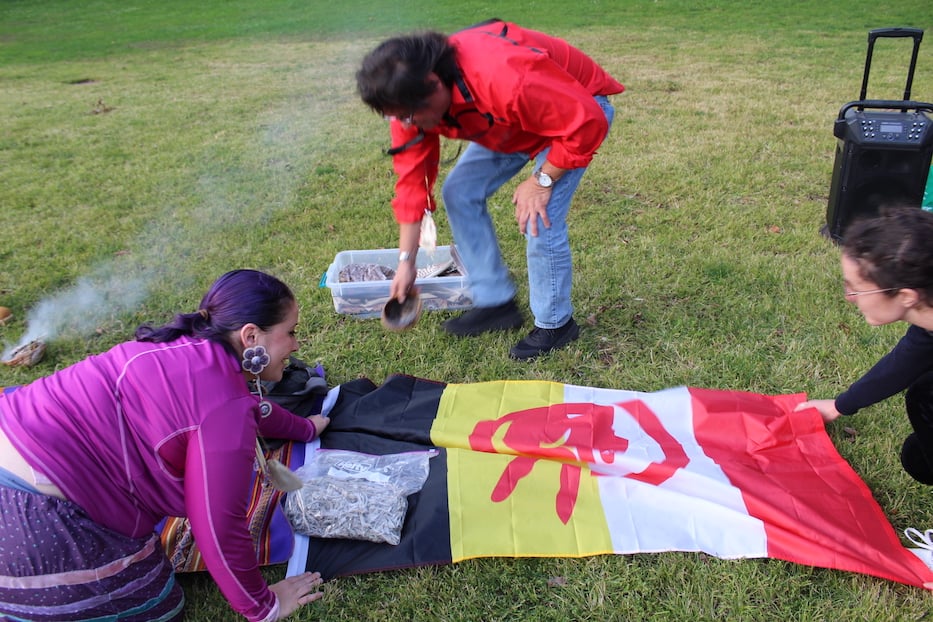 An Associate Professor, Coordinator of Applied Linguistics at Central Connecticut State University, she expressed solidarity for marginalized communities, especially the Indigenous community. Their pain and suffering continue to go unacknowledged and perpetuated, she said.
"History is history, right, history cannot be denied," she said. "History must be embraced. We have to deal with the pain of history.
"This has got to be dealt with and then reconciliation must occur, right? Reconciliation in terms of like, giving the land back and renaming the holiday and working towards some sort of [system] paying folks back."