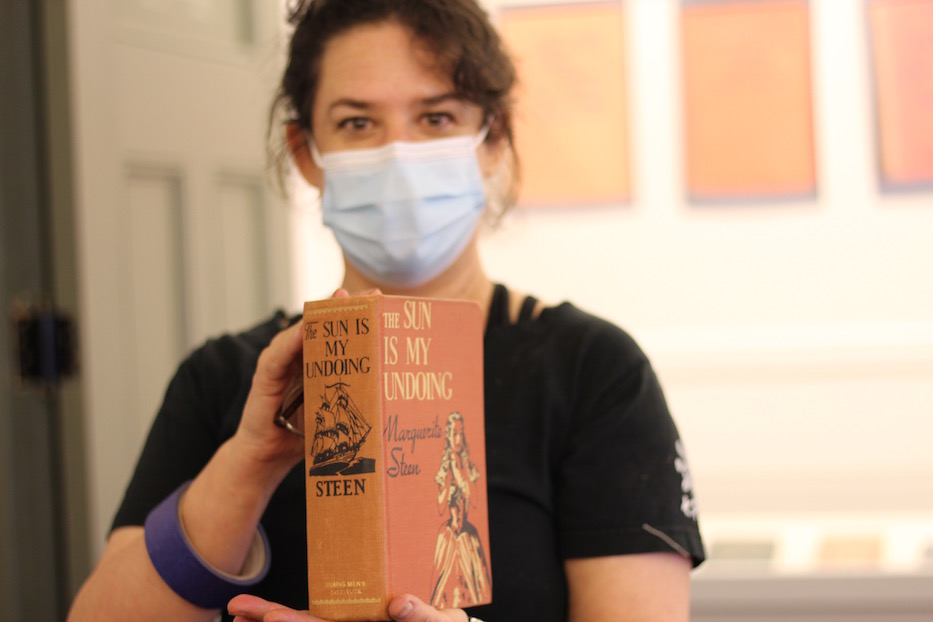 Books | Downtown | Institute Library | Visual Arts | COVID-19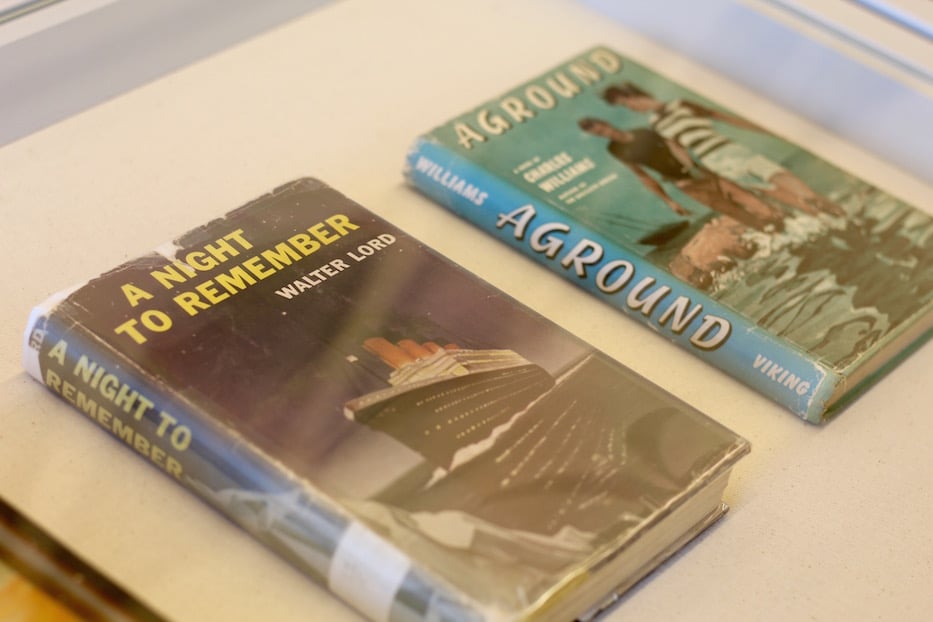 Lucy Gellman Photos. Cover Story runs at the Institute Library, 873 Chapel Street, through June 1.
The Titanic is careening towards the iceberg, its 2,200 passengers unaware that over half of them are about to perish. In the velvety night, the ship's tiny, bright windows find a mirror image on the near-glassy water. Its four chimneys cheerily belch smoke into the blue-black sky. By its bow, a trail of foamy white rises up and laps the sides of the boat.
But if there is any uncertainty that the Titanic is about to have a very, very bad night, author Walter Lord has taken care of that. In bold yellow letters, the words A Night To Remember stretch across the top of the book. They are almost the same butter yellow as the light that streams from the cabin windows.
Welcome to Cover Story: In Praise of the Exterior Surface, an exhibition that is entirely dedicated to judging books by their covers. Curated by Martha Willette Lewis and gallery intern Ava Hathaway-Hacker, the exhibition runs at the Institute Library downtown through June 1. The show highlights dozens of book covers from the library's vast, centuries-spanning collection, from embossed, early twentieth-century titles to 1930s paperbacks with high-waisted dresses and generous bustles to contemporary picks for cat lovers.
"These are works of art in their own right," said Lewis on a recent walkthrough of the show. "They have value—the workmanship and labor that went into them alone is worth enjoying. I want people to see the value of us [the Institute Library] and what we have. This place is full of kaleidoscopic treasures for people to share and enjoy."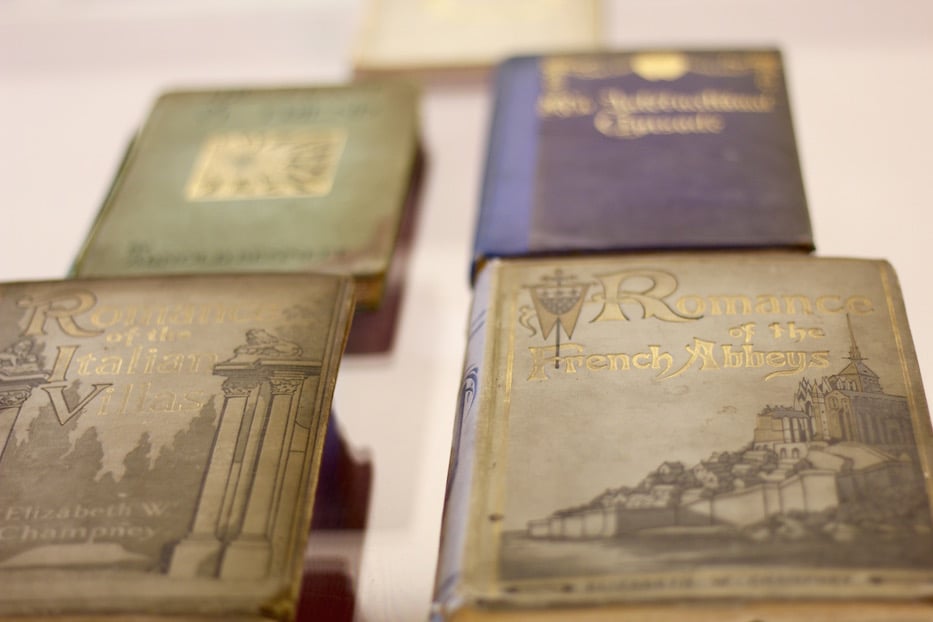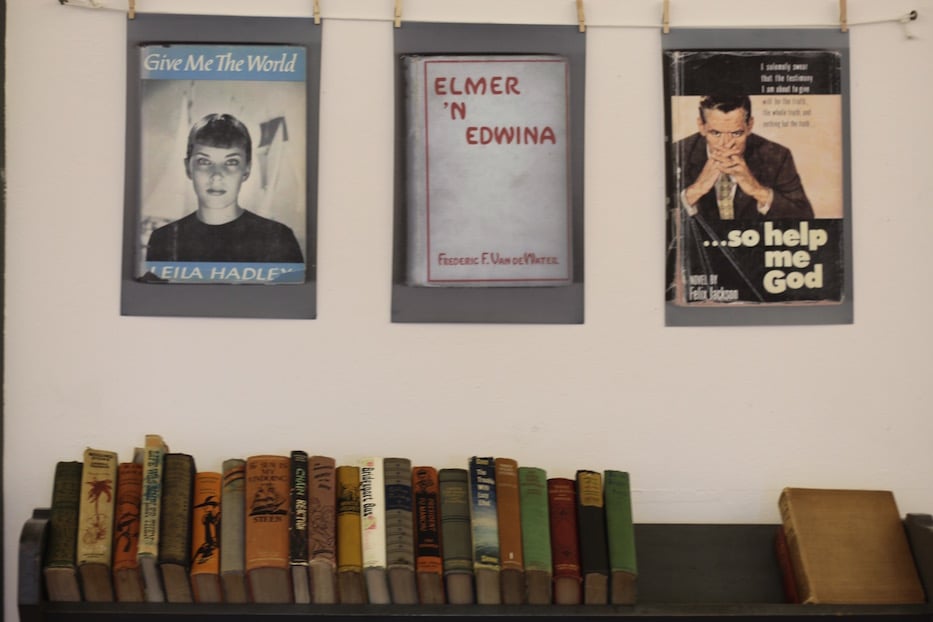 Lewis has wanted to do an exhibition on book covers at the Institute Library for years, she said. She discovered the place, a private membership library crammed between a bike shop and a tattoo parlor, when it was still under the leadership of Will Baker, who served as executive director from 2011 to 2014. The space's collection goes back to its founding in 1826, a full five decades before it landed in its current building on Chapel Street.
She fell in love with its heaving, prismatic shelves and low-lit open stacks, where old covers weather beside glossy recent titles and a sprinkling of local authors. Since, she has spent the tenure of directors Natalie Elicker and Valerie Garlick, and operations manager Eva Geertz perusing the shelves. The pandemic, which temporarily closed the library, gave the hunt a new kind of urgency.
A few months ago, she and Hathaway-Hacker "kind of went through the bookshelves," and held onto the covers that delighted, shocked, and intrigued them. Lewis, who is a multimedia artist and self-described book hoarder, sees books and as both artistic and utilitarian objects. In her world, they are meant to be held, carried, cared for, loved deeply, and read and re-read. Hundreds of well-loved titles fill her home in the city's East Rock neighborhood. While she has a cache of "emergency books" on her phone, she uses them as infrequently as possible.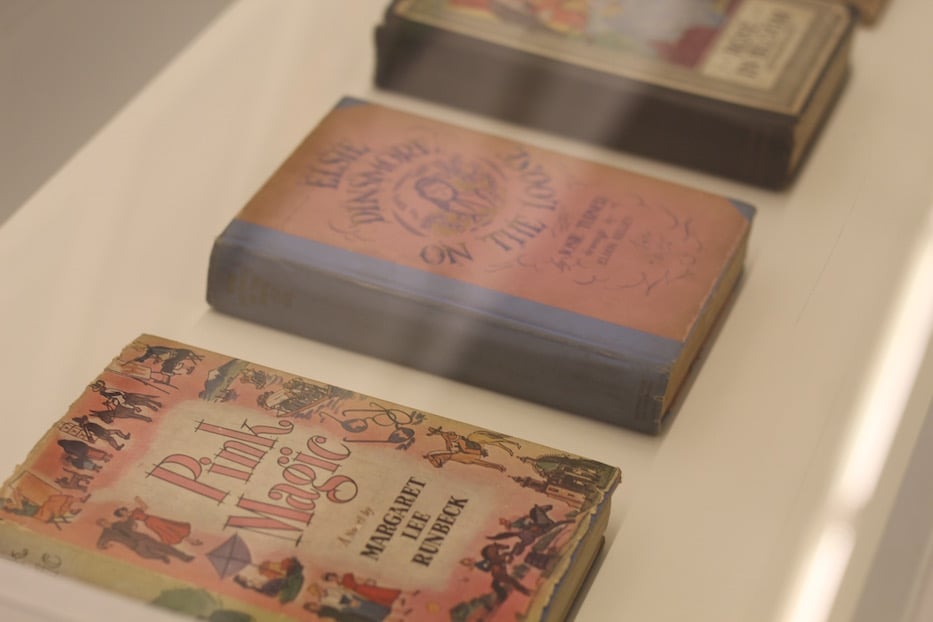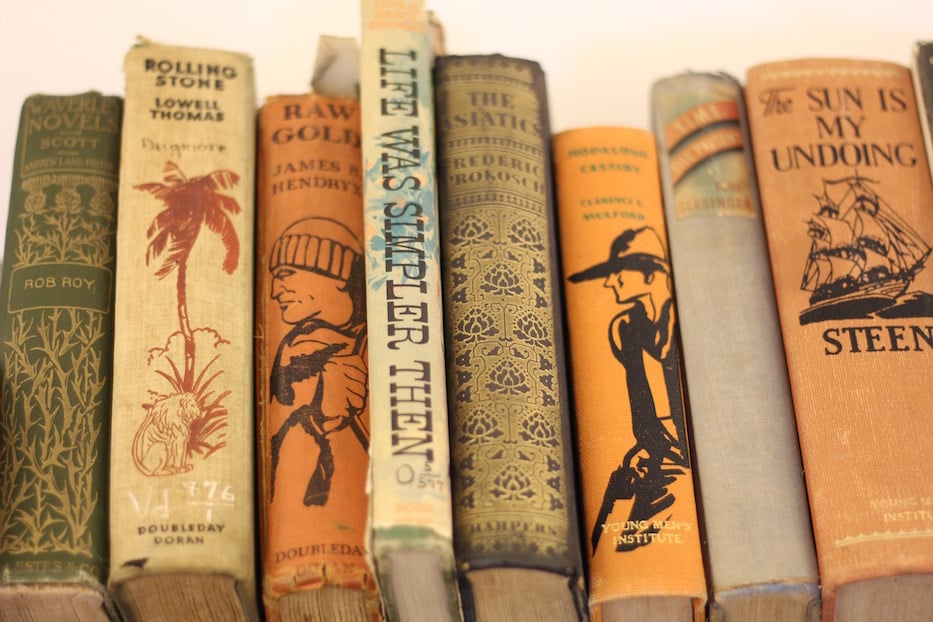 Picking covers was a kind of treasure hunt, she said: she wasn't exactly sure what she and Hathaway-Hacker were going to find. There was a fantastic, naughty element to it too: they were picking books for their exteriors, rather than the content inside (Elena Ferrante's virtuosic but poorly-designed Neapolitan novels, for instance, would not have made it in). As they sifted through dozens of jackets decorated with gold leaf, cocked revolvers, outlines of tall ships, fierce dogs and silhouette upon silhouette, the idea became a love song to the library.
"It's been a really long year," Lewis said, gesturing to the surrounding building as she spoke. "I wanted something that was joyful and celebratory. And this is the best in us. We made it through."
Around the gallery, she and Hathaway-Hacker have arranged books in loose categories, spanning topics that include sex and gender to pets, parenting, travel and gardening. The two decided not to shy away from covers that are explicitly racist, sexist, and Eurocentric—in part because all of those overlap with the history of the library itself. Instead of hiding those covers, Lewis has chosen to put them out in the open as a way to reckon with, confront and also push back against a past that allowed and encouraged them to exist.
There is, for instance, Louise Stinetorf's White Witch Doctor, in which a huge, red-and-white caricature of an African mask looms large in the background. It is ridiculous and grotesque, cut from the same cloth that allowed President Trump to once refer to Haiti, El Salvador, and Nigeria as "shithole countries." But its presence alone is enough to make a viewer wonder: how much has changed since it was published? The graphic image may have disappeared from public view, but the white supremacy that allowed the book to exist is everywhere. So too for titles like Margaret Lee Runbeck's Pink Magic, a coming-of-age tale that is a primer in internalized patriarchy.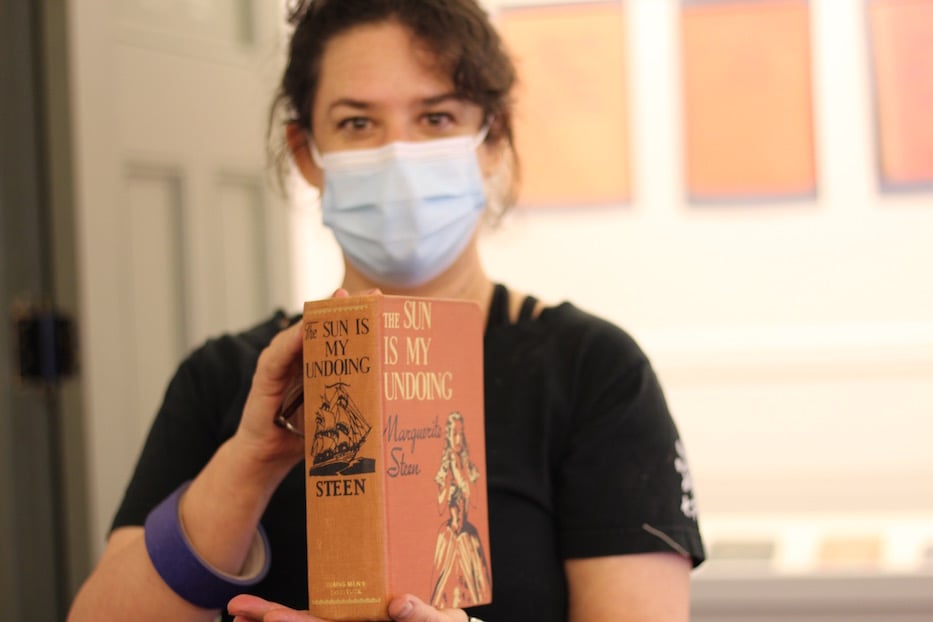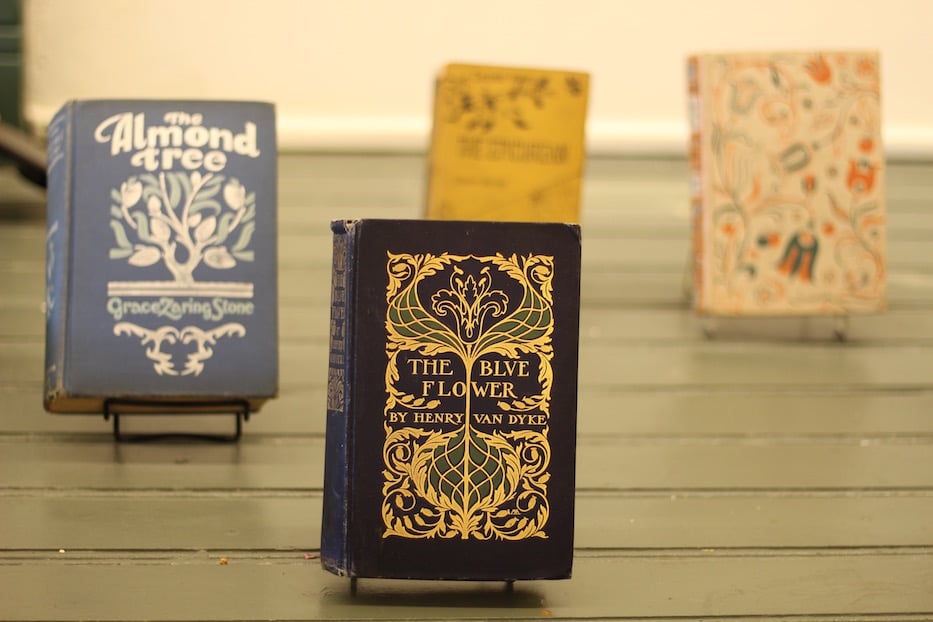 Other covers in the show are eye-grabbing for the sheer absurdity of their titles. Marguerite Steen's 1941 The Sun Is My Undoing, a story set during the eighteenth-century slave trade, sounds like it's about someone who forgot to pack their SPF 50. On the jacket, a tall ship and woman in a voluminous petticoat suggest to a reader that it might be otherwise. There's The Literary Guillotine, with a cover rendered in tan, black and white silhouettes that Lewis has enlarged for the show. Or Guy Howard's 1949 Give Me Thy Vineyard, which doesn't leave a lot of room for interpretation.
"You look at some of these, and it's like, 'who would write that?!'" Lewis said as she held The Sun Is My Undoing in both hands, its spine facing outward.
Lewis and Hathaway-Hacker are also sharp-eyed curators: several covers are thrilling for their fine-tuned detail and vivid color. Propped on a ledge by the gallery's stairway-entrance, Inez Haynes Irwin's 1919 The Happy Years bursts into bloom, with a cluster of orange-red flowers that beg a viewer to come closer and stay a while. There is Charles Kingsley's 1855 Westward Ho!, a novel whose mind-numbingly colonial bent meets a cover richly illustrated by N. C. Wyeth. On the cover, an old ship bobs on the waves, the sky streaked with orange and yellow above it. It is a reminder, one of many in the show, that the Institute Library is a time capsule and treasure trove, increasingly endangered in the digital age.
While Lewis acknowledged that "you would not want to read most of these books," a few covers also hold genuine magic inside. Among works that would make Betty Friedan pull her hair out, Louisa May Alcott's 1876 Rose In Bloom is still worth picking up. Lewis holds an especially soft spot for Shirley Jackson, whose Raising Demons sits propped up beside Nina Federova's The Children and Eleanor Kamb's We Kept Mother Single. Jackson's cover, decorated with a sprawling green lawn, lush trees and two children at play, gives no indication of the wit and wickedness of which the author is capable.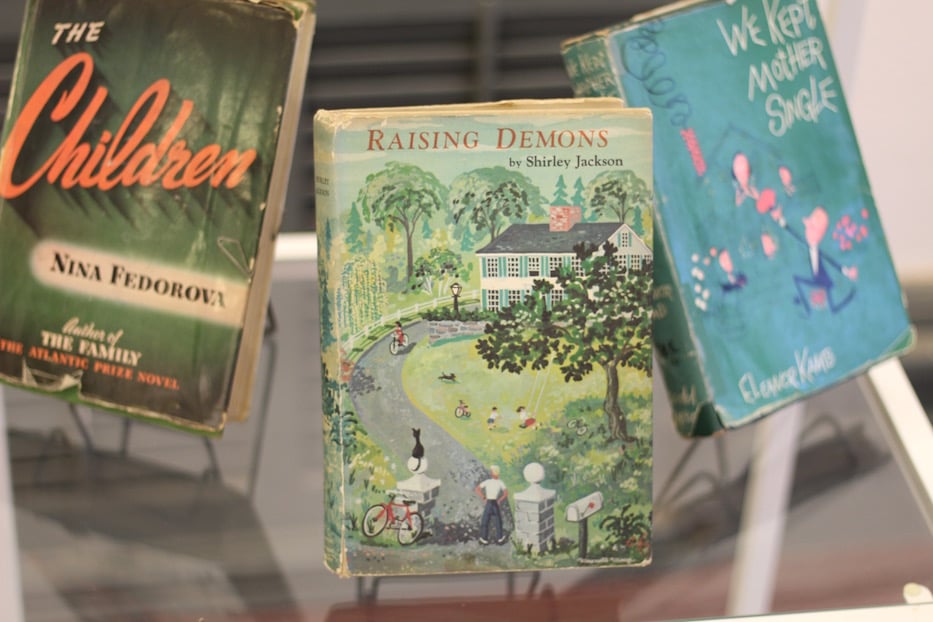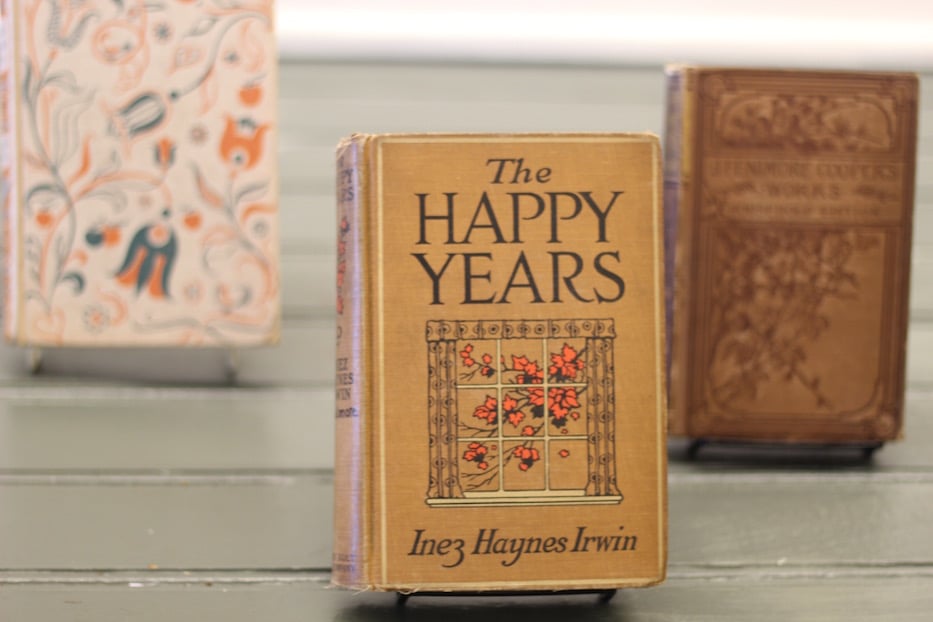 Cover Story ultimately reads as a sweeping love letter to books, and to the Institute Library. Even prior to Covid-19, the Chapel Street space was struggling with building repairs, upkeep, and a leaky roof. After temporary pandemic closures, Lewis said she wants the show to feel like a warm welcome back, and a reminder of the resource New Haveners have at their fingertips. While she is hopeful that people will come in person—the library has reopened with limited hours—she has also mounted an online component to the exhibition enabled by a gift from William Reese Company.
While she is generally screen-averse, Lewis said she plans to have fun with the digital component: she is in the process of designing social media posts and contests around different covers, to mirror their superficiality in real time.
"We crave your 'likes' and 'loves' and will greedily count and tabulate until we have a winner," she wrote of the contest. "It's spring, and the pandemic is over a year old. We need diversion. Let's be frivolous and unapologetically revel in this unique collection."
Cover Story: In Praise of the Exterior Surface runs in the upstairs gallery at the Institute Library, located at 847 Chapel St., through June 1. For hours and more information, click here.