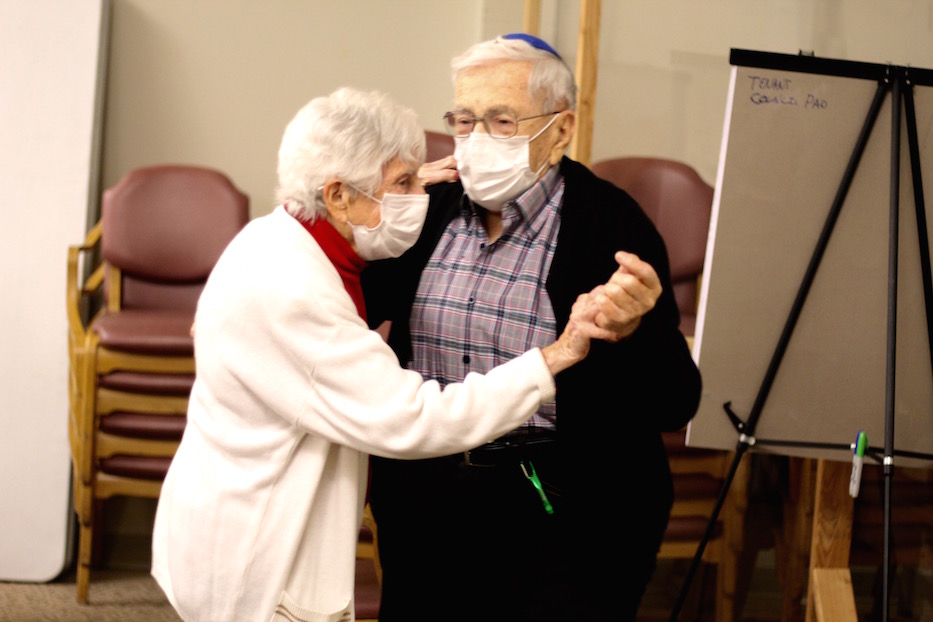 Faith & Spirituality | Hanukkah | Nu Haven Kapelye | Arts & Culture | The Hill | Tower One/Tower East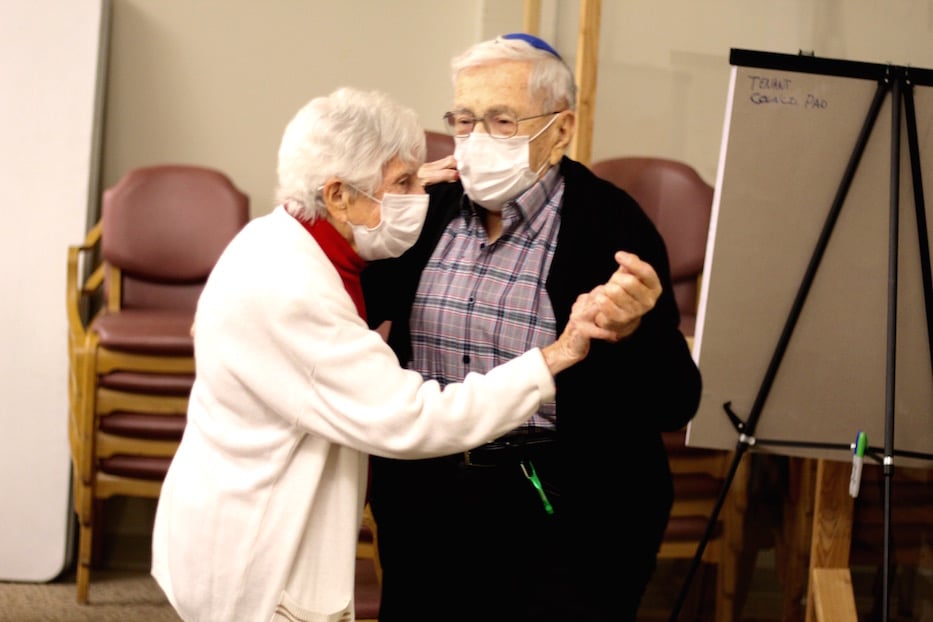 Sylvia Rifkin and Isidor "Izzy" Juda. Both are 100 years old. Lucy Gellman Photos
It was just moments into "Ocho kandelikas" that Izzy Juda stood up, extended a hand to Sylvia Rifkin, and turned the dining room into a dance floor. Onstage, the Ladino tune conjured a Bosnia that no longer existed. Four rows back, Juda and Rivkin slipped into a seamless tango. Between them, there were 200 years of Hanukkah history, spanning Vienna and Kiev to Brooklyn and New Haven.
Celebration filled the dining room at The Towers at Tower Lane Thursday night, as members of the Nu Haven Kapelye welcomed the fifth night of Hanukkah for over 60 residents of the assisted living home. In an audience were listeners who have survived the Holocaust, fought in World War II, passed the century mark, weathered a global pandemic—and still believe in this season of miracles.
"I can't tell you how wonderful it is to see so many friends and so many familiar faces out there," said bassist David Chevan, who leads the group.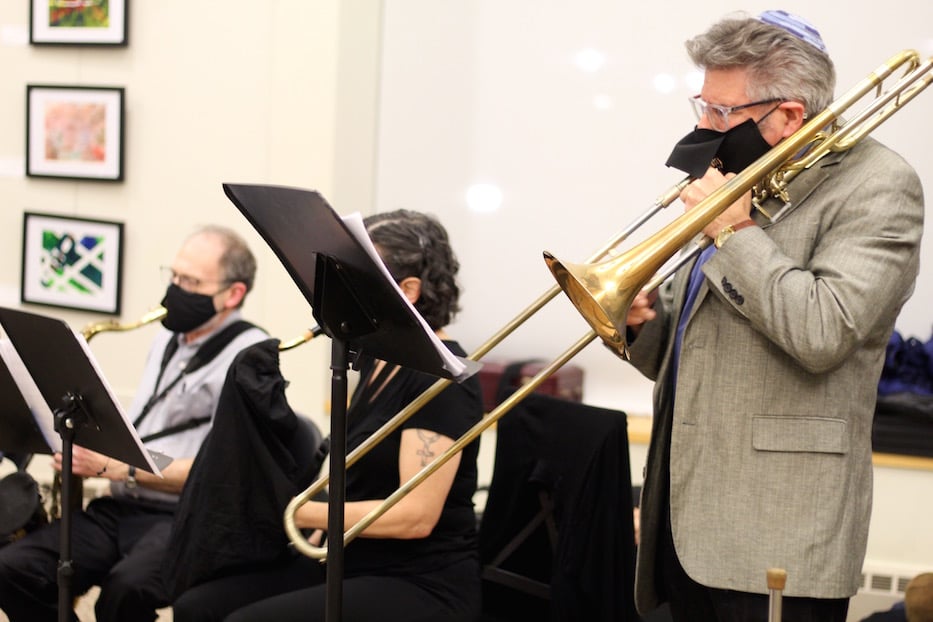 Isaiah Cooper on trombone. Cooper led the group in Hanukkah prayers and songs before the band played its set.
As residents arrived in masks and yarmulkes of all colors, the room filled with a low hum of conversation, friends catching up with each other as they scoped out the best seats in the house. At the front of the room, instruments seemed to multiply. One flute became two, and suddenly an accordion had materialized beside them. The saxophones rolled in within minutes of each other. A tuft of purple hair peeked out as Max Blustajn arrived for their first Kapelye gig. Because it is an all-volunteer group of musicians, "we never know exactly who is going to show up," Chevan said. That's part of the miracle-making.
As temperatures dropped outside, trombonist Isaiah Cooper turned from his music stand to a blue and silver menorah that had materialized behind him. As he raised his voice to begin the familiar blessing over the candles—Baruch atah Adonai Eloheinu Melech ha-olam—tiny electric flames sprang up one by one. Asher kid'shanu b-mitzvotav, v-tzivanu l'hadlik ner shel Hanukkah.
Within moments, his voice was one of dozens carrying the prayer. When he flowed right into "Ma'oz Tzur," commemorating the Maccabees' fight against the Seleucid army, every one of those voices stuck with him. By "​​Mi Yimalel," which asks who can retell the story of Hanukkah, even a few stragglers standing in the back had joined in.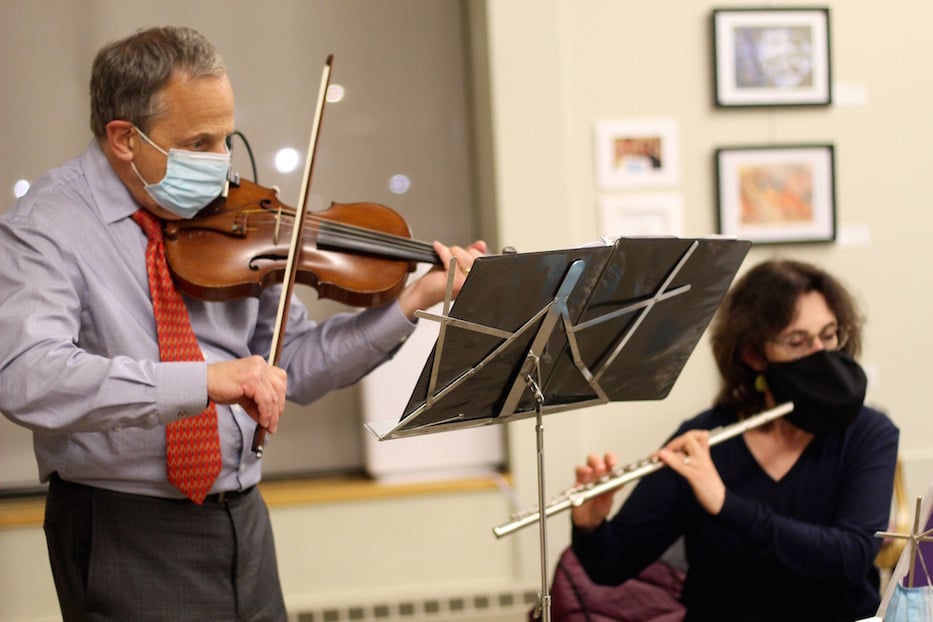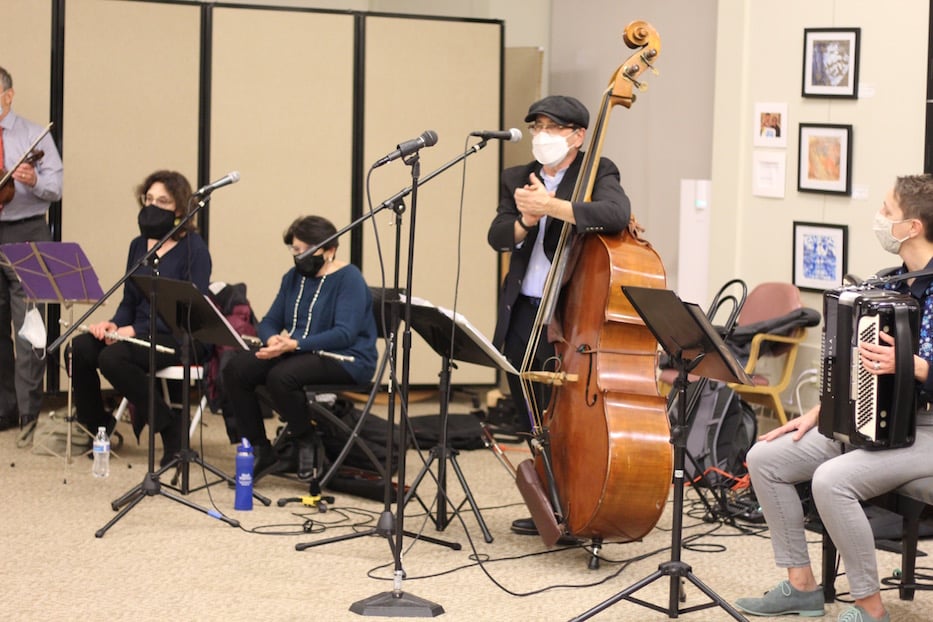 Top: Steve Jacobs on violin, with Anna Reisman on flute in the background. Bottom: Reisman, Hedda Rubenstein (flute + vocals), David Chevan, and Dana Astmann.
Chevan cued the band in with an "Eins, Zwei, Drei!" and threaded a needle with that golden, shimmering and sticky thread that is the past meeting the present. Klezmer is itself a Yiddish word, but it is also part of the soundtrack to a diaspora that is still figuring itself out. Works like "Margaritkelech" and "​​Josef Josef" feel at once bygone and entirely new, defined by both the immigrant grandparents and great-grandparents who arrived speaking the language, and a growing movement of young Jews who are working to reclaim it outside of regimented religion and Zionism.
Thursday, the works became a cultural umbilicus, tying the New Haven of today to traditions that are centuries old. That may be particularly true of the Kapelye's repertoire, a musical tzimmes heavy with Eastern European, Turkish, and Balkan influences. Thursday, the inclusion of a haunting Russian nigun and Flory Jagoda's "Ocho kandelikas" acknowledged the breadth of a diaspora. As it got the whole room clapping, a rousing "Ale Brider" became a reminder of Jews' contemporary obligation to worker solidarity.
In the audience, residents let it speak directly to them. Juda, who celebrated his 100th birthday this year, grew up in Vienna at the beginning of the 20th century. His fondest Hanukkah memories come from his childhood, when his grandmother would roast a Hanukkah goose. As a member of an Orthodox family in Europe, he spent years gathering with his siblings, parents and both sets of grandparents, watching as the flames danced majestically on the family's menorah.
"In Europe, Hanukkah was really a Jewish holiday," he said. "We didn't have to compete with Christmas."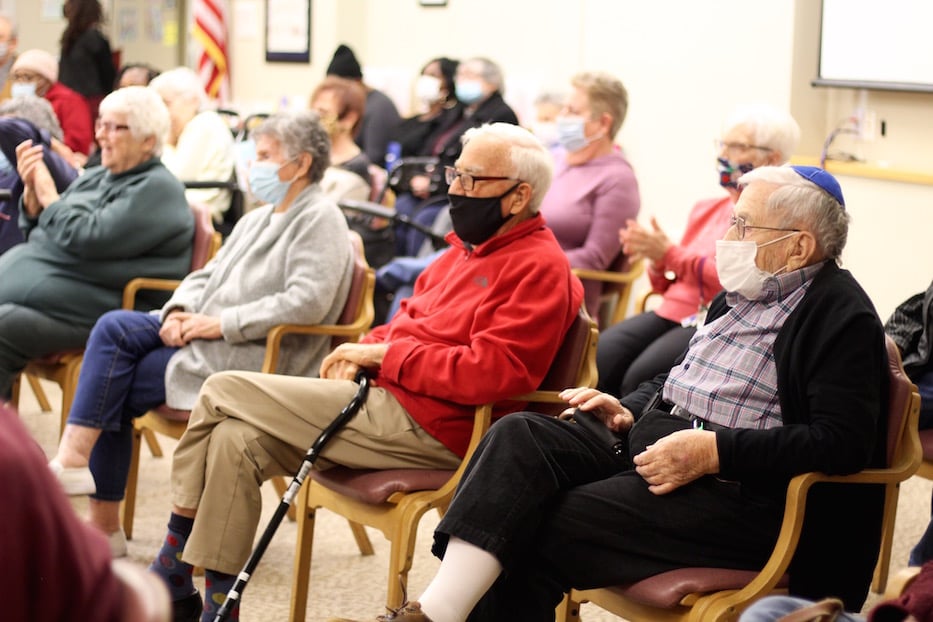 Izzy Juda. "It was tough, but we survived," he said of the last year. "We survived. It was not easy, but we did it."
As a child and teenager in Austria, he fell in love with music, playing the violin until he was forced to flee his home as the Nazi Party tightened its grip. Juda was 16 years old when he left home, jumped from a train deporting Jews to concentration camps and crossed by foot into Switzerland. He went on to immigrate to the U.S. and fight in the Second World War. While he never played again—"the Nazis took my violin," and the pain was too great to start again—he still listens avidly to folk and klezmer. He now speaks openly about his life as a survivor in the hopes of stemming discrimination in New Haven and across the country.
"It's soul music," he said through a blue medical mask, pressing one hand to the upper left hand corner of his chest, where his heart pumped beneath a plaid button down and wooly cardigan. The Hanukkah miracle this year, he added, is that "I'm still alive." For months, Juda battled extreme isolation as The Towers went into lockdown to stem the spread of Covid-19. At 100, he said, he takes nothing for granted; he still attends Shabbat services each Friday with his daughter at Congregation Beth Shalom in Hamden. He visits with son, a cantor in New Hampshire, when he's able to. And he never passes up a chance to dance with Rifkin.
"It was tough, but we survived," he said of the last year. "We survived. It was not easy, but we did it."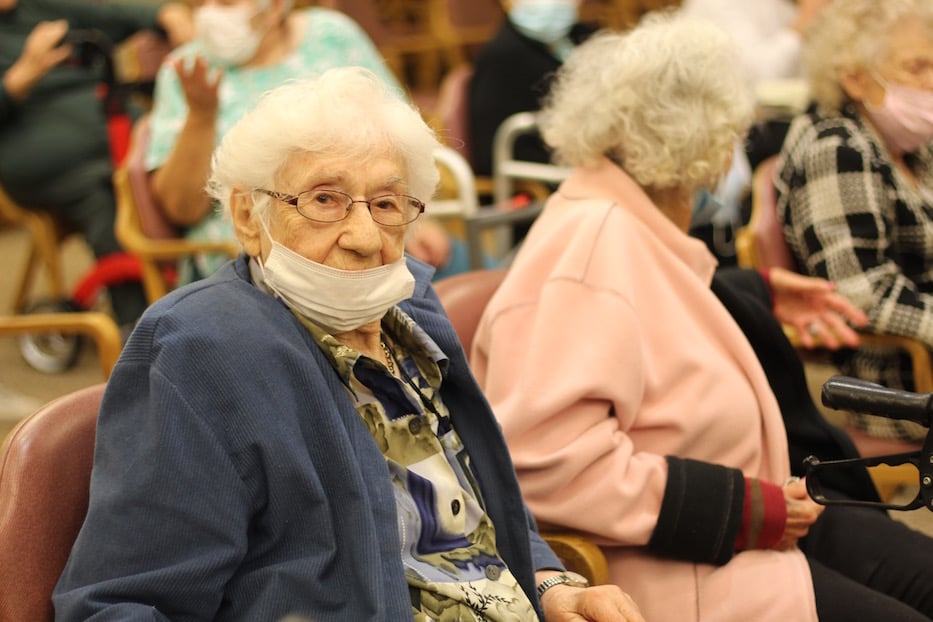 Betty Swinkin.
Betty Swinkin, who is celebrating her 95th Hanukkah this winter, said that the tradition has changed since she was growing up in New Haven's Hill neighborhood. Her love for music, nurtured for years as she played the violin, has not.
Raised by "four mothers"—her grandmother, mother, and two aunts—on Arch Street, Swinkin spent Hanukkahs as a child lighting the menorah with her grandparents. A self-described "tomboy" in her youth, she went on to work as a bookkeeper for what was then the New Haven Bus Service, as well as the old Keser Israel (now BEKI, after a merger with Temple Beth El in 1968) and later Congregation B'nai Jacob before it was in Woodbridge. She played the violin for years, a skill that she passed on to one of her sons. She now celebrates Hanukkah with her family, including one great-grandchild and another that is due to arrive in February.
"I love Jewish music," she said as members of the band set up. "When I used to play violin … I played for myself. I didn't play for anybody else."
Back on a makeshift stage, members of the group leaned into that history, flowing from Yiddish folk tunes and nigunim that dated back to the early 20th century. As Hedda Rubenstein sang the band into "Ocho kandelikas," Juda offered a hand to Rifkin, the child of Ukrainian immigrants who grew up in Brooklyn, and turned 100 this year.
Bass notes dipped, thrumming through the floor. An accordion joined in, a blue string of stars and dreidels shimmering on Dana Astmann's suspenders. Juda opened his arms, making space for Rifkin to have her moment in the spotlight. She later joked that the tap lessons she took for years after retirement have kept her particularly nimble on her feet.
The band was just getting warmed up, it seemed. When Rubenstein got to "Margaritkelech," her description of the piece drew giggles. Performed in Yiddish, the song tells the story of a young girl named Chava—Rubenstein's Hebrew name, she noted—who meets a handsome young man while she is picking daisies in the woods. He seduces her with some pretty cheesy pickup lines, they make passionate love among the flowers, and then he leaves.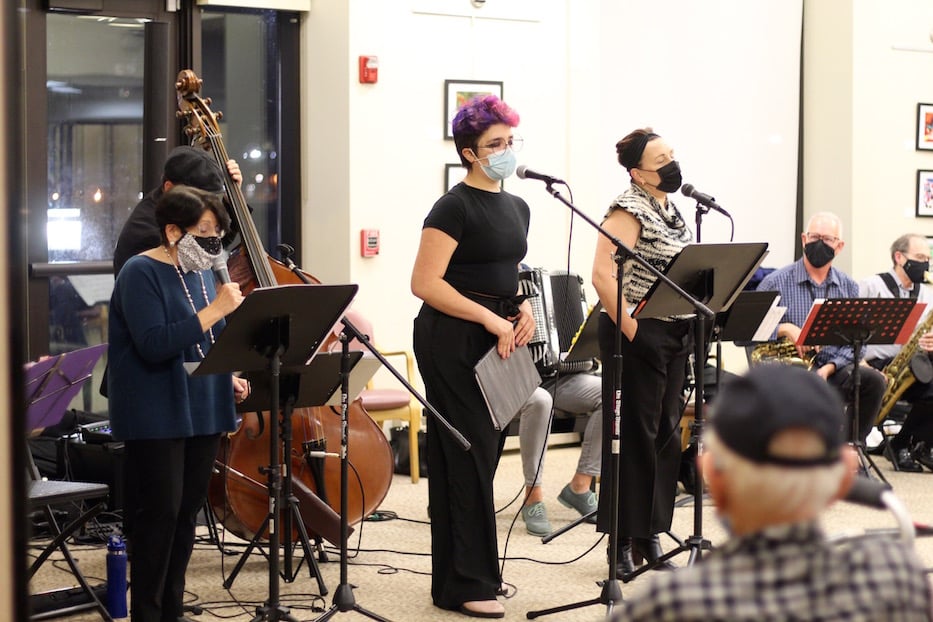 Hedda Rubenstein, Max Blustajn and Cynthia Astmann. Dalton King and Mark Kaplan, both sax players, are behind them.
"By the end of the song, Chava is still in the woods picking daisies," Rubenstein said. A loud cry of "Oy!" went up from the second row.
"Oy!" she responded, half-laughing from behind a bedazzled singing mask. When she later turned to the standard "Josef! Josef!" with vocalist Cynthia Astmann, one Towers resident leaned over and began singing the chorus to her seatmate.
Chevan took the audience back, tracing one song's roots from Romania to Istanbul around 1908. No sooner had he described another, an old song from Russia, than a few residents leaned forward to listen for the melody. "If you know it, and I bet some of you do, feel free to sing along with us," he said.
By the back window, Blustajn became the impromptu director of choreography, lifting their arms and swaying from side to side. As strings and woodwinds trembled beside each other, residents raised their arms in time with the music, making it seem as though a great, human wave had suddenly arrived in the dining room. Dozens of hands floated through the air in unison, eyes crinkling behind masks in the shorthand for smiles.
The night was young, and full of miracles.
Find out more about the Nu Haven Kapelye here. A few members of the group will perform in a Klezmer quartet Nov. 9 at Best Video Film & Performance Center next Thursday, Dec. 9, from 7 to 9 p.m. The group also returns to Congregation Mishkan Israel for its annual Dec. 25 show later this month.