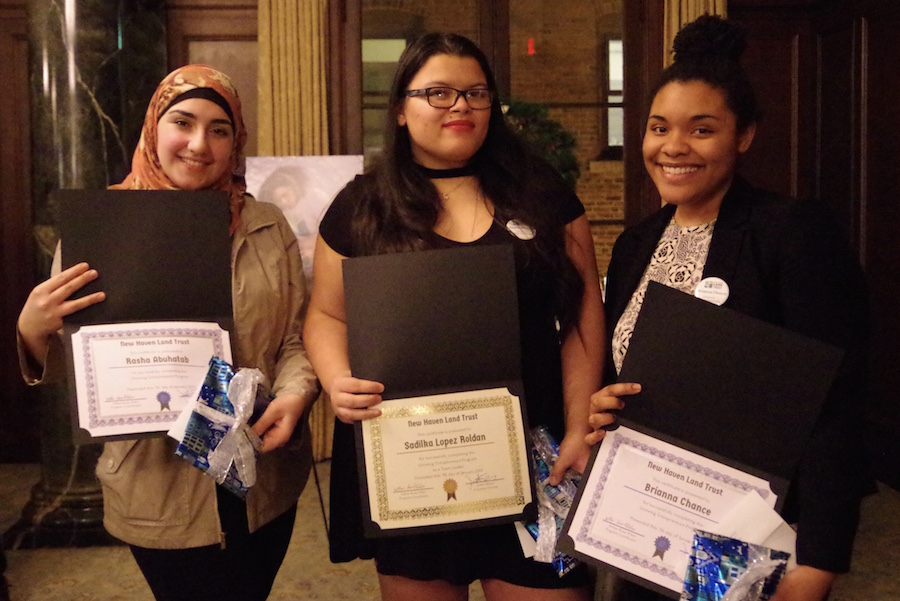 Culture & Community | New Haven Land Trust | Food & Farming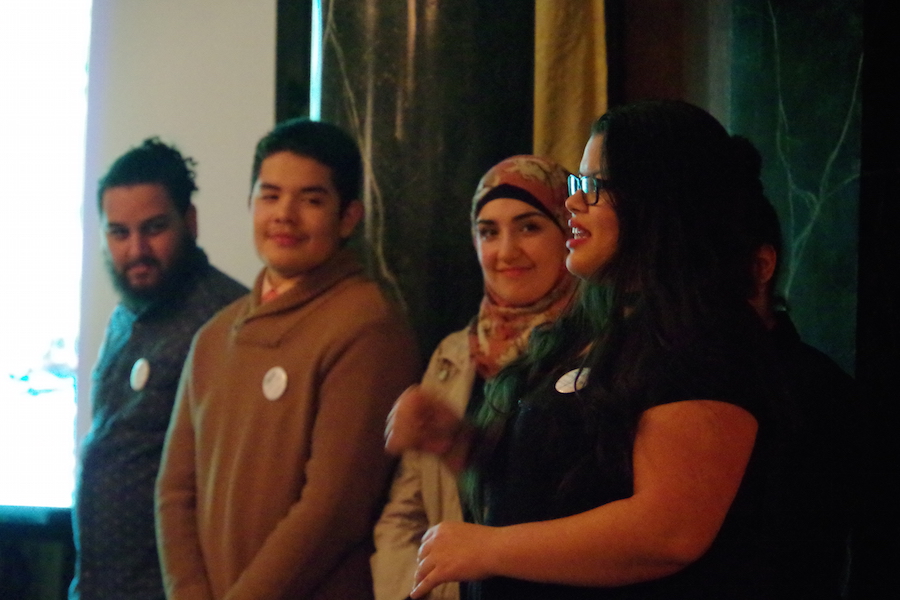 Graduate Saldika Lopez-Roldan with several of her fellow growing entrepreneurs. Leah Andelsmith Photos.
Saldika Lopez-Roldan stepped forward. With a smile, she told the audience how a group who barely spoke to each other became a bonded bunch over the course of one fast-food lunch—and two years of hard work gardening and selling produce.
"Now, we're not even co-workers," she said. "We're like a family."
Lopez-Roldan was just one of six students who graduated Monday night from New Haven Land Trust's Growing Entrepreneurs Program. The cohort gathered at Union League Cafe with family, friends and first-year students to recognize their achievements as the first graduates of the Growing Entrepreneurs program.
Growing Entrepreneurs is a two-year educational work experience for New Haven high school students that provides a collage of interlocking programming: gardening, carpentry, entrepreneurship, professional skills, and people skills. The first cohort began in summer 2017, and grew their business sense into a now year-round program that has shifted over those two years.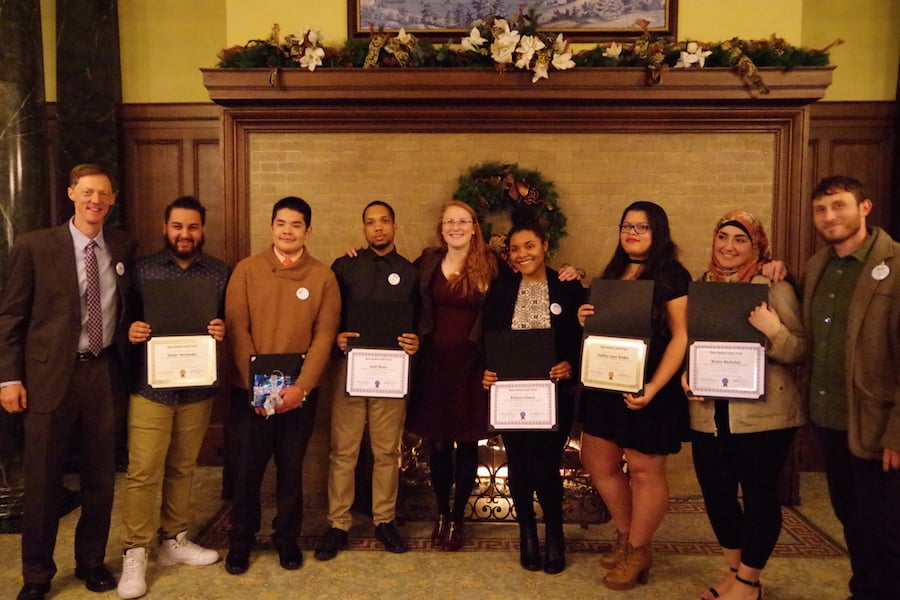 Elicker, Rose-Wilen and Fleming with the group.
"If you knock on doors around the city, you'll hear that people want jobs, that people want productive things for young people to be engaged in," said Land Trust Executive Director Justin Elicker. "We're trying to match the needs of New Haven with the assets that we have."
As employees of New Haven Land Trust, the Growing Entrepreneurs spend a lot of time in Land Trust gardens, learning about agriculture and getting their feet wet in carpentry with projects like raised beds and pergolas. The team is responsible for selling the produce they grow to local restaurants, including pitching the product and delivering the goods by bicycle. Then participants are asked to come up with a business idea rooted in their gardening work.
Lopez-Roldan, a first-year student at Gateway Community College, decided to make sofrito, a Puerto Rican seasoning base consisting of onions, peppers, garlic and herbs that you can use "for everything."
"Why not build something using the produce we had?" Roldan said in an interview, seated around the table with her peers. "We made a couple and brought it to the farmers market. A lot of people bought it."
But business ideas can sprout up on their own, something fellow entrepreneur Brianna Chance is familiar with. Inspired by the program, the Wilbur Cross High School senior said she plans to study environmental science and agriculture when she enrolls at the University of Connecticut in the fall.
Chance recalled a moment last year when students realized there was going to be a serious kale surplus. "It got really out of hand," she recalled.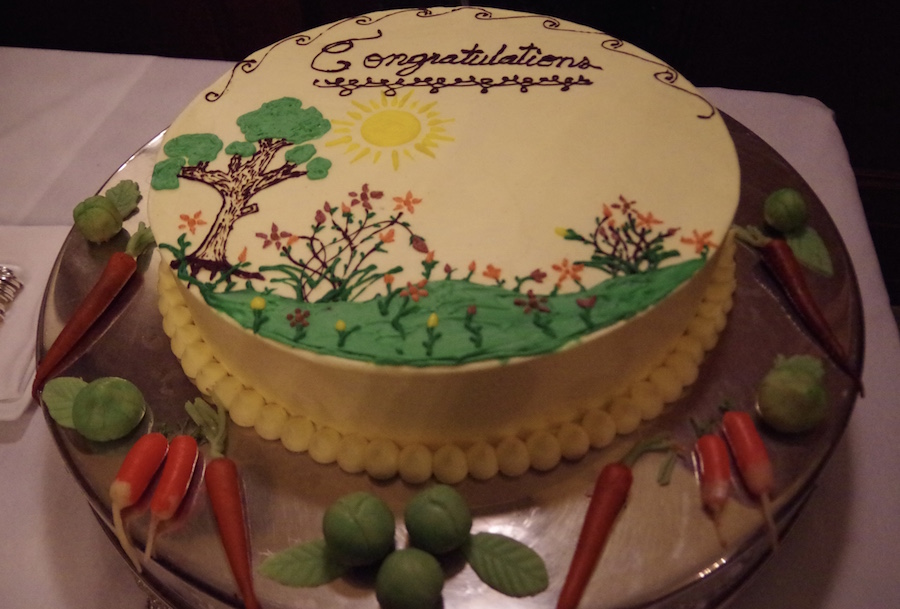 She and her peers had to find a way to use the large influx of leafy greens before the crop succumbed to pests. Kale pesto fit the bill. The recipe used simple ingredients and massive amounts of kale. The group worked together to clean and process the greens and prepare the pesto for sale at the farmer's market.
Between the sofrito and the pesto, the group made over $100 in profits, money they get to get to keep. It's a real-world incentive that keeps them invested in the businesses they've created, said Elicker.
During the off-season, the group practices computer skills and learns about environmental science from other Land Trust employees. They also polish their business plans and prepare a crop schedule for the coming growing season.
Although each teen creates a business plan, it's their choice whether they want to carry it out or join another entrepreneur's venture.
"I worked on every single project," said Carlos Veliz, a junior at Eli Whitney Technical School. By doing so, he "got a new perspective" on each aspect of the program. Quiet by nature, Veliz was praised by his peers for his tireless support, especially when the group built a pergola for the LEAP learning garden.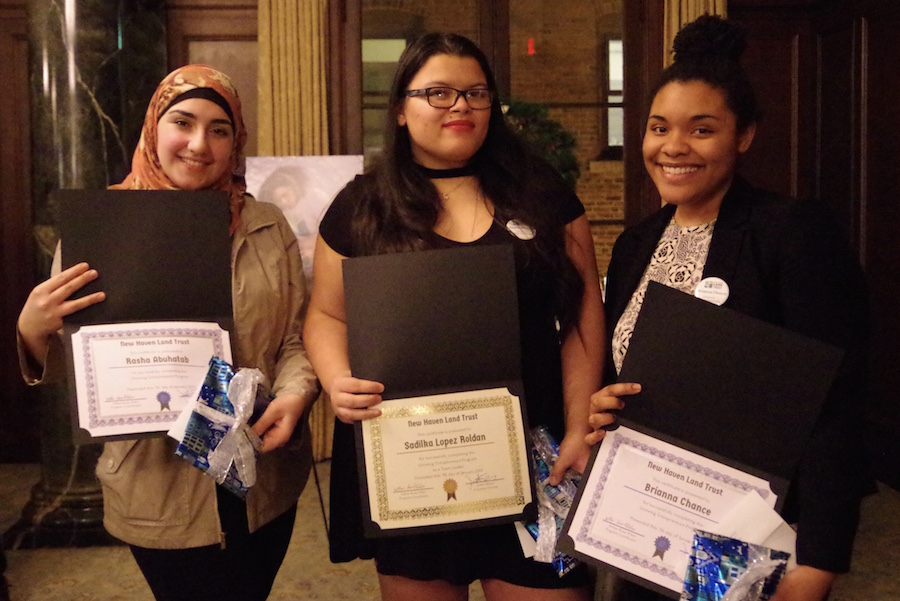 Chance called that project "the most grueling moment of the summer." The group faced challenges like extreme heat and digging post holes in rocky, compressed soil.
"We couldn't pull off projects of that size with out this hard-working crew of young people," said Garden Education Coordinator Esther Rose-Wilen.
Veliz was the one who finished the job when the other students had burned out.
"It was tiring, but I didn't mind," he said. "Brianna helps me with computers, and I could help with this."
Veliz added that he definitely sees himself using those carpentry skills in the future. Already he has plans to make window boxes to plant bonsai trees in his home.
For Jahlil Moses, a junior at Common Ground High School, his biggest takeaways are communication and confidence.
"This program put me in a lot of situations that had me out of my element and it taught me to adapt to things," he said. "It taught me how to handle team work and how to interact with customers."
Three years ago, he would never have seen himself doing carpentry with power tools or working in a garden, he said.
"But I liked it," he added. Moses is not sure what he wants to do for work, but says the program gave him a lot of ideas. For now, he plans to continue gardening at home in order to continue providing himself with healthy, organic foods.
He also plans to continue pursuing the business plan he developed during the program, using herbs from the garden to make hand-crafted incense to sell at markets. As long as he stays local, he'll be able to continue using program resources, plus he's got a suite of new business skills that will follow him wherever he goes.
"The program definitely helped me know what to do," he said.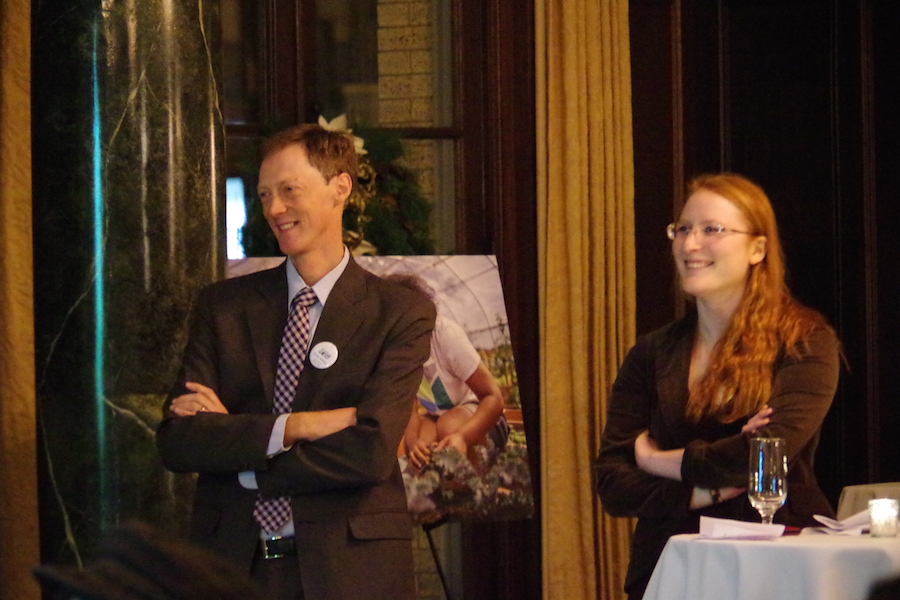 "What draws the students in is the opportunity for employment," said Rose-Wilen during a quiet moment on Monday. "But when they leave, they feel like they've gotten pieces of their education they wouldn't have gotten at their high schools."
The program is the first job for many of its participants, but it's very different from traditional first jobs. If an entrepreneur is late, the teen is more likely to spend time trouble-shooting with Rose-Wilen so they can arrive on time in the future than they are to get "in trouble."
"There's a lot of responsibility, hard work, and new skills to learn, so it's more challenging," said Rose-Wilen. "But at the same time, we're more flexible … we're not going easy on them, but we're more forgiving. It's about learning what being professional is."
During the graduation at Union League—one of the Growing Entrepreneur's regular customers—there was a fire going upstairs, and the low light flickered on the dark wood paneling and marble columns. Three round tables, covered with white cloths and candles, were each ringed with a dozen members of the New Haven Land Trust community, gathered to celebrate these hard-working young adults.
Rose-Wilen couldn't help choking up a little as she addressed the young people she's gotten to know so well over the last couple of years. She had high praise to offer each one of the graduates.
Rose-Wilen addressed Rasha Abuhatab, a senior at Metropolitan Business Academy, recalling how she made eye contact, introduced herself, and gave a firm handshake during her job interview.
"I was like, 'Hired!'" Rose-Wilen recalled.
"You are incredibly honest," she went on to tell Abuhatab. "You're not afraid to take the reigns and make a decision, or let us know if we've made the wrong decision. Things would not have run as smoothly without you."
"I know you are considering going into the medical field," Rose-Wilen added. "But you have my vote for president!"
Community Garden Manager Bradley Fleming addressed Xavier Hernandez, a graduate of James Hillhouse High School, now 21 and working in the community. Hernandez was one of the original members of the program and was working for the Land Trust before Rose-Wilen and Fleming came on board.
"You identify problems, come up with a solution, and implement it, all without being told," Fleming told Hernandez. "You don't need us around anymore, and probably you never did, but if you ever need anything, let me know."
Later, students got their own turn to share a memory from the program. Abuhatab vividly remembered working on the pergola, which was a crash course in carpentry and her first project with the group.
"I didn't know I could do all these things," she said, echoing a common sentiment among the participants.
"We bonded getting our hands dirty," added Hernandez.
Both Elicker and Rose-Wilen stressed the impact the Growing Entrepreneurs have had on the Land Trust. Although they started out designing a program that would benefit local youth, neither realized how integral the teens would become to the organization.
For Rose-Wilen, the impact was also personal. "The youth in New Haven are amazing and they give me so much hope for the future of our city and the world," she said.